Akabane is outstanding place where we can drink alcoholic drinks from morning at inexpensive price.
If you go to Akabane with 1000 yen, you can drink and eat !
Maruken Suisan is oden shop along the shopping street. Many people visit there for buying oden for their lunch or dinner at home.
Steams from the shop attracts people on such a cold day.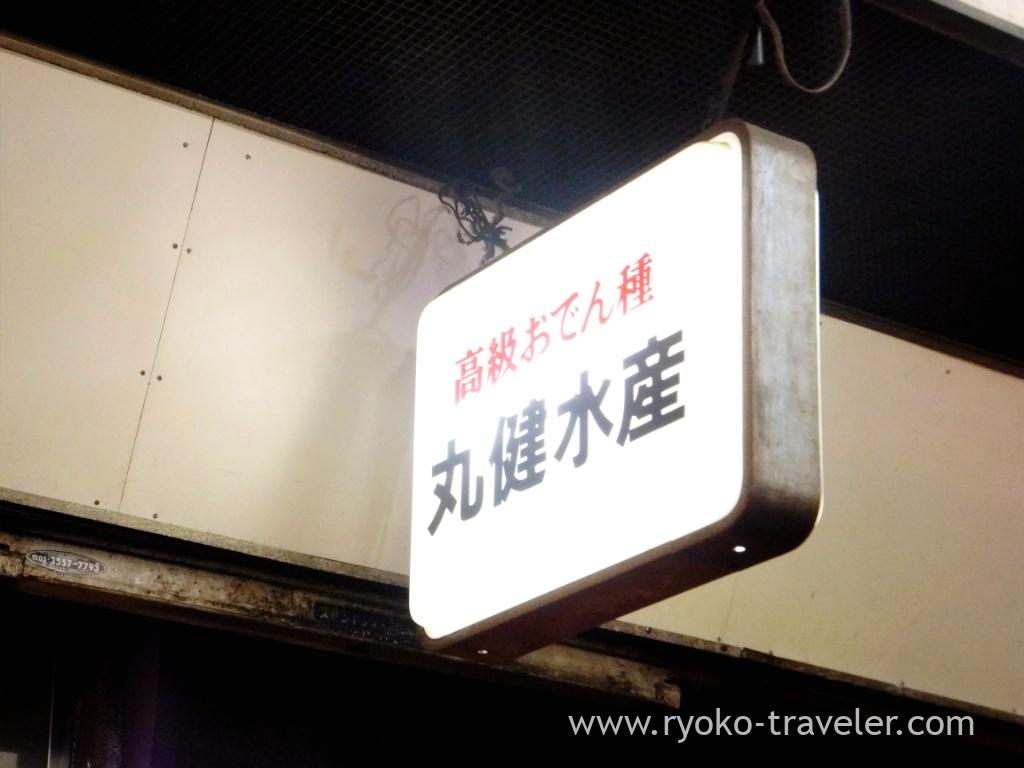 But there're some tables for eating and drinking, and they sell alcoholic drinks (what is called a "koppu-zake"). So, we can drink alcoholic drinks with oden at there.
Where?
Maruken Suisan is located within 5 minutes walk from Akabane station.
How to order
When you get to there, at first, you choose your oden.
If you want to eat oden but don't want to drink, OK. They welcome you.
We ate oden only, too. They said to us "We are oden shop, not izakaya !"
If you can't decide, don't worry. They prepare assorted oden set at 800 yen. It have about 5 odens and one drink !
Oden
Beef sinew (牛すじ, 220 yen) and hanpen (cake of pounded fish, はんぺん, 110 yen).
Hanpen is the white things. Those hanpen had spongy texture. it melted in my mouth lightly.
Daikon radish and egg  (大根と玉子, 105 yen each).
The daikon was boiled something vigorously until it is properly cooked. It was awesome! The egg, too!
Those clearly soup had chickens and fish taste. Though it was lightly seasoned, it was so flavorful.
I need such an oden shop near my house.
About Maruken Suisan (丸健水産)
Address / 1-22-8 Akabane, Kita-ku, Tokyo
Phone / 03-3901-6676
Open / 10:30 a.m. – 9 p.m. / Saturdays, Sundays and another national holidays until 8:30 p.m.
Closed / 1st and 3rd Wednesday of every months
Smoking / Partially permitted
Reservation / Unavailable
Credit card / Unavailable
English menu / No (No menu…)