When I was exploring good deep fried oysters on the internet, I found Sanyuu (三友) that serve huge deep fried oysters like bomb having many oysters each in Ningyocho area. So, I felt like eating it very much and next day I visited there. They are open at weekdays' lunchtime and serve deep fried oysters only.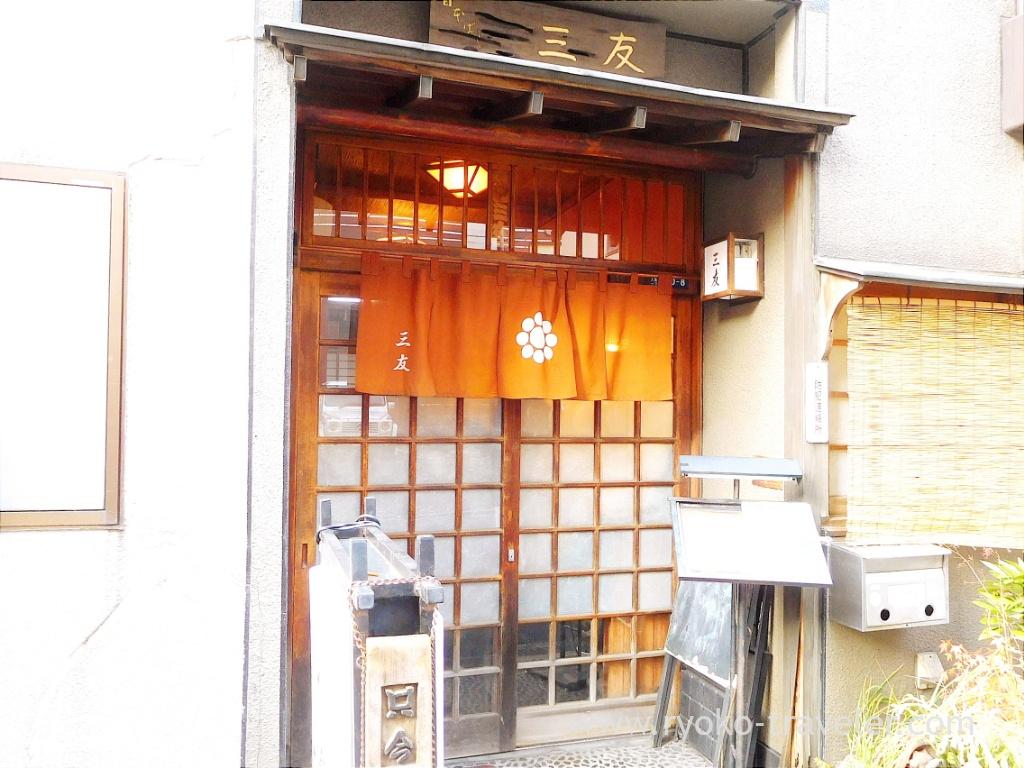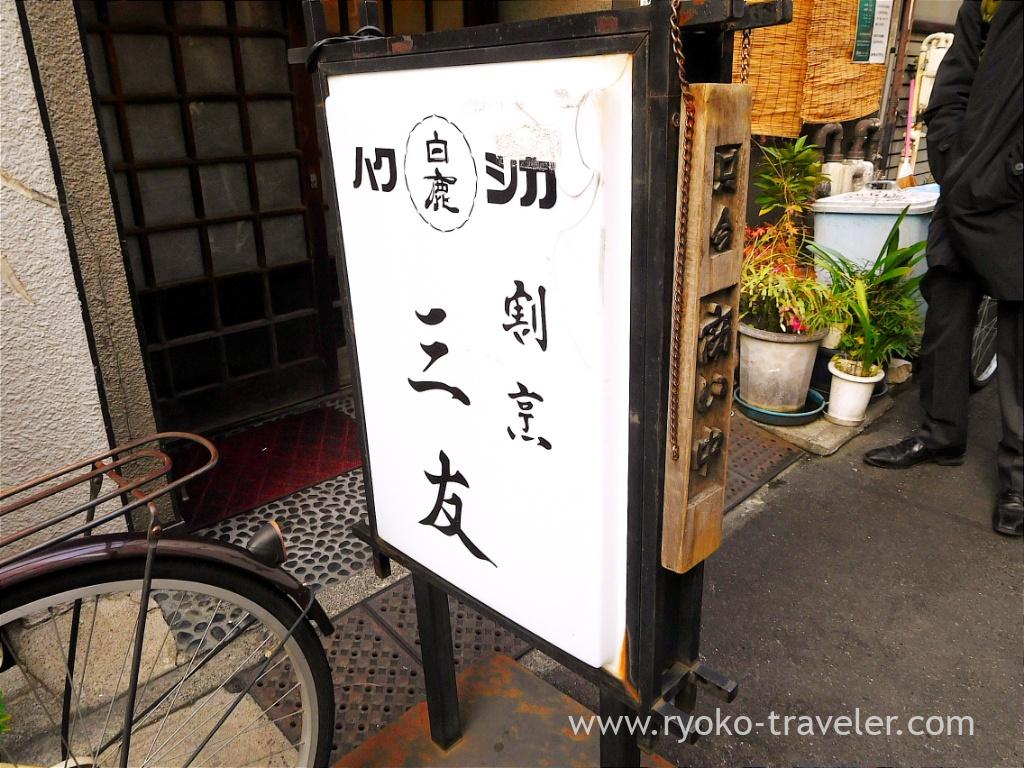 They are so popular restaurant. I heard people start to wait one hour before the opening time. But still I thought it's no problem to get to 20 minutes before the opening time. But it's wrong. I mistook the time and got to the station one hour before the opening time. Anyway, I confirmed the place of the restaurant at first and tried to take a walk around Suitengu shrine. But when I got to the restaurant, I found there were already two people in front of the restaurant.
After that I walked to Suitengu shrine and killed time for a while. But I was nervous.
So I went back to the restaurant 40 minutes before the opening time. There were already about 12 people waiting. I hurried to follow the line and waited until the opening time.
This picture was taken when I got out of the restaurant after eating. But when I entered the restaurant, there are as much as people waiting. By the way, there're only 12 seats in the restaurant. And they take rather much time to serve. So we have to wait for a longer time including waiting in the line.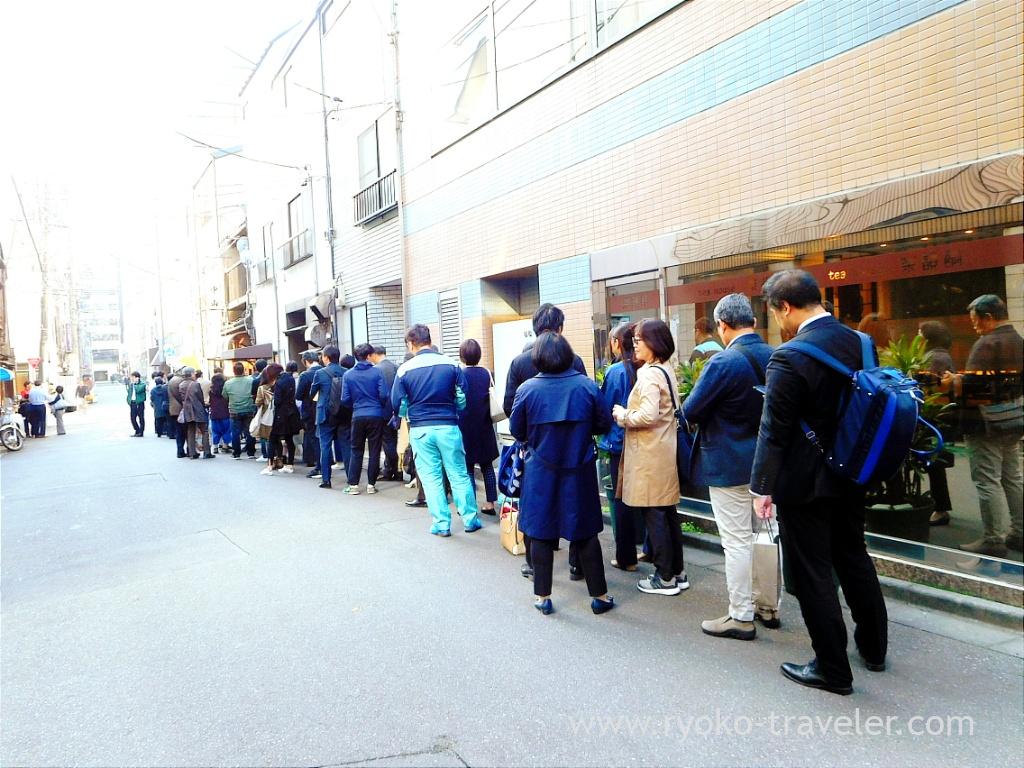 There're only counter seats and two tables. Staff lead guest to seats just after the opening time.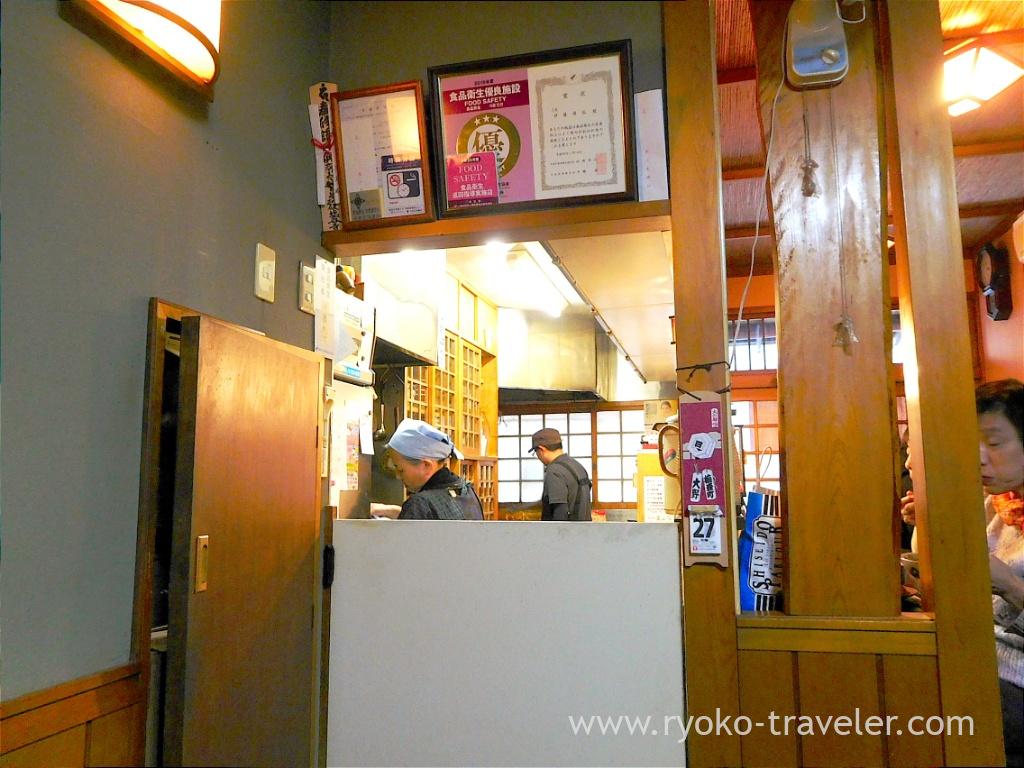 Tables. It have good atmosphere.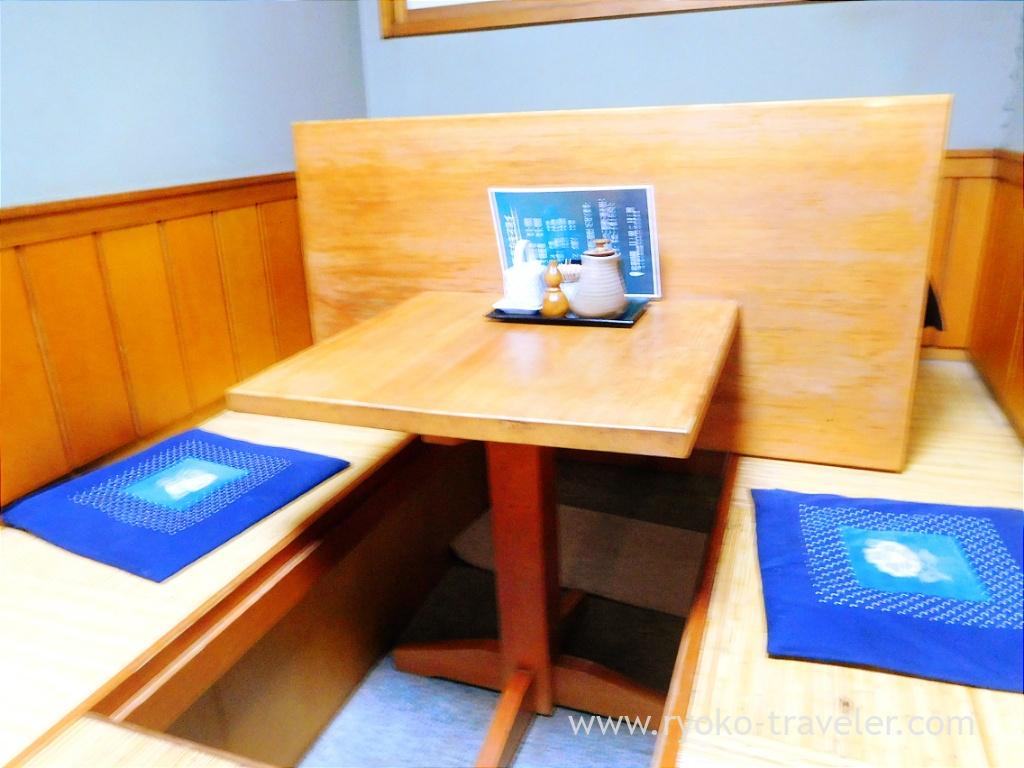 It's the menu. They serve deep fried oysters only during winter season. We have to pay in advance. There are two sets. Two deep fried oysters set (1080 yen) and three deep fried oysters set (1400 yen).
The menu says they are open until 1:30 p.m., but they close as soon as they run out of oysters. By the way, they serve tonkatsu, deep fried horse mackerel, Katsudon and so on during another season.
I ordered Three deep fried oysters set. You think my rice is so small. I ordered it with half size of rice. And another, pickles and pork soup.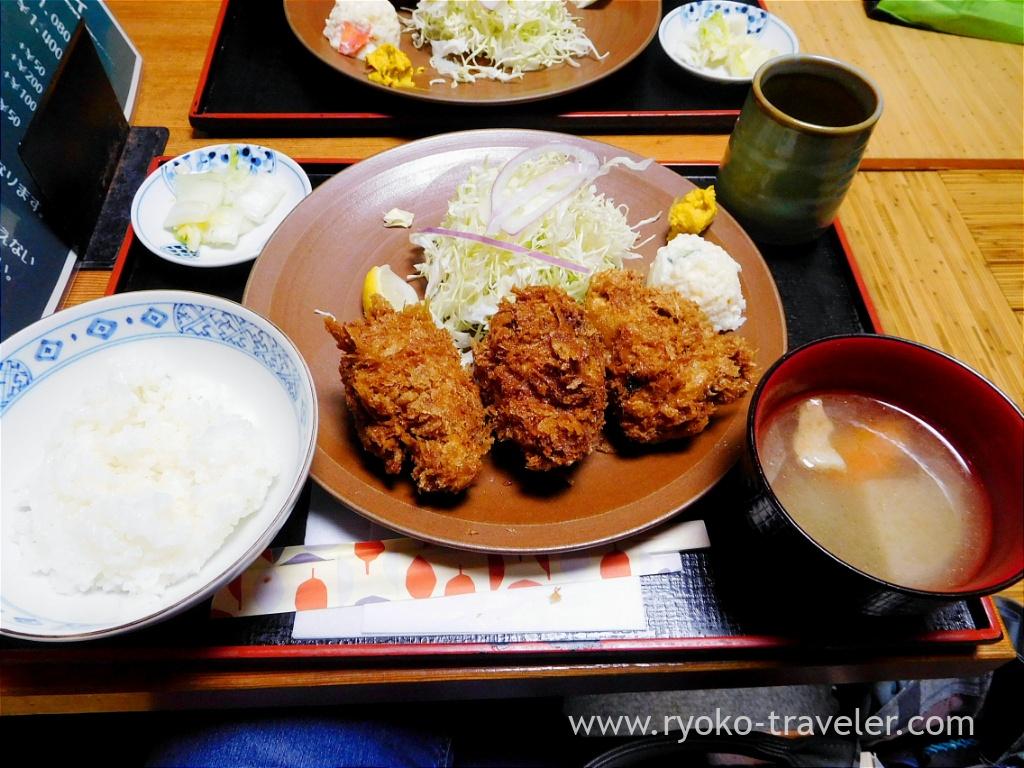 Their deep fried oysters are huger than expected. It's like scotch eggs ! Its coating was rather thick. Shredded cabbage, onions, potato salads on the dish.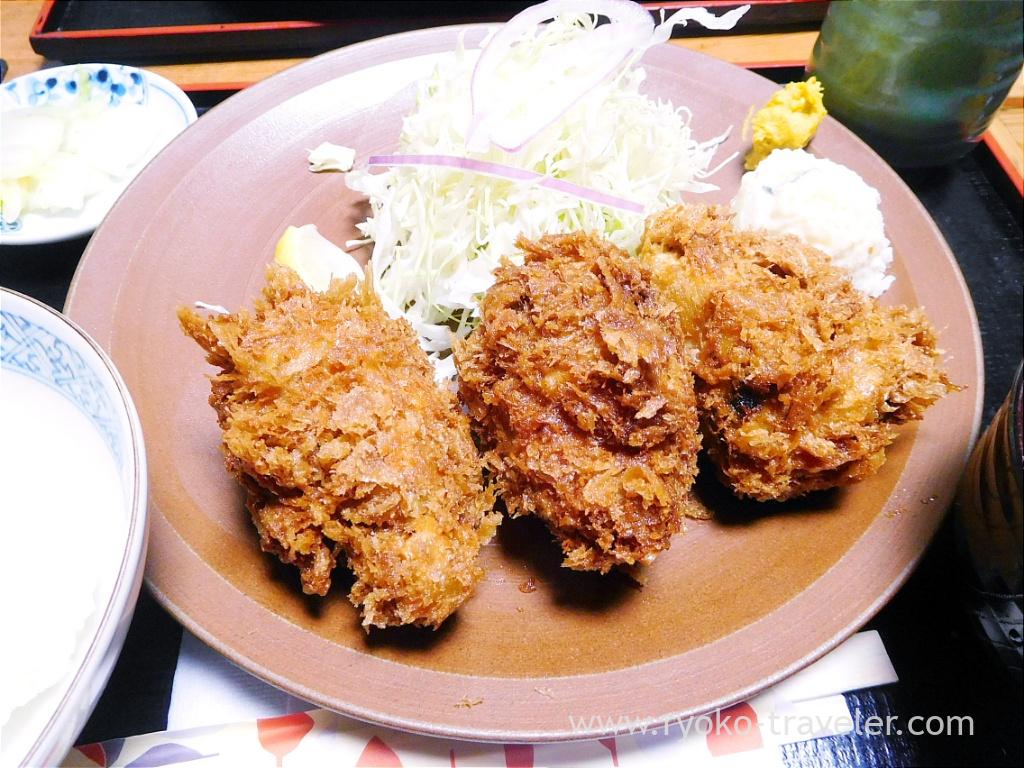 One deep fried oysters have 4 – 10 oysters in it. It's depend on the size of oysters. They also said this had 6 oysters each. It's so huge like bomb. Oyster bomb ! So much extracts of oysters burst in mouth !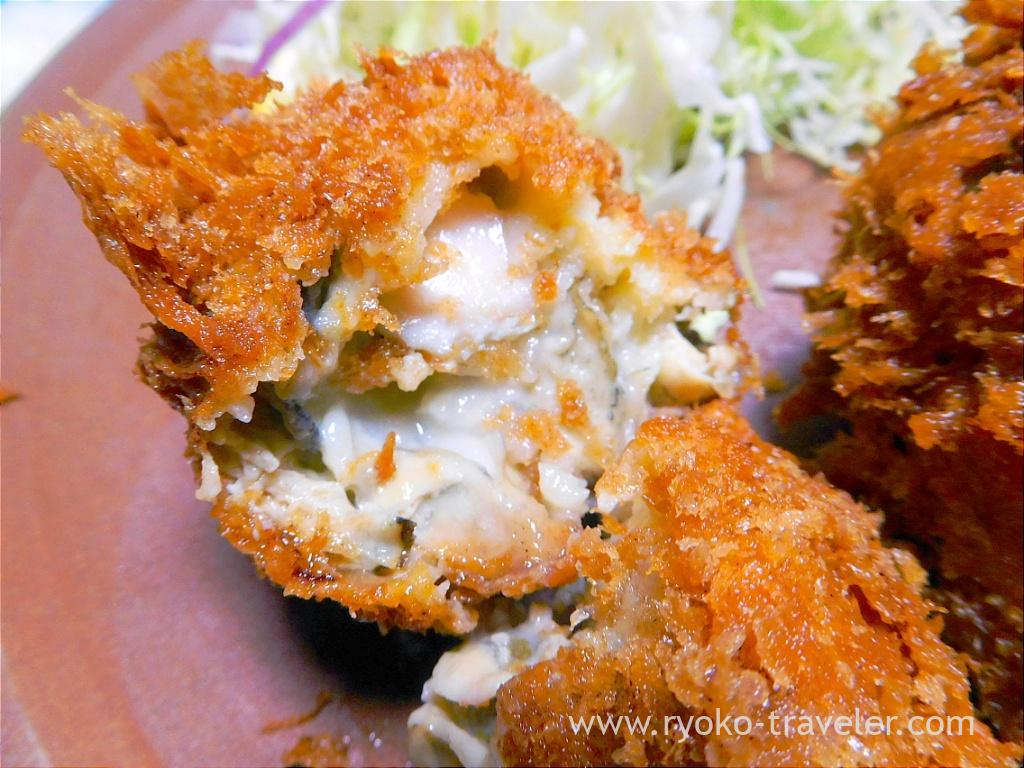 Tonjiru (pork soup). It didn't have much pork meat. But the soup had much pork broth. Good.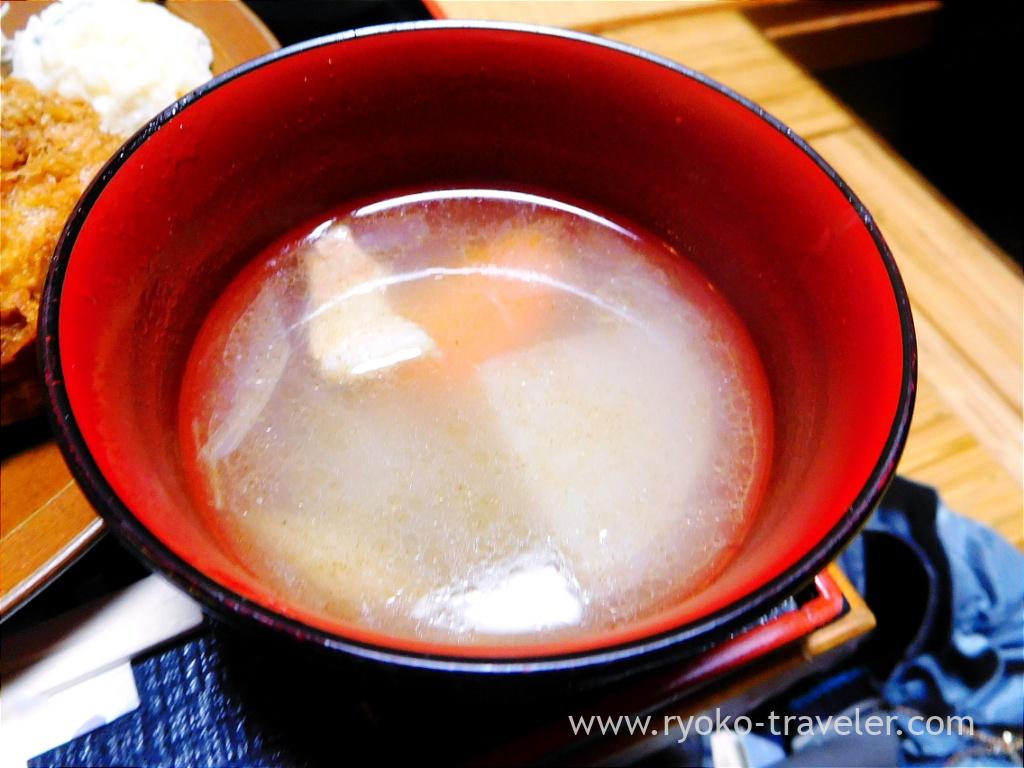 There are some restaurants serving good deep fried oysters like Fujimura in Tsukiji and Odayasu in Toyosu Market. But such a gigantic deep fried oysters are attracting. People seems to be happy while waiting. I agree. It's special winter event.
About

Name Sanyuu (三友)
Open Lunch
Reservation Unavailable
Credit card Unavailable

Google Map