Tsukiji isn't only for tourists. There're many izakaya and standard Japanese foods restaurants that is used by local people and workers in Tsukiji.
Many of those restaurants are open at lunchtime and they serve Aji fry (deep fried horse mackerel), grilled fish, sashimi, speghetti, sashimi bowl and so on. Those are standard meals that are eaten at lunchtime. But they use not standard ingredients. Ingredients are so fresh from Toyosu Market !
I especially love Fujimura in Tsukiji 2-chome area among them.

Where ?
It is located at the B1F of the small building close to Tsukiji station.
They show their lunch menu at the entrance of the building. Fish of grilled fish (焼き魚) is changeable. So when I try to order it, I ask staff about fish in advance.

Last order of lunchtime is 2 p.m., but some of foods are limited in quantity. So, when I want to eat those foods (for example, deep fried oysters, tuna head sashimi and so on), I get to there before noon.
When I got to there 1 p.m., but deep fried oysters were already sold out.

This is the lunch menu in winter. Unexpectedly stewed diced pork (= Buta no kakuni) is popular at Fujimura. I haven't eaten it yet, though.
There're counter seats and tables having four chairs each. We have to share tables. If you visit there with someone, staff require you to be seated in line.
I like counter seats better than tables because counter table is deep.
There're Worcestershire sauce, soy sauce, small plum, pickles on each table. They serve small bowl of rice for women. Second helping is free of charge . But if you want to eat much rice from start, you'd better say "Not small rice" when you order.
Another helping of rice is 150 yen each.
Lunch that I had
Fresh tuna sashimi half (Limited, out of menu)
They have nakaochi (leftover fresh on the spine of tuna) set and toro (sometimes tuna's head) part of tuna set, but those are limited in quantity. And more, they prepare tuna set having those two part of tuna in half each set (生鮪 なかおちとトロのハーフ). But of course, it's so small in quantity. Limited. So, it's not on the menu. When they take order, they teach us. Mostly it's 1100 yen.
And it's sometimes nakaochi and tuna head sashimi. Anyway, if they offer "Tuna sashimi half" and you don't have anything in mind, I highly recommend to order it.
Nakaochi had sticky texture.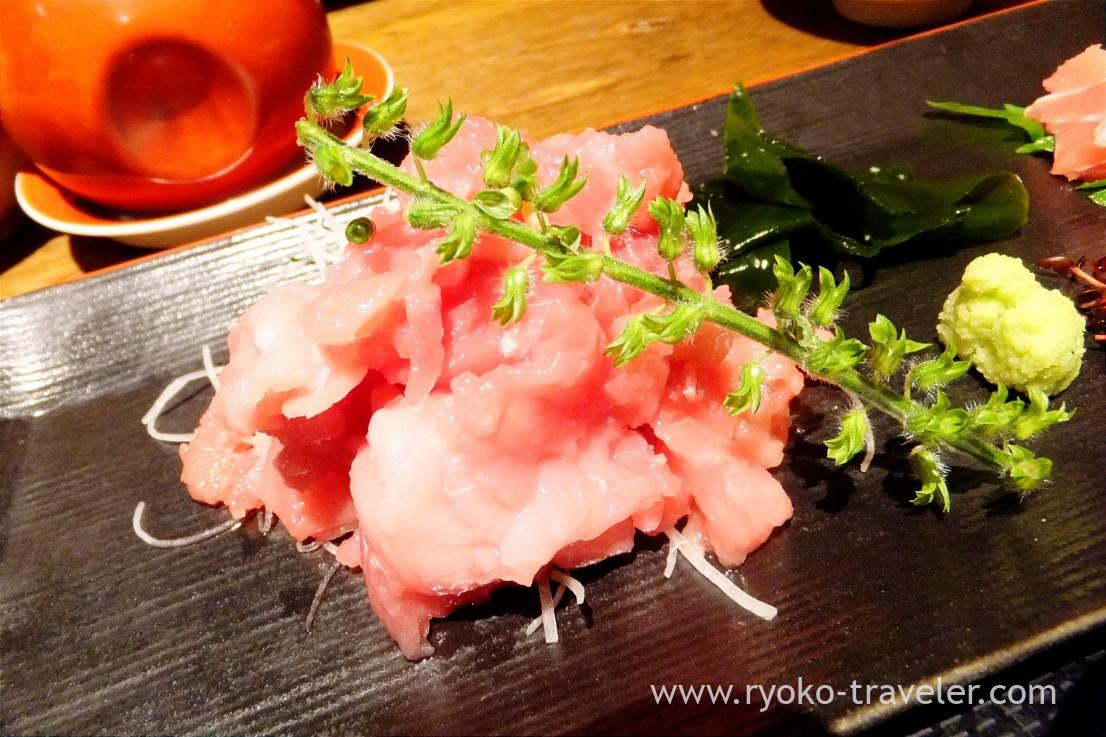 Chunks of toro part of tuna. Toro means fatty part. As you see, it had much fats.
All workers who visit there eat such great tuna as usual, but its qualities are very high. I always eat my small rice up soon. There's no choice but to have second helping of rice !
Deep fried oysters (Winter limited)
And this is my best deep fried oysters in the world now. Fujimura serve Kaki fry (Deep fried oysters set / カキフライ定食, 1100 yen) in winter. It is available from at the end of October to start of March. It's short time. It have 4 large deep fried oysters. Tartar sauce was put into the small cup. Mustard is in the pot on the table.
The section of deep fried oysters. Needless to say, its coating and oysters inside is awesome every time. Once you bite, abundant oyster juice spreads out in your mouth. Happy.
Fujimura is really far from my office, and it's very hard to visit there at lunchtime, but I walk to there so fast in hurry during this season.
As a whole, the size of oysters that are used at Fujimura is not change throughout the season. So, Fujimura's oyster season is shorter than another restaurants.
Deep fried horse mackerel (Summer limited)
Aji fry (Deep fried horse mackerel set / アジフライ定食, 1100 yen) is served in Spring-Summer season instead of oysters. (Horse mackerel is not appeared as soon as oyster season finished. There're intervals both isn't on the menu)
Its coating was crisp and black pepper had pungent flavor. The horse mackerel was fatty.
Deep fried sardine in short time
It's not always appeared on the menu.
I said now, there're intervals that don't have both oysters and horse mackerel on the menu. And sometimes something is fried deeply on that intervals.
Deep fried sardine Iwashi fry set (Deep fried sardine / イワシフライ定食, 1000 yen) was on the menu just only for 1 week in the middle of April 2016. The best season of sardine is from April to June (especially June)
The seasoning is as same as horse mackerel. Two fatty sardines are, needless to say, delicious.
Crisp tempura set
Their tempura set (天ぷら定食, 1100 yen) is crisp and tasty.
The ingredients are shown on the menu, but sometimes they change ingredients because of out of stock. Mostly it have two shrimps and vegetables. Tentsuyu (soup for dipping tempura) and grated daikon radish and curry salt is served with tempura. I like eating tempura with this curry salt.
Long line at lunchtime along stairs
They are so crowded during lunchtime. Sometimes there's a long line along stairs until the outside. So, I recommend you visit there just after the opening time or if you want to eat not limited menu, visiting after 1 p.m. is better.
About the restaurant
Name in English / Fujimura
Name in Japanese / ふじむら
Address / EURO Bldg B1F, 2-14-12 Tsukiji, Chuo-ku, Tokyo
Phone / Tsukiji station (Tokyo metro)

Open / 11:30 a.m. – 2 p.m., 5:30 p.m. – 11 p.m.
Closed / Saturdays, Sundays and national holidays

Credit card / Available only for dinner time
Reservation / Available only for dinner time
Updates
Aug 3, 2016 Posted
Jan 19, 2020 Updated price