Speaking of breakfast in Hakodate, market occure to us. Of course, I visited there for breakfast. But not well-known Hakodate morning market. Hakodate Jiyu Market. Hakodate Jiyu Market is smaller than Hakodate morning market and they offer fresh seafood at more inexpensive price than Hakodate Morning market. So, many local poeple visit there.
But recently, I heard a number of tourists who visit there are increasing. Though Hakodate morning market are open 365 days, this Hakodate Jiyu Market is closed on Sundays.
Not only seafood but also vegetables and dried foods there.
There're many shops that serve delicious seafood from morning to lunch time. And I visited Ichibatei one of the popular shop that serve living squid that time.
Where?
It's really close to Shinkawacho station of Hakodate streetcar. You can walk from JR Hakodate station, too.
Interior
Almost all tables have four chairs. It's rather larger restaurant compared with shops in Toyosu Market.
Menu
There's seafood like sashimi bowl, sashimi, grilled fish and so on, and soba, udon, ramen, curry, another bowls on the menu.
And another, we can order our sashimi bowl what we want to eat everything on the rice.
Of course, we can add something onto sashimi bowl on the menu, too.
(But there's no ceiling of price :p)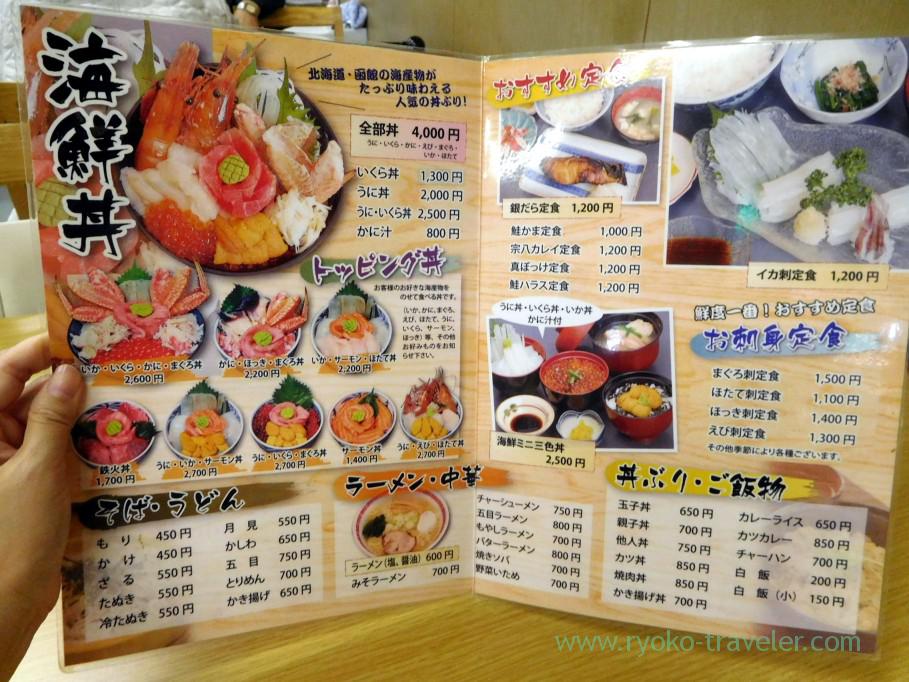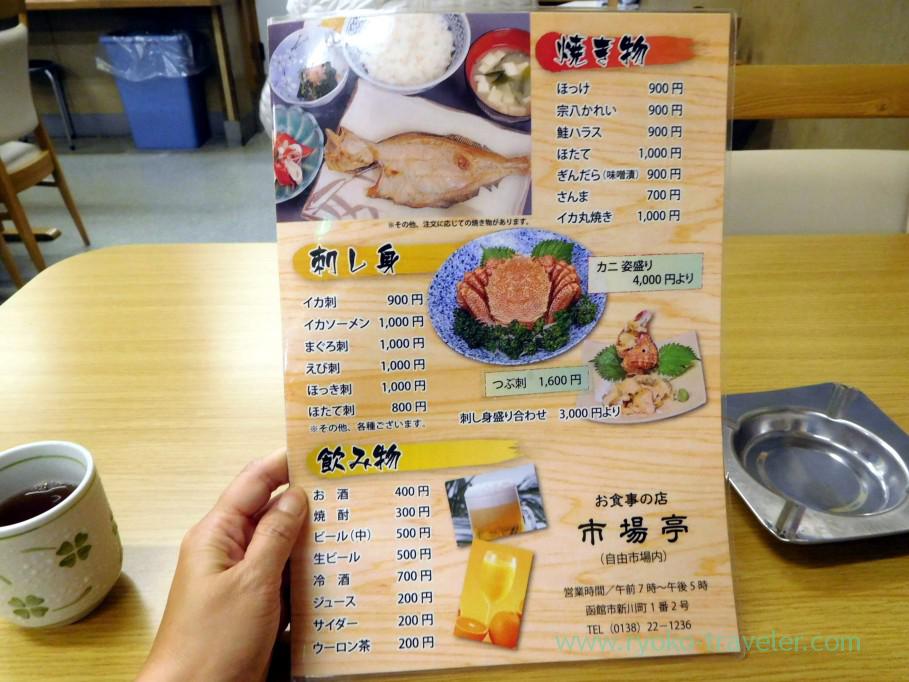 And another, there're strips of menu hanging at the kitchen wall.
When I saw it, I realized I can't eat living squid at this trip in Hakodate.
It can't be helped. They use living squid that is caught in the morning of the day only.
Sea urchin and salmon roe bowl
I didn't think about another foods, so I was confused a bit. But I thought for a while and then I ordered sea urchin and salmon roe bowl (うに・いくら丼, 2500 yen). It took much time to be served. One reasone is, there're few staffs. And another reason is,
they go to buy and order some seafood after our order.
I heard it in advance, but still I was surprised at the scene.
Suddenly a man opened the door with a box of sea urchin and handed it to the shop keeper 😀
So, Needless to say everything was fresh !
sea urchin is like flowers on the sea of salmon roe. So beautiful.
And what do you imagine by this photo ? Cucumber express Goryokaku !
I didn't know it at all in advance, so I was surprised. And I was impressed !
Rice is white rice. Not vinegared rice. The sea urchin had smooth texture like cream and was sweet. The salmon roe had springy texture. I had premium breakfast !
This was the last breakfast at Hakodate that time. I felt like staying for one more night.
I want to visit there again in the near future. For fresh squid 🙂
About Ichibatei (市場亭)
Address / 1-2 Shinkawacho, Hakodate-shi, Hokkaido
Phone / 0138-22-1236
Open / 7 a.m. – 5 p.m.
Closed / Sundays
Website / http://hakodate-jiyuichiba.com/ichibatei/(in Japanese only)