Speaking of breakfast in Hakodate, market occur to us. Of course, I visited there for breakfast. But not well-known Hakodate morning market. I visited Hakodate Jiyu Market (Hakodate Jiyu Ichiba / はこだて自由市場). Hakodate Jiyu Market is smaller than Hakodate morning market and they offer fresh seafood at more inexpensive price than Hakodate Morning market. So, many local people visit there.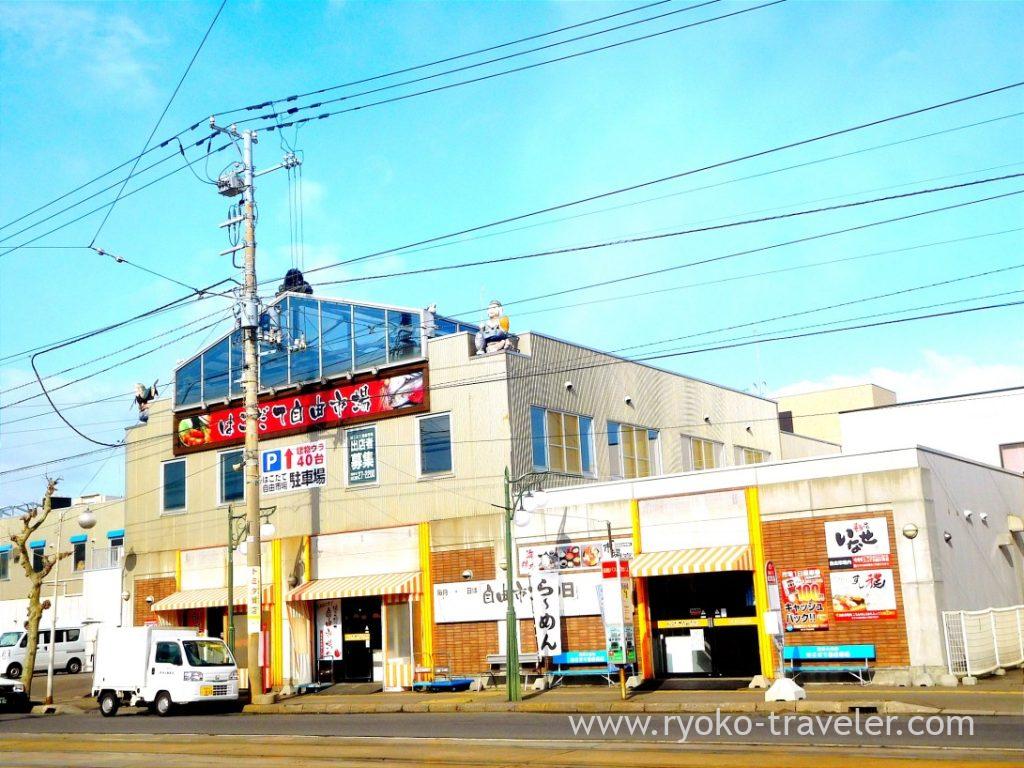 Recently, a number of tourists who visit there are increasing because of their high reputation among local people. Though Hakodate morning market are open 365 days, this Hakodate Jiyu Market is closed on Sundays.
Not only seafood but also vegetables and dried foods there.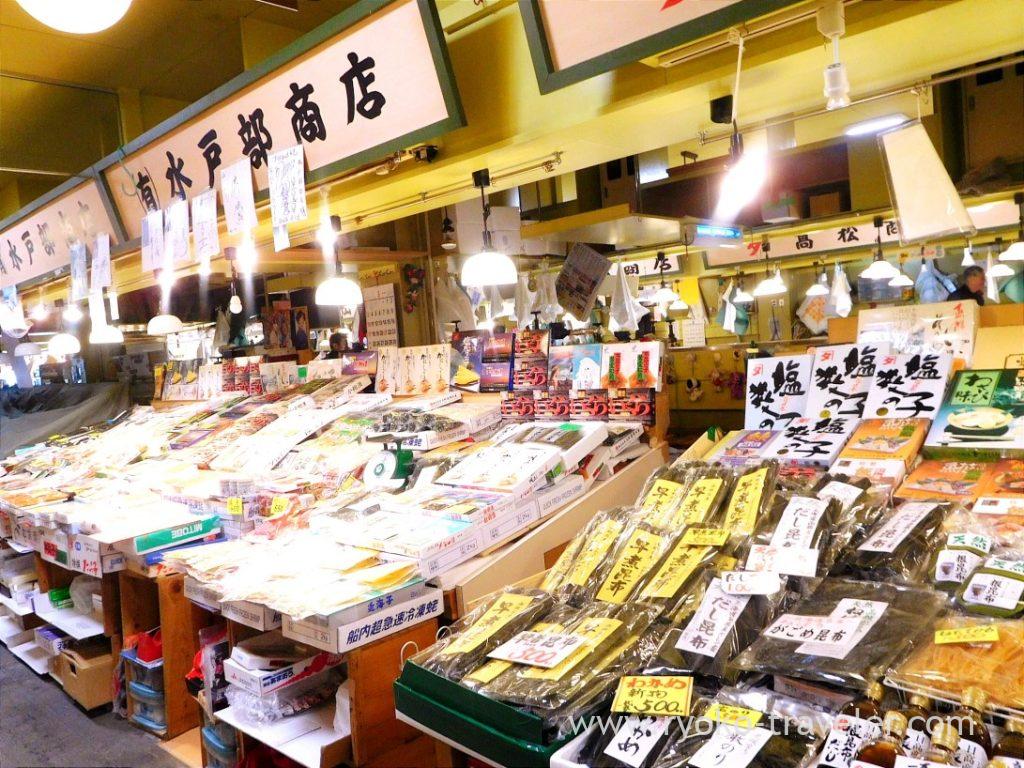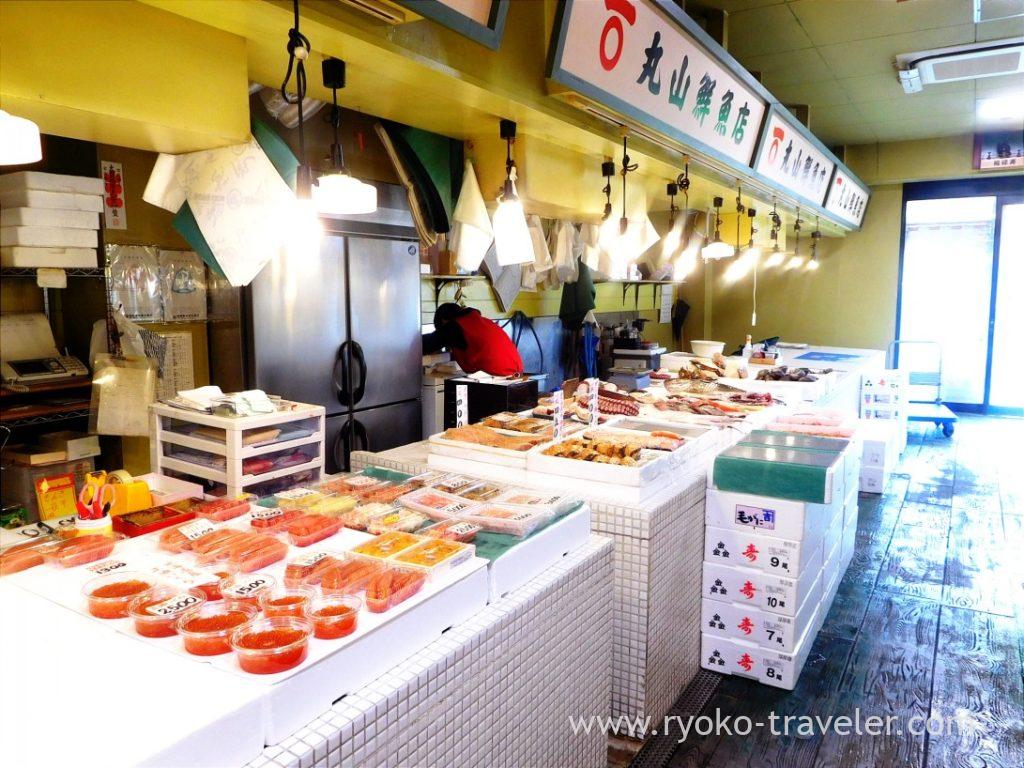 There're many shops that serve delicious seafood from morning to lunch time. And I visited Ichibatei (市場亭) one of the popular shop that serve living squid that time.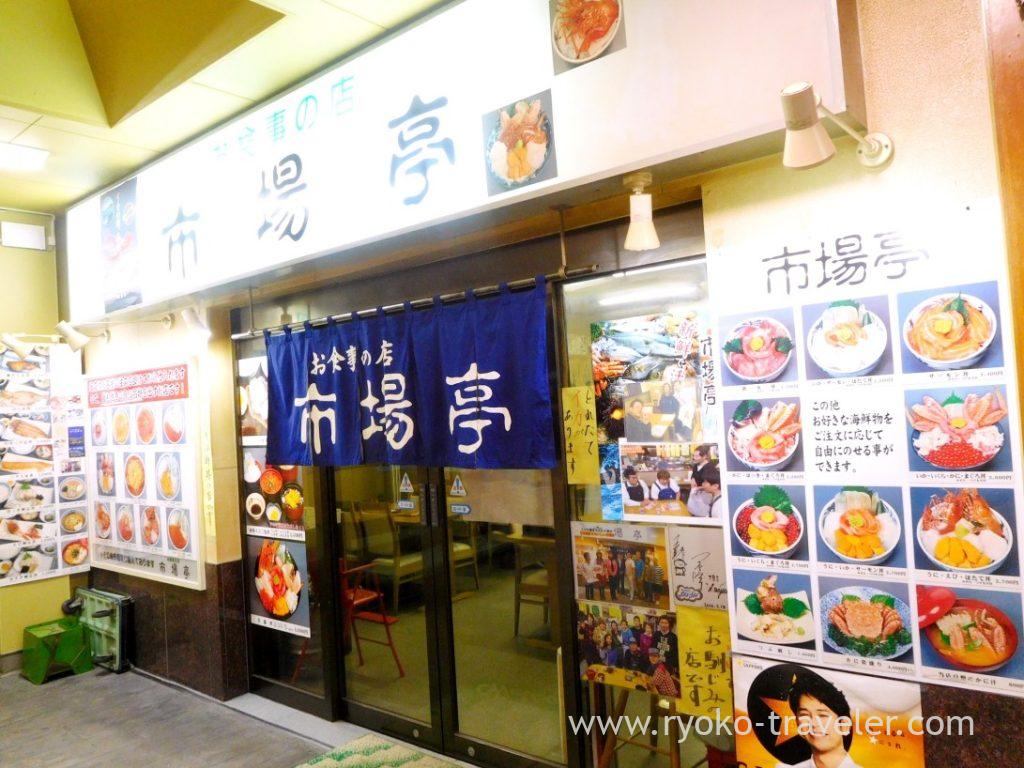 Almost all tables have four chairs. It's rather larger shop compared with shops in Toyosu Market. By the way, the lighting is damn. Not only this shop. Totally in the market. Saving energy or for keep fresh seafood.
There's seafood like sashimi bowl, sashimi, grilled fish and so on. And they have a variety of foods, for example soba, udon, ramen, curry. And we can order our sashimi bowl what we want to eat everything on the rice. Of course, we can add something onto sashimi bowl on the menu, too. (There's no ceiling of price :p)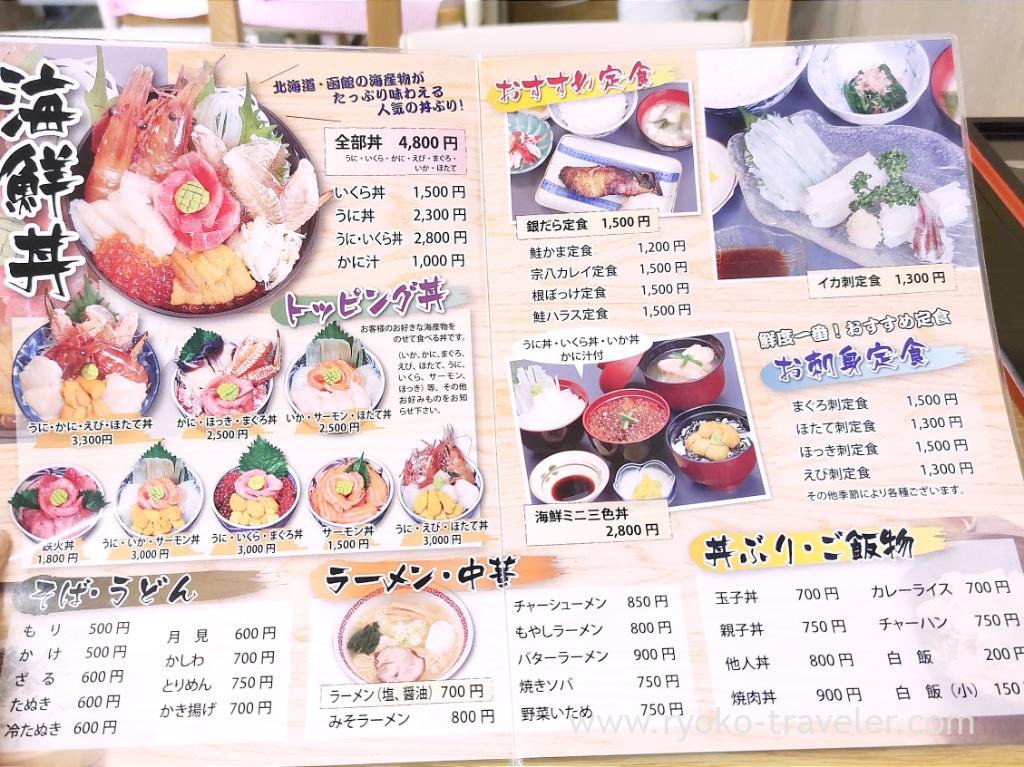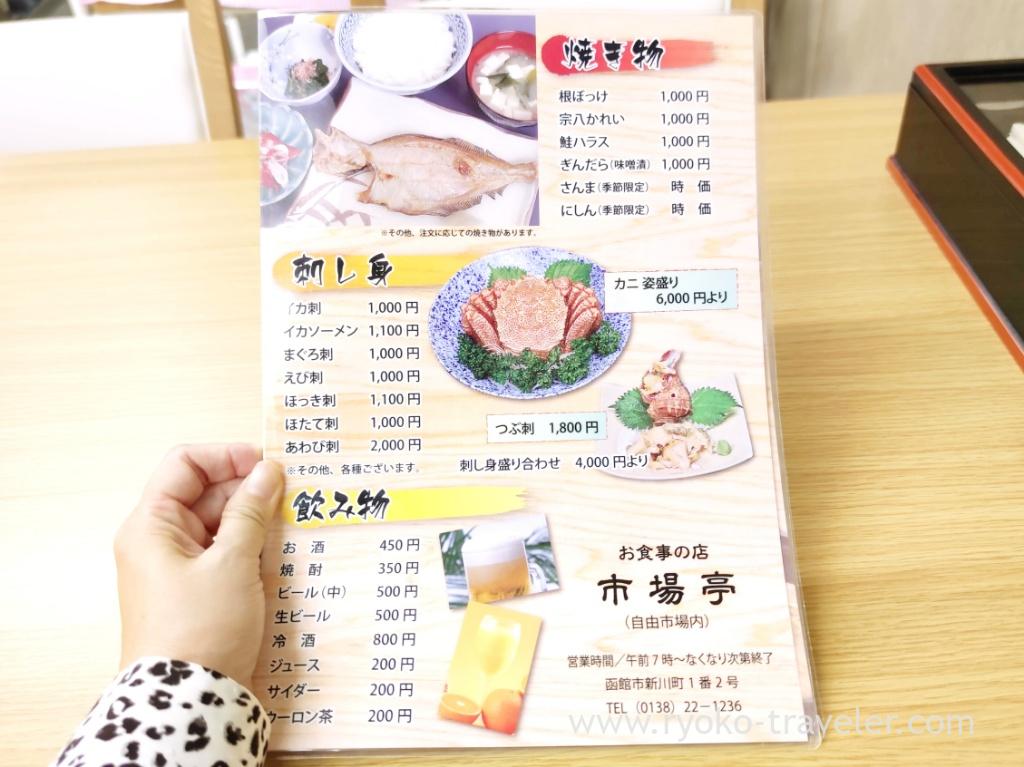 And another, there're strips of menu hanging at the kitchen wall.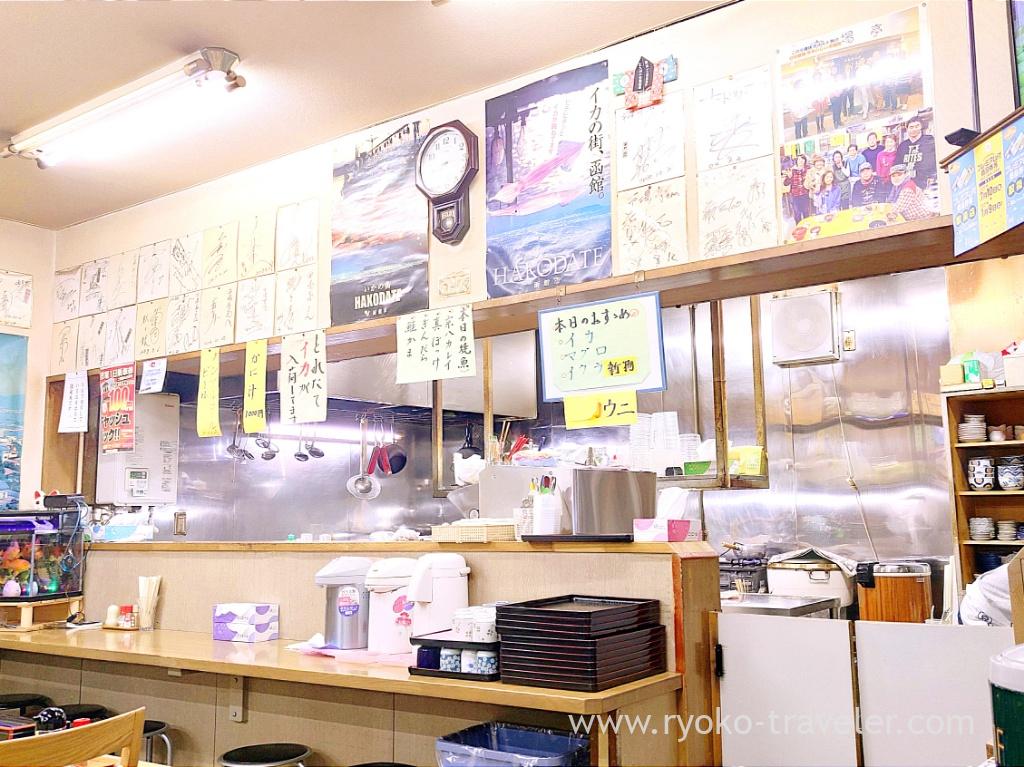 Fresh squid cannot be caught everyday without fail. When I visited Hakodate for the first time, I couldn't eat fresh squid because of severe weather. "本日シケのためイカはありません" means 'no squid today'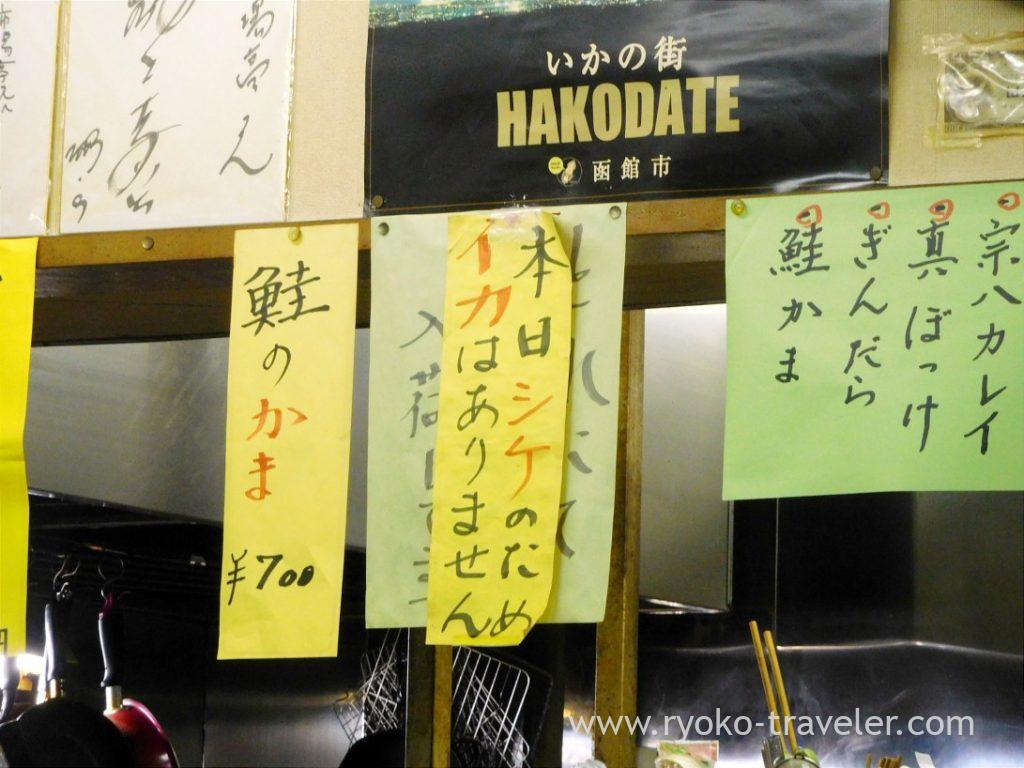 When I visited there for the first time, I ordered sea urchin and salmon roe bowl because squid was out of stock. It took much time to be served. One reason is, there're few staffs. And another reason is, they go to buy and order some seafood after my order. I heard it in advance, but still I was surprised at the scene. Suddenly a man opened the door with a box of sea urchin and handed it to the shop keeper.
So, Needless to say everything was fresh !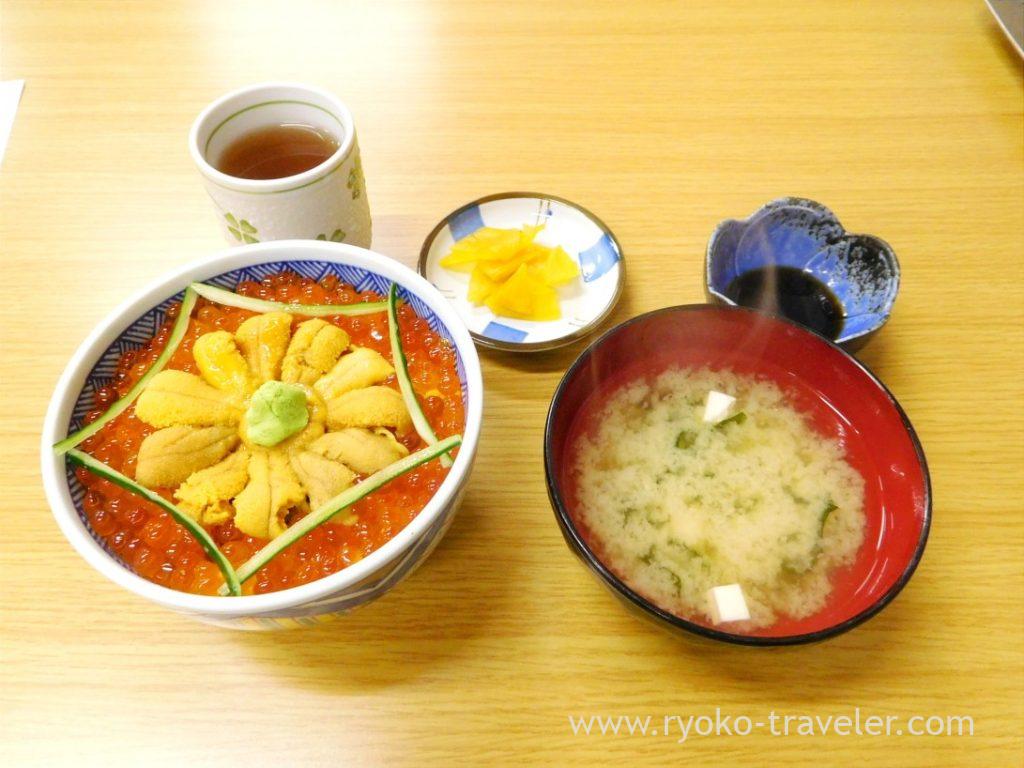 Sea urchin is like flowers on the sea of salmon roe. So beautiful.
And what do you imagine by this photo ? Cucumber express Goryokaku !
I didn't know it at all in advance, so I was surprised. And I was impressed !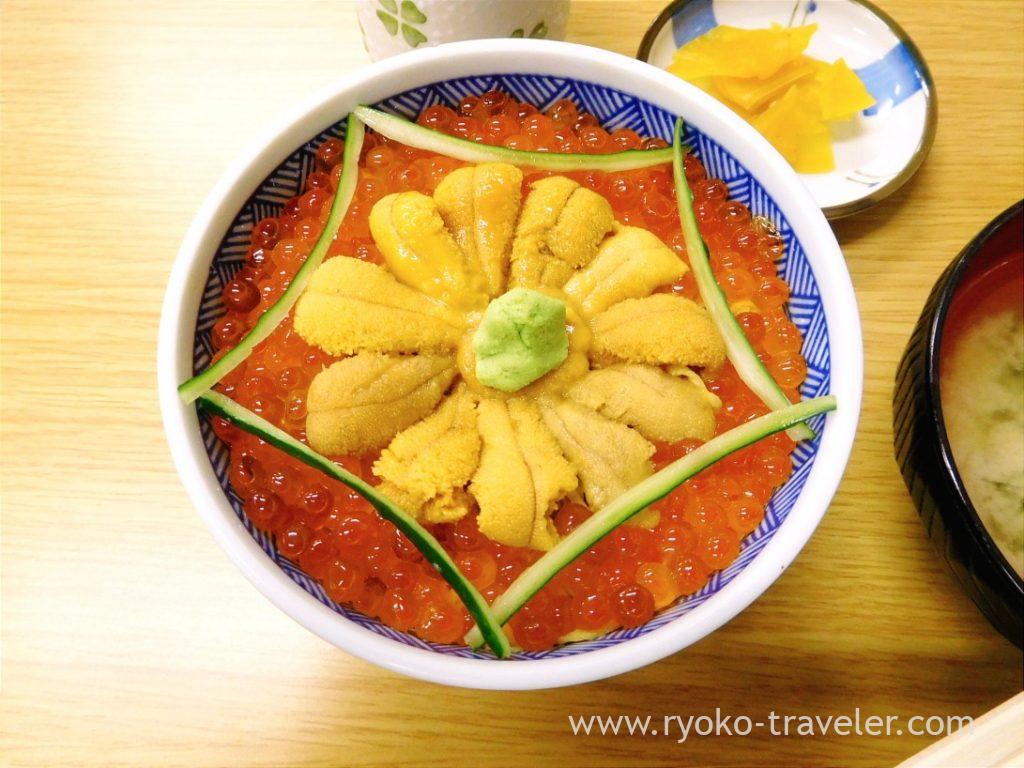 Rice is white rice. Not vinegared rice. The sea urchin had smooth texture like cream and was sweet. The salmon roe had springy texture. I had premium breakfast !
I visited there next year, too. Of course, for fresh squid. This is fresh squid sashimi set. It's very inexpensive. It's not living squid and they get fresh squid that is caught in the morning inside the market. So, they can serve fresh squid at such an inexpensive price.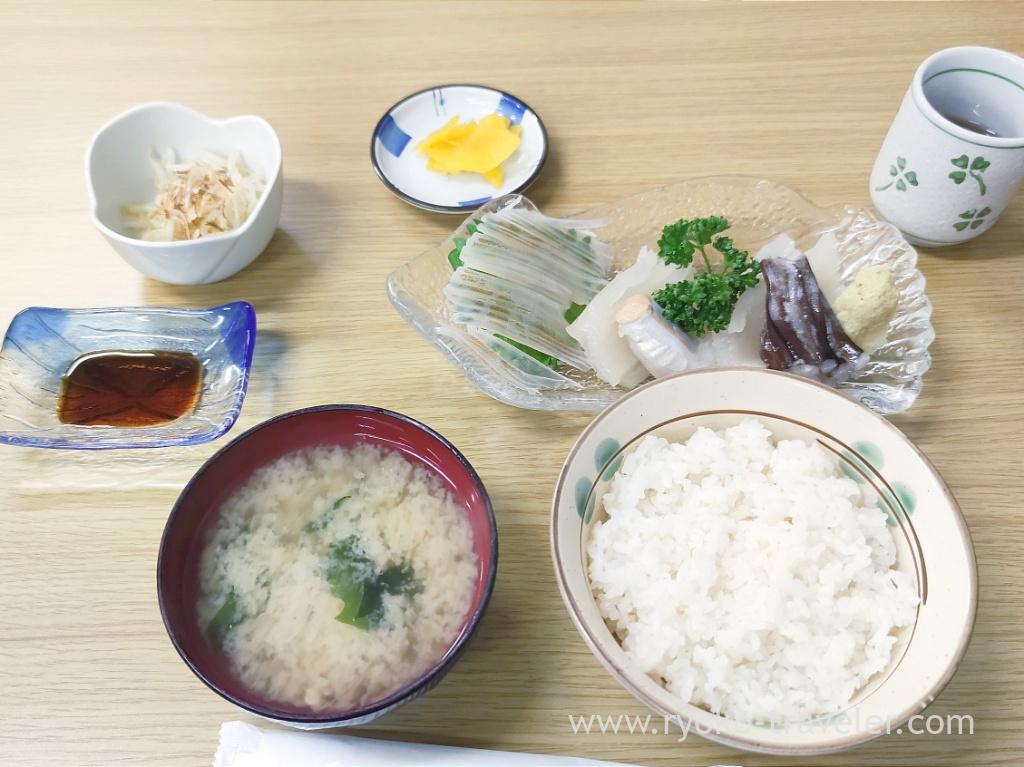 So, it don't move intensely. But its cell moved. The foot had springy texture, and its meat had sticky texture. And its innard was tasty. I wish I want to eat it every morning during staying in Hakodate.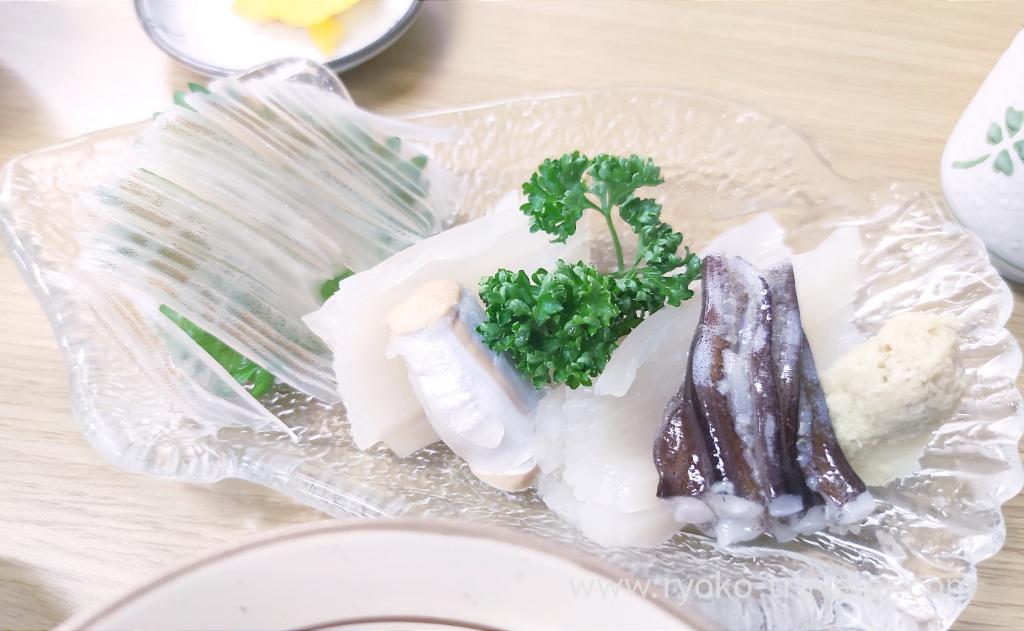 This is surf clam. I ordered it with squids set. Of course, it was brought to the shop after I ordered. And then, the chef cut it and served. So, it was so fresh and sweet. Adductor muscle and fringe was served, too.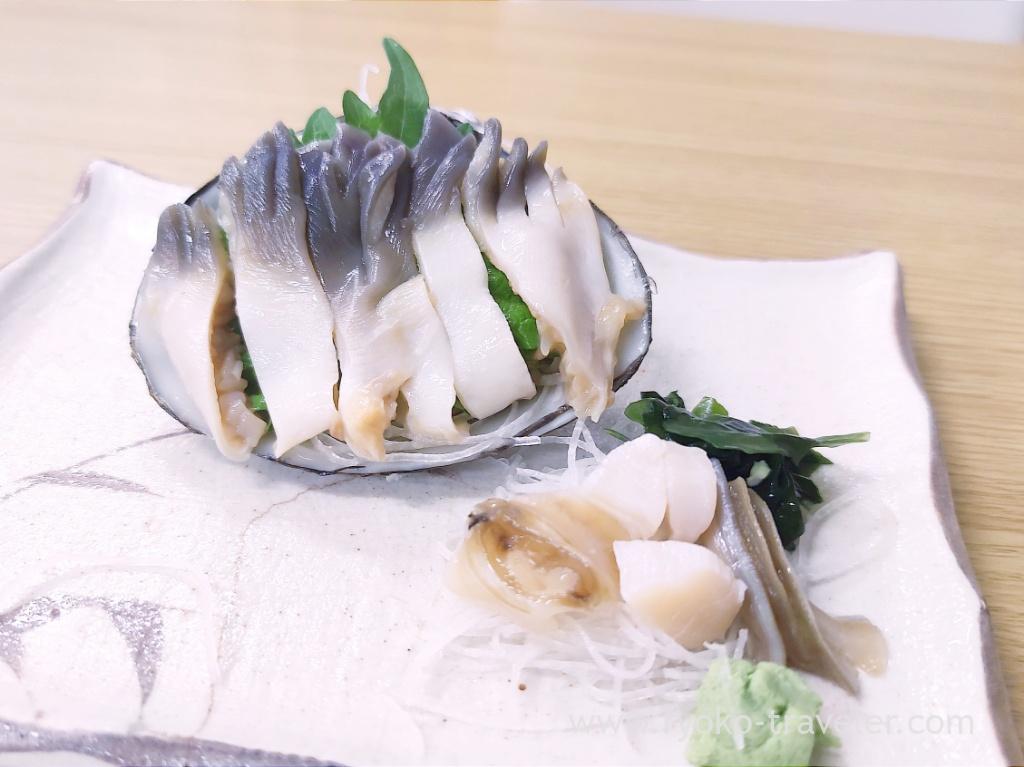 You can order it as set, but I think it don't go with rice, so you'd better order it with another set or sashimi bowl 🙂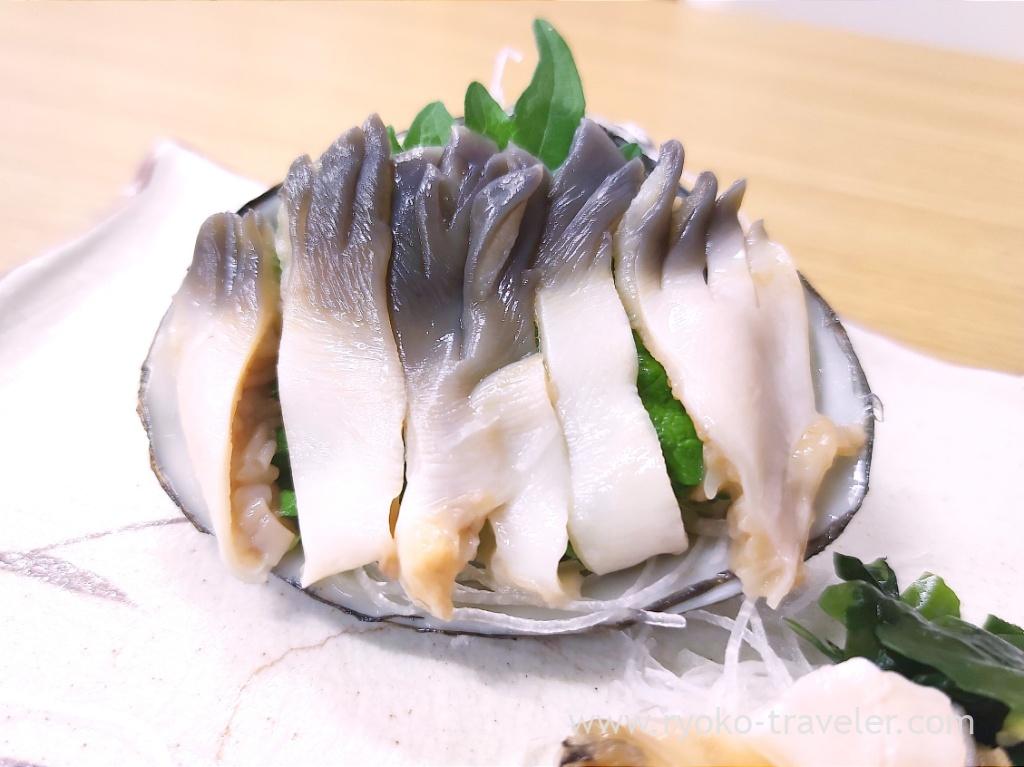 About

Name Ichibatei (市場亭)
Open Morning through evening
Reservation Unavailable
Credit card Unavailable
URL Website

Google Map (Current Ichibatei is quite differ from former Ichibatei)