About two months have passed since Tsukiji Market finished their role as market.
Tsukiji was bright that night, too.
My friend occupied Motodane for two hours at dinner time and he asked me to join the party. Of course, I said "YES!!!" And 21 people including me joined the dinner.
Speaking of Motodane, I visit there for sushi and sashimi bowl at weekdays' lunchtime so frequently.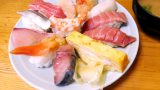 [Tsukiji] Valuable sushi lunch at Motodane (本種)
I visited Motodane (本種) after long absence. I really felt that they are awesome lunch spot in Tsukiji area.They...
But this was the first time to visit there at dinner time.
Motodane is at the back of the street along Harumi street.
Motodane at dinner time have good atmosphere with its light.
Though we booked tables area, there were some regular customer at the counter seats area. I want to try the counter seats at dinner time without reservation like this 🙂
Where?
Motodane is easy to find. Also the lantern is more outstanding at night !
4000 yen course
Motodane have dinner menu and people can have dinner without reservation with easily when they don't have such a large reservation.
But full reservation is required for party course. So, my friend ordered 4000 yen course in advance.
When we got to there before the time, some of our dishes were already on the tables.
As soon as everyone seated, our dinner party started. We ordered each drinks.
Drink is shochu, shochu with oolong tea, beer, Japanese sake and so on. They don't have wine.
Though all foods on the table was already cold, the tamagoyaki that is popular food of Motodane is delicious all the same.
Marinated fish with miso at the center was soft and good.
Though we enjoyed alcoholic drinks, we felt like having rice.
And another, marinated bonito with soy sauce. Though the surface was dry a bit. we coated them with sauce before eating it and I enjoyed the tastes.
And assorted sashimi. This is one portion. Gorgeous 🙂
Sushi. One person have 5 sushi. They don't serve conger eel at lunchtime. It's precious !It was so soft and good. The sushi roll have toro part of tuna and pickled daikon (takuan)
Motodane's sushi is delicious both day and night ! But 5 sushi cost 1200 yen at dinner time. So, I think lunch time is great.
Last,tempura was served.
Eggplant, shrimp, green asparagus, horse mackerel and so on. Of course, this was the first time to eat tempura at Motodane ! Some was already cold and another was hot. But they have to serve such a large portion at one time.It can't be helped. Still everything was good. Especially, horse mackerel attracted me. Horse mackerel tempura is rare !
They accept full reservation for group having over 20 people (two hours).
Don't you have party at Motodane in early 2019 ?
* Now Motodane dinner time is open from Monday through Friday.
I want to visit there again at dinner time soon.
Of course, I'll continual use Motodane at lunchtime, too.
About Motodane (本種)
Address / 6-25-4 Tsukiji, Chuo-ku, Tokyo
Phone / 03-5565-1923
Open / 11 a.m. – 2 p.m., 5 p.m. – 9 p.m.
Closed / Sundays, national holidays, and Saturdays' dinner time
Reservation / Available
Smoking / Permitted
Credit card / Unavailable