I visited Motodane after long absence.
I really felt that they are excellent lunch spot in Tsukiji area.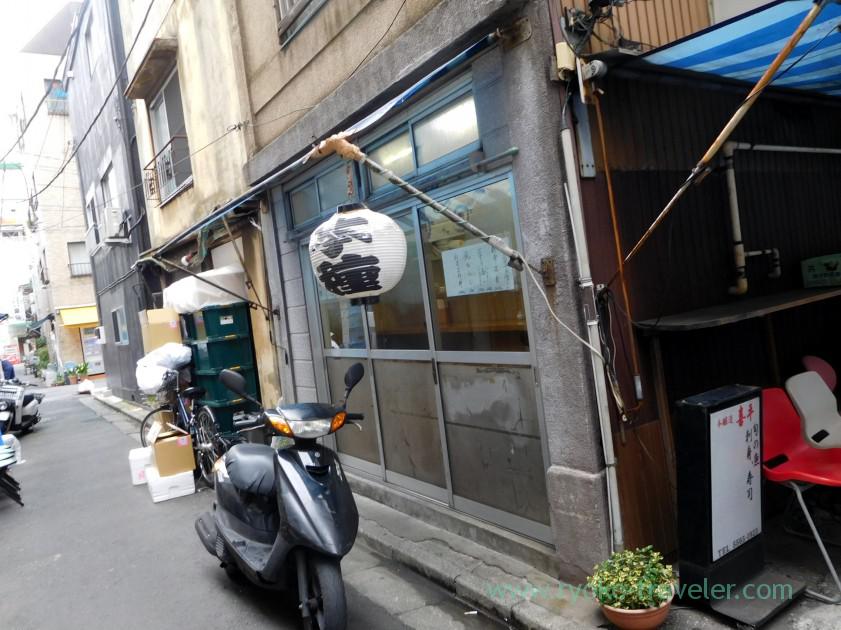 Where?
The shop is located at the back of the street along Harumi street.
They are open as izakaya at dinner time.
Paper lantern could be seen from Harumi street. It's Motodane's.
Motodane is in front of Tempura Kurokawa.
There are some people who work around there wait at their lunchtime (12 p.m. – 1 p.m.)
Tempura restaurant outside the market. I spent my lunch hour for eating tempura at Tempura Kurokawa in Tsukiji the other day. Kurokawa's lunch is gorgeous just a bit for my work lunch. They se...
They close earlier at lunchtime
Motodane is popular as raw seafood lunch spot among people who visit Tsukiji so frequently. Especially I love their sushi !
By the way, also Kashigashira is popular among them 🙂
http://www.ryoko-traveler.com/kashigashira39/
Their name was "Meshimaru".
Recently there are many people visit the shop at lunchtime, so there are more staffs in the shop than they used to be. There used to be only one man (manager and chef) cooking. But now, there's also younger man next to the manager. He is a successor ?
By the way, the manager looks hard to please and don't talk much, but I found he is kind.
They are open from 10:30 a.m. to 2 p.m. at lunchtime. But sometime they take last order at 1:20 p.m. I think after that they start to prepare dinner time .
There're counter seats, so many people visit alone.
They don't accept reservation at lunchtime. But they accept reservation for course only on Saturdays' lunchtime.
They have started Instagram. I think the younger chef do it. Of course, I followed !
Interior
5 Counter seats can be seen from outside in front of Kurokawa. But there're many tables in the shop. Counter seats and tables area is divided with the kitchen. So, you can't see from outside. There's a door on the right.
I usually go straight to a counter seat because I usually visit there at lunchtime alone, but sometime there's no vacant counter seat and the chef say "Enter from the right"
In case you are lead to tables area, you are required to share table at lunchtime.
This is the lunch menu. Simple.
From left to right, Negitoro bowl (1000 yen), Maru chirashi (900 yen), Normal portion of sushi (1000 yen), Large portion of sushi (1500 yen) and Sashimi set (1200 yen)
I think 80% of visitors order Maru Chirashi and Large portion of sushi.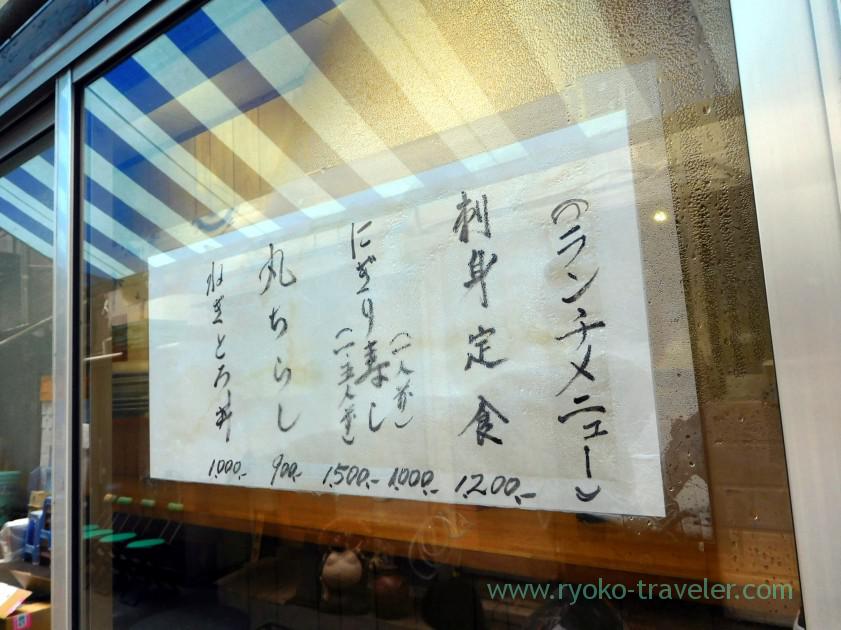 In addition, they have started to serve Osusume (Chef's choice) set. I heard they serve tuna steak so often.And Battera sushi, too.
Awesome lunch set
Maru Chirashi
Speaking of Motodane at lunchtime, Maru chirashi (丸ちらし, 900 yen) is so popular.
Maru Chirashi is sashimi bowl.
They haven't changed the price even after the consumption tax increase.
The amount of seafood is decrease a bit. But it can't be helped.
But there's no shop in Tsukiji that serve such a good sashimi bowl with only 900 yen !
Motodane's seafood is really good. So fresh. Some of them are cut end after they prepare dinner. So, they can serve such a gorgeous sashimi bowl at lower price 🙂
Negitoro bowl
Though there're not much people who order this (because maru-chirashi is attracting…), but I sometimes order negitoro bowl (ねぎとろ丼, 1,000 yen). Negitoro is fresh meat of tuna on the spine. The chef scrap it at the kitchen. So, those meat are fresh. As you see, so fatty.
If you want to eat tuna only, not much meat, I recommend it. Not only negitoro but also slices of tuna is on it.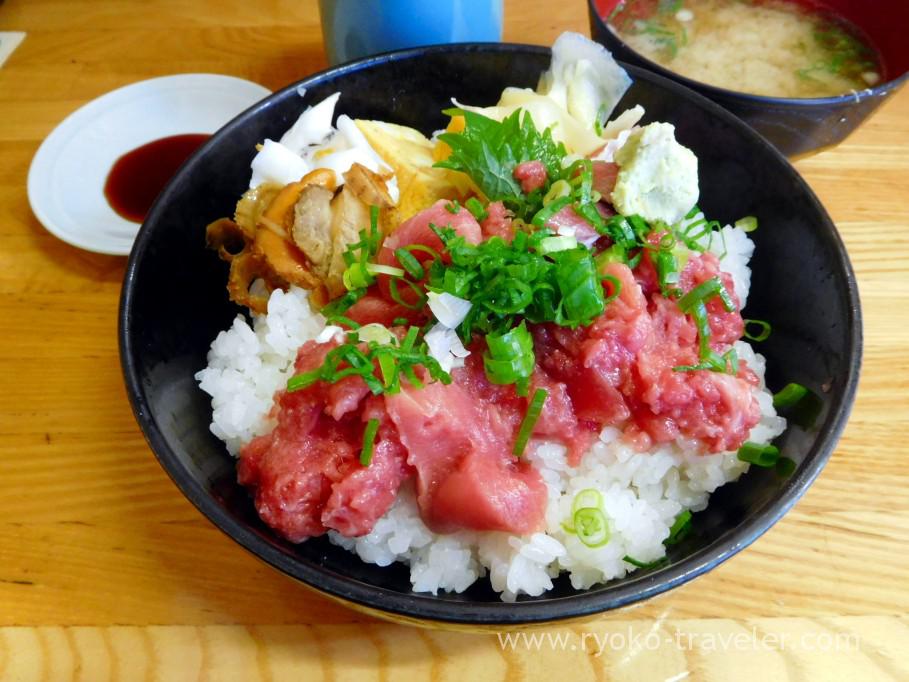 Large portion of sushi set
If you want to eat sushi, of course, they serve ! From 1000 yen !
But I always order large portion of sushi set (にぎり1.5人前, 1500 yen) because normal portion is not enough for my lunch. But still large portion having 12 sushi is only 1500 yen ! Sushi make circle.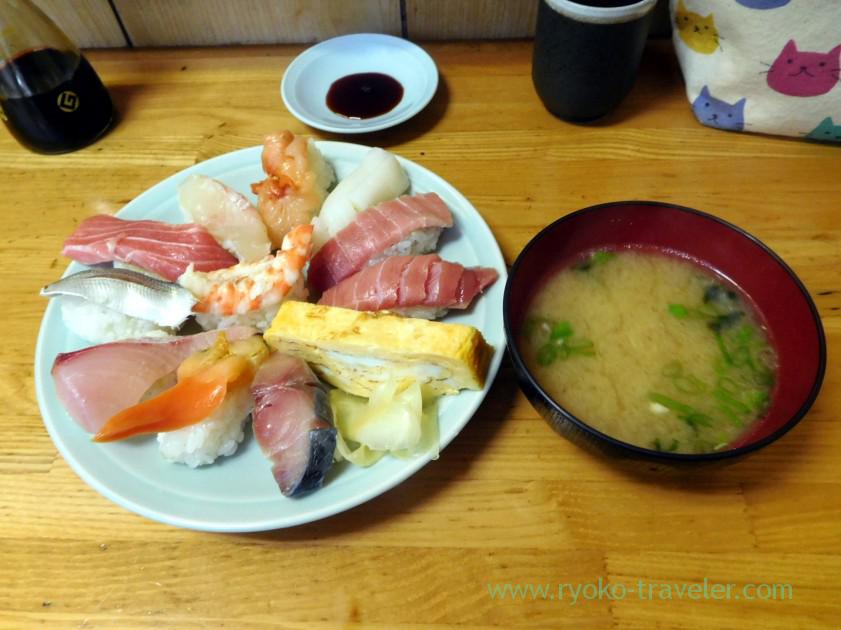 Look at the freshness ! The amount of vinegar is light and good. The thick slices of seafood is main role.
Some of sushi is shells.
If you say what you can't eat when you order, he add another sushi instead of them. But they don't prepare much species of seafood.So, there must be some same seafood
This sushi set have hen clam and ark shell, too.
They cook tamagoyaki by themselves (Many shops in Tsukiji don't cook tamagoyaki by themselves and buy it at tamagoyaki shops) Their tamagoyaki is loved by regular customers.
Sashimi set
There's only food at lunchtime that is served sashimi and rice separately.
It's sashimi set (刺身定食, 1200 yen).
Assorted fresh sashimi as well as Maru chirashi and sushi set is dished up.
Rice is not served in rice bowl. On flat dish. I think they don't have rice bowls because they are izakaya.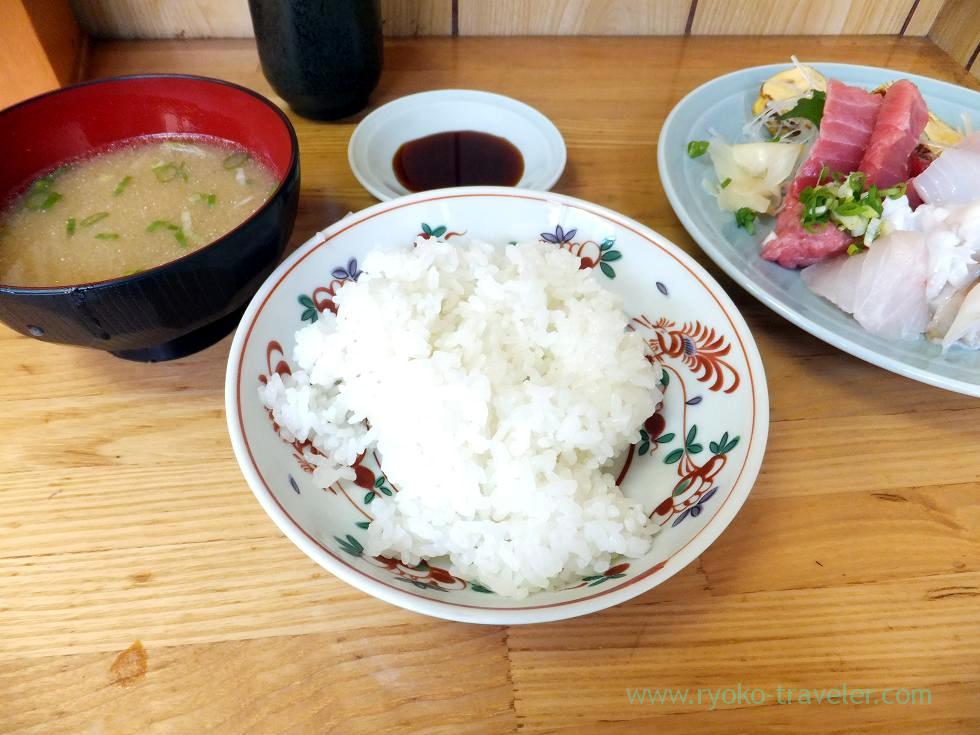 Recommend
I show you lunch set that I have eaten. I recommend everything !
But I recommend Sushi and Maru chirashi all the same if you visit there for the first time.
I always decide what to eat with the contents of my wallet :p
Nothing has been difference between those foods concerning the quality of seafood.
The difference is only… those seafood is on the rice, sushi, or served with rice separately. So, You'll be satisfied with everything !
Motodane is open at dinner time, too. But lunch time is very inexpensive all the same.
About two months have passed since Tsukiji Market finished their role as market. Tsukiji was bright that night, too. My friend occupied Motodane for two hours at dinner time and he asked me t...
About Motodane (本種)
Address / 6-25-4 Tsukiji, Chuo-ku, Tokyo
Open / 11 a.m. – 2 p.m., 5 p.m. – 9 p.m. (Saturdays 11 a.m. – 2 p.m. only)
Closed / Sundays, national holidays
Smoking / Permitted at dinner time only
Reservation / Available at dinner time only
Credit card / Unavailable
English menu / No. But they have photo menu for foreigners and tourists