I visited Motodane (本種) after long absence. I really felt that they are awesome lunch spot in Tsukiji area.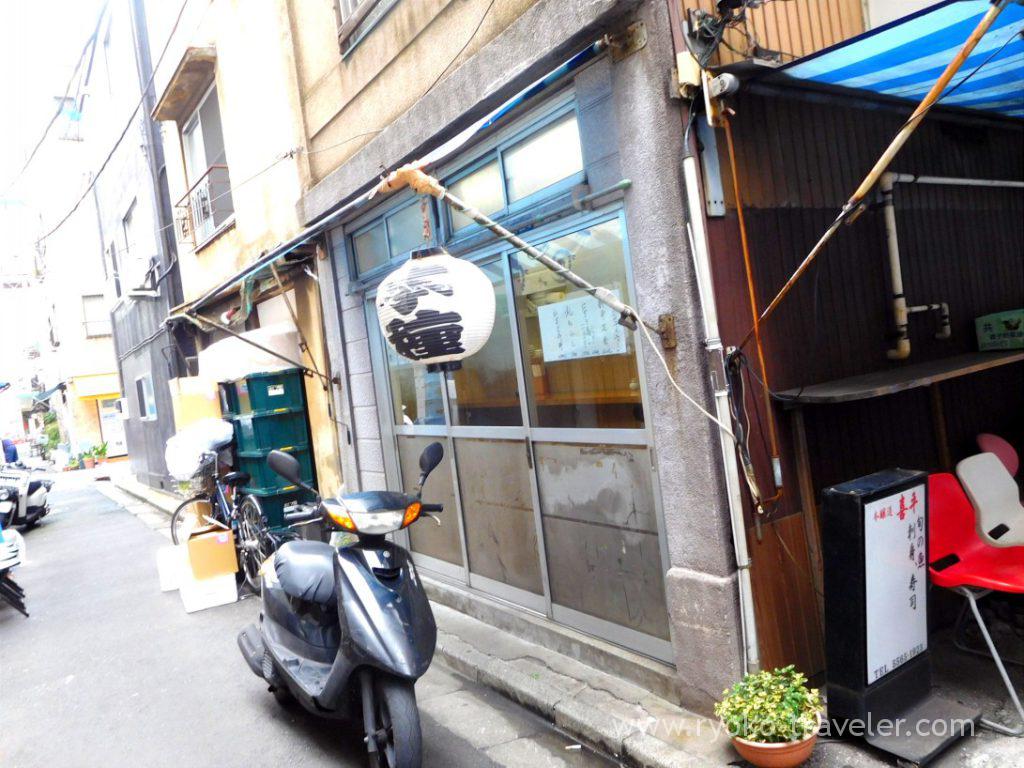 They are located at the back of the street along Harumi street. They are open as izakaya at dinner time. I had dinner party at Motodane before.
Paper lantern can be seen from Harumi street. This is Motodane. Motodane is in front of Tempura Kurokawa. Sometimes there are many people who work around there.
Their former name was "Meshimaru (めし丸)".

There're counter seats, and many people visit alone. They don't accept reservation at lunchtime. They have started Instagram. Of course, I followed 🙂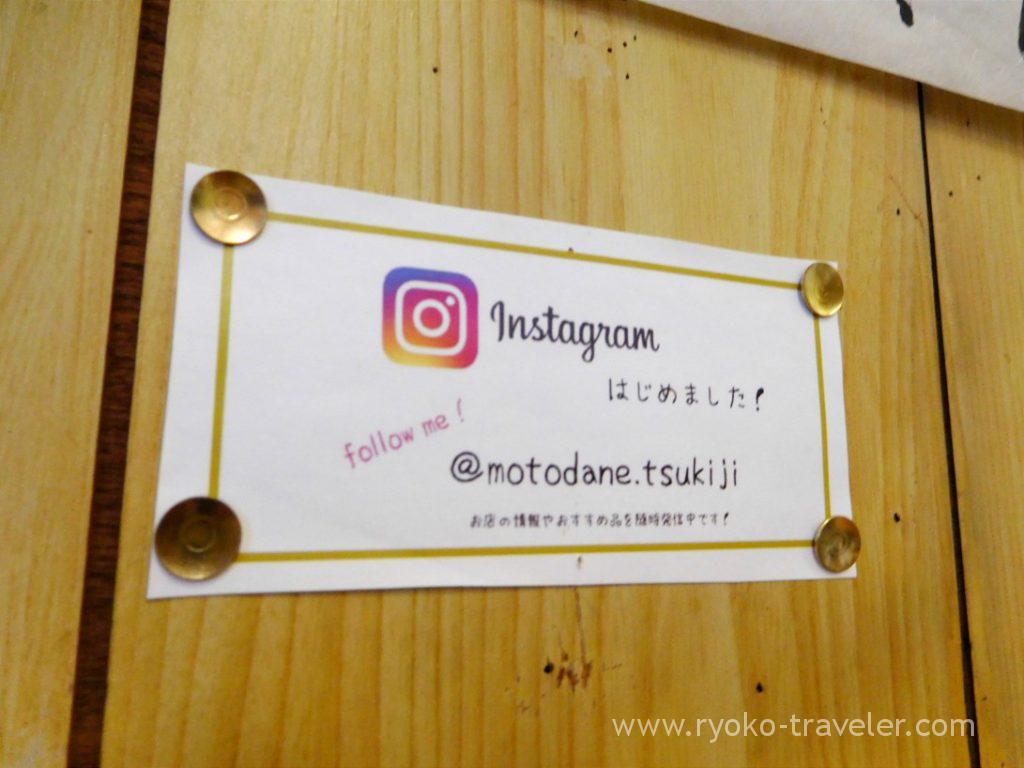 5 counter seats can be seen from outside in front of Kurokawa. But there're many tables in the shop. Counter seats and tables area is divided with the kitchen. So, you can't see from outside. There's a door on the right.

I go straight to a counter seat because I usually visit there at lunchtime alone, but sometimes there's no vacant counter seat and the chef say "Enter from the right".

In case you are lead to tables area, you are required to share table at lunchtime.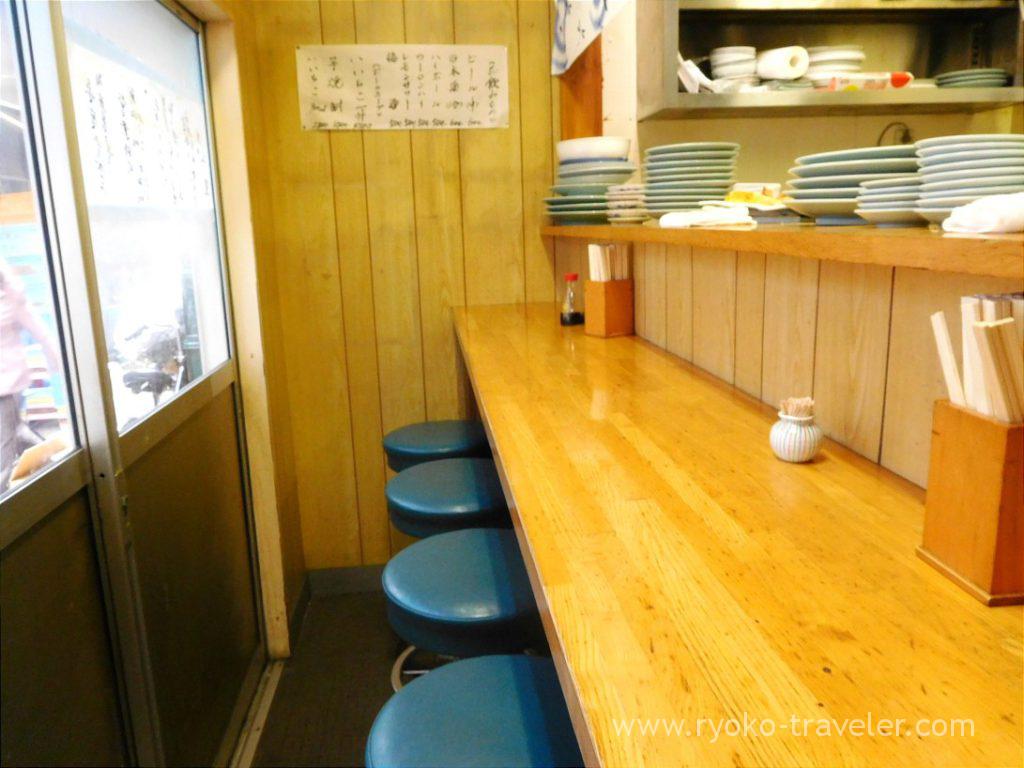 This is the lunch menu. Simple.
From left to right, Negitoro bowl (1200 yen), Maru chirashi (1000 yen), Normal portion of sushi (1200 yen), Large portion of sushi (1700 yen) and Sashimi set (1400 yen). I think 80% of visitors order Maru Chirashi and Large portion of sushi.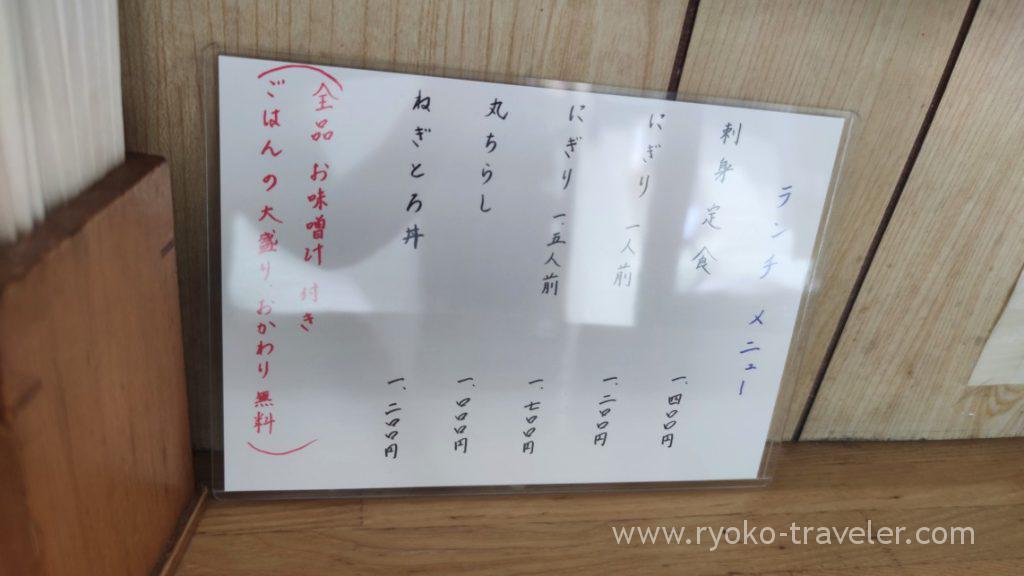 In addition, they have started to serve Osusume (Chef's choice) set. I heard they serve tuna steak so often. And Battera sushi, too.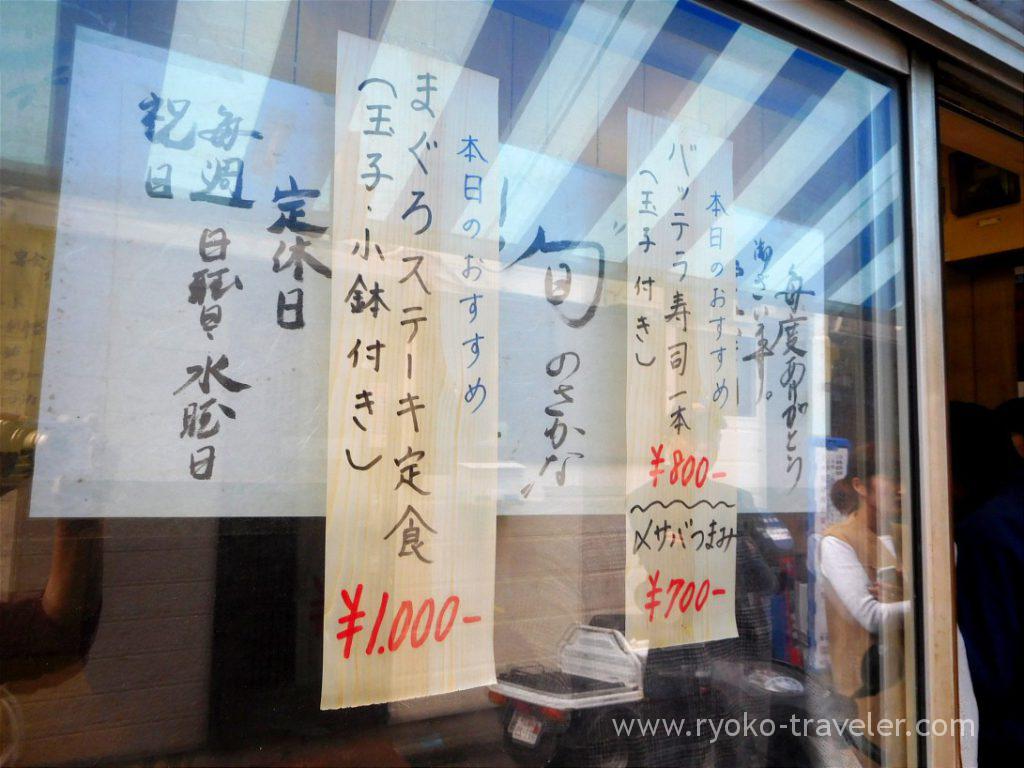 Speaking of Motodane at lunchtime, Maru chirashi is so popular. Maru Chirashi is sashimi bowl.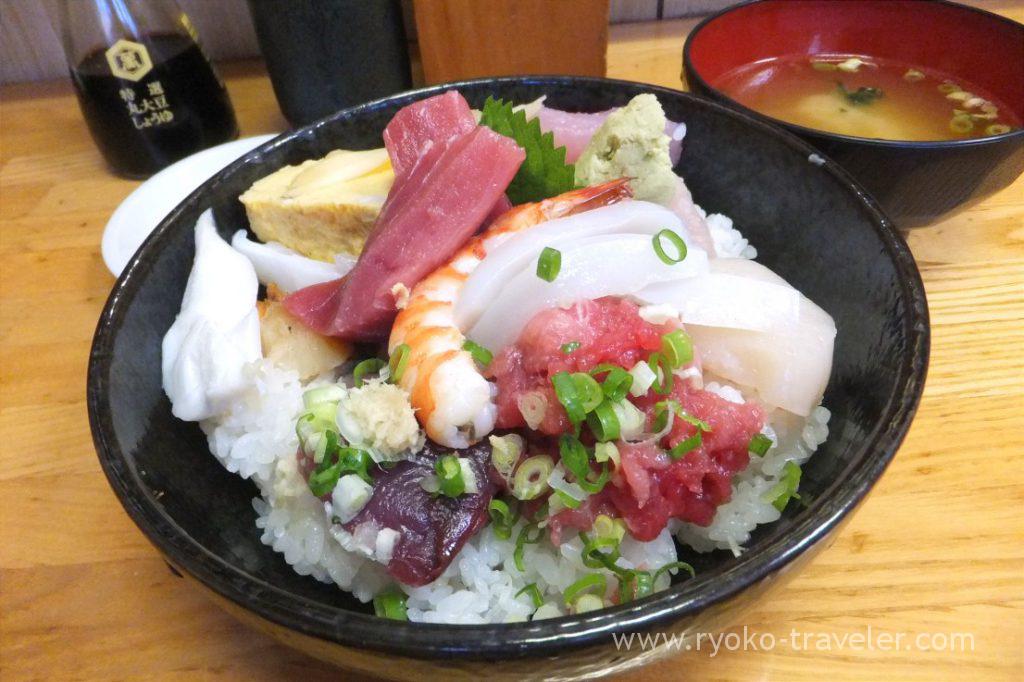 There's no shop in Tsukiji that serve such a good sashimi bowl with only 1000 yen !
Motodane's seafood is really good. So fresh. Some of them are cut end after they prepare dinner. So, they can serve such a gorgeous sashimi bowl at lower price 🙂
Though there're not much people who order this (because maru-chirashi is attracting…), I sometimes order negitoro bowl. Negitoro is fresh meat of tuna on the spine. The chef scrap it from the spine at the kitchen. So, those meat are fresh. As you see, so fatty. If you want to eat tuna only, I recommend it because not only negitoro but also slices of tuna is on it. And tamagoyaki and some boiled things are on it.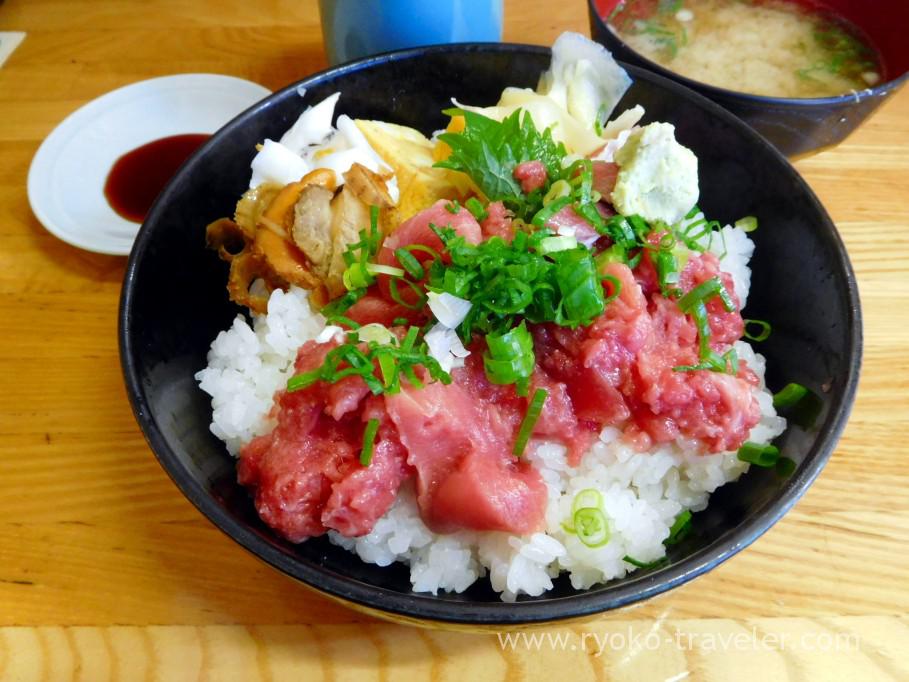 They also serve sushi at inexpensive price ! I always order large portion of sushi set because normal portion is not enough for my lunch. Sushi make circle.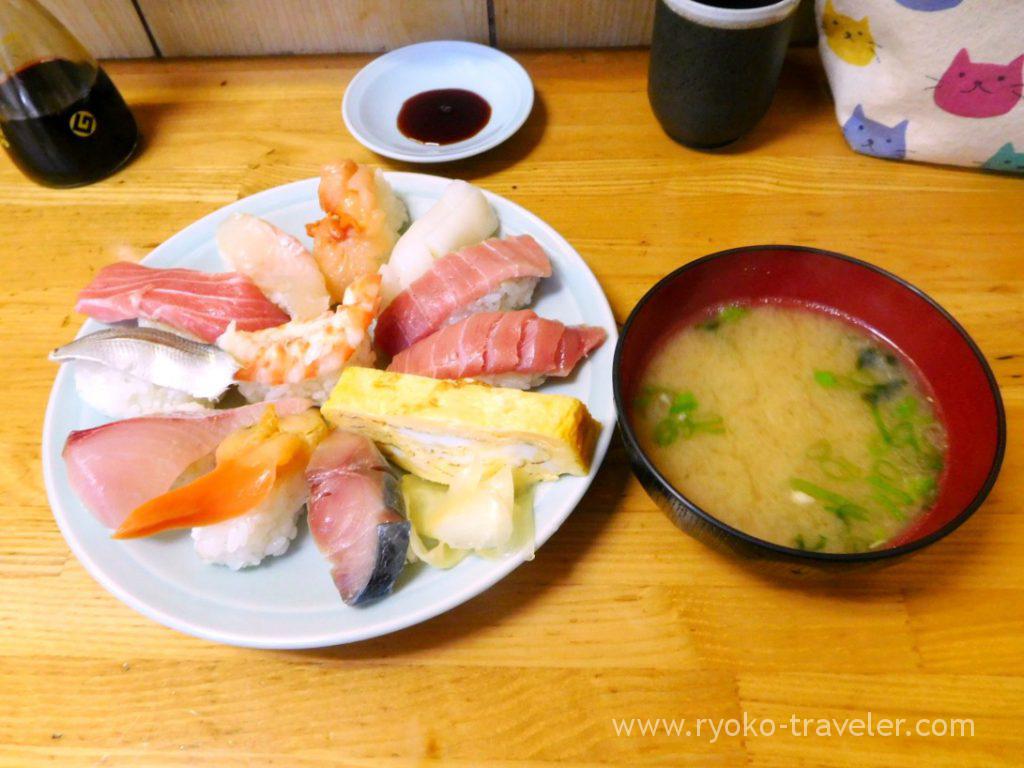 Look at the freshness ! The amount of vinegar is light and good. The thick slices of seafood is main role. Some are shells.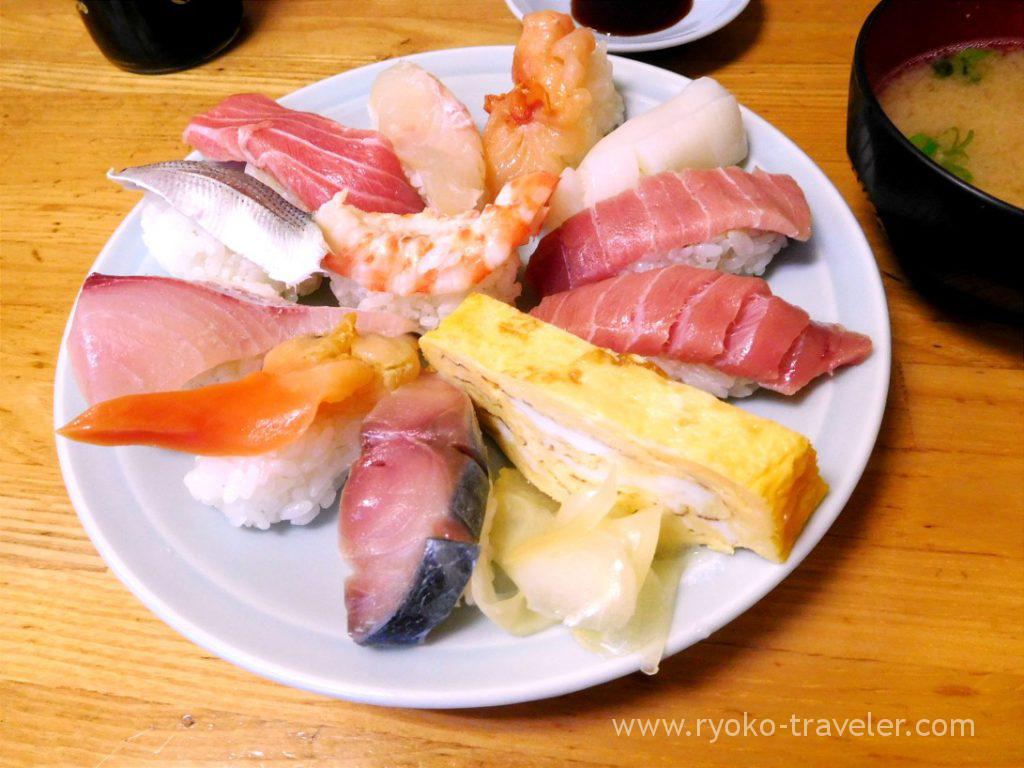 If you have something that you can't eat, you'd better say that in advance, and they change that to something. But they don't prepare much species of seafood. So, there must be some same seafood. They cook tamagoyaki by themselves (Many shops in Tsukiji don't cook tamagoyaki by themselves and buy at tamagoyaki shops). Their tamagoyaki is loved by regular customers. Me, too.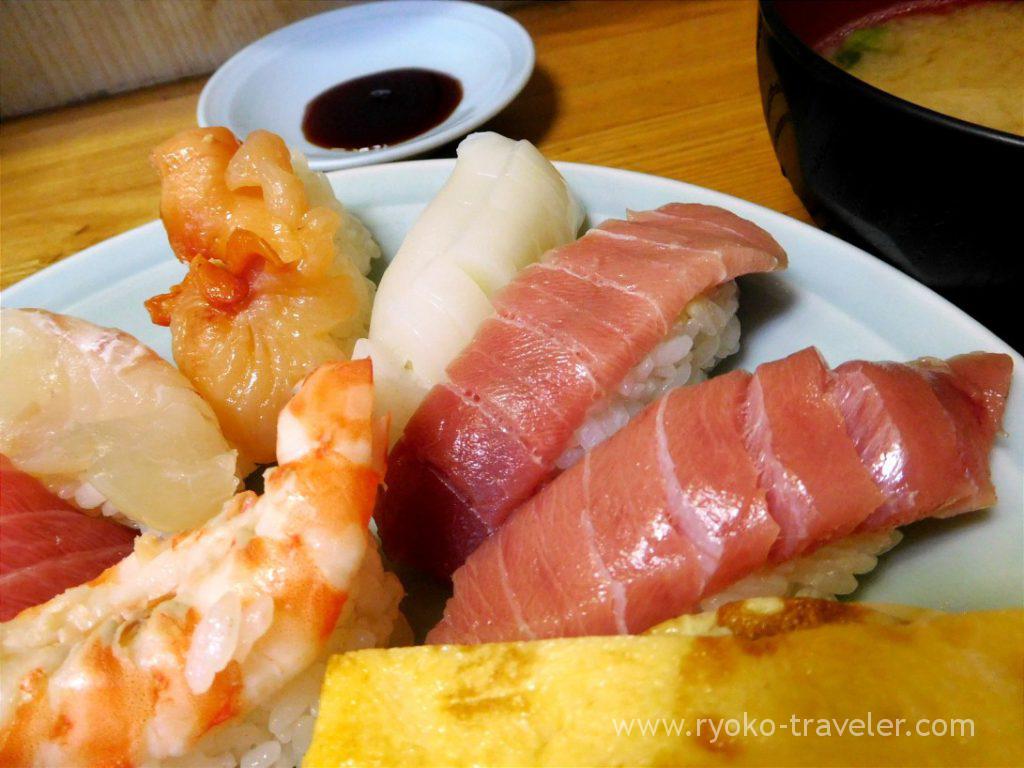 There's only food at lunchtime that is served sashimi and rice separately. It's sashimi set. Assorted fresh sashimi is dished up. Rice is not served in rice bowl. On flat dish. I think they don't have rice bowls because they are izakaya 🙂 Basically, rice is vinegared rice. But sometimes pure rice is served. It can't be chosen.
Though it's not on the menu, they have large portion of sashimi set. When they have much seafood in stock, about 15 seafood is dished up. Brilliant ! Only plus 300 yen make me feel so happy.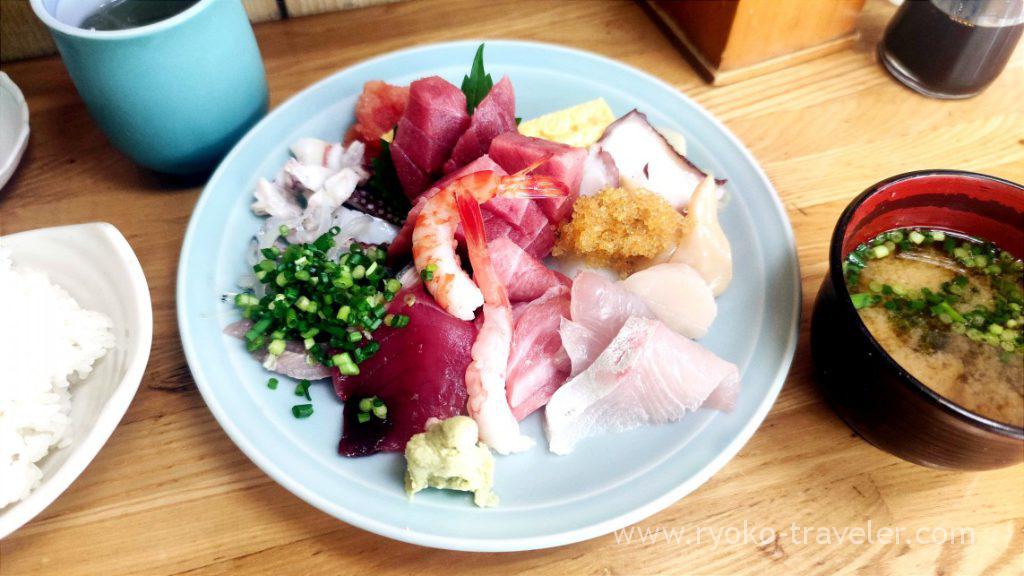 About

Name Motodane (本種)
Open Lunch, Dinner
Reservation Available at dinner time only
Credit card Unavailable
URL Instagram

Google Map