My friend reserved Ginza Shimada (銀座しまだ) the other day. And we visited there. As its name, Ginza Shimada is located within Ginza area with a little distant from the busy street. The appearance have fancy atmosphere of Japanese cuisine restaurant. But they are stand-up-eating izakaya.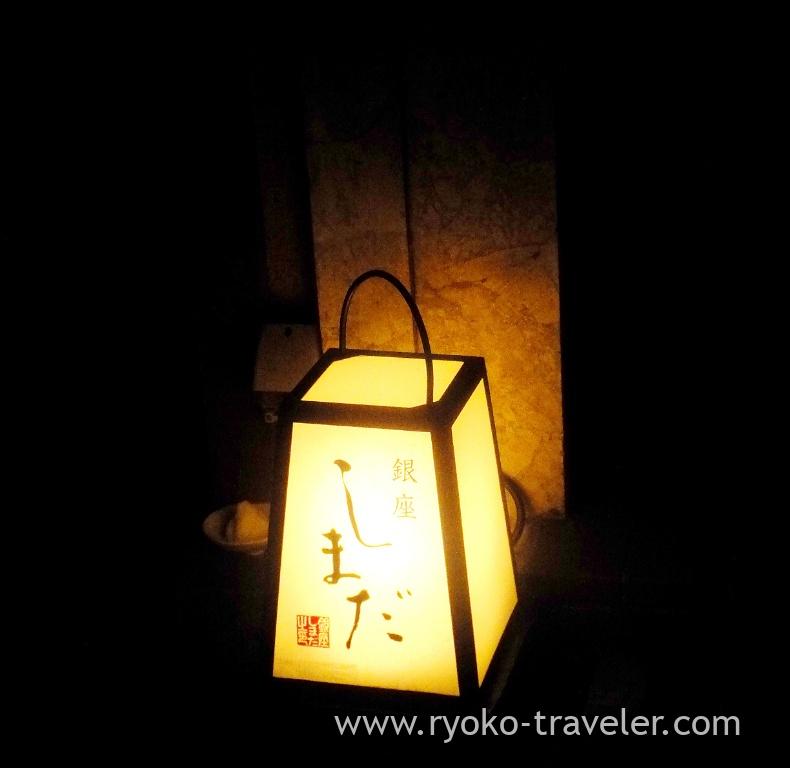 This room have no seats except four seats surrounding one table. Only this seats and some of standing area can be reserved.
I said the table is for 4 person just now, but the table and the chairs are small, so there isn't enough space to put our baggabes. We have no choice but place our baggages between the backrest of chairs and our backs by force. Or putting on the floor.
Why is Shimada is narrow like this ?
Because. they save money for serving good dishes as good as Japanese high quality restaurants' at inexpensive prices. Shimada is managed by Oreno company that manage "Ore-no-Italian", "Ore-no-French" etc. Shimada don't have "Ore-no" on their name though.
Anyway, we managed to put our baggage and our bodies to the seats and then made a toast. My drink was Hakusyu Highballs (Hakusyu whisky with soda) They don't have a variety of drinks. Beer, Japanese sake, Highball, Shochu, Plum liquor, oolong tea. That's all.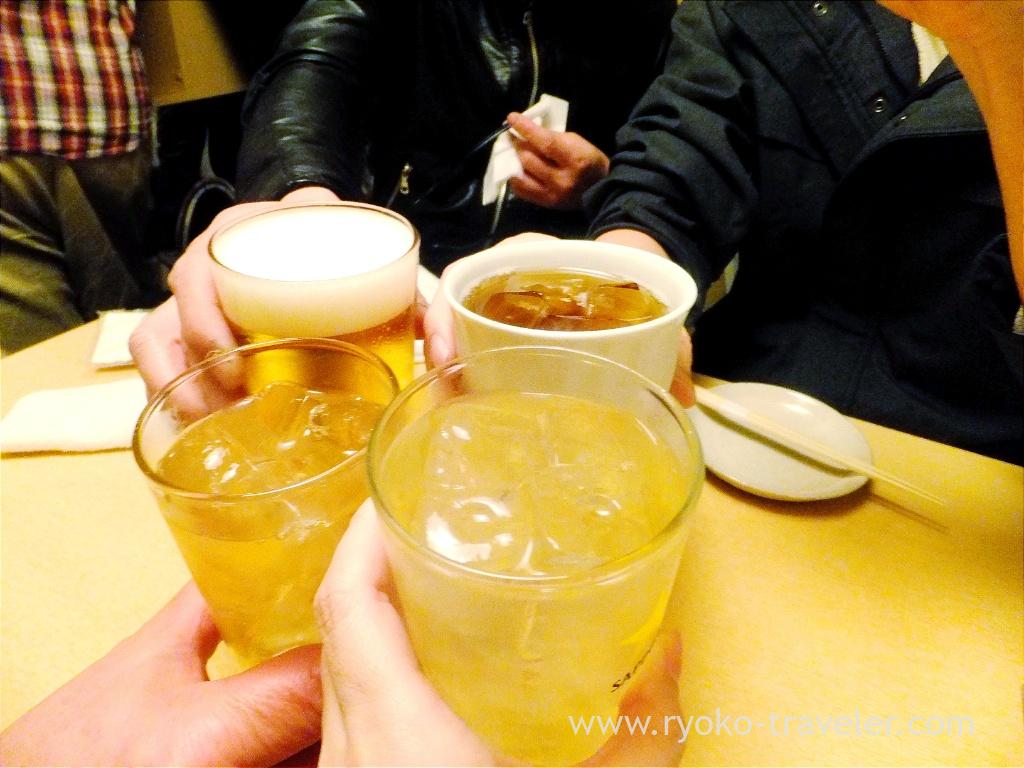 We ordered much. I think we ordered almost all foods on the menu ! This is boiled daikon radish. It's very simple, but simmered soft daikon radish was like Kyoto-style oden. It was very good.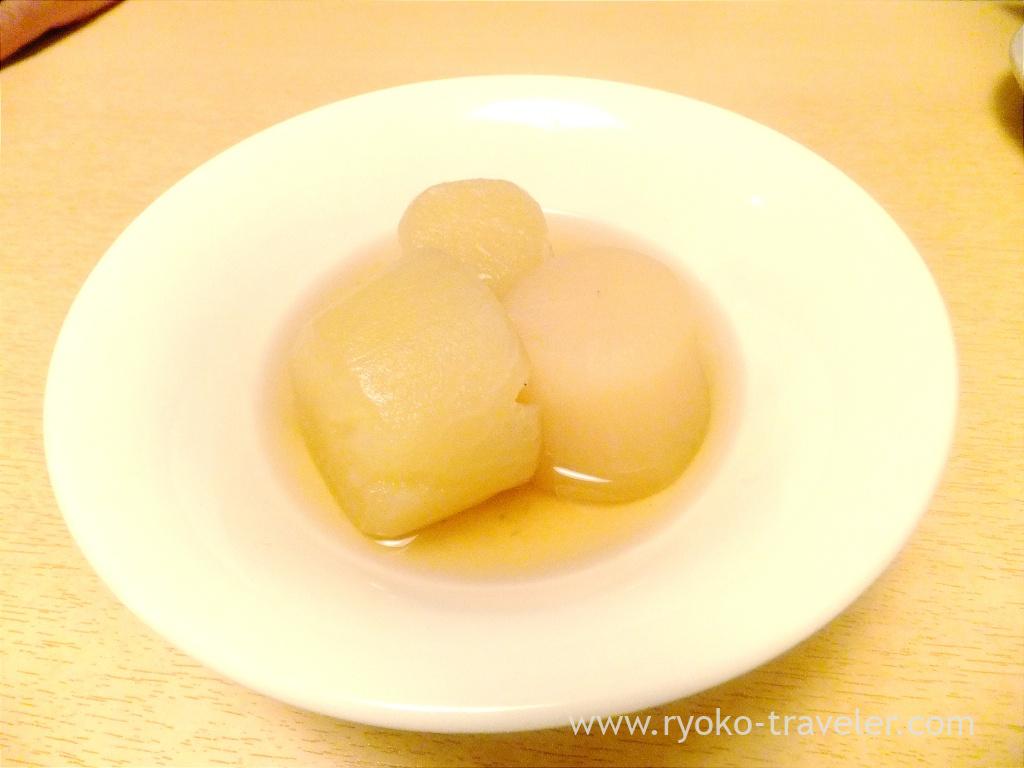 Its also a simple one. Boiled shiitake mushrooms.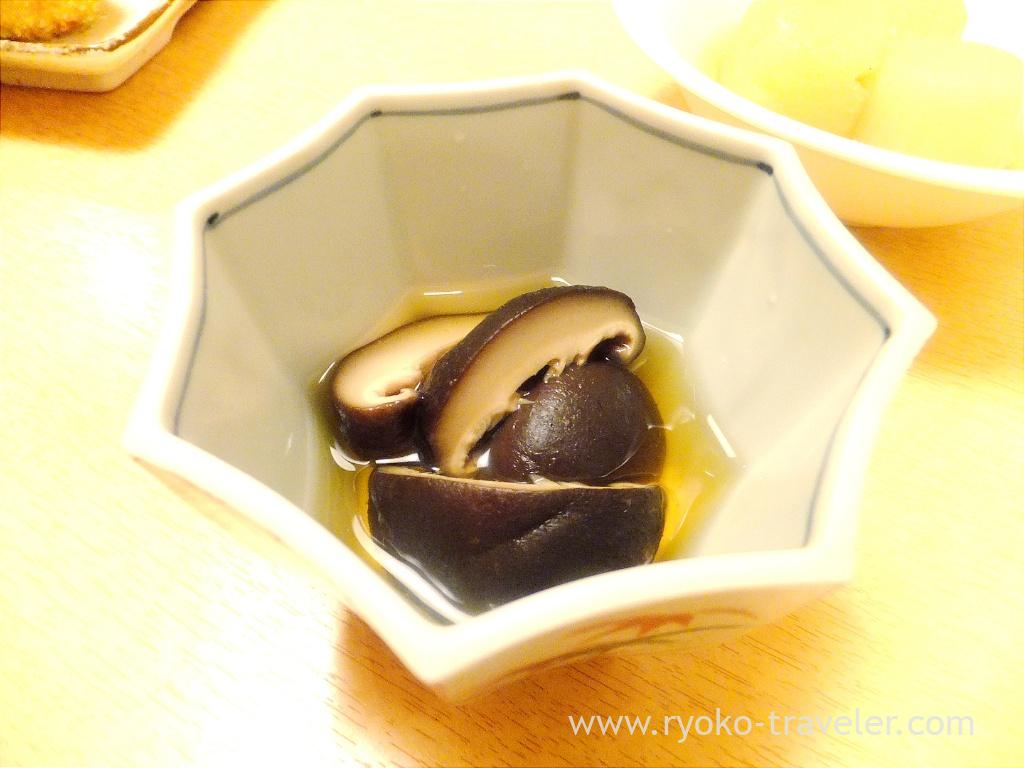 Potato salad. So smooth. It looks like cream.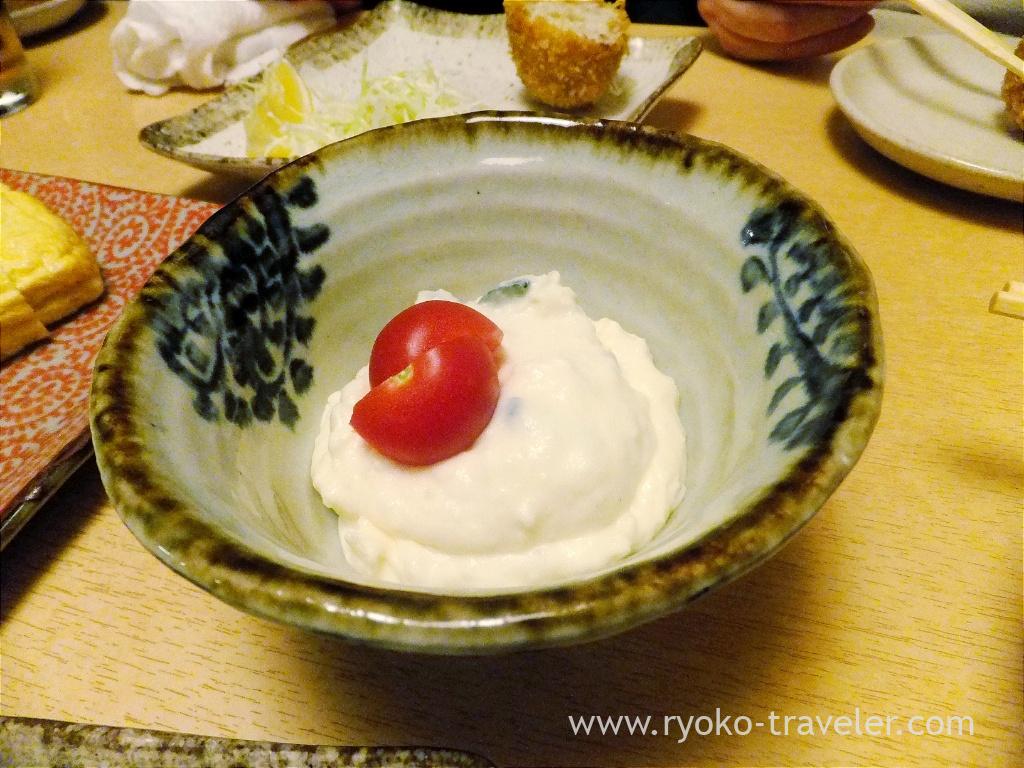 Fish cutlet is Tokushima's local food. It's deep fried minced fish cake dressed with curry powder. So, it's spicy.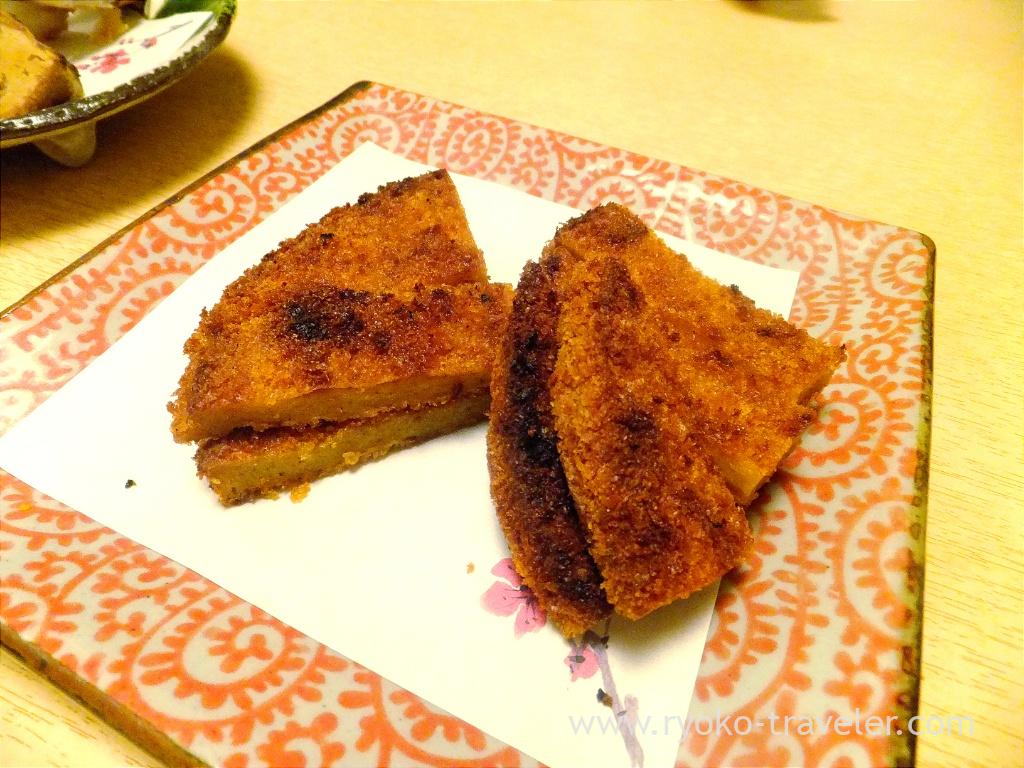 Dashimaki tamago is almost same as tamagoyaki. Only the difference is dashimaki tamago have fish soup stock. Really good.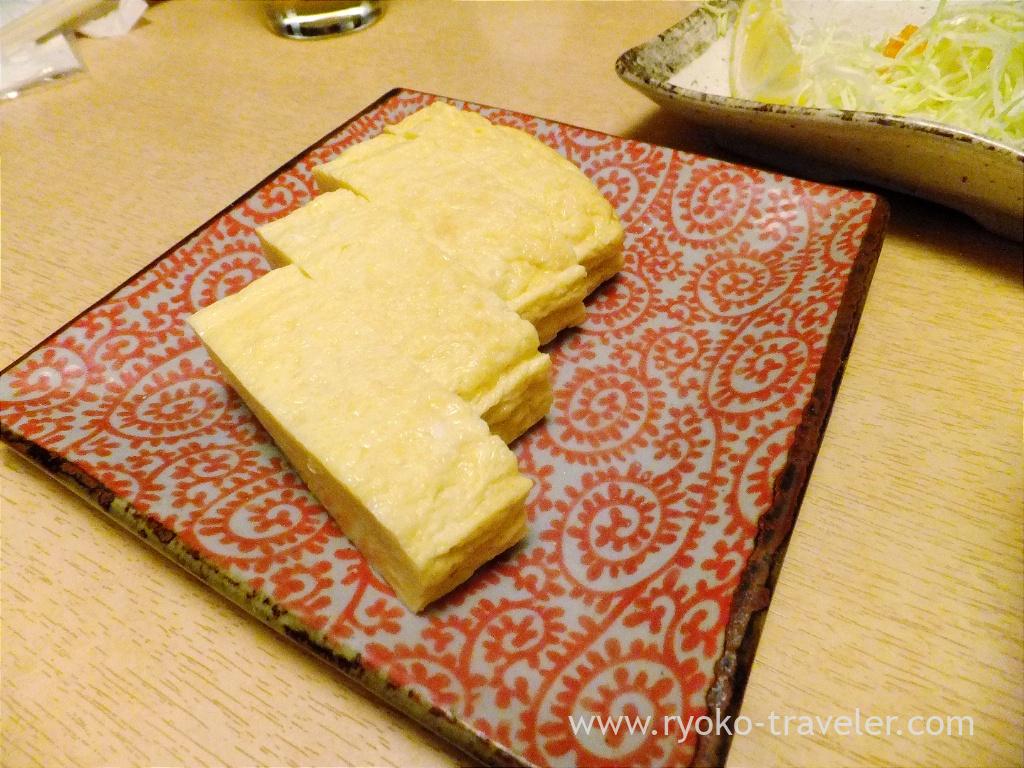 Herring and eggplant. Those are seasoned with stronger. It's suitable for Japanese sake ! Herring is the taste of Spring.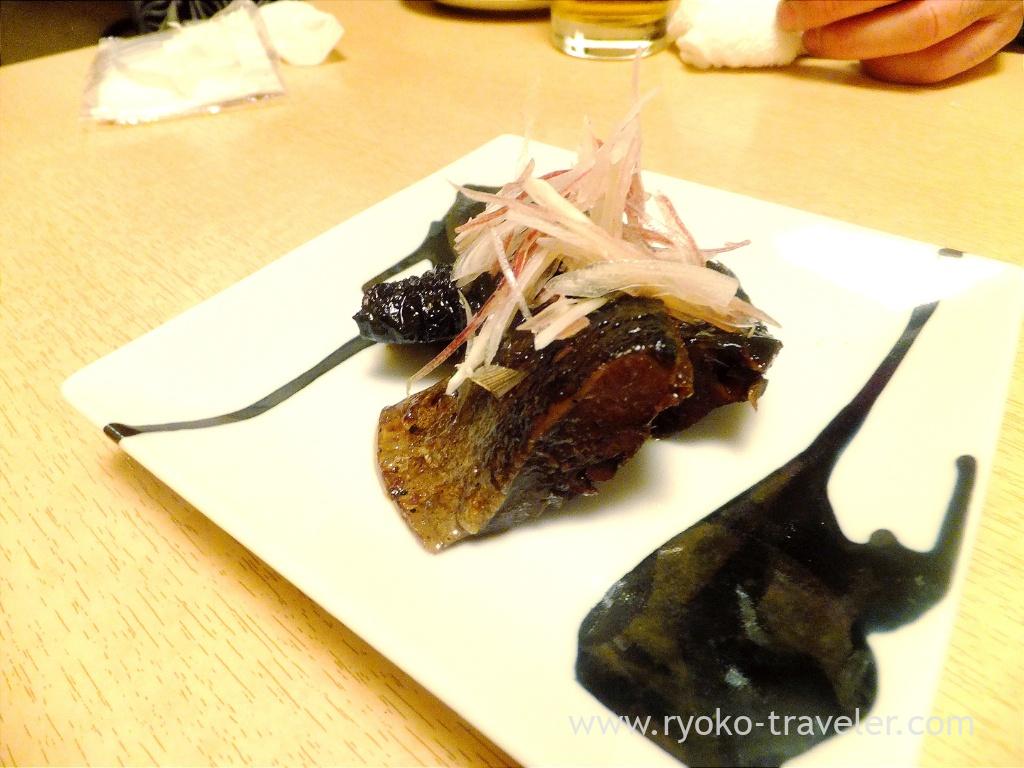 Snow crabs cream croquette. I forgot to take the picture of the section, but it had much crab's meat ! My mouth was full with the taste of snow crabs !!!
Sea urchin with spiny lobster jelly. I couldn't take the picture well, actually, it is more nice orange-colored foods. It is delicious. It had full of spiny lobster taste !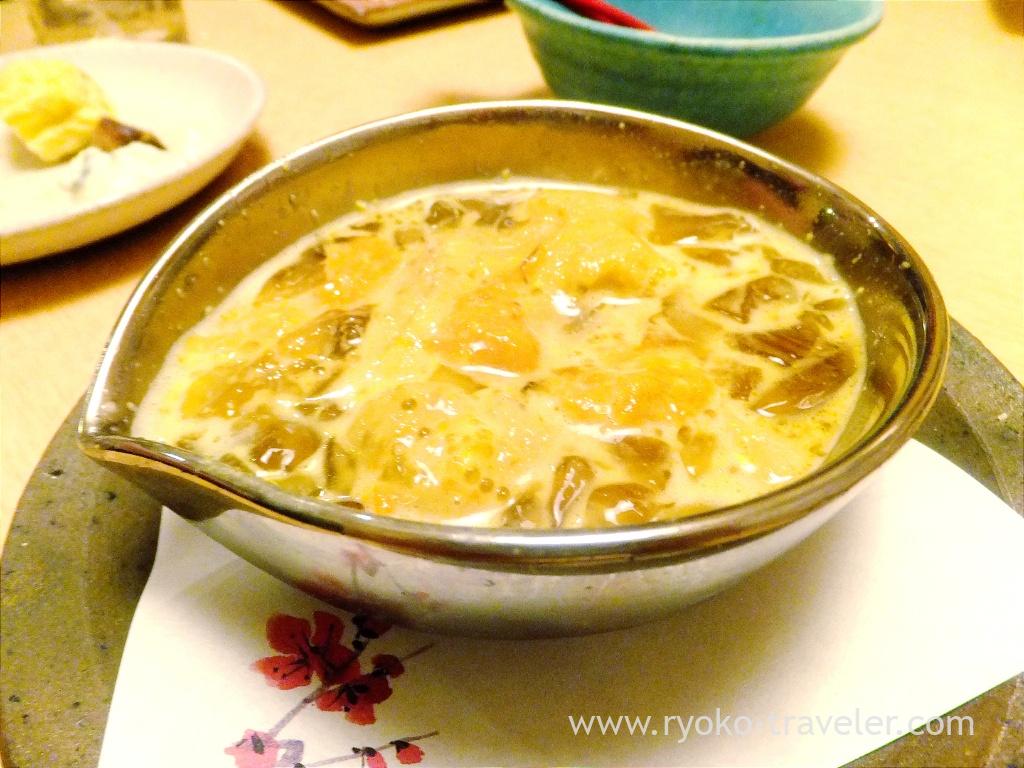 Japanese black wagyu cutlet. It was Round tip of the beefmeat. The sauce is brown sauce. It's good. But I wanted to eat it with wasabi and soy sauce with simple.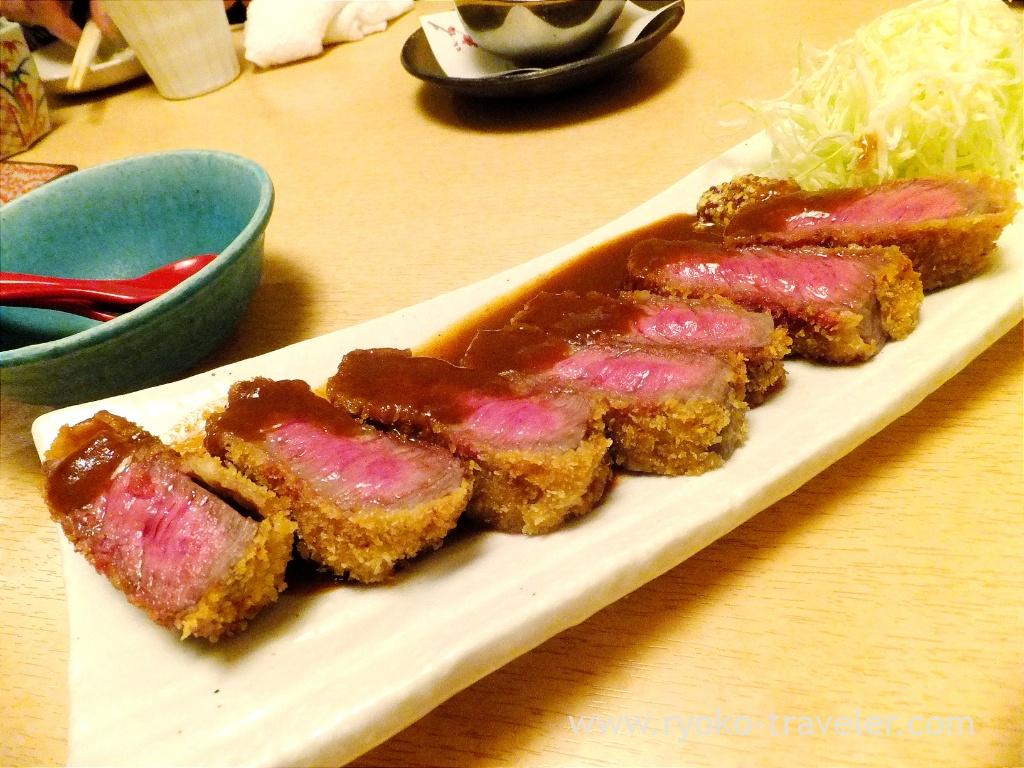 Kuruma prawn and lily root kakiage. The chef served it with salt. Lily root was tasty.
Grilled ebi-imo. Ebi-imo is one kind of taro. One kind of Kyoto vegetables (or Kyo-Yasai).
"Ebi" means shrimp in Japanese. I heard that it is named "Ebi-imo" because it is similar to shrimps from its looking. This had sticky texture and was good.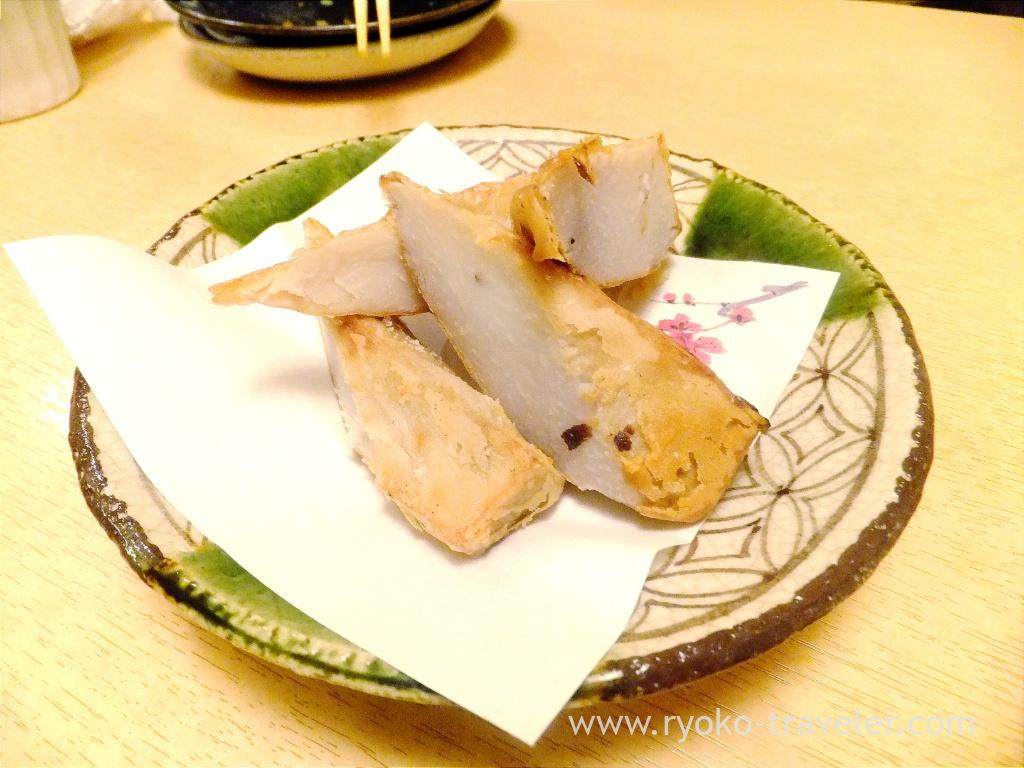 Soft roe, ebi-imo and turnip in a hotpot. Ebi-imo again ! It was seasoned lightly and mild. It was cold that day, so we felt warm thanks to the hotpot.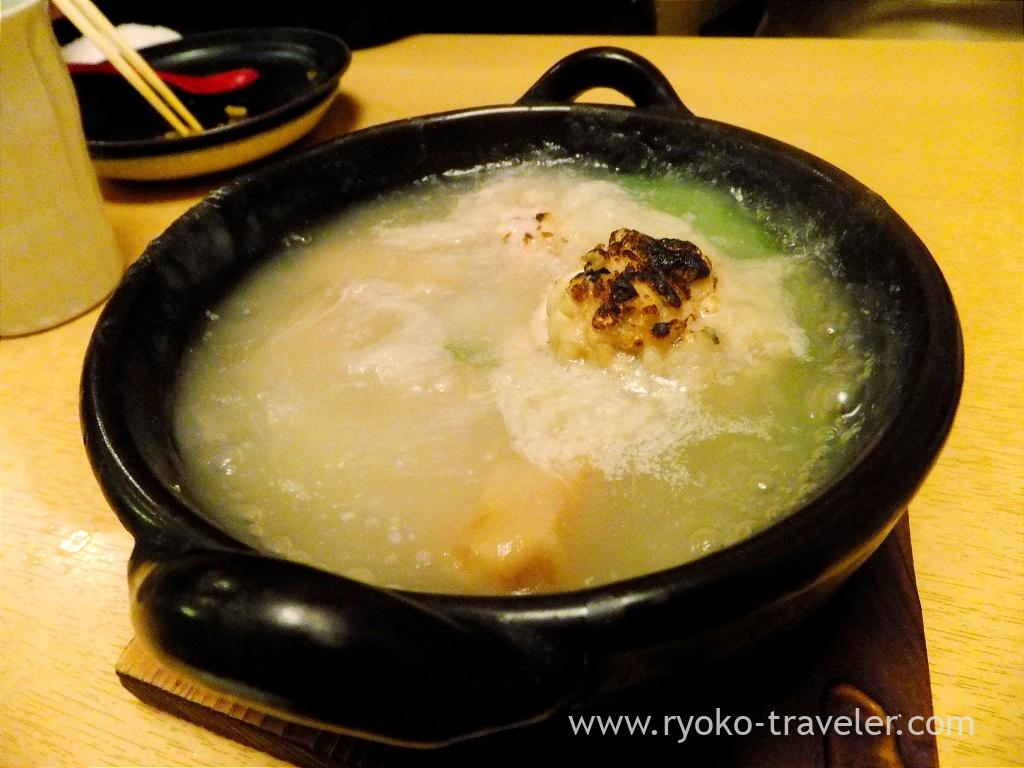 Grilled duck with Urui and hrysanthemum sauce. 'Urui' is hostamontana. This sauce is a tastes of early Spring. It's bitter a bit.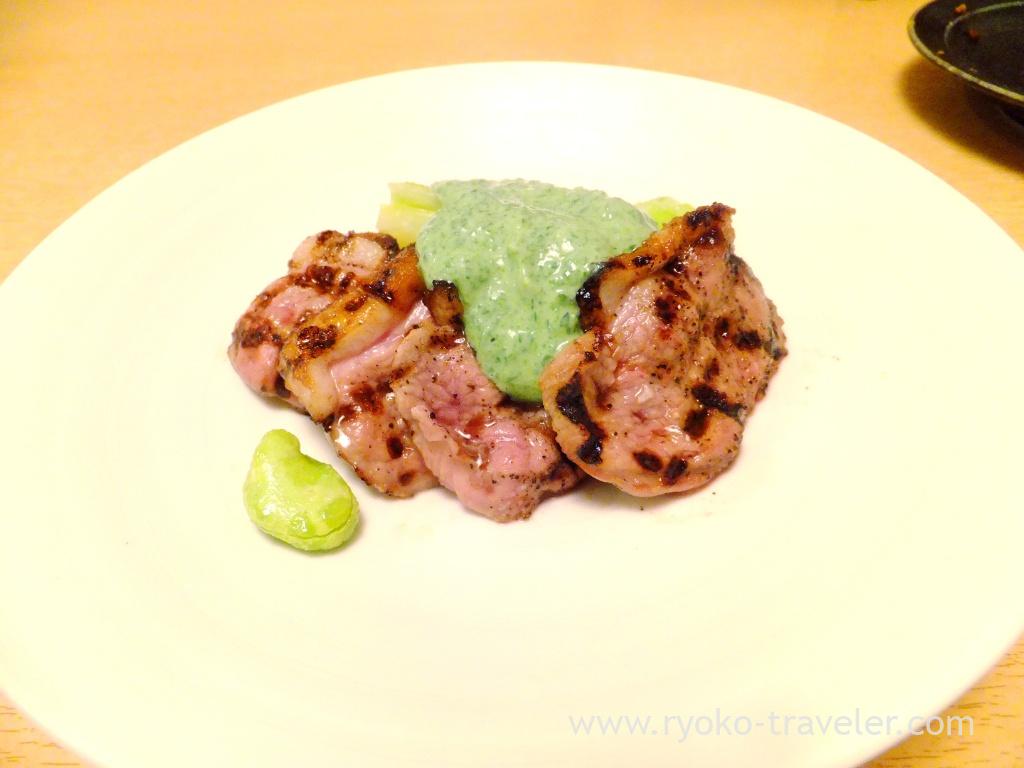 Bachiko is Dried sea cucumber's ovary. I didn't know it at all. So, this was the first time to eat it. Its texture is thick and sticky. It tasted very good !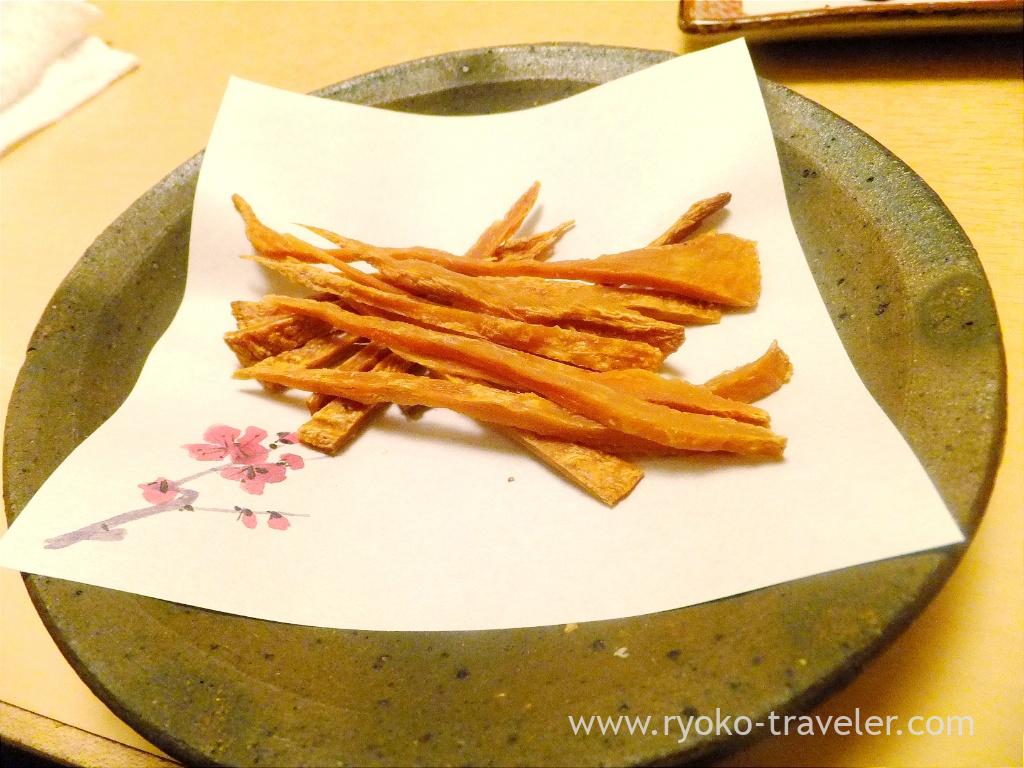 Tamagokake gohan. Speaking of ingredients of tamagokake gohan, egg, rice and soy sauce. That's all. But this shop's tamagokake gohan also have much shredded Parmigiano Reggiano on it ! It had a egg, but we can't see on this photo because of so much cheese !
The photo was taken after mixed altogether well. It looks like ordinary tamagokake gohan, but because of Parmigiano reggiano, it had rich taste. Delicious. I want to make it at home 🙂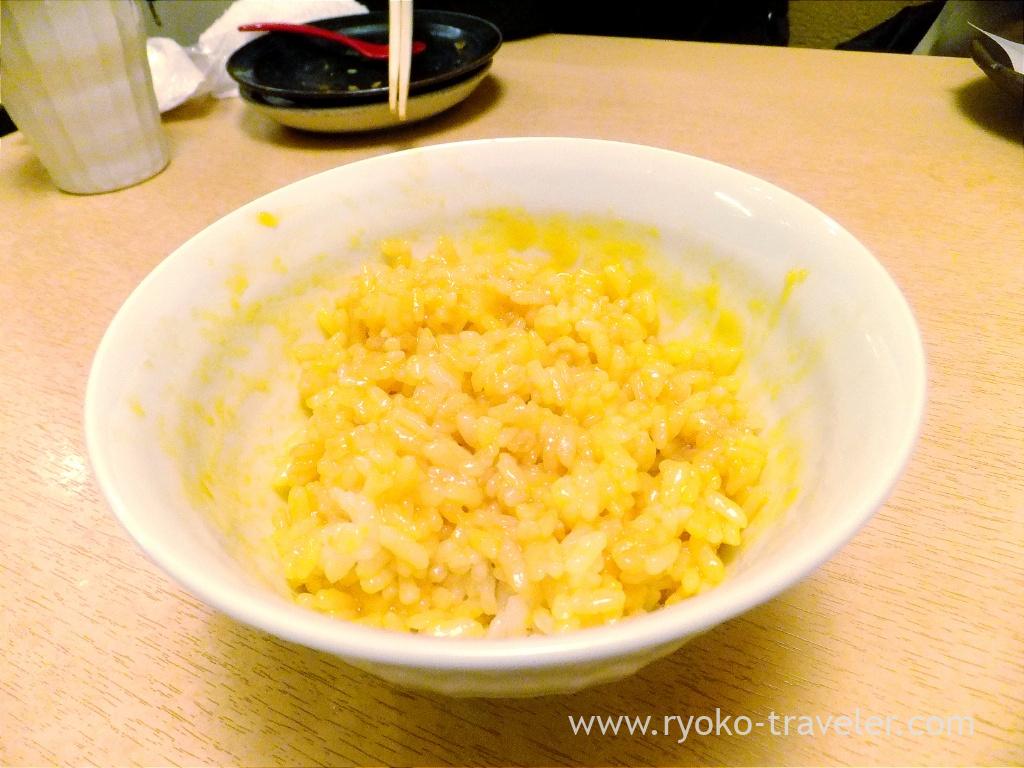 Rice with minced chickens and burdock root. Minced chicken and burdock was seasoned with soy sauce and sugar. It went with rice well. So we needed more rice :p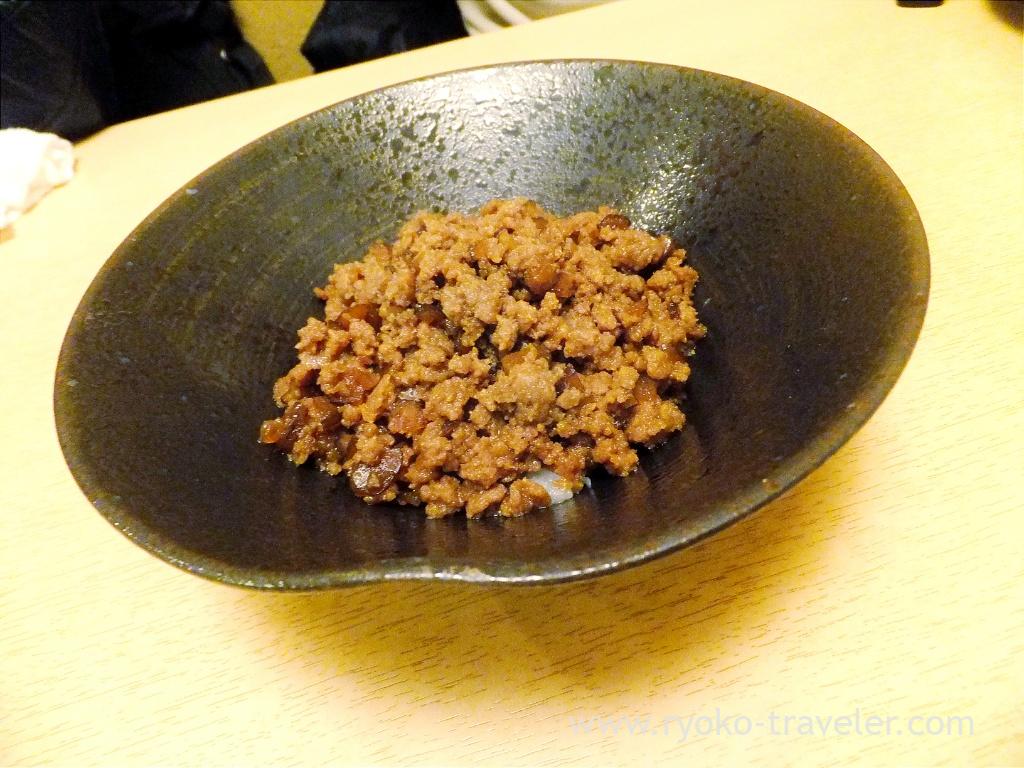 Last, we finished our dinner time with their specialty. Karasumi soba. 'Karasumi' is mullet roe. As you see, it have much shredded mullet roe on the soba ! We lightly mixed altogether and then ate. The soba itself didn't have strong tastes. So, mullet roe is leading actor on the dish. Splendid !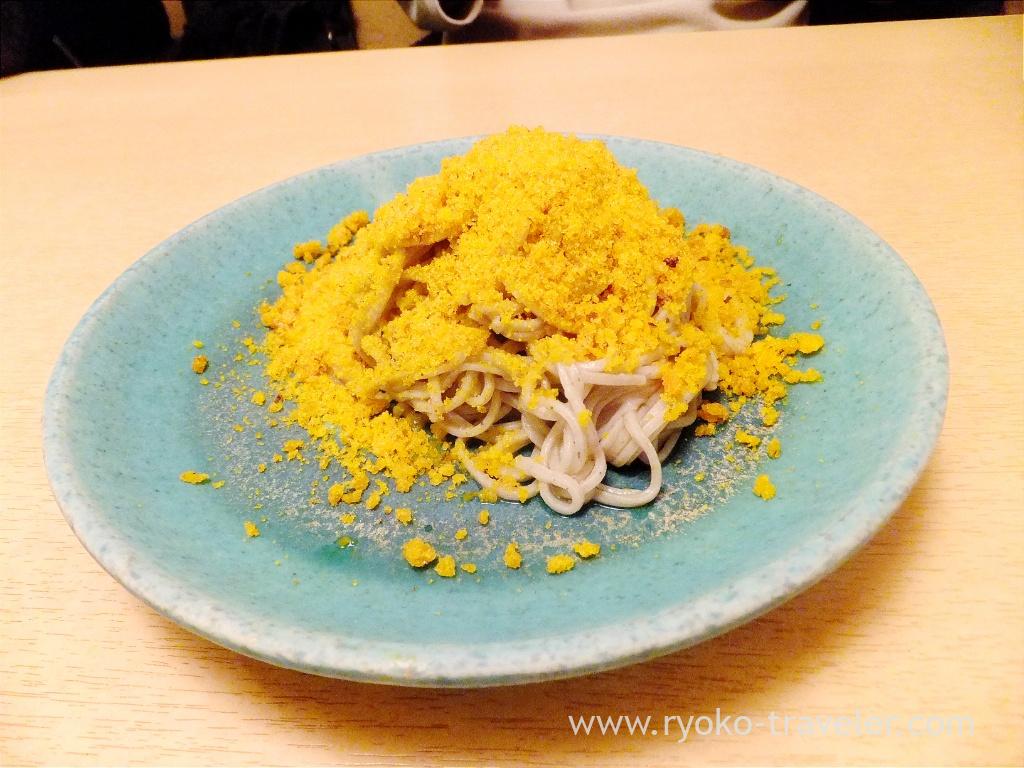 Though they don't have various foods, they serve absolutely delicious dishes that have seasonal ingredients at lower price. I'll go there again in a few days. So, I'm looking forward to eating the karasumi soba and beef cutlet again !
About

Name Ginza Shimada (銀座しまだ)
Open Dinner
Credit card Available
Reservation Available
URL Website, Instagram

Google Map