Fresh pig's innards at lower price !
My friends took me to grilled pork izakaya near Koiwa station.
It was so small izakaya.
But the izakaya has already moved to another place near Koiwa station now. I heard it is clean, wide and comfortable now.
I want to go to the new shop, too.
Now the shop's new location is here.

Butagoya
My drink was green tea sour that have refreshing taste because we were going to eat fatty pork after that.
Potato salads as otoshi. It had smooth texture and good.
Onion salads(玉ねぎぽん酢, 380 yen) and spicy cucumber (ピリ辛きゅうり, 280 yen)
For entremet. Inexpensive!
Assorted sashimi (もつ刺し5点盛り) 1200 yen
Raw liver, heart, tongue, stomach and birth canal.
Left side.
Boiled pork (ゆで豚) 680 yen
Pig's liver (レバー) 80 yen
You can't understand from this picture ….
But the lever was rare.
Pig's tongue (たん) 150 yen
Delicious.
Pig's heart (ハツ) 80 yen
Only I can say "Delicious" 🙂 Excellent.
Pig's diaphragm (ハラミ) 120 yen
This was the first time to eat pork diaphragm. I found it is very chwey.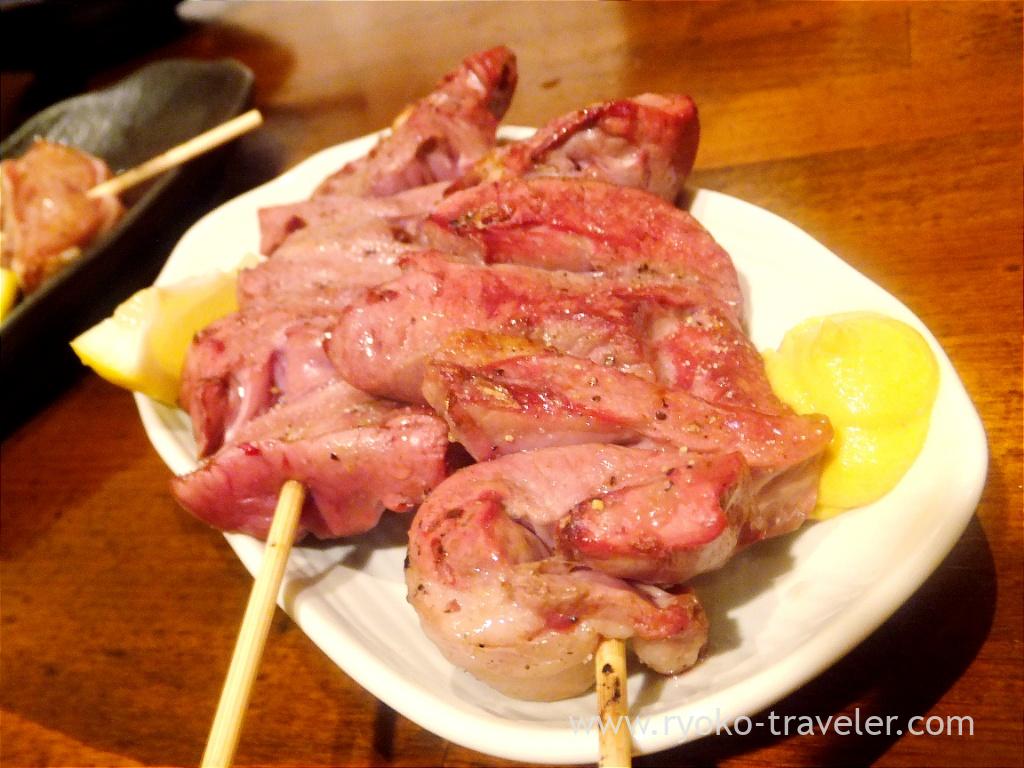 Rectum (テッポウ) 150 yen
Tomato roll (トマト巻き) 200 yen
The tomato was extremely hot. I brought down the fever, still it was very hot. But tomato's juice go with fatty pork well.
Agu pork and Iberico pork (あぐーとイベリコ豚) 880 yen each
Agu was fatty, so we should have eaten it long ago.
About Butagoya (豚小家)
Address / 1-27-9 Nishi-Koiwa, Edogawa-ku, Tokyo
Station / Koiwa station (JR)
Open / 18:00 – 25:00
Closed / Mondays