Finally, I visited my longing tempura restaurant named Yatsudeya (八ツ手屋) in Kanda area. They are open from 11 a.m. to 2 p.m. on weekdays only and they aren't open at dinner time. And Saturdays, Sundays and another national holiday is closed. So, it's hard to visit.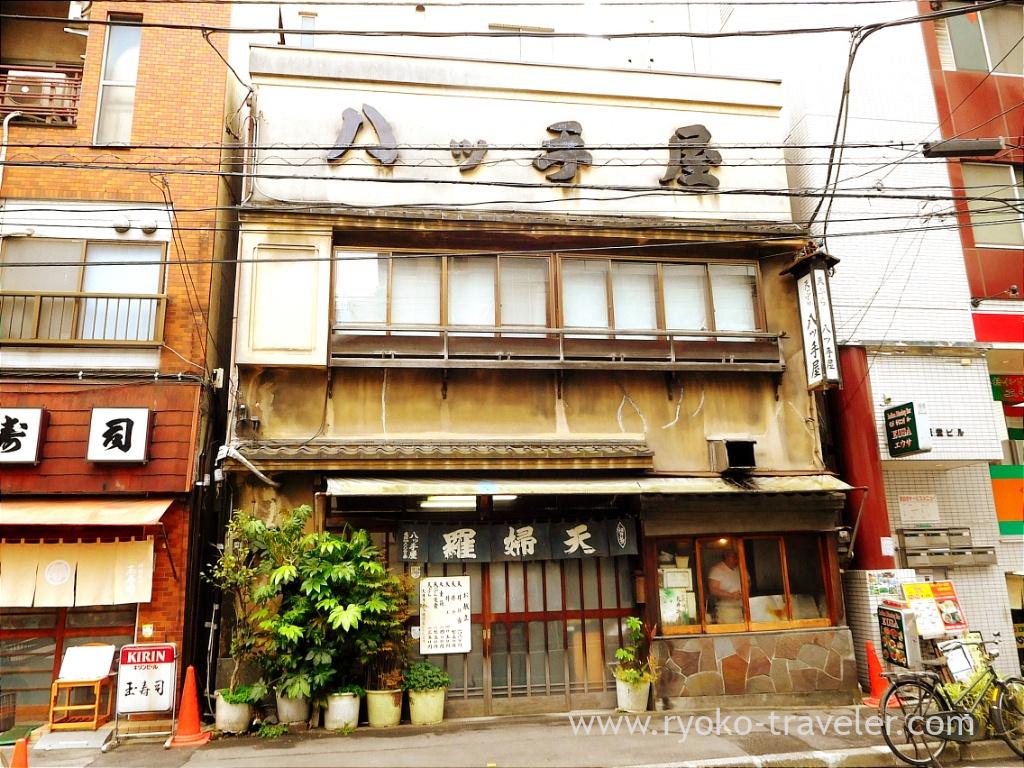 Yatsudeya have long history. They have started their business over 100 years ago (in 1914 / TAISHO period). You can see the kitchen from the photo on the right.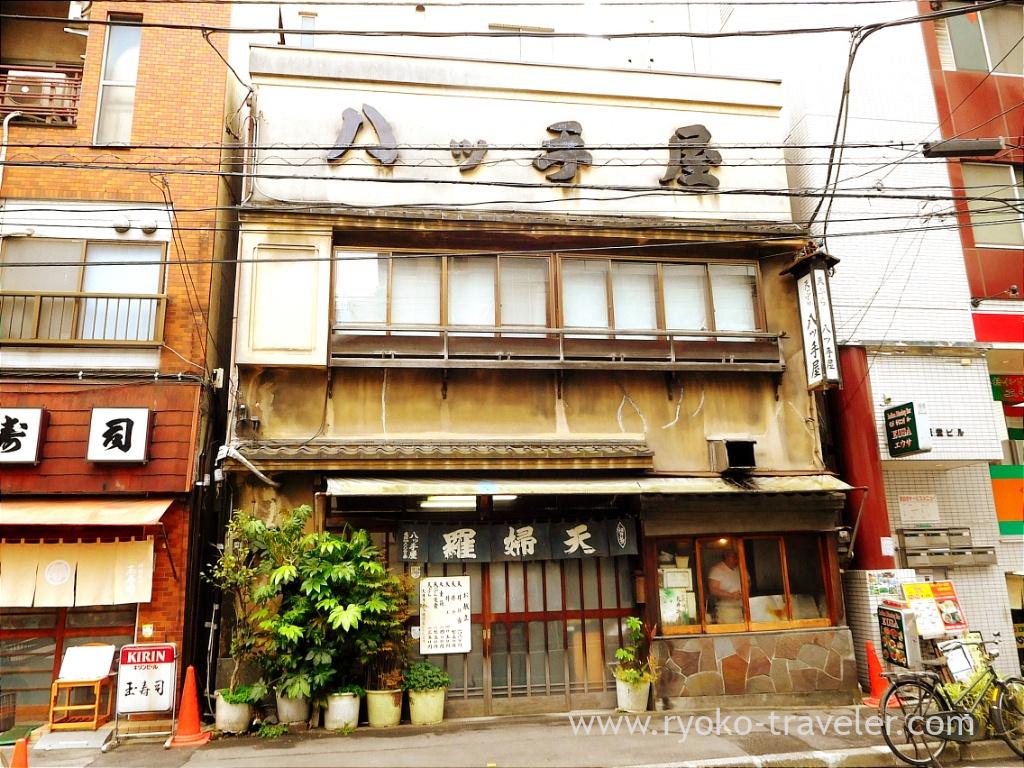 The shop curtain, the wooden door… the whole building is historical thing. Because the inside couldn't be seen from outside, I was under tension when I opened the door.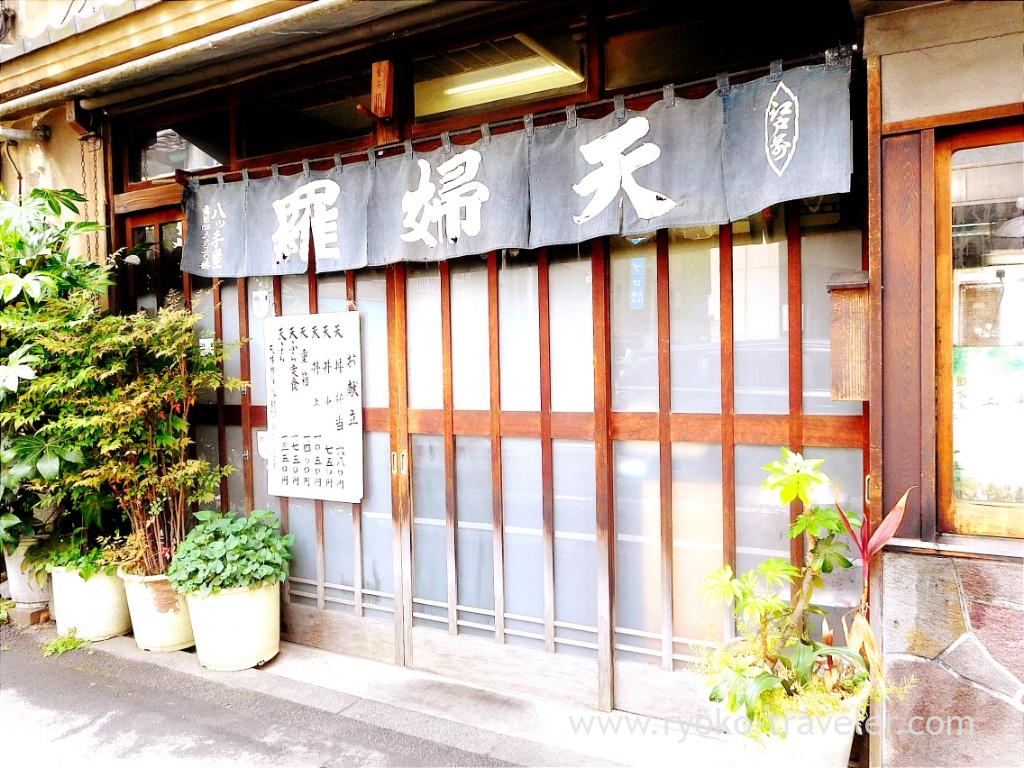 The inside of the building is great. I felt I'm in Edo period.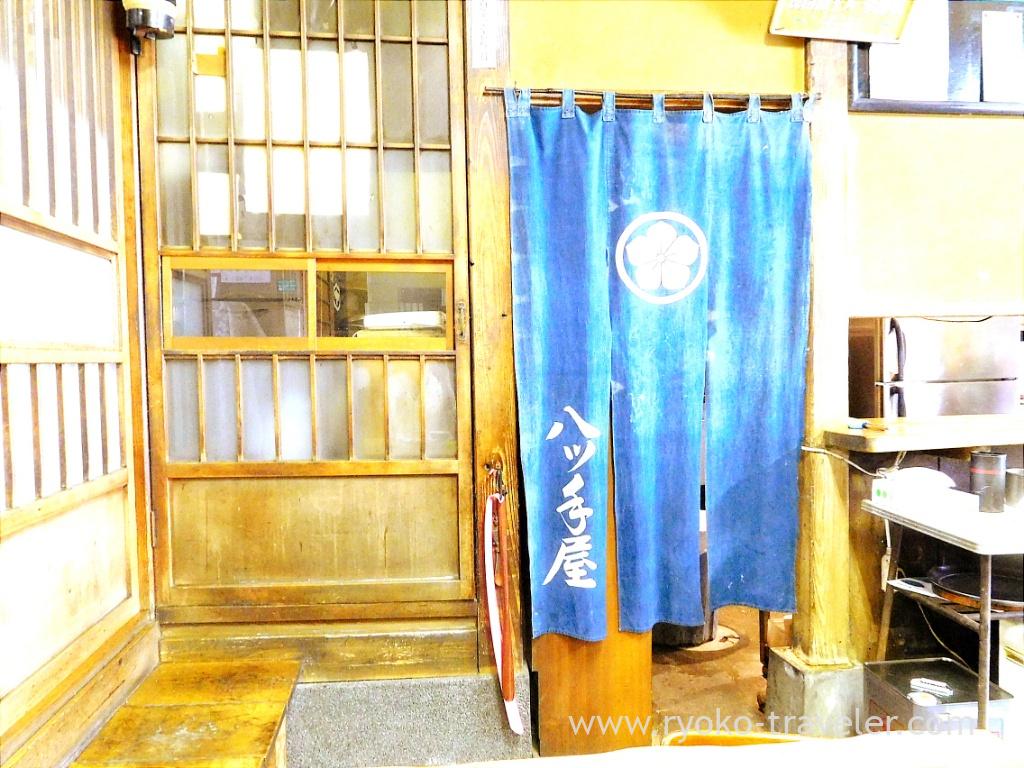 There was only one guest when I entered the restaurant. In addition, it's earlier for office workers' lunchtime, so it was calm. I felt I travel into the past. They have nostalgic atmosphere. Though the house is old, it's tidy and clean.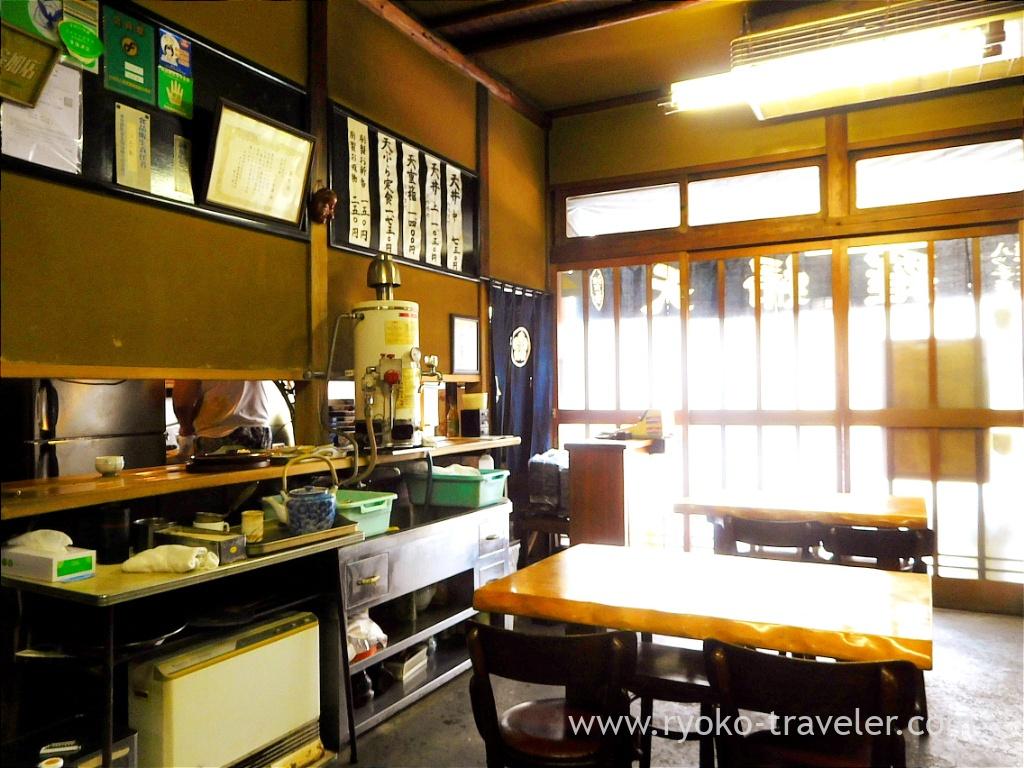 There're some tables and such a tatami seats called "Ko-agari". It sems private room 🙂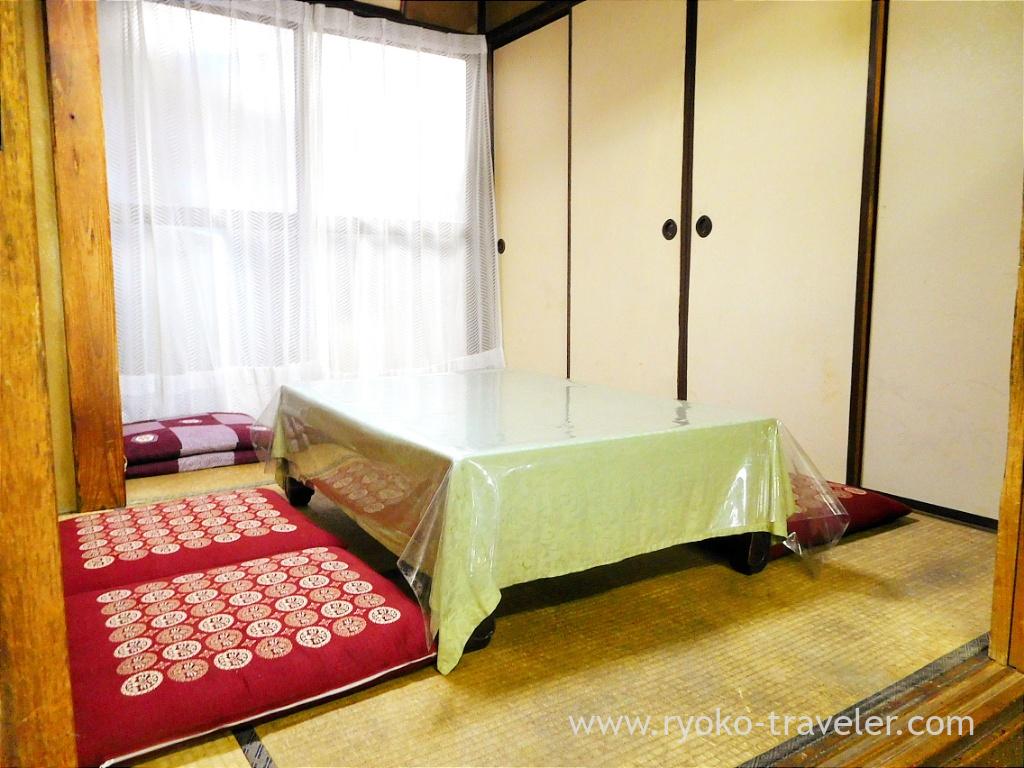 There's a menu in vertical lines at the door.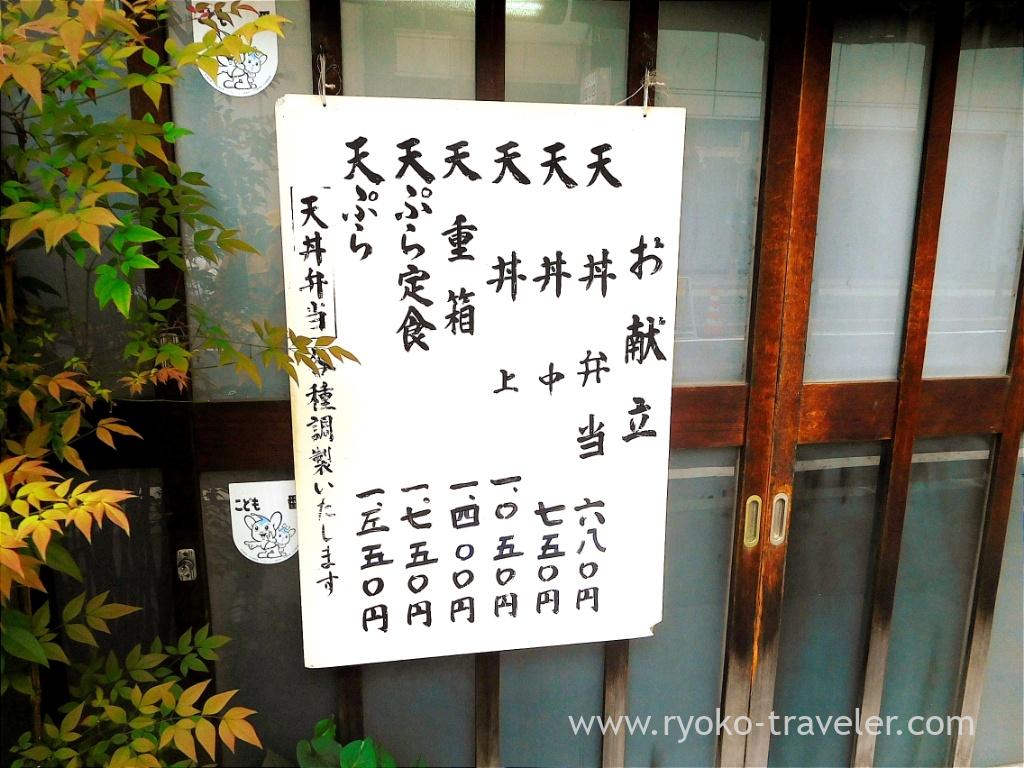 From right to left,
*Tendon bento (天丼弁当, 680 yen) #"to go" only
*Tendon (天丼 中, 750 yen)
*Tendon superior (天丼 上, 1050 yen)
*Tempura box (天重箱, 1400 yen)
*Tempura set (天ぷら定食, 1750 yen)
*Assorted tempura (天ぷら, 1550 yen)
When you enter the house, shop staff welcome you and ask your order at cashier close to the door at first. And you need to pay the cost. And then you can be seated where you like. Almost all tables are for 4 persons. So, we have to share table during the busy hour.
I chose the most inexpensive one. Normal tendon bowl. At first, tea and pickled vegetable (takuan) was served. (chopsticks, too)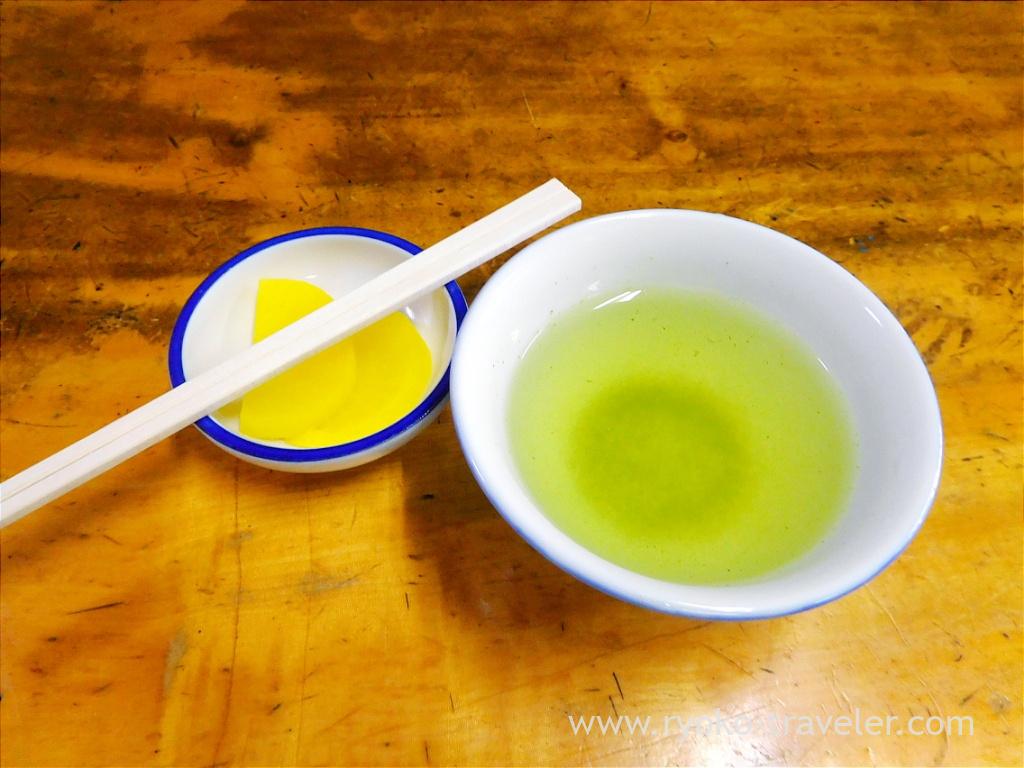 It took 10 minutes or so, my tendon was served. It had two shrimps and kakiage.The sauce was rather sweet, but it wasn't heavy. The sauce went with rice very well. I have to say, those shrimps are small and those coatings were thick. But its coatings having sauce is crisp and tasty. And you remember it cost only 750 yen. I think it's great thing that restaurant serve tendon bowl with only 750 yen in Tokyo.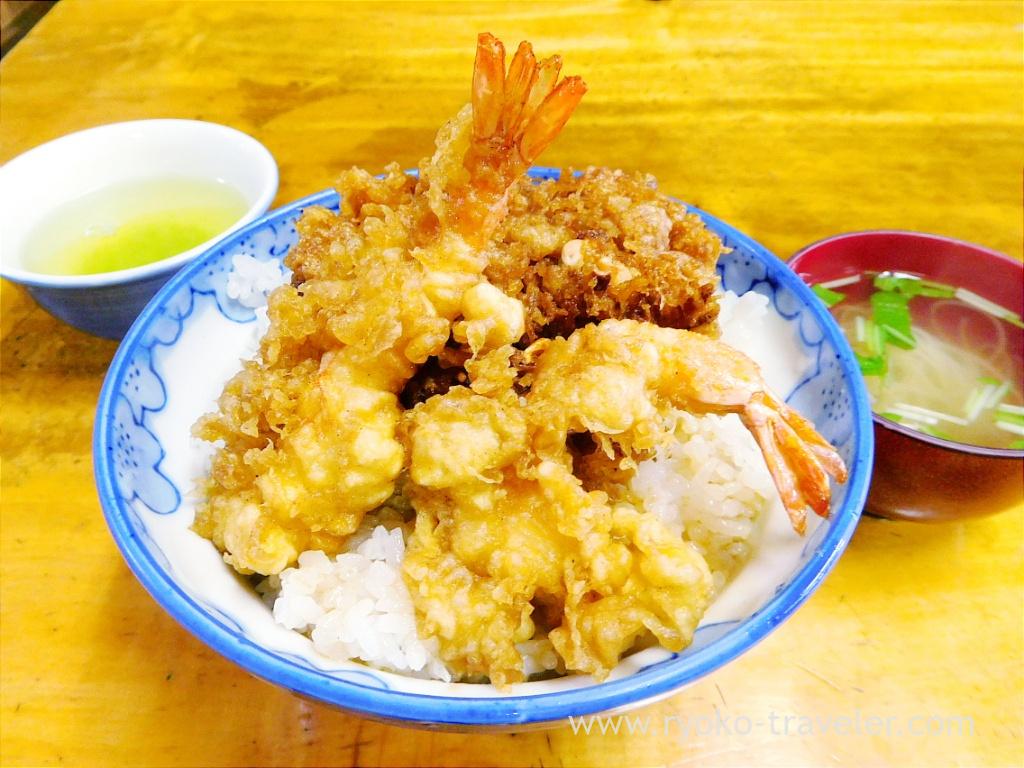 Kakiage had squids and onions. So crisp 🙂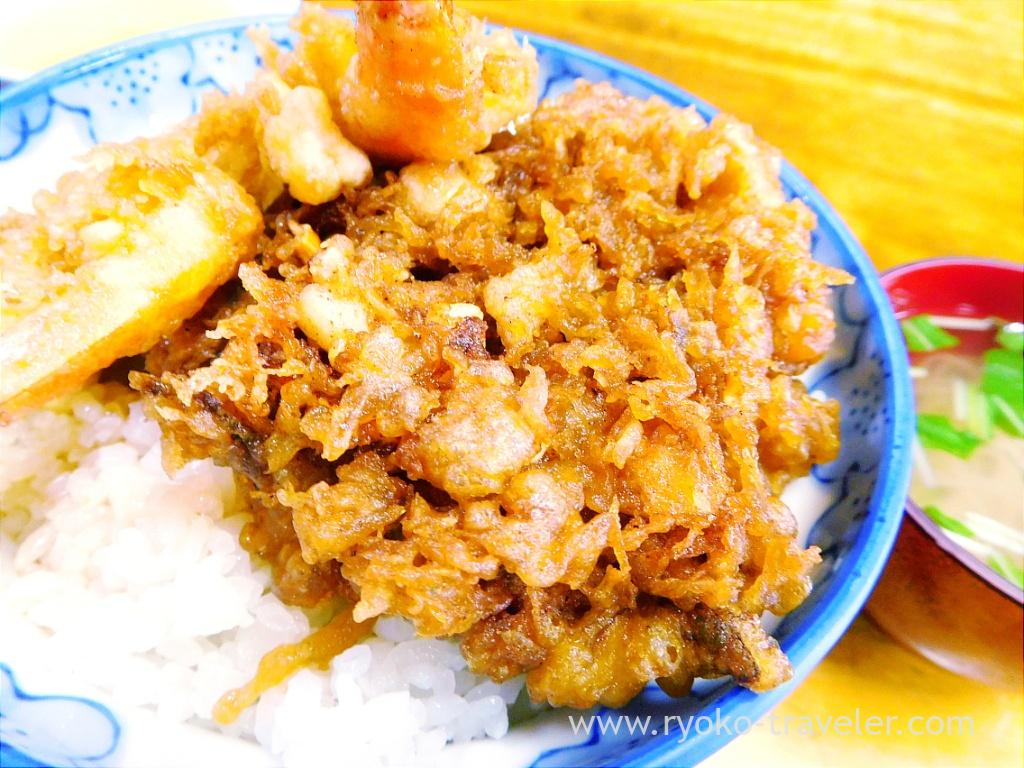 There're so many gorgeous tendon here and there now. But this tastes and quality is the same as that in Edo and Showa period. It' great thing that we can enjoy the tastes in such a historical architecture ! It's worth visit.
I think it's hard for foreigners to visit there because there's no English menu and no one can speak English, but I recommend this shop strongly to feel ancient Japan.
About

Name Yatsudeya (八ツ手屋)
Open Lunch
Reservation Unavailable
Credit card Unavailable

Google Map