I found there's a branch of popular yakitori restaurant as "White Karaage" that is named Yakitori Miyagawa (やきとり宮川 豊洲店) in Toyosu. So, I visited there at lunchtime. I love karaage.
Yakitori Miyagawa is born in 1941. But at first, they started their business as wholesalers of chicken meat. The head shop is Kayabacho. Toyosu branch is on the ground floor of Toyosu Foresia. As you see, they don't have doors. There're counter seats in front of the kitchen and another many tables. And also they have divided room.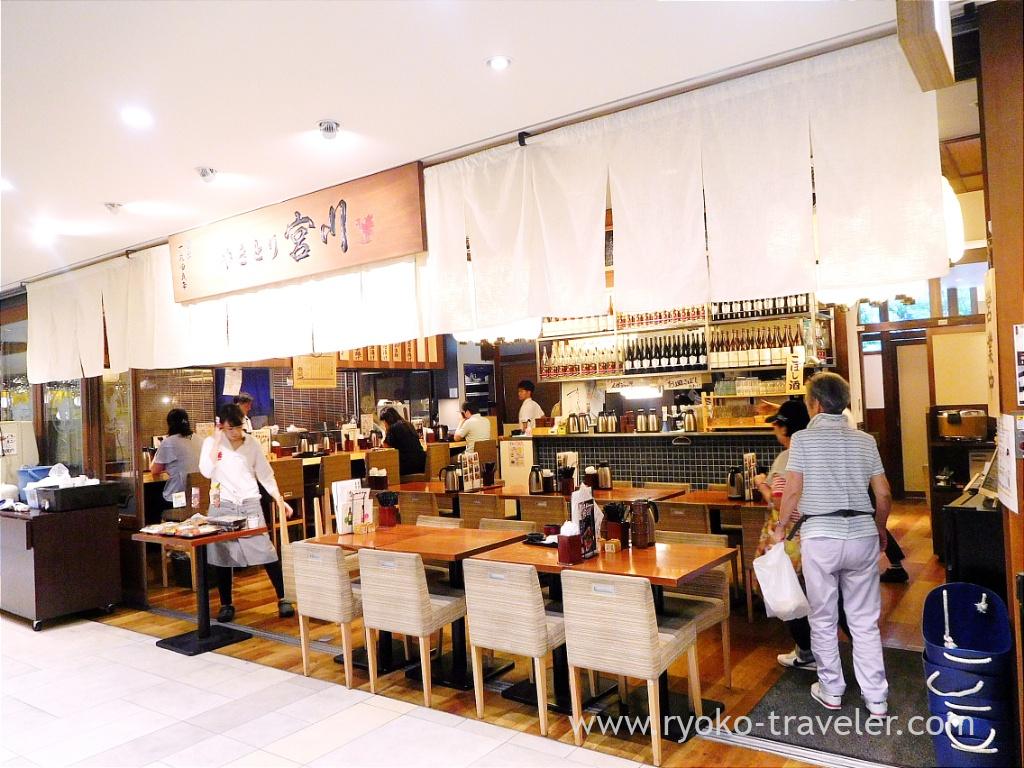 This is their specialty. White Karaage (Shiroi karaage). Their lunchtime is on weekdays only .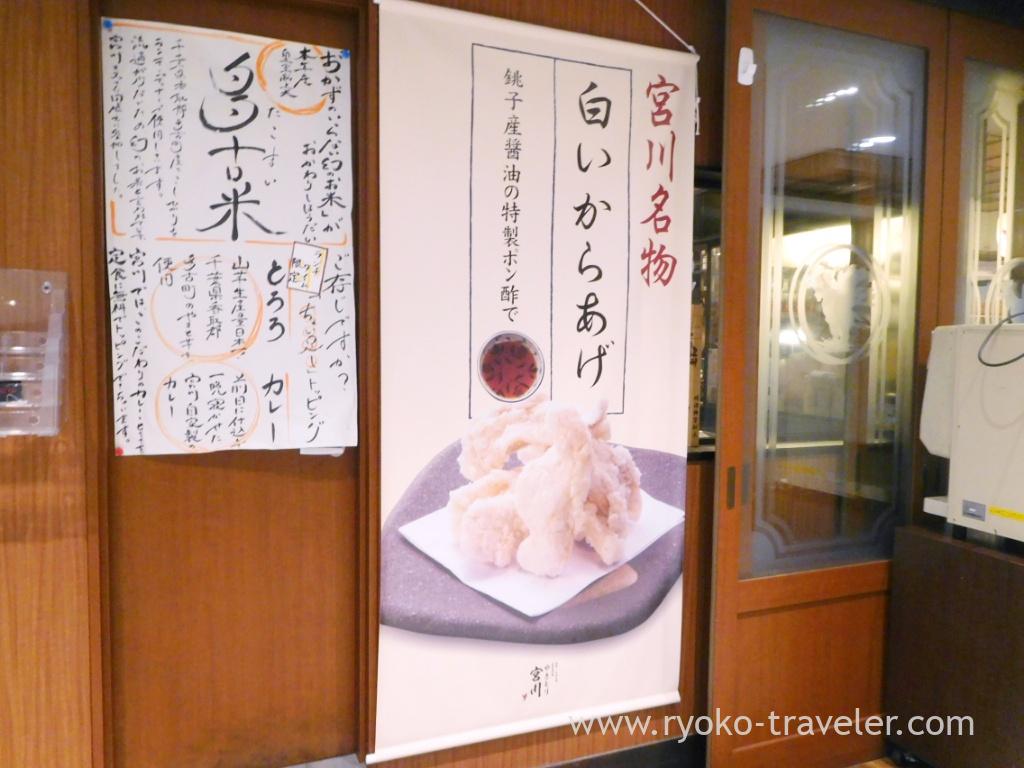 This is a sign in front of the building. Toyosu Foresia don't have much restaurants, but many of them have high reputation, for example, Tonkatsu Den, Motsunabe Yamaya, Toraji, Ippudo and so on.
I posted about Chiiran that is Sichuan foods restaurant before, this is also in the Toyosu Foresia.
I have a post about delicious lunch spots in Toyosu area. Of course, it includes this Yakitori Miyagawa and Chii-ran. Please see this post, too 😉
This is the lunch menu. White karaage set (白い唐揚げ定食), Chicken Nanban set (チキン南蛮定食) and Grilled marinated chicken's leg meat set (鶏もも肉の漬け込み焼き定食). All 1200 yen (tax included). And Toripaitan ramen set (鶏白湯ラーメン定食) is 1100 yen. Free refills of rice and miso soup. Small bowls of curry or grated yam is included. You can choose. Both is OK.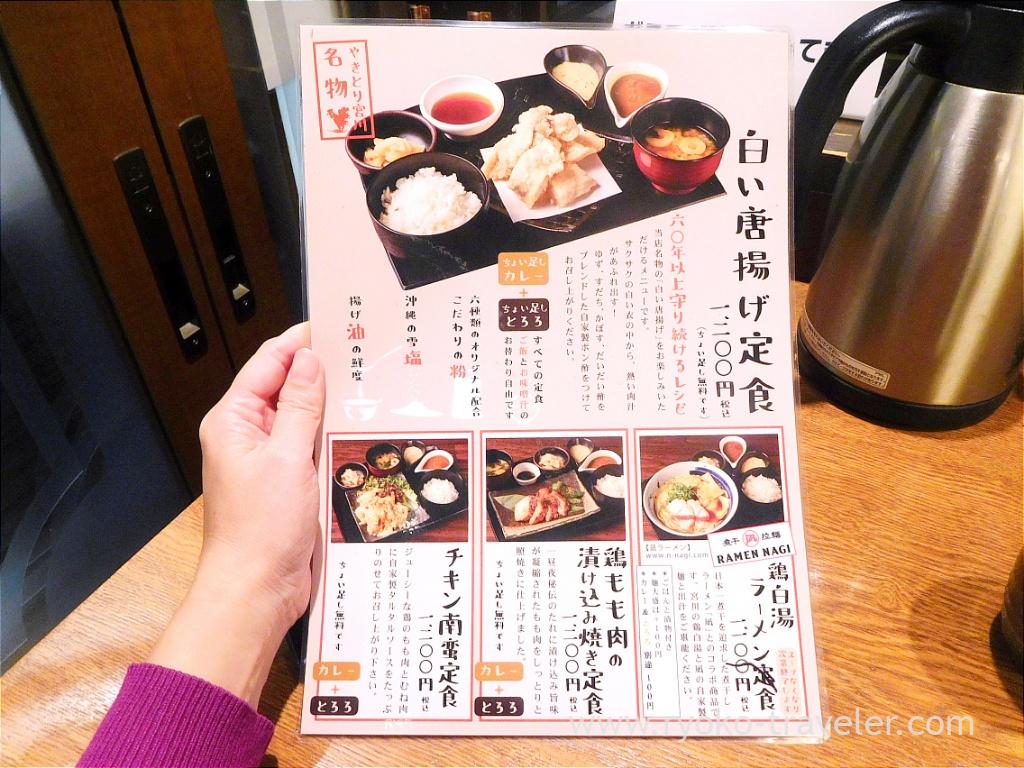 Such a food was appeared in winter. Tori-chiri set (Fried chicken with chili sauce) .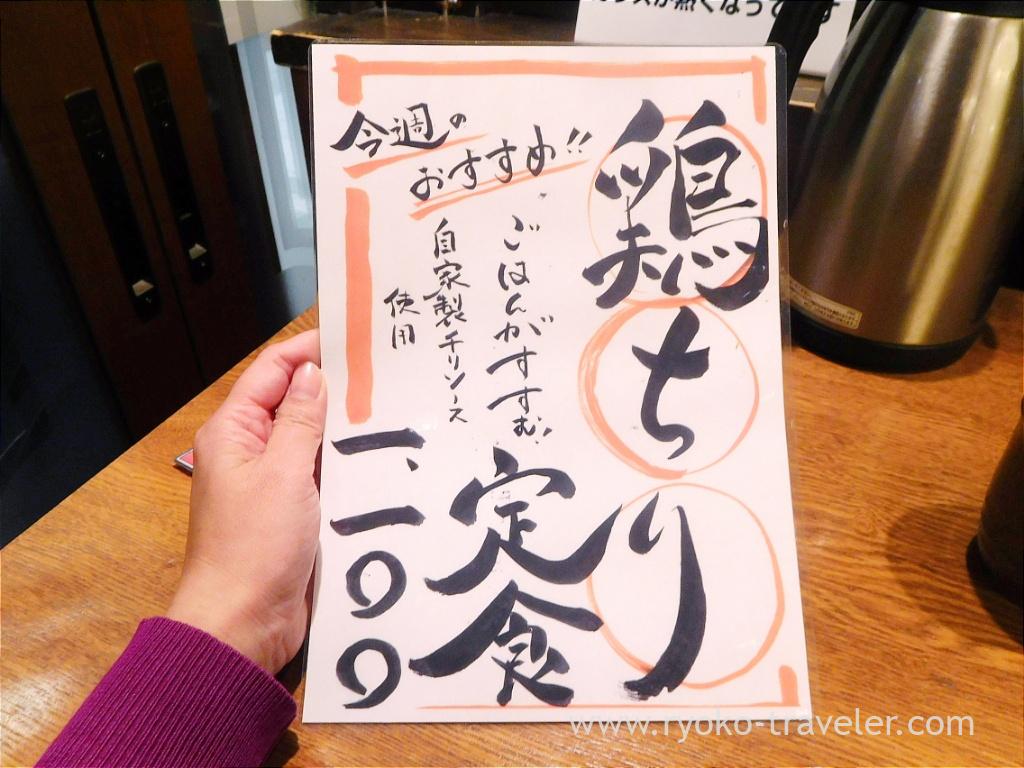 I usually get to there around 2:20 p.m., and some foods are out of stock. But mostly karaage and chicken nanban is in stock until last.
My White Karaage set was served in about 6 minutes. Those karaage was freshly cooked. From karaage clockwise, pickles, miso soup, ponzu made of soy sauce produced in Choshi city for karaage, rice, grated yam (tororo) and curry. I chose both grated yam and curry 🙂 Though those karaage seems not white from this photo, actually those were more white.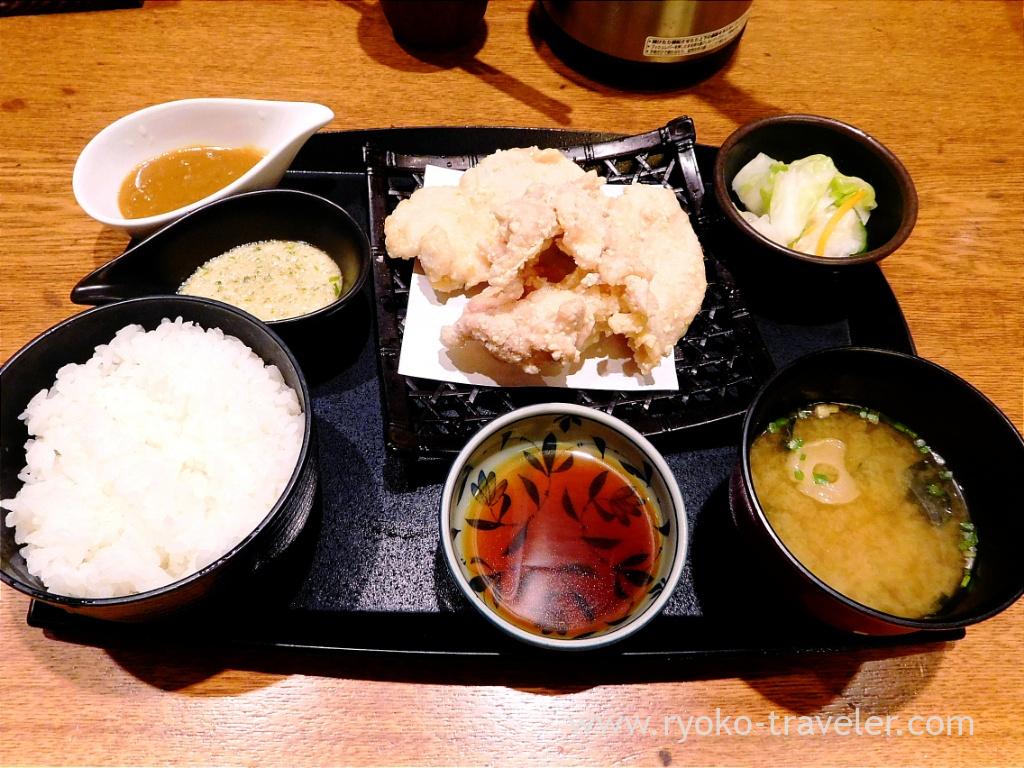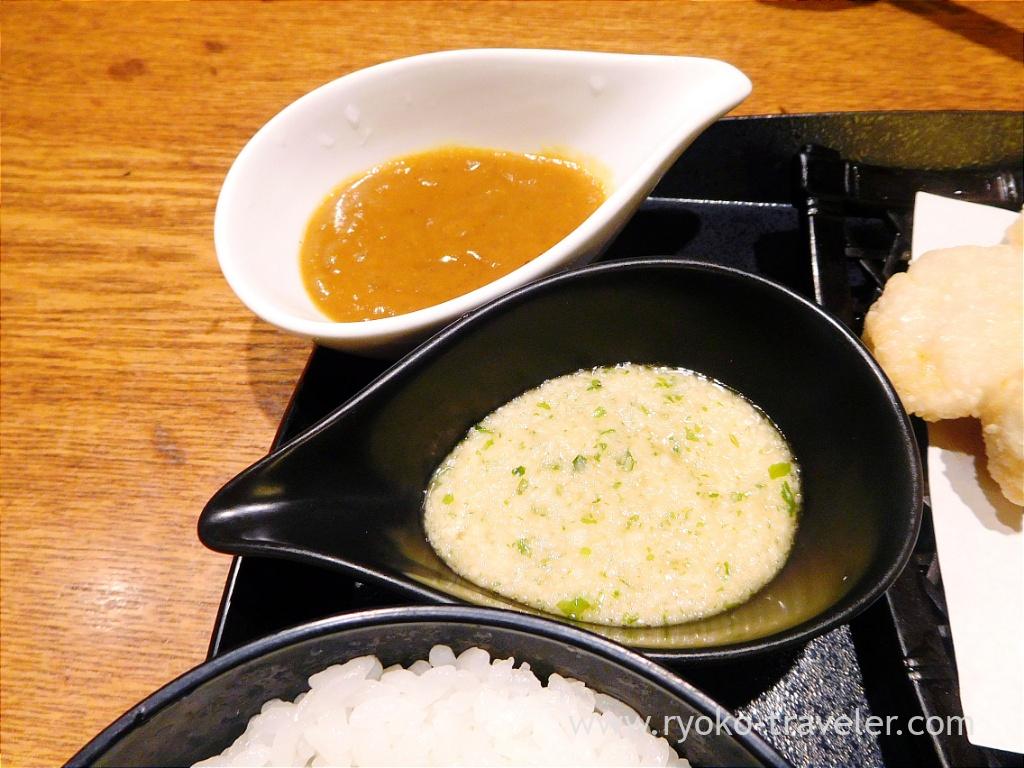 Karaage.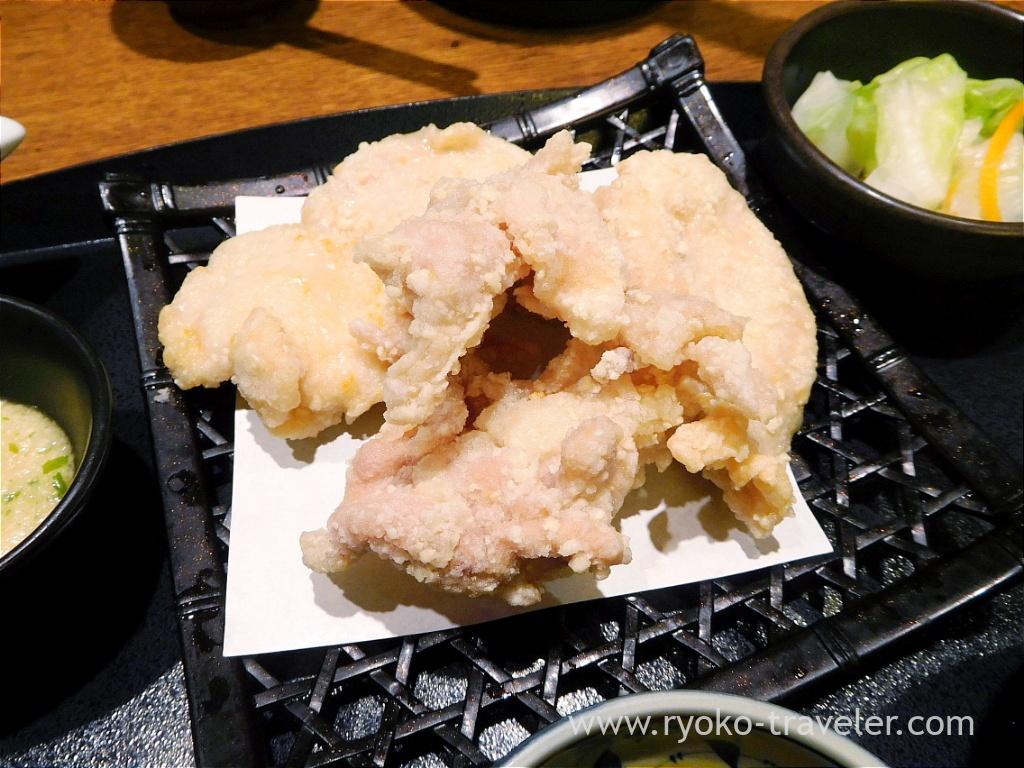 Those chickens meats are "Kazusa-dori (上総鶏)" that is rare and pure Japanese chicken. Its coating was crisp and the meats were juicy and soft. Half of them were leg meat and another was breast meat. Though the breast meat wasn't so fatty and had light texture. But the leg meat was so fatty and juicy ! Those meats weren't marinated with strong seasoning like soy sauce.

And those were enough delicious without any seasonings and sauce because those meat was seasoned with salt lightly, of course, eating it with ponzu was good !

By the way, the breast meat went with ponzu better than leg meat. Of course, leg meat went with ponzu, I liked eating leg meat with Black hachimi pepper (黒八味). Not shichimi (seven) pepper ! "Hachimi (eight)" ! And also with rip Red sansho pepper (完熟実山椒).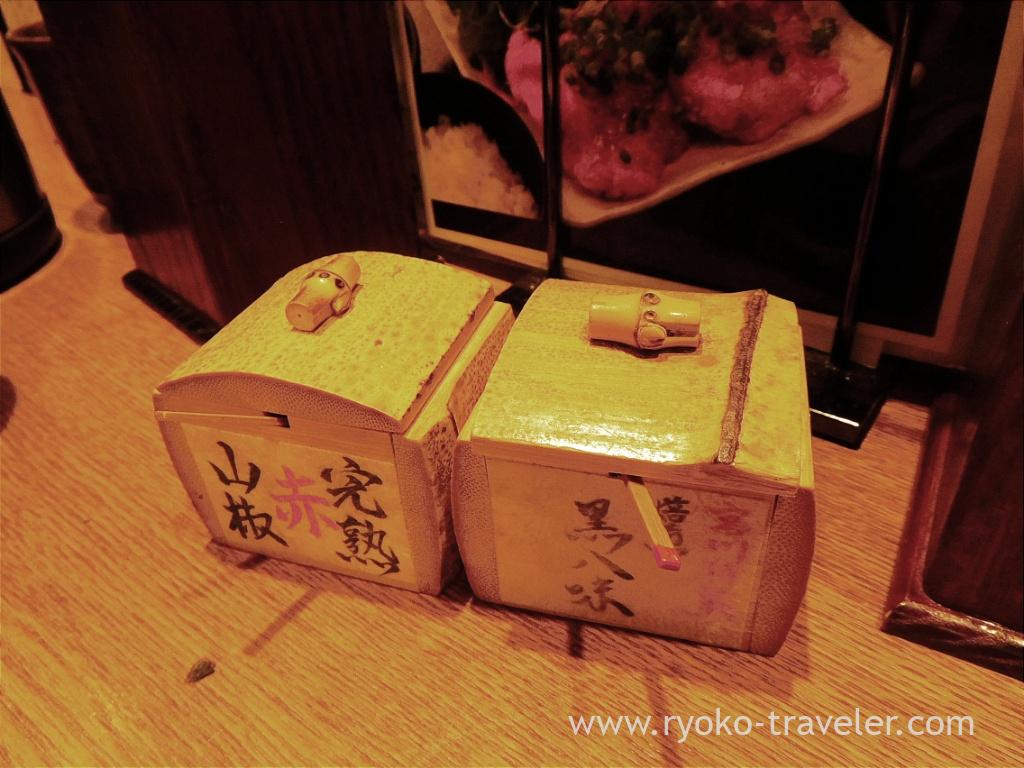 And I also recommend eating these karaage with curry as sauce. The curry was mild and children might like it.
Now there're four branches of Yakitori Miyagawa.
Kayabacho (head shop), Otemachi, Akasaka, Yotsuya and this Toyosu (Shoplist).
Only Yotsuya branch isn't open at lunchtime, but another is open at lunchtime.
Though there're some difference between those head shop and branches about lunch menus, White karaage can be eaten at anywhere.
About

Name Yakitori Miyagawa Toyosu branch (やきとり宮川 豊洲店)
Open Lunch, Dinner
Credit card Available for dinner time only
Reservation Available for dinner time only
URL Website, Instagram, Twitter

Google Map