Notice: Yakitori-imai is temporarily closed to move to Gaienmae area close to Harajuku and Omotesando.
http://www.ryoko-traveler.com/yakitori-imai-gaienmae1/
---
Oyakodon on Sundays' lunchtime only.
I followed my friends for having oyakodon at Yakitori Imai who are regular customer of there at lunchtime on Sundays only.
They go to there almost all Sundays 🙂
Also I had wanted to go to there for a long time. I enjoyed the dinner at Imai a lot last time and some people said to me that Imai's oyakodon is the best in all oyakodon that they have had ever.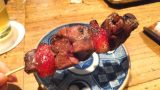 Moved – [Tokyo] Dinner at Yakitori Imai (焼鳥 今井) in Sendagi
My friend asked me to join dinner at Yakitori Imai (焼鳥 今井) in Sendagi area. They are high-populated yakitori restaurant.
When I got to there 30 minutes before the opening time, there were already about 8 persons in front of the shop.
Basically they serve this oyakodon only at lunchtime.
That day's lunch menu was
* Oyakodon 1000 yen
(With Cochin's liver + 300 yen, Kyo-age + 100 yen, extra meat + 300 yen)
* Jyo(Deluxe) Oyakodon 1500 yen
(With Jyo chicken's liver + 300 yen)
* BARBARIE duck's oyakodon +1500 yen
(With Foie gras + 300 yen)
* Less rice – 50 yen, Large rice + 100 yen
Lunch menu on the blackboard is hanged on the wall.
I chose Oyakodon with cochin's liver ,less rice (親子丼 コーチンもつ入り ごはん小もり) (total 1250 yen).
It takes much time because only one chef cook carefully. But he cook in front of us and we can see his act well. So,  we don't get tired of waiting.
Plenty of Cochin's liver and chicken's meat dressed with half-cooked eggs !
While eating, the chef put keema curry and coriander besides my oyakodon to change the tastes. So, I tried it. This keema curry itself was delicious. But I needed more coriander because I love it !
But you might imagine, adding keema and coriander completely change the taste of it. So, you have to be careful about the timing. You'd better put coriander and keema curry after you enjoy basic oyakodon to the full. I put keema and coriander after I ate half of the oyakodon and I regretted a bit :p
I agree this is the No.1 Oyakodon ever. Of course, Torito, Tatsunoji serve delicious oyakodon at lower price. But it is a gorgeous one and I want to eat it some time in special 🙂
About Yakitori Imai (焼鳥 今井)
Address / 2-29-4 Sendagi, Bunkyo-ku, Tokyo
Station / Sendagi station (Tokyo metro)
Open / 18:00 – 22:00
Sundays lunchtime / 11:00 – 14:00 (Oyakodon only)
Closed / Mondays
Twitter / @yakitoriimai