Great hotpot having winter seafood.
I thought that I can't go to Toyotaya that is so popular izakaya in Hirai this season, but we managed to go there because my flight to Kaohsiung had been cancelled 🙂
It is very difficult to reserve Toyotaya, especially in winter. Only square tables could be reserved and seats along the counter table couldn't be reserved.
So, we have to go there and wait before the opening time if we don't have reservation.
Because the opening time is 5 p.m., I have to take a day off for going there before the opening time.
Of course, we can wait in front of the shop after the opening time, but we can't expect how long we have to wait because many drinkers in izakaya stay so long :p
The manager said to us that we can use square table if we leave before the reservation time.
So, we were seated at the square table. Until 6:40. Maybe Reservation time of this table was 7:00 🙂
We ordered our drinks quickly.
You'll understand later why Toyotaya is so popular. Anyway, we toasted ! This shochu highball was 260 yen. Inexpensive though it was weak. Well, if you say "naka", staffs add shochu into your glass with extra charge.
The inexpensive price of foods and drinks is also a reason of the such popularity of Toyotaya.
A large bottle of beer is 480 yen 🙂
Menus are on the wall.
At first, we ordered seafood.
Firefly squid (ホタルイカ, 500 yen). Taste of Spring 🙂
Toyotaya serves delicious seafood !
Vinegared mackerel (シメサバ, 580 yen)
Vinegared mackerel (アナゴ天プラ, 500 yen)
Those tempura was crisp. conger eel was soft 🙂
Vinegared mackerel (ウナギキモ焼, 440 yen)
Whenever we go to there, we order it without fail 🙂 Its bitterness of innards and the sweet sauce was good !
Well,
The best reason that it get very difficult to reserve Toyotaya's seats in winter is !
This shop's most popular food is hotpot.
We can choose ingredients of hotpot from cod (800 yen), pork (950 yen), beef (1000 yen), tuna and green onions (negima, 1000 yen), duck meat (1450 yen), oyster (1500 yen), soft roe (2100 yen), monkfish (1900 yen) and monkfish liver (2000 yen).
Especially, oysters, soft roe, monkfish and monkfish liver can be eaten in winter only, so, lots of people gathering Toyotaya in winter.
So, of course, we ordered it, too ! It is also called "gout hotpot" !
We don't have to do something about this hotpot. Staffs cook it because underdone ingredients is dangerous. Especially, soft roe, monkfish and oysters. Full of happiness !
Of course, lots of vegetables were under them !
I wanted to eat this ! I was happy ! Soft foe, oysters, monkfish liver ! Also monkfish egg, too ! And vegetables having plenty of extracts of seafood was great !
Soft roe !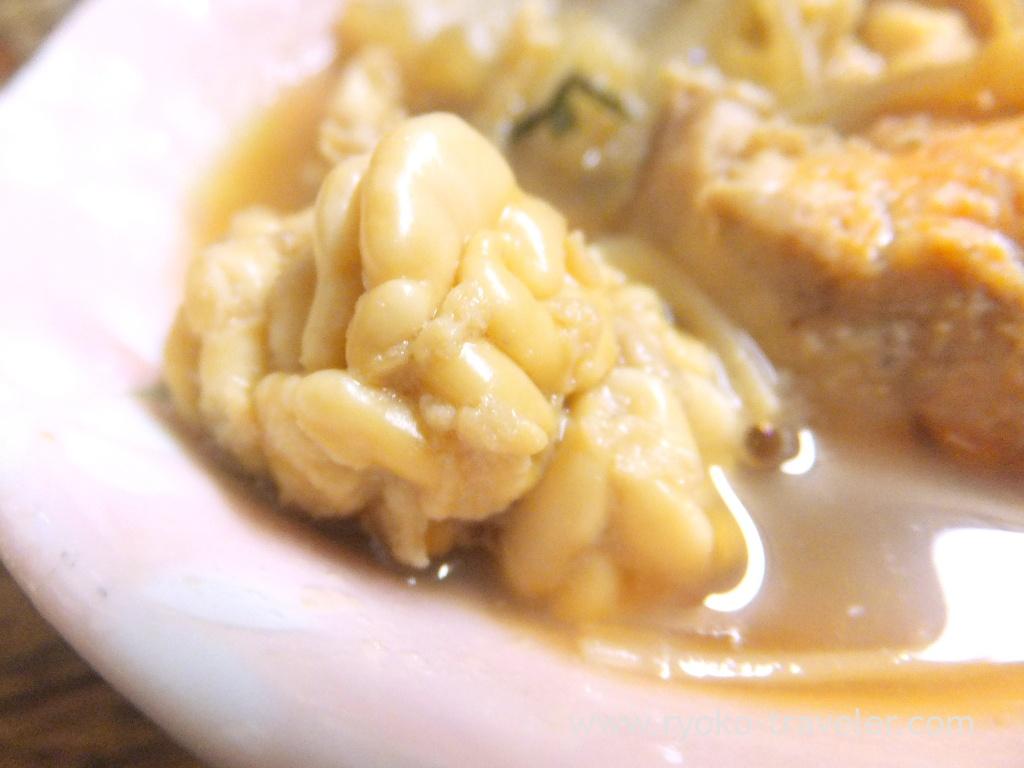 Last, we put kishimen into the hotpot 🙂
I was really satisfied with their hotpot this time, too. Soft roe, monkfish and oysters might be able to be eaten until the end of this month.
I might not be able to go there again this season anymore, but I want to go there again for eating another hotpot 🙂
About Toyotaya (豊田屋)
Address / 6-15-23 Hirai, Edogawa-ku, Tokyo
Station / Hirai station (JR)
Open / 16:30 – 23:30
Closed / Sundays