I visited Torifusa (鳥房) after years absence. They are popular as young chicken karaage. Also they sell fresh chicken meat and karaage at the shop that can be seen from the street.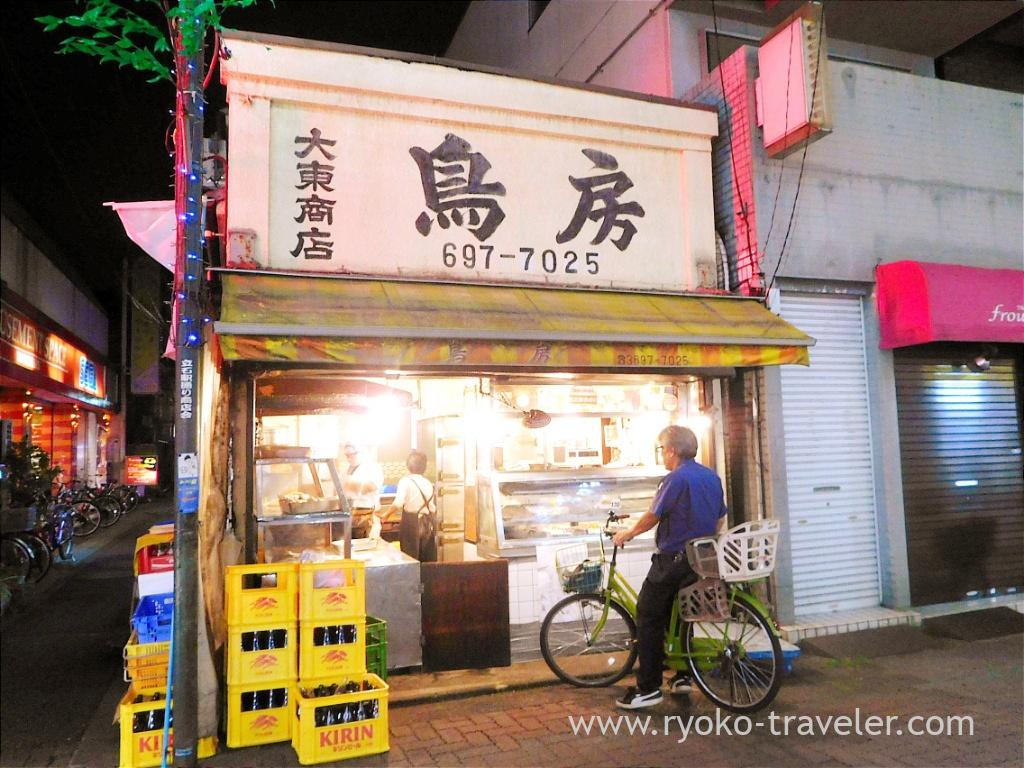 The door of the shop is on the left. Eating space can't be seen from outside, so I hesitated to open the door for the first time. (Actually, it can be seen from the store a bit).
They don't allow people who get drunk heavily to enter the shop.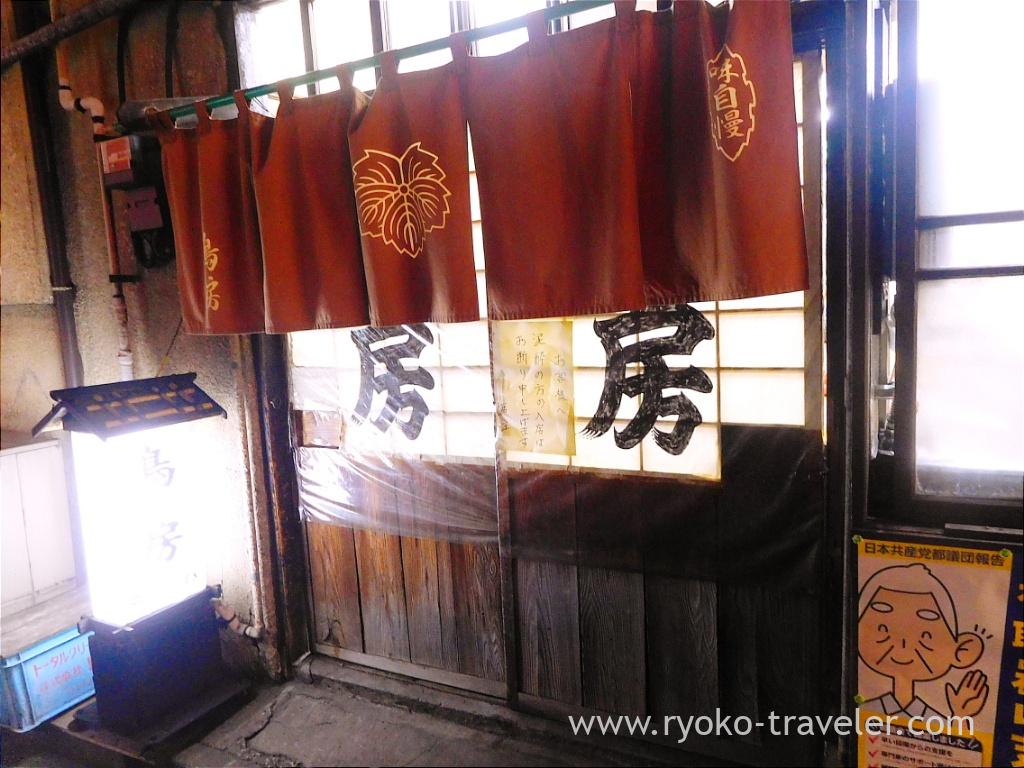 There are some counter seats on the right from the door. And tatami area is on the left. Intervals of each seats is narrow and smoking is permitted, so it might be hard time for someone who hate smoke.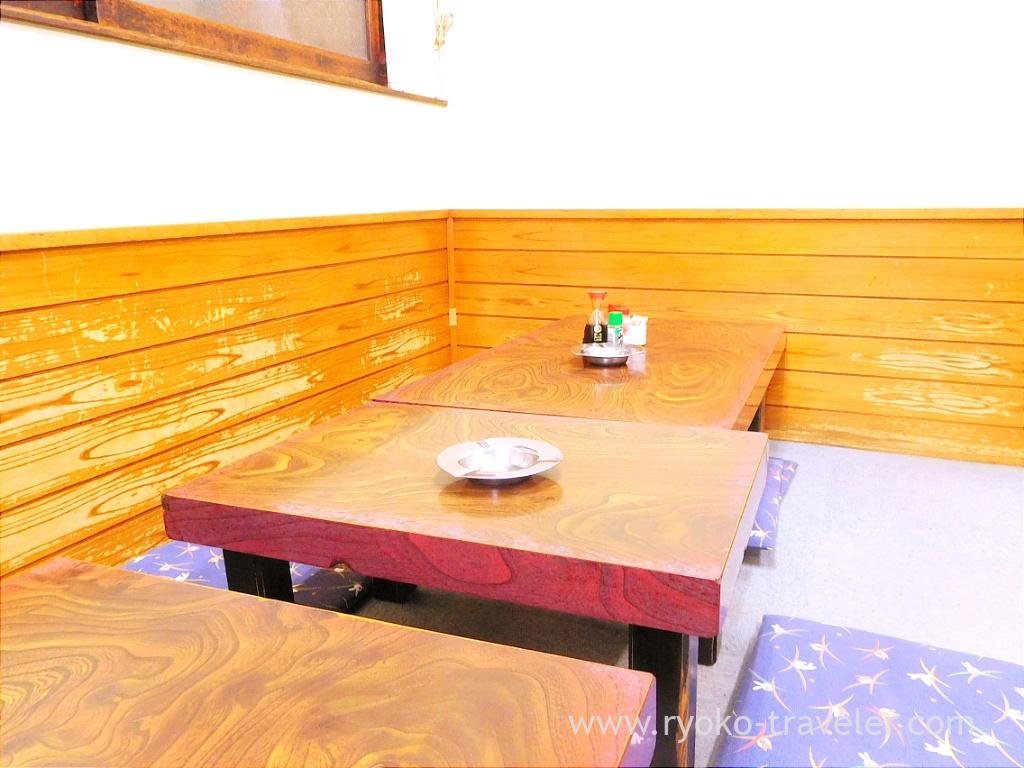 Torifusa don't have much foods on the menu. That's all. Chicken only (except pickles). Karaage is current price. You hesitate to order ? Don't worry. they offer two or three sizes of chicken. About from 600 – 900 yen. Not expensive at all. But you need to know. They require guests to eat one portion of karaage each except small children.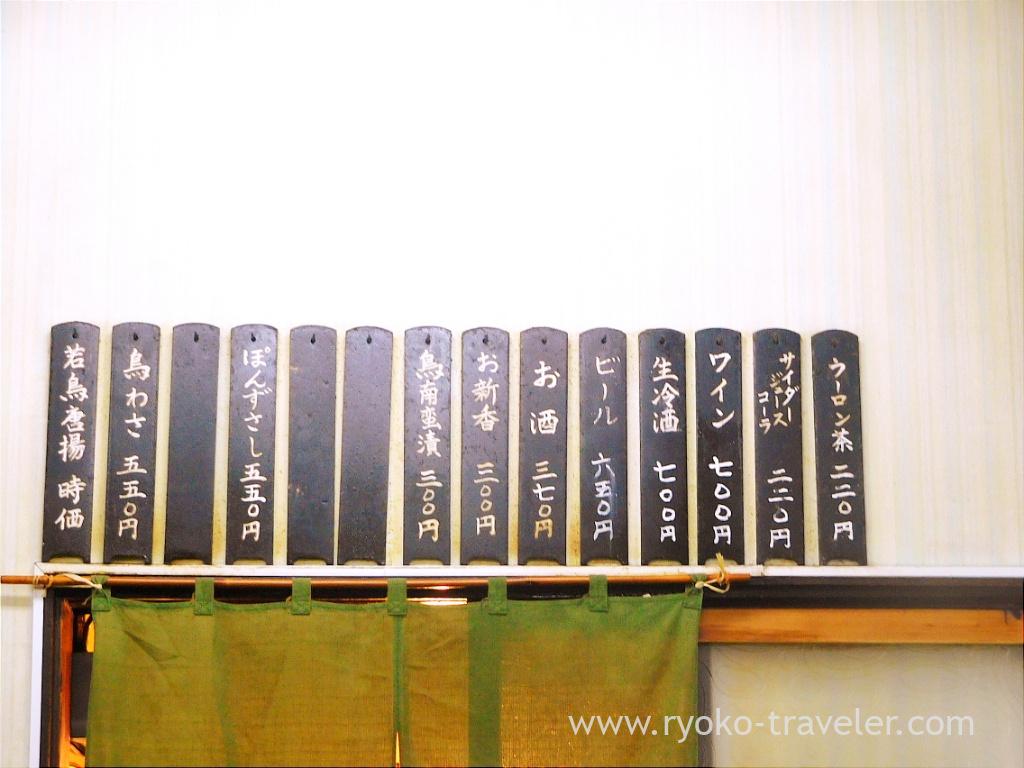 They serve otoshi (small appetizer) who order alcoholic drinks. Mostly simmered chicken's skin with ginger is served.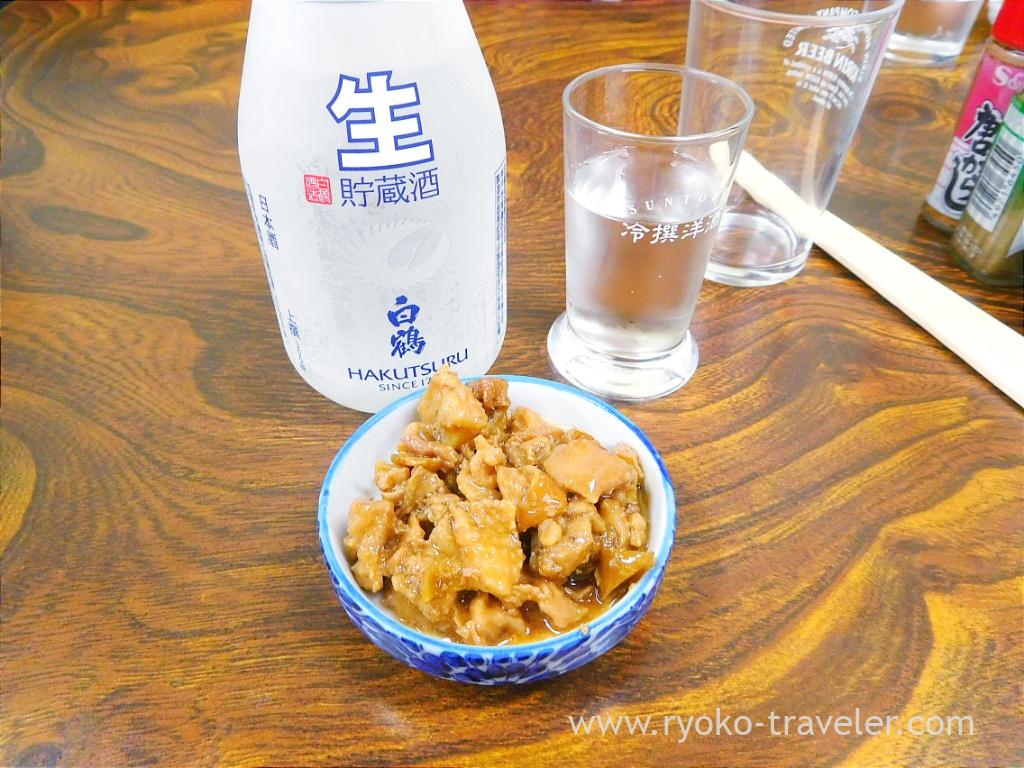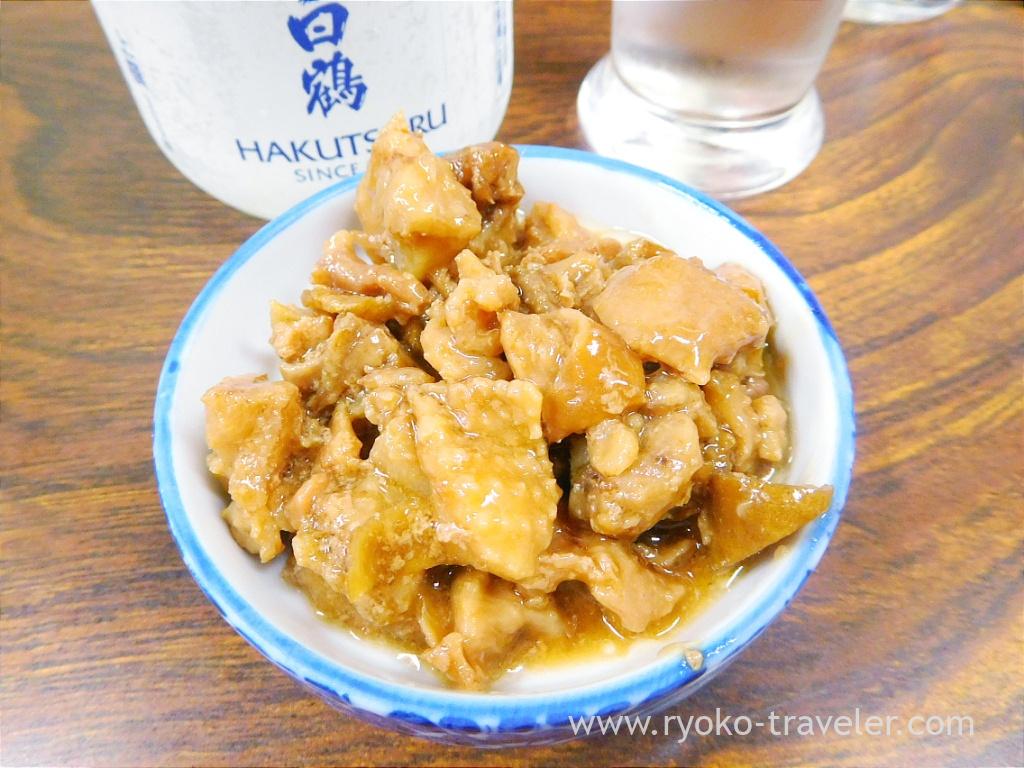 They offer two or three prices of Young chicken karaage (differ from according to size). They say just price. The staff said two prices that day, too. They never say about its amount. Just price. Both was on 600 yen. So, we ordered smaller one. I took this photo after staff cut into pieces in front of us. If you need, they cut. Of course, it's OK to cut by yourself.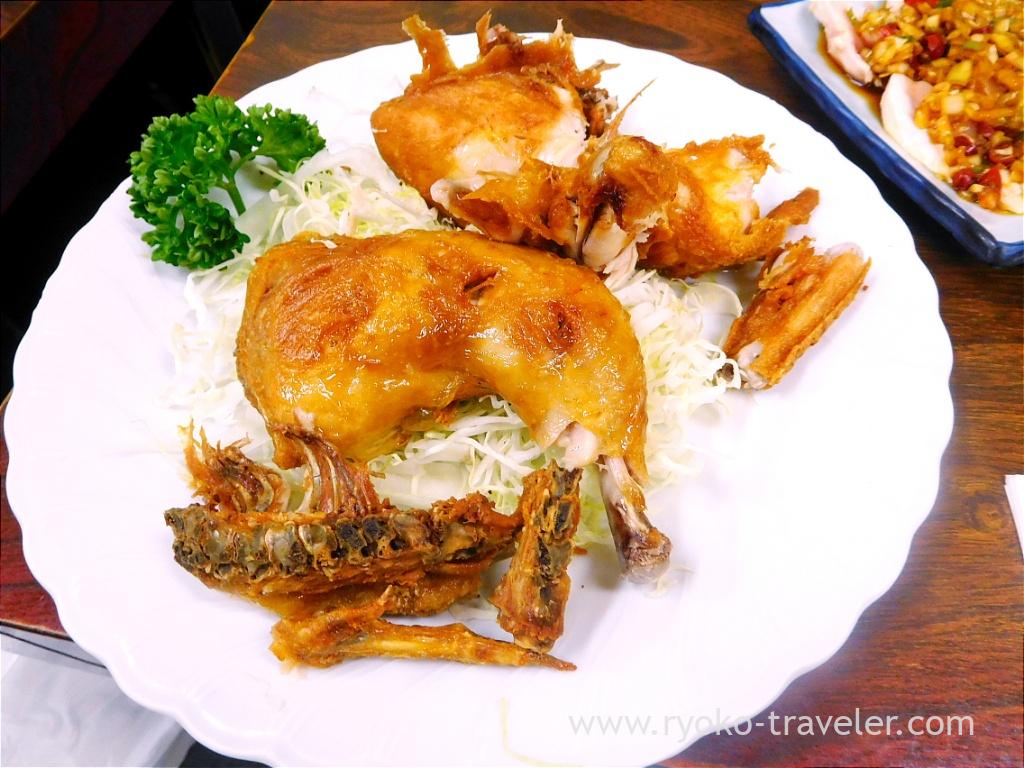 Outside of the chicken karaage is crisp and inside is juicy. Small bones can be eaten. It's seasoned with salt. Simply delicious. The staff said to guests next to us, she recommended eating shredded cabbage with ponzu sashi's sauce. So, we tried too. It's awesome dressing. We agreed !
Of course, you can get karaage to go. Though you can order it at the store in front of the street, it need much time to cook. Sometimes we have to wait about two hours or more. So, we'd better order on the phone in advance. But the best way to get karaage to go is to order what we want to eat inside and outside at the same time in the shop. They hand our karaage around the end of eating in the shop.
Ponzu sashi is MUST as well as karaage. Chicken meat is boiled with rare. And plenty of green onion and red pepper on it with ponzu.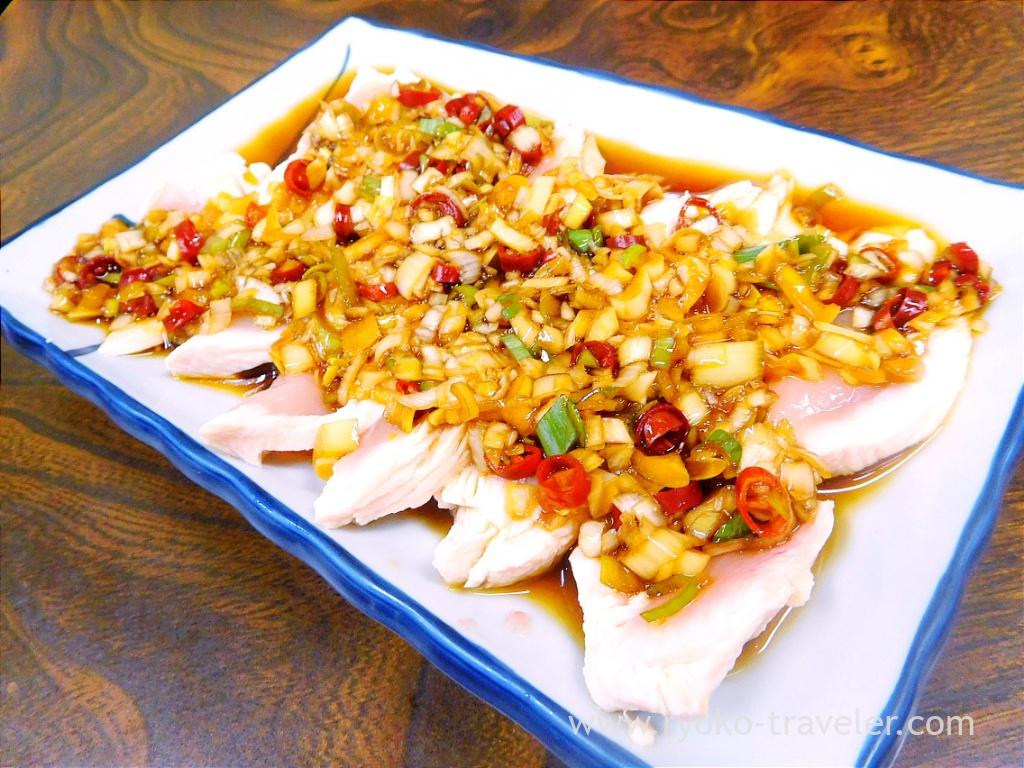 Toriwasa is good, too. It's similar to ponzu sashi. It have wasabi, sprouts, dried laver instead of ponzu and so on. It have refreshing tastes.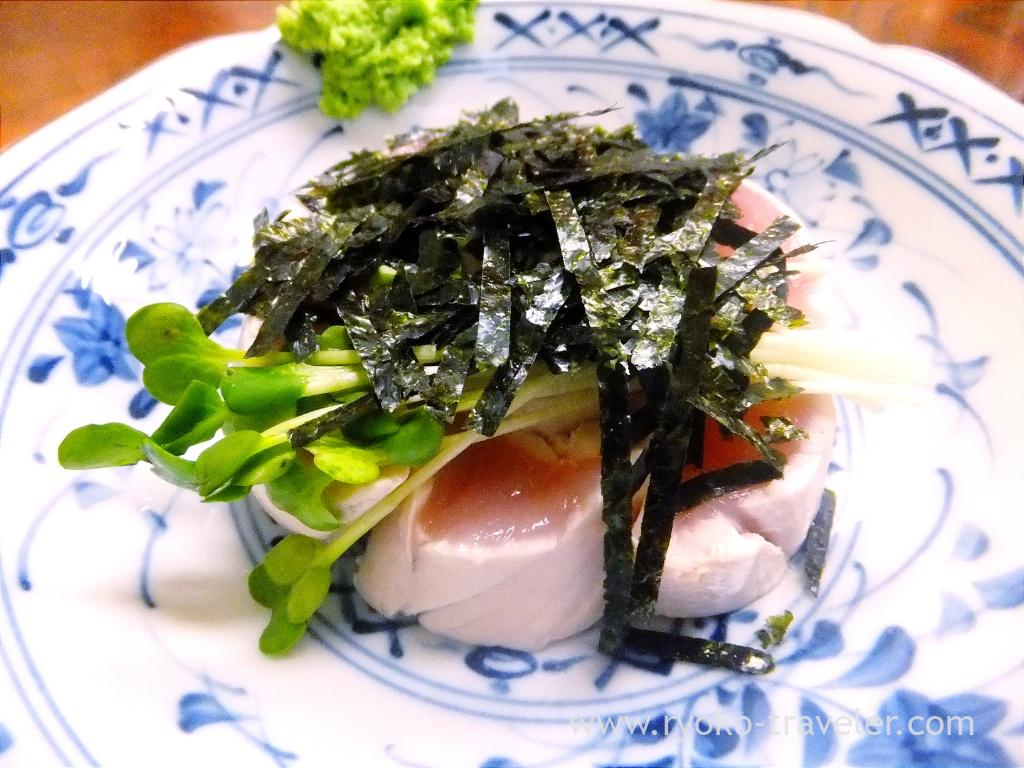 Though karaage need much time to cook, ponzu sashi and toriwasa is comparatively served quick. Because there're not many seats, mostly there's not any vacant seats when we visit there. But it's worth trying to open the door 🙂
About

Name Torifusa (鳥房)
Open Dinner
Reservation Not available
Credit card Not available

Google Map