Finally, I visited new Tonkatsu Yachiyo on the 3rd floor of Management building in Toyosu Market. Though I couldn't get a chance to visit there just before the Market's release, recently there're many vacant seats in the weekdays' morning.
I sometime feel like eating their fatty deep fried foods. There are many tables and some counter seats. Pigs on the signboard is cute.
I posted about how to get to management building (Kanri-to building) before.
Toyosu Market : Restaurants floor of Seika building and Kanri building
Toyosu Market was launched on October 11st. I already visited for several times. Toyosu Market have many delicious foods...
They serve roast pork and egg on Tuesdays, Thursdays and Saturdays only. That was Tuesday. That's so popular among visitors (especially mens). So, when I was there, about 90 % of people in the shop order roast pork and egg (almost 100 % as men !).
Though prices got higher than in Tsukiji, almost all foods are till on their menu. Large kuruma prawn set became 4500 yen ! Wow !
C set is still there!
I always at a loss what to eat because there're many foods on the menu.
But there's a wonderful sentence when such a situation. "C set please".
C set have their top 3 foods. Deep fried horse mackerel, scallop and prawn. Now it cost 1700 yen. Ah, it was 1300 yen when I visited there for the first time in Tsukiji in 2012… :p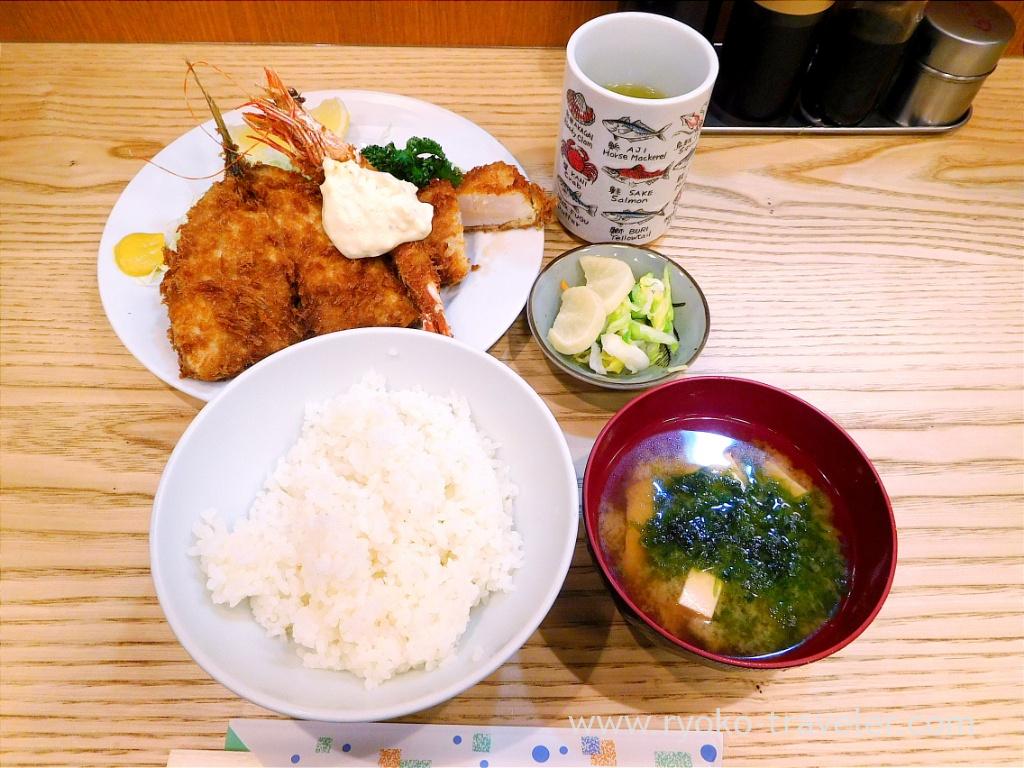 Truthfully speaking, I couldn't find it on the menu, but I tried to order. They accept.
Maybe it is on the menu. Just I couldn't find because I was sleepy.
Especially the miso soup was delicious. I remember their miso soup wasn't good in Tsukiji. They have got large kitchen, so I think they have enough space to cook not only deep fried foods but also another foods.
Deep fried horse mackerel was enough thick and delicious as usual. Its coating was crisp. I always eat half of it with mustard and another with tartar sauce. Of course there's Worcester sauce, but I don't like.
Though the kuruma prawn that day was quite smaller than I ate it last time, it was good. And scallop was… look at it. its inside is rare.

Their amount of rice is quite bigger, so you'd better say "small rice". I always say. (Though the price hasn't change)
About Tonkatsu Yachiyo (とんかつ八千代)
Address / Management building 3F, 6-6-1 Toyosu, Koto-ku, Tokyo
Phone / 03-6633-0333
Open / 5 a.m. – 1 p.m.
Closed / Market's holidays
Reservation / Unavailable
Smoking / Not permitted
Credit card / Unavailable