Narrow but worth visiting.
I visited Tempura Kurokawa after years absence.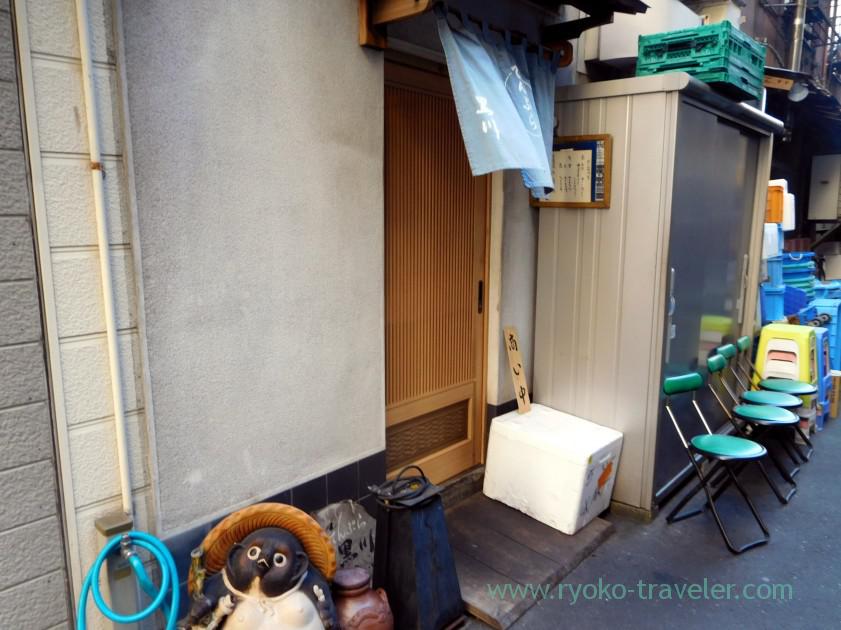 Kurokawa was so narrow as usual.
There're only four counter seats and two table having four chairs each.
But I recommend this shop if you want to eat tempura at Tsukiji because the chef cook in front of your eyes (counter seats), and you feel the smell of tempura cooked.
If you have enough time, tempura course is good choice. But if you want to eat quickly, tendon is better.
Gorgeous tempura along the back alley in Tsukiji. Tempura Kurokawa is one of my longing restaurant in Tsukiji. It stands back alley of Tsukiji Outer Market. I'm sure that people who come to Tsukiji...
I ate kakiage tendon last time, that was great, but I tried Jyo Tendon (Special tendon / 上天丼, 1500 yen) this time.
Kakiage having plenty of medium rare scallop ! I spent my lunch hour for eating tempura at Tempura Kurokawa in Tsukiji. They serve four courses and six species of tendon at lunchtime. I reme...
Jyo tendon have assorted tempura. It had two shrimps, conger eel, scallop and so on.
Those coatings were so crisp and the smell of sesame oil was good. And the sauce was not too sweet and it went with the rice well 🙂
And if you can eat much, Kurokawa have Tokujyo tendon (Deluxe tendon / 特上天丼, 2000 yen) having more pieces of tempura in a big bowl.
As I said, Tempura Kurokawa is so narrow, so you can't bring your large baggage into the shop. So, you have to leave your baggage outside if you come here with large baggage. So, you'd better come there without large baggage.
Or there're lockers around Tsukiji 🙂
Be free from your baggage while enjoying Tsukiji. At first, I have to tell you. There's no locker in Tsukiji subway station (Hibiya line) Because Tsukiji station is small, so there's no space to put...
About Tempura Kurokawa (天ぷら黒川)
Address / 6-21-8 Tsukiji, Chuo-ku, Tokyo
Station / Tsukiji station (Tokyo metro)
Open / 9:00 – 14:00, 17:00 – 21:00 (Dinner time Reservation required)
Closed / Sundays and another national holidays