New sushi restaurant is open in Tsukiji area in this September.
The restaurant's name is Sushi Keita. It was still new.
Where?
Toward Akashicho area from Harumi street.
About Sushi Keita
Mr. Keita who is a chef of this Sushi Keita trained at Sushi Taichi in ginza and then he started his business at this Tsukiji.
They are open at dinner time mainly, but they are open at lunchtime only on Wednesdays, Saturdays and Sundays.
They offer inexpensive lunch course. So you can try their sushi with easily.
There're two lunch course. 5000 yen course have 11 sushi. and 10000 yen course have 20 sushi.
If there're vacant seats, they welcome you, but there're not many seats. So you'd better reserve in advance. When I visited there with my friend, there were scarcely any vacant seats.
He've already got regular customer. And some visit there alone.
Only taking the photo of picture is OK.
There's L-shaped counter table surrounding the kitchen only. The lady who serve drinks is his wife.
About Lunch course
10,000 yen course
Because we wanted to eat much sushi, we reserved 10000 yen course in advance.
I was anxious about the 20 pieces of sushi because I'm small eater, but I could eat them up easily.
At first I had green tea. Not Japanese sake. But I felt like drinking Japanese sake all the same.
They showed the photo of Japanese sake in line and I chose one.
Basically I have green tea when I eat sushi, but their sushi is suitable for Japanese sake. (it's not excuse:p)
First of all, marinated lean meat of tuna was served. Their sushi is rather small. It's easy to eat.
And Toro. Fatty part of tuna. It was marinated , too.
Young gizzard shad (Kohada)。It was vinegared strongly, but it was good.
I chose my Japanese sake "Ishizuchi (石鎚)".
We can choose one glass for Japanese sake from various glasses on the tray. I chose blue Kiriko !
Boiled clam (Ni-hama)
Salmon roe. Its springy texture was awesome.
Vinegared mackerel. Large slice ! Rice couldn't be seen.
Kuruma prawn. It didn't have much brown meat. Because I love brown meat of shrimp, I missed.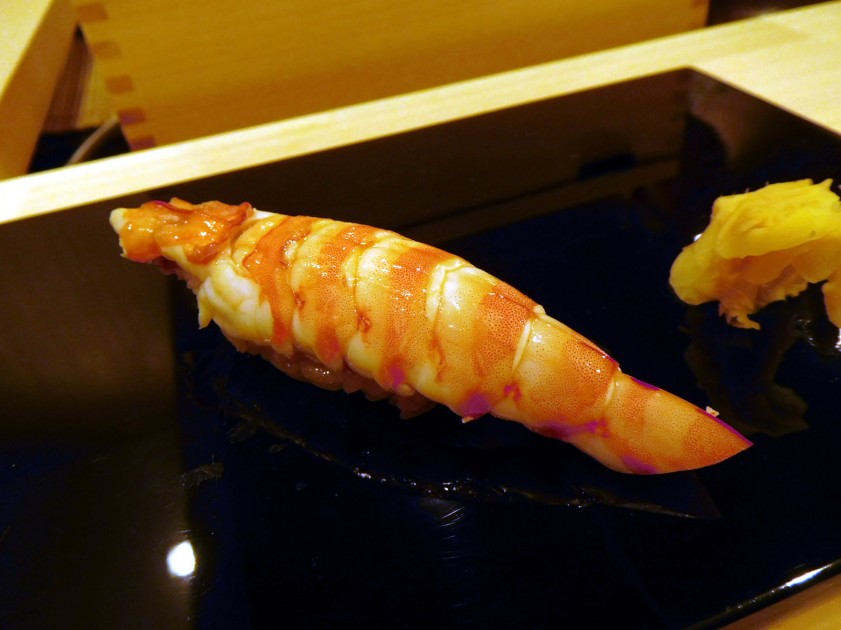 Red sea bream (Ma-dai). The flavor was good. I like it best in all sushi that I had that day.
Octopus.
Sea urchin.Sweet.
Japanese whiting (Kisu)'s sushi is precious.
Scallop.
Halfbeak (Sayori). It had smooth texture. Though I don't like halfbeak very much, it was good.
Surf clam (Hokkigai). Sweet.
greater amberjack (Kanpachi). It was fatty and delicious.
Bonito (Katsuo). It was fatty. It was grilled in the straw lightly. The skin had the flavor of straw grilled was good.
My delight. Squid (Sumi-ika) was served.
Conger eel (Anago). So soft. The sauce was rather sweeter.
Tamagoyaki. End of the course. Some guests ordered rolled sushi, but we were full. So, that's all.
I liked red seabream and greater amberjack best.
Only one thing I was disattisfied with was laver wasn't tasty.
Here's Tsukiji. I wish they use better laver all the same ! 😉
About Sushi Keita (鮨桂太)
Address / 6-6-4 Tsukiji, Chuo-ku, Tokyo
Phone / 03-6264-2234
Open / 6 p.m. – 10:30 p.m. (Wednesdays, Saturdays and Sundays 11:30 a.m. – 2:30 p.m.)
closed / Mondays
Reservation / Available
Smoking / Not permitted
credit card / Available (JCB, Amex, Diners)