My best shop in Ginza now is SIBIRE Noodles Rousokuya. Rousokuya serve delicious mapo tofu noodles. They always have a long line at lunchtime. Also Rengatei (煉瓦亭) on the left of Rousokuya have long line at lunchtime, too. So, sometimes it's hard to find the border between those two shops with easily.
Recently, Some branch is open. Omotesando, Umeda of Osaka and Sapporo. So, I think the line of Ginza head shop became shorter than ever.
Where ?
They are located along Gasu-to street (= gas light street). It is also located at the back of Apple store. By the way, their name is deprived from the street's name.

Mapo dofu noodles is limited
Their ramen mapo tofu noodle was usually sold out at dinner time, but recently they try to keep serving it until the last order. But they can't all the same. If you want to eat mapo tofu noodles without fail, you should be there at least until 7 p.m., or lunchtime.
But mapo dofu noodles that is the most popular noodles was already sold out.
Though I visited there for several times, I always see this paper "Mapo dofu Sold out !" at dinner time 🙁
Menus
They have English menus.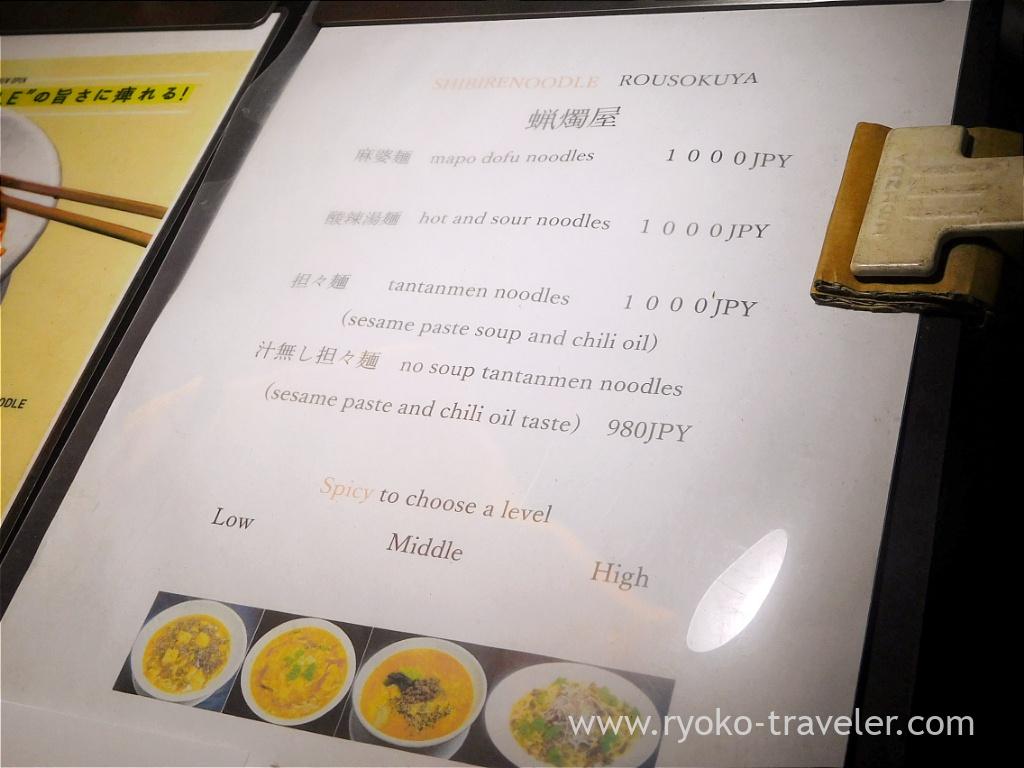 They have four types of spicy noodles. From the top,
Mapo dofu noodles (麻婆麺)
Hot and sour noodles (酸辣湯麺)
Tantanmen noodles (担々麺)
No soup tantanmen noodles (汁無し担々麺)
Spiciness of all noodles can be choosen from three degrees. Low (薄辛) , Middle (普辛) and High (倍辛).
If you want to have more and more spicy one, you can have more chili pepper, sichuan pepper and chili oil with extra charge (100 yen) each.
Another, they serve cold noodles in summer.
Well, the English menu don't have additional toppings, rice and drinks. This is Japanese menu.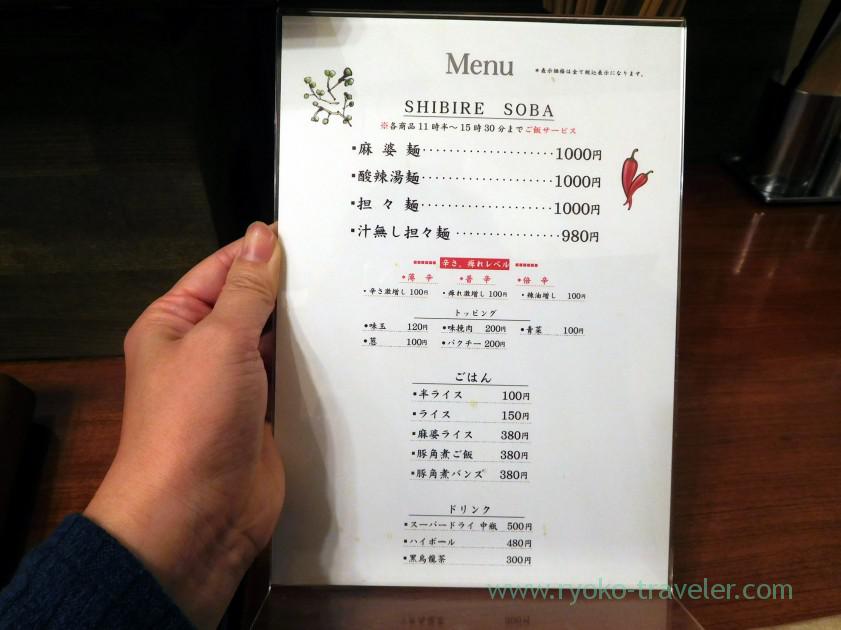 *Additional Toppings
Simmered egg (味玉, 120 yen), minced meat (挽肉, 200 yen), green vegetables (青菜, 100 yen), Green onions (葱, 100 yen), Coriander (パクチー, 200 yen)
*Rice
Half rice (半ライス, 100 yen), Regular rice (ライス, 150 yen), Mapo dofu rice (麻婆ライス, 380 yen), Simmered pork rice (豚角煮ご飯, 380 yen),Buns with simmered pork (豚角煮バンズ, 380 yen)
*Drinks
Middle bottle of Asahi SuperDry(スーパードライ中瓶, 500 yen), Highball (ハイボール, 480 yen), Black oolong tea (黒烏龍茶, 300 yen)
Half rice is free of charge at lunchtime until 3:30 p.m. (Of course, weekends, too.)
All noodles have local sichuan pepper.
There's a ticket vending machine at the door inside the shop.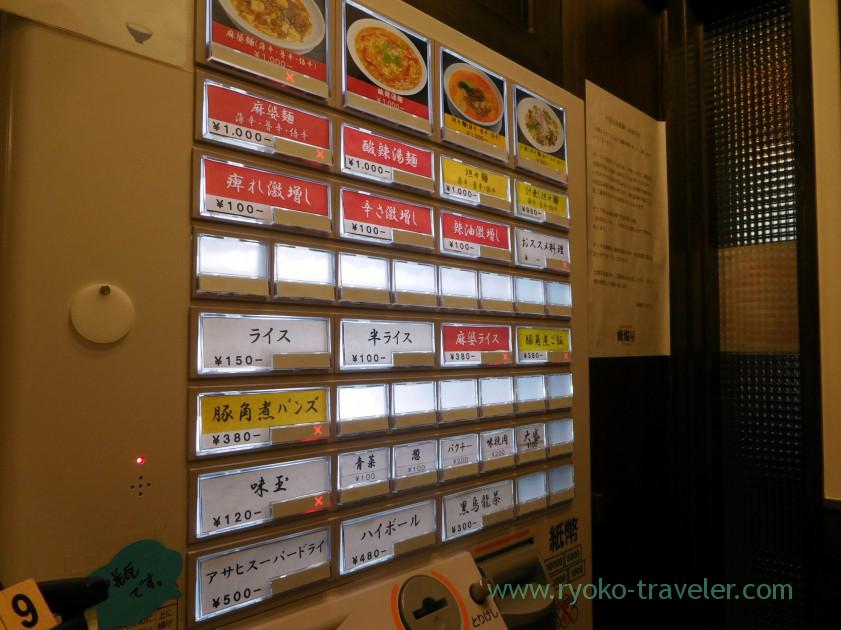 Interior
The shop is narrow but long, There're counter seats on the left and right along each wall. The kitchen is at the back of the shop.
They prepare paper apron on each seats.

Condiments on the table. From left (behind toothpick) to right, blended vinegar, chili and Budou Sancho Oil.
Budou Sansho oil (ぶどう山椒) is Taihaku sesami oil that is boiled with Budou Sansho (a kind of sichuan pepper produced in Kisyu of Wakayama prefecture).
Budou means grape. It's grown like grape.
This oil is flavorful. It's good for all noodles.
There's a explanation about those condiments on the wall, so, I use it as preference and ate.
Budou Sansho oil – For all noodles, especially for no soup tantanmen noodles and mapo dofu noodles
Blended vinegar – Good for No soup tantanmen noodles, hot and sour noodles
Chili – Good for tantanmen noodles
SHIBIRE Noodles
Mapo dofu noodles
This is their No.1. Mapo tofu noodles (麻婆麺, 1000 yen). I love it, too. As its name, noodles are covered with mapo tofu having much Sichuan pepper.

They serve half rice at lunchtime without charge.
Because it was lunchtime, I got rice with free of charge. I ate it at the intervals of eating mapo dofu noodles because the mapo dofu was really spicy. But it's also good to put the rice into the soup or put mapo dofu onto the rice 🙂
Thicker springy noodles is under the mapo dofu. It was dressed with mapo dofu very well. Though I ordered my mapo dofu noodles with normal spiciness, it's so spicy. But delicious .I couldn't stop chopsticks.
Of course, it's delicious. but I think it's also good to eat rice and this mapo dofu only… This mapo dofu itself is really good.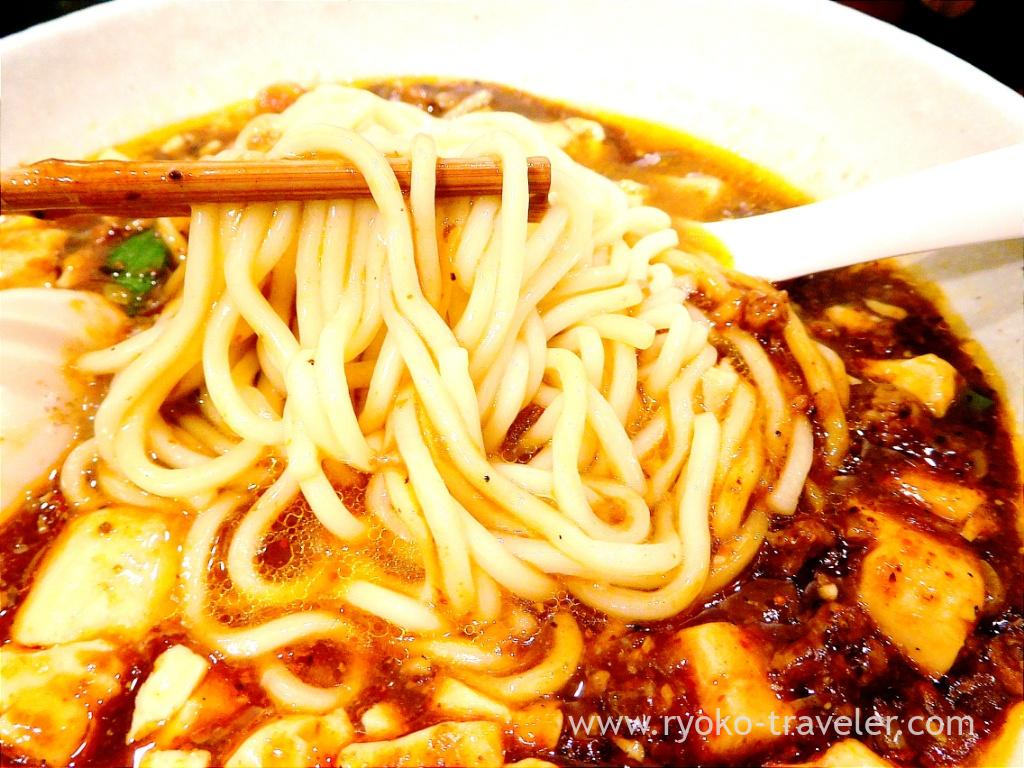 It's natural thing that people visit for this and wait so long.
Of course, this mapo tofu go with draft beer 🙂
Coriander, too.
Tantanmen noodles
When I visited there for the first time, I ate it. Tantanmen noodles (担々麺, 1000 yen) with normal spiciness.
It have minced meat, chili oil, white sesame, black sesame, ground white sesame, peanuts and so on. It looks not spicy.
It have thin noodles. It have smooth texture by sesame but have strong spiciness of Sichuan pepper. It's delicious.
Mapo dofu noodles was good, but I like this noodles, too !
By the way, this is strong spiciness one. I ate it last time.
The color of the soup is deeper than normal one. Actually, my nose smelled stronger flavor of Sichuan pepper.
But it wasn't too spicy. So, I felt comfortable at first. But after a while, Sichuan pepper bites my tongue. So, I think normal one is better than strong one in that I can enjoy the ramen until last.
No soup tantanmen noodles
I tried no soup tantanmen noodles (汁無し担々麺, 980 yen), too.
Somehow it's 20 yen more inexpensive than another noodles.
I think it's the same noodles as mapo dofu noodles. This noodles dressed with the sauce is sticky. It's hard to mix altogether. Much minced meat, peanuts, black sesame, white sesame, chili pepper, green onion, dried shrimp and sauce on it. I mixed it altogether well and ate it.
The sauce is thick. It's similar to dandan noodles of Unrinbo (雲林坊) in Akihabara.
Putting Budou sichuan pepper oil onto it added refreshing tastes.
Hot and sour noodles
I completed all regular menus of Rousokuya !
This is hot and sour noodles (酸辣湯麺, 1000 yen).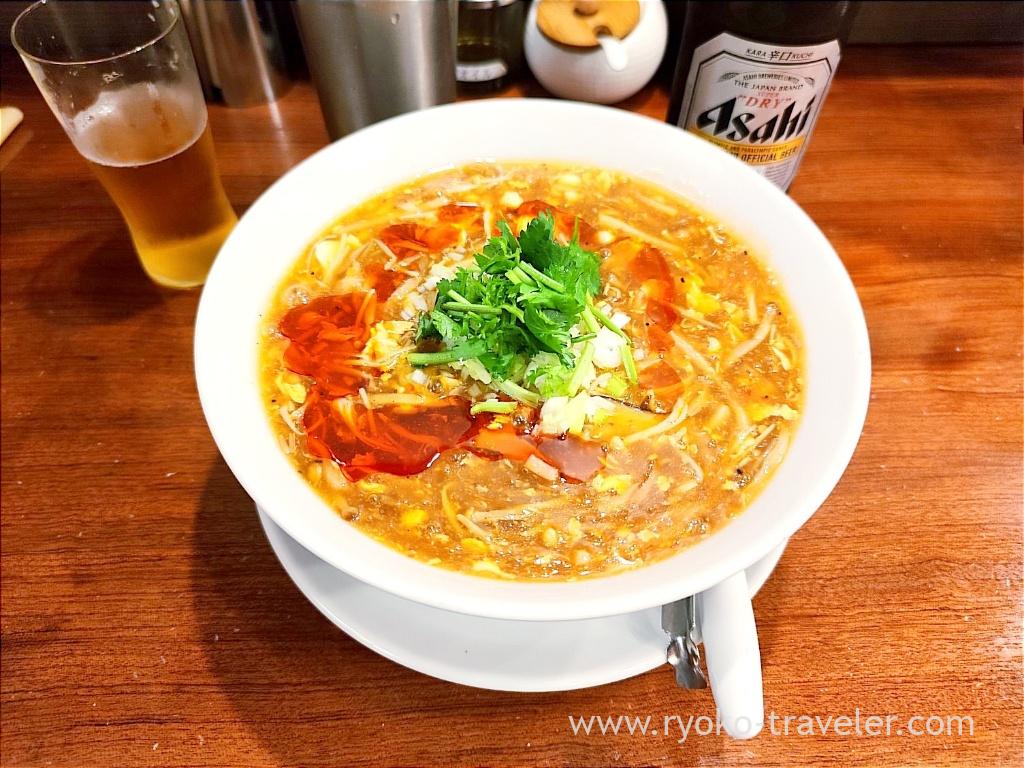 It's differ from another three noodles. It don't have much Sichuan pepper. It's tangy and spicy. It's addictive as well as another noodles !
Especially, it's loved by women.
There're much mushrooms in it like enoki mushroom. So, it's healthy.
The sourness is light, so, even if you don't like strong sourness, you may be able to eat it with easily.
There're coriander on it, but I needed more. SO, I ordered extra coriander with 200 yen.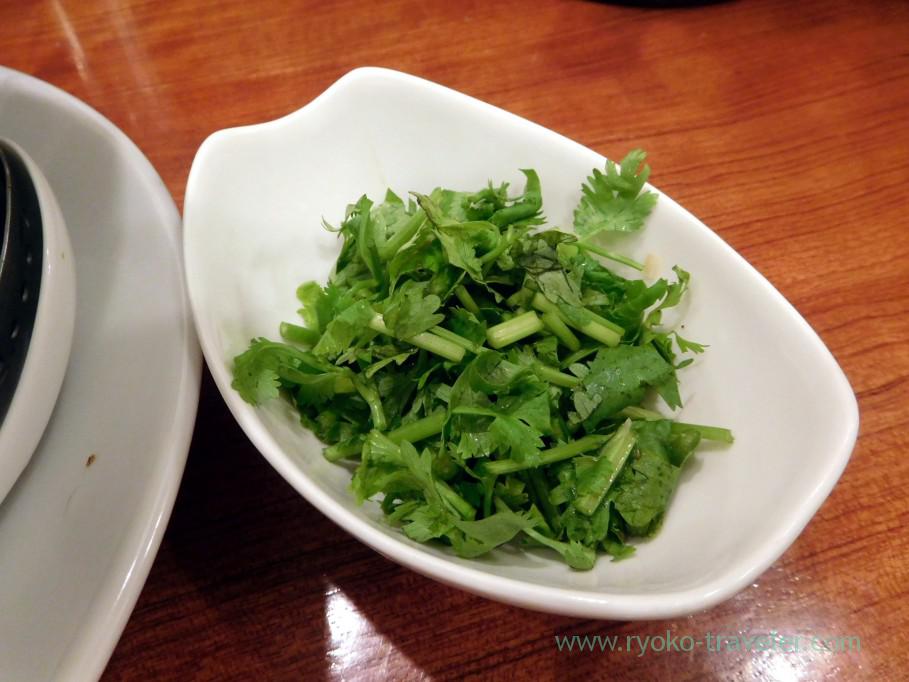 About the restaurant
Name in English / SIBIRE NOODLES Rousokuya
Name in Japanese / SIBIRE NOODLES 蝋燭屋
Address / 3-5-16 Ginza, Chuo-ku, Tokyo
Phone / 03-6263-2970
Open / 11:30 a.m. – 3:30 p.m., 5:30 p.m. – 10 p.m.
Closed / Sundays
Reservation / Unavailable
Credit card / Unavailable
English menu / OK
URL / Twitter, Instagram