I mostly visit Toyosu market now once every week. Recently there's no crowds early in the weekdays' morning.
So I can have coffee break after breakfast slowly.
Speaking of coffee in the market,  Kimuraya was hard to visit because of the exclusive appearance (Of course, actually they welcomed all people)
But in Toyosu, they are now such an affable atmosphere !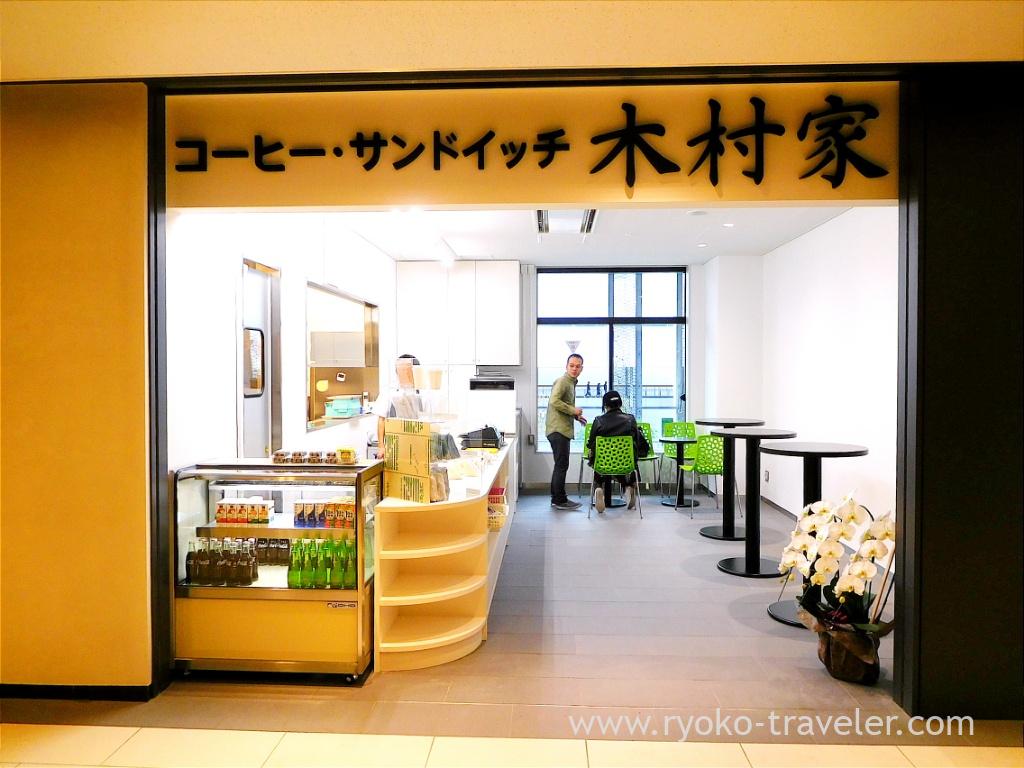 Tsukiji Market : Yachiyo and Kimuraya cafe
Summer and autumn on the dish together. Recently I don't go to Tsukiji for breakfast much because the number of my goin...
Kimuraya is in the restaurant area on the 3rd floor of management office building (Kanri-to bldg)
As soon as you enter the building from the pavement from the Yurikamome Shijo-mae station, turn right and go straight, and you can find this shop on the right.
I posted about how to get to managemnt building before.
Toyosu Market : Restaurants floor of Seika building and Kanri building
Toyosu Market was launched on October 11st. I already visited for several times. Toyosu Market have many delicious foods...
Interior
There's a window in the shop. You can see Suidan-Nakaoroshi Uriba bldg (Wholesales of seafood building) from there.
Thanks to this window and no door, Kimuraya is really easy to join.
There's only 5 seats with 2 tables. And another, there's 2 tall tables for standing.
Menu
It's menu. Kimraya serve drinks at more inexpensive than they were in Tsukiji.
Blended coffee (ブレンドコーヒー / 220 yen), American coffee (アメリカンコーヒー / 220 yen), Cafe latte (カフェラテ / 350 yen), Milk (ミルク / 350 yen), Iced coffee (アイスコーヒー / 220 yen), Iced Cafe au lait (アイスカフェオレ / 350 yen), Iced milk (アイスミルク / 220 yen) and tea (紅茶 / 220 yen)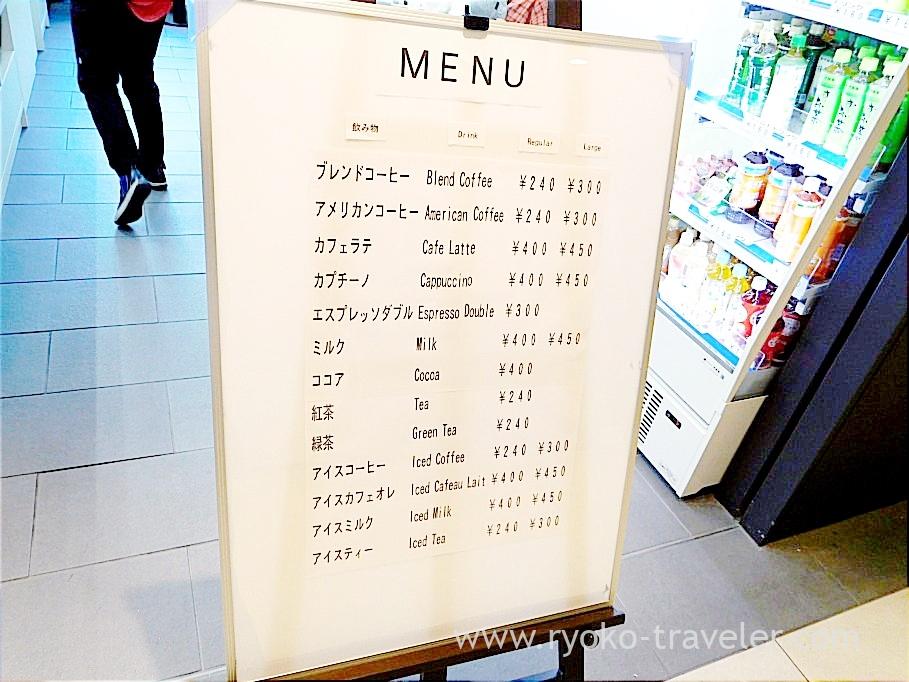 I heard "American coffee" is weaker than normal blended coffee in each shops in Japan. I know genuine American coffee is very strong :p
Now they have similar rules with Dotour and Starbucks.
They take order at the cashier and hand drink to guests.
They have coffee machine. You can get your drink quickly. Hot drink is served in paper cup, and cold drink is in plastic cup. There's a microwave. I think it's for cutlet sandwich.
As well as in Tsukiji, they sell various breads. Sandwich, sweet breads, onigiri, sushi roll… Umm. I think they prepare more foods than in Tsukiji because they have more space to put merchandises.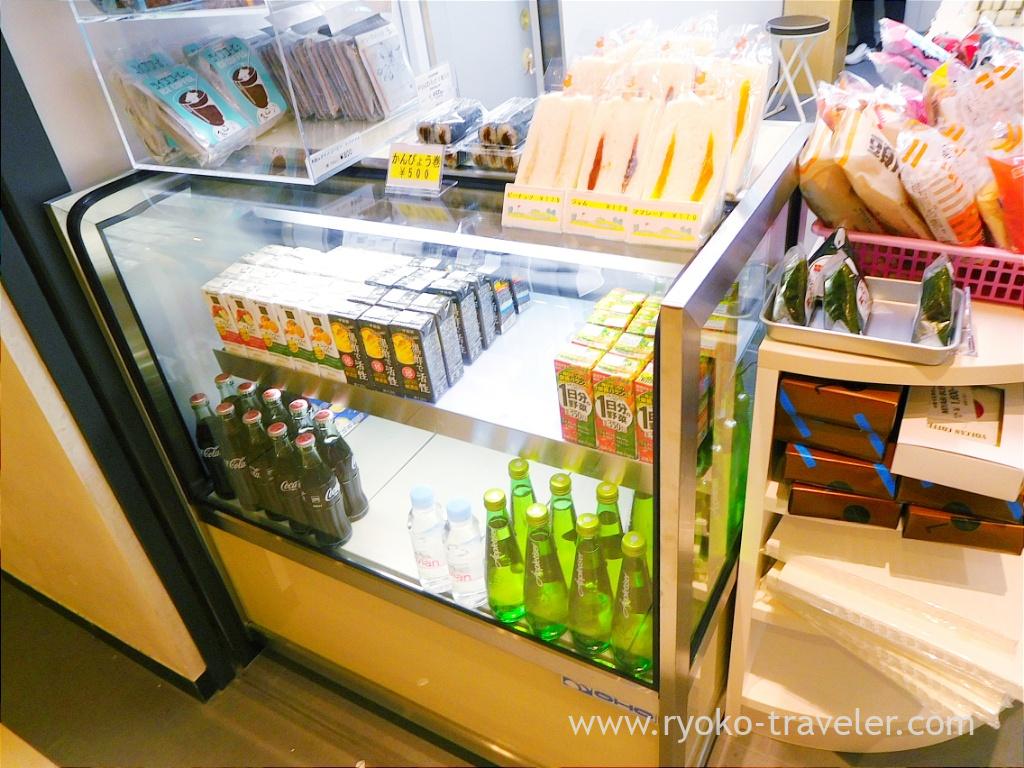 This jam sandwich is simple but looks delicious. I want to try it once.
Coffee break with cafe latte
Though I miss very hot milk coffee in the glass that I had at Kimuraya in Tsukiji, but I'm glad that I can visit there with easily because of their current atmosphere and price. Cafe latte (350 yen) was good. Because this paper cup is thin, coffee become less hot quickly. Well, it's mean "Not stay long". Well, I understand, here is market :p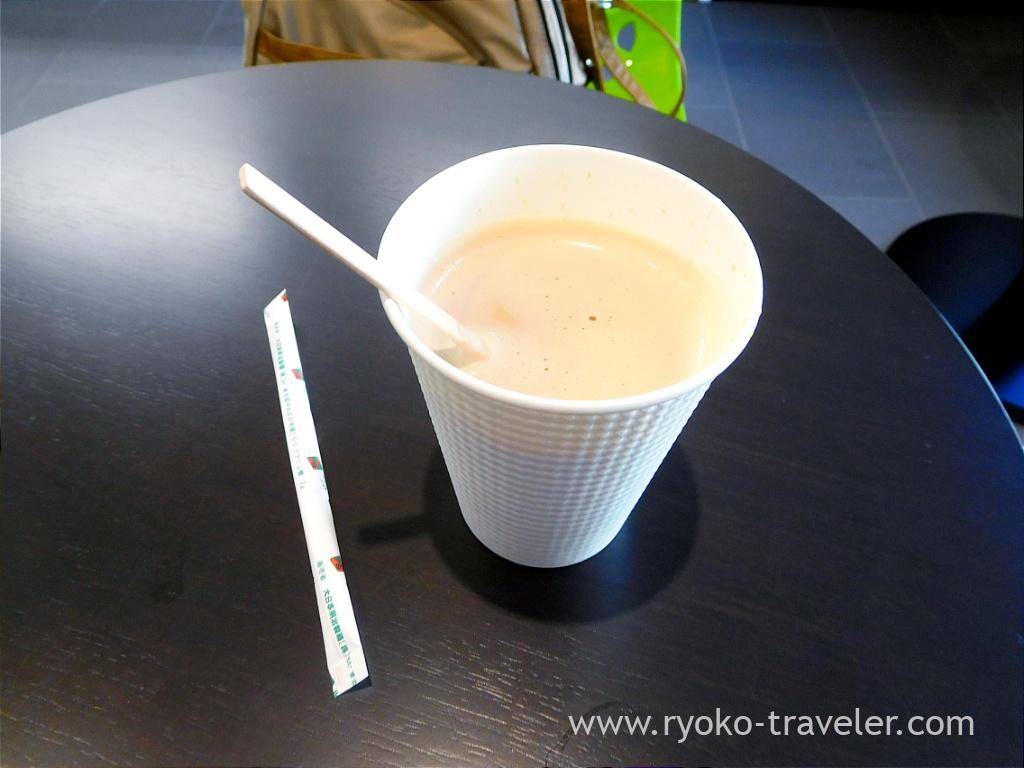 You can take it to roof garden on the market. (Drink is OK, Food is unavailable in the garden)
It takes about 5 minutes from the cafe, so I'm sure it's not hot at all when you get to there. But it's comfortable with fine view and coffee !
About Kimuraya (木村家)
Open / 5 a.m. – 12 p.m.
Closed / Market's holidays
Credit card / Unavailable
Smoking / Not permitted