I visited Yonehana so frequently in this 2012.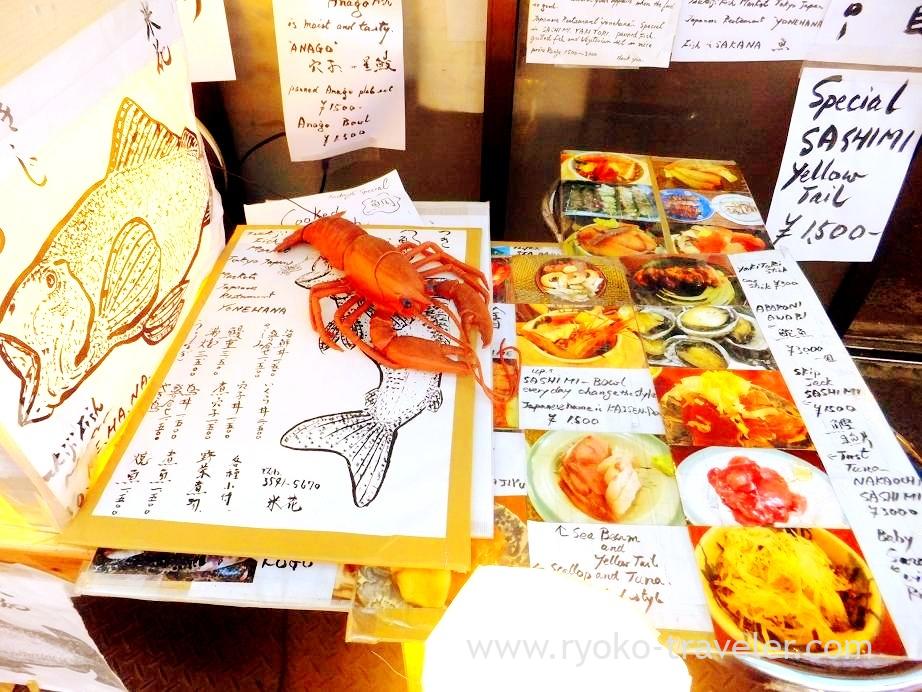 They have English and Chinese menu. But somehow they don't have Japanese menu :p
They have sashimi bowl, tuna bowl, yakitori bowl and Eel box.
Another there's omakase (chef's choice) set for regular customers (current price).
It's standard breakfast. I usually eat it.
Jan 12 : Omakase (Boiled mackerel with soy sauce)
First breakfast at Yonehana in 2012 was this. Entree was it. Huge mackerel. Boiled mackerel with soy sauce. Fatty mackerel was delicious. But I haven't seen such a huge mackerel ! Most restaurants serve half of it. I hesitated where I should to eat from. Of course, eating it as it is was good, and eatint it with spicy miso on the table was delicious, too.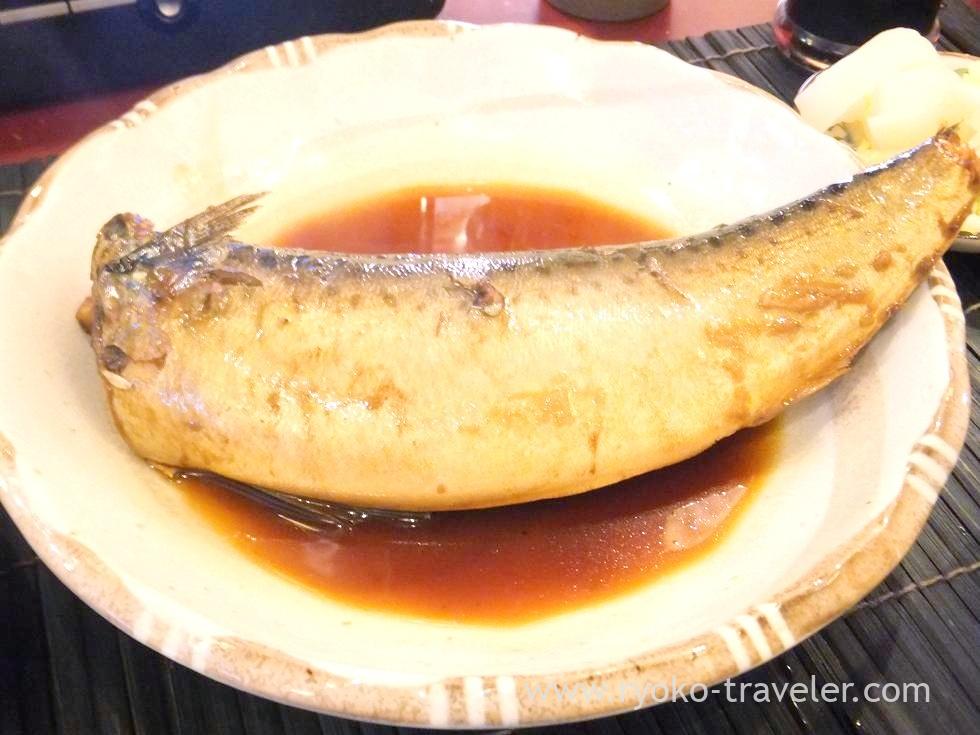 Boiled vegetables like oden.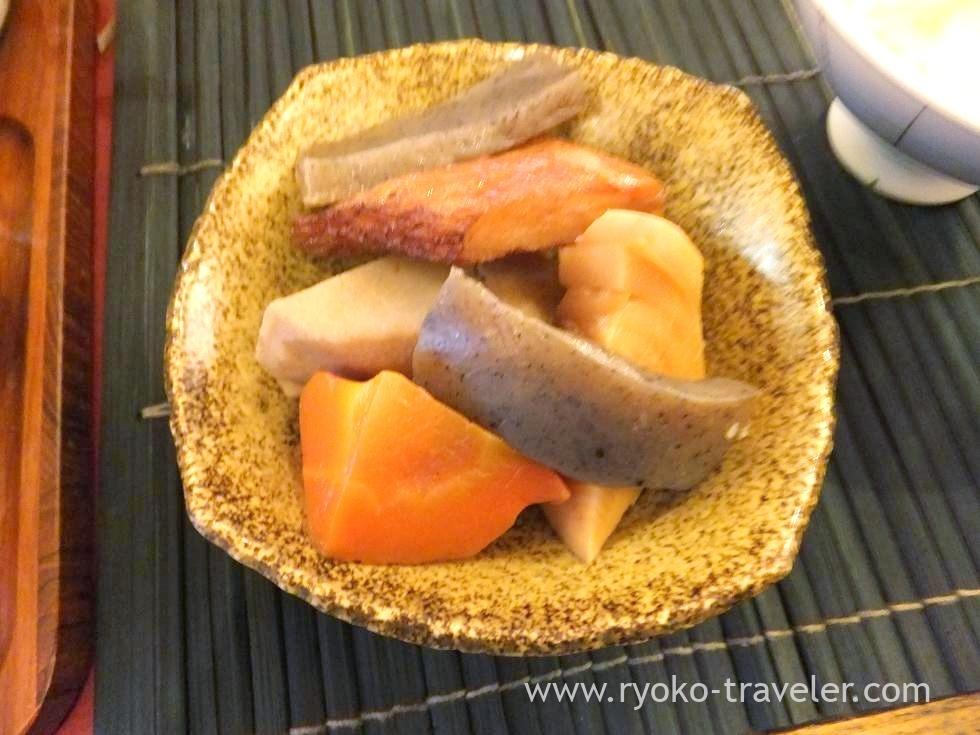 Jan 27 : Omakase (Boiled flatfish) and yakitori
Though I wanted to eat sashimi bowl that day, unfortunately it was sold out. My breakfast "Omakase" was served automatically after all.
The entree was boiled flatfish. There're various of flatfish. This flatfish is named "Asaba Garei".
And another, simmered beef meat and tofu (Niku-dofu), pickles and miso soup. I mistook the photo.
After that I wanted to eat liver yakitori (200 yen). So, I ordered it. The liver was medium rare. Delicious.
Feb 2 : Omakase (Grilled butterfish with saikyo miso)
I like Saikyo-yaki (grilling a fish with Saikyo miso sauce) very much.
This was first time to eat Saikyo-yaki of American butterfish.
American butterfish is called Mana-gatsuo (マナガツオ) in Japanese.
Shopkeeper said, "You can eat everything except big bone middle of it."
But I don't like small bones 🙁 I didn't eat bones.
Yonehana's grilled foods is very good because of the savory smell of a slightly burned surface.
I like the fragrant smell of well grilled Saikyo miso very much.
There were shijimi clam in miso soup.
Feb 6 : Cold yellowtail bowl
Cold yellowtail (called "Kan-buri (寒ブリ)" in Japanese) can be eaten in winter only. And Yonehana serve cold yellowtail bowl (1500 yen) in that season only. So I ordered it before Jiro-san said to the kitchen, "One omakase !"
It's already February. We might be unable to eat it in March any more. Yonehana's cold yellotwail is, as you see. gigantic 🙂 Thickly sliced cold yellowtail sashimi was piled up. The tastes ? Needless to say, awesome. Fresh and fresh.
I couldn't catch the yellowtail by chopsticks very well.
The reason is that it is slipping because of its weight and fat.
I felt yellowtail try to run away from me 🙁
And tsumire (fish balls) soup. One large tsumire in it. Yonehana's foods are everything big. It's Yonehana standard.
Feb 13 : Omakase (Cold yellowtail sashimi)
A bowl of cold yellowtail that I ate the other day was very good, so I'm pleased with eating cold yellowtail sashimi again.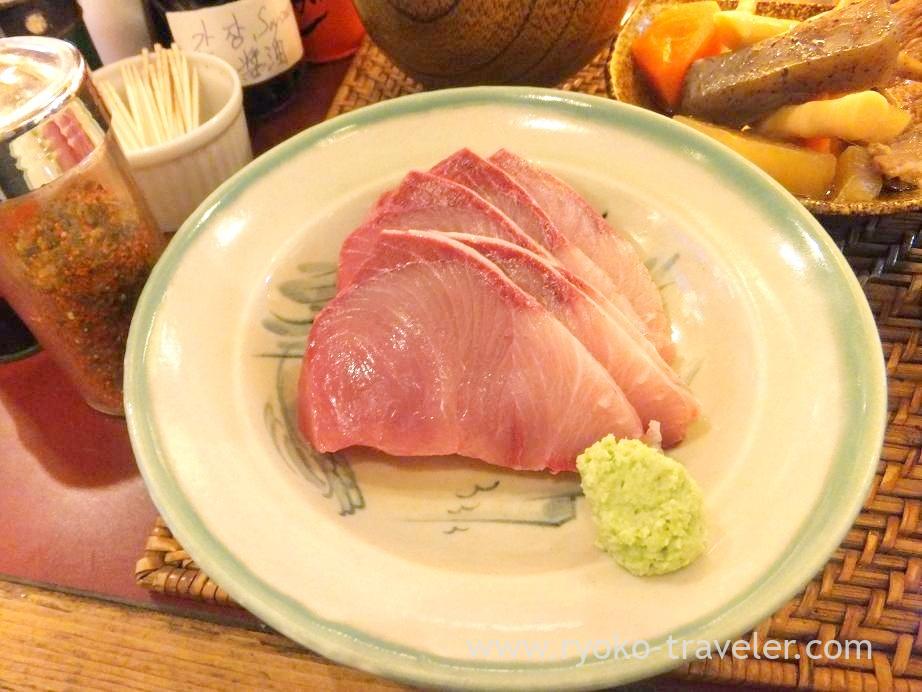 Upper right, Koala's March is included in omakase.
It's strawberry-flavored.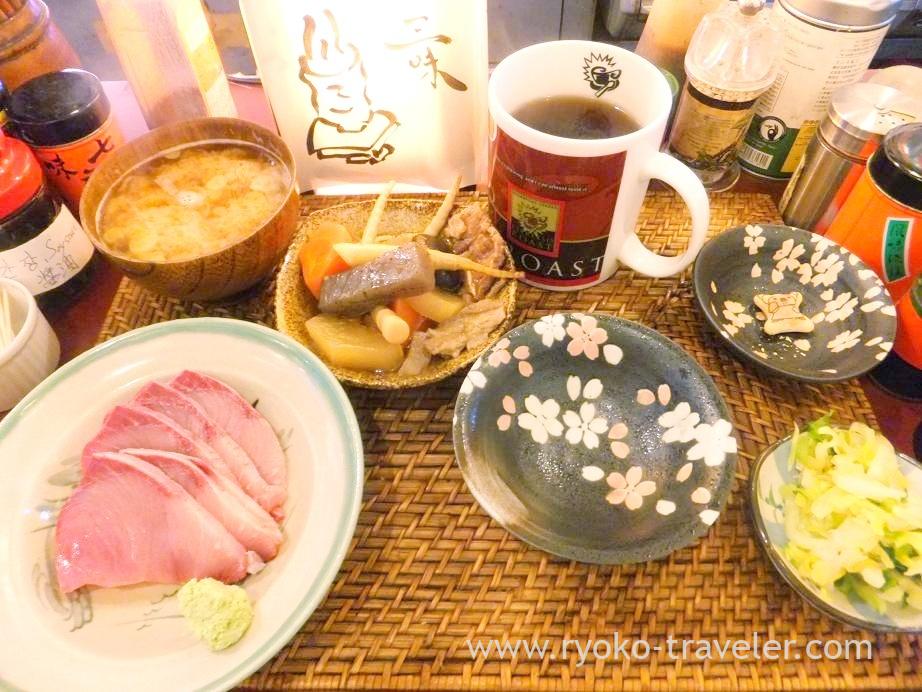 Feb 17 : Simmered Kichiji rockfish
As you see, so fatty kichiji rockfish ("キンキ" in Japanese) . Simmered it with soy sauce. Though recently Yonehana serve it so frequently at inexpensive price, it's expensive fish !
And oden, misos oup and pickles.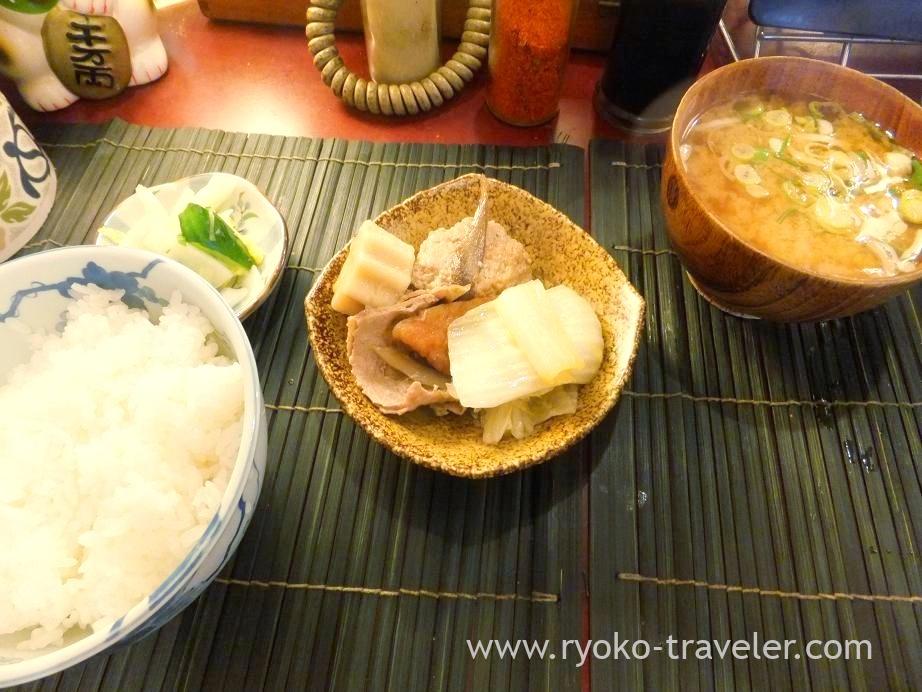 Feb 20 : Omakase (Bonito and yellowtail sashimi)
As same as last time. That day there're many dishes. Entree was yellowtail and bonito sashimi. And simmered tofu (with beefmeat…but there's no meat on my dish), bean sprout, portato salads, and miso soup. Canola flower was beside the potato salads. Spring is coming near !!!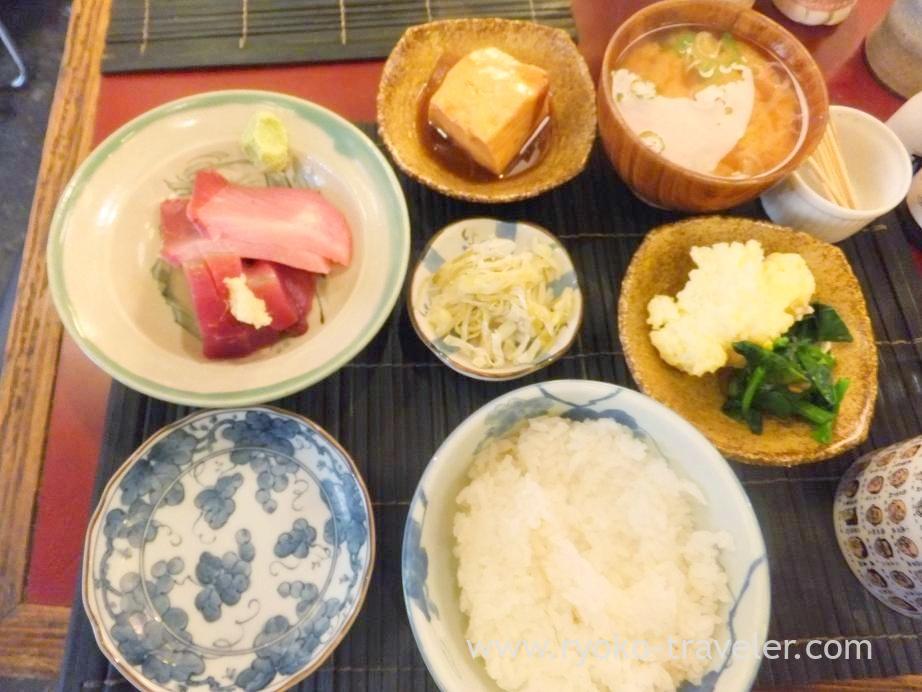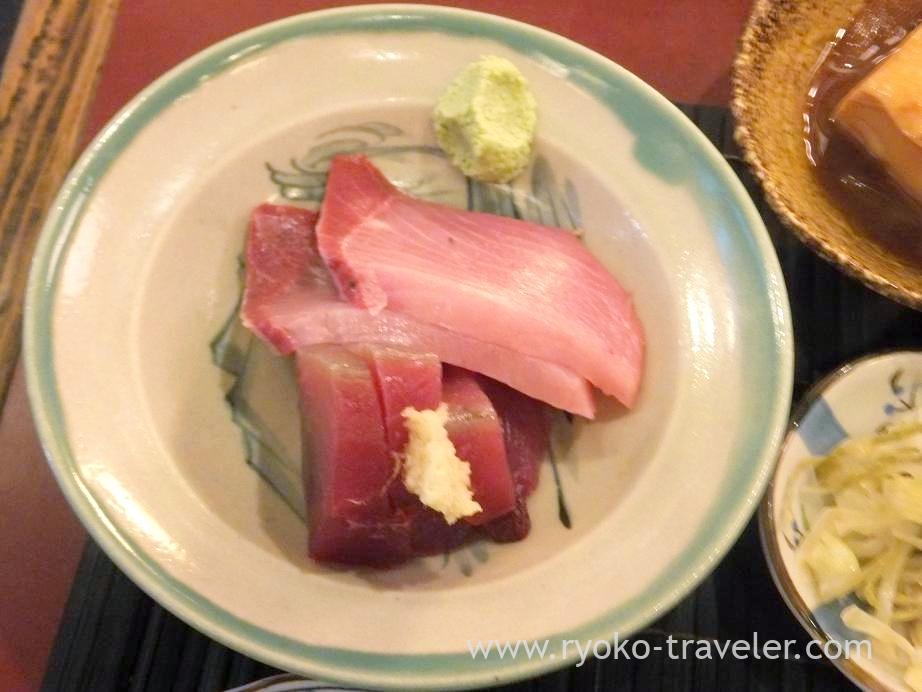 Mar 1 : Omakase (Bonito and yellowtail sashimi)
As soon as I came back from Hawaii, I went to Yonehana ! I missed sashimi !
That day's omakase was it. Sashimi, simmered tofu and beefmeat, miso soup.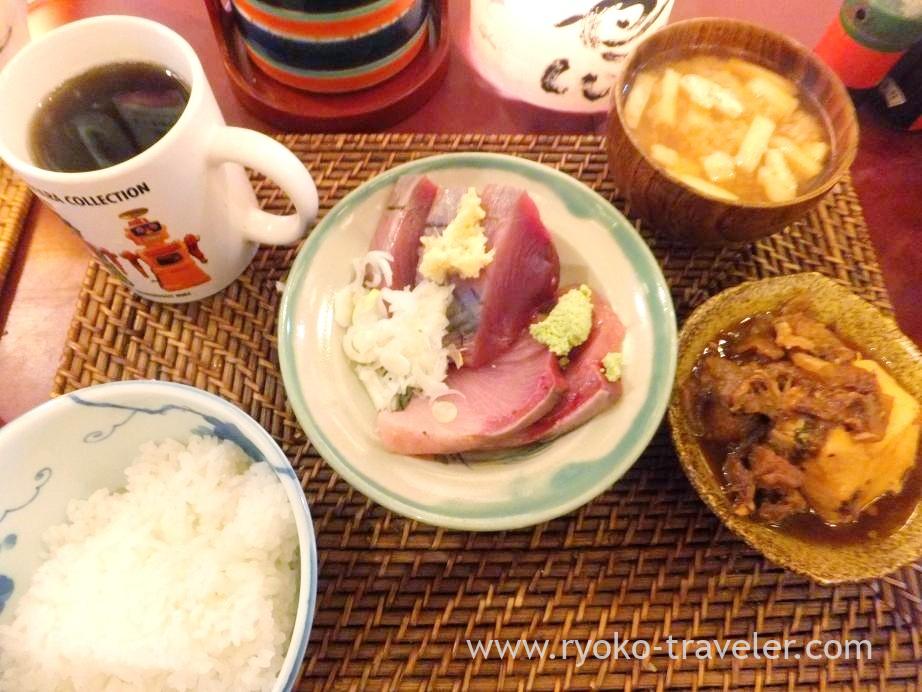 Slices of bonito was big and heavy.
So, I was going to have tendonitis 😛
It was very good. It was filling. I was full !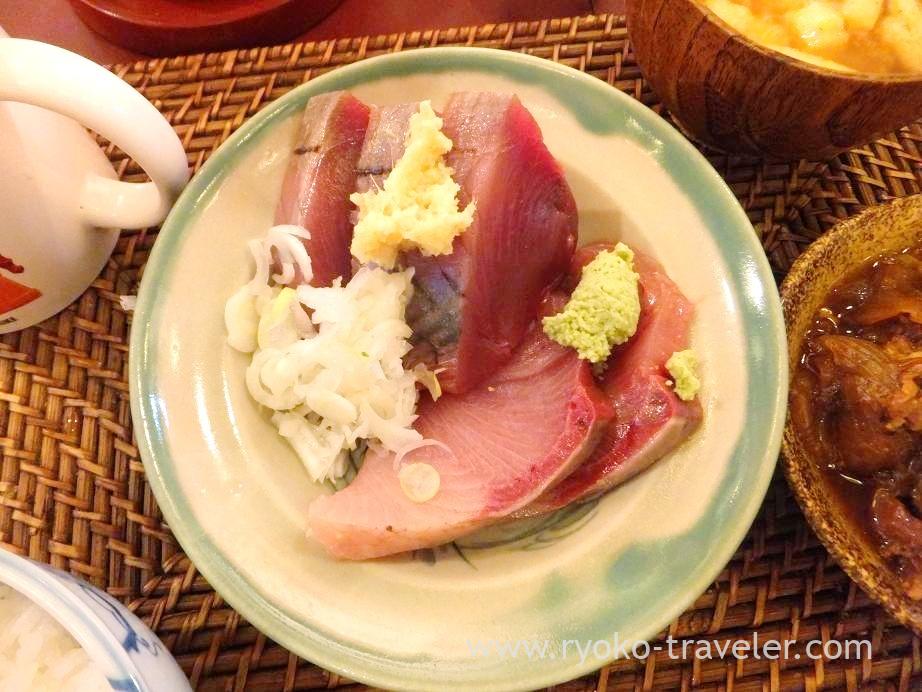 Mar 9 : Omakase (Bonito sashimi)
Though it was raining, Tsukiji was crowded as usual.
My breakfast was sashimi of bonito with plenty of Japanese leeks and ginger on it.
It was delicious. but…I'm going to have tendonitis. So heavy ! One slice is very thick !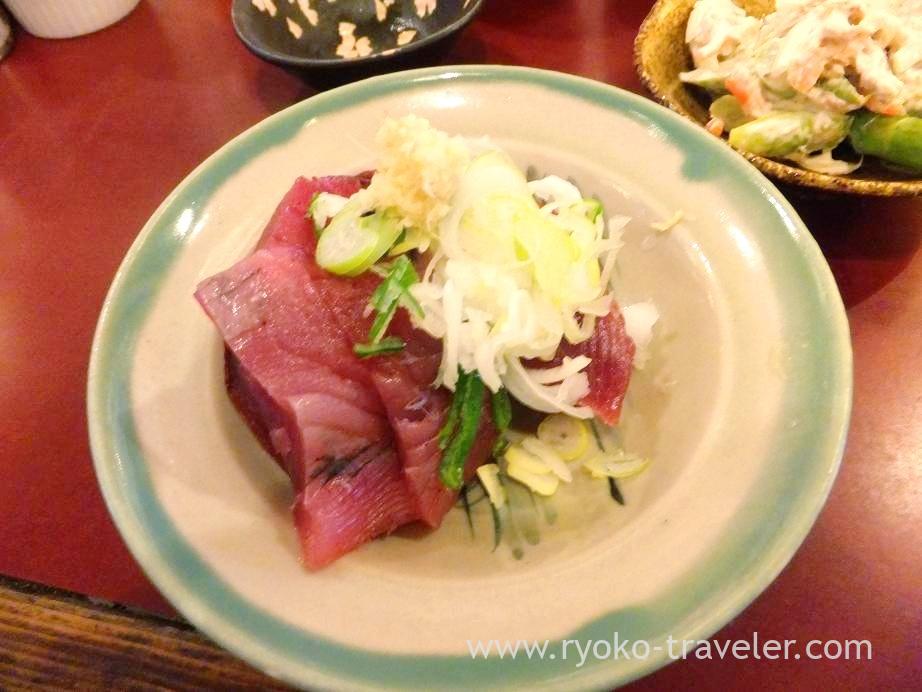 And salads, pickles. There were tuna salads with mayonnaise sauce on asparagus.
Mar 30 : Omakase (Marinated bonito bowl)
I had to work until 10 p.m. every for a few weeks.
Only having breakfast at Yonehana is my pleasant time ! That day's breakfast was marinated bonito with soy sauce bowl. So much sesame on it. And mekabu seaweed and yam.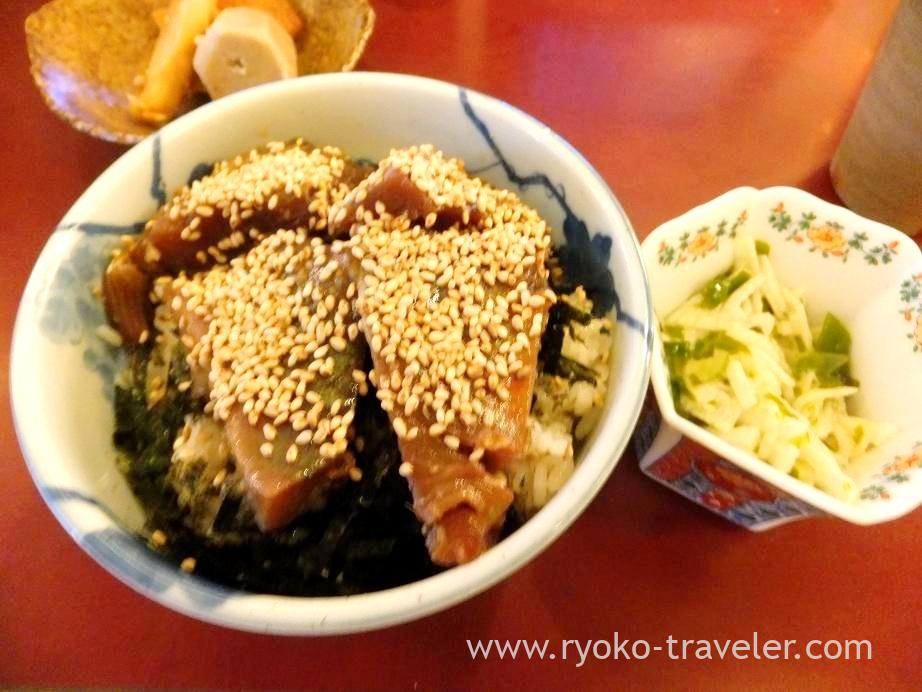 Bamboo shoot and taro.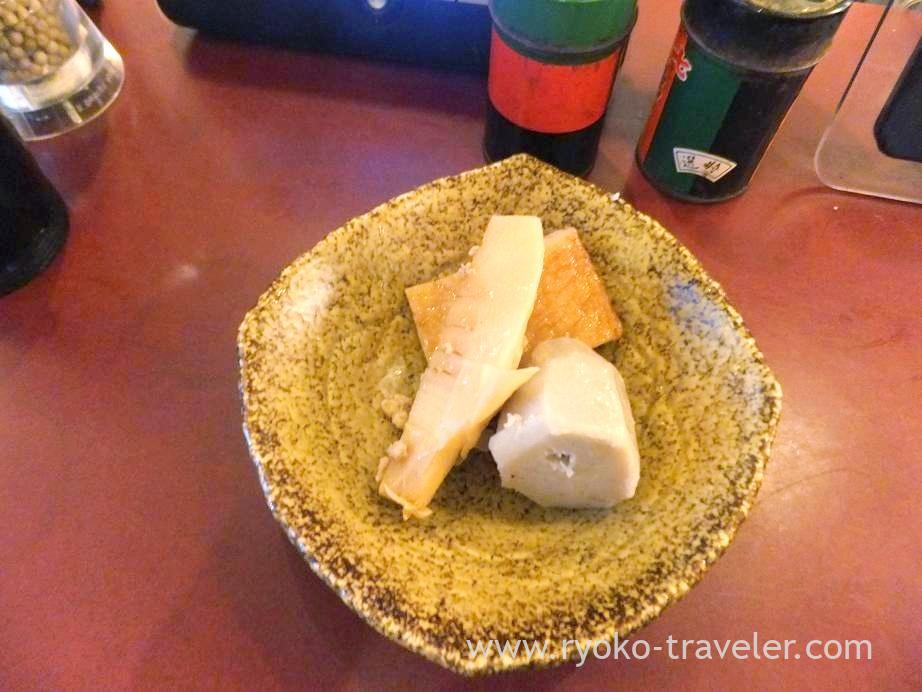 I found new seasoning at Yonehana. Spicy soy sauce. I tried it for yam. But it wasn't spicy at all for me :p
Mar 31 : Omakase (Grilled Spanish mackerel)
Breakfast at Yonehana for two consecutive days !
To tell the truth, I intended to go to another shop, but I found Yonehana's omakase that day is grilled fish. So, I changed in mind.
Grilled Spanish mackerel marinated with miso. The burnt smell was good.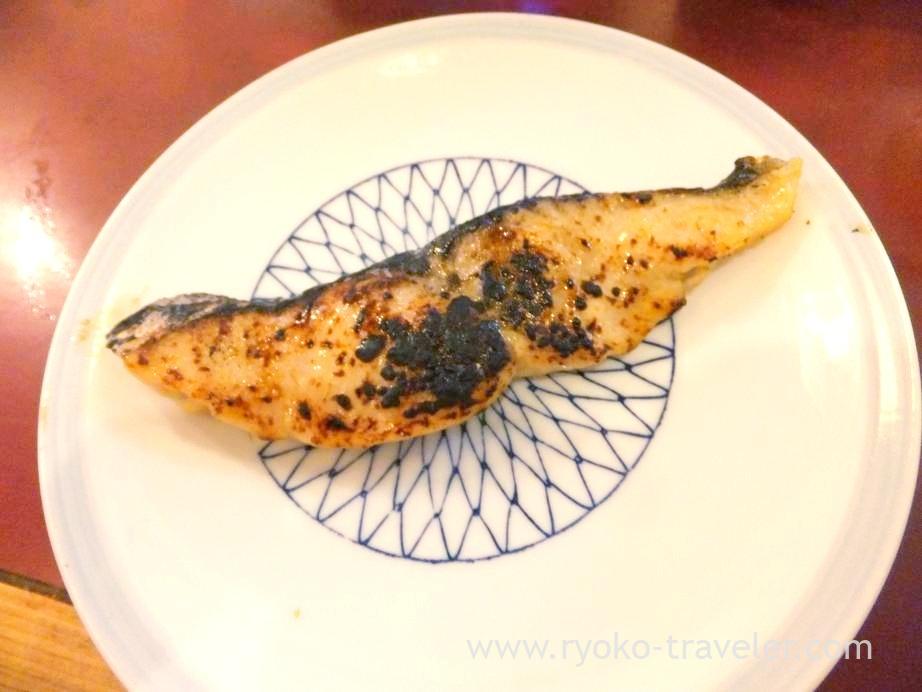 And tofu. Miso soup had much green onion and Japanese ginger called "Myoga".
And after I finished eating omakase, my stomach had enough space to eat liver yakitori. So I ordered it. Huge yakitori. A man next to me said, " I can't believe you eat liver yakitori without alcoholic drinks !"
He seemed to be heavy drinker 😛 Umm. I want so, but I have to work after eating at Yonehana !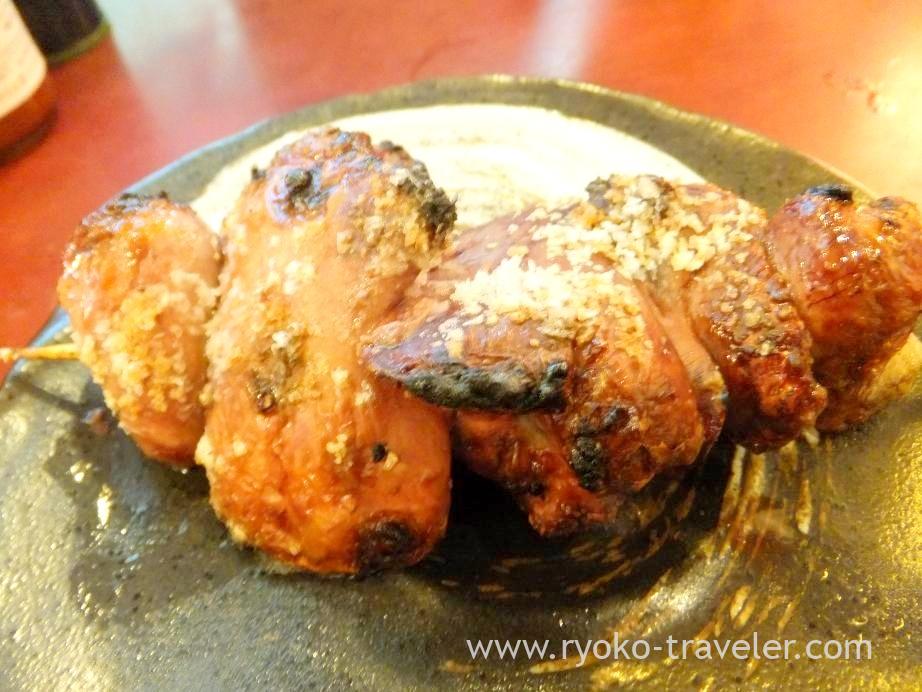 Apr 6 : Omakase (Squid sashimi)
Basically we can't choose foods of omakase at Yonehana. But that day, Jiro-san said to me, "Choose from squid sashimi, boiled kichiji rockfish, curry and rice, and grilled fish.
Since the person sitting next to me selected squid, I selected squid, too.
I was a little sorry for kichiji rockfish. But squid is my delight. And the ark shell was good.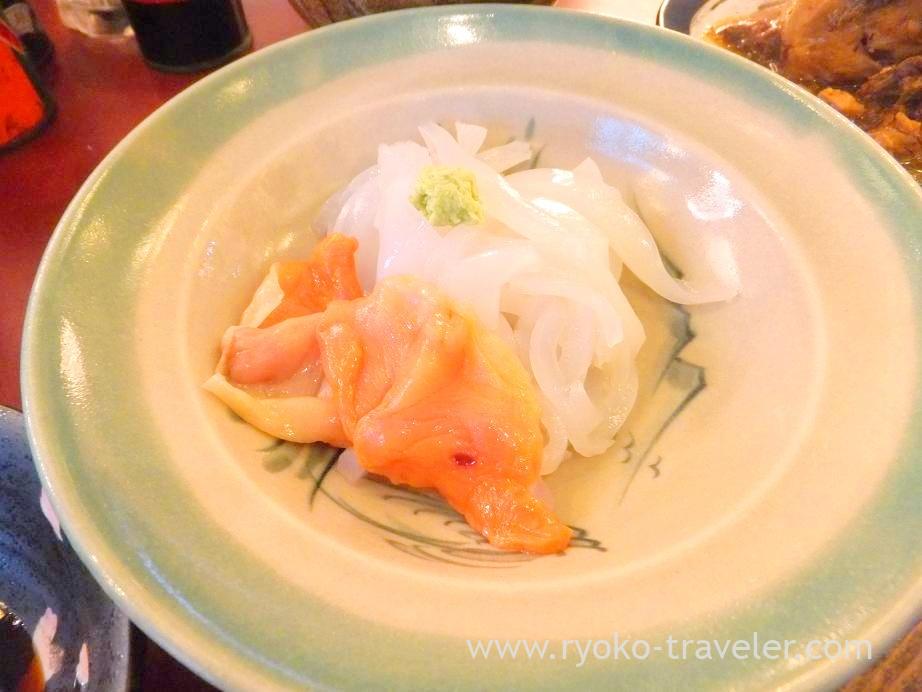 Simmered beef and tofu. Ah, I already met it for several times in this year.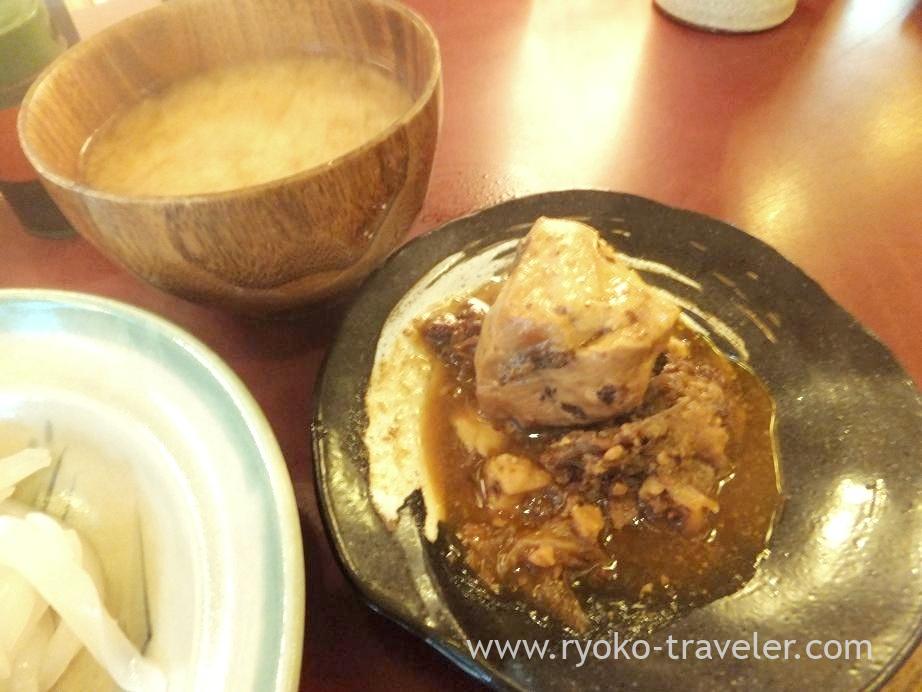 I ordered yakitori all the same after finished eating omakase. Yonehana's yakitori is awesome !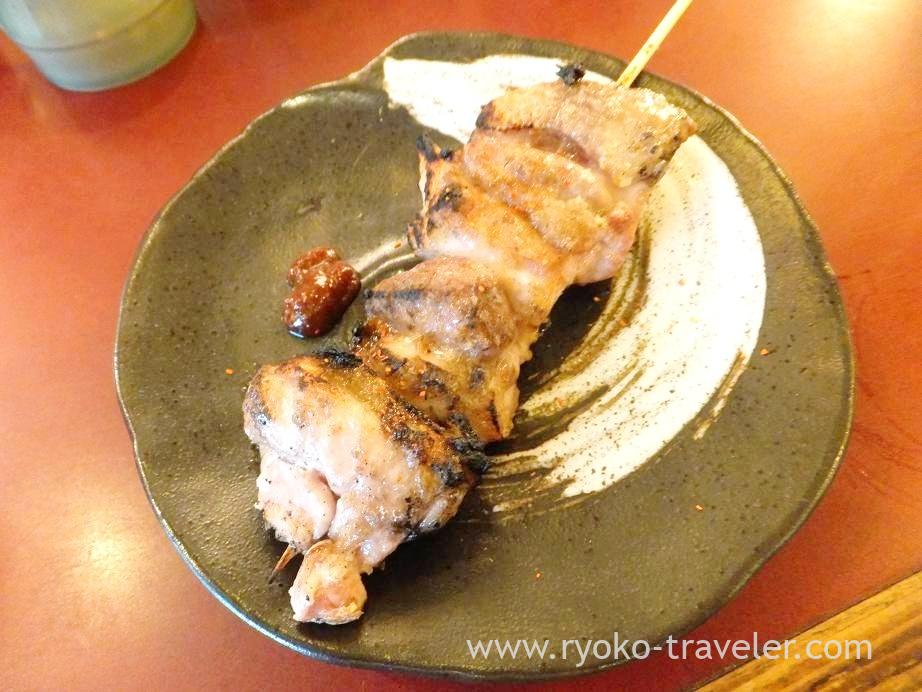 Apr 13 : Omakase (Marinated bonito bowl)
Marinated bonito bowl again. I wanted to eat it again. I was lucky. It was seasoned well.
Pickles (Nuka-duke).Soaked in salted rice-bran.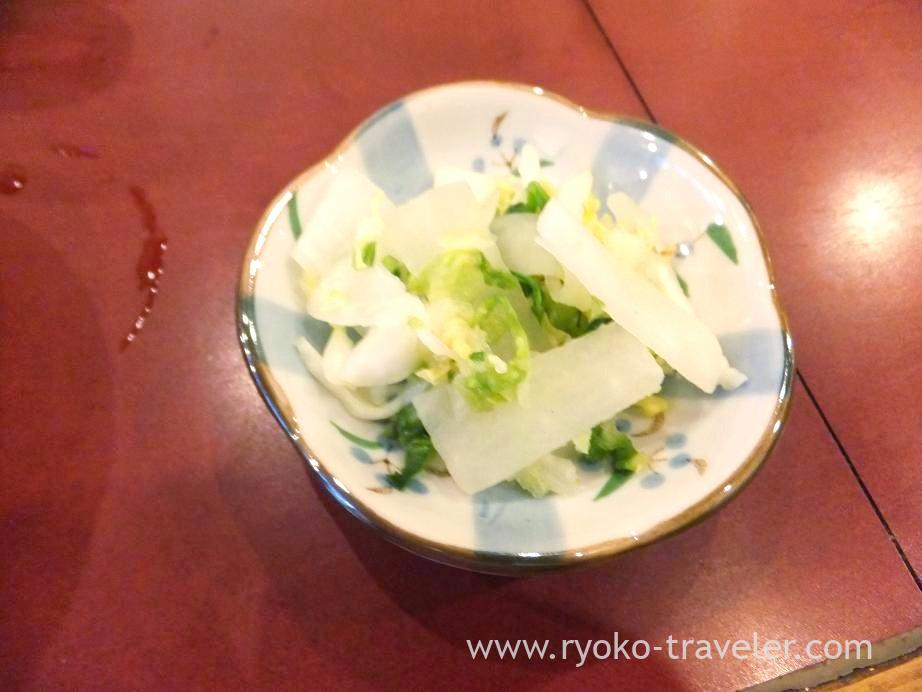 Boiled vegetables, tofu, and tsukune (chicken ball).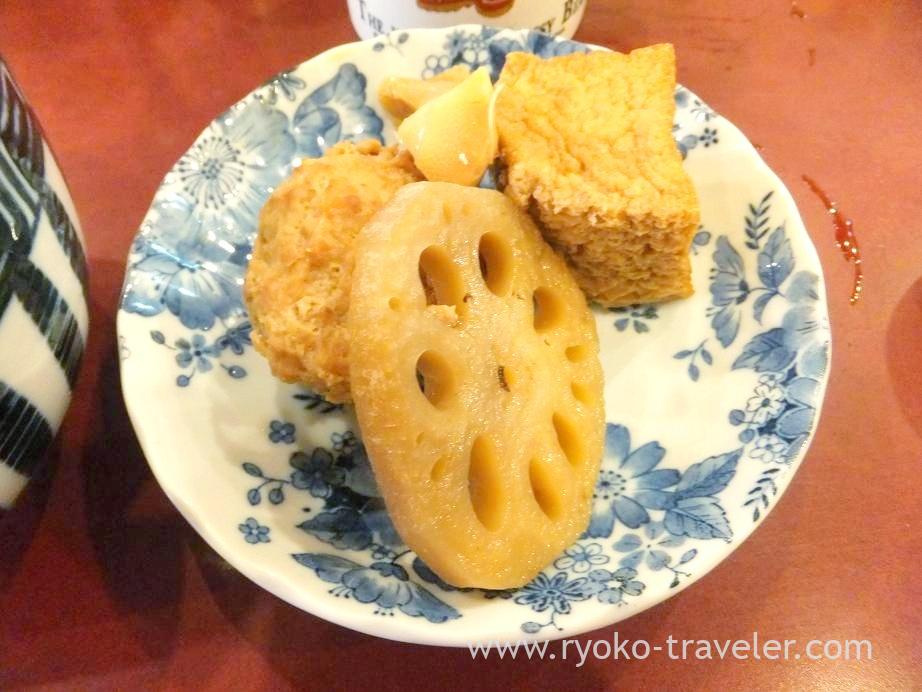 Apr 20 : Omakase (Boiled kichiji rockfish)
Though I was glad that that day's entree of omakase was kichiji rockfish that I wanted to eat. But it wasn't fatty. And it's seasoned strong. Umm. Yonehana unusually serve such a bad dish.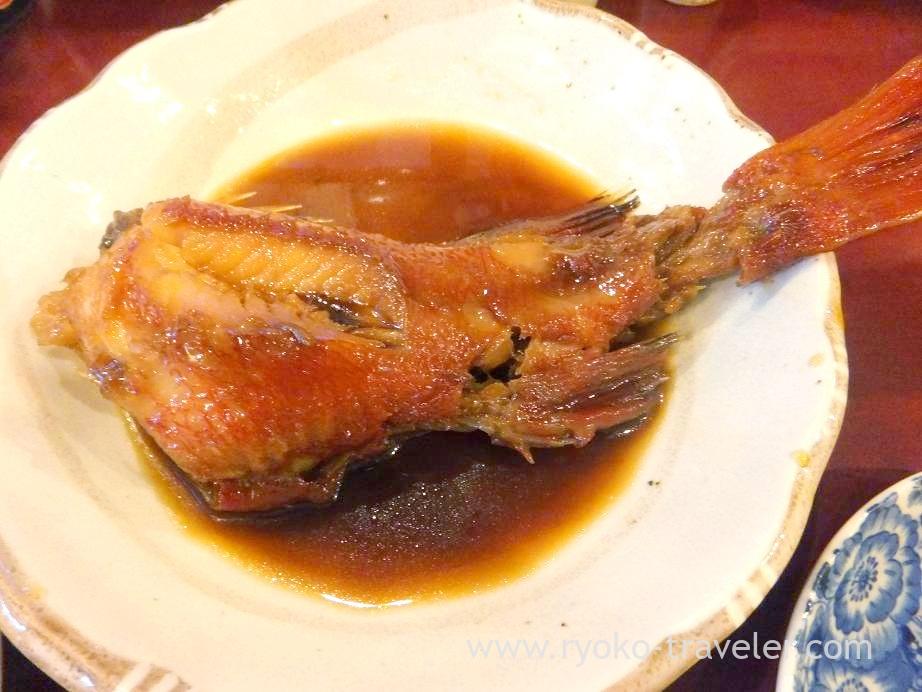 This bamboo shoot and salads, too.I was unlucky that day.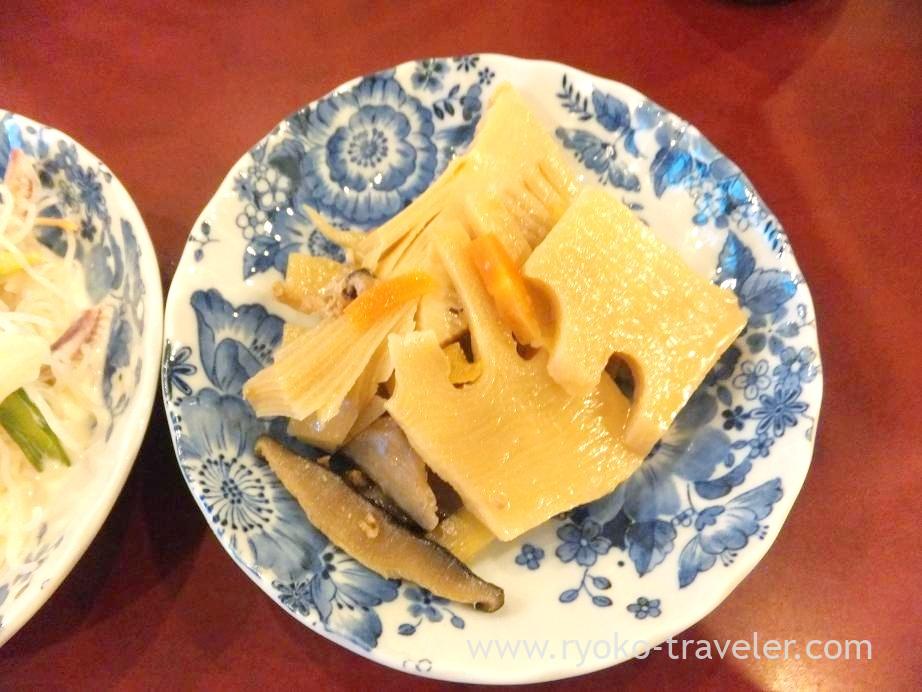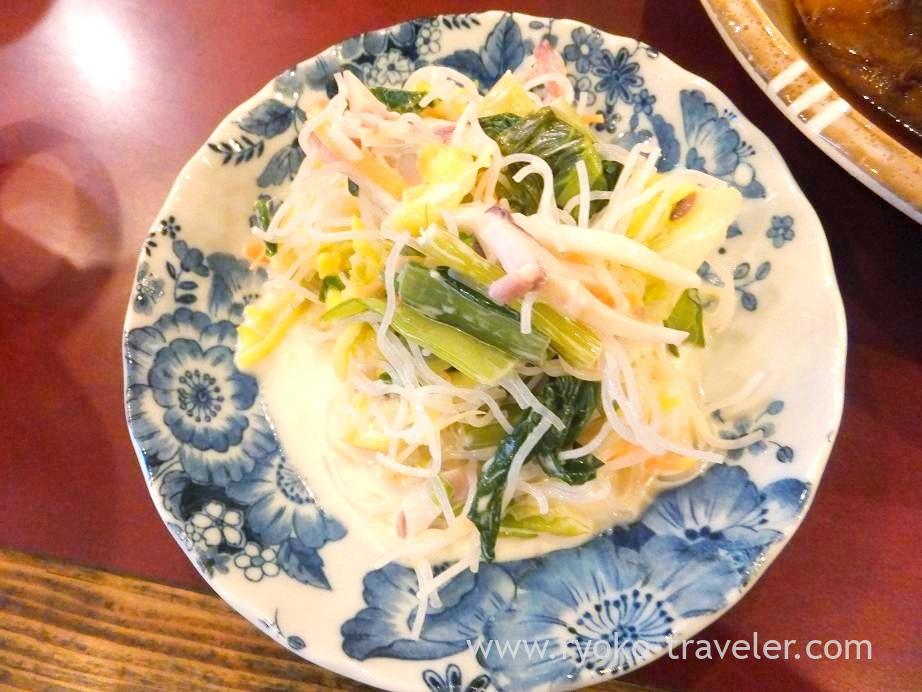 May 1 (Omakase : Bonito and Japanese butterfish sashimi )
The entree was sashimi.
I felt this was the best bonito sashimi that I had eaten ever !
I'm always anxious that I'm going to get peritendinitis when I eat so thick bonito sashimi at Yonehana. But, that day, there was no problem. Those bonito were cut thinner than usual 🙂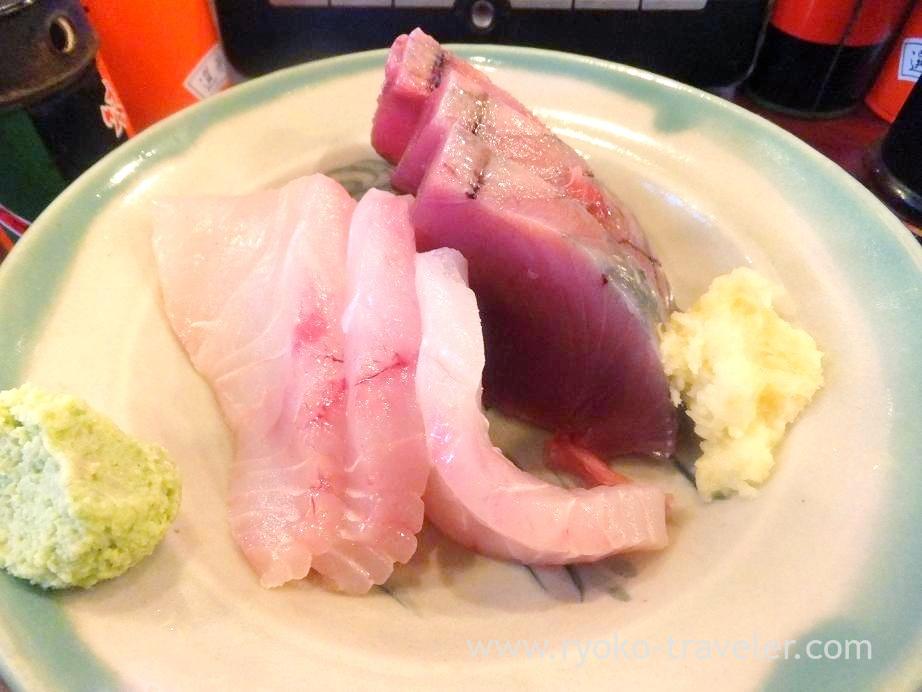 And I was impressive by this tasty rolled kelp with herring in it (herring konbu-maki) !
The kelp peeled from the herring when I held it with my chopsticks because the kelp was simmered for a long time. But this kelp was so yummy 😉
And the taste of herring in it was soft and had much taste of kelp !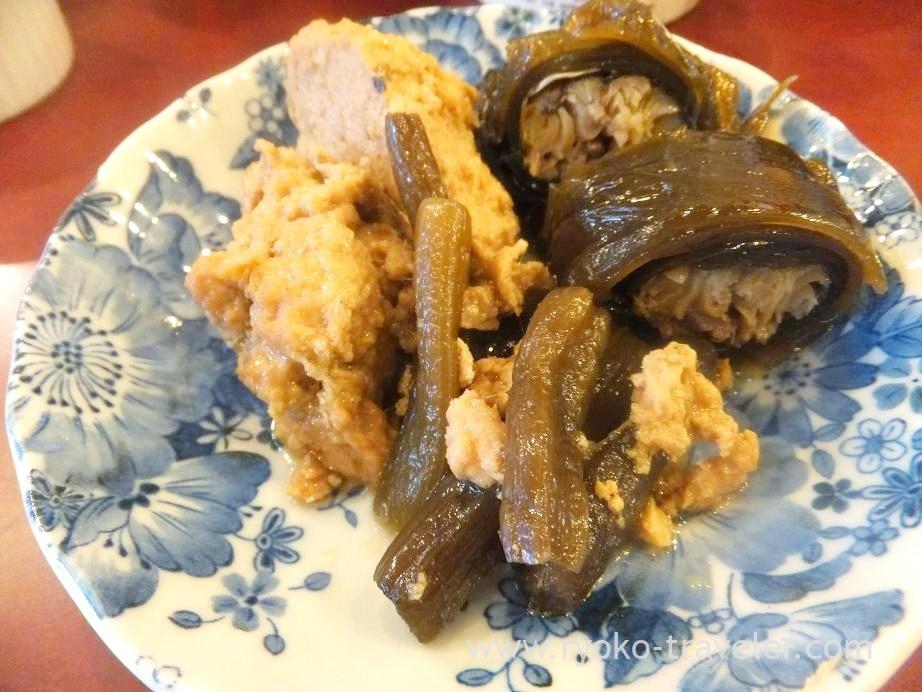 Pickled vegetables.Why was it located to right ? 😛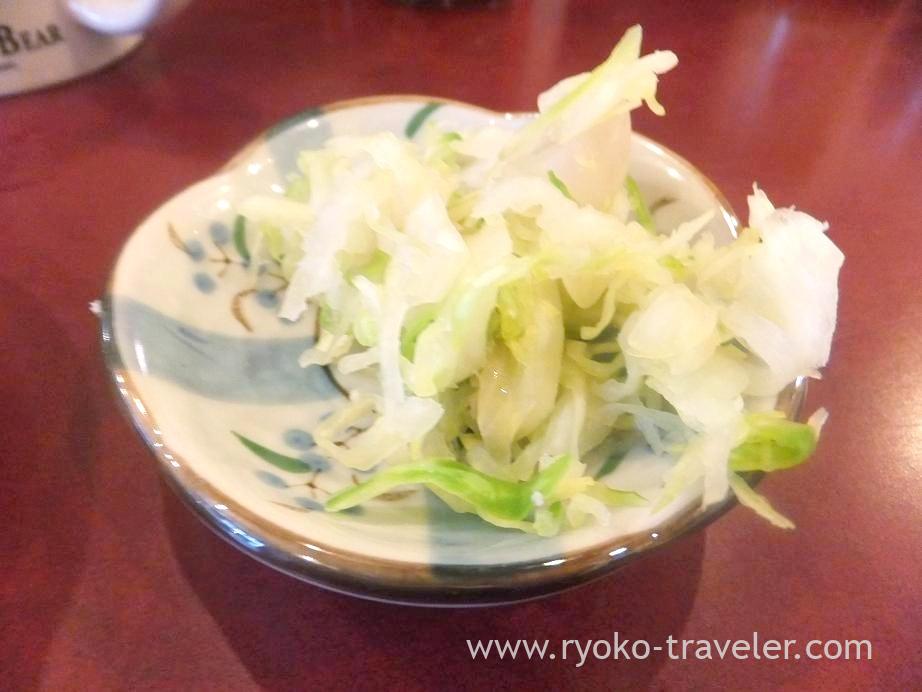 May 14 (Omakase : Seafood bowl)
Seafood bowl. The waiter serve omakase with saying "today's omakase is great !"
Boiled prawn mainly on it. And boiled baby sardines.As you see, there were much young sardines on it, but also there were much rice under it.
Simmered tofu with beef meat with soy sauce. Of course, I ate it with spicy miso !
Salad with bean-starch vermicelli and miso soup. And another pickles.
May 17 : Eel bowl
I heard the price of Yonehana's Eel bowl is going to up. So I visited there before that.
Eel bowl (うな丼, 2000 yen).
Ordinary miso soup, not clear soup with liver. The ingredient was mainly tofu.Plenty of tofu bottom of the soup.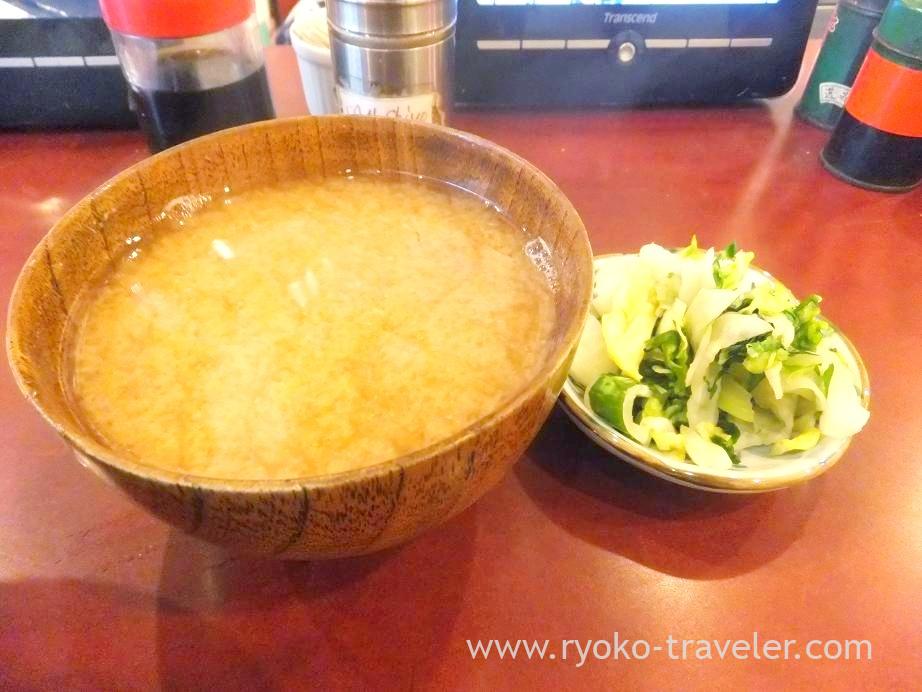 Jiro-san wrote it. Professional !
Jun 11 : Omakase (Boiled splendid alsofino)
When I got to the shop, the waiter was out to restroom just a moment.
So, I waited for a while with hot tea and seeing menus written in various languages.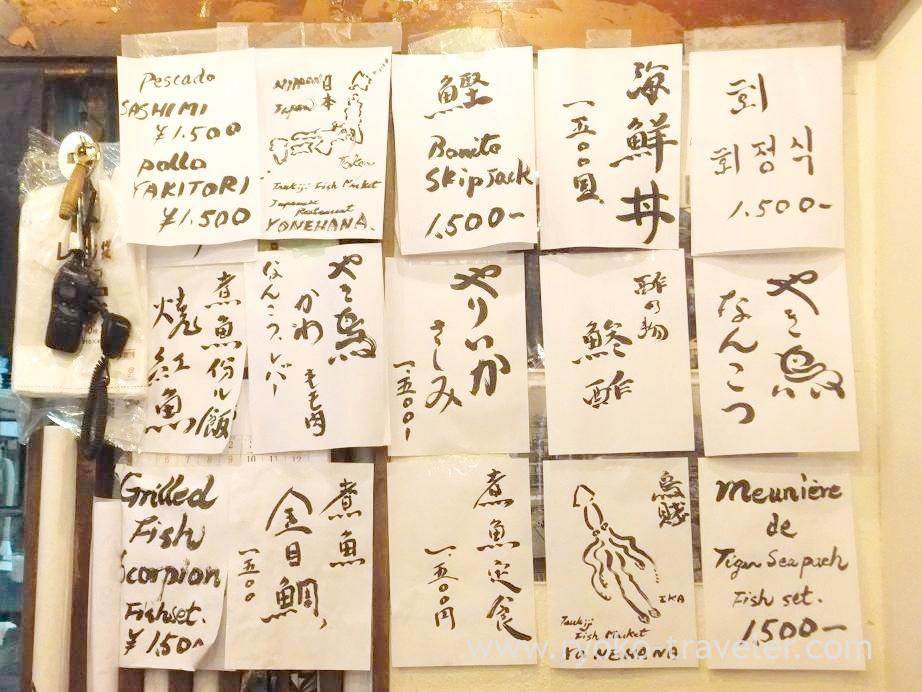 That day's breakfast from the sky. It's unusual photo because I always started to eat before served all foods.
The entree was boiled splendid alsosino named Kinmedai in Japanese in soy sauce.
Splendid alfosino is fatty fish. Not only its meat but also the skin is delicious.
And three foods together in the dish.
Shrimp salads, grilled fish (sardine?) and fish cake.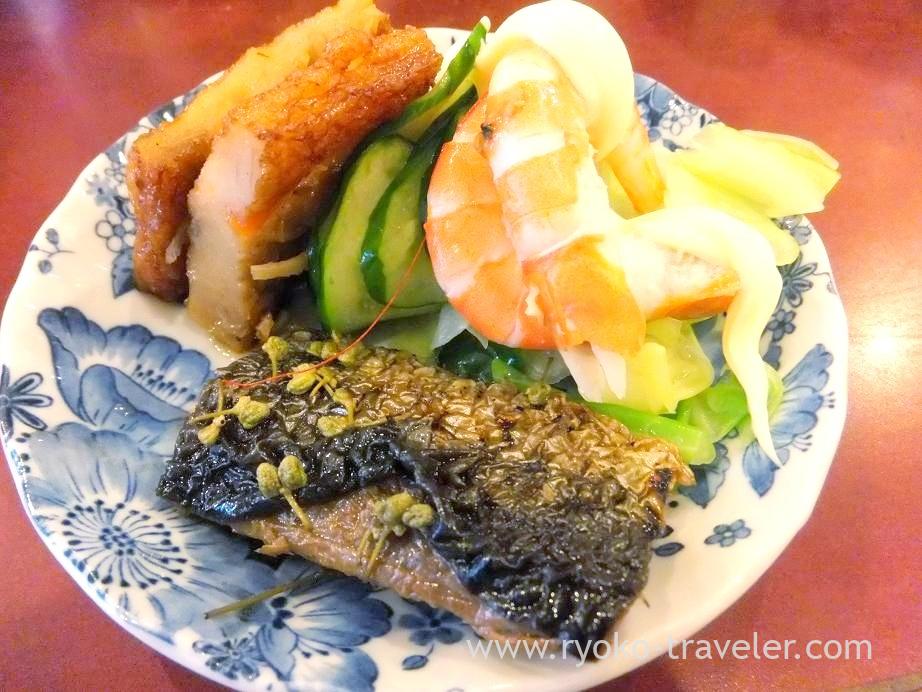 And my stomach had enough space to eat yakitori. So I ordered it. Yakitori liver (250 yen). It's dessert for me 🙂
Jul 5 : Omakase (Kichiji rockfish)
As soon as I was recovered from sickness, went to Yonehana without hesitation !
There was last vacant seat when I got to there. I was lucky.
That day's entree of omakase was kichiji rockfish. The fatty fish was awesome. As you see, plenty of fat ! But somehow it's light !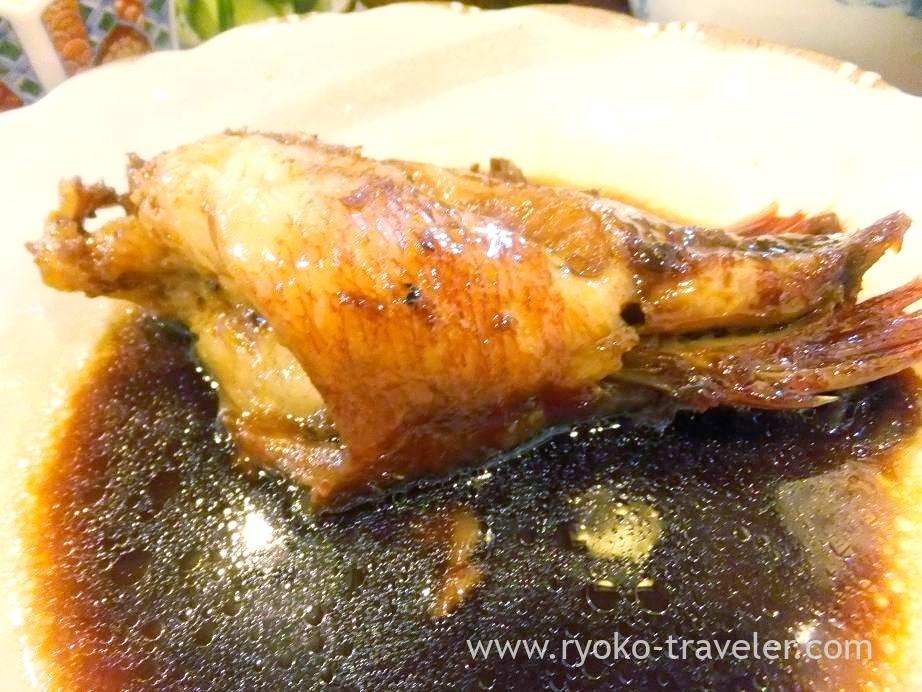 Vinegared bean-starch vermicelli was lightly vinegared and tasty.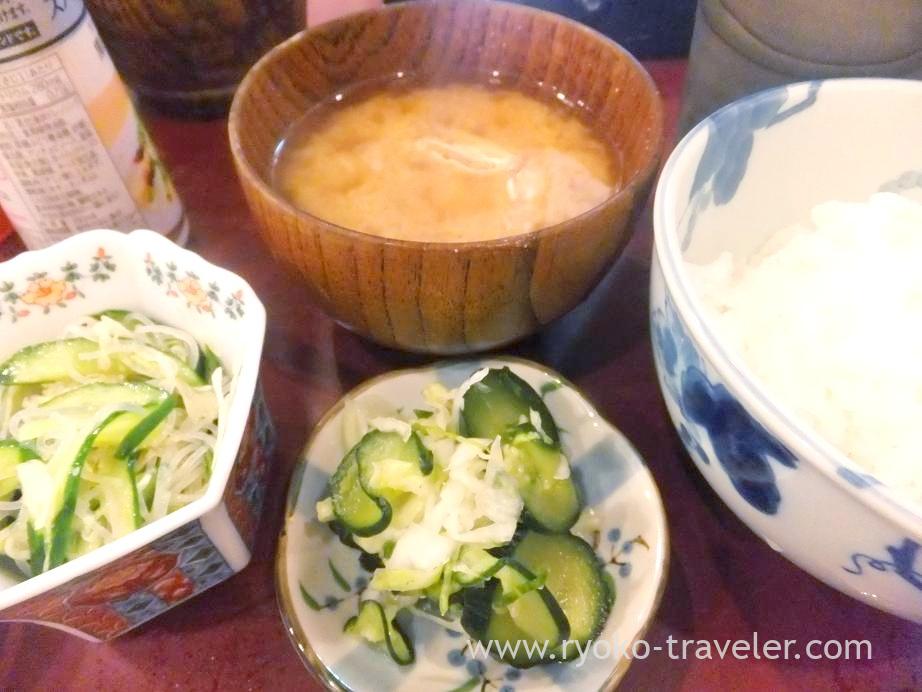 I had yakitori liver as last time after finished eating omakase.
That day's liver was smooth and rich like cream !
Jul 30 : Omakase (Sashimi bowl)
Its slices of bonito was small and being overcooked a bit 🙁 I wanted to eat more fresh and raw bonito. But shell and shrimp were good.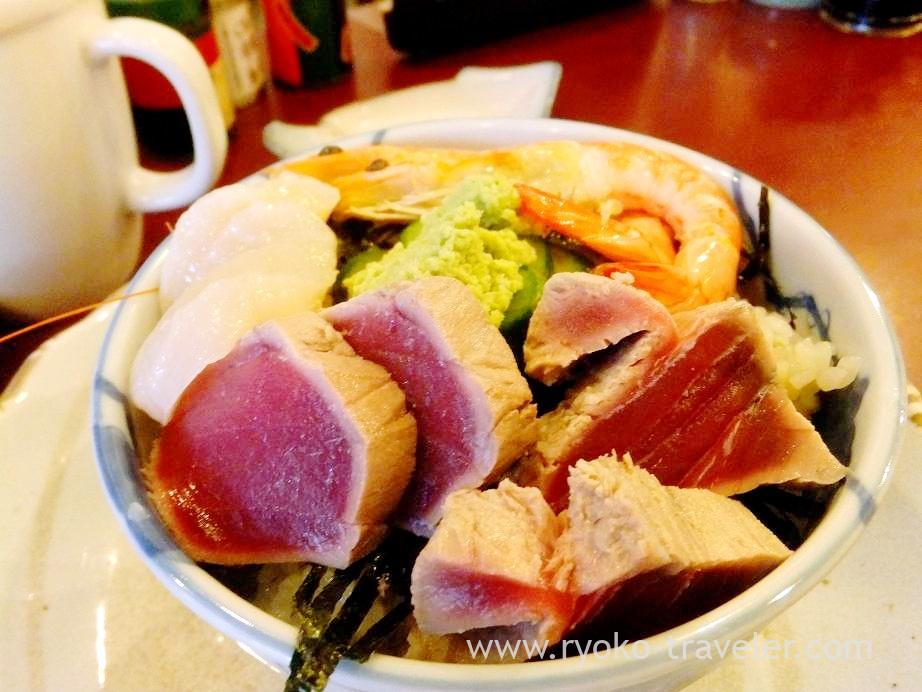 Miso soup and grated yam. Though I ate yam as it is, it was also better put it onto the sashimi bowl.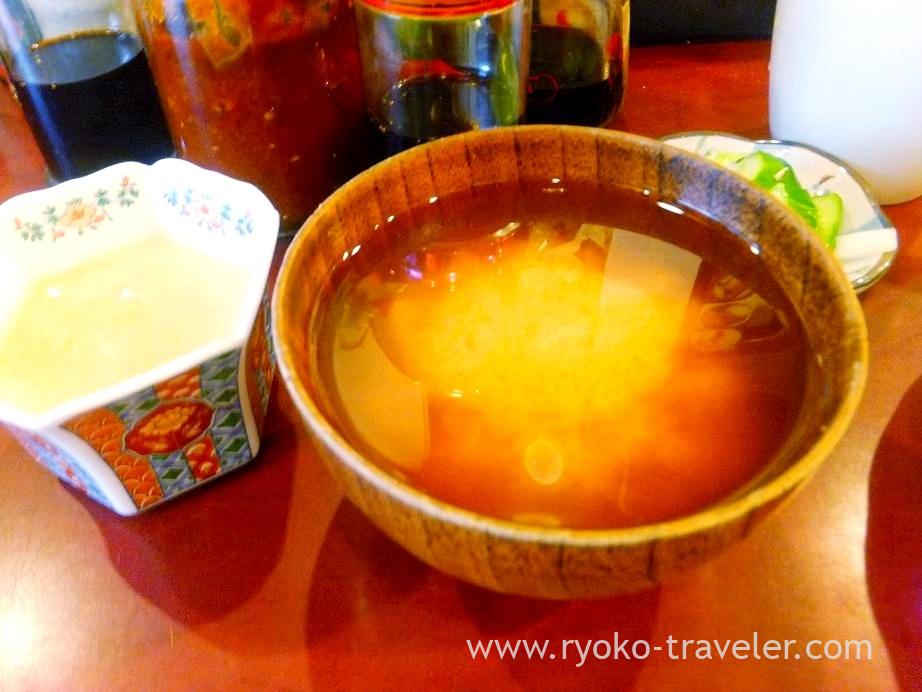 Aug 6 : Omakase (Unatoro bowl)
I felt like something lighter foods and asked Jiro-san about omakase that day. But he didn't know.
Anyway, I ordered omakase. And they he served it from the kitchen. He said "Today's omakase is Unatoro bowl !". Unatoro is "Una(gi)" = eel and "toro(ro)" = grated yam.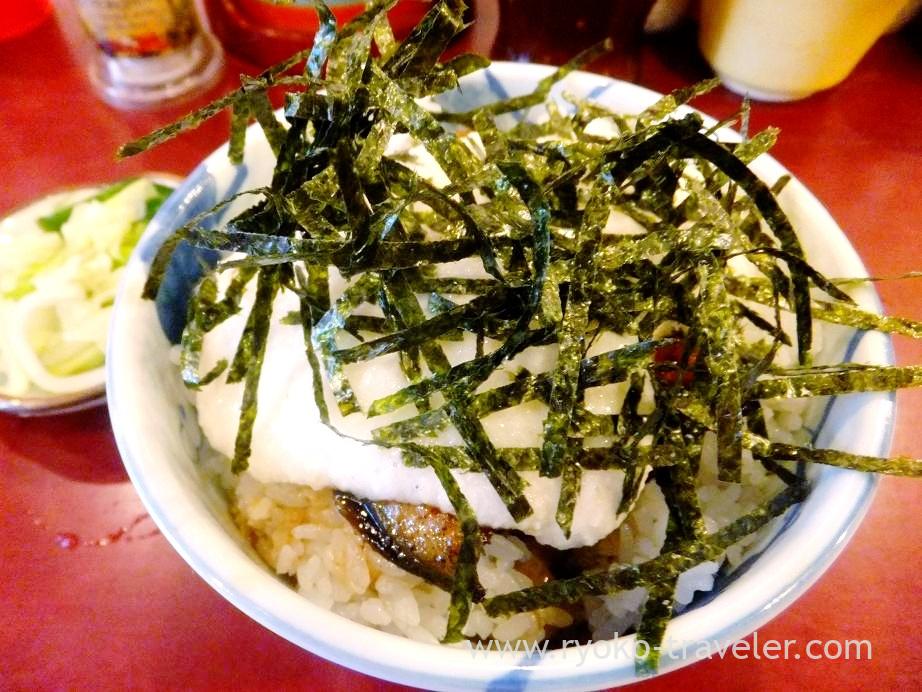 The eel is sandwiched with yam and rice. Though the charcoal-grilled eel was fatty, thanks to the grated yam, it had light tastes. I was suffering from summer heat, so it was good breakfast.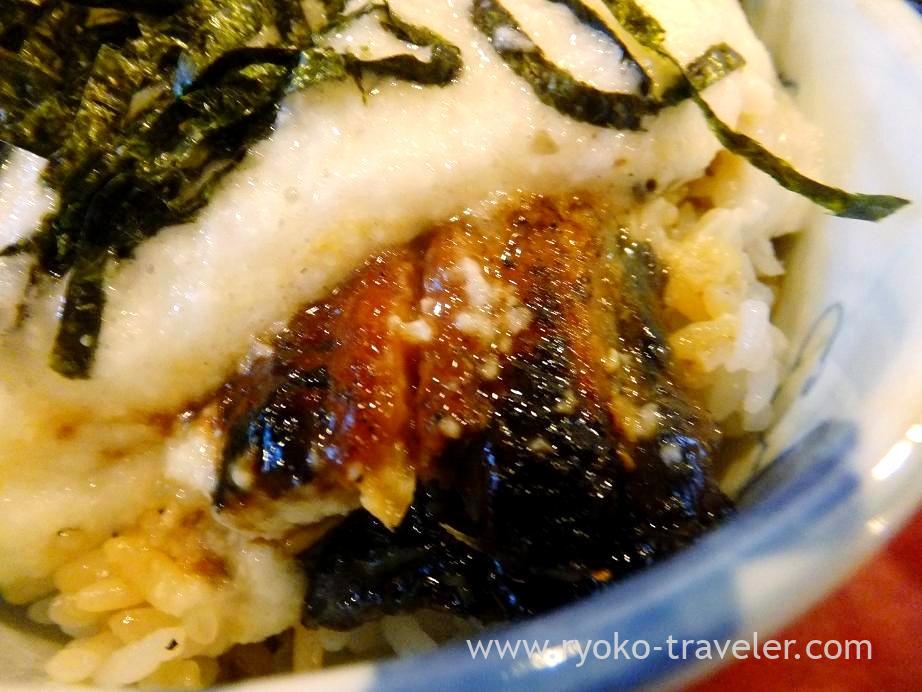 By the way, eel is expensive fish. So, it's rarely served as omakase at Yonehana. But that day, it was served because that day was "Doyo no ushi no hi (土用の丑の日)". It means the midsummer day of the ox. There's a custom of eating eel that day since Edo period. So, they served it as omakase.
Sep 14 : Omakase (Takikomi gohan, bonito sashimi)
I heard Yonehana started to serve salmon roe bowl and went to there for that. But unfortunately, it was out of stock. After all, omakase was served automatically. Tamagoyaki had eel a bit. It's called "Umaki".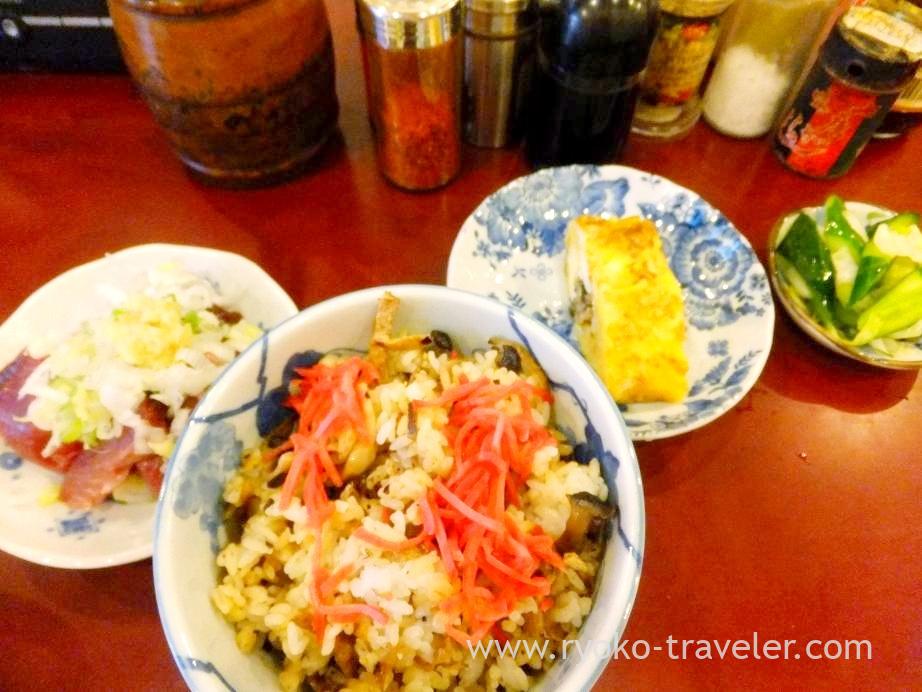 Takikomi gohan. Turban shells in it.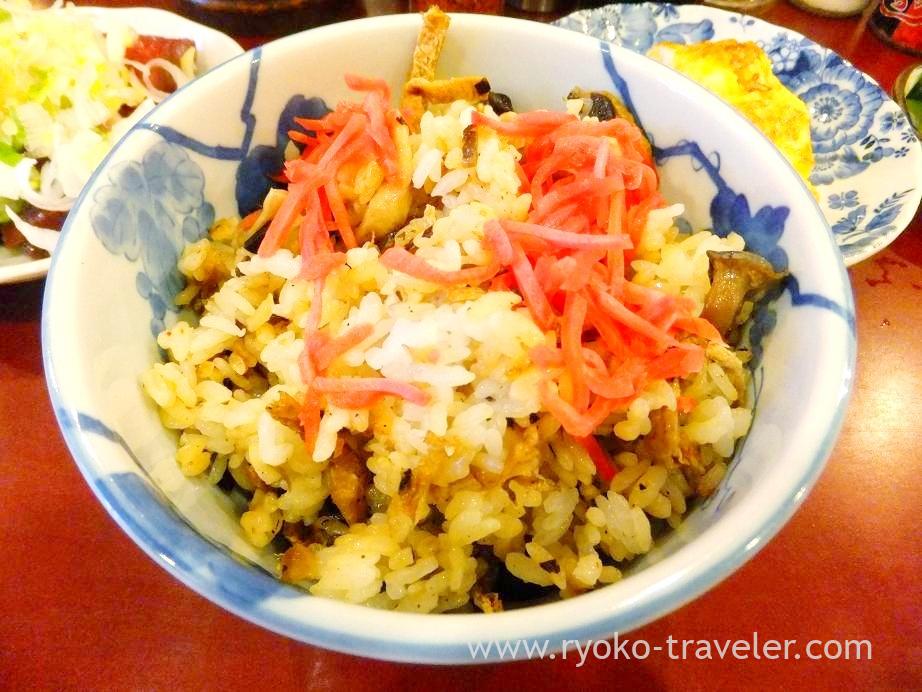 Bonito sashimi. It had much green onion and ginger on it. The bonito was fresh and awesome.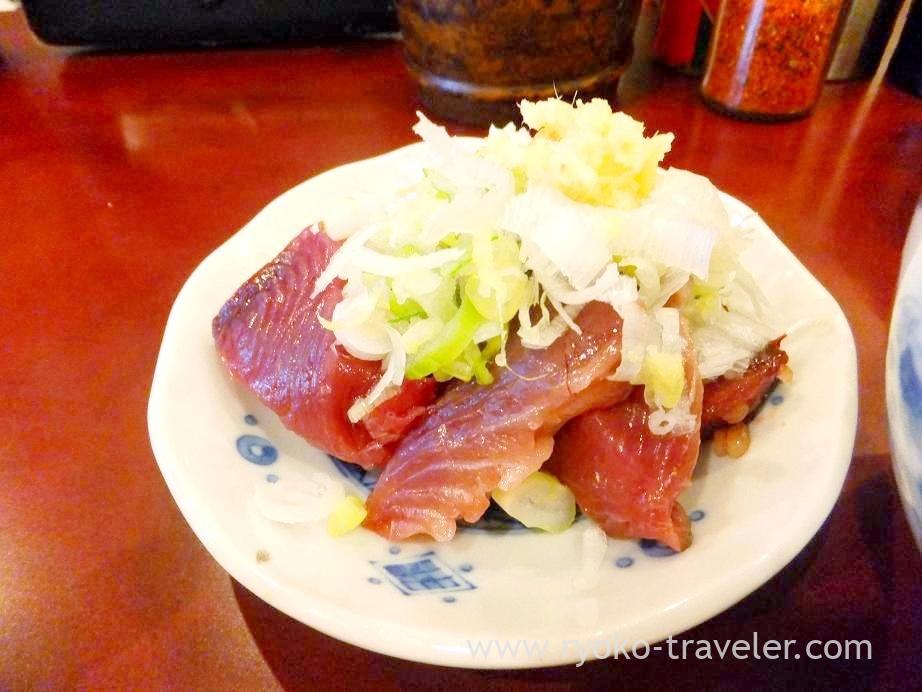 When I ordered liver yakitori (250 yen), they said it's out of stock. So, I gave up eating. But thankfully they bought fresh liver for me while eating omakase.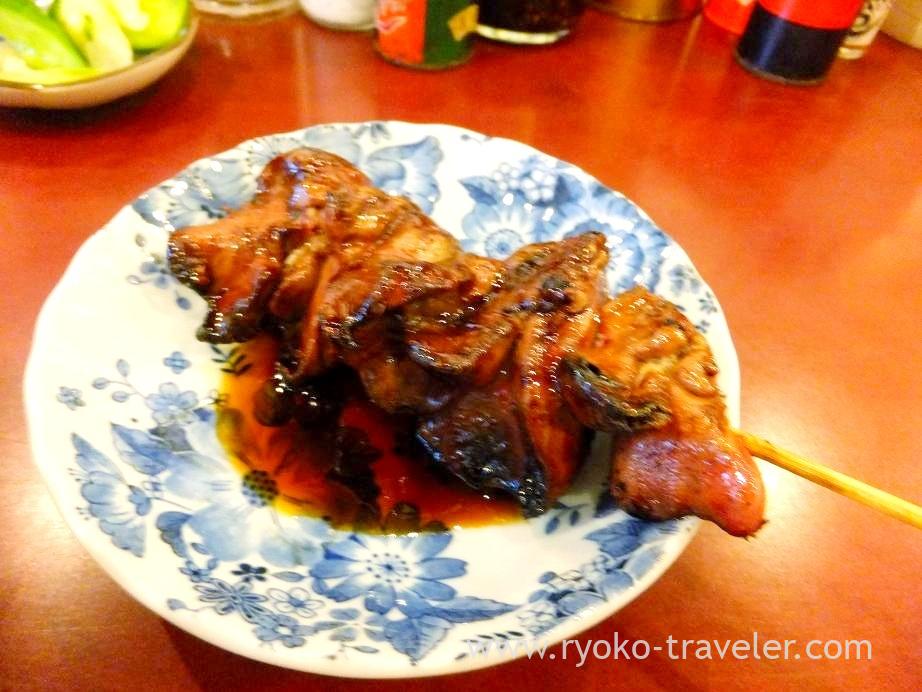 Sep 19 : Omakase (Simmered mackerel with soy sauce)
That day's entree of omakase was… simmered mackerel with soy sauce.I didn't like boiled foods in soy sauce and sugar. My mother used to cook frequently, and also I used to eat it by school lunch. Each of foods in soy sauce and sugar were so sweet for me. But I like Yonehana's because it wasn't too sweet. It's ideal food ! But as you see. Half of one mackerel. Huge. It took much time to eat it up !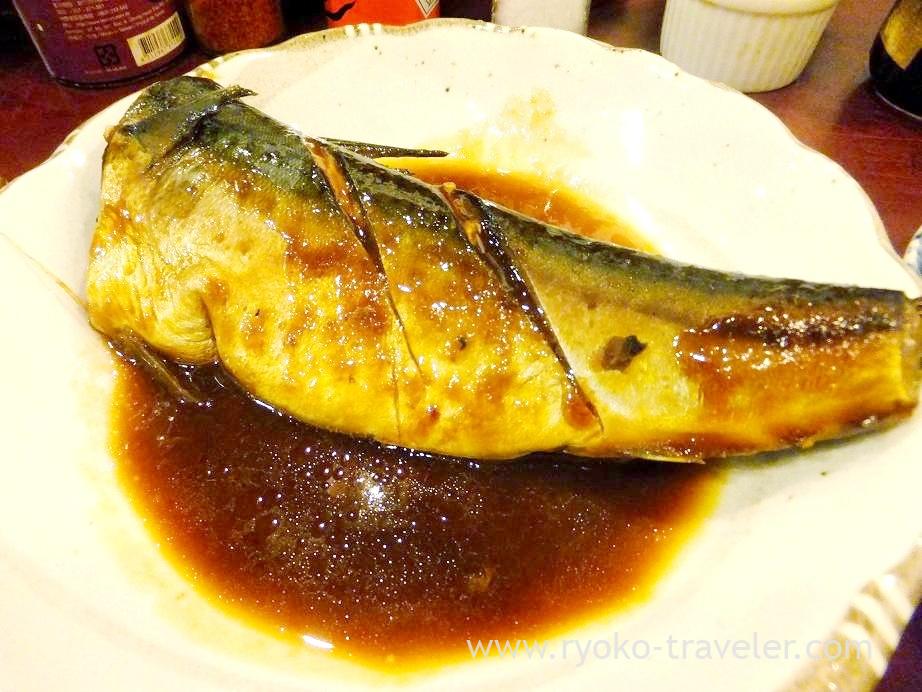 After finishing eat it, some people ask the waiter adding hot water in it. Then they drinks up. It looks good. But I didn't do. Because if I drunk up this soup, I got much salts.
In addition to I always take much salts,,,, if I drunk up such a salty soup,,, huh ?
That day's miso soup had huge fish ball surrounded by huge mushrooms. It looks like golf ball ! Everything was huge that day :p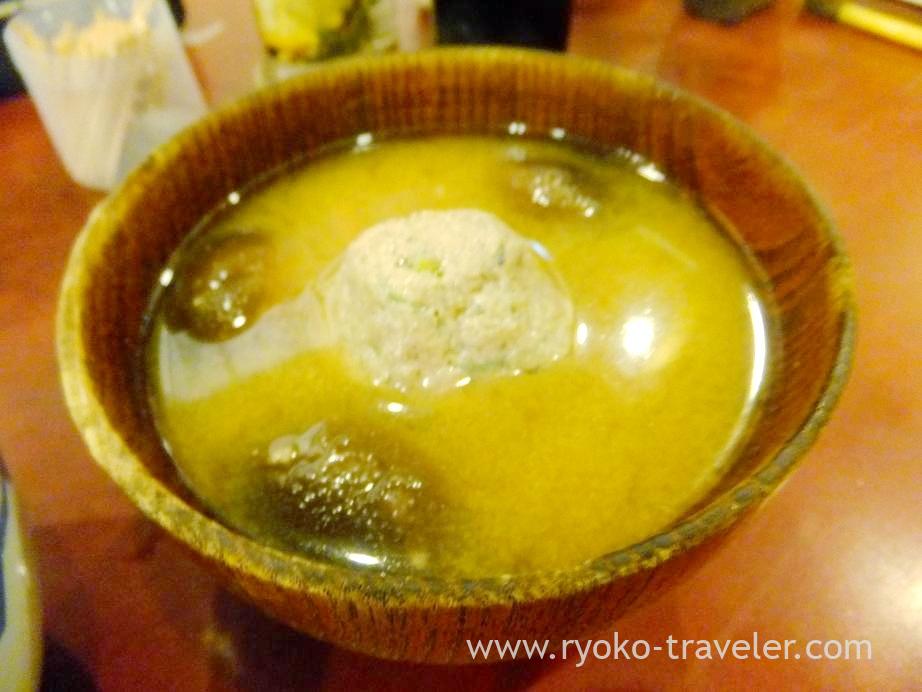 Side dish. Potato salad, fried bean sprouts and vegetables, and ganmodoki. Yonehana's potato salad have high reputation. I agree. Smooth potato salads was delicious.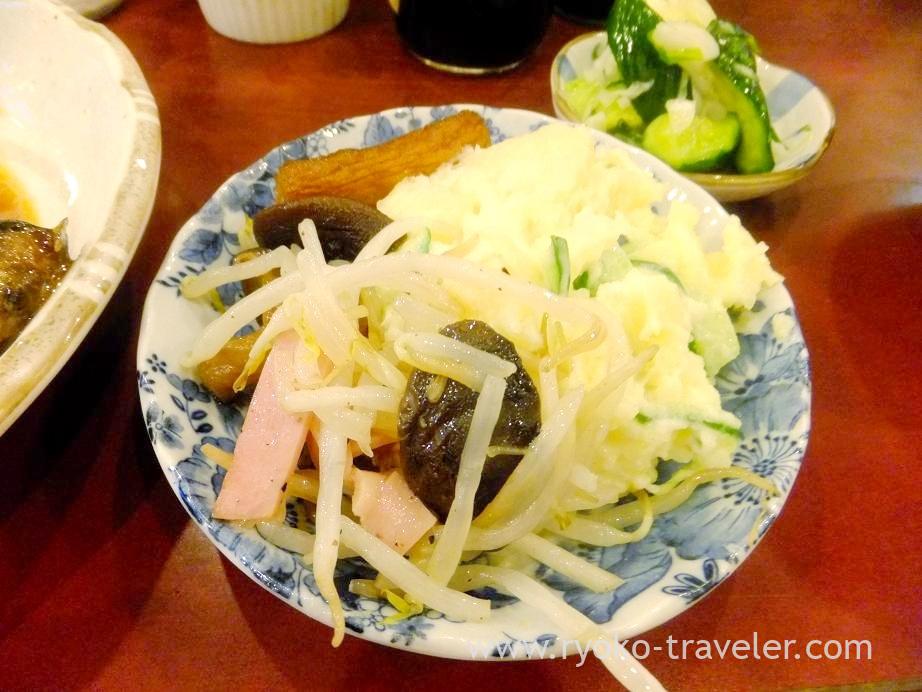 Oct 9 : Omakase (Simmered mackerel with miso)
I intended to eat salmon roe bowl that day, but I couldn't believe that its price is up from 2000 yen to 2500 yen. 500 yen up ! Wow !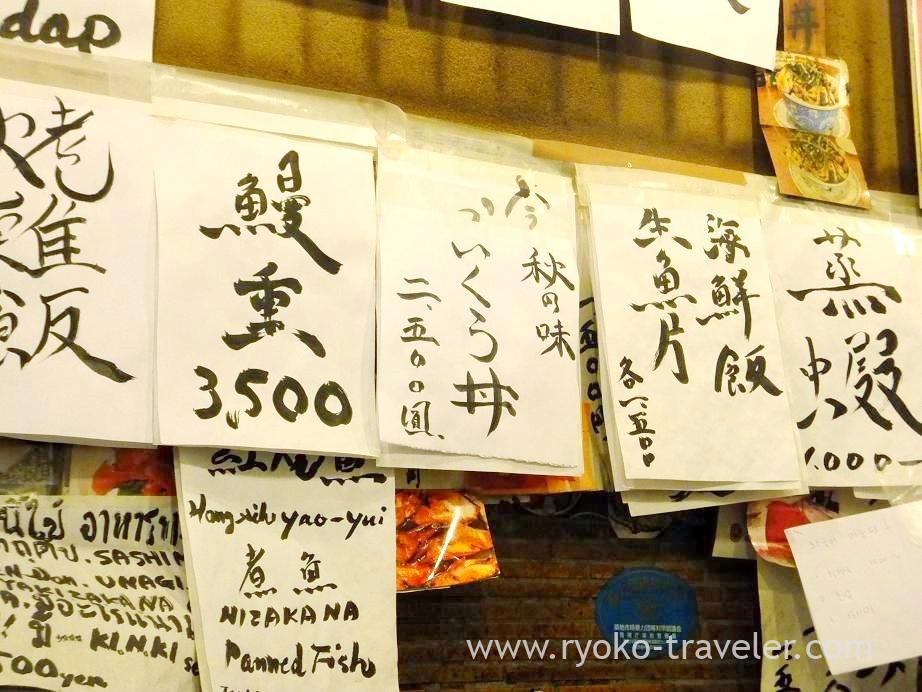 While I saw this menu for seconds, omakase was served automatically.
That day's omakase was simmered mackerel with miso. It was good size for me. Too large one last time :p It was seasoned with sugar moderately as well as last time. It's good.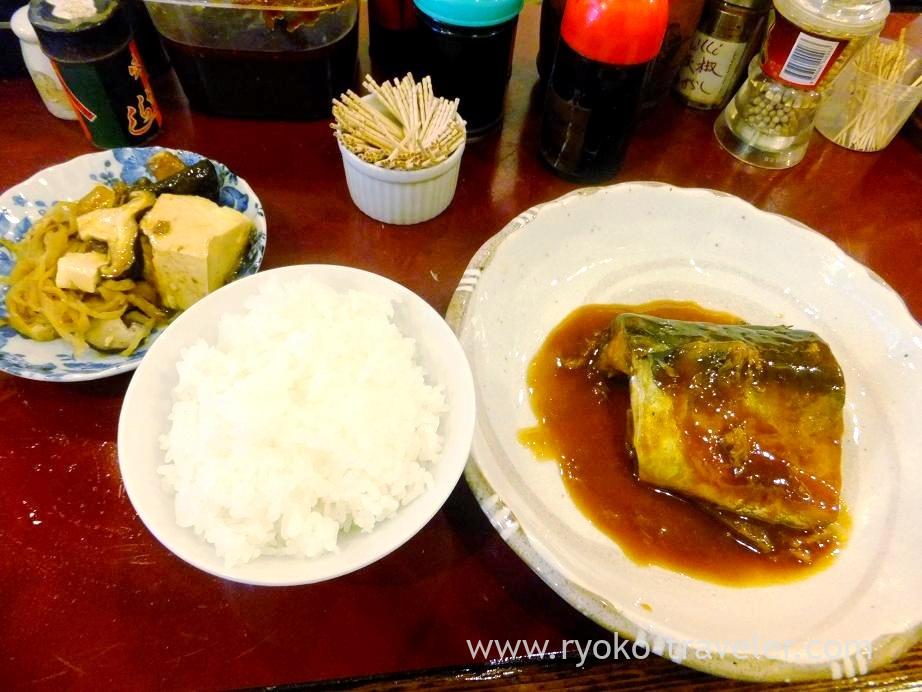 Thanks to the size of mackerel, I could order it.
Yakitori(300 yen). I ate it with spicy miso. Charcoal-grilled meat was delicious as usual.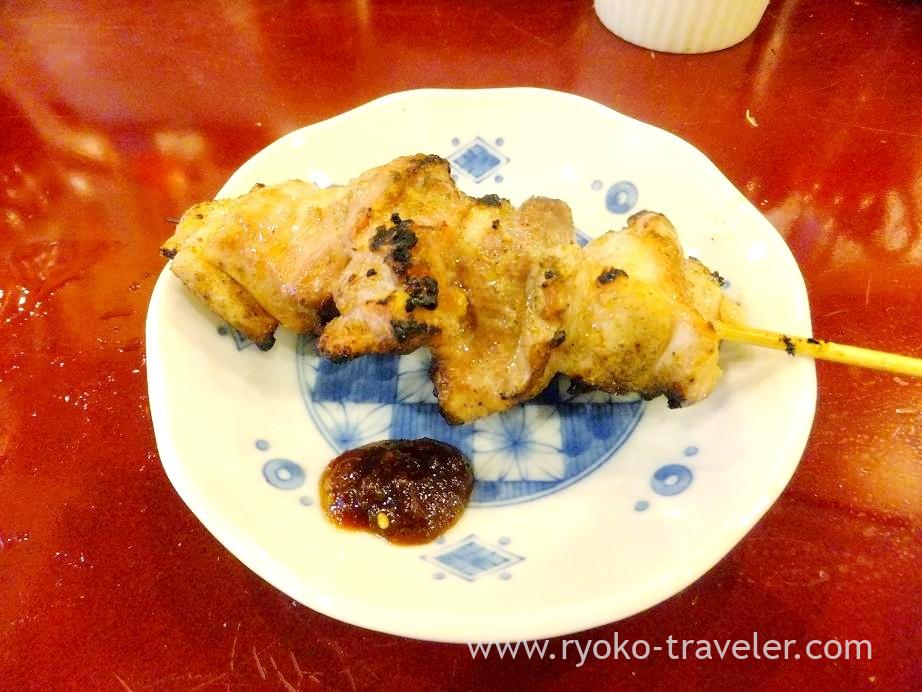 Nov 27 : Sashimi set
I felt like eating sashimi and their omakase wasn't sashimi that day. So, I ordered sashimi set (1500 yen). Yellowtail, tuna, scallop. Everything was good.
Duck soup. Plenty of vegetable were in the bowl.That's awesome !
Dec 13 : Omakase (Boiled splendid alfosino)
Last breakfast at Yonehana in 2012.
That day's entree was boiled splendid alfosino in soy sauce. To my regret, it didn't have its skin ! Its skin is my delight ! Where is it gone ?! It can't be helped. But its meat was good.
One big soft tofu in salted soup. There were plenty of katsuobushi (grated dried bonito) on the tofu. It had mild tastes and warm.
I wanted to finish my breakfast at Yonehana in 2012 with it all the same. Yakitori liver (300 yen).Yonehana's chicken's liver is excellent as its softness, taste, everything.
I enjoyed excellent time until last ! See you in 2013, too !
About

Name Yonehana (米花)
Open Morning through noon
Reservation Unavailable
Credit card Unavailable

Google Map (Current location in Toyosu Market)