Hidden izakana have lots of yummy foods !
This is an article about my dinner at Yamadaya, Tsukiji at November. It's too late.
That day's menu. November, 19 ….
Otoshi (appetizer). Boiled bones of fish and hard tofu.It tasted soft.
Heated vegetables with bonito sauce (いろいろ浸し野菜 特製鰹ソース添え) 787 yen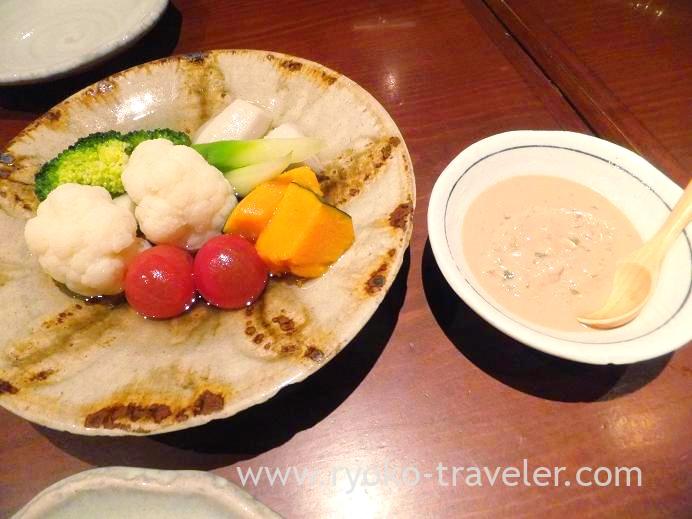 Sashimi.
Lightly grilled bonito (わら焼き戻りカツオのタタキ, 1200 yen), yellowtail from Hokkaido (北海道産ブリ, 1155 yen), filefish from Oita (大分産活〆カワハギ, 1365 yen) and Japanese sea perch from Nagasaki (長崎産平スズキ, 1050 yen).
And white thing on this side is liver of filefish.
Yamadaya bacons (やまだやベーコン) 525 yen. Left small bowl had pickled vegetables in it.
Ikura on salmon potato salads (鮭とイクラのポテトサラダ) 945 yen
It looks like a precious stone 🙂
Oysters. Left dish is raw oysters(生がき, 785 yen) and right one is steamed oysters with nori (蒸しがき, 840 yen). I  want to eat only oysters till I'm full 😛
I have a taste for oysters.
Locally raised chicken salad with Pecorino flavor (地鶏サラダペコリーノチーズ風味) 945 yen
Its dressing is thick and so tasty.
Karaage (モモ唐揚げ) 1365 yen and the camera aim at it.
It is popular.
Handmade scallop cream croquette (手作り帆立貝クリームコロッケ) 840 yen for 4 pieces
This day, we ate too much. So I divide about the article into two parts.
Open the link Yamadaya 2/2

Splendid alfosino shabushabu is gorgeous taste of winter ! This is continuation of the last post "Tsukiji : Winter tastes at Yamadaya 2/2". A lily bulb in soft tamagoyaki (百合根ふわふわ卵焼き) 892 yen c...
About Yamadaya (やまだや)
Address / Crown Tsukiji Bldg 1F, 7-16-3 Tsukiji, Chuo-ku, Tokyo
Station / Tsukiji station (Toei subway)
Open / 18:00 – 23:00
Closed / Sundays and another national holidays