TOYOCHAN already quit their business in 2017.
(April 27th, 2018)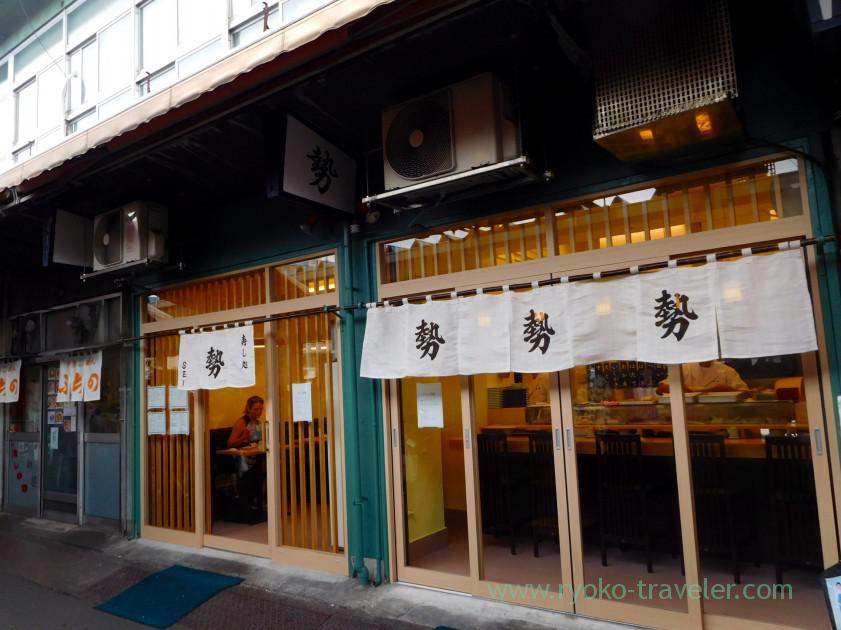 (Moved) From Toyochan to Sushidokoro SEI (寿し処 勢)
New sushi shop is open. At first, I have to inform you that Toyochan (豊ちゃん) already quit their business as Japanese-We...
---
Tsukiji was along with TOYOCHAN.
I went to TOYOCHAN that close this Saturday for breakfast today.
Strictly speaking, TOYOCHAN don't close. The manager and chef change. But I think it means the shop become completely another shop even if they don't change their name.
There are some foods that I've wanted to eat for a long time.
*Deep fried conger eel
*Curry and rice with Tonkats
*Katsudon (Tonkatsu bowl)
Unfortunately, I heard they already quit cooking curry…
TOYOCHAN put on short hours now (from around 7 a.m.) and they cook fewer foods than ever.
And they close right side of the shop.
Now, their menu is like this.
Many food names are whitened X(.
Because it was early in the weekday morning, there was no man waiting to be seated, but there was few vacant seat the whole time since the opening time.
Well, Fried rice with curry was my first food that I ate at TOYOCHAN. I wanted to eat it again…

(Close) Tsukiji Market : Special dry curry at TOYOCHAN (豊ちゃん)

TOYOCHAN already quit their business in 2017. (April 27th, 2018) TOYOCHAN I ate a dry curry for breakfast a...


I thought such a thing but there was no word "fried rice with curry" on the menu. So, I ordered a katsudon (かつ丼, 1060 yen).
Truthfully speaking, I don't like eat katsudon at restaurants because I have an impression of katsudon as home cooking using leftover tonkatsu the previous night.
But TOYOCHAN's katsudon is very popular , so I had wanted to eat it for a long time.
It was small portion. But it's enough large for me. I managed to eat it up.
Some part of the tonkatsu was crisp and another was soft because of broth and egg. It's fun and tasty.
The flavor of mitsuba was good, too.
If you come to Tsukiji this week or being around Tokyo now, you'd better go Toyochan hurriedly.
About Toyochan (豊ちゃん)
Address / Tsukiji Market Bldg No.1, 5-2-1 Tsukiji, Chuo-ku, Tokyo
Station / Tsukijishijo station (Toei subway)
Open / 7:00 – 14:00
Closed / Market's holidays