Notice : Now, they don't serve this inexpensive sushi set at lunchtime.
At lunchtime, they serve lunch course from 3500 yen (not tax included) and reservation required in advance.
(July 24th, 2015)
---
I took a lunch at Ginza the other day. The restaurant that is named Sushi Itsuki is open at lunch time from Tuesdays to Saturdays 🙂
Itsuki serves inexpensive sushi set at lunchtime for Ginza. Recently whenever I want to eat sushi on Saturdays, I visit there.
It stands back alley and it is in such a small building. The restaurant is the 2nd floor.
Where?
It's close to Higashi-Ginza station. It's a little hard to find.
The entrance looks like fancy sushi restaurant.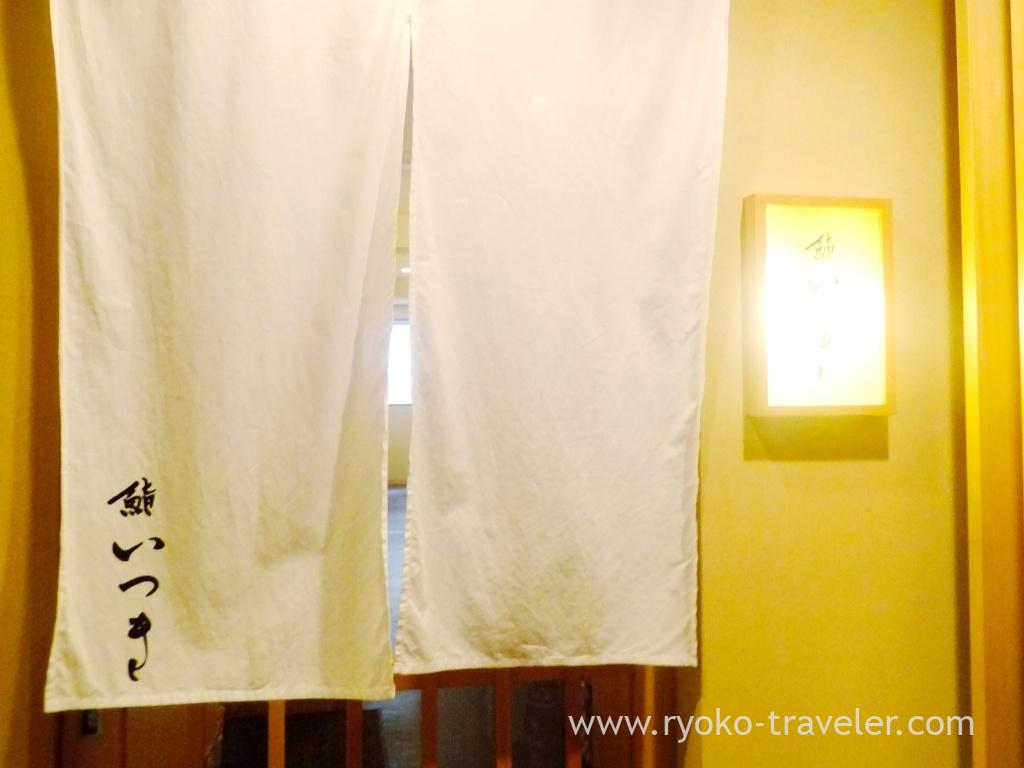 Lunch menu
Itsuki serves three sushi set at lunchtime.
*Nigiri(にぎり, 1050 yen) 10 portions of sushi
*Jyo-Nigiri(上にぎり, 1260 yen) 13 portions 
*Tokujo-Nigiri(特上にぎり, 2100 yen) 10 portions
The difference between Nigiri and Jyo-Nigiri is the number of sushi.
Tokujo-Nigiri uses better seafood than Nigiri and Jyo-Nigiri. The number of sushi is the same as Nigiri.
Jyo Nigiri
I want to eat a lot, so I always order Jyo Nigiri (上にぎり).
At first, small salads was served. It is nice space mat ! It is made of Japanese paper !
I know it sells at Tsukiji. I bought similar one before.  If you want to get such a paper, go to Tsukiji 😉
After a while, sushi set was served.
Tuna, yellowtail, salmon, mackerel, bonito, boiled shrimp, deep-water shrimp, squid, ikura, left-over meat of tuna, sea urchin, tamagoyaki and tuna sushi roll.
It was hearty meal. I got full. It is happy to full my stomach with sushi 😛 Don't you think so ? I think it's valuable and delicious sushi lunch !
By the way, this is Jyo Nigiri another day. The species of seafood change belongs to stock.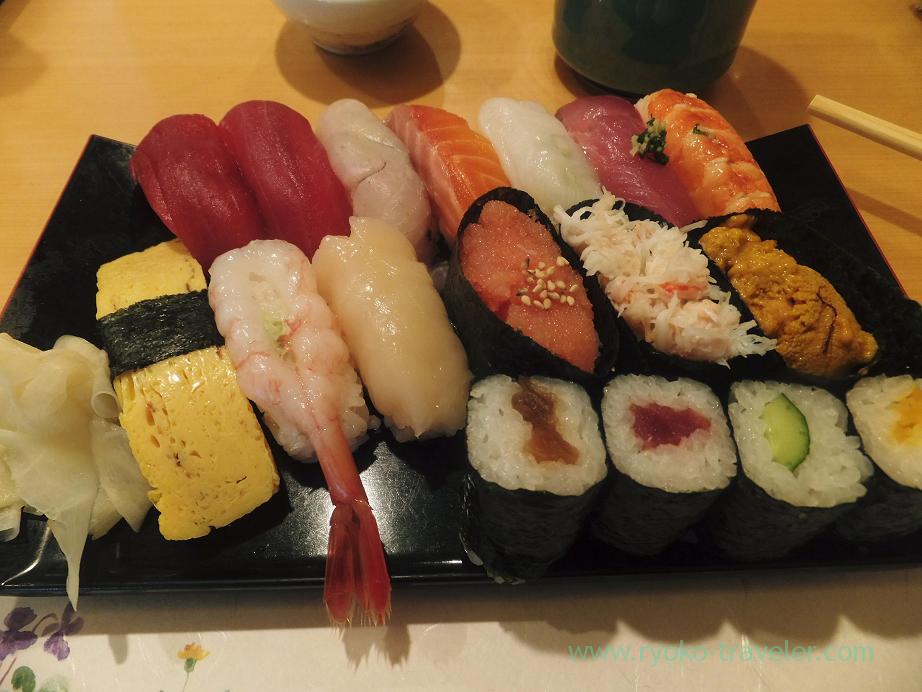 About Sushi Itsuki (鮨いつき)
Address / Nagayama Bldg 2F, 6-13-4 Ginza, Chuo-ku, Tokyo
Phone / 03-6228-4483
Open / 11:30 a.m. – 1:30 p.m., 5:30 p.m. – 10 p.m.
Closed / Sundays, national holidays
Reservation / Required for lunchtime, Available for dinner time
Credit card / Available
Smoking / Not permitted
English menu / No
URL / Website (in Japanese only)