The good season for clams.
I went to long-awaited Sugita (former Miyakozushi) in April and I was really satisfied with his splendid sushi,
and we went to Sushi Hashimoto the other day, too 🙂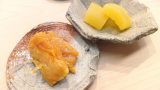 Suitengu : Long-awaited Sugita (日本橋蛎殻町 すぎ田)
Former Miyakozushi.Finally, we could have the chance to go to newMiyakozushi in Suitengu.They changed their name fr...
We were surprising Sugita's high quality sushi and we also thought Hashimoto never get the better of Sugita.
But we visited Hashimoto and his sushi is splendid, too !
Especially I like Hashimoto's tsumami better than Sugita's. Of course, both is great. It's matter of preference.
Hashimoto serves chef's choice course only (14000 yen) and we were seated and waited for our foods served as usual. Of course, I ordered Japanese sake as usual 🙂
Chef's choice course have assorted tsumami (small dishes having seasonal seafood) and sushi.
At first, Fava bean (そらまめ) was served with Japanese sake named "Kozaemon (小右衛門)".
Marbled sole (マコガレイ)
It had sticky texture and was tasty as last time 🙂
Red clam (青柳)
Firefly squid is my delight. So I was delighted with it. Three ! Last time, only two firefly squids !
Marinated firefly squid with miso (蛍烏賊の味噌漬け)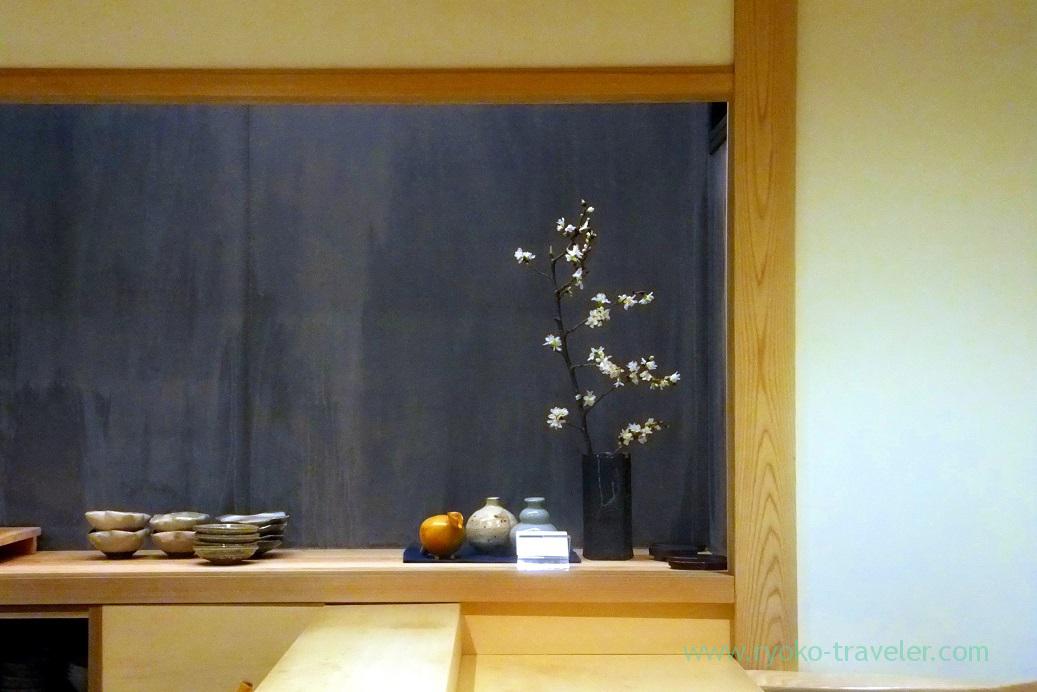 Shintomicho : Sushi Hashimoto in early Spring (鮨はしもと)
Sushi dinner at 9 p.m. Our monthly visits to Sushi Hashimoto 🙂 We reserved from 9 p.m. that time (four people) becau...
Marinated tuna dressed with sauce (ヅケ鮪の和え物)
Bamboo shoot dressed with monkfish liver sauce (たけのこの鮟肝ソース和え)
Chawanmushi with sakura prawn (桜エビの茶わん蒸し)
The chawanmushi had abundant flavor of Sakura prawns and the prawns were so crisp.
Last tsumami was grilled fish. I like cutlass fish best at Hashimoto for grilled fish.
Grilled cutlass fish with salt (太刀魚の塩焼き)
I always drink one container of sake only for tsumami. So, I drunk it up and got green tea for sushi.
By the way, Sushi Hashimoto bring hand towel before serving sushi as well as Sugita. So, if you don't care about picking sushi with your fingers, you'd better eat them with your hand because some seafood is so soft and hard to hold with chopsticks, especially sea urchin is.
At first, Gizzard shad (Kohada, 小肌) was served as usual.
Mostly Hashimoto serve sushi from gizzard shad. Beautifully decorative cut !
Young red sea bream (Kasugo, 春子鯛)
Ia had good flavor and like it.
Hen clam (Torigai, 鳥貝)
Hen clam is call torigai (bird clam) because it appearance look like flying bird 🙂 I agree. And it was really sweet. This was No.1 hen clam that I had eaten ever. Incredible !
Trout (Masu, 大目鱒)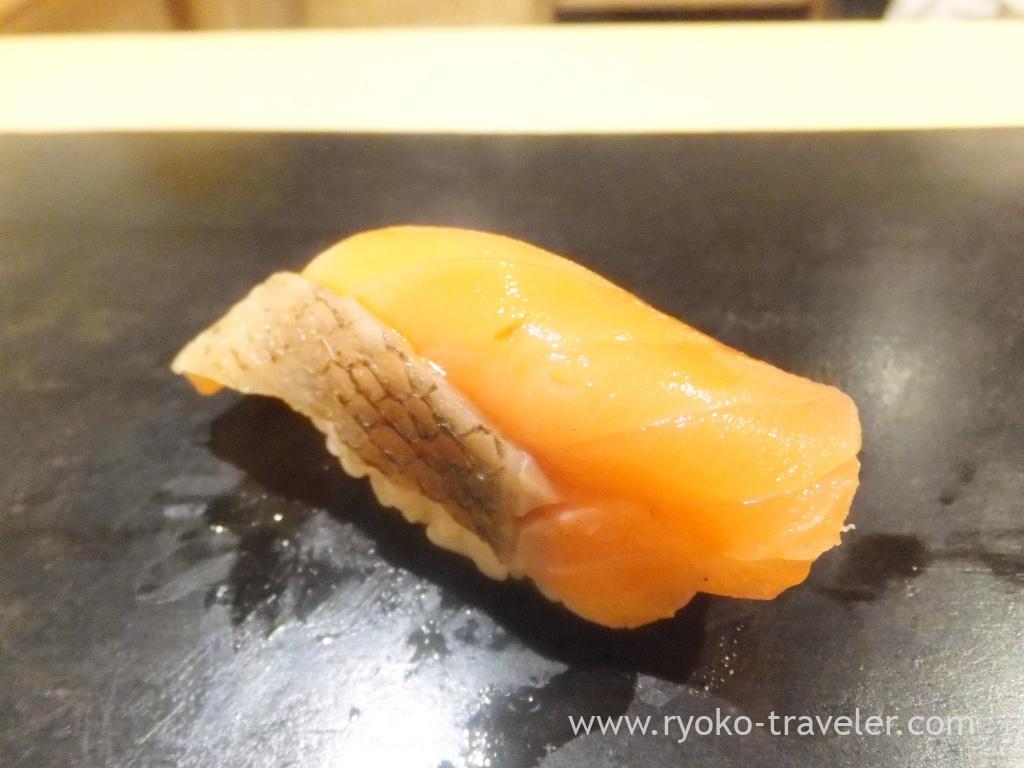 Squid(Ika, いか)
I forgot the species of this squid, but it was tasty as usual.
Toro part of tuna (トロ)
Though it was fatty, it had refreshing tastes.
Horse mackerel (鯵)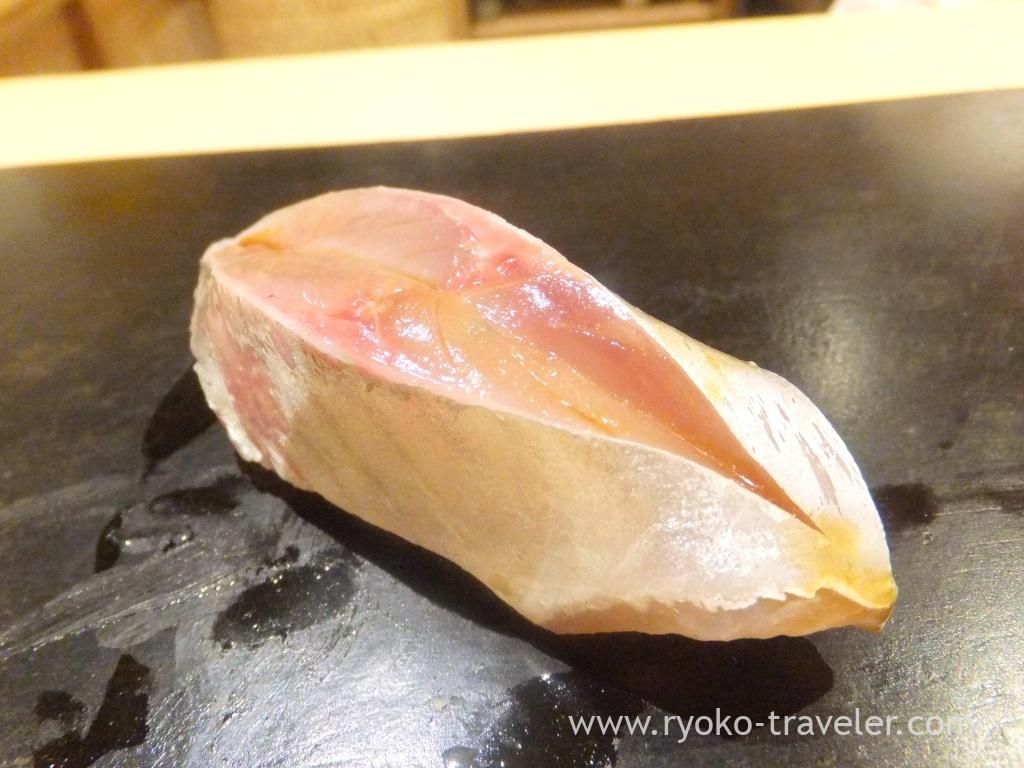 Kuruma prawn (車海老)
I was so happy to eat it. Hashimoto's Kuruma prawn is now great.
Sea urchin (うに)
You'll understand what I mentioned above. It can't be held with chopsticks and you have to eat soon, or the sea urchin collapse.
Last sushi. Conger eel (穴子) as usual.
I didn't order another because nothing attracted me anything else and I got full.
Last, Tamagoyaki (卵焼き) and Shijimi clam soup (しじみ汁) was served as usual.
We enjoyed that time, too.
We'll visit Hashimoto at the end of this July. Maybe my friend's delight, young gizzard shad will be included in the course 🙂
About Sushi Hashimoto (鮨はしもと)
Address / Maki Plaza Bldg 1F, 1-15-11, Shintomi, Chuo-ku, Tokyo
Station / Shintomicho station (Tokyo metro)
Open / 18:00 – 23:00
Closed / Mondays