We went to Sushi Hashimoto last month, too. This would be the last time for us to occupy full seats 🙁 We could reserve only four seats next time.
They chose Haneya (羽根屋) for me that time 🙂
First,boiled canola flower dipped in soup (Ohitashi, 菜の花のお浸し) was served. Tastes of early Spring.
Flatfish (ヒラメ)
Grown halfbeak (カンヌキ) as sashimi. With grated ginger and  soy sauce. Though I didn't like halfbeak so much, it was delicious ! It was sliced thickly and the texture of meat was good.
My friend ordered it as sushi later and I also wanted to have it, too !
Steamed ezo abalone (蒸しエゾアワビ). It was soft. Also the innards sauce was also good ! I wanted to licki the dish up !
But the chef said to us as last time, "Please leave some sauce for next".
So, after we ate the abalone up, the chef put vinegared rice and golden cuttlefish 🙂
The chef said to us, "Mixed altogether and eat". We did so. It was great though its looking was not good :p
Boiled squid with sauce (やりいか煮)
Saquid again ! It had its egg in it. It had springy and crunchy texture ! I was really happy.
Chawanmushi (茶わん蒸し)
So much crab's meat ! The chef put a small amount of blue cheese in something to give it a subtle flavor.
Grilled blackthroat seaperch with salt (アカムツの塩焼き)
So fatty !
Gizzard shad (小肌). Beautiful.
Young red sea bream (春子鯛)
I drunk my sake up, and I got hot green tea 🙂
Marinated tuna (マグロの漬け)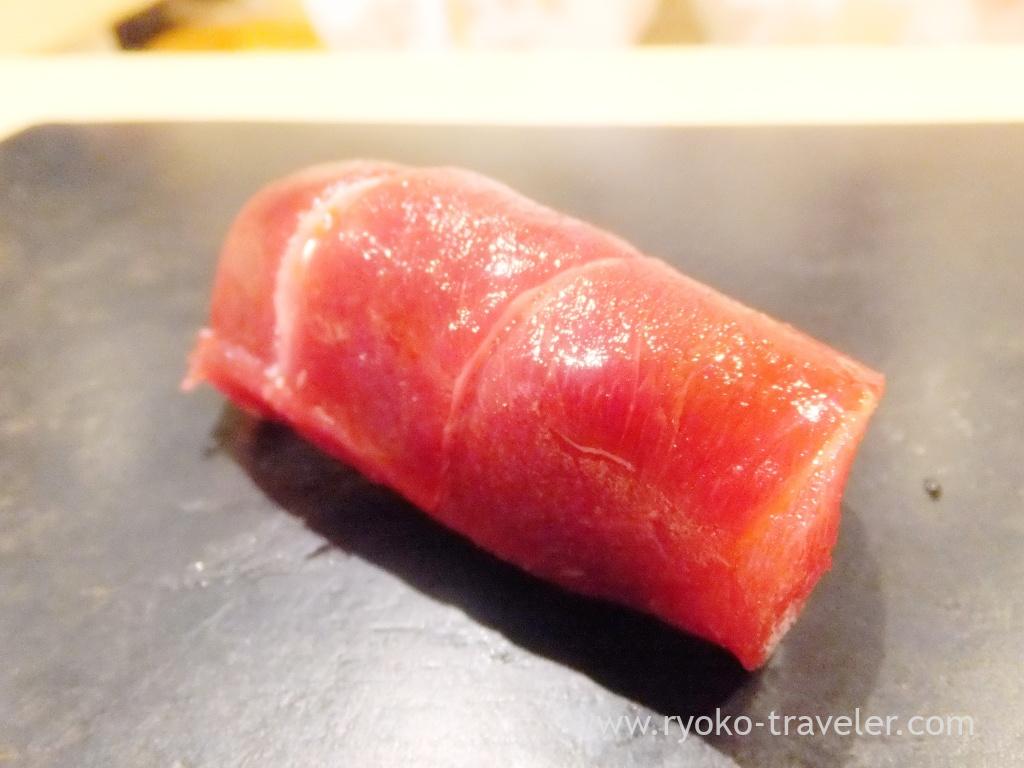 Spanish mackerel (鰆)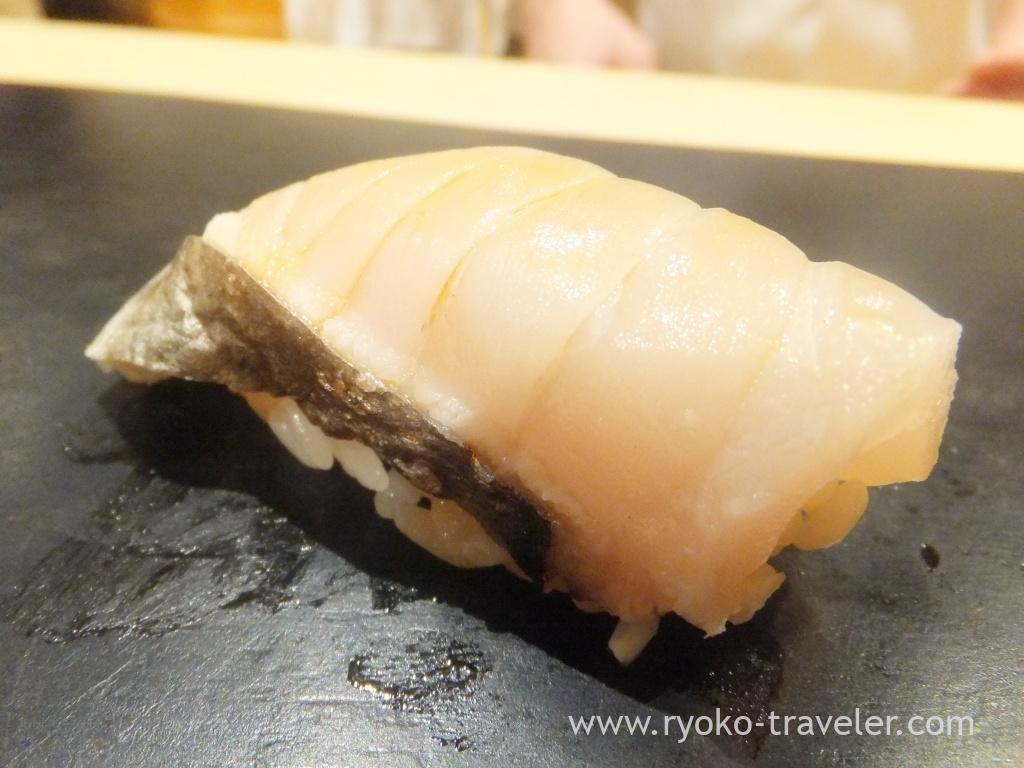 Horse mackerel (鯵)
Tuna (マグロ)
So fatty tuna !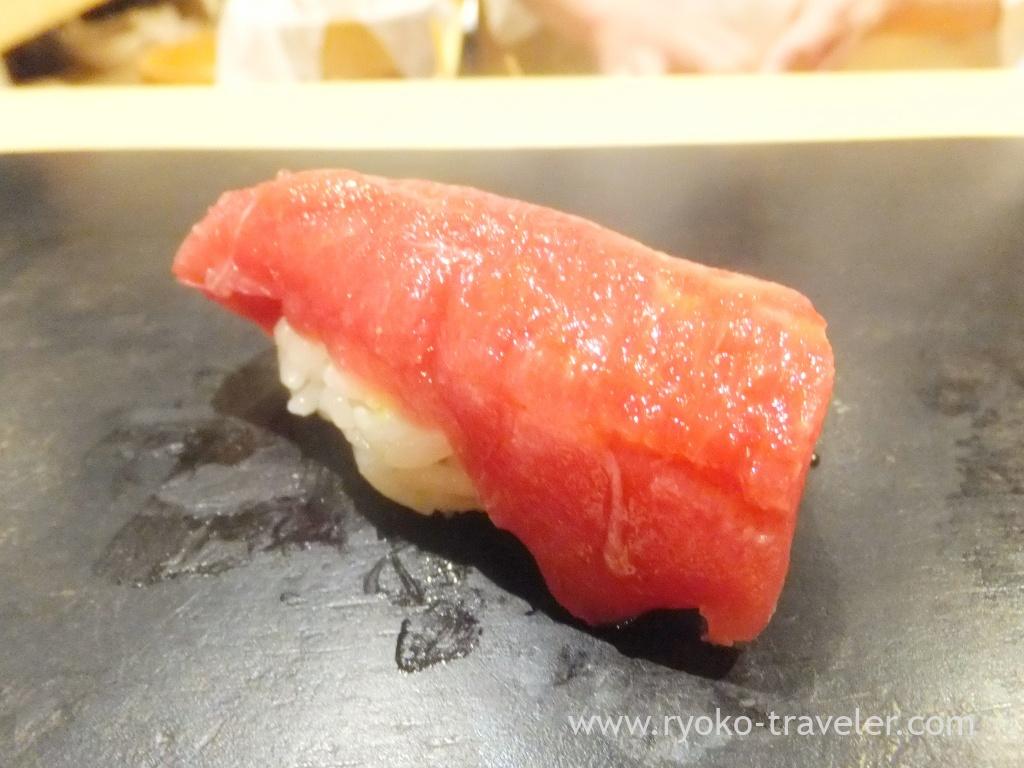 Kuruma prawn (車エビ)
Clam (はまぐり)
Sea urchin (うに)
vinegared rice covered with sea urchin !
Sushi included in the course has finished with conger eel. And we asked the chef about another seafood as usual. I ordered more two sushi.
Botan shrimp (車エビ). My delight.
I hadn't eaten botan shrimp both Miyakozushi and SUshi Hashimoto, so I was really glad !
And Hagashi of tuna (鮪のはがし)
You think what is "hagashi" ?
It's o-toro part of tuna. It is not only ordinary o-toro. Ordinary o-toro is cut with knife along its tendon. But its hagashi is … the chef pull the tendon off the meat with very carefully. Between tendon and meat have plenty of fat. Because its quality was great and also it took much time to be served. So,its price was seemed to be very high. 1500 yen or so ?
But it's worth eating.
Conger eel (穴子)
Shijimi clam soup (しじみ汁) and Tamagoyaki (卵焼き)
I was so impressed by the quality of tuna that time. i'm really looking forward to the next time.
About Sushi Hashimoto (鮨はしもと)
Address / Maki Plaza Bldg 1F, 1-15-11, Shintomi, Chuo-ku, Tokyo
Station / Shintomicho station (Tokyo metro)
Open / 18:00 – 23:00
Closed / Mondays