Thanks to my friends, I could visit Sushi Hashimoto again. Once in a month !
But, finally, we couldn't reserve next time at that time 🙁
The reservation was full for another two months.
The shop curtain has changed. The orange curtain looks warm.
http://www.ryoko-traveler.com/sushi-hashimoto3/
Hashimoto's otsumami can't be eaten without sake ! The staff chose this Ishizuchi (石鎚) for me.
Ishizuchi is a place in Ehime prefecture and this is one of the place that I want to visit someday. So, I was glad that he chose it 🙂
Otoshi was Kinukatsugi (きぬかつぎ). Kinukatsugi is unpeeled boiled taro. Do you know it? I didn't know.
This was the first time to eat it. I had no idea how to eat it. My friend next me showed me how to eat. Its peel was easily removed by
Filefish (カワハギ)
With it. Soy sauce and filefish's innards mixed altogether well.
Of course, the filefish was enough delicious without it, this sauce was splendid and I didn't want to leave one drop of it !
Golden cuttlefish (すみいか)
My delight !
Natural-grown scallop (天然のほたて)
It had natural sweetness.
Kobako-gani (Female crab, 香箱蟹)
Kobako-gani is female crab that caught in Ishikawa fishing port area from November 6th to December 29th only.Though it is small crab and don't have much meats, it has plenty of eggs and those are great.
I ate two female crabs called seiko-gani caught in Sakaiminato area of Tottori in the daytime before Sushi Hashimoto. And I ate again. But I never got tired of eating it 🙂
Marinated oyster with miso and roasted striped marlin (牡蠣の味噌漬けとマカジキのロースト)
This striped marlin tasted like roasted fatty pork !
Chawanmushi (茶碗蒸し). Soft roe was in it !
Well, last otsumami was as same as usual, grilled fish.
That day's grilled fish was Japanese butterfish(えぼ鯛). As its name, so fatty fish as you see.
And then, gari was served and our sushi time started !
At first, Gizzard shad (小肌)
Young red sea bream (春子鯛)
This was the best at that time.
Kobako-gani (Spanish mackerel, サワラ)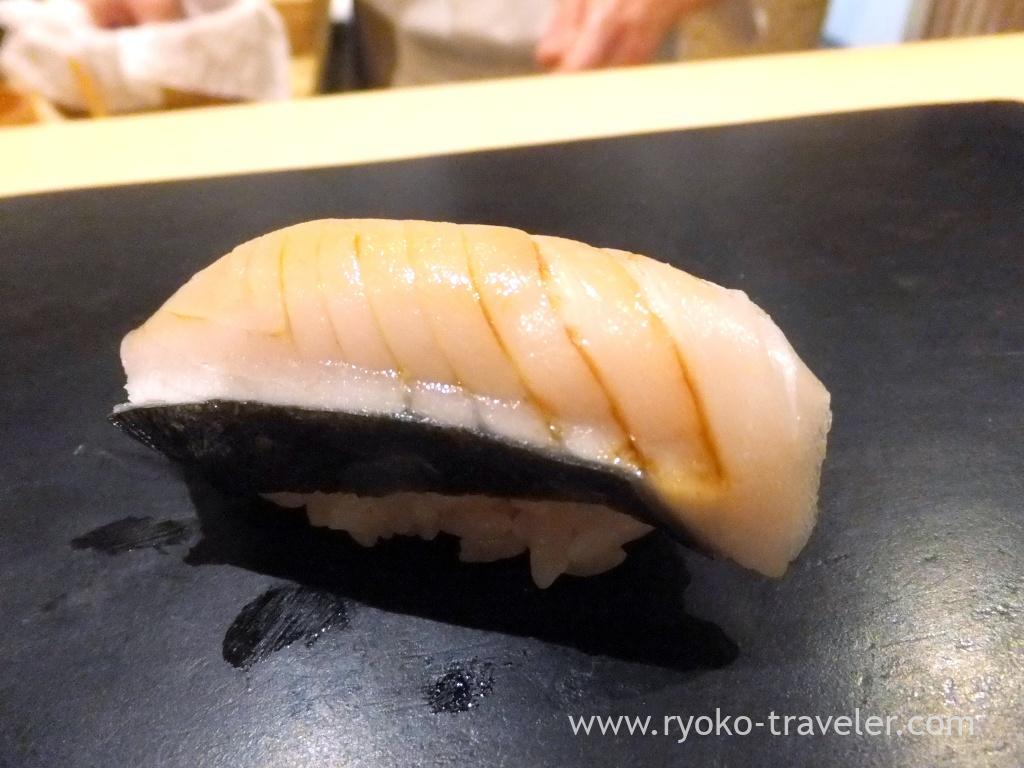 Vinegared mackerel (シメサバ)
Toro part of tuna (トロ)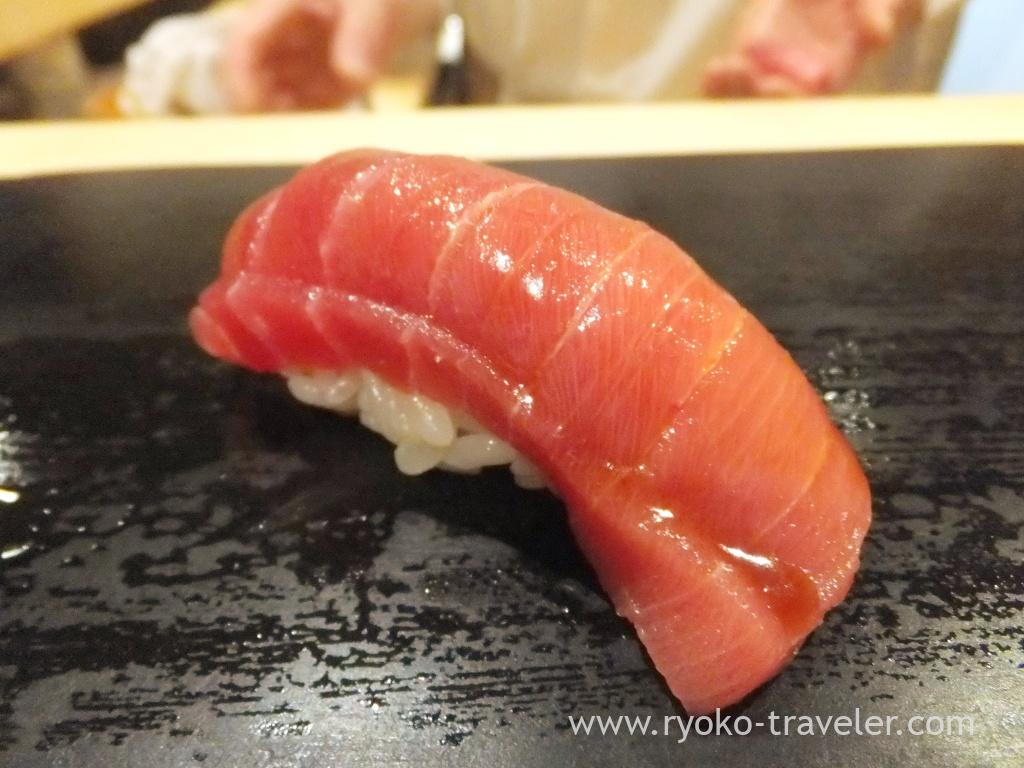 Clam (はまぐり)
It was seasoned too sweet for me.
Kuruma prawn (車海老)
It was also too sweet. Perhaps, I might feel so because of the sweetness of clam before it.
Yellowtail (鰤)
Sea urchin (うに)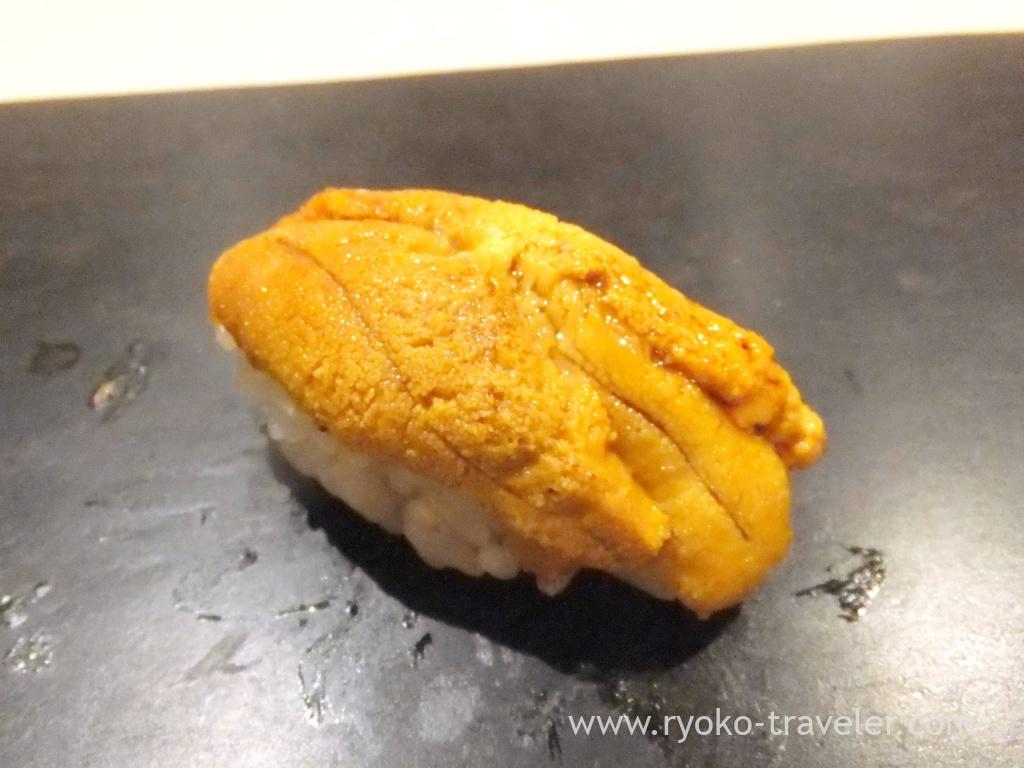 And I added it. My delight.
Golden cuttlefish (すみいか)
Last, Conger eel (穴子)
I said we couldn't take reservation at that time.
But my friend called Hashimoto to take reservation a few days later and he got seats next time, February.
So, we can't go there next month, but we can go there in February (and this month :P)!
About Sushi Hashimoto (鮨はしもと)
Address / Maki Plaza Bldg 1F, 1-15-11, Shintomi, Chuo-ku, Tokyo
Station / Shintomicho station (Tokyo metro)
Open / 18:00 – 23:00
Closed / Mondays