If you want to fill your stomach with delicious salted tongue, Seiryuen is the best choice !
I went to yakiniku restaurant that is near Morishita subway station in the middle of this month.
My friend asked me to have dinner with them at this restaurant.
Speaking of Morishita, there is a sento that is named "Taishoyu (大正湯)". The sento have been closed every time these days since Great East Japan Earthquake.
I want the sento open someday. I want to took the bath :(.
Seiryuen, it is near Morishita subway station. Its appearance looks like ordinary yakiniku restaurant at shitamachi.
The restaurant was just refurbished, so it was so fresh and clean. 🙂
I heard that smoke formerly filled the restaurant and everyone's eyes smarted from the smoke.
So, the restaurant refurbished its interior to put smokeless roasters.
Kimchi(キムチ, 550 yen) and Namul(ナムル, 550 yen)
I like royal ferns very much 🙂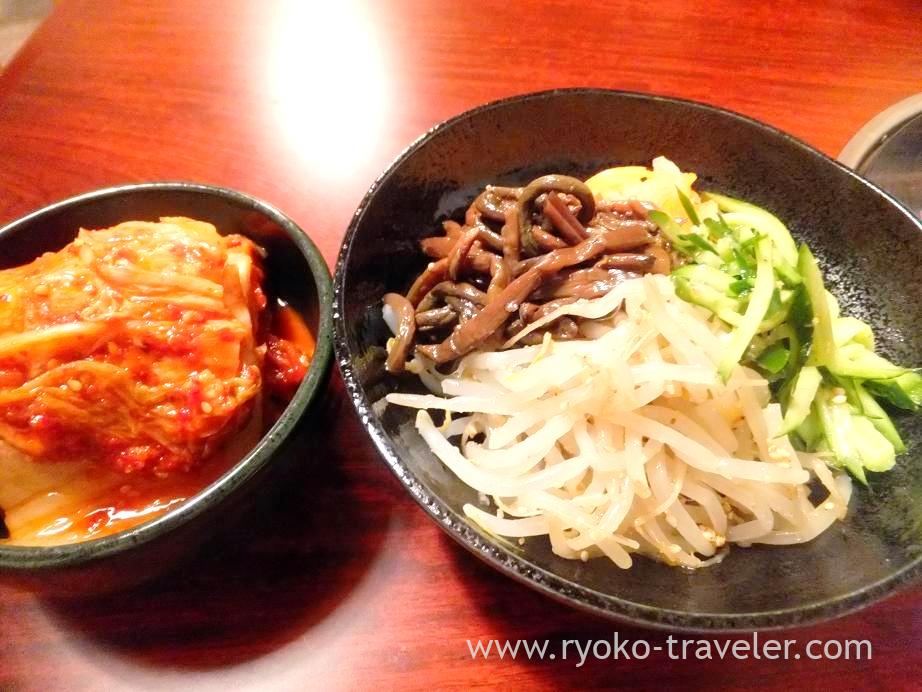 Grilling Yukhoe. (炙りユッケ, 1600 yen)
A bowl of raw minced meats on foil and a dish of a raw yolk separately.
My friend mixed the raw minced meats and the egg.
This was a long absence since I had eaten yukhoe.
I had often bought yukhoe at supermarkets before the incident occured in 2011 🙁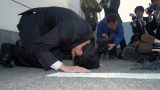 Concerns, Questions Mount in Fatal Raw Beef Case
Authorities raided the headquarters of a barbecue restaurant chain operator and a wholesale distributor connected to an outbreak of E.coli food poisoning that h...
Chu – Tanshio (salted ordinary beef tongue) (中タン塩, 1500 yen)
These slices of salty beeftongue were thinly sliced but these were chewy and fatty.
Diaphragm (ハラミ, about 2000yen) and Tanshio(salted superior beeftongue) (タン塩, 2700 yen)
Slices of diaphragm close to me were so thick, and took a lot of times being grilled.
I couldn't wait. I wanted to eat soon 😛 These were thickly sliced, but these were soft and juicy.
Tanshio was thicker than chu-tanshio. Jellylike meats 🙂
I hadn't eaten such a fine quality beeftongue until then.
Tanshio and chu-tansio were widely different from each other.
Both of them were tasty. It is hard to say which was better.
Galbi (カルビ, 1450 yen) and Loin (ロース, 1400 yen)
The loin was good 🙂
Tamago soup (Eggs drop soup)(玉子スープ, 400 yen)
Simple soup, at a glance.But This eggs were extraordinary.
It looked like velvet and it had smooth texture.
The more I looked at it, the more it looked like yuba.
Holiding with my chopsticks didn't cut the eggs.
Kalbi gukbap. (カルビクッパ, 800 yen)
It was a pungent peppery soup. The soup had delicious flavor of much vegetables, mushrooms and meats in it.
Every dishes were really good 🙂
Though there were smokeless roasters in the restaurant, my eyes smarted.
Because my face was too close to it when I watched doneness of diaphragms , maybe.
Actually, my face was heated 😛
About Seiryuen (静龍苑)
Address / 2-14-5 Morishita, Koto-ku, Tokyo
Station / Morishita station (Tokyo metro)
Open / 17:30 – LO 21:00
Saturdays / 17:00 – LO 21:00
Closed / Wednesdays