Though it was warm…we had oden 🙂
wanted to eat oden before getting completely warm. So, we went to the restaurant that is popular as good oden and soba.
Kingyoya
But unfortunately it was warm that day 😛
The restaurant stands on such a dark street nevertheless it is close to the station.
The restaurant have so much varieties of Japanese sake. They really have so many kinds of Japanese sake, so I recommend "Comparing taste set"
It can be choiced three Japanese sake from all kinds of Japanese sake on the menus.
If you don't know Japanese sake very well, they choiced three Japanese sake for guests.
I don't know Japanese sake well, too. So, anyway, I choiced my three sake from Nagano prefecture 😀
From left to right, Toyoka(豊賀), Sawa-no-hana(澤の花) and Saku-no-hana(佐久の花)
Everything had good flavor and those were very good.But I like Saku-no-hana best 😀
Otoshi (Appetizer) was mekabu seaweed.
The restaurant isn't izakaya, so unless you order any alcoholic drinks, waiter don't serve the otoshi.
Grilled miso with whole buckwheat seed (焼きみそ) 390 yen
Lots of buckwheat seeds on the miso.
Nukazuke (自家製ぬか漬け) 400 yen
Potherb salads (香味野菜のサラダ) 400 yen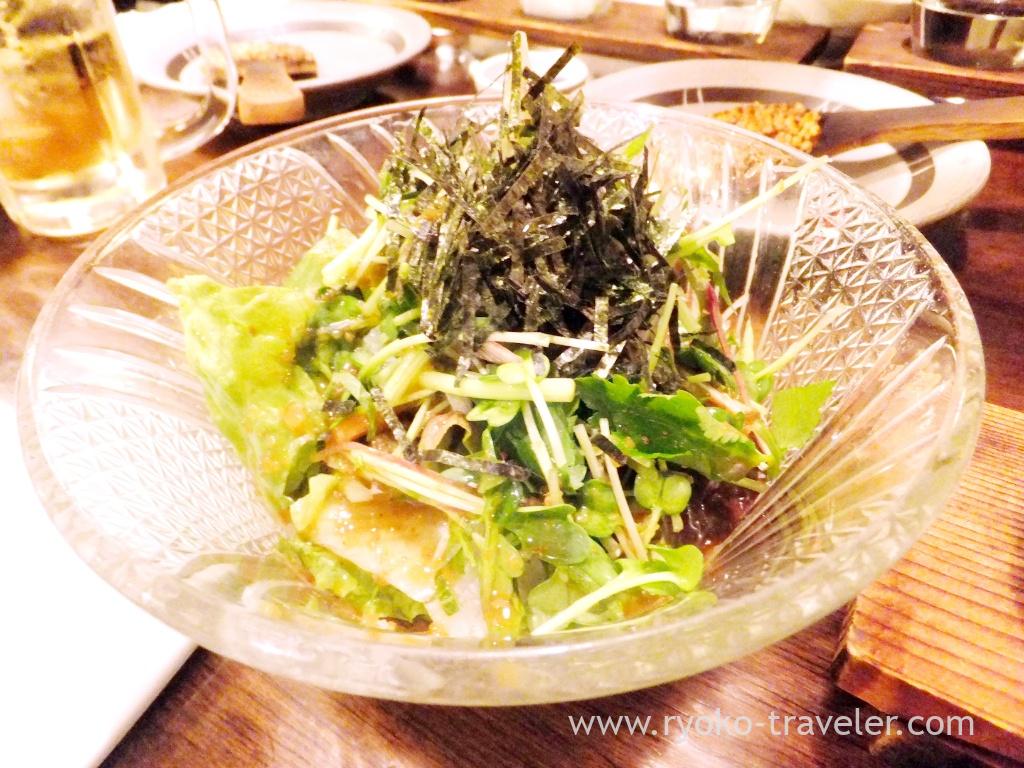 Beef tendon stew (牛すじの煮込み) 420 yen
It was simmered until those meats are soft 🙂
Karaage (鶏の唐揚げ) 380 yen
This karaage was dressed with soba powder. The coating was very soft.
Vinegared mackerel (しめさば) 600 yen
It was vinegared lightly. I like it.
Batman (バットマン) 450 yen
At first, I thought that what's batman ? When the dish came, I understood that batman is simmered pork with soy sauce 🙂
Today's bone senbei (今日の骨せんべい, 150 yen)  and Baby conger eels (のれそれ, 400 yen)
Grilled cream cheese with saikyo miso (チーズの西京漬け, 280 yen), broad bean with brown sugar (黒糖空豆, 150 yen) and cream cheese with pickled fish innard (クリームチーズチャンジャ, 270 yen)
I had never seen cream cheese with saikyo-miso. Saikyo-miso is sweet white miso bean paste made in Kyoto.
I know mostly saikyo-miso is used for seafoods.
Well, we went to there for eating oden. We never forgot.
Daikon radish oden (大根おでん, 130 yen), Egg oden (たまごおでん, 130 yen) and Beef tendon (牛すじ, 200 yen)
Raw bean-curd skin oden(生ゆばおでん) 250 yen
I didn't eat it, but it looks tasty… 🙂
Mentaiko oden (明太子おでん, 200 yen) and Japanese yam oden(大和芋おでん, 200 yen)
Mentaiko ! My delight seafoods !
Though it was warm climate, we enjoyed oden to the full 🙂
Last, we were already full, but we ate soba 🙂
Soba with pork (肉そば) 600 yen
Its soup had chili oil in it.
Soba with pungent taste daikon radish (辛味大根そば) 600 yen
I like pungent taste daikon radish. I like stronger taste than it.
About Kingyoya (金魚屋)
Address / 5-1-5, Honcho, Funabashi-shi, Chiba
Station / Funabashi station (JR)
Open / 17:00 – 24:00
Fridays / 17:00 – 26:00
Saturdays / 15:00 – 24:00
Sundays / 16:00 – 22:00
Closed / no scheduled