When I was asked by someone, "What is the No.1 sashimi bowl in Tsukiji at lunchtime ?", I'll definitely answer, "Kashigashira !". Kashigashira's sashimi bowl is splendid !
Where ?
Kashigashira is on the B1F of the building located along Harumi street.
They are open from 11 a.m. to 2 p.m. (Last Order). They are closed on Sundays.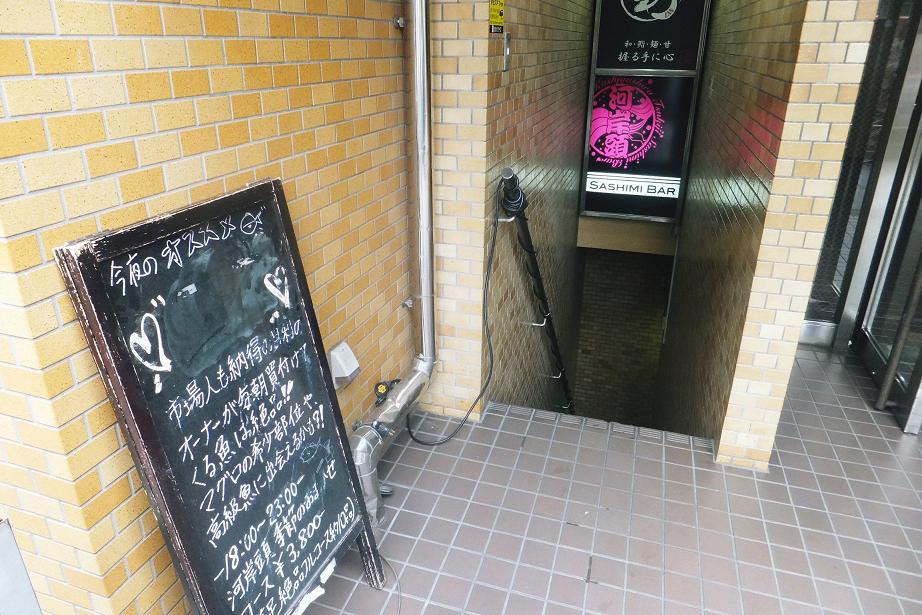 Kashigashira is sometimes featured by TV and magazines.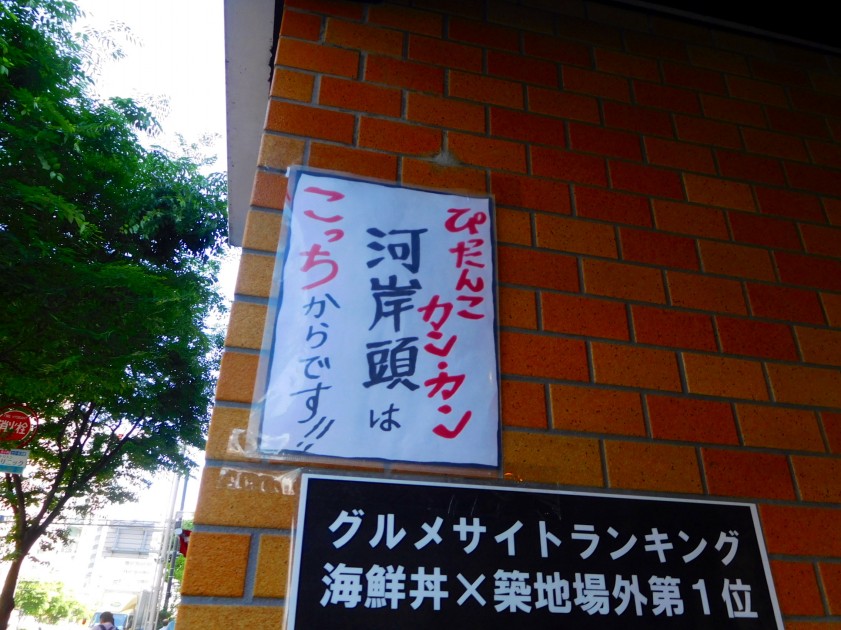 There's a branch named "Kabuki Maguro" in Ryogoku and also it was featured by the popular foodie magazine named "Otona no Syumatsu".
They put seal having "Kashigashira (河岸頭)" on the name of Kabuki maguro :p Well, they serve same sashimi bowl 🙂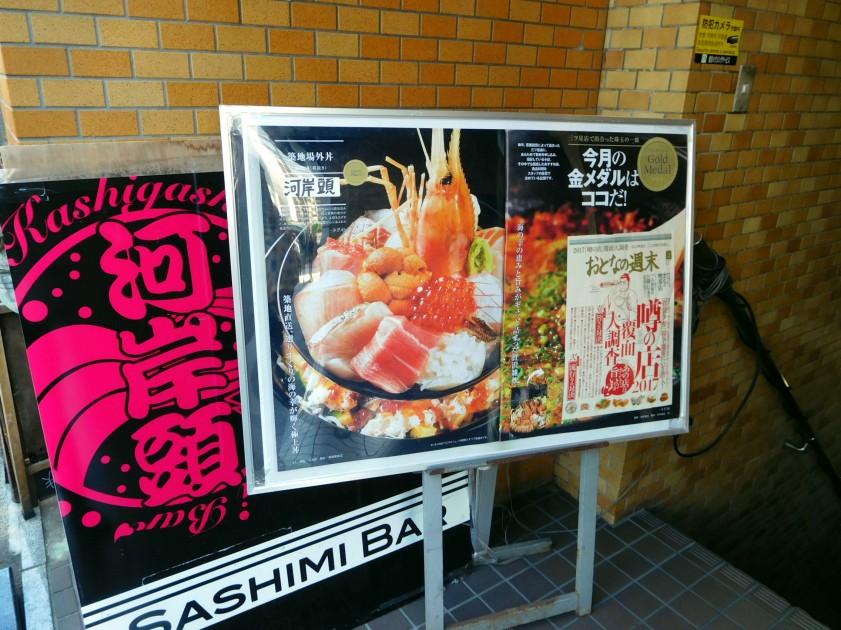 Their most popular sashimi bowl is this 2-storied sashimi bowl. It's named "Tsukiji Jyogai Don". This gorgeous sashimi bowl is sometimes featured by TV and magazines. But I haven't eaten this yet.
One of the reason is too much for me. But main reason is that I'm enough satisfied with normal sashimi bowl (2200 yen) in its looking and the quality of seafood.
Sashimi bowl
This is normal sashimi bowl (海鮮丼, 2200 yen).
They change seafood according to the season.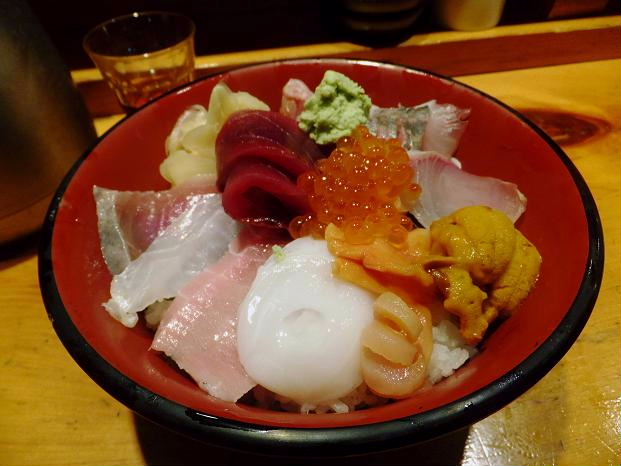 Less rice. Rice can't be seen.
Brilliant. It's like jewelry !

Kashigashira's sashimi bowl have plenty of slices of sashimi, so I think it's rare that you leave much rice.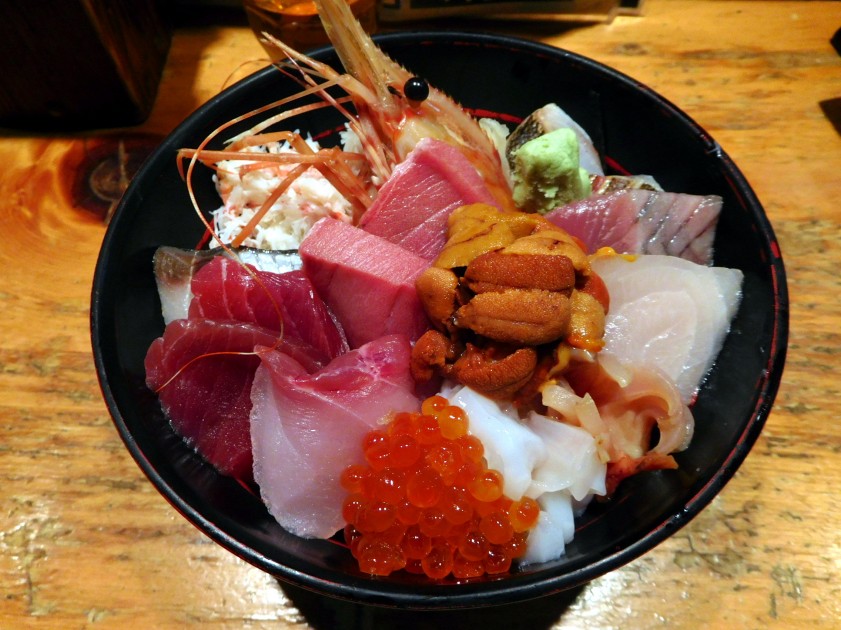 Sometimes such fresh sea urchin was put on it 🙂
Tuna-centric bowl
I love tuna-centric bowl (まぐろづくし丼, 1650 yen) as well as sashimi bowl.
Lean meat of tuna (akami), fatty part of tuna (toro), diced tuna(butsu), leftover fresh on the spine of tuna (nakaochi) and marinated tuna was put on the rice. (Grilled tuna on it is needed extra fee). I think it's really inexpensive. Those were cut thickly, so we can enjoy the texture of tuna.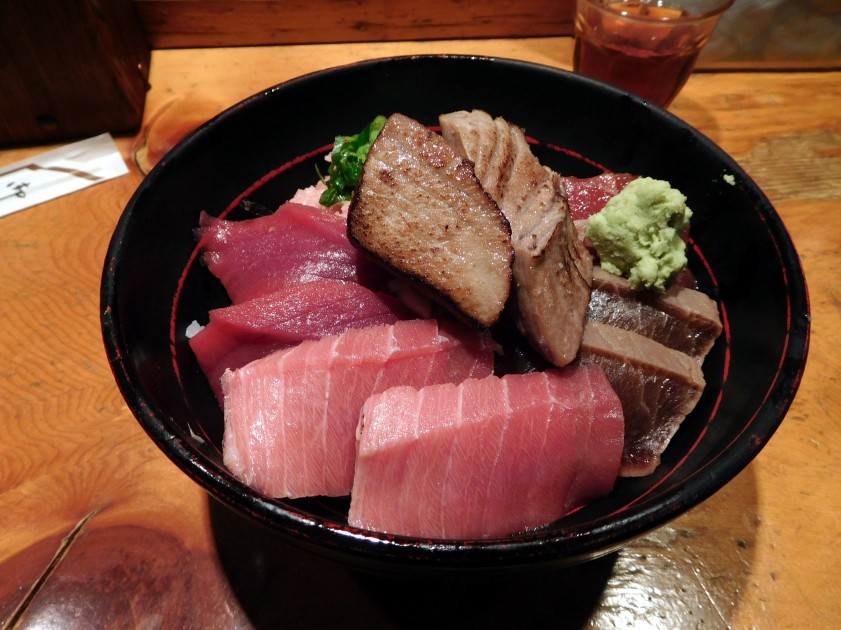 Raw baby sardines bowl
And another sashimi bowl that I highly recommend is it. Raw baby sardines bowl (生しらす丼, 1100 yen). But I rarely meet it. When they fresh raw baby sardines in stock, they'll say "We have raw baby sardines in stock today !".
If you hear it, I recommend you order it.
Of course, raw baby sardines can be ordered without rice 🙂
* tuna on this photo was not included in the bowl. It needed additional fee.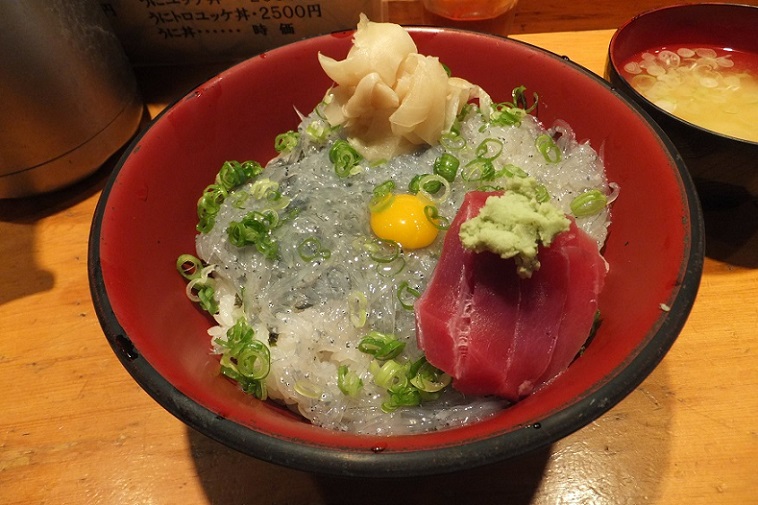 Kashigashira buy raw baby sardines from specific wholesalers only. So, if they can't get good raw baby sardines from the wholesalers, they don't serve it even though during its best season.
So, Kashigashira's raw baby sardines are so fresh. Its bitterness and flavor is awesome.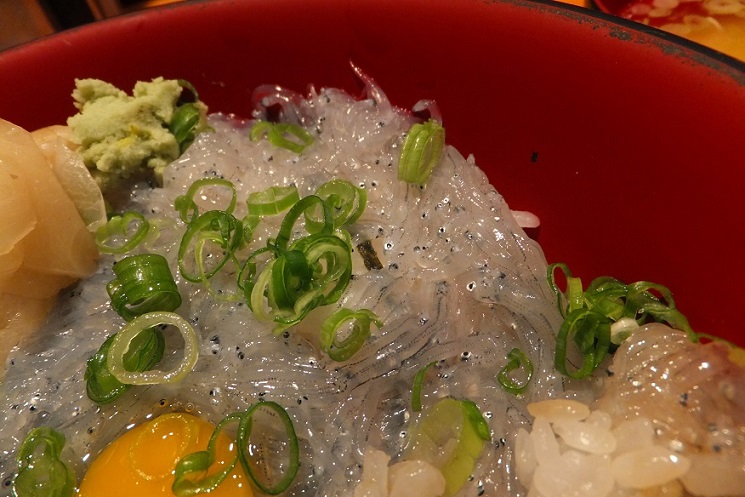 I really recommend it.
They serve raw baby sardines at dinner time when they can get.
Yukhoe bowl
If you like sweet marinated tuna and much greenonion, Yukhoe bowl (ユッケ丼, 1650 yen) is one of good choice, I think. It have marinated tuna with yukhoe sauce, and also it have slices of fresh tuna on the bead of green onions.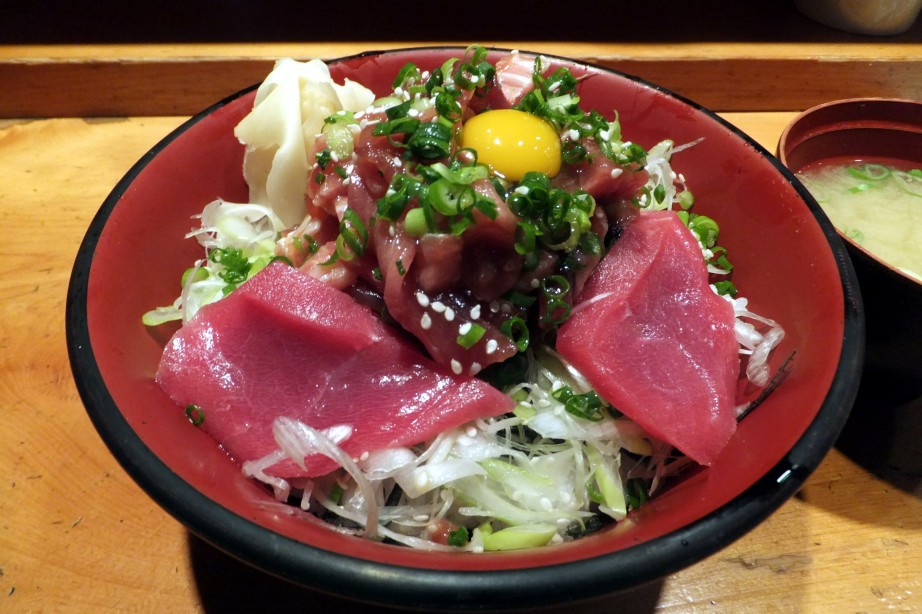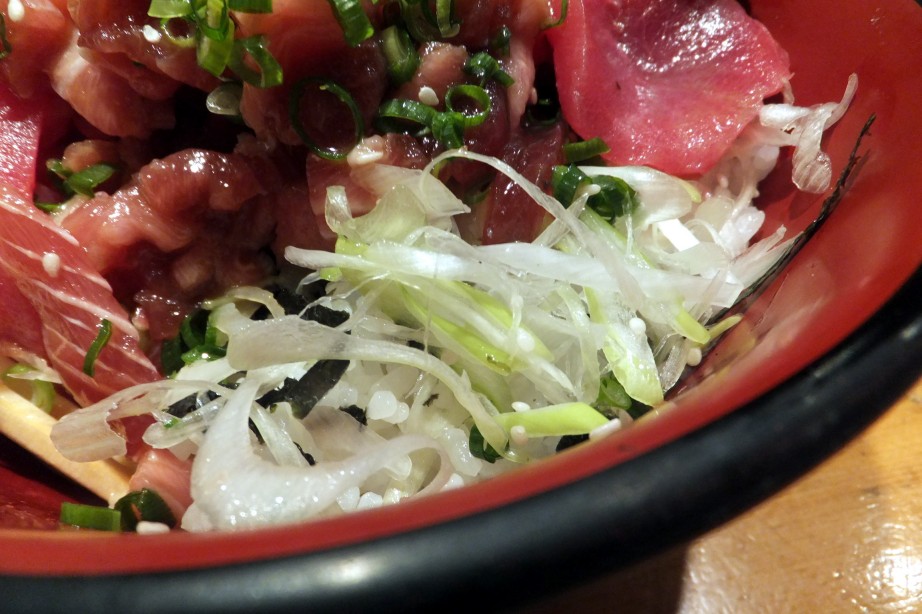 Hokkai bowl
I always eat sashimi bowl or tuna-centric bowl, so I rarely eat another sashimi bowl. But this Hokkai bowl (北海丼, 1760 yen) is delicious, too.
Hokkai means "Hokkaido". Yes. This bowl have Hokkaido's specialty, salmon, salmon roe, crab, scallop.
*Grilled tuna from Oma was put on the photo (with extra fee)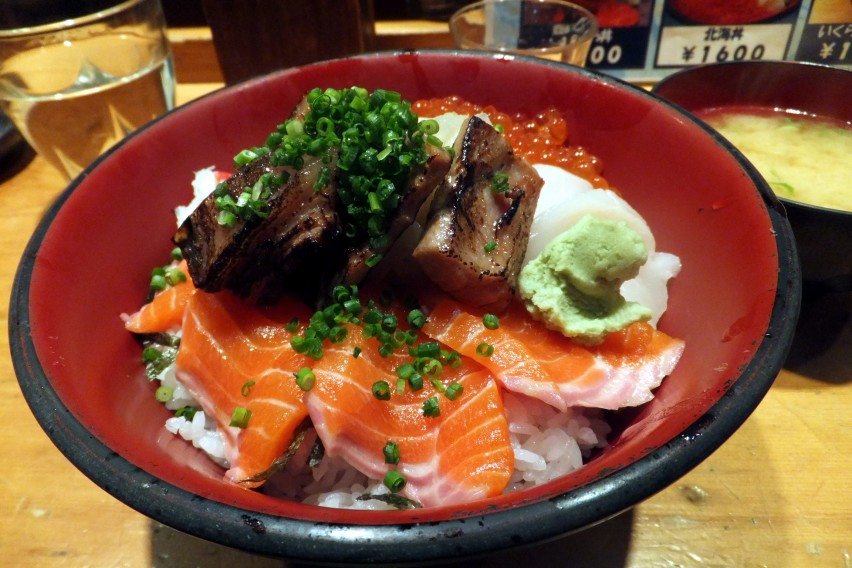 It's good sashimi bowl to enjoy the tastes of Hokkaido.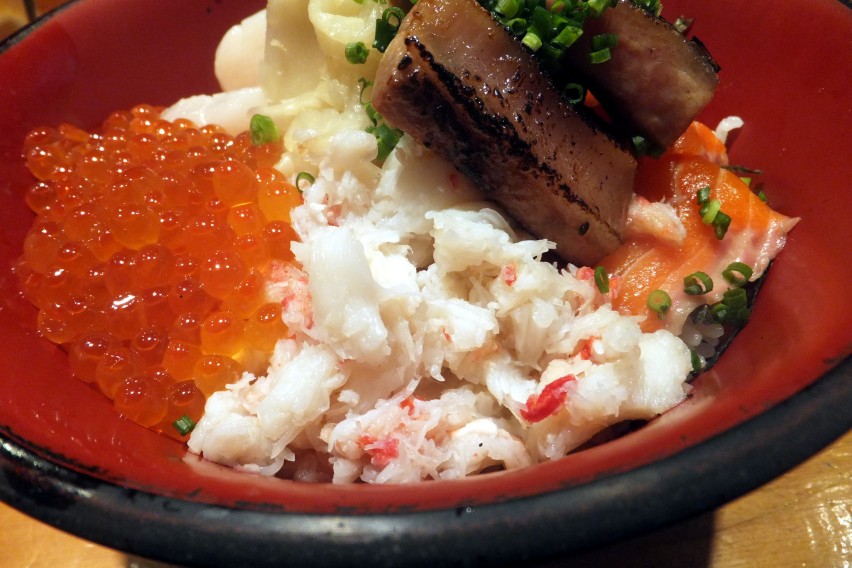 Another inexpensive bowls
What I recommend on this post is rather expensive on their menu.

They have more inexpensive sashimi bowl, for example marinated tuna (漬けマグロ丼) and salmon bowl (サーモン丼) cost 1100 yen, Tokubutsu-don (得ブツ丼) that is weekdays limited sashimi bowl cost 660 yen.
It's troublesome a bit. Kashigashira's menu exclude consumption tax and it don't have tax-included price. It's troublesome every time because I don't want to calculate with full stomach.

But I want to prepare cash to pay before leaving seat at lunchtime while working. I need to hurry to my office. So, I want tax-included menu. (round-up is no problem)
Well, those price on this post was tax-included.
About the restaurant
Name in English / Kashigashira
Name in Japanese / 河岸頭
Address / Lions Mansion Higashi-Ginza Bldg B1F, 4-12-2 Tsukiji, Chuo-ku, Tokyo
Phone / 03-6383-4597

Open / 11 a.m. – 2 p.m., 6 p.m. – 11 p.m.
Closed / Sundays

Reservation / Available for dinner time only (
Hotpepper)
Credit card / Unavailable
Smoking / Not permitted
URL / Website, Twitter, Instagram