Onsen and seafood at Atagawa onsen
This is a sequel of past article about my trip to Izu.
http://www.ryoko-traveler.com/izu2015plumblossoms-2/
We stayed at Izu Atagawa that day.
Atagawa is one of my favorite onsen district and I visited there several times.
Our hotel was Atagawa Yamatokan that is popular as comfort open-air bath.
Our room was large. Though we stayed without meals, we enjoyed good onsen, comfort open-air bath and also we could see such a beautiful sunrise. But the price was only 6000 yen because of their special offer during limited season. That's very inexpensive !
By the way, when I stayed at onsen ryokan, first of all, I take bath. And before dinner, after diner, before going to bed. And next day, just after waking up, before breakfast, before check out. First day I take bath four times in all and next day three times in all at least.
Yes, my body looks all puckered 😛
We checked out just before the check-out time, and then we went to Izu no Ajidokoro Nishiki that is so popular izakaya in Izu Atagawa.
We were looking forward to eating lightly minced horse mackerel bowl like tower that is so popular food !
Once I ate it and it was so delicious and amazing appearance.
OH my !!!!!
"We have no horse mackerel today"
I heard it is difficult to get horse mackerel recently because its cost is higher 🙁
They serve seafood bowls and large number of foods !

Pacific flying squid and salmon roe bowl (いかいくら丼, 2700 yen)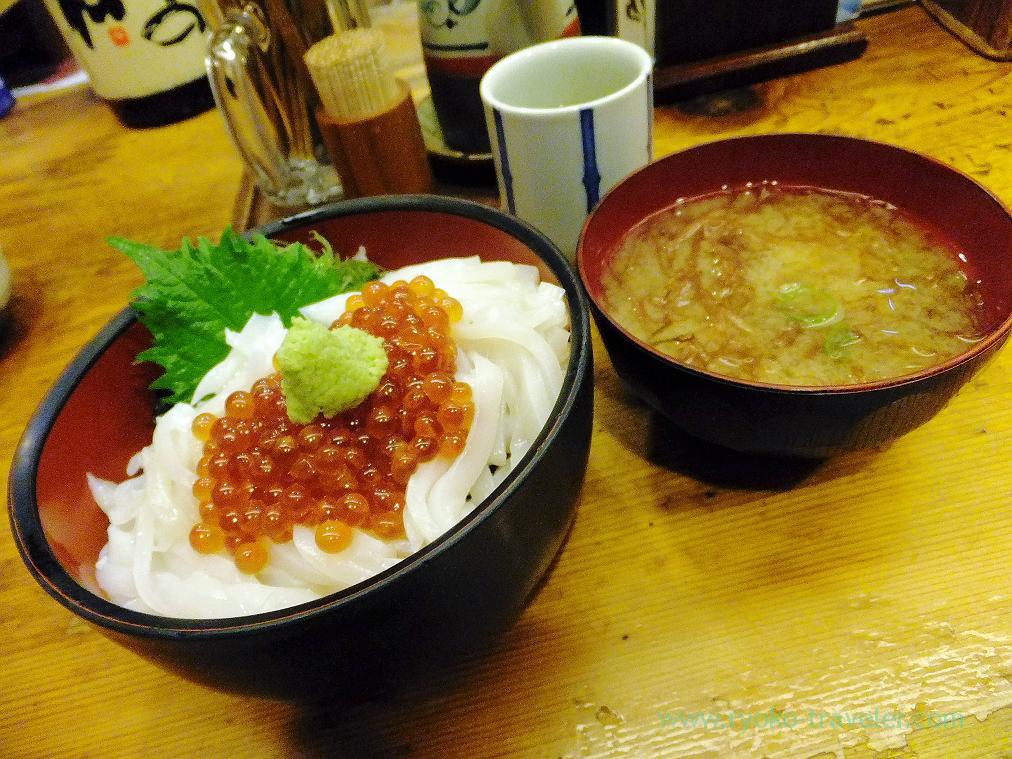 Sweet squid was good 🙂 Of course, the salmon roe, too.
My friend ordered this.
Seafood bowl (海の幸丼, 3025 yen). Everything without sea urchin was well marinated and he said it was a little salty.
Those were so fresh, so there's no need to season strongly.
We shared this.
Dried cold mackerel with salt (寒鯖の塩干し, 540 yen)
We can buy it to go withoug grilling
After that, we visited Zeniarai Benzaiten close to Nishiki.
It had hot Atagawa onsen source instead of cold water. We washed our coins with the onsen and prayed in mind that our coin going to increase 😛
But be careful with treating coins just after washing. That's too hot !
One day trip is too short. So I feel like going trip again soon !
About Atagawa Yamatokan (熱川大和館)
Address / 986-2 Naramoto, Higshi Izu-cho, Kamo-gun, Shizuoka
Station / Izu-Atagawa station (Izukyu)
One night with dinner and breakfast  / 10000 yen
Website / http://www.at-yamatokan.com/(in Japanese only)
About Izu no Ajidokoro Nishiki (伊豆の味処 錦)
Address / 971-35 Naramoto, Higshi Izu-cho, Kamo-gun, Shizuoka
Station / Izu-Atagawa station (Izukyu)
Open / 11:30 – 14:30, 17:30 – 20:30
Close / Thursdays
Website / http://www.izu-nishiki.com/(in Japanese only