Irie (いり江) was born in 1970 in Monzen-Nakacho. They are long-established kanmidokoro (Japanese confectionery cafe). I like their anmitsu and visit there often. But I didn't know the existence of strawberry anmitsu. Certainly, I seldom go in Winter.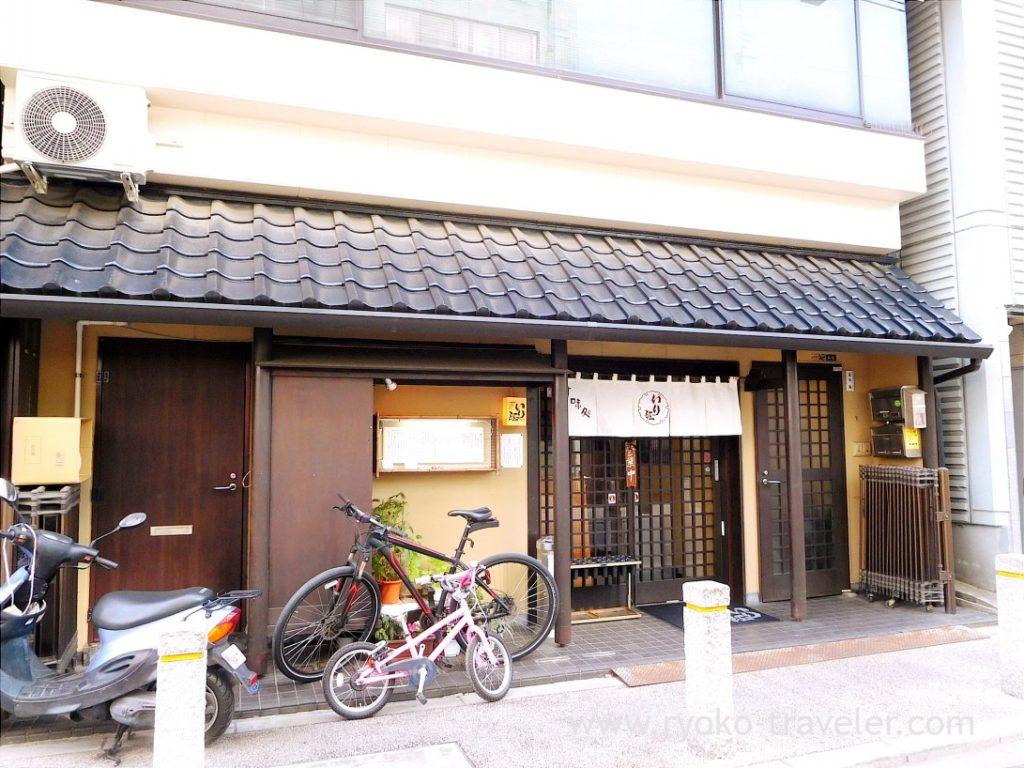 They are located along the street from the station to Tomioka Hachimangu shrine.
As soon as you enter the door, there's refrigerator to go on the left. If you want to eat in the shop, say "For Here" and they'll take you to the cafe.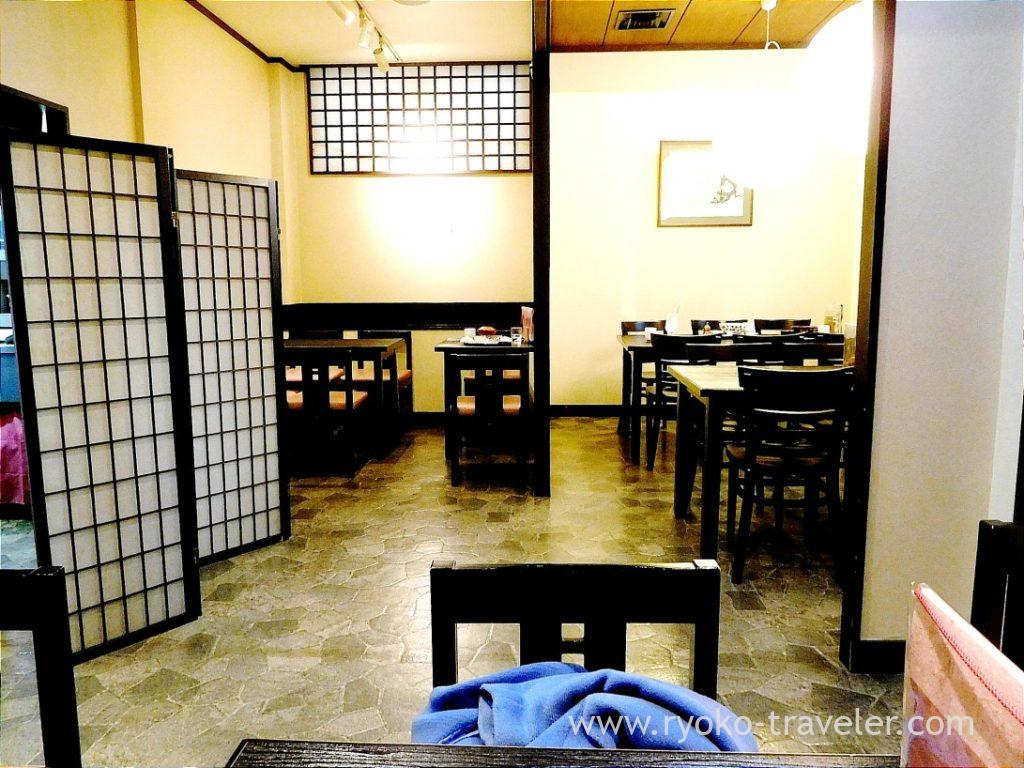 This is Winter-limited menu. Warm sesame kishimen and strawberry anmitsu. They have two types of syrup for anmitsu. Black and white. You can choose one. Of course, strawberry anmitsu, too.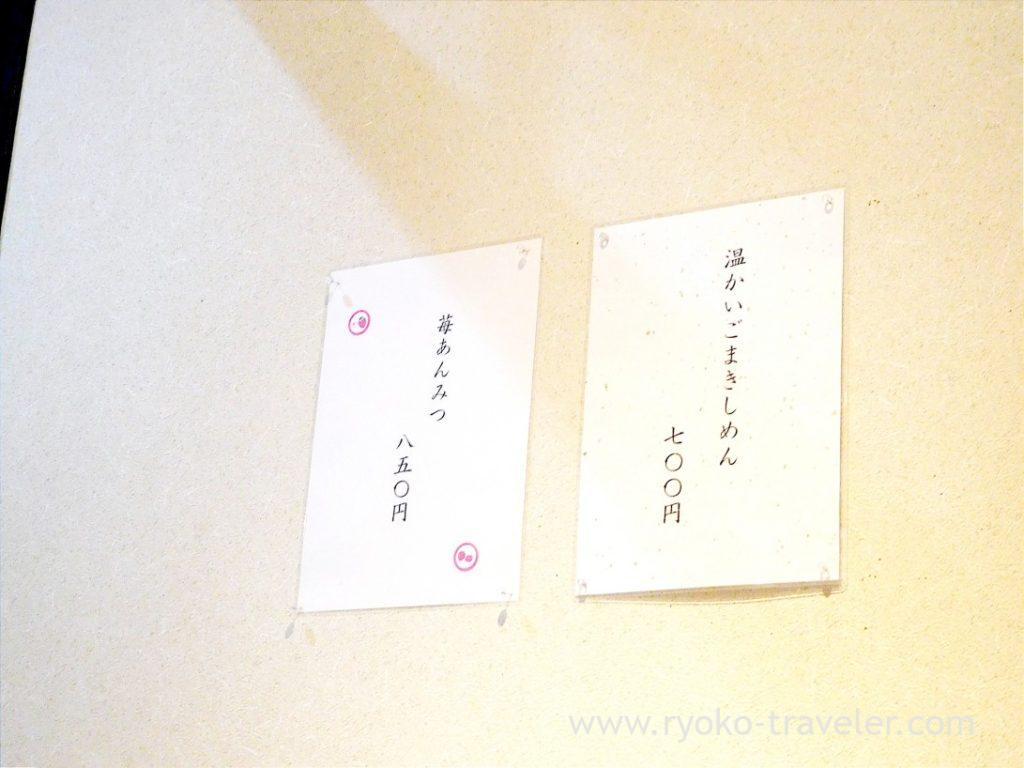 Strawberry anmitsu is winter-limited. It had much strawberries ! Cute. Half of the surface was occupied by half-cut strawberries. And cherry, smooth red bean paste (koshi-an), and gyuhi. It's photogenic. I felt happy to see its appearance only.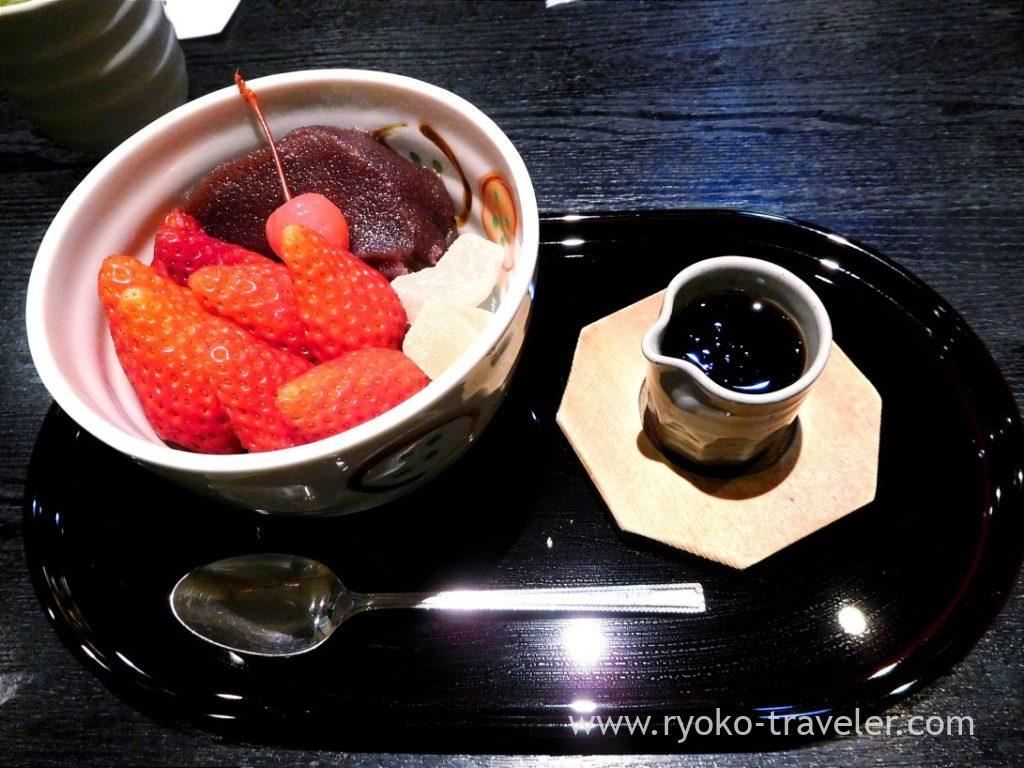 But of course, I ate and I felt happiness again. At first, I ate it without syrup. Sweet red bean paste and light sourness of strawberry is good friends. I always order shiratama at there, I forgot. I recommend adding shiratama to anmitsu.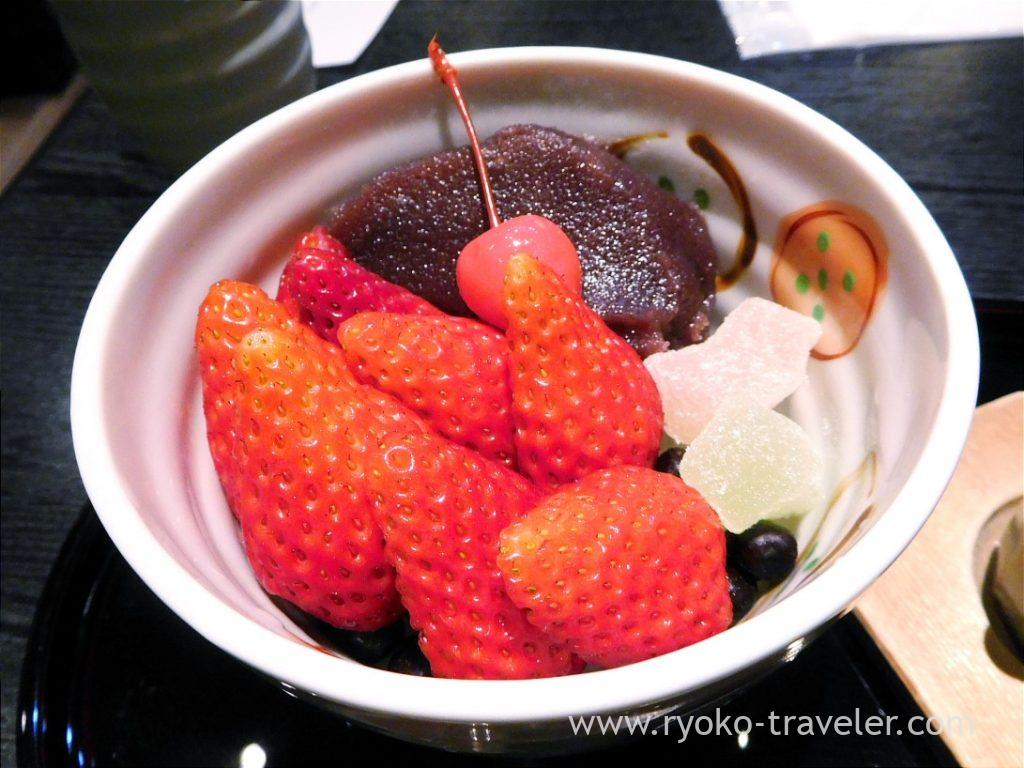 After a while, I put black syrup. This syrup was so flavorful. Delicious. Though it's sweet, it had light tastes. So, I can drink it up :p And agar-agar jelly made of agar weed from Kozushima island and Oshima island had springy texture and was good. The jelly went with the syrup well.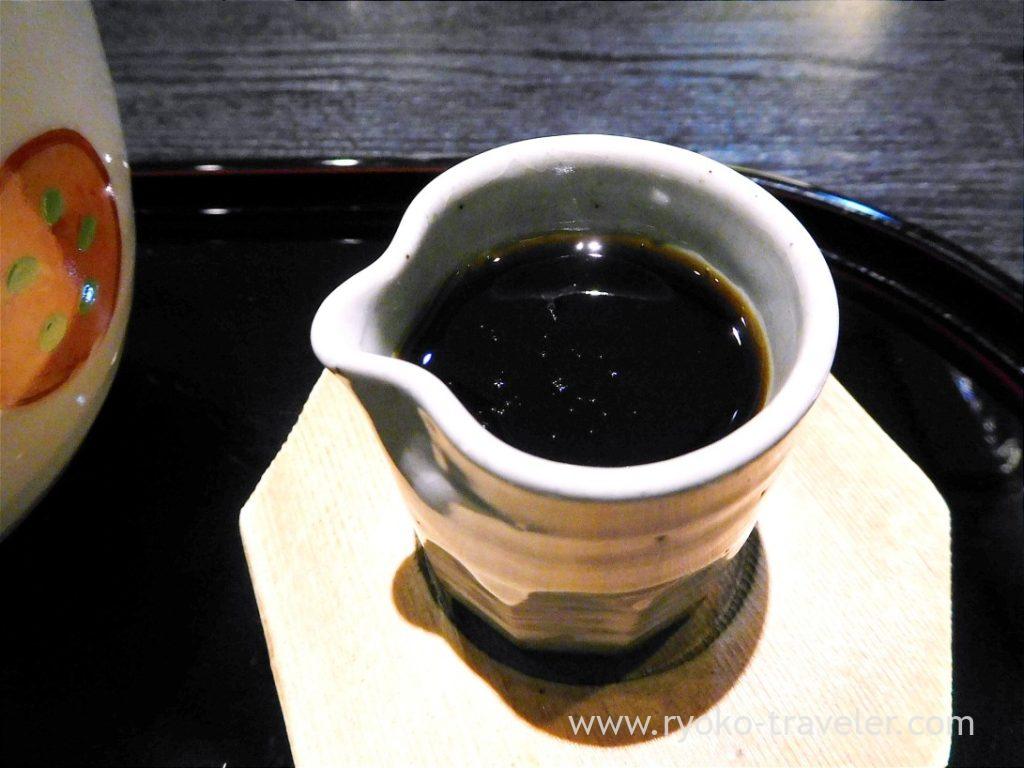 I love their syrup. So though I didn't put everything at one time, I used all syrup after all. I drunk it up with spoon 🙂 I like their anmitsu best all the same.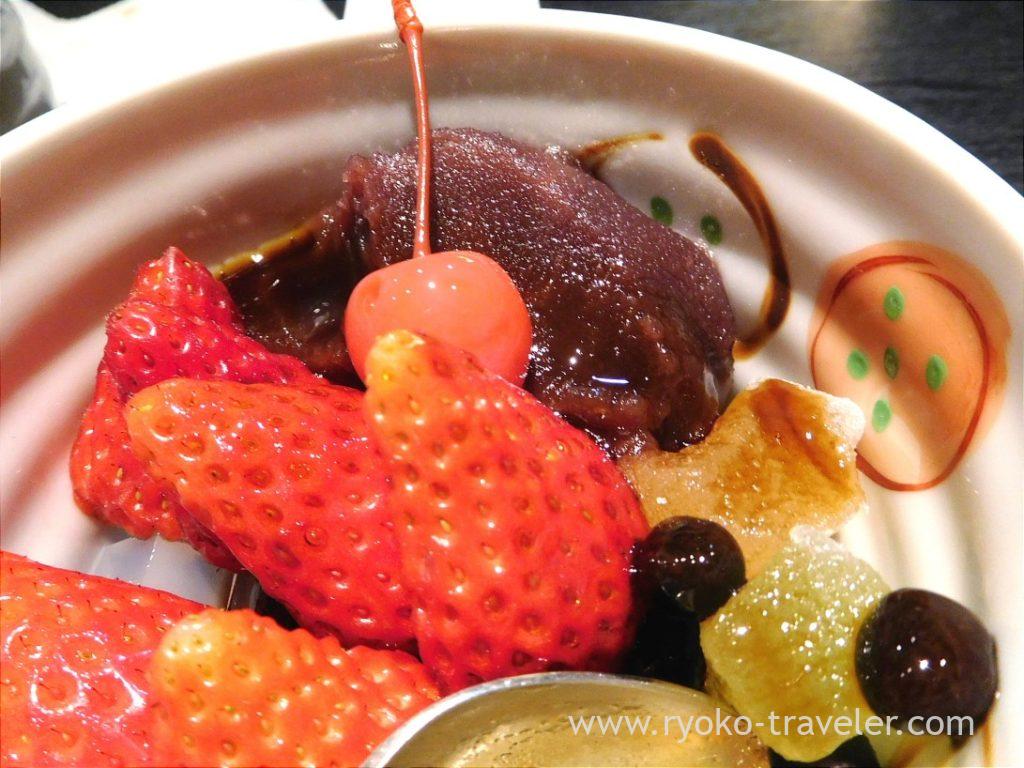 Summer-limited sweets is kakigori. In summer, there's a flag of kakigori outside. Because many people visit there for kakigori, they keep high-temperature in the shop. I visited there for anmitsu when it was a cool weather in summer, it was really hot in the room and gave up eating anmitsu. I ate kakigori after all.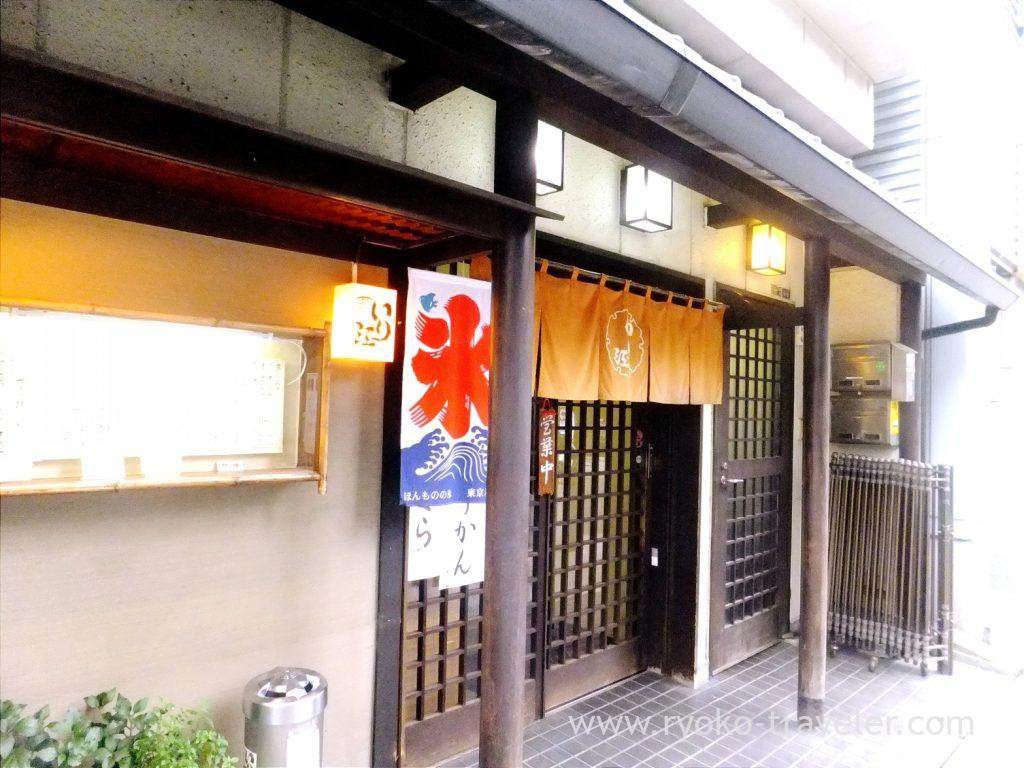 This is the kakigori with apricot and ice cream. Shaved ice had apricot syrup. And ice cream and syrupped apricot. It's on the standard menu. So, we can eat it each summer.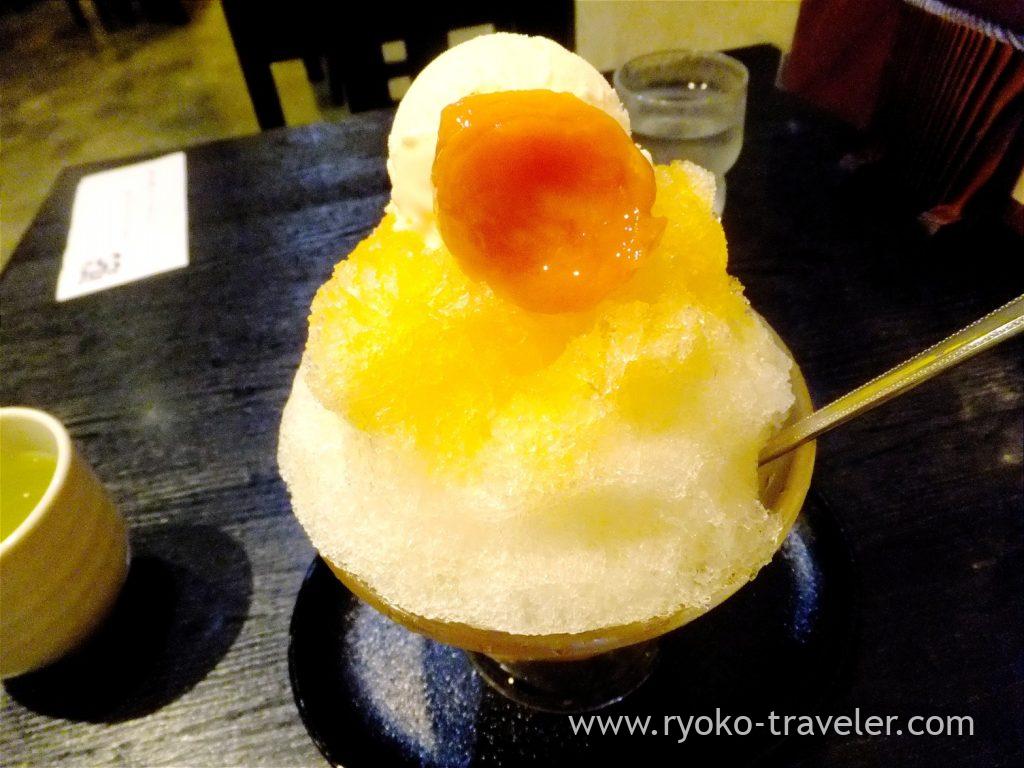 About

Name Irie (いり江)
Open Day through night
Reservation Unavailable
Credit card Unavailable
URL Website

Google Map