My exploring lunch spot was successful.
I'm just back from Osaka 🙂
I tried to upload post in Osaka, but I couldn't operate PC well because the environment wasn't good.
I'll post about this trip a few days later. Now, I wanted to post about my lunch before the trip.
I have lunch at Manzan in Makuhari-Hongo so frequently, but I wanted to explore another good Chinese foods lunch spot near my house.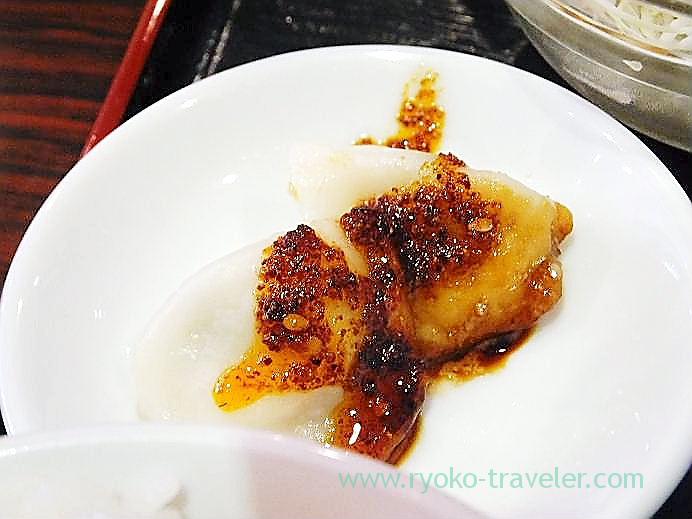 Makuhari-Hongo : Hot dandan noodles at Manzan

Best choice for having spicy foods. I felt like eating hot foods again (yes, I love very hot foods :P), so I went to M...


I knew Hui Tou that is popular Chinese foods restaurant is in Makuhari area.
So, I tried this restaurant 🙂
It's a little far from Makuhari station (10 minutes or so)
It's far larger than Manzan and the lunch party was held that time.
They prepare buffet table at lunchtime. There were about four foods on the table.
Salad, deep fried wonton and so on.
And all lunch set have dessert (almond jelly, that time)
Mapo tofu that is my delight is, of course, on the lunch menu.
We ordered more spicy one, but it wasn't so hot, but it tasted good 🙂
Extremely spicy mapo tofu (激辛麻婆豆腐, 880 yen)
Tantanmen noodles (担々麺, 880 yen)
Noodles have rice. Also it wasn't hot. But its creamy soup was good. The soup went with rice well.
This week's rice in earthernware pot (今週の土鍋ご飯, 880 yen).
Fried beaten egg, green peas and chili sauce on the rice.
When I want to eat something spicy foods, I'll go to Manzan that is a Sichuan foods restaurant, but when I want to eat something mild Chinese foods, I'll go to this Hui tou 🙂
About Hui Tou (回頭)
Address / Yuwa bldg 1F, 5-417-111 Makuharicho, Hanamigawa-Ku, Chiba-shi, Chiba
Station / Makuhari station (JR), Keisei Makuhari station (Keisei Chiba line)
Open / 11:30 – 15:00, 17:30 – 22:30
Closed / Tuesdays