Speaking of souvenir of Ginza, we remember leaf pie of Ginza West is the best choice as luxury confectionery. Though I haven't eaten that, I sometimes go to Tearoom of Ginza West (銀座ウエスト喫茶室) to eat cake. Gina West Tearooms is faced with large street in Ginza and there's show case having leaf pie and cakes along the street. Everything looks yummy.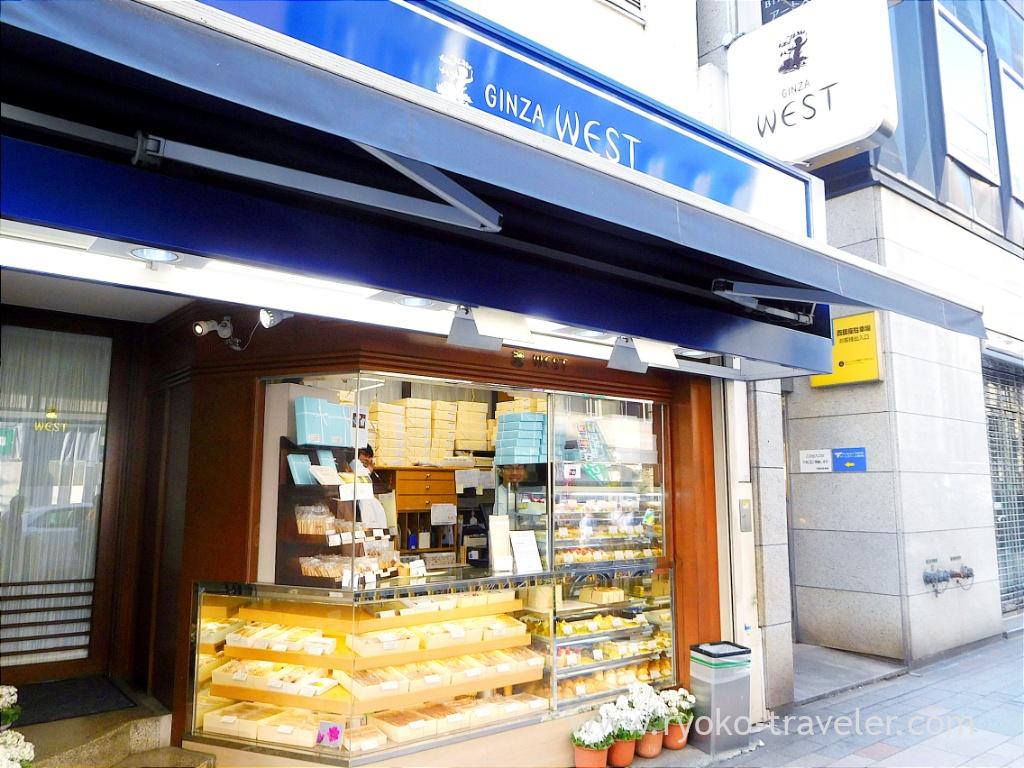 They are a head shop of Ginza West. All cakes (including cream puff) can be eaten in the tearoom. I always decide my cake before entering the shop. But of course, we can decide our cakes inside the shop. They have samples of all kind of cakes in stock.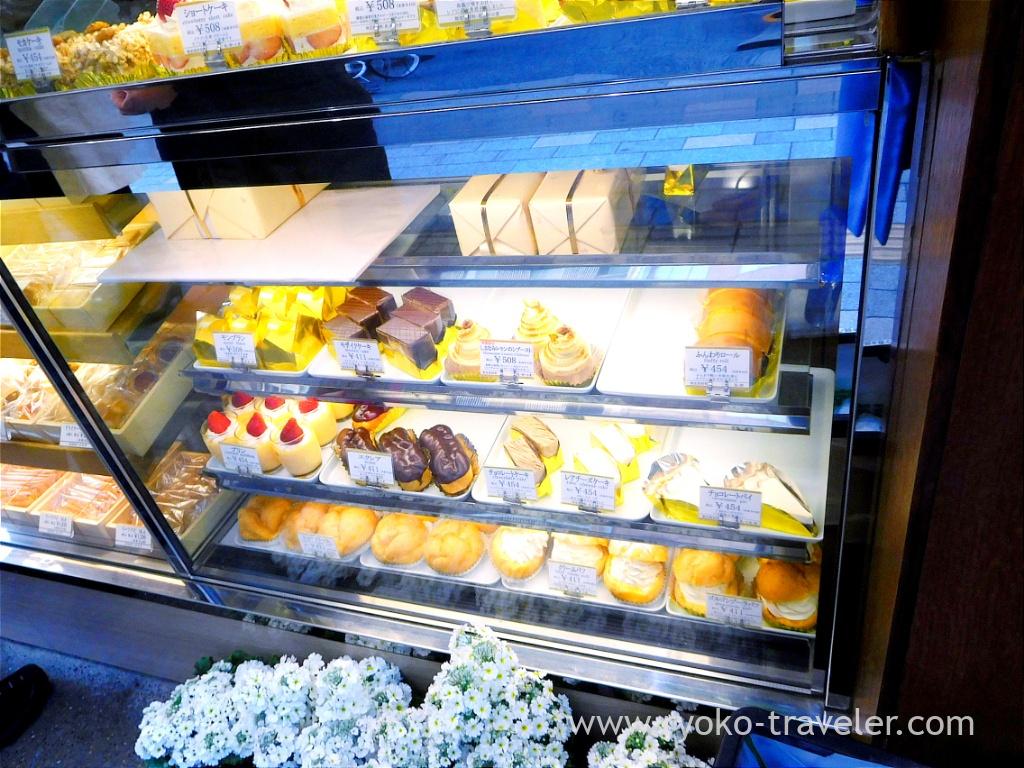 Menu of tearoom. Tax included. They offer cake set (cake + drink) with price of cake and extra 324 yen.
Juice
Dessert menu inside the tearoom only. Those can't be taken away. Especially, Millefeuille is so popular, so I can't meet it everytime because I always go to there in the evening.
Sandwich-sentric meals menu.
There's no cake menu. If you say to the staff, "I want to order cake", they bring the sample (real cakes) on the tray. The interior is based on white and brown. It's chic and retro. There're tables having two seats or four seats. Basically they lead you to the largest vacant table even if you are alone.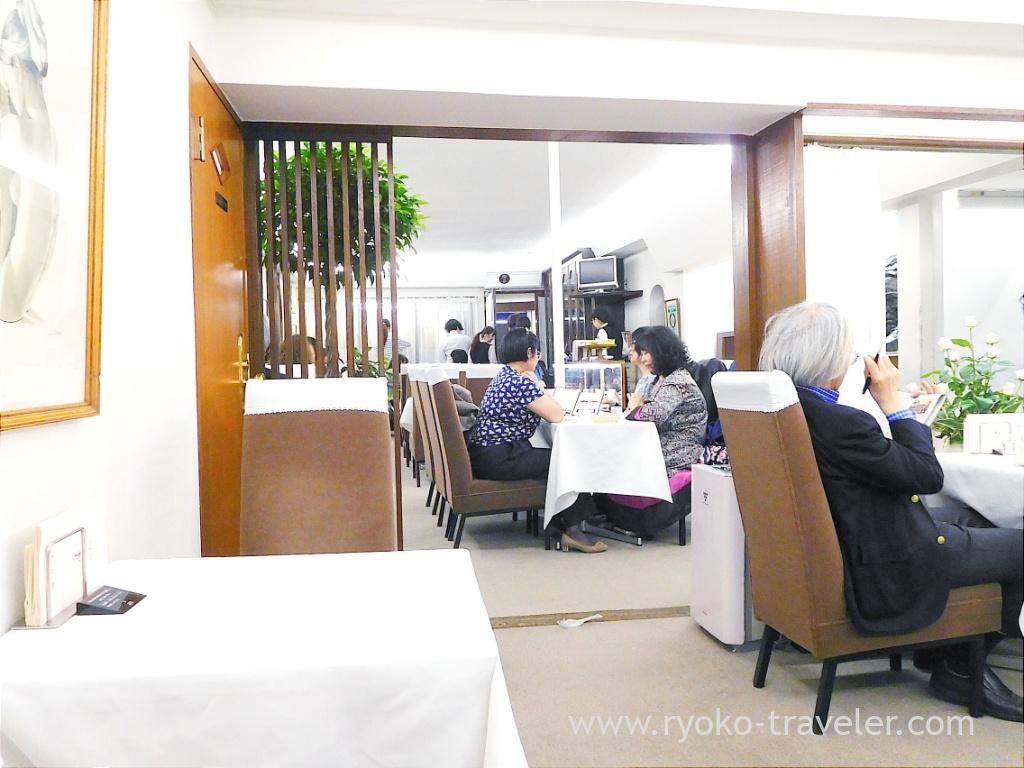 Ginza West is born in 1947. The interior of the head shop hasn't changed a lot. Many young people visit on weekends, but if you go to there in the evening on weekdays, you may be surprised at different atmosphere because there are many older people. Now tremendous number of young people and many tourists from all over the world gather Ginza, Ginza is a city of rich adults for decades ago. So, if you go to there at evening on weekdays, you can feel old Ginza 🙂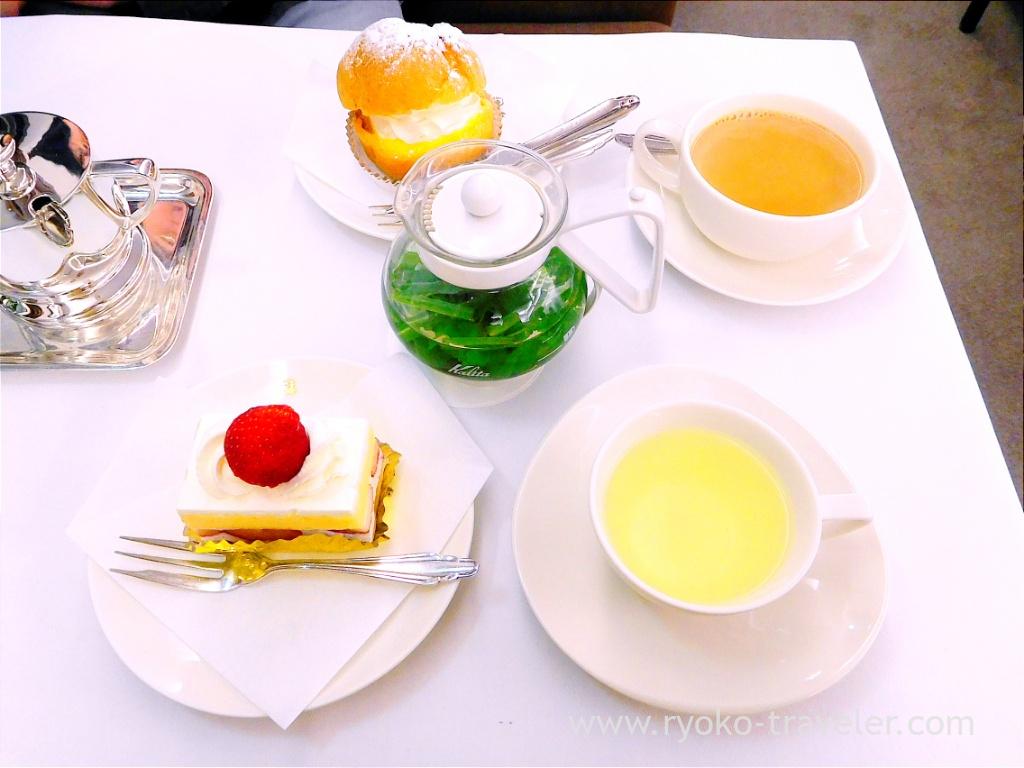 Cream puff have smooth whipped cream. The outside of the puff is crisp but another part is soft. They serve knife and folk for cream puff. This was the first time to eat cream puff with knife and folk ! I had no idea how to cut it. Though I had cream puff having whipped cream, they have gorgonzora puff, custard puff and so on.
This is Strawberry sponge cake. This is named "Shortcake" in Japanese. But it's not right in English ? It's limited cake. It's normal short cake having soft sponge cake, milky whipped cream and simple strawberries. This reminds me the words. "Simple is the best". Strawberries between the sponge is large, too.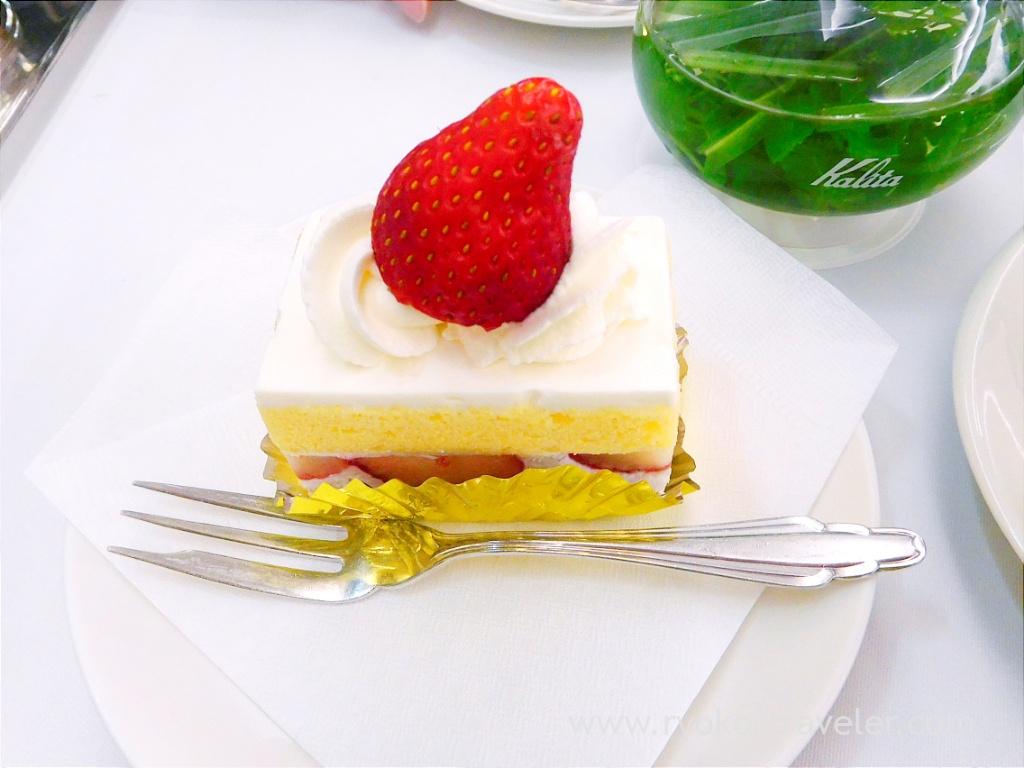 Most drink cost around 1000 yen. Coffee and tea have free refills. But this fresh herbal tea is served in the pot. The herbal tea have lemon balm, spearmint and lemon grass. It have refreshing tastes. I can drink it for a long time. It's good for cakes !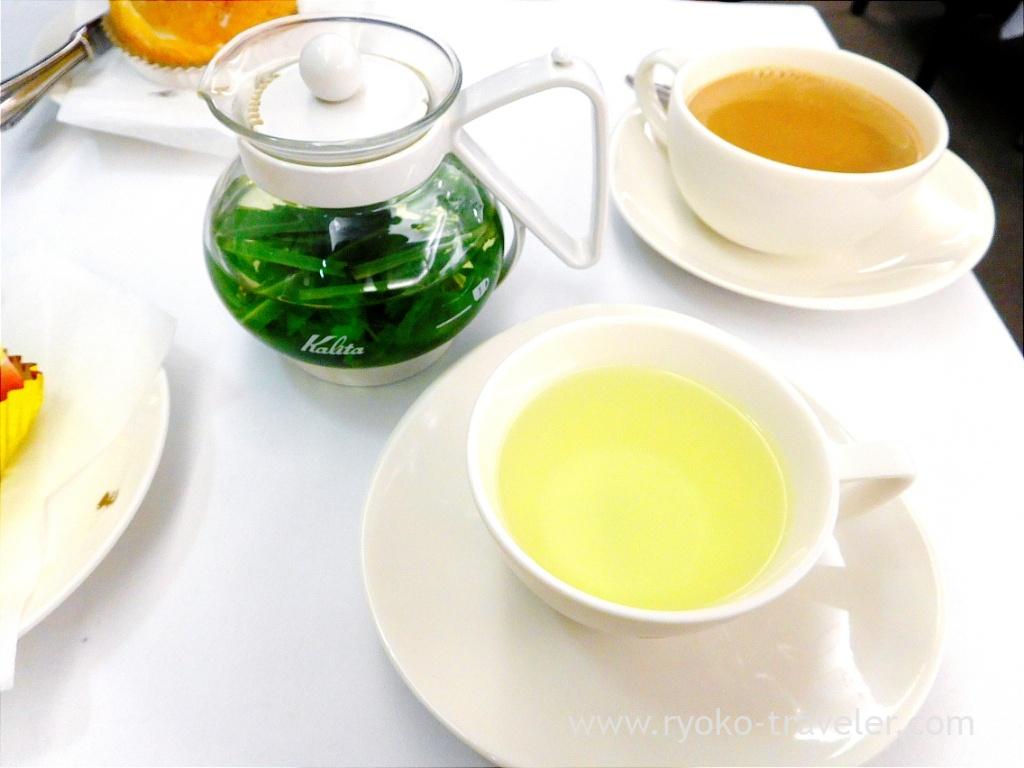 Recently I'm in mood for cream soda that isn't green color. Their cream soda is white. It looks like probiotic drinks ! The soda don't have artificial colorants. The soda don't have sugar. So, they serve it with syrup. I didn't pour syrup into the soda at first because it have ice cream. But the ice cream wasn't too sweet. So, I added much of syrup into the soda after all.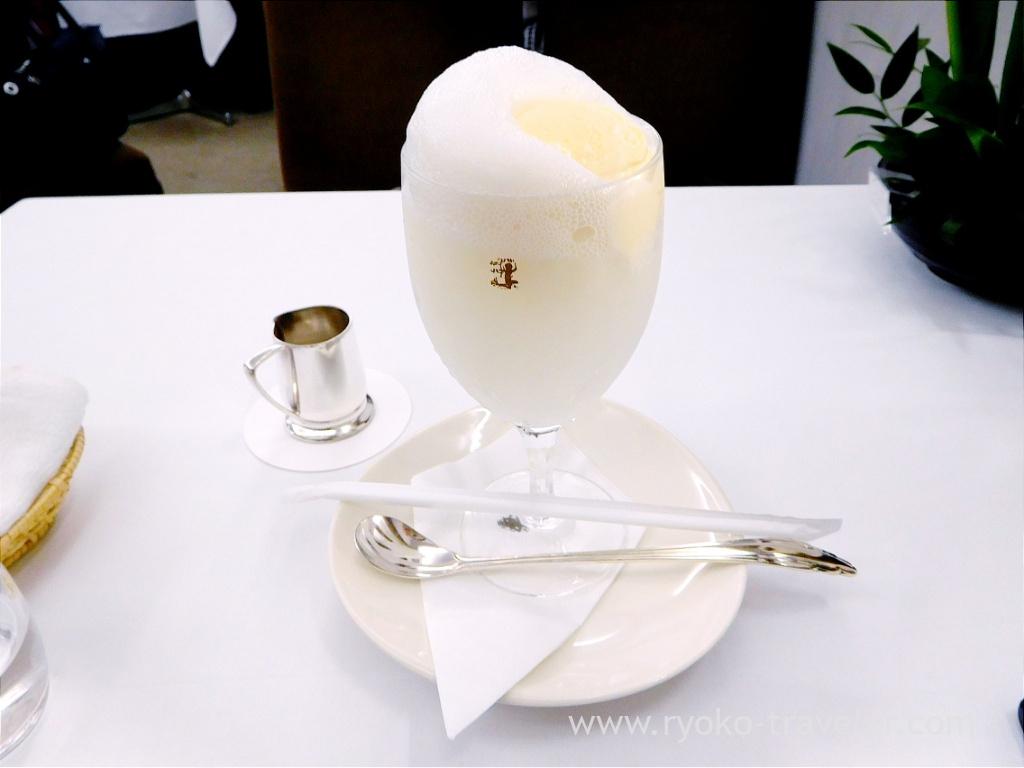 About

Name Ginza West Tearoom (銀座ウエスト喫茶室)
Open Morning through night
Reservation Unavailable
Credit card Available
URL Website / Twitter / Instagram

Google Map