Speaking of Indian foods in Tokyo, many people say Dhaba India (ダバインディア) in Kyobashi at first. They are long-established Indian foods restaurant and now many popular Indian foods restaurants' chef worked at Dhaba India.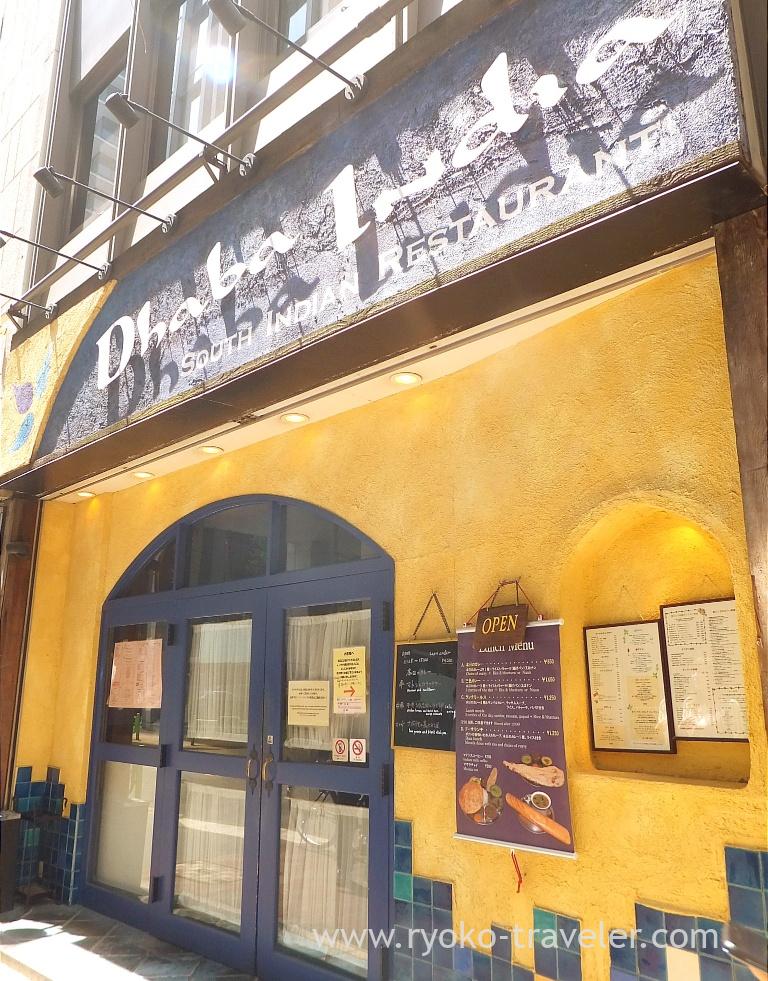 Gourgaon in Ginza is a goodwill partner. If you want to eat cheese kulcha at lunchtime, Gourgaon is better.
When I got to there 10 minutes before the opening time 11:15 a.m., there were already about 10 people waiting, but the restaurant is rather large having counter seats and tables. There are always many vacant seats before 12 p.m. But many people wait from 1 p.m. to end of the last order. You'd better go there earlier time.
The interior is like fortress based on blue like Jodhpur. But furniture is brown. So, it have calm atmosphere.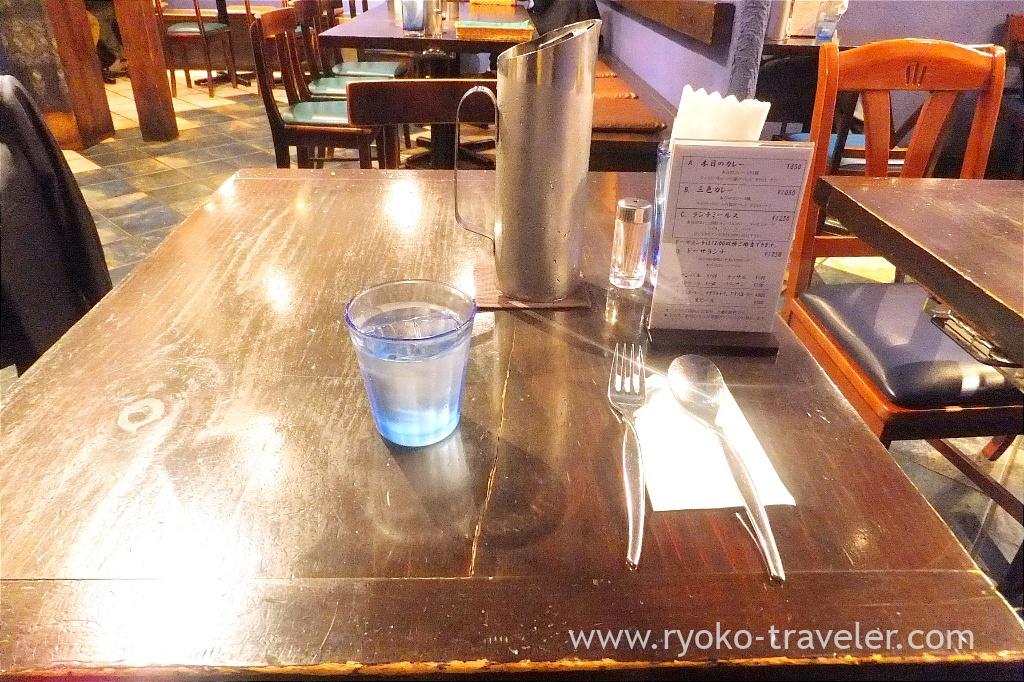 They offer valuable lunch set on weekdays only. The most inexpensive one is Choice of today's curry (850 yen). They have 3 today's curry. 3 Curries of the day and Lunch meals have all three curries. They serve dosa (1250 yen), too. But it's past 12 p.m. only. Large helping of rice is free. They don't serve tandoori dishes at weekdays' lunchtime.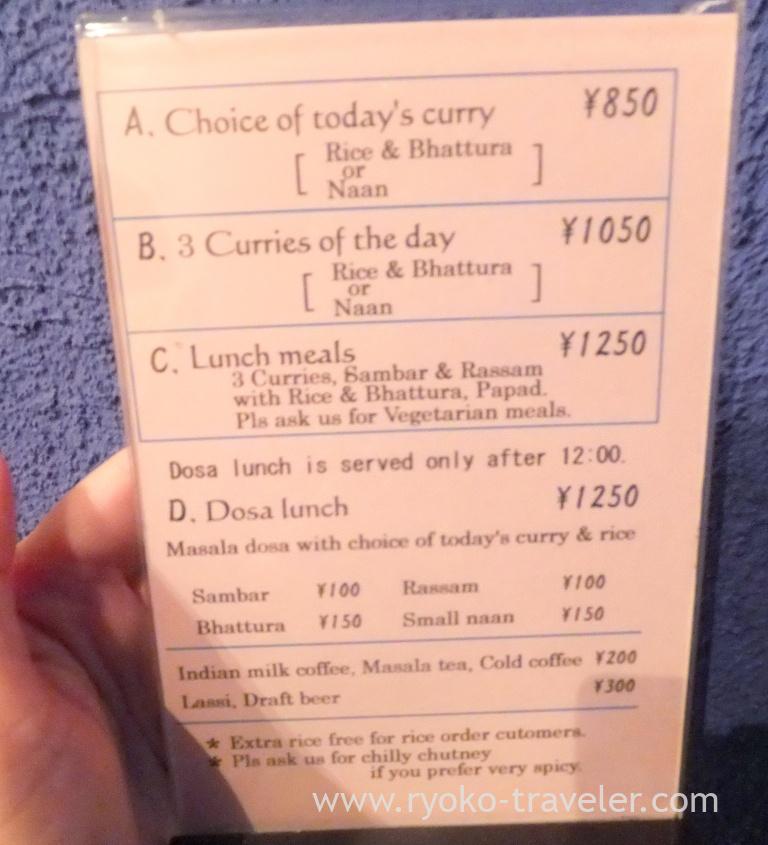 This is today's curry. Many foreign people work in Kyobashi area. So, Dhaba India put English menu all time.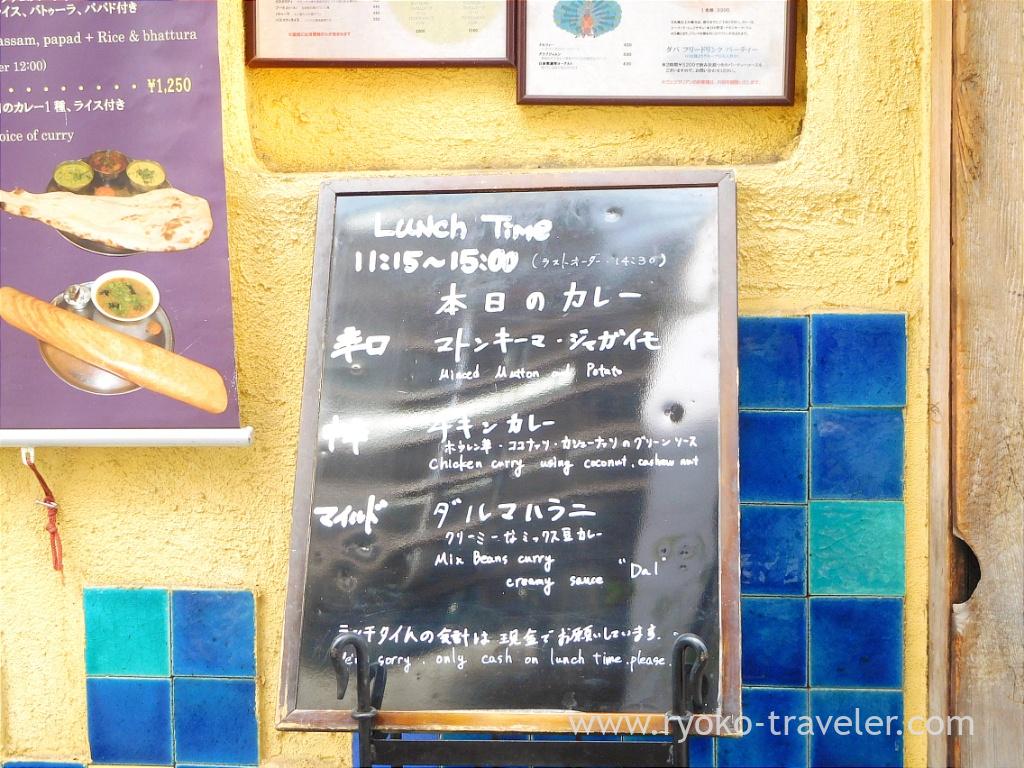 Lunch beer is only 300 yen. But as you see, it's enough. This is Sapporo beer. It's light. It's similar to Sapporo Classic.
I always order this lunch meals. It have three curries of the day, sambal, rassam, rice, bhature and papad. Today's curry was Yam and black chickpeas. mutton and califlower, and chicken, minced meat and boiled egg.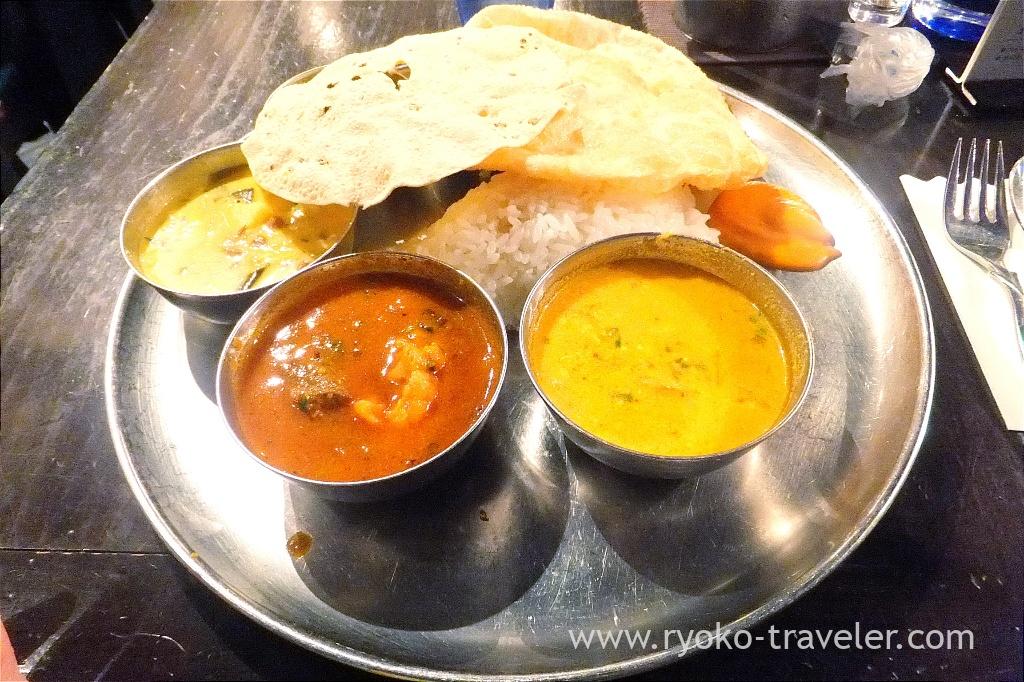 Sambal. Lots of beans in it. And vegetables. Healthy curry.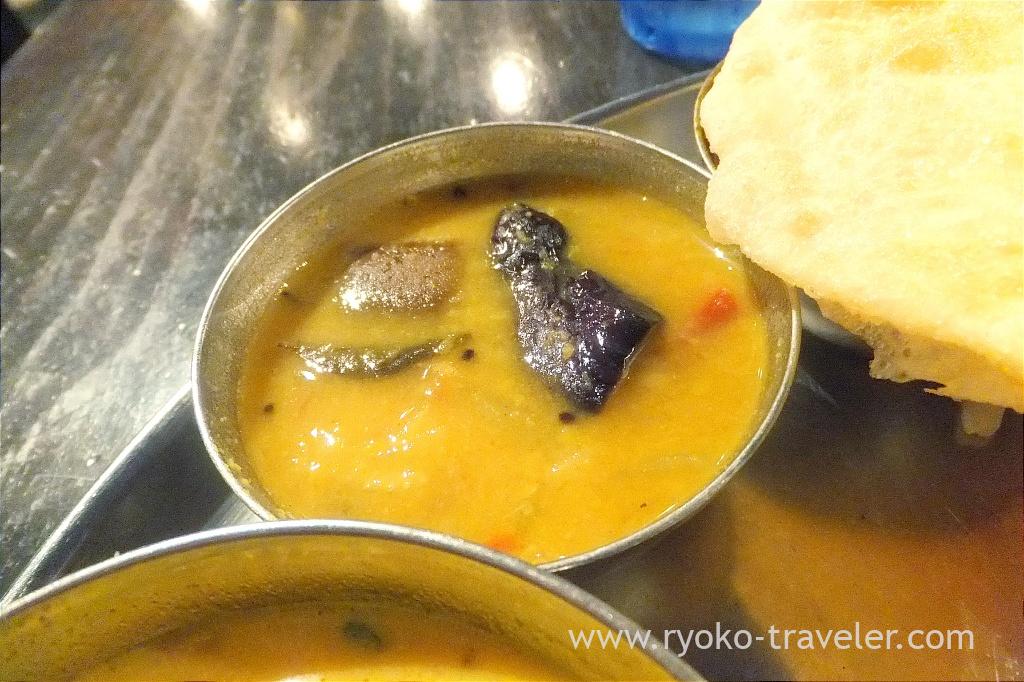 And rassam. I like rassam. I like its sourness.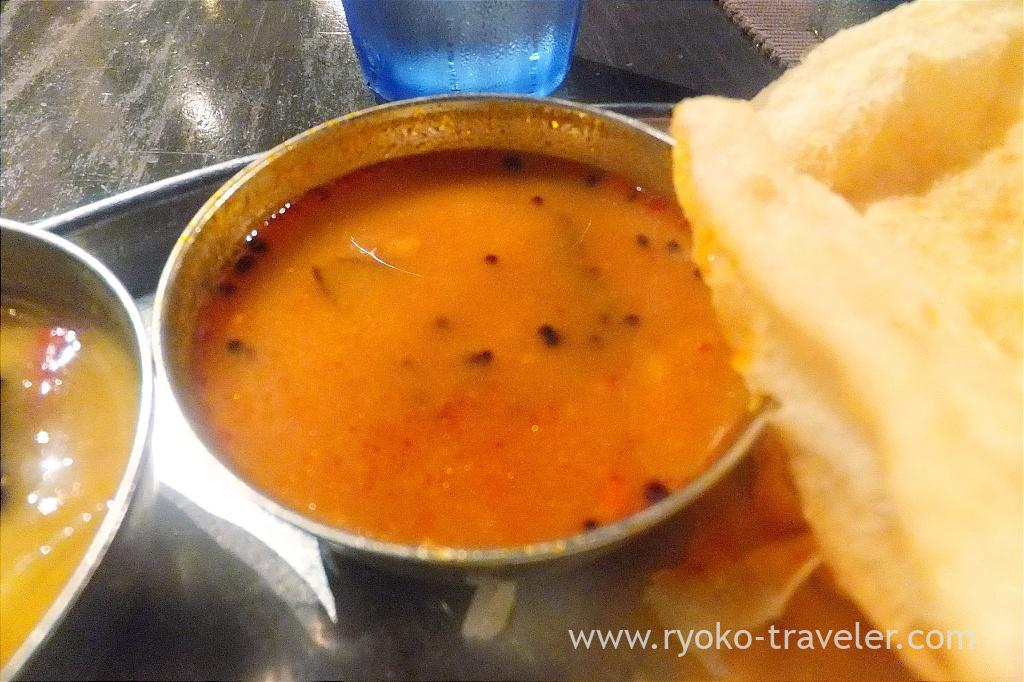 Everything was good. But I love spicy foods. So, I liked mutton and califlower that is the most spicy one. I like meals because I can enjoy both one tastes each and three curries mixed altogether.
This is dosa lunch. It can be ordered after 12 p.m. I was surprised when I saw it for the first time. So huge ! Another guests' eyes were glued on it ! Its width is as same as the table !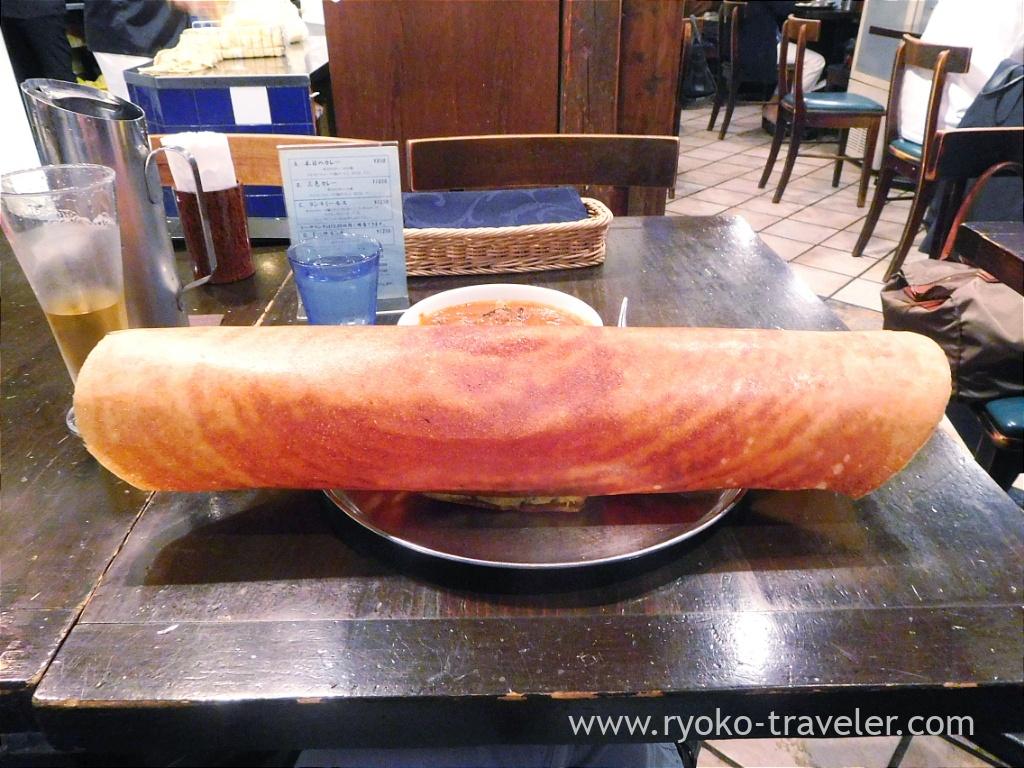 But don't worry. Mushed potato wasn't much inside. This pipe was empty except the center. It was crisp and good. Mushed potato inside was seasoned with much spice. Good.
Dosa set have one curry. It can be chosen from Today's curry. I chose spicy one. Mutton keema and potato. It had much mutton. And it was spicy. I ate it as soup, and put it on the dosa. The chutney was good, too.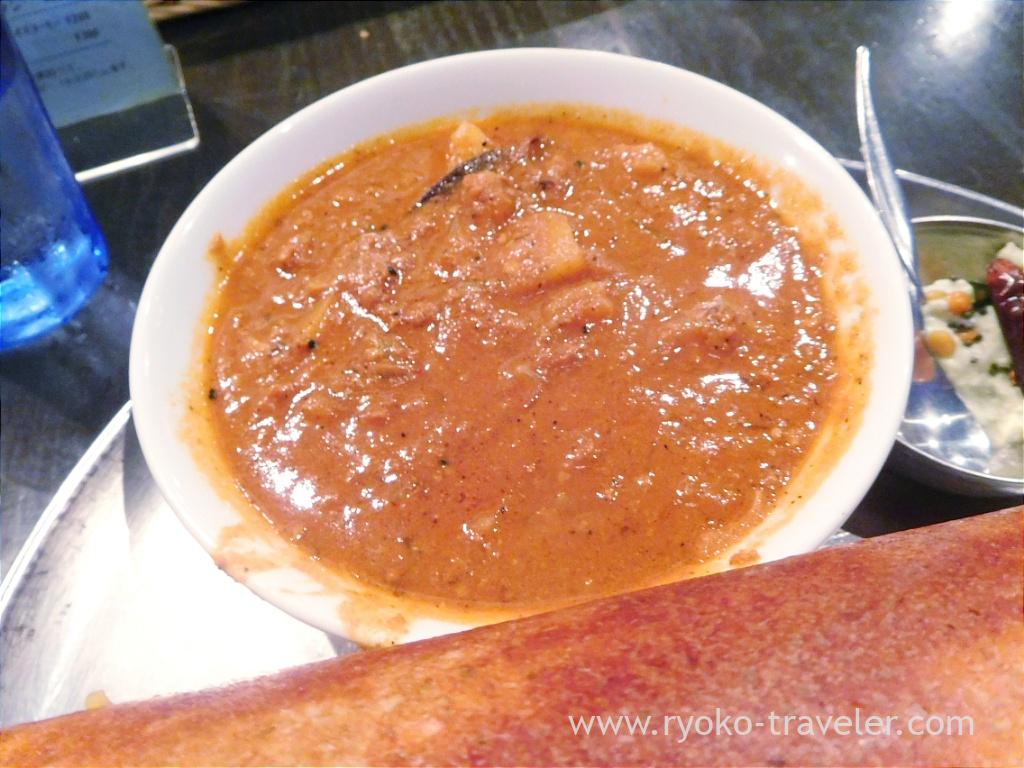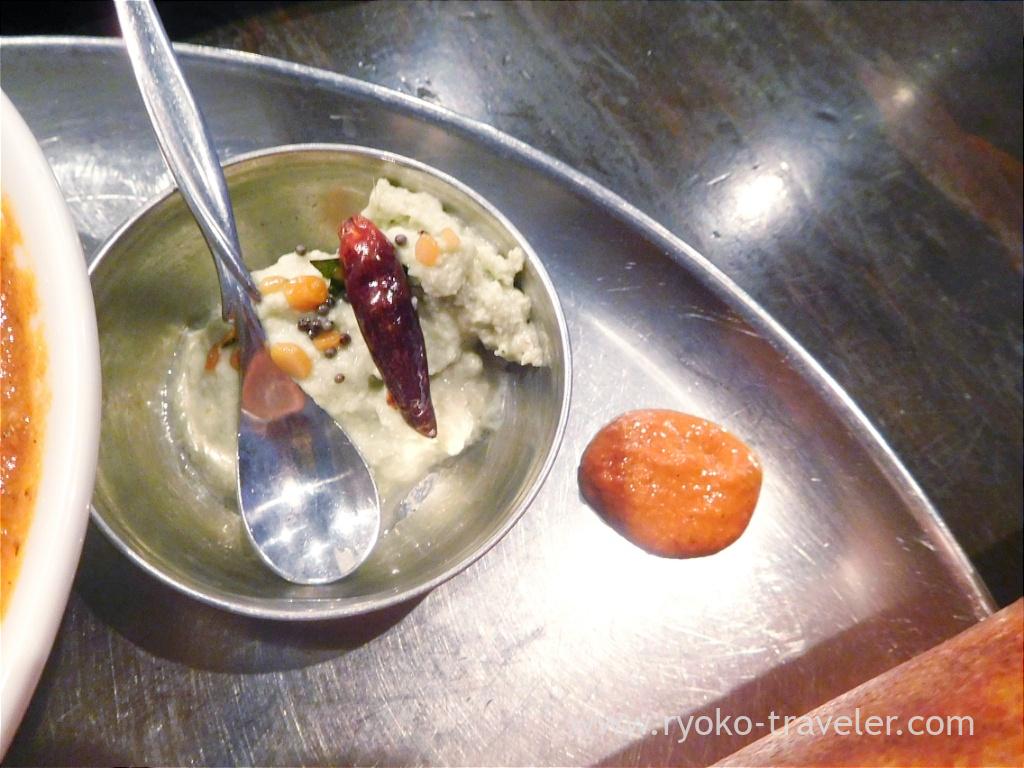 By the way, they accept half size of the dosa with rice 🙂 I didn't so because I wanted to eat large dosa.
About

Name Dhaba India (ダバインディア)
Open Lunch, Dinner
Reservation Available for dinner time only
Credit card Available for dinner time only

Google Map