When I visit Taiwan, I want to eat something that can't be eaten in Japan. Especially, goose meat is common meat that can be eaten in Asian countries like Taiwan, Hong Kong and so on. But somehow it's rare meat in Japan.
So, I eat goose meat restaurants without fail when I visit such Asian countries. Acheng Goose (阿城鵝肉) is a very popular goose meat restaurant in Taipei. They are Michellin awarded restaurant and I heard there're so many people visiting throughout their business hour. But fortunately there were many vacant tables when I visited there before 5 p.m.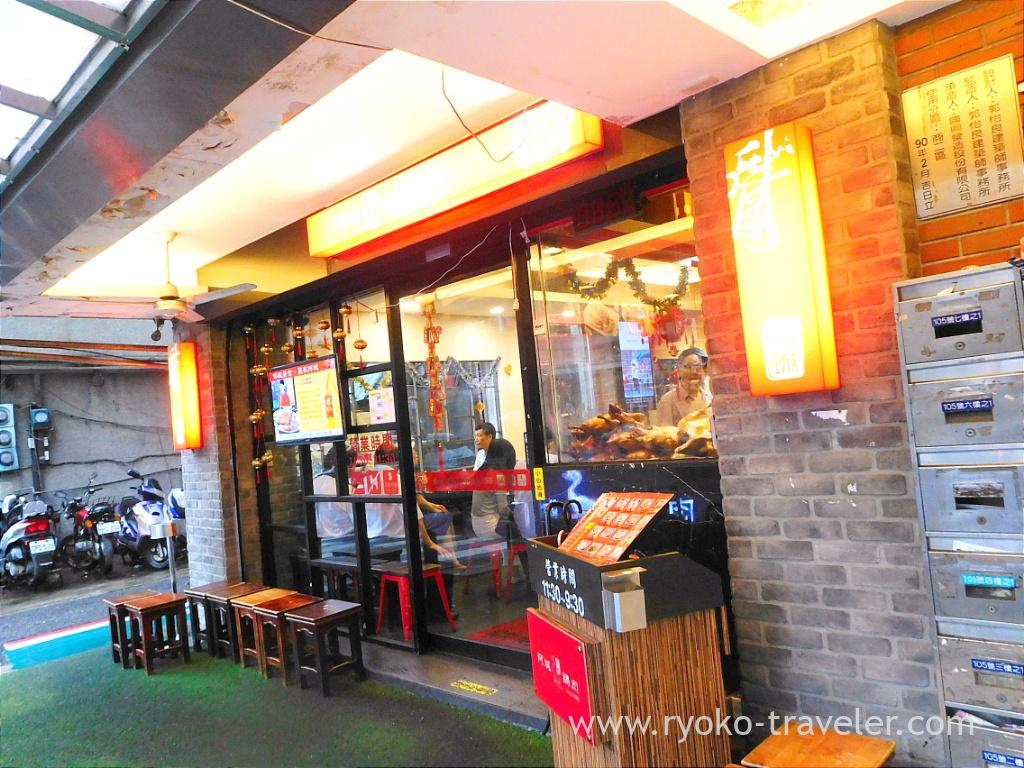 They have rather much tables and seats. But when I visited there before 5 p.m., there were many vacant seats. But many of them were occupied soon. Beer is in the refrigerator and we can take it to the table by ourselves. Though I wanted to have beer, there were only large bottled beer. I gave up because I was there by myself.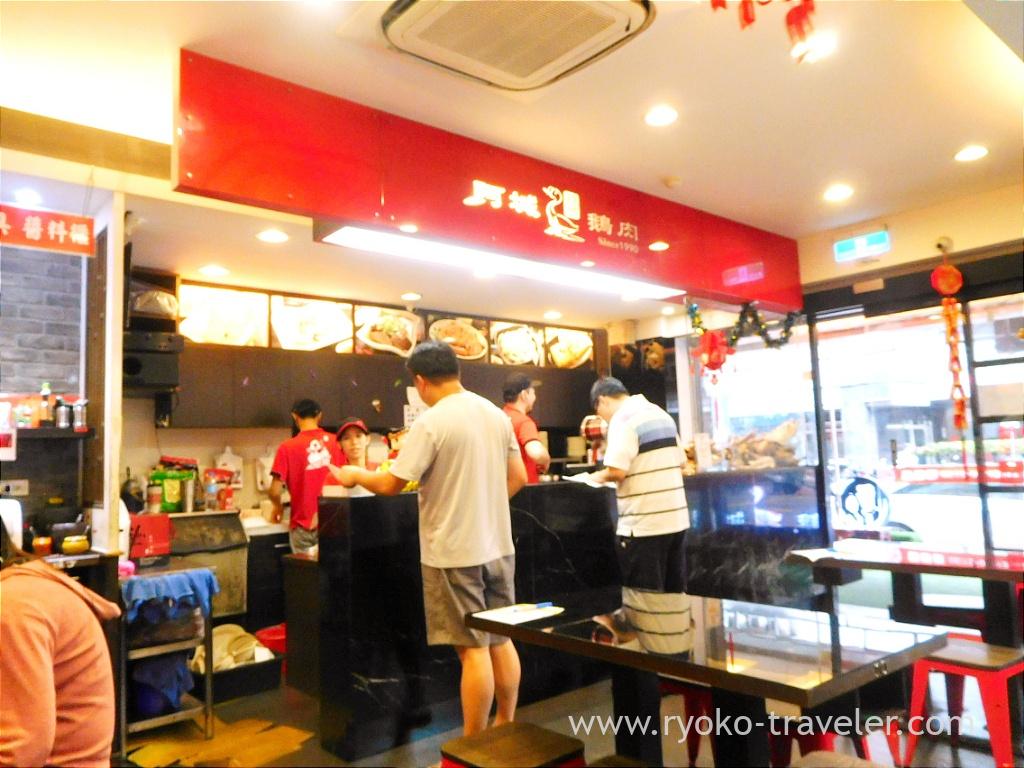 We can see goose meat cut in the kitchen from the table 🙂 When I entered, a man asked me FORE HERE, or TO GO. I answered "For here". He gave order sheet to me and took me to the seat.
This is the menu. It have English and Chinese words. Though it don't have Japanese words, Chinese words are easy to understand for Japanese. So, there was no problem for me.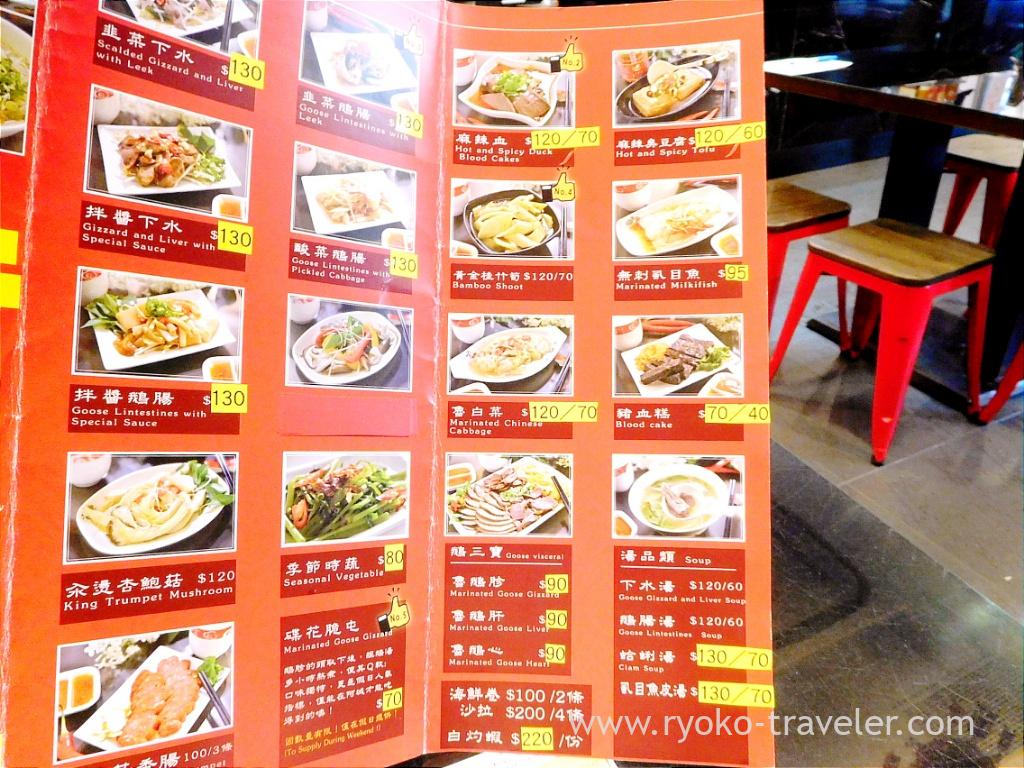 Goose meat can be chosen from two parts of goose. "前半段" is breast meat. And "後半段" is leg meat. But we can't choose the part of meat if we order 200 TWD of goose meat (suitable for one-two person).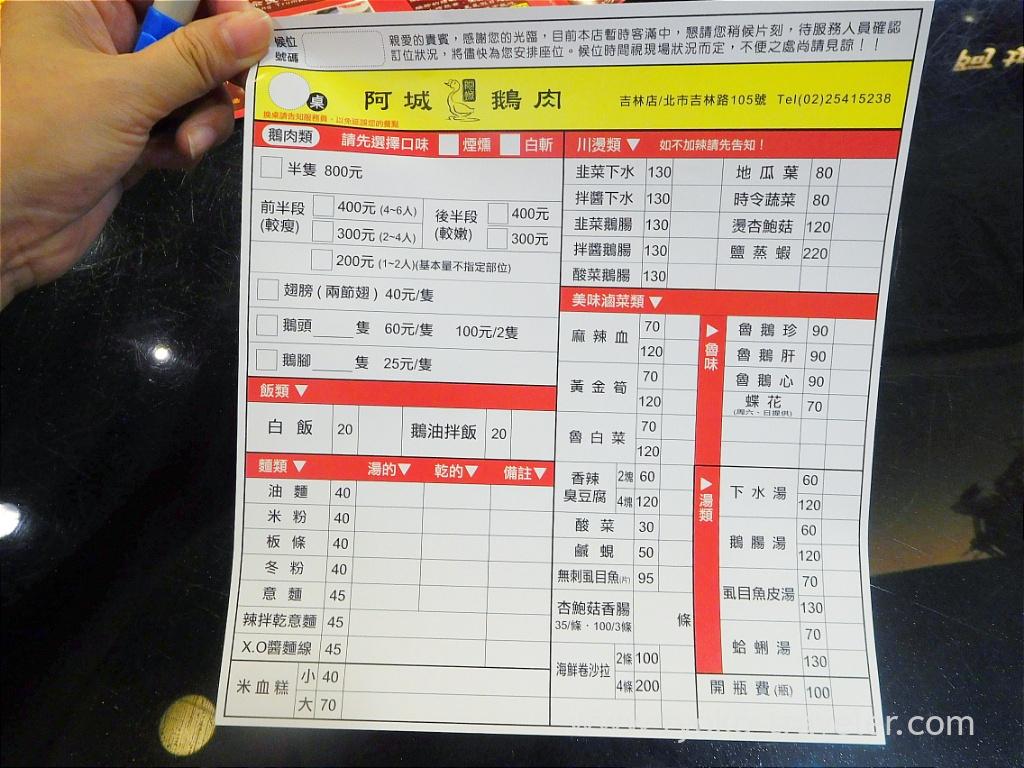 We need to take our dishes, chopsticks, seasonings prepared on the shelf to our table. So, after I handed my order sheet to the staff, I went to the shelf and picked what I need.
I wanted to eat something vegetables and I found fried sweet potato leaves. So, I ordered it. Also sweet potato leaves usually can't be eaten in Japan, too.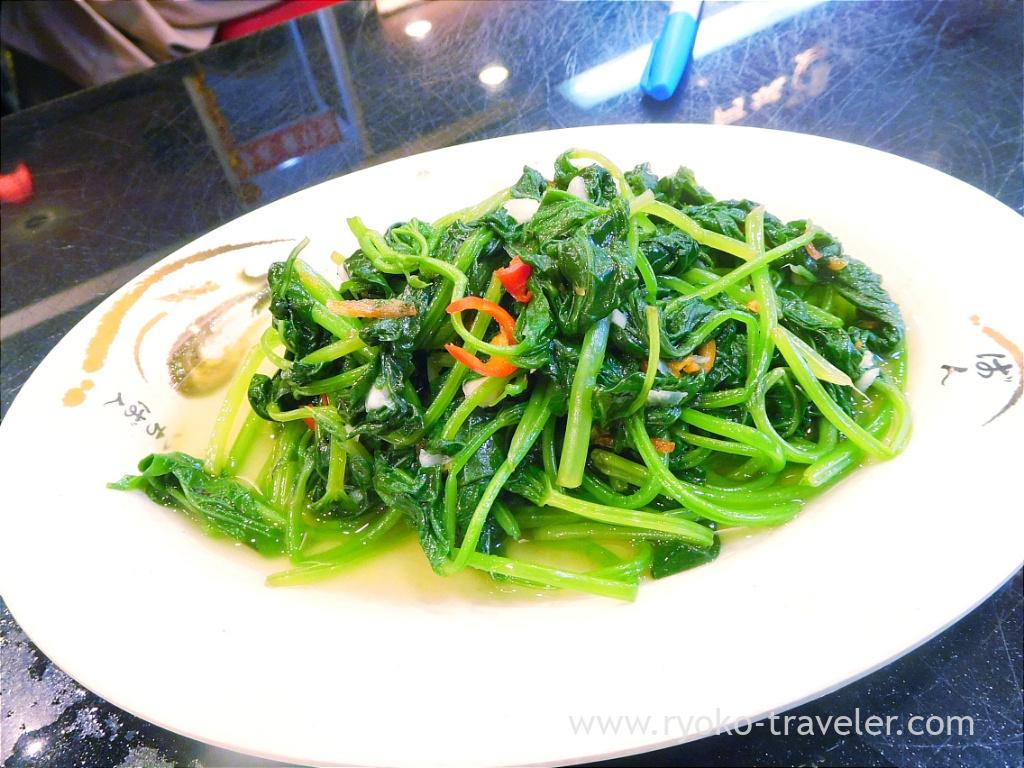 It was seasoned with garlic and red pepper. It had crunchy texture and was delicious.
By the way, my target was goose meat. Because I visited there alone, I ordered goose meat with 200 TWD. But now I think I could eat up 300 TWD's easily. Those were breast meat. But it was so fatty and soft. The fat was sweet. The skin was like jelly. Awesome.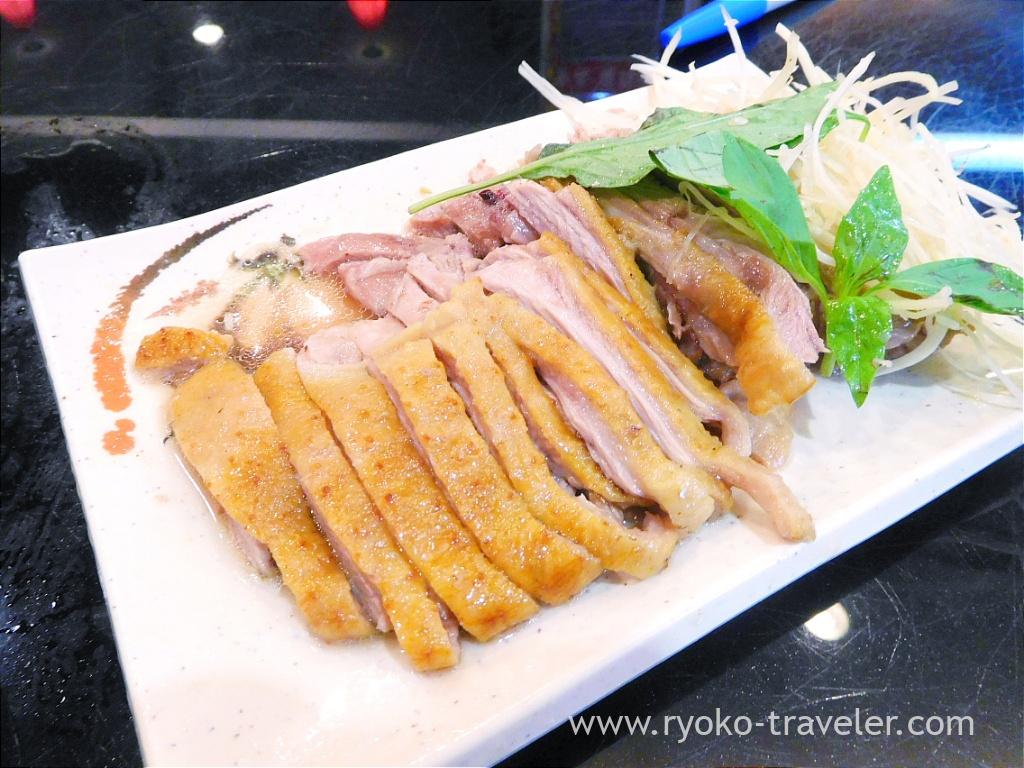 White stripe things were ginger. Eating those meat without anything was, of course, good. But eating them with ginger was awesome. Ginger went with fatty meat well.
I left some shredded ginger until last, and I ate the ginger dressed with leftover fats on the dish 🙂
Last… I ordered another one. But this was not good. Goose innards soup. Much goose innards in it. And Taiwanese basil, much shredded ginger.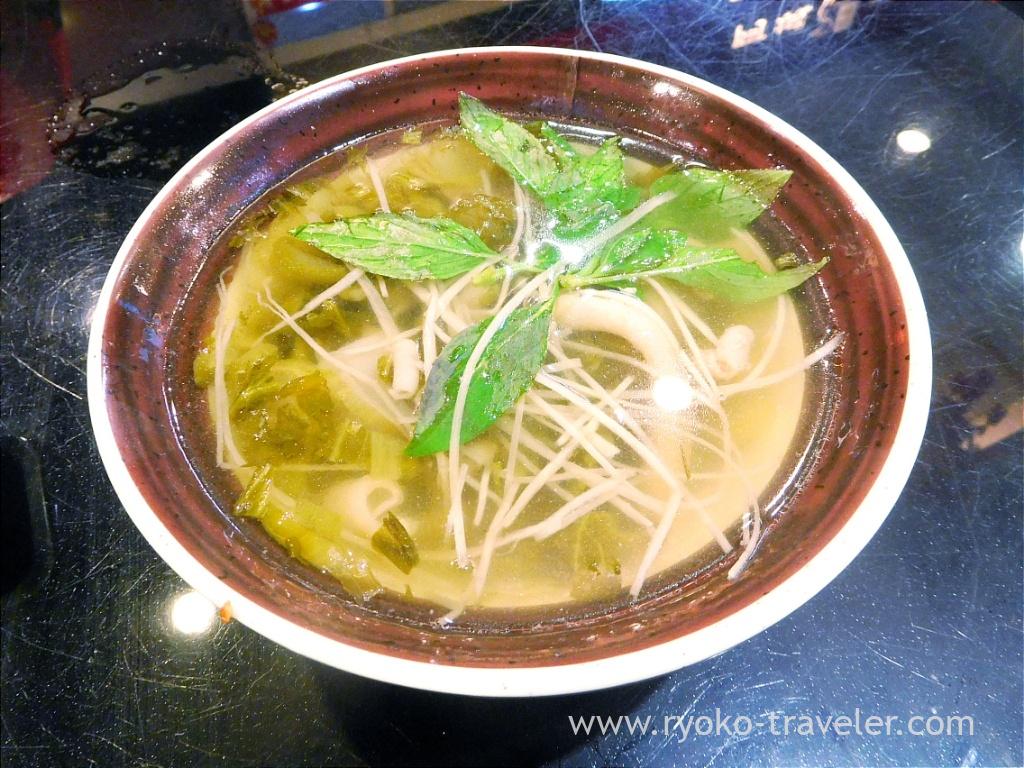 Goose innards itself didn't have bad smell at all and those had springy texture. But the soup tasted really like Chinese medicine. Though I felt it's nutritious soup, I don't like it. And more, it was small portion. But it was served in such a large bowl. Though I ate those innards up, I left much soup…
About

Name Acheng Goose (阿城鵝肉)
Open Day through night
Reservation Unavailable
Credit card Unavailable

Google Map