Pls remember to bring plastic container…
Though I didn't post about chef's choice of Yonehana, I go to Yonehana for breakfast at regular intervals.
Because I moved to Motoyawata (closer than Keisei-Okubo that I used to live in before), I can visit Tsukiji more easily on weekends.
So, I often go to Tsukiji on Saturdays for breakfast and buying seafood.
Though Tsukiji Market is packed with people on Saturdays, Yonehana is relatively easy to be seated.
So, I could get seat that day, too.
(Of course, there were some people waiting, but I could get seat only 10 minutes waiting.)
As soon as I was seated, Chef's choice was soon served.
Salad (so much sliced onions, paprika, three shrimps and green asparagus), miso soup having tofu and green onions and pickled daikon radish.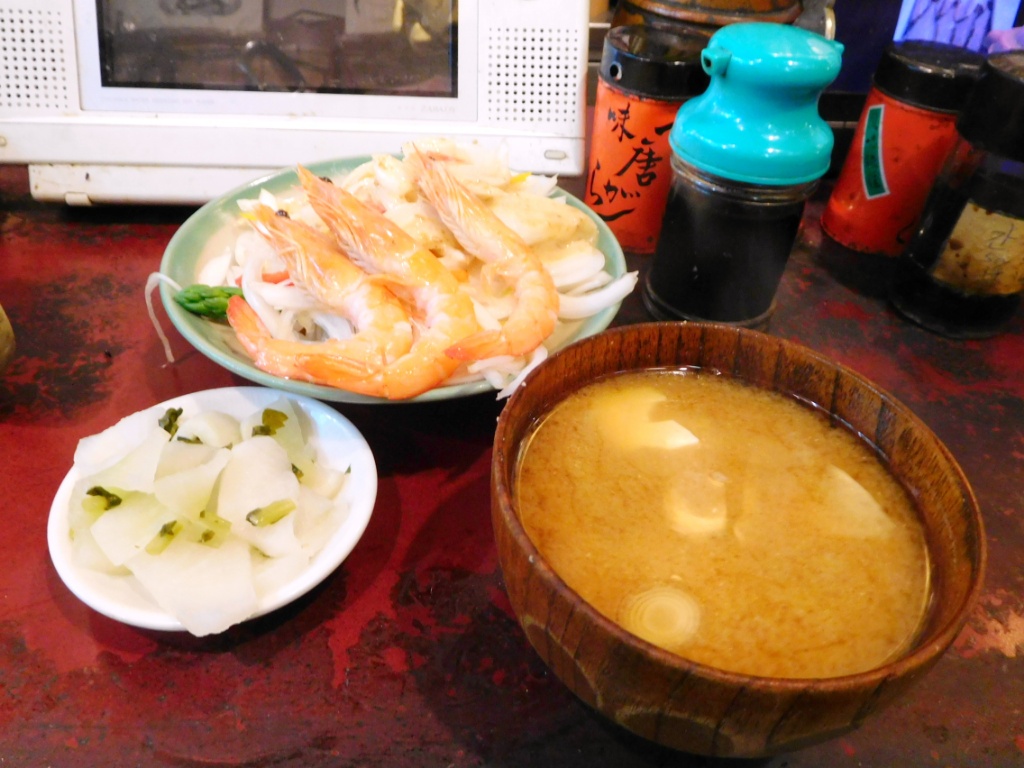 Yonehana standard as usual… too much onions ! I gave up eating. No problem. I brought plastic container 😉
I just ate shrimps and green asparagus up, and ate some onions. And I put rest of the sliced onions into my plastic container for lunch.
Curry and rice. So much rice was hidden X(
This was the reason why I gave up eating salad up. There were about three bowls of rice ! And lobsters ! Incredible. This is the Yonehana standard … X(
Of course, it was tasty, but it was heavy for breakfast.
It was more spicy than I ate last time and I managed to eat it up.
http://www.ryoko-traveler.com/yonehana54/
A woman next to me was surprised at this curry.
About Yonehana (米花)
Address / Tsukiji Market Bldg No.8, 5-2-1 Tsukiji, Chuo-ku, Tokyo
Station / Tsukijishijo station (Toei subway)
Open / 5:30 – 13:30
Closed / Market's holidays