Nevertheless I have a commuter pass to Tsukiji Market subway station, recently I don't go there for breakfast. I often go to Tsukiji at lunch break nowadays. But it don't need my commuter pass because I walk to there from my office. It's difficult for me to wake up early in the morning because it's getting colder. But I managed to wake up for breakfast. I went to there two times recently. Both I had breakfast at Yonehana (米花).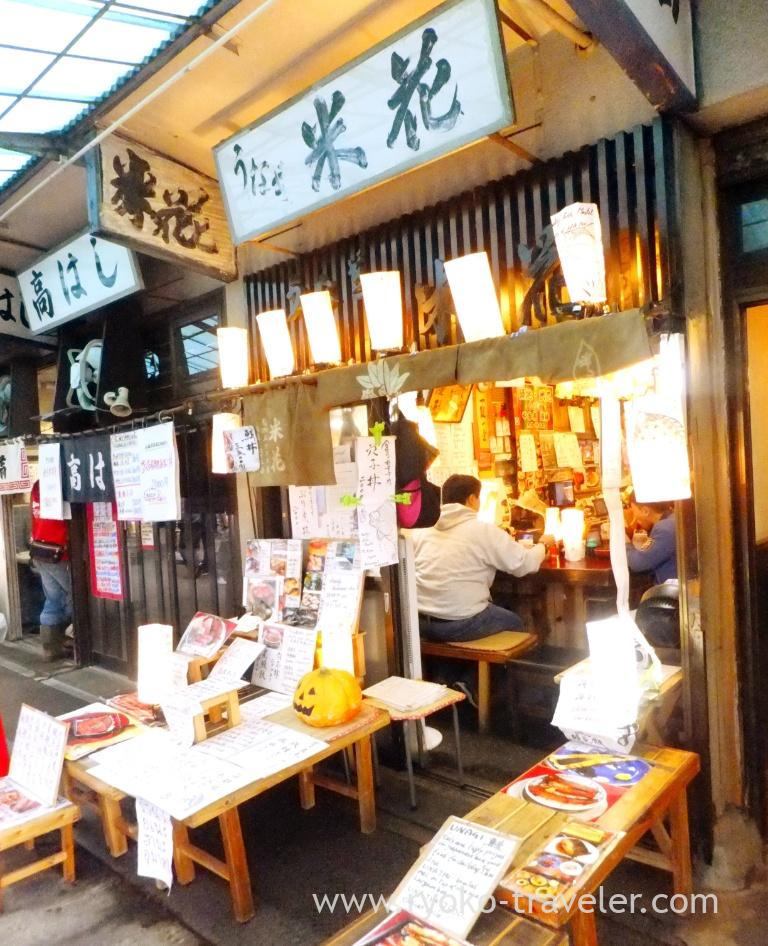 Yonehana serves me chef's choice, so I don't need to decide my breakfast 🙂 It's a little hard for me to decide what to eat because my brain doesn't awake clearly yet in the early morning.
That day, at first, I thought to eat deep fried oysters and fried oyster set at Odayasu. But my stomach was still weak after my recent illness and I thought I should avoid oily deep fried foods. So, I went into Yonehana. On entering the shop, I found there was no guests. Everytime I go to Yonehana, I find it is nearly full or few guests because it's early morning. The staff said it takes much time to prepare my breakfast. "What happen ?", I said.
"Today's chef's choice is kakifurai !". Oh, my ! I waited for 10 minutes or so.it's longer as Yonehana. This waiting time is as long as eel box serving.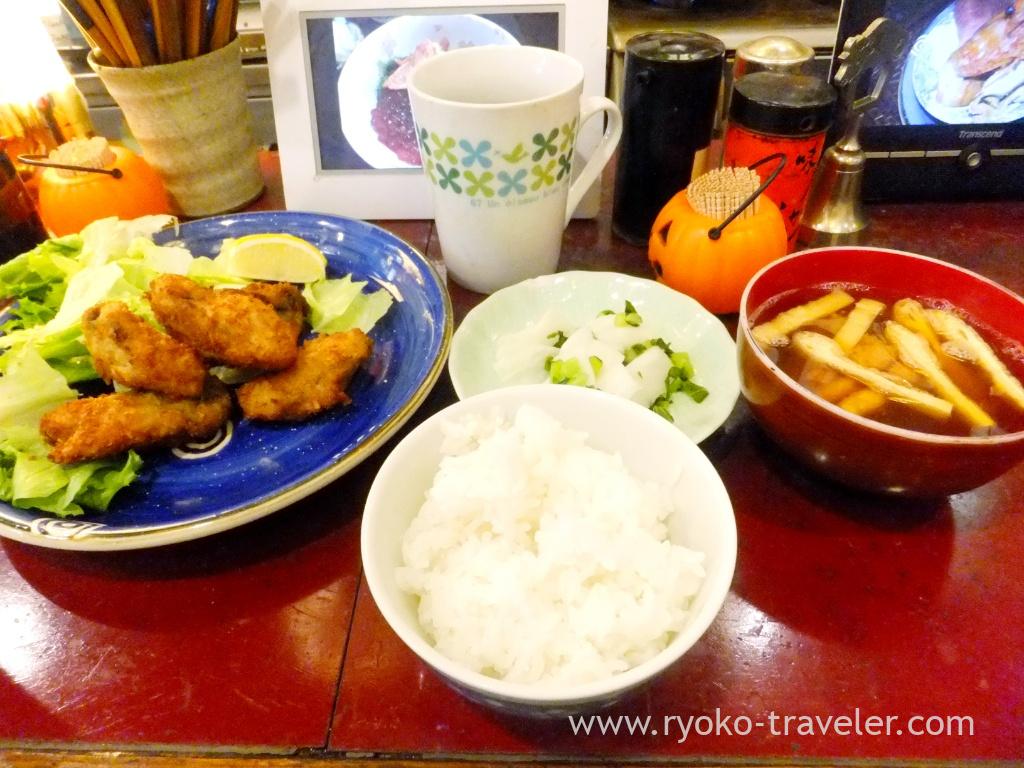 This was the first time to eat kakifurai at Yonehana ! Kakifurai is deep fried oysters. I was anxious about my stomach… but those deep fried oysters were crisp and not oily. Those coatings were thin. The best thing is …. those oysters were splendid !!! I wasn't satisfied with those smaller oysters at first looking. But those oysters had rich taste of oysters ! I ate it up soon.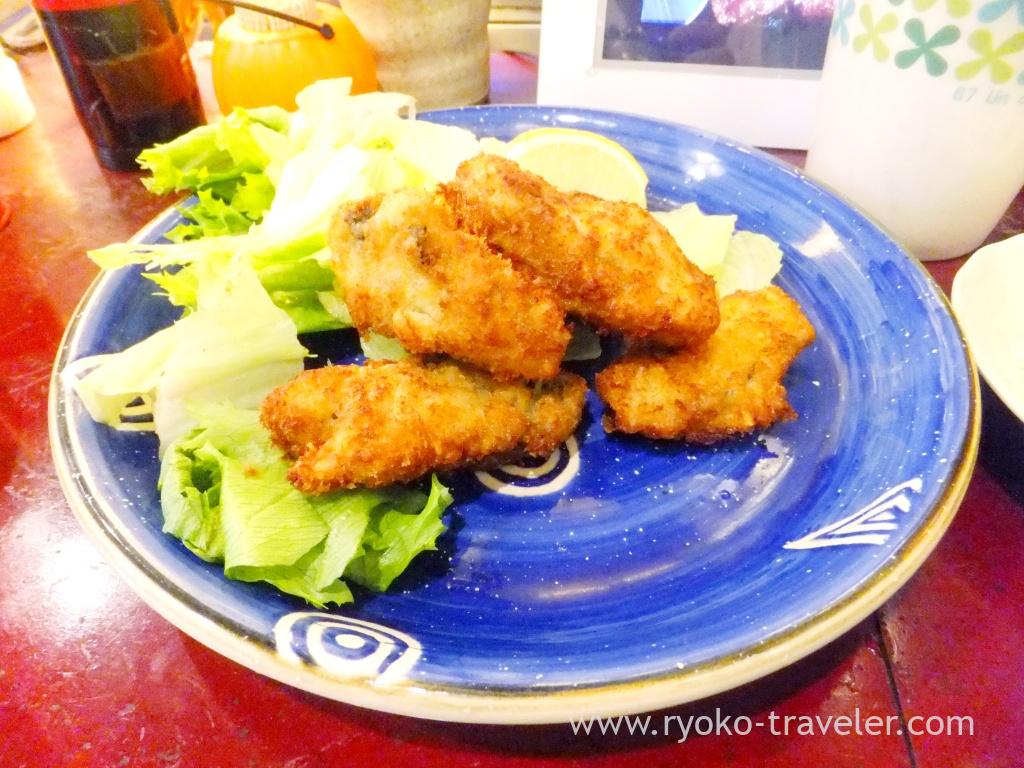 And this is the chef's choice of the other day's breakfast.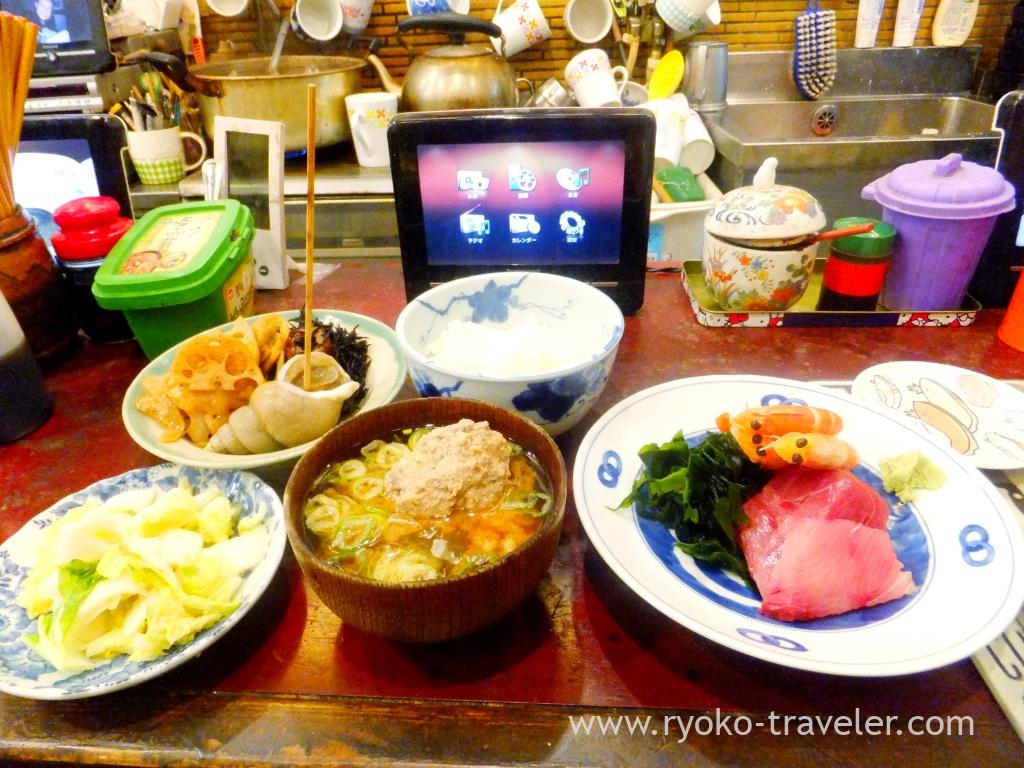 I knew that day's chef's choice by my friend's twittering in advance. Assorted sashimi.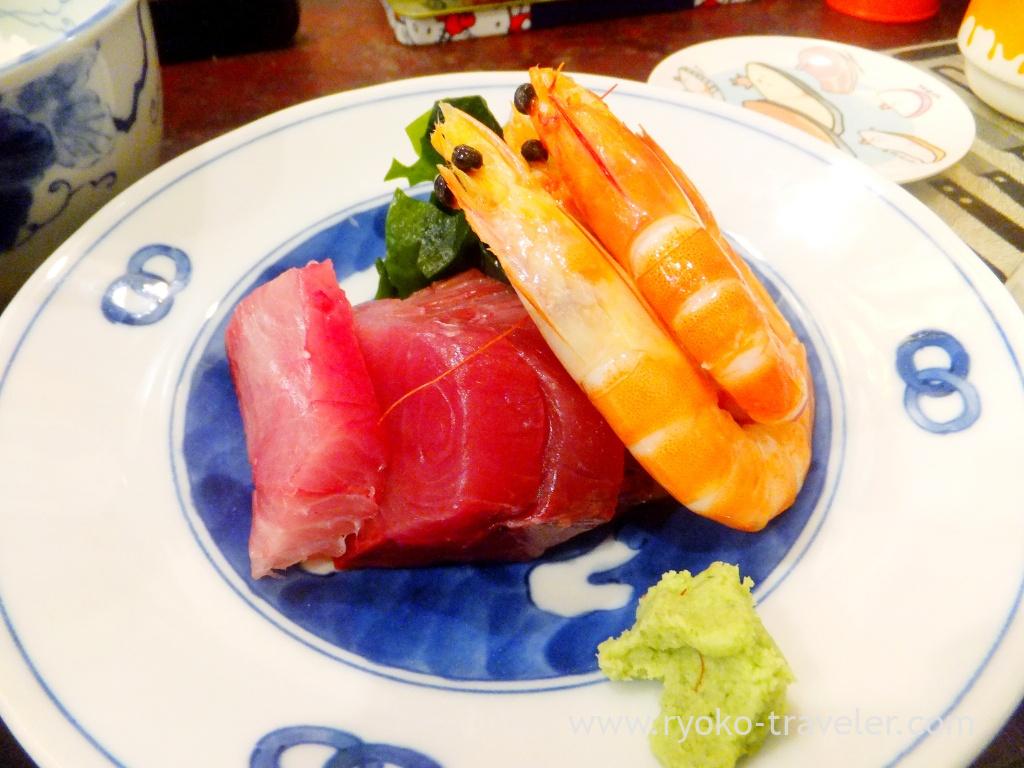 The staff said, "Today we have awesome tuna ! Here, bluefin tuna !" and he placed my sashimi on the table…. It's anything but tuna….. Yellow tail to all appearance ! Yummy yellowtail and shrimp ! Those slice of yellowtail were sliced thinner as Yonehana ! It's comfortable !
The side dish was lotus root dressed with spicy sauce, big ivory shell and hijiki ! Fiber-rich !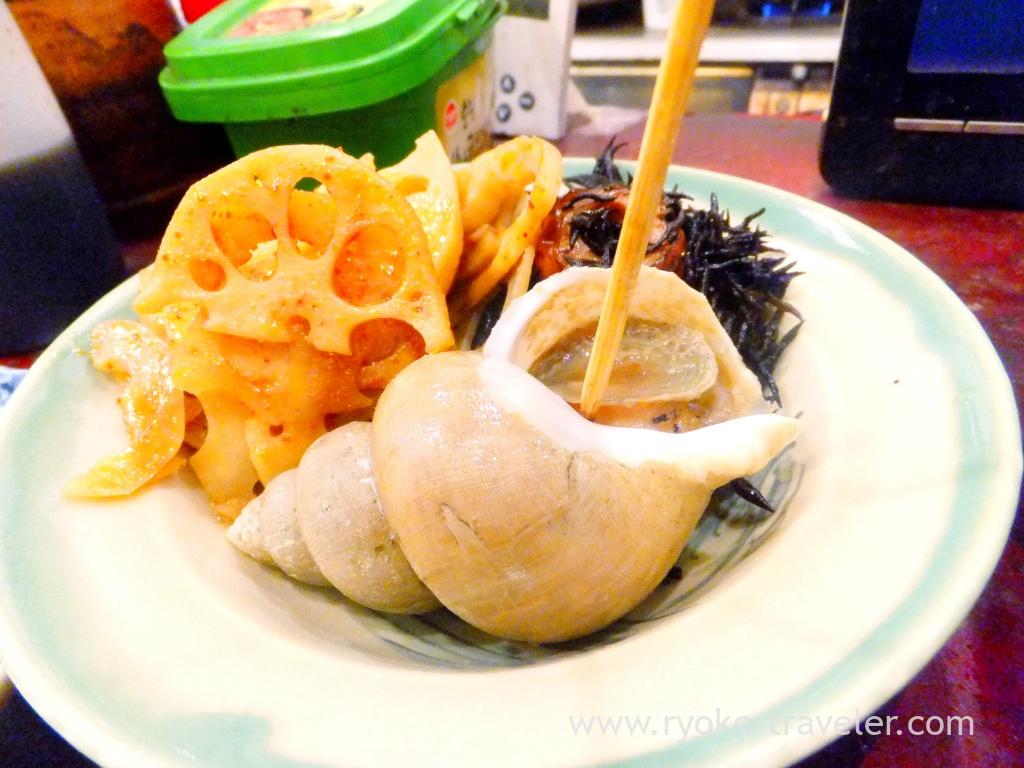 Miso soup. It have huge sardine ball ! And this sardine ball wasn't only huge but also soooo tasty !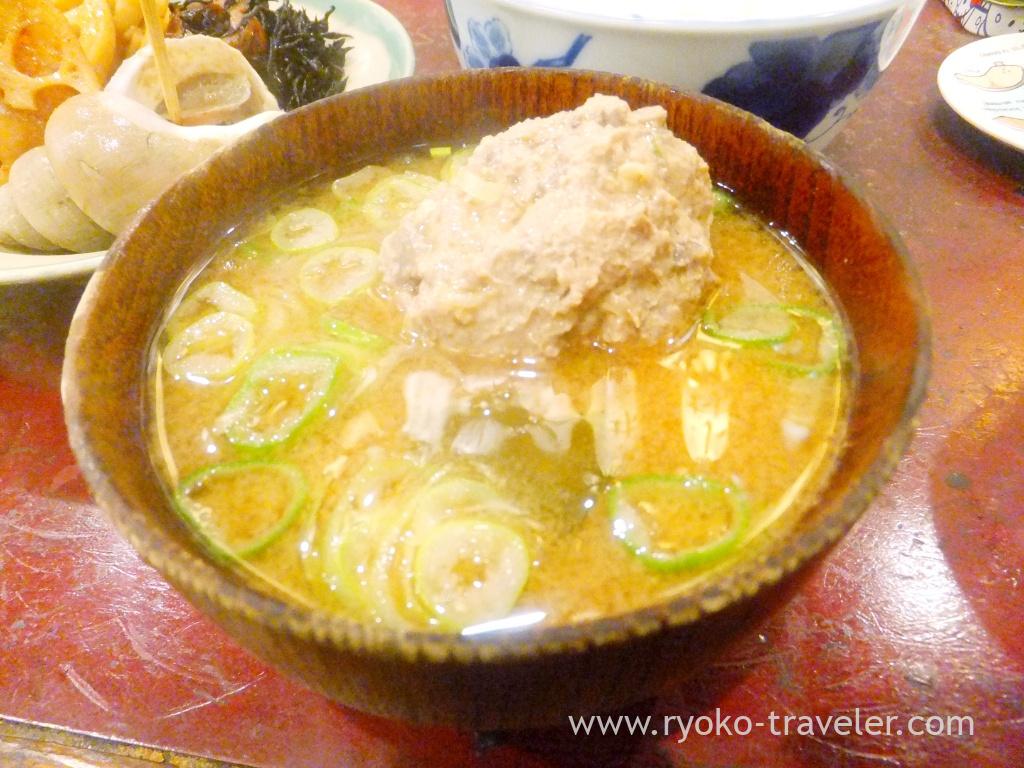 But I saw my friend's chef's choice on twitter. That had soft roe in the miso soup….. 🙁 I looked for it…… Here, it is !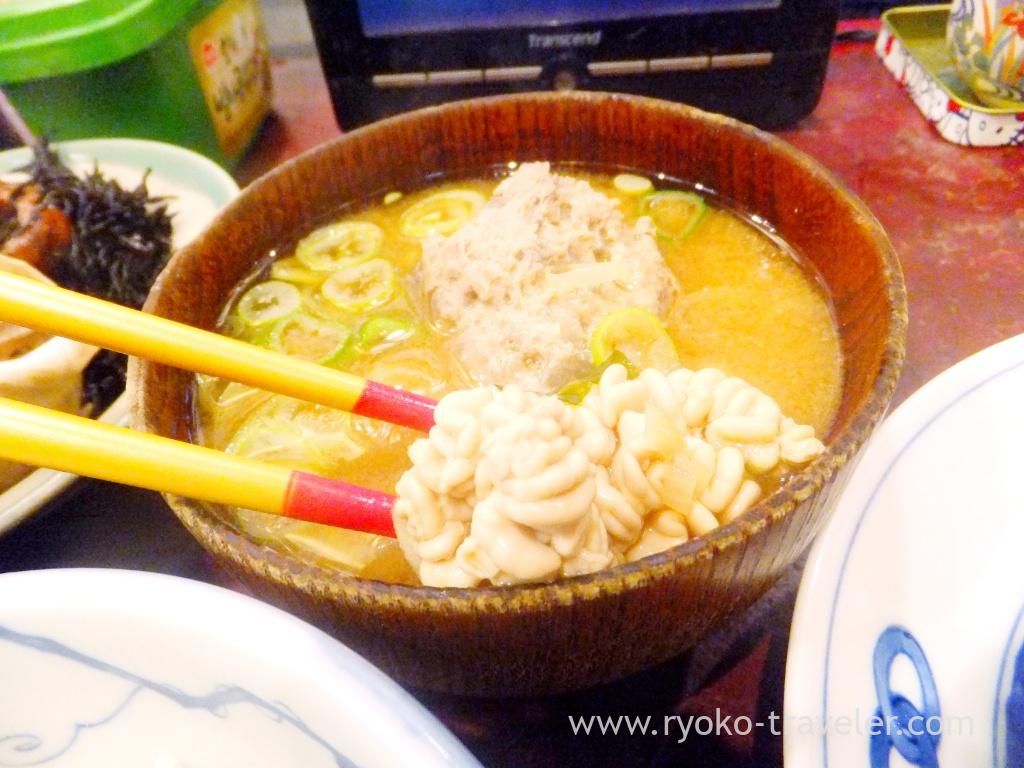 What a gorgeous miso soup that contains soft roe ! I couldn't add yakitori that day, too. Just this chef's choice made my stomach completely full ! Also, I became a smaller eater than ever since I had a severe stomachache by cheese. But why don't I still lose my weight … ?
About

Name Yonehana (米花)
Open Morning through noon
Reservation Unavailable
Credit card Unavailable

Google Map (Current location in Toyosu Market)