Notice: Yakitori-imai is temporarily closed to move to Gaienmae area close to Harajuku and Omotesando.
http://www.ryoko-traveler.com/yakitori-imai-gaienmae1/
---
Grilled foods that go with wine well.
My friend asked me to join dinner at Yakitori Imai in Sendagi area and went to there 🙂
I knew this restaurant well because my friends eat oyakodon at lunchtime on Saundays so frequently. And also this restaurant had been in my list for a long time that I wanted to visit in the near future.
Maybe this was the first time to get off at Sendagi subway station.
Basically they prepare one course only (about 6000 yen). Just the chef ask us what we don't like to eat.
He serve some meats as rare.  So, if you don't like rare meats, you should say in advance. I love rare meats, so there's no problem 🙂
My first drink was beer.
At first, I ordered normal beer, but the lady said to me that they have yuzu-taste beer in stock. So I ordered it.
Yuzu white , Minoo beer (箕面ビール ゆずホ和イト)
Certainly, it had yuzu flavor and was sweet like honey. It was good ! 🙂
The label was cute, too.
At first, tofu in chicken soup (鶏スープ豆腐入り) was served.
Sashimi (刺身)
Left is tataki of leg meat and the right is marinated breast meat with konbu.
Liver putty (レバーパテ)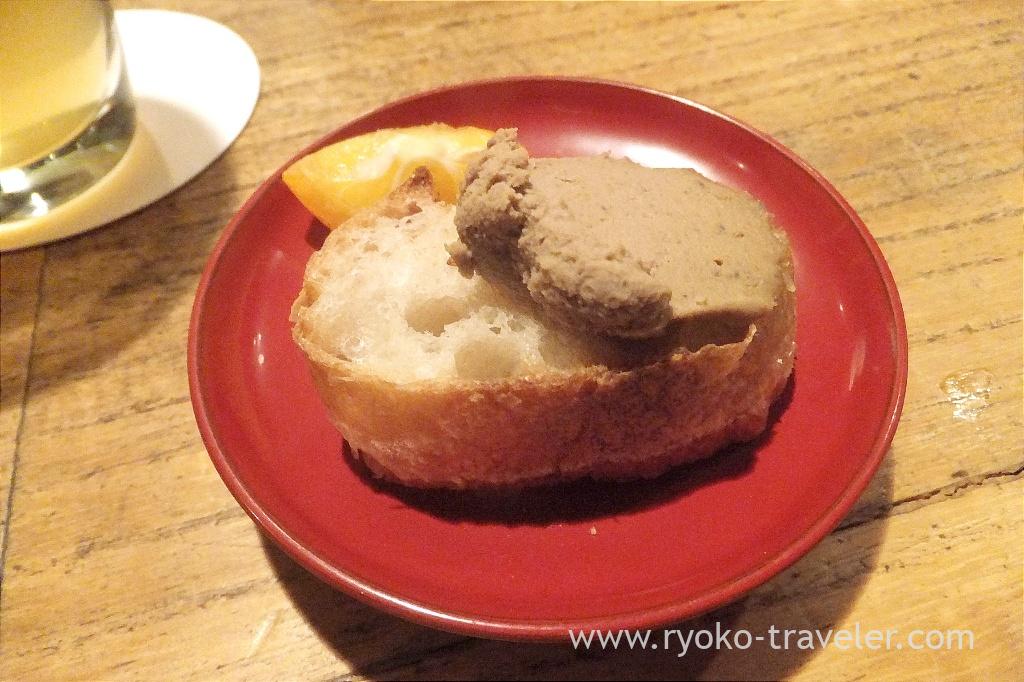 White asparagus (ホワイトアスパラガス)
The burnt smell was good and it was sweet.
Abura-age (油揚げ)
Deep fried tofu.
Liver and strawberry (レバーといちご)
I was so surprised that the chef grill it in front of me. Liver and strawberry ? I couldn't imagine the taste.
But unexpectedly warm strawberry was tasty and it went with liver well.
Tsukune (つくね)
The green things were coriander. Much fat overflew and it was hard to eat. But delicious. I needed more…
Watermelon radish (紅芯大根)
Pickled vegetables (おしんこ)
It refreshed inside of my mouth.
Isobemaki of chicken breast tender (鶏ささみの磯辺巻き)
chicken tail(ぼんじり)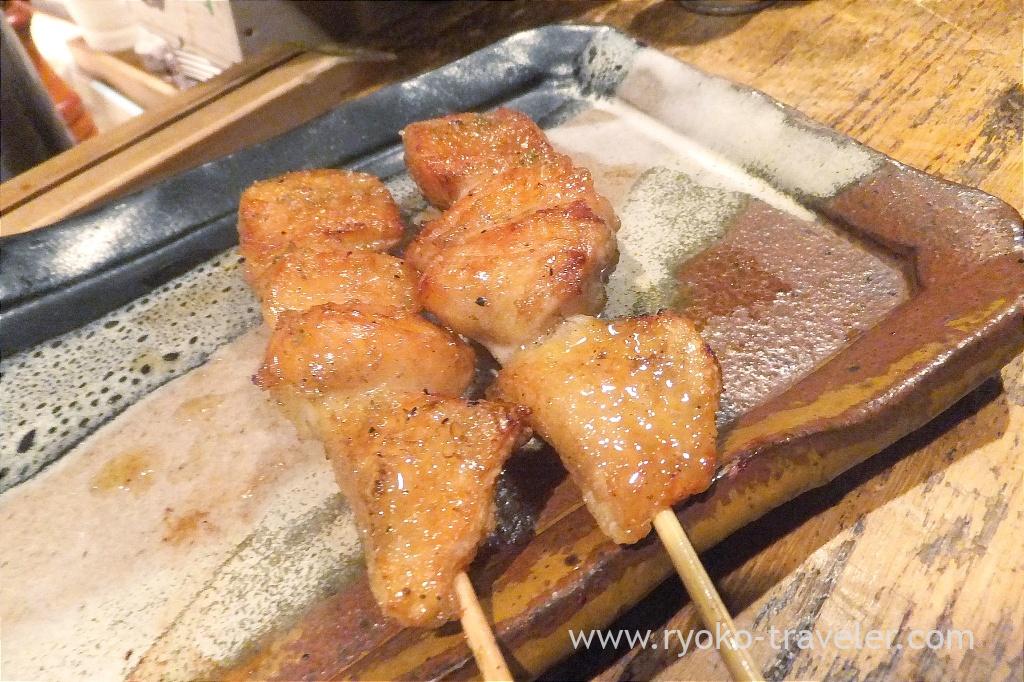 Because the chef serve fatty chicken tail, I felt like eating it with glass of Red wine(グラスワイン赤)
yakitori was served again.
carrot(人参)
Truffe and egg (トリュフとたまご)
No words are needed. Just great.
Sweet potato (さつまいも)
My friend's entree. She shared us 🙂 It was so sweet.
Simmered giblets of chickens (もつ煮)
Entree could be chosen from some. I chose my entree dove.(+1900yen)
My friend's meat that grilled in front of me. "Oh my… It must be awesome, too…"
I thought such a thing.
Happily, my friend gave a piece to us 🙂
It was delicious as I thought !
Coriander salad (パクチーサラダ)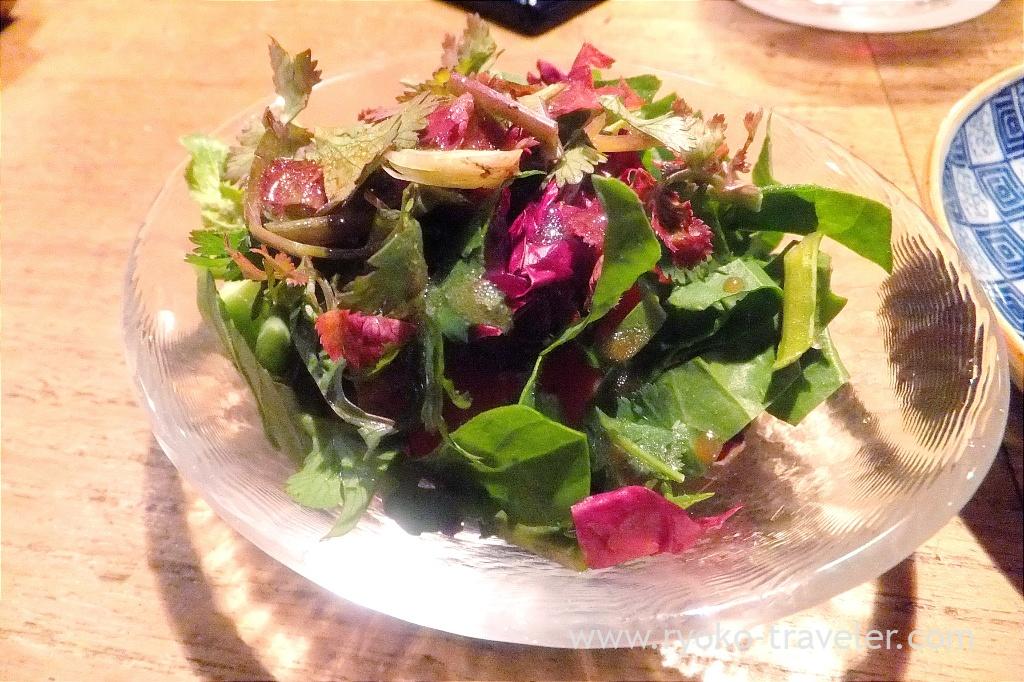 Last, takikomi gohan cooked in the earthen hotpot named donabe (excluded in the course) !
Yakitori Donabe mabushi (焼とり土鍋まぶし, 1500 yen)
Of course, the dove that was my entree was delicious, but I should have eaten yakitori more. (yakitori could be chosen as entree without additional charge). His yakitori was great 🙂
I'll visit there again soon for eating oyakodon at lunchtime with my friend 🙂
About Yakitori Imai (焼鳥 今井)
Address / 2-29-4 Sendagi, Bunkyo-ku, Tokyo
Station / Sendagi station (Tokyo metro)
Open / 18:00 – 22:00
Sundays lunchtime / 11:00 – 14:00 (Oyakodon only)
Closed / Mondays
Twitter / @yakitoriimai