Our plan changed from seafood to giblets
As a result of strategy meeting at Frutas, we went toward Ningyocho.


Now I'm back. I went back from Italy this morning. This was the first time to visit Italy. In the first place, I visited Europe for the first time. Italy was wonderful, but this trip was too short ...
And we came in front of the shop.
"Kanemasu" is stand-up-eating izakaya serving fresh seafood.

Fancy stand-up-eating izakaya in front of Kachidoki metro station I knew Kanemasu is so popular stand-up-eating izakaya in front of Kachidoki station near my office. But its appearance is ver...
And this izakaya,
Yakiton Hyottoko
serve fresh giblets can be eaten as raw.
They serve fresh pigs' liver as raw that still avoid from control.
This shop accepts reservation only if every group members can arrived at the shop before 18:00.
We reserved the shop from 18:00. But, we arrived at the shop past 17:00 😛
At first, appetizer (otoshi) came. They serve two dishes of this to us.
I was lack of vegetables during my trip to Italy because I couldn't eat well because of motion sickness and I had no time. So, I eat one dish up by myself nevertheless we were three 😛
And Raw pigs' meat came at once. Raw pigs' tongue (タン刺し, 600 yen)
And…. assorted pigs' raw giblets (三点刺し盛り, 1000 yen) !
The meat in this side is hearts, and at the back, left is uterus and right is livers.
The liver had sticky texture and so tasty ! The uterus was crisp. And the heart was chewy moderately.
And simmered giblets (もつ煮込み, 480 yen) and potato salads (ポテトサラダ, 450 yen).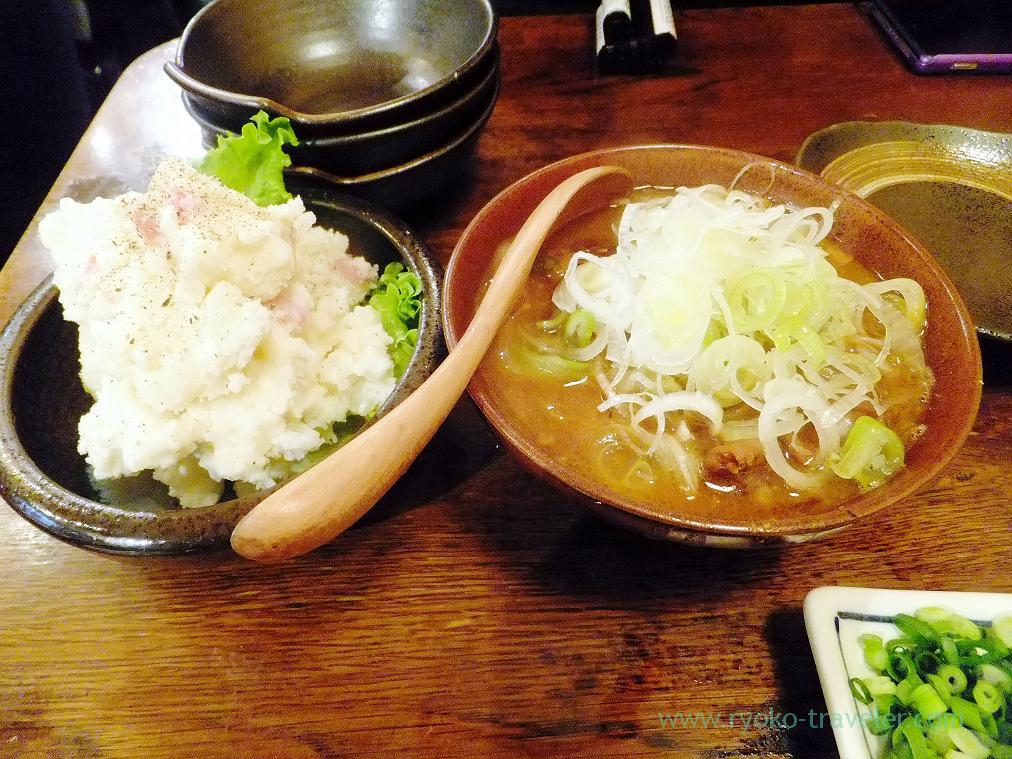 Both was good.
Grilled thick bacons (厚切りベーコン焼き, 600 yen)
Broiled thick deep-fried tofu (厚揚げ焼き, 650 yen)
This tofu was simmered and then grilled.
We weren't satisfied with eating raw meats yet and ordered raw pigs' stomach (ガツ刺し, 450 yen) 🙂
Last, we ordered some grilled meats.
Tsukune (つくね, 140 yen)
It had crunchy texture and tasted good.
Hearts, head, tongue, liver and gristle (ハツ、カシラ、タン、レバー、ナンコツ, 140 yen each)
Only the liver was rare. Another was grilled well. Everything was so tasty.
About Yakiton Hyottoko (やきとん ひょっとこ)
Address / 3-4-8 Nihonbashi Ningyocho, Chuo-ku, Tokyo
Station / Ningyocho station (Toei subway, Tokyo metro)
Open / 17:00 – 23:00
Closed / Sundays and another national holidays (Every Saturdays of this July and August are closed)