TOYOCHAN already quit their business in 2017.
(April 27th, 2018)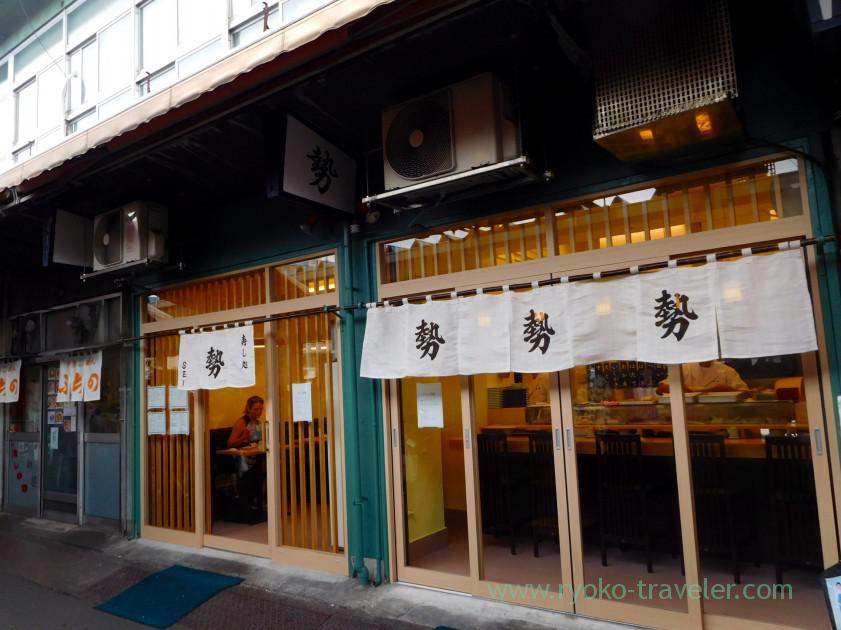 (Moved) From Toyochan to Sushidokoro SEI (寿し処 勢)
New sushi shop is open. At first, I have to inform you that Toyochan (豊ちゃん) already quit their business as Japanese-We...
---
TOYOCHAN
I ate a dry curry for breakfast at TOYOCHAN at end of last september. Toyochan's dry curry is limited to the summer season(until September 30) every year.
Yest. It was just before the end.
I had wanted to eat the dry curry for a long time.
There is a notice in the picture that says "Special dry curry (特製ドライカレー)".
I hate cutlets curry and katsudon.
Because these coating get soft by soaking in.
Of course, I sometimes eat cutlets curry and katsudon.
Speaking of cutlets curry and katsudon, I think these are ought to made from leftovers.
I can't believe why the shop use freshly made katsu for katsudon and cutlets curry 🙁
I want to eat freshly made katsu as it is. Mottainai.
The shop is famous as these dishes 🙁
Well, such a dishes are not important for me now.
Dry curry. This is dry curry. (small quantity) 550 yen.

It was more spicy than expected because many red peppers chopped into small bits in the curry. I had to see carefully so that I could see the peppers.
I like this taste. I should have eaten it earlier….
I won't be able to eat it untill next summer.
Speaking of dry curry, I think almost all people remember curry flavored fried rice.  Me, too. But this shop's dry curry is not. "dry curry" is curry with less water. And chopped eggs on it.
At first, I didn't think anything about the chopped eggs, but the curry was hot, so it was necessary for me to soften its spiciness.
I want to eat at this shop again.
Coffee at YONEMOTO
Because I finished eating it so fast (because the curry was very spicy… :p), I went to this cafe along Harumi Street to drink coffee after meal.
YONEMOTO COFFEE SHOP

Smell of cuffee beans attracted me. Muscovado macchiato(黒糖マキアート, 370 yen).
This was the first time to visit there. This cafe is small, so seats are always occupied.
About Toyochan (豊ちゃん)
Address / Tsukiji Market Bldg No.1, 5-2-1 Tsukiji, Chuo-ku, Tokyo
Station / Tsukijishijo station (Toei subway)
Open / 7:00 – 14:00
Closed / Market's holidays
About Yonemoto Coffee Honten (米本珈琲本店)
Address / 4-11-1 Tsukiji, Chuo-ku, Tokyo
Station / Tsukiji station (Tokyo metro)
Open / 6:00 – 16:00
Closed / Sundays and national holidays
Website / www.yonemoto-coffee.com/(in Japanese only)