I went to Takaraya(宝家) in Monzen-nakacho.
My friend who is regular customer of the shop invited me there.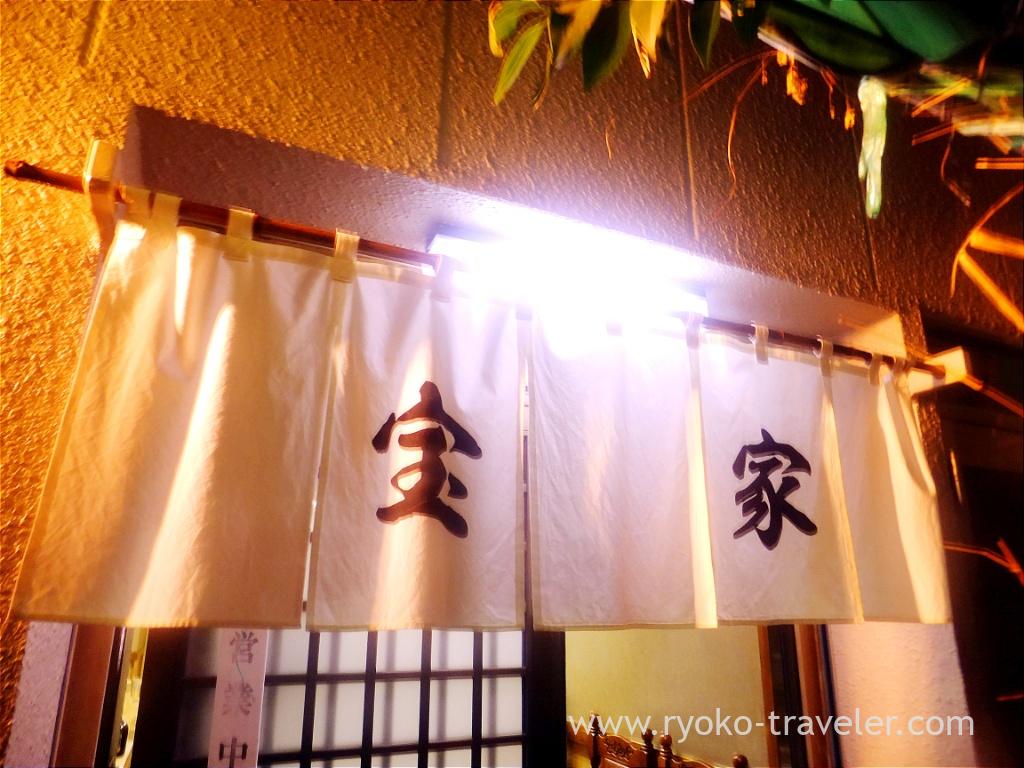 It is a traditional, and widely-liked Chinese foods shop.
When I got to the shop, there are another guests sitting at the entrance. The entrance was completely closed and I was at a loss. Then the chef said to me to enter from the entrance of kitchen and through.
I never had pressed my foot at kitchen of shops or restaurants
But the kitchen was so clean.
It is ordinary Chinese foods shop.
By the way, I say this is Chinese foods "shop", not Chinese foods "restaurant".
Because I think they are roughly divided into two types: serving much kinds of Chinese dishes and serving only ramen, fried rice, gyoza and some another foods like ramen shop 🙂
Takaraya is Chinese foods "shop" in that sence.
There are ramen, gyoza, fried rice, soup and fried vegetables on the menus. And alchoholic drinks.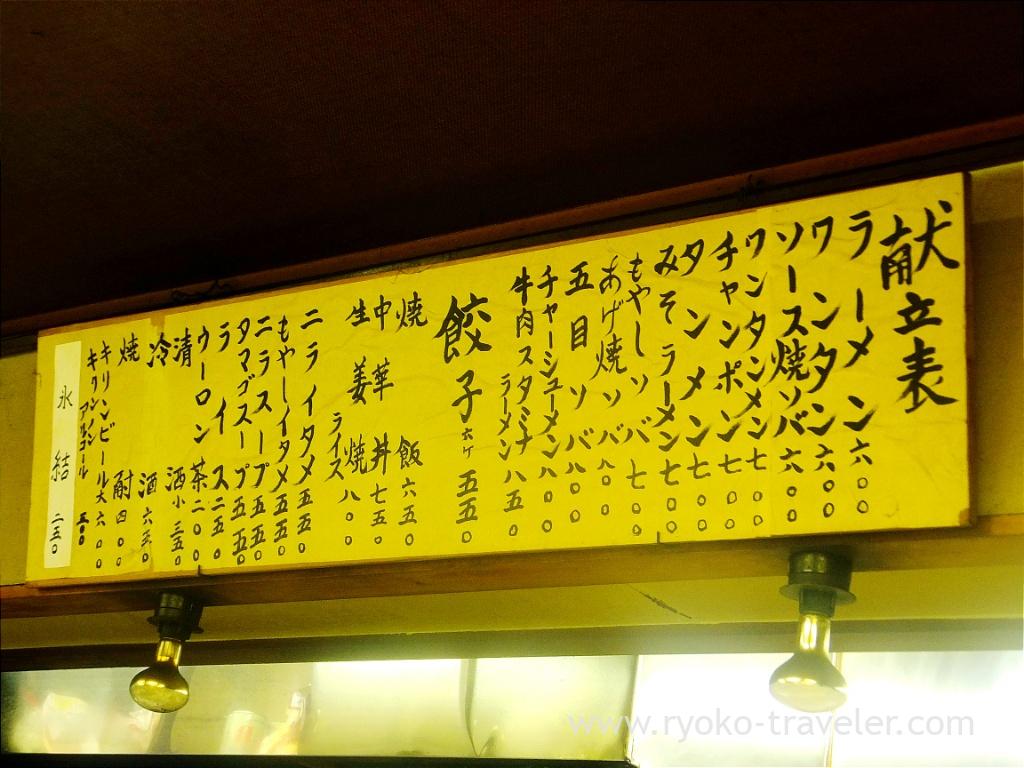 But !
Something strange at night if the group of more two people visit the shop.
After we seated, big fish arrived.
Boiled Japanese bluefish with soy sauce and sugar (銀ダラの煮つけ)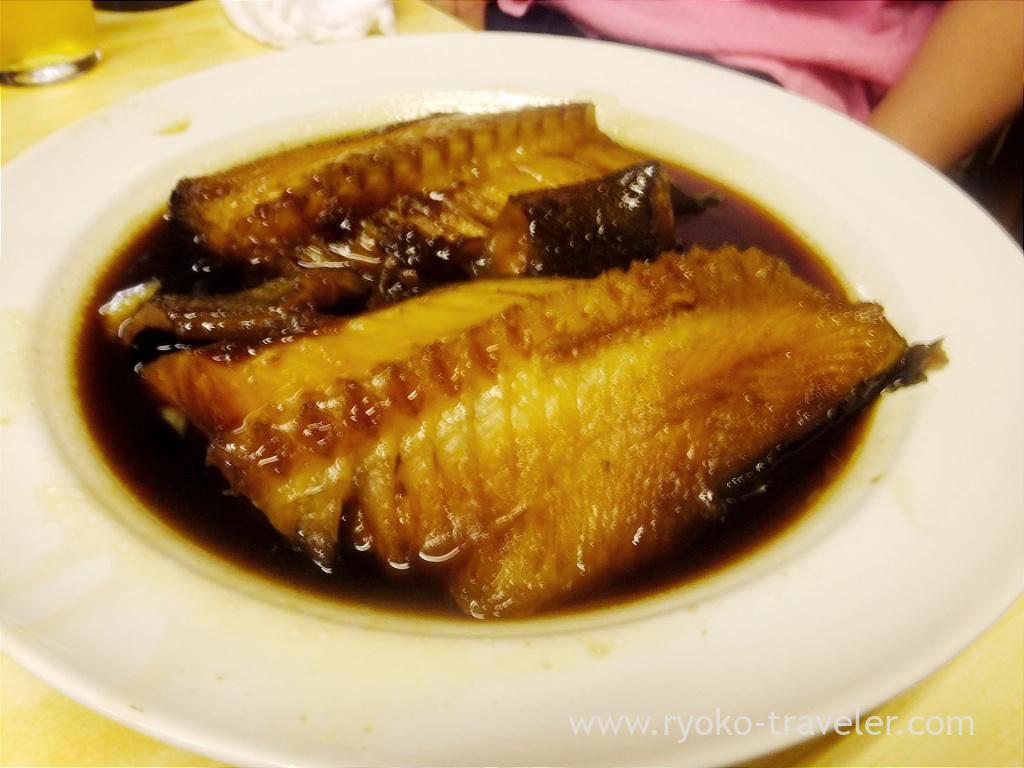 It looked completely black, but I found it was not so salty than I had tought and much taste of the fish came into my mouth. Four persons shared this. So big 🙂
Yanaka Ginger (谷中生姜)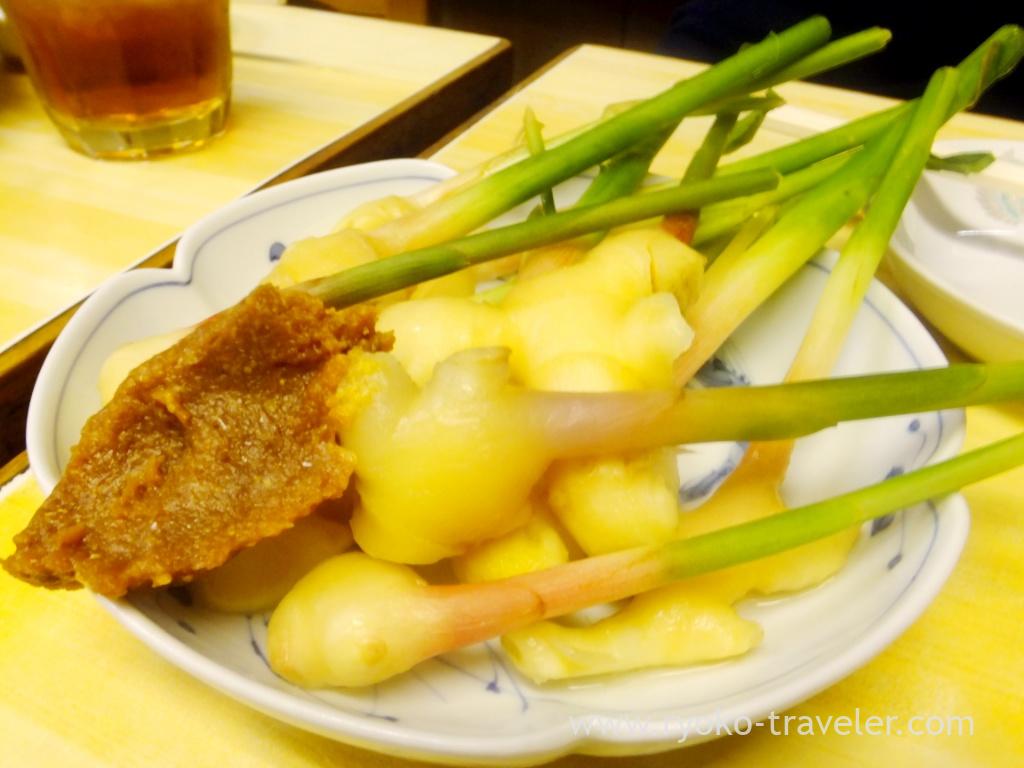 It is my favorite food ! Eating with miso.
Assorted sashimi (刺身の盛り合わせ)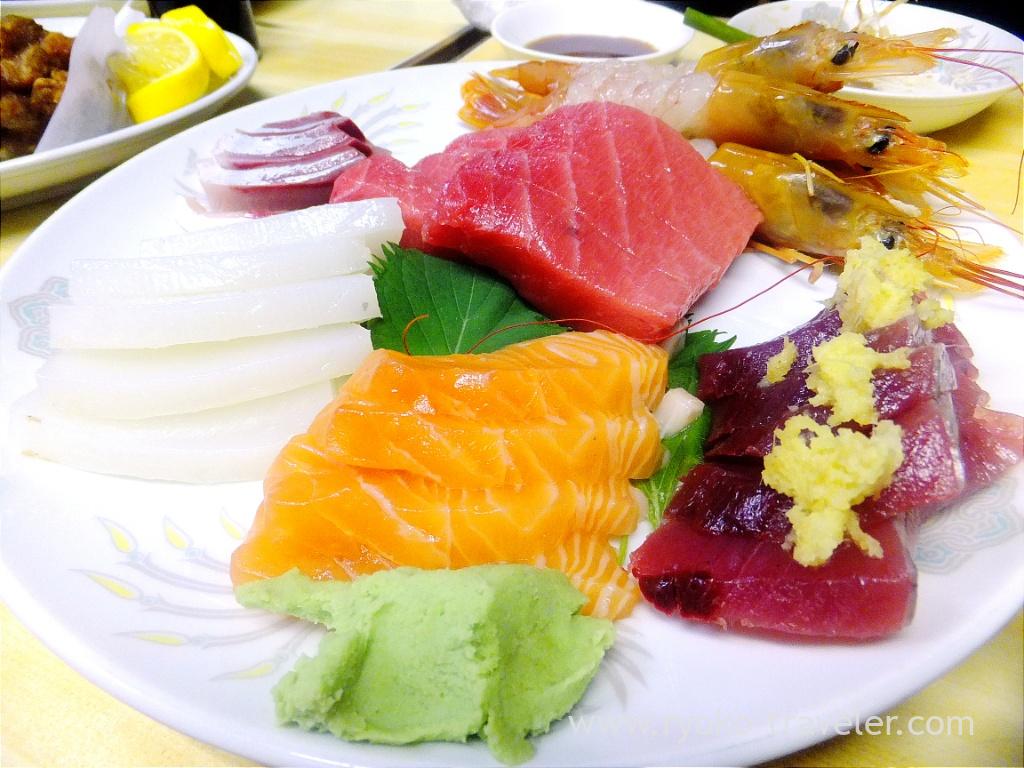 Here is Chinese foods shop ! I never thought that I could eat such a brilliand assorted sashimi at Chinese foods shop. And it tasted good 🙂 Wow !
Karaage (唐揚げ)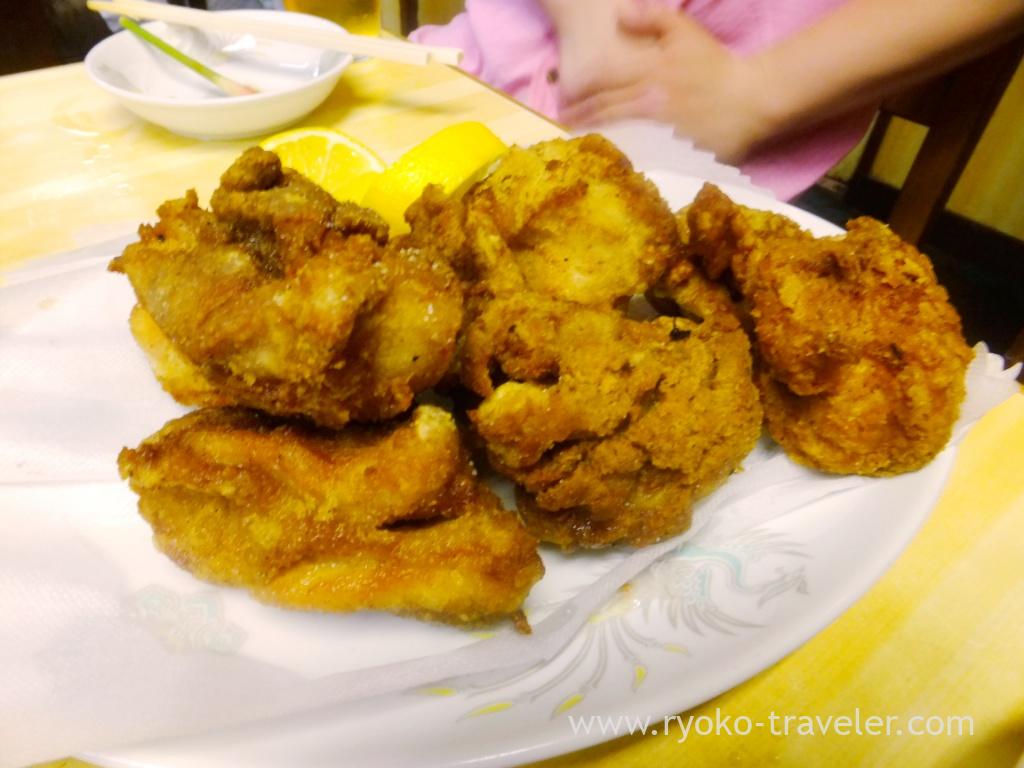 Good chickens were used ! I wish to have huge stomach. Then I'll monopolize the whole dish 😛
Gyoza (餃子)

I like it in all dishes that I had that time. Decisive lead ! The skin was thin and ingredients were juicy !
Raw egg came. That is to say ….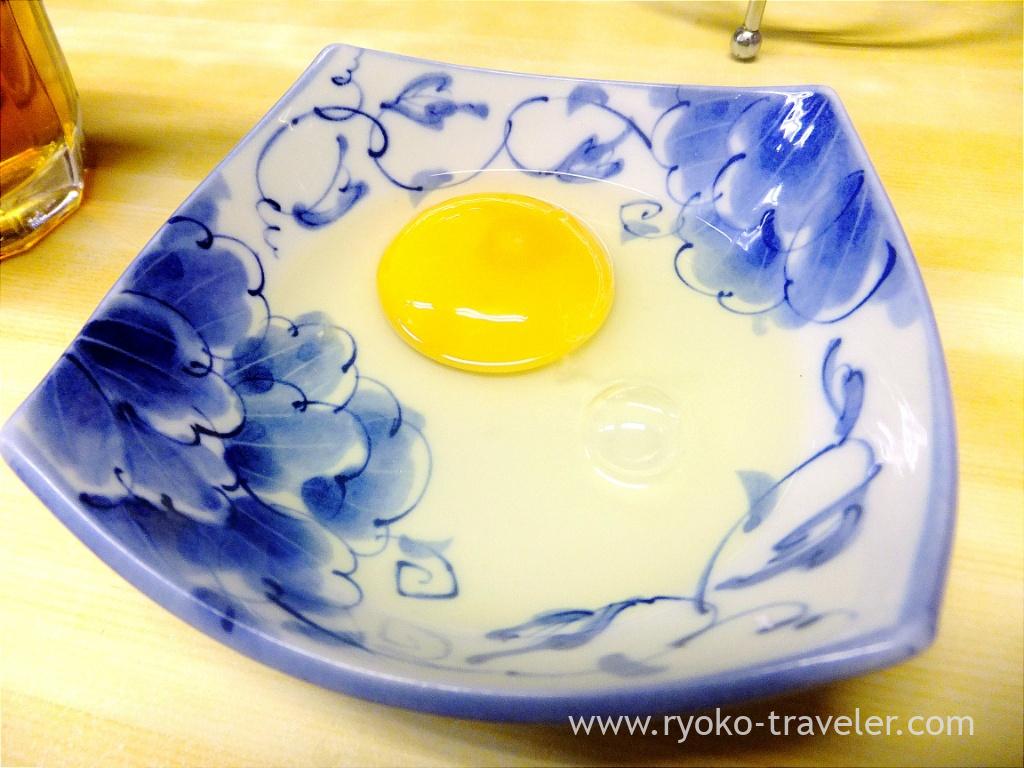 It's a time to eat sukiyaki!!! (Though I was nearly full until there… :P)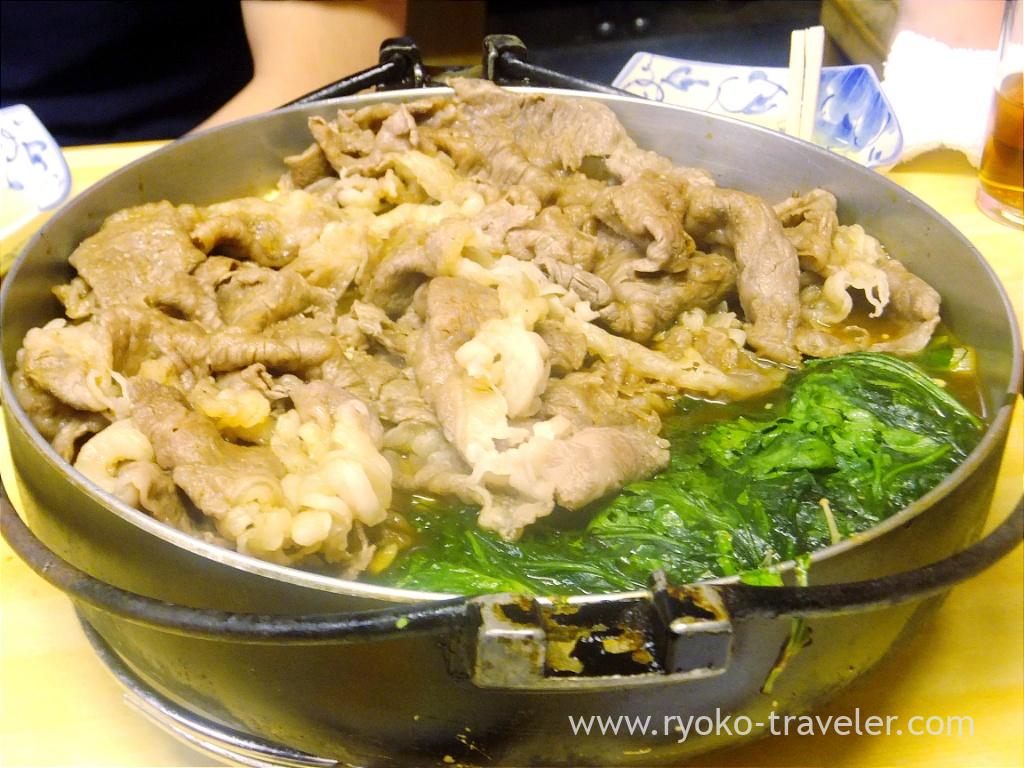 Dipping beefmeats into beaten egg.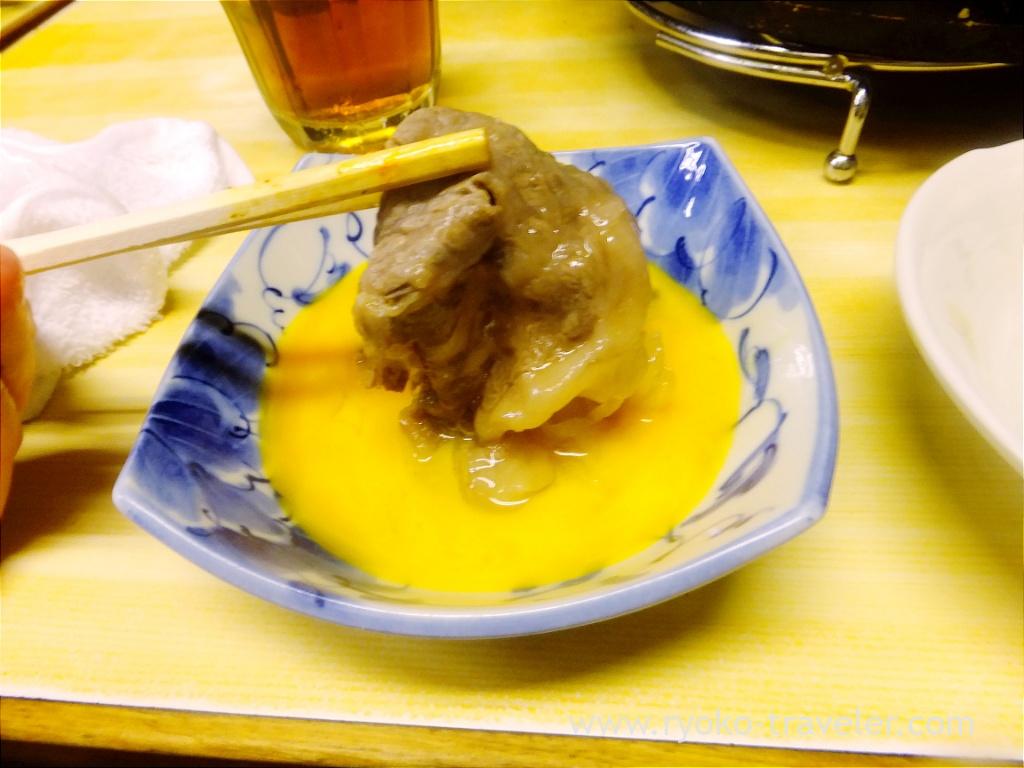 Ah, delicious !
And, steak (ステーキ) came…………… I thought I can't eat it more, but once I put the steak into my mouth,,,, delicious ! I ate up my own.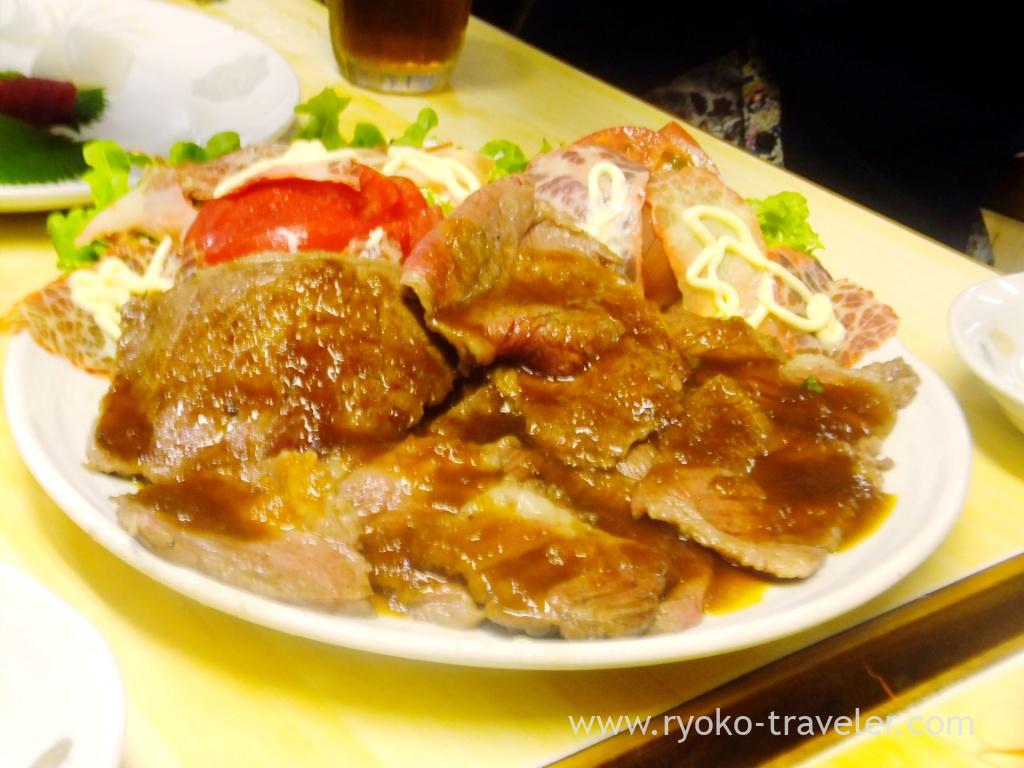 Last, small ramen (ミニラーメン)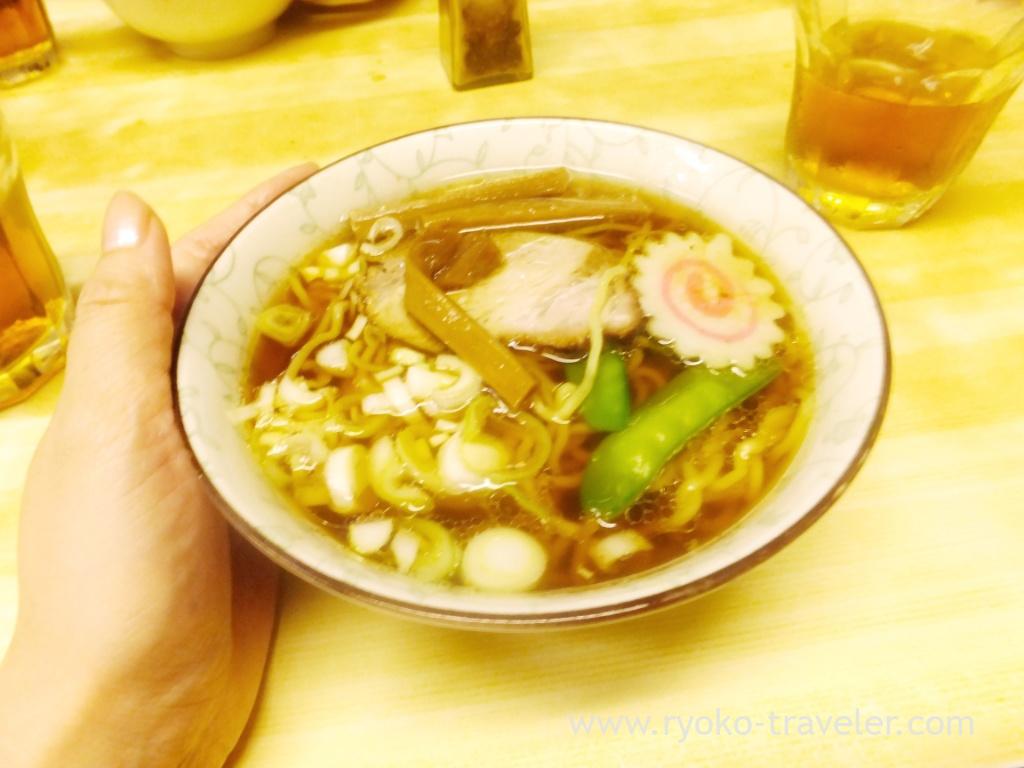 The bowl is small , my hand is not big.This was ordinary soy sauce ramen. So-called "Tokyo ramen". This was good size for me. I ate it up with pleasure.
Someone said to also want to eat fried rice (チャーハン) and then the chef cooked fried rice. Nevertheless we ordered "A bit", eight portions came…. A hill of fried rice….

Though I was already full, but I tried eating it. But I couldn't taste it because I was over full. Everyone said it was delicious. It was regrettable … 🙁 Well, I wish to have bigger stomach…. But I never want to gain weight 😛
Like this, Takaraya at nights, the dishes that are feast for Japanese.
That's a lot, so it's better to go there at night with some people. And it is necessary to reserve because the shop is small.
We got out of the shop through the kitchen again 🙂
I want to go to Takaraya again to eat gyoza and ramen at daytime secretly 😉
One visited there again later, she said they ate almost same dishes.
It is stable quality …..
About the restaurant
Name in English / Takaraya
Name in Japanese / 宝家
Address / 1-12-5 Monzen-Nakacho, Koto-ku, Tokyo

Open / 11:30 a.m. – 1:30 p.m., 6 p.m. – 11 p.m.
Closed / Sundays, Saturdays' lunchtime

Reservation / Available for dinner time only
Credit card / Unavailable