When I have lunch in Yotsuya-Sanchome area on weekdays (Mostly at Sushi Sho), I mostly go to Taiyaki Wakaba for dessert after lunch. As its name, they are taiyaki shop. Do you have question why on weekdays only ? Because there are many people visiting on weekends.
Because they are said to be one of the great taiyaki shop of 3 great taiyaki in Tokyo.
Another is, Naniwaya So-honten in Azabu-jyuban and Yanagiya in Ningyocho.
Those three taiyaki shops are crowded on weekends. Especially, I heard Naniwaya need to reserve in advance.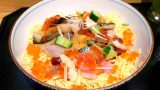 [Tokyo] Lunch barachirashi at Sushi Sho (すし匠) in Yotsuya
Because I had nothing to do on last Wednesday's lunchtime, I went to Sushi Sho (すし匠) that is a fancy sushi restaurant i...
Where?
They are along the narrow street. It's residential area.
This cute signboard can be seen from the main street.
We can eat inside and have tea.
There's a cashier on the left of the entrance. Both people FOR HERE and TO GO wait here in line.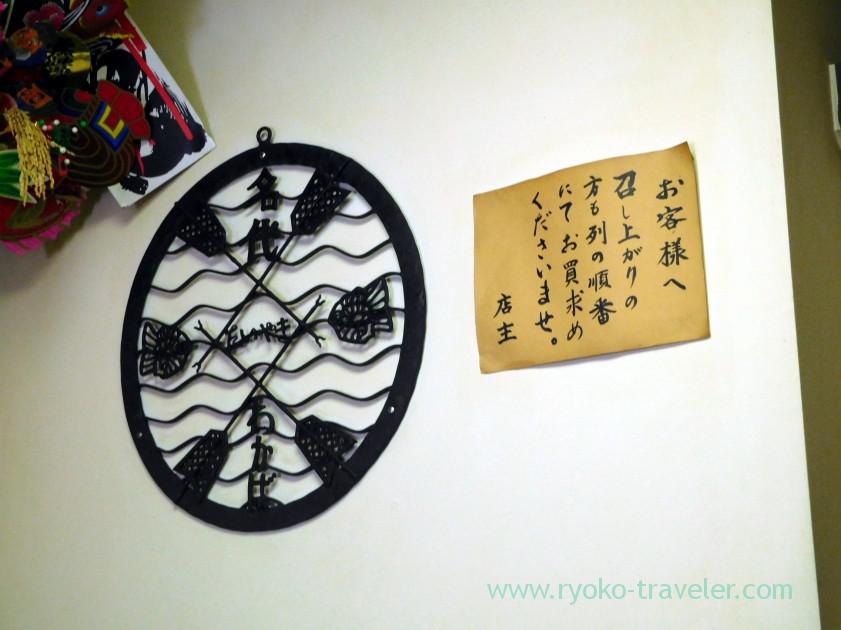 If you buy one taiyaki, they hand it to you like this in a paper bag.
There're two types of baking pan for taiyaki. One can be baked many taiyaki in all and another can be baked one taiyaki only. Taiyaki baked by later is said to be "Tennen-mono (天然物)" and people think it's precious. Taiyaki Wakaba's taiyaki is, of course, Tennen-mono.
There're tables and chairs inside the shop, so people can eat there. And they prepare tea and water machine. You can have it freely.
If you want to eat taiyaki slowly in their historical shop, you'd better visit there on weekdays' daytime.
Plenty of anko is hidden
Inside of fish 🙂 Plenty of tsubuan (mashed red bean pastes) in it. I was worried about that body of the fish would break because of heavy anko 😉
To tell the truth, I don't like tsubuan because I hate the texture of beans' skin. But this tsubuan is smooth and I like it. And this anko is salty and it isn't too sweet. So, it's my tastes.
The edge of fish is crispy but around the body is soft because of much anko. Both is delicious.
By the way, when we order two, the staff put our taiyaki on the dish. This dish is very nice.
"I hope Taiyaki is filled with plenty of anko from head to tail" by Tsuruo Ando.
He was a popular novelist lived in Yotsuya from Meiji – Showa period.
As his hope, Wakaba's taiyaki is filled with plenty of anko even now.
I hope they keep making for long period, too.
Many people visit there for buying to go, but I recommend you eat there as soon as you get. I bought two taiyaki last time. I ate one there, and I ate one in my house. Completely different things in the flavor and texture. I decided to eat everything in the shop that time.
Their anko can be bought at the shop, too.
About Taiyaki Wakaba (たいやきわかば)
Address / Ozawa Building 1F, 1-10 Wakaba, Shinjuku-ku, Tokyo
Phone / 03-3351-4396
Open / 9 a.m. – 7 p.m., Saturdays until 6:30, National holidays until 6 a.m.
(They are closed as soon as they run out of ingredients)
Closed / Sundays
Credit card / Unavailable
Reservation / Available