New stand-up-drinking izakaya is open close to my home.
The shop's name is Tachinomi Watarai. They are open from 2 p.m. So, we can drink in the daytime 😉
The interior can be seen well from outside, so, it's easy to enter the shop !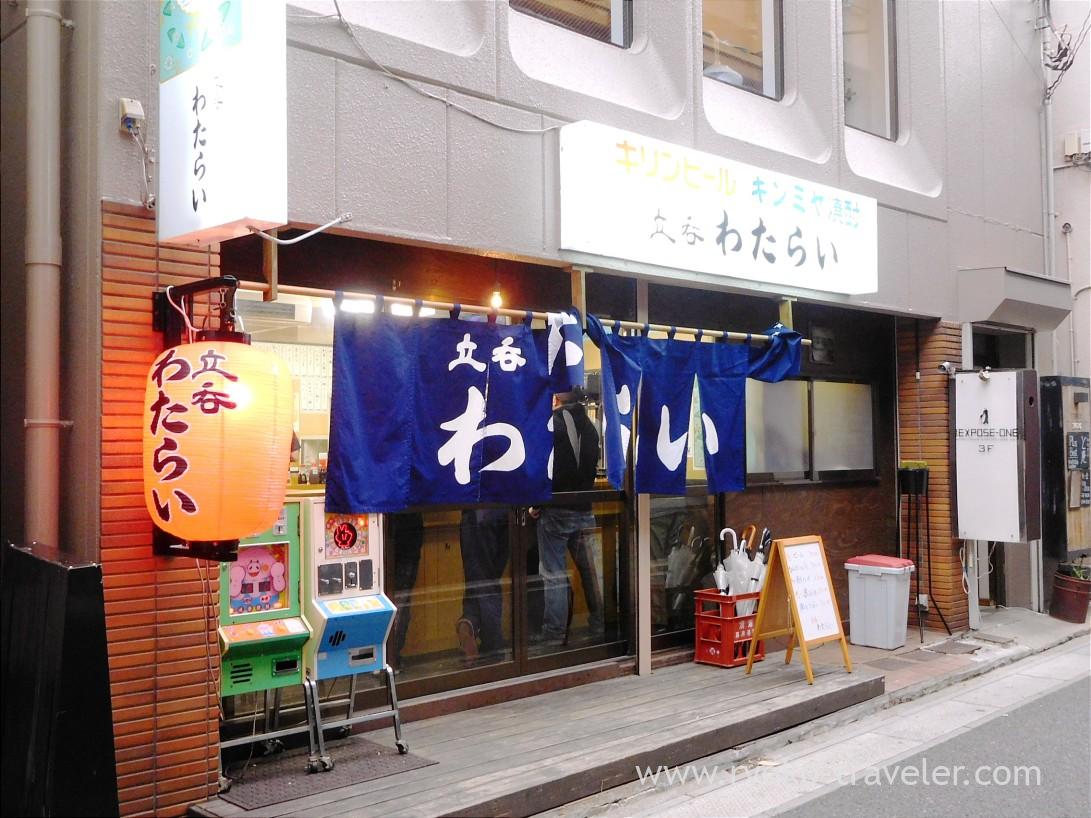 This is third branch of Masuyama in Funabashi that is managed by a man who trained at Ippei in Funabashi
Funabashi : Inexpensive izakaya - Masuyama
Go there with 1000 yen in your hand New inexpensive izakaya has opened close to Funabashi station before I know. ...
This is the first stand-up-drinking shop by him.
By the way there's 2nd branch named "Magoshi" in Motoyawata and it's close to Watarai.
Where?
It's located along railway in front of JR Motoyawata station.
There used to be "Bar moto Sanpei". But The manager quit their business because of ill. So, they could start their business soon. Watarai use former kitchen without change.
Menu
There's regular menu by strips of paper on the wall. It is as same as Masuyama.
Most foods is around 200 yen.  So inexpensive ! The most inexpensive food is simmered egg (煮玉子, 100 yen). The most expensive food on the regular menu is assorted 3 sashimi (刺身3点盛り, 500 yen).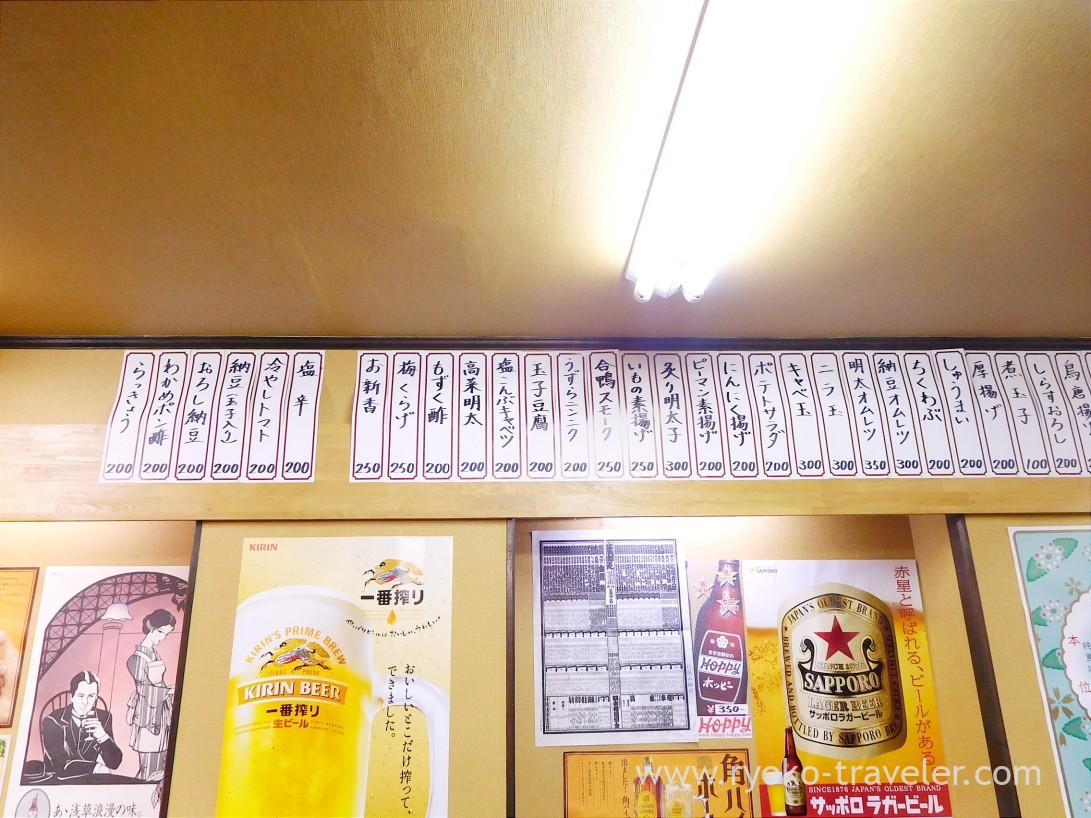 Alcoholic drinks menu. From 230 yen. "ハイ" have Kinmiya shochu.
Draft beer is 300 yen. Another Japanese sake (250 yen), Sesame shochu (280 yen) and so on.
Another, there's white board menu of the day.
Because it is inexpensive stand-up-drinking shop, reservation is unavailable. And we don't need to pay table charge.
Interior
There's no chair. Also counter tables there. The interior is simple. Everything is tidy because it is still new. Many people visit there alone or with one friend.
Smoking is permitted. But there're not many people smoking. I think many people want to eat and drink quickly.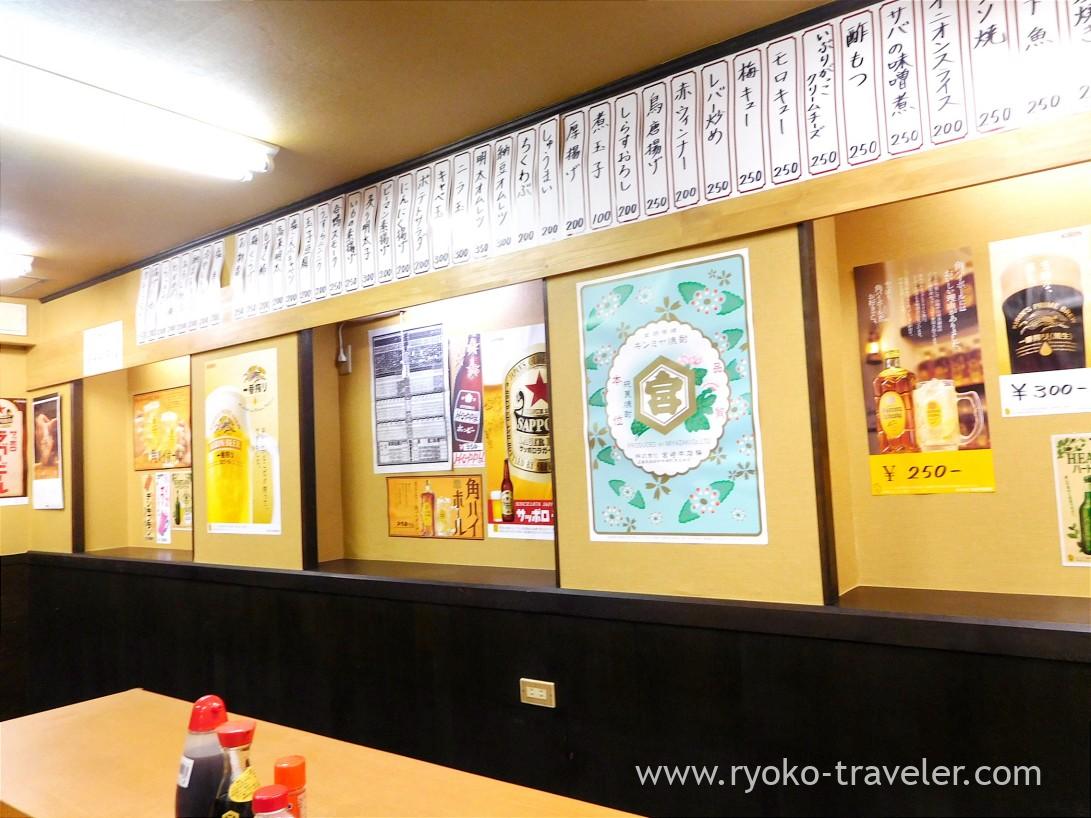 Drinks
Chuhai
The most inexpensive drink. Chuhai (酎ハイ, 230 yen). Chuhai is Shochu and soda. Simple.So, it go with all foods. Not too strong.
Suppa Lemon
Suppa Lemon(すっぱレモン, 250 yen). "Suppa" means sour. Shochu and lemon extracts. Its name sounds so sour. But it's not too sour. Don't worry. Not too strong, too. Rather weak. Like juice :p
Suppa Lemon don't have fresh lemon. If you want to have fresh lemon, there's Fresh lemon Hai (生レモンハイ, Shochu and fresh lemon juice, 300 yen).
Kakuhai
Kakuhai (角ハイ, 250 yen) is KAKU whiskey (角) produced by Suntry and soda. It's stronger than expected. If you want to drink something strong alcoholic drinks at this shop, this Kakuhai is good. It went with grilled squid legs and deep fried foods well.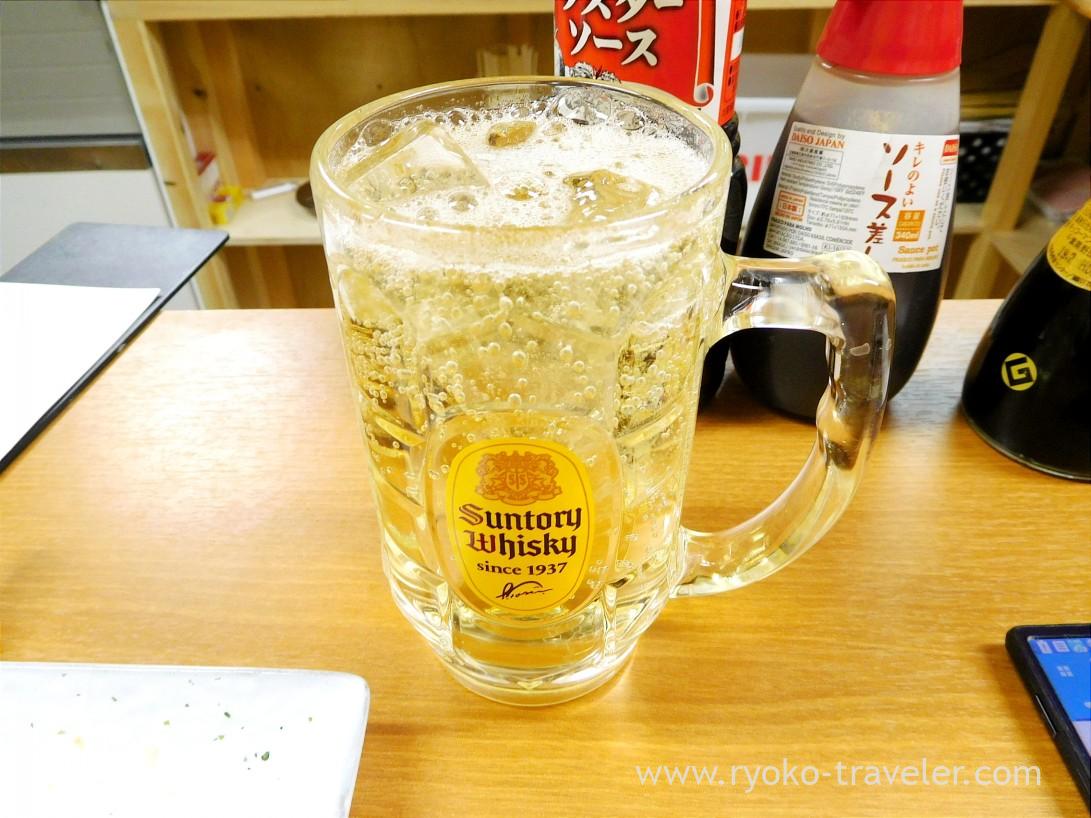 Matcha Hai
Matcha hai (抹茶ハイ, 250 yen) is, do you imagine ? Yes. Shochu and matcha juice 🙂
They have large bottled matcha juice in the refrigerator and mix it with shochu.
Contrary to its appearance, it's not powdery and don't have strong tastes of matcha.
Thanks to matcha juice, it's easy to drink. Well, as well as suppa lemon, it's like juice.
Foods
Simmered tofu
I was brought to the place close to this large hotpot. Simmered tofu, simmered egg, Chikuwabu and so forth in it. So, I couldn't avoid something.
So, I ordered Simmered tofu (肉豆腐, 200 yen).
Unexpectedly large tofu was served. And small piece of pork meat was on it. Though the surface of the tofu was seasoned strongly, the inside was white. So, the degree of seasoning is best.
Simmered giblet
There's large hotpot next to the hotpot of simmered tofu.
It have simmered giblet (煮込み, 200 yen).  Simmered giblet in the hotpot looks greasy. But simmered giblet in the bowl that served to me was not greasy but rich tastes of giblets. It had konjak (things like jelly), daikon radish, carrots and so on. I ate it up. And drunk it up.
Marinated firefly squid
I chose some from on the whiteboard menu. Firefly squid is my delight. So, I ordered it.
Marinated firefly squid in soy sauce (ほたるいかの沖漬け, 250 yen). Cartilages weren't removed. And some eyes weren't removed, but the tastes was good.
Deep fried squid legs
They have much species of deep fried foods. I chose Squid leg karaage (ゲソの唐揚げ, 250 yen) from them. It was crisp and good !
Grilled squid legs
Yes, I'm squid lover. Squid lover ordered grilled squid legs (ゲソ焼き, 250 yen) after eating up squid legs karaage :p
The burnt smell of squid is squid lover killer ! I ate it up quickly.
Mentai omelet
Last food. Mentai omelet (明太オムレツ, 350 yen). The most expensive food that I have eaten at this shop !
Mentai is mentaiko(marinated cod roe in spicy sauce). You can see small eggs of cod roe from the outside.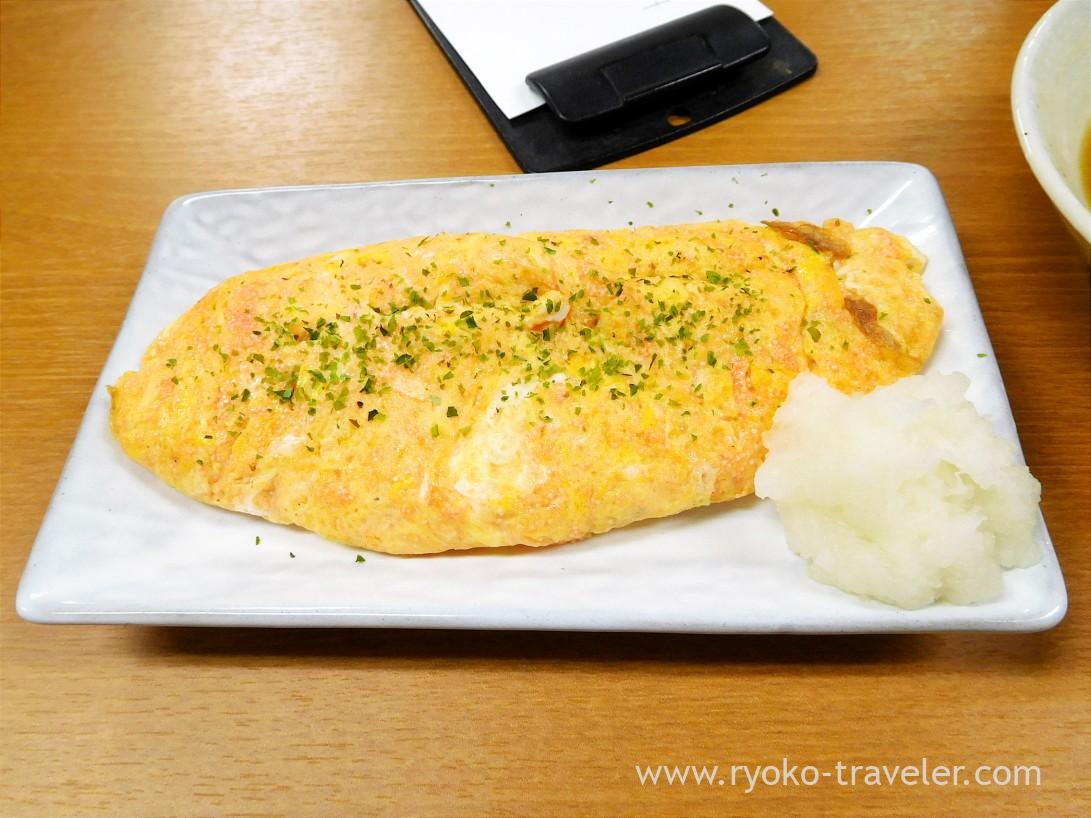 But there's more mentaiko in it ! If you love mentaiko, this is must food !
And half-cooked egg was good, too ! Eating it without anything is of course, good. But eating it with grated daikon radish on the dish and with shichimi pepper is good, too.
I like this mentai omelet very much. And also simmered tofu, grilled squid legs. I want to eat this three foods everytime I visit there !
About Tachinomi Watarai (立ち呑み わたらい)
Address / Yoshida bldg 1F, 3-4-16 Minami-Yawata, Ichikawa-shi, Chiba
Phone / 047-379-8902
Open / 2 p.m. – 11 p.m.
Closed / Sundays and another national holidays
Reservation / Unavailable
Credit card / Unavailable
Smoking / Permitted
English menu / No