I have known that there is a famous yakiniku restaurant as serving wagyu salisbury steak at lunchtime.
And finally I went there with my friend the other day.
We took a reservation and went there. At first, I didn't think we need to have a reservation. But it was good for us to have a reservation in advance.
The restaurant don't have much seats and several of groups came into the restaurant successively.
The restaurant also serve yakiniku at luchtime. But our aim was eating salisbury steak !
*Wagyu salisbury steak lunch set (和牛ハンバーグ定食)
There are three degrees by weight.
200g – 950 yen
300g – 1200 yen
400g – 1400 yen
I ordered 200g steak (200gセット)
Steak, rice, namul and soup.


200g steak is like a ball. Something cute 🙂
The steak have plenty of gravy in it. Soooo juicy !

Namul. I wanted more :O

The soup was tasty, too.

My friend ordered 400g steak ! Wow !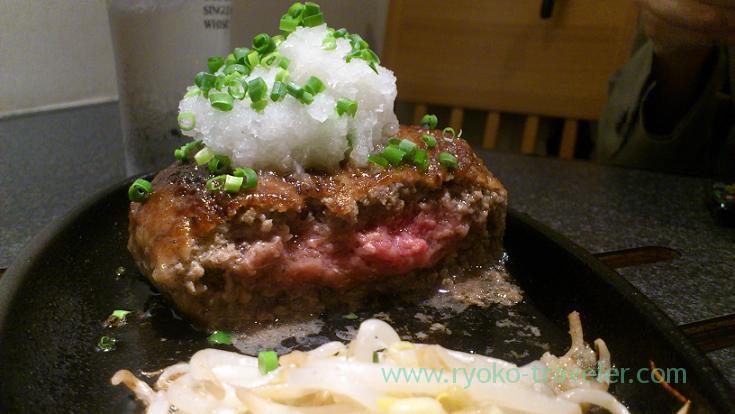 Terrific gravy ! and more rare than my 200g steak ! I tasted it a bit. So yummy !
By the way, we Japanese call salisbury steak "Hamburg steak". At first, before I write this post, I thought the words "Hamburg steak" in English is as same as Japanese.
But I was wrong. I understood it is called salisbury steak or hamburger steak in English.
Next, I'll eat 300g 😛
400? No,no. Unlikely.
Syotaian (将泰庵)
3-5-1 Honcho, Funabashi-shi, Chiba
Open from 11:30 to 14:00, from 17:00 to 23:00
Holidays – Thursdays' lunchtime