I reserved Sushi Tsukasa (鮨和処 つかさ) that is sushi restaurant for 1st dinner at Hakodate.
Tsukasa is close to Goryokaku. I telephoned them at the previous day and I could secure my seat. My airplane got to Hakodate airport with 30 minutes delay. It's good decision to reserve later hour.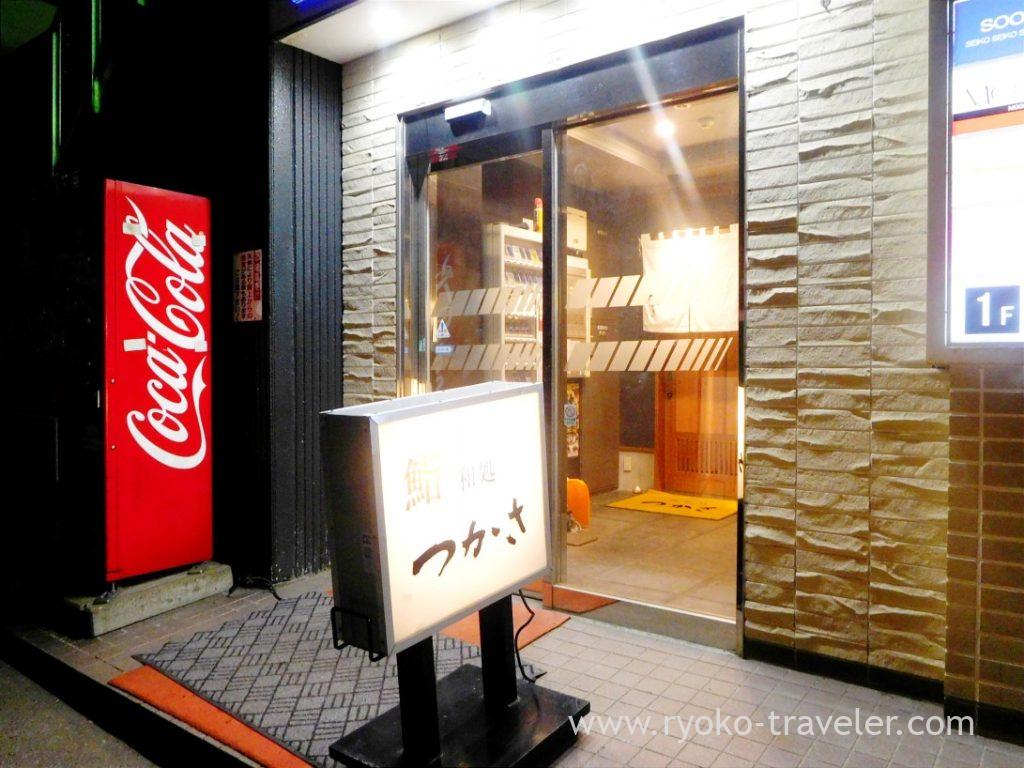 There're counter seats surrounding the kitchen and tables are at the back of counter seats. It's good atmosphere. Two chefs were in the kitchen. There seemed many regular customers who live in Hakodate. Not too rough. Not too stiff. I felt comfortable.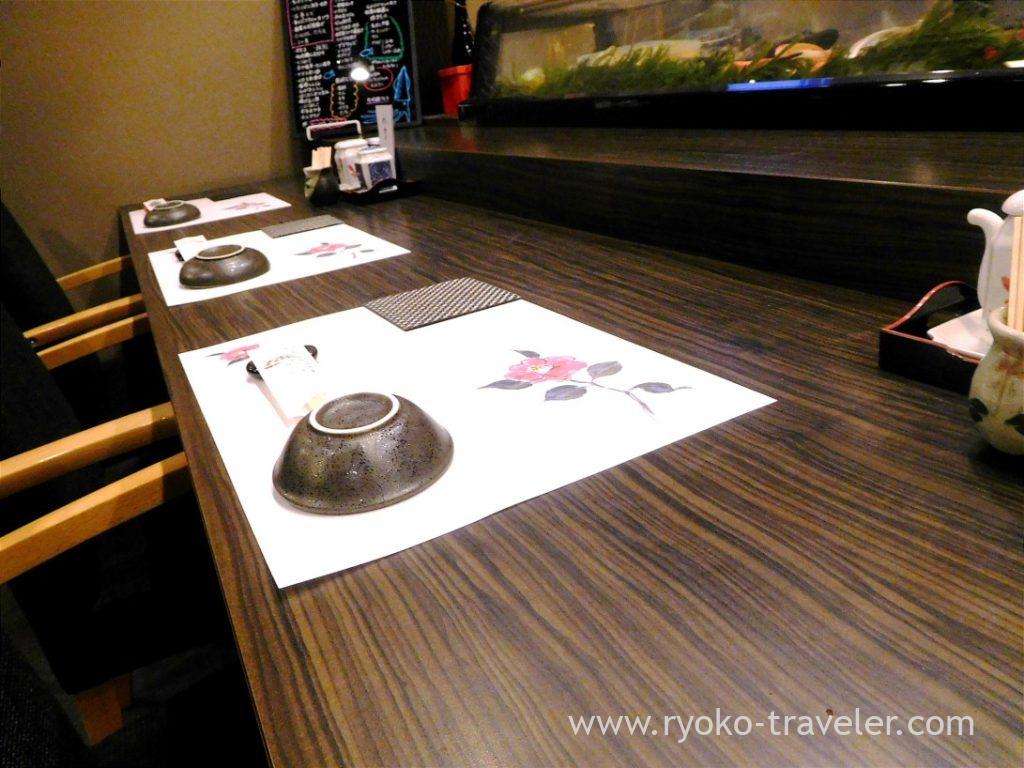 Menu of the day on the black board. Though there was "living squid" with cute picture, they didn't have it in stock because of severe cold weather 🙁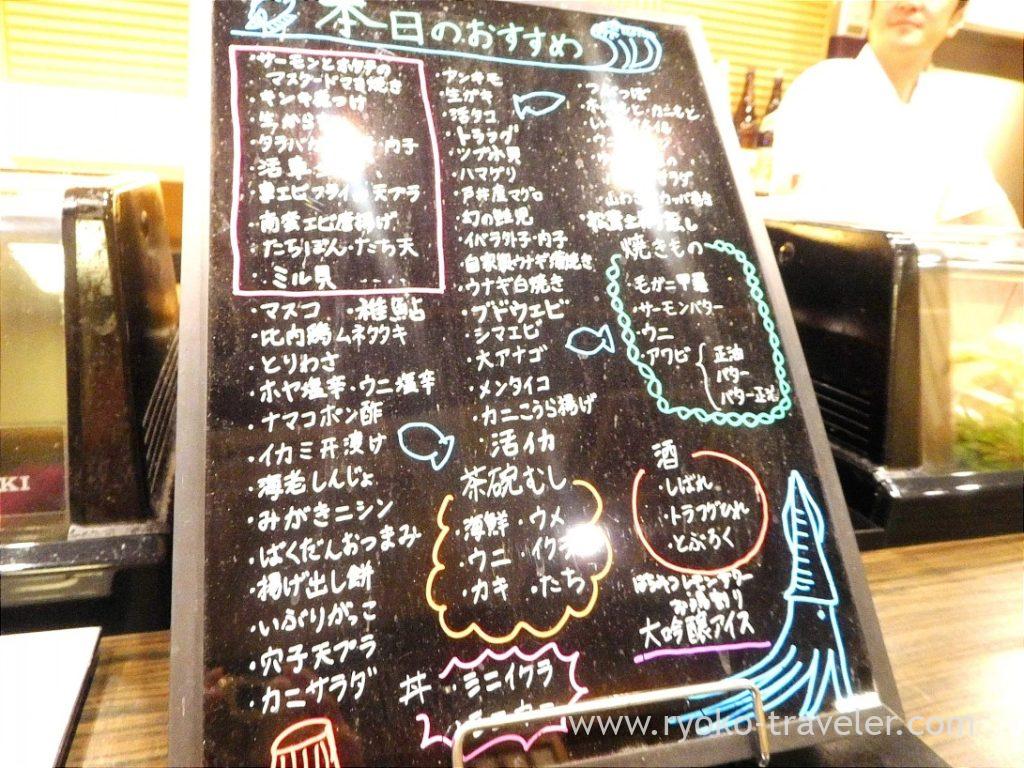 Of course, you can order sushi what you like as many as you want from the menu and refrigerator, but they prepare valuable set. Because I my hand shaked when I took the photo of the menu, see below :p From 上 to 特上 have salmon roe and sea urchin.
並 / Nami (7 sushi and sushi roll) 1600 yen
上 / Jyo (8 sushi and sushi roll) 2100 yen
特 / Toku (10 sushi) 2600 yen
特上 / Tokujo (10 sushi) 3100 yen
司 / Tsukasa (13 sushi and tamagoyaki) 4000 yen

Sushi set
Otoshi was served with draft beer. Nanbanduke fish. Fish is horse mackerel ? I forgot the fish's name because I don't like nanbanduke. Nanbanduke is pickled fish. It's sweet. Though I don't like it. But I can eat. So I ate it up quickly.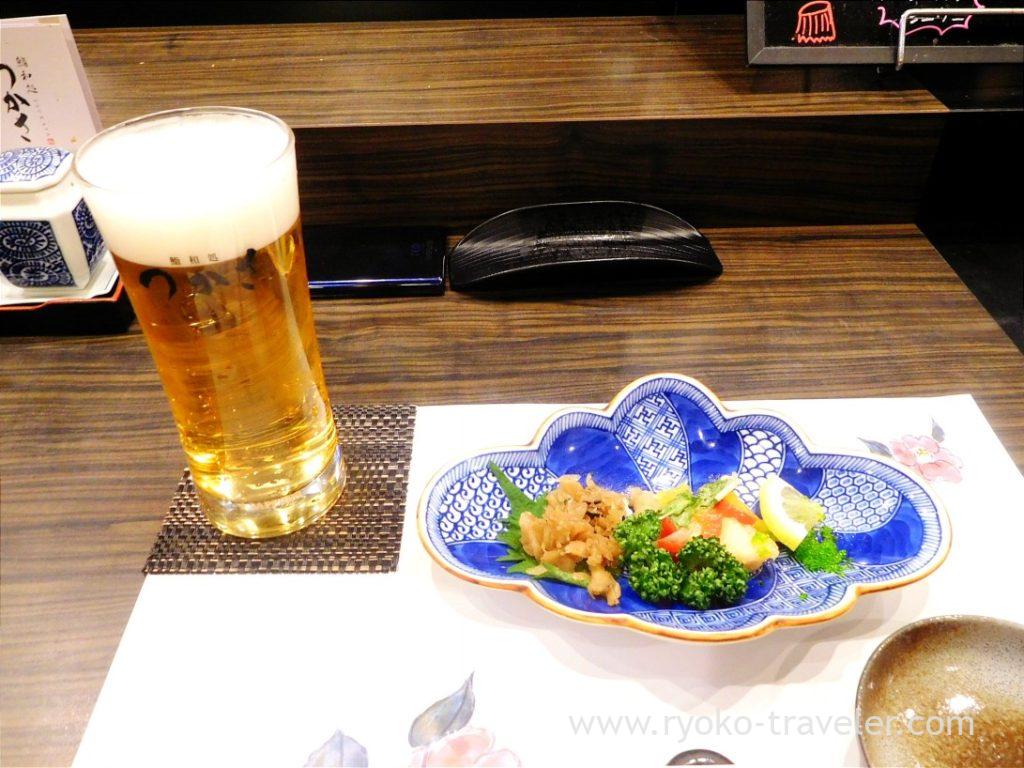 There're many food names on the blackboard menu. So, I couldn't select and I asked the chef's recommendation. He recommended King crab's inner eggs. I haven't eaten it ever. Also I haven't seen ever. This was the first time to meet it. It looks like squid ink !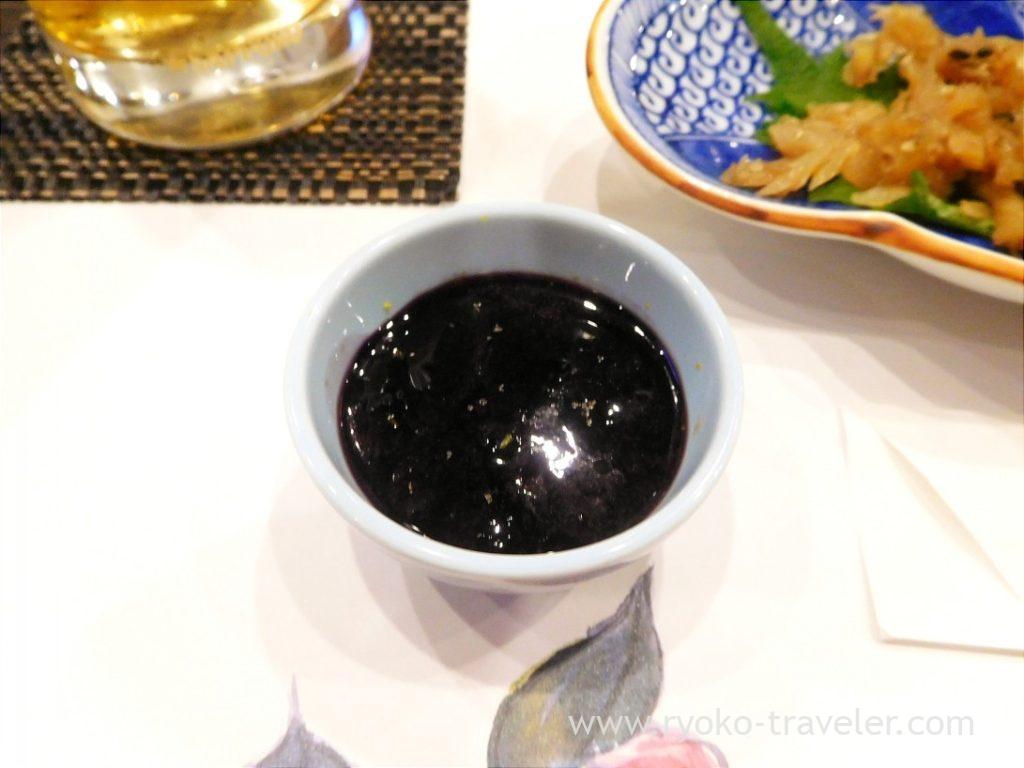 I had no idea. It's drink ?? Anyway, I put chopsticks into the ink. And then I held such a round thing with my chopsticks. It looks like boba ! Or large caviar ! It had sticky texture and was delicious. It tasted like big salmon roe.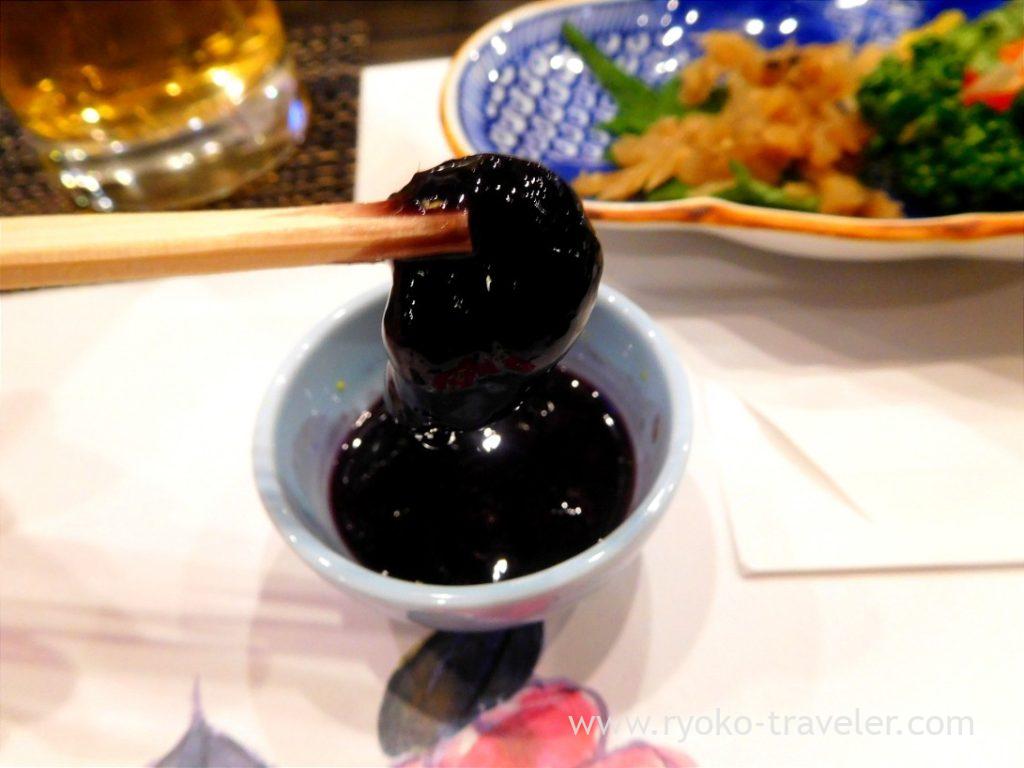 Though it was still cold season, but there was already young sweetfish on the menu. So, I ordered it with grilled. This was the first time to eat "grilled" sweet fish. Mostly I eat it as tempura. I think such a tiny fish is hard to grill. It was flavory. I mistook ! I ordered only two fishes. I should have ordered about 10 fishes !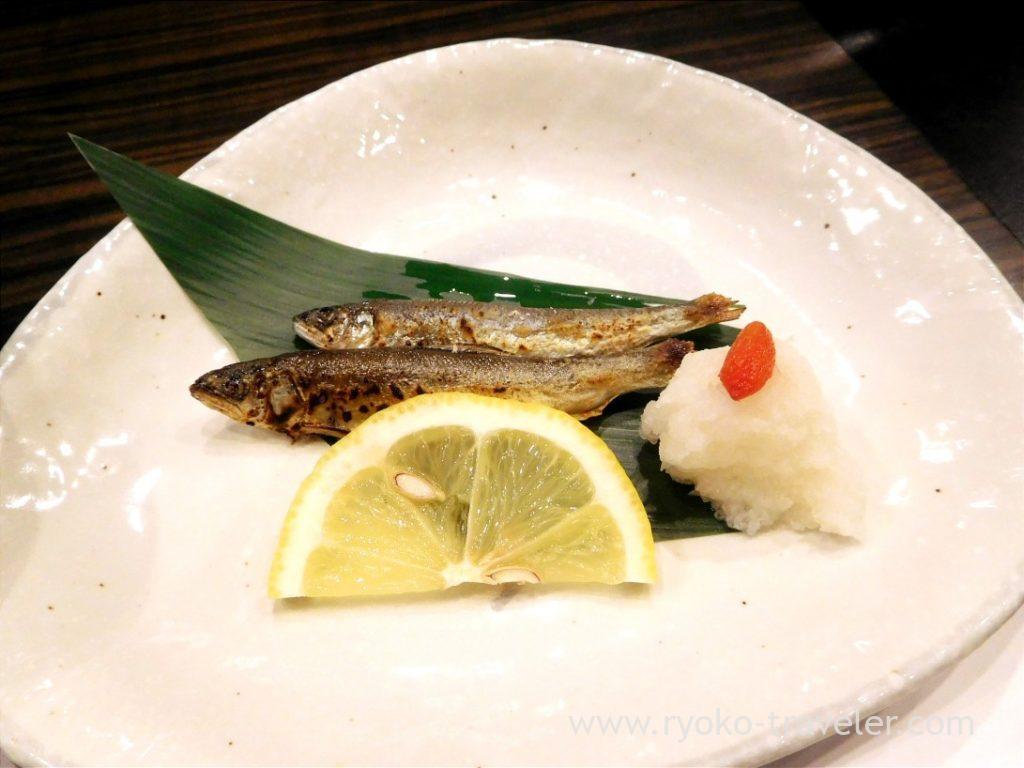 Tokishirazu as sashimi. One kind of salmon. They recommended it instead of living squid. It was thick and delicious. Such a Hokkaido local fish make me feel I'm in Hokkaido !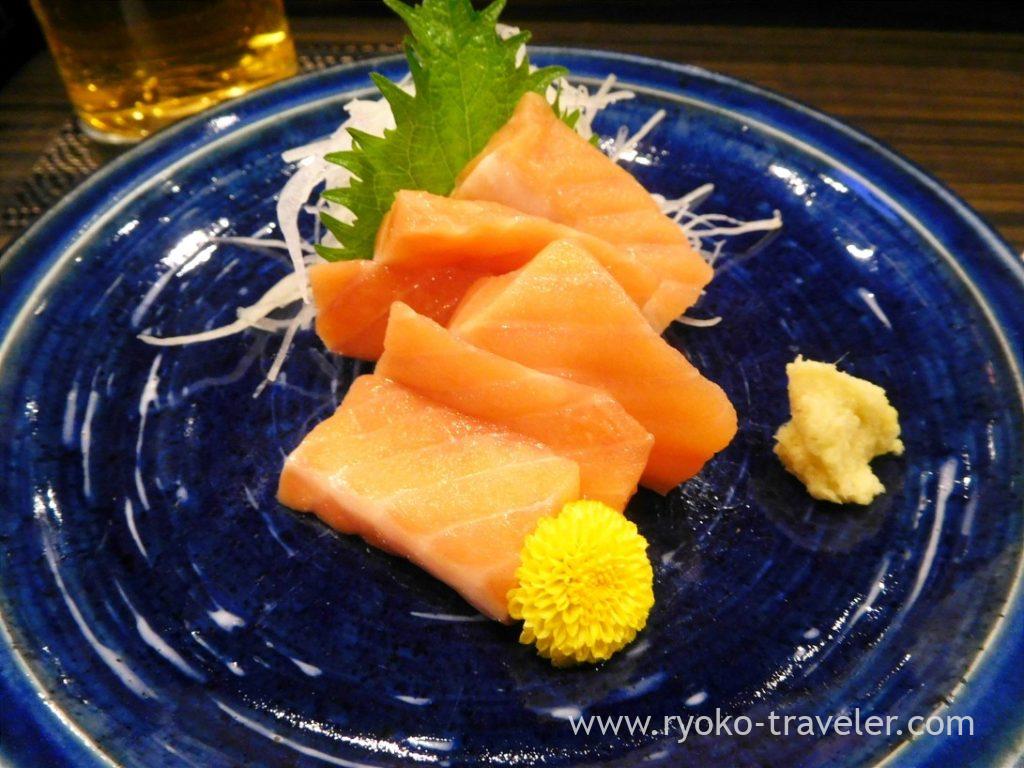 Because I ordered such a food suitable for Japanese sake, I ordered Japanese sake after all :p They prepare Japanese sake and shochu menu with photos. I ordered a Japanese sake made in Hokkaido. Its name is Kunimare. It's valuable sake !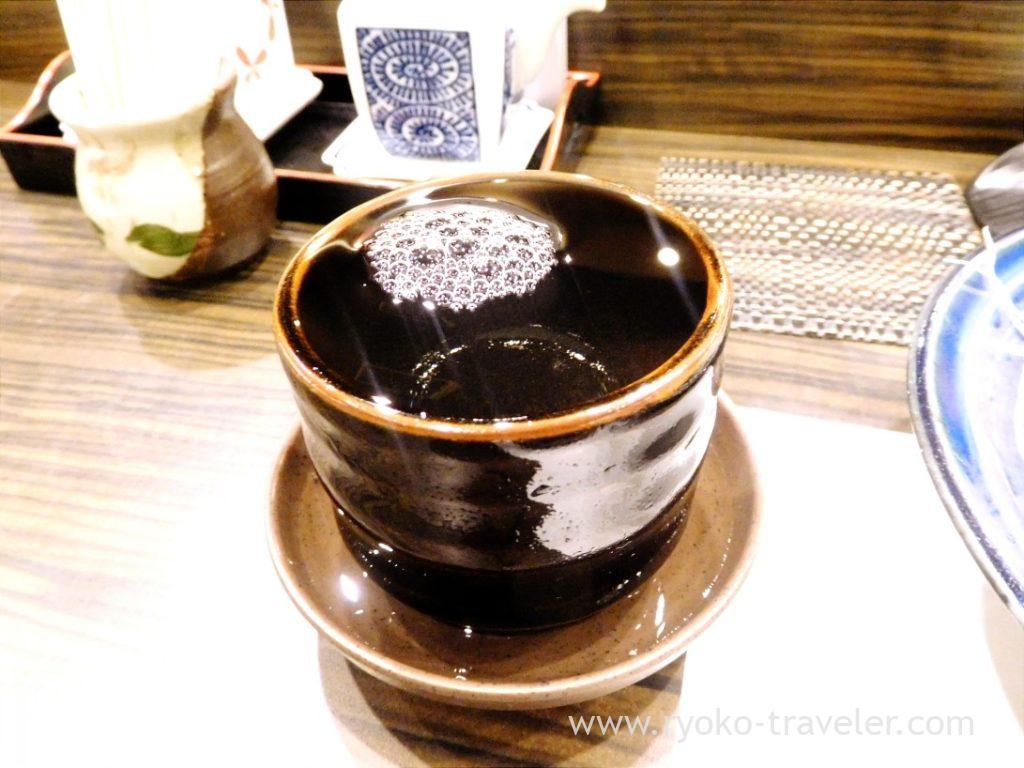 After I enjoyed dishes, I ordered Tokujo set (特上セット / 3100 yen) having 10 pieces of sushi. And I intended to add some sushi after that. At first, lean meat of tuna was served.
And then Surf clam. It is MUST seafood if you visit Hokkaido.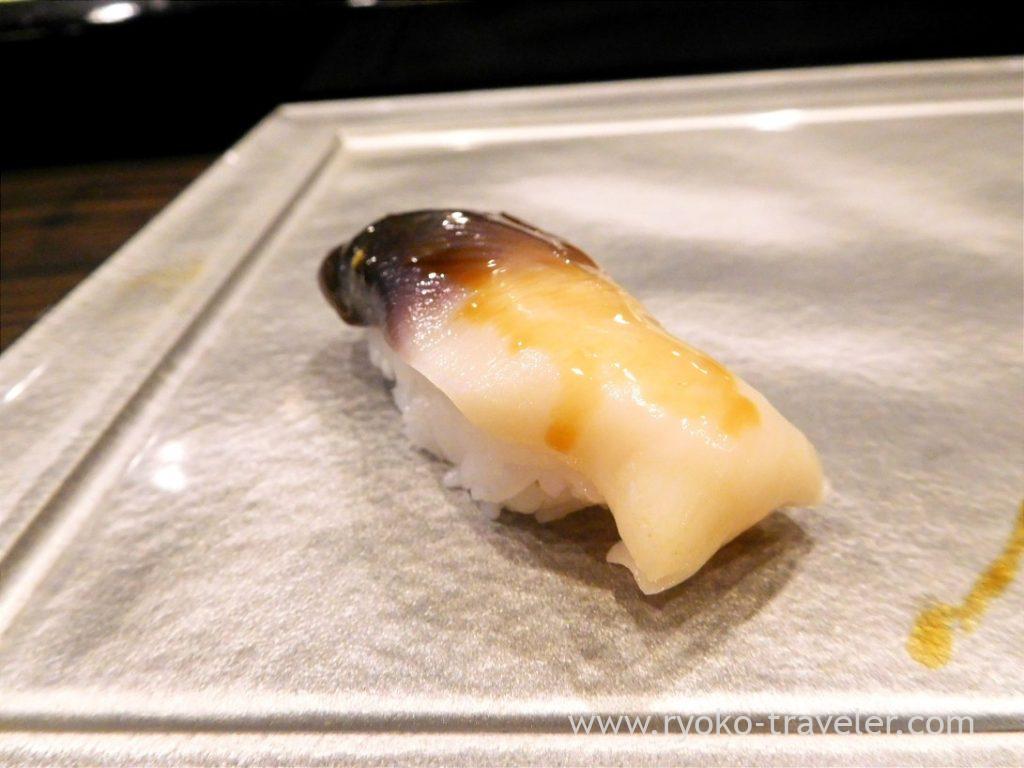 Torafugu. A kind of globe fish. It's chewy and went with this rice well.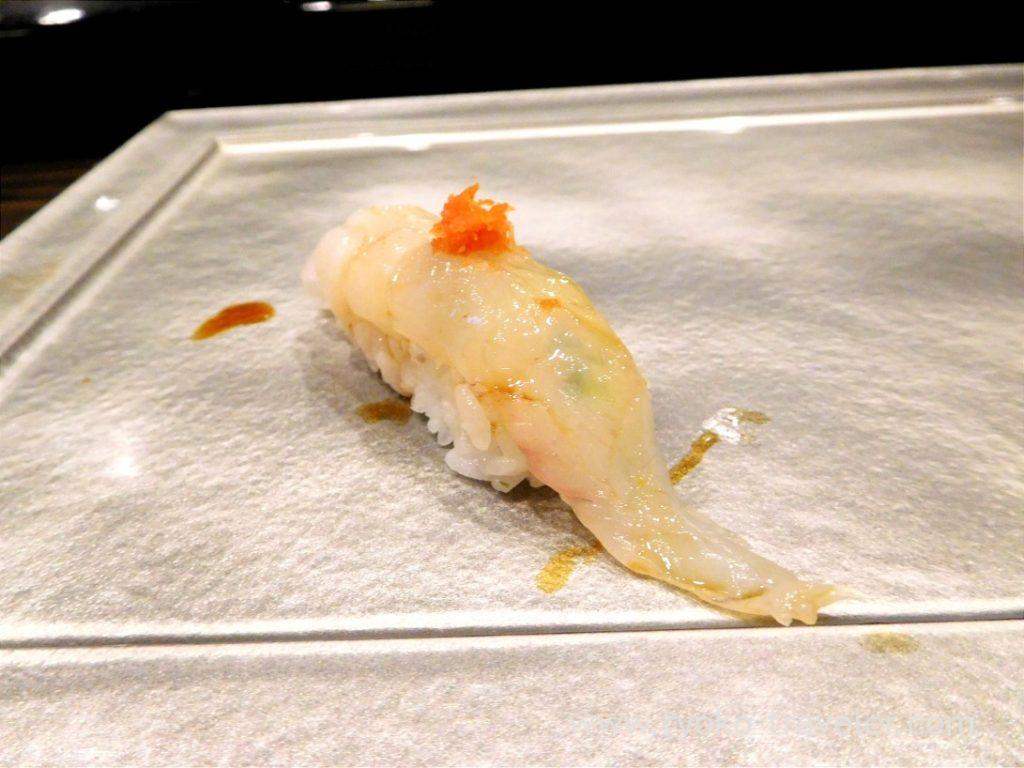 Botan shrimp. It had sticky texture. No.1 of that day for me 🙂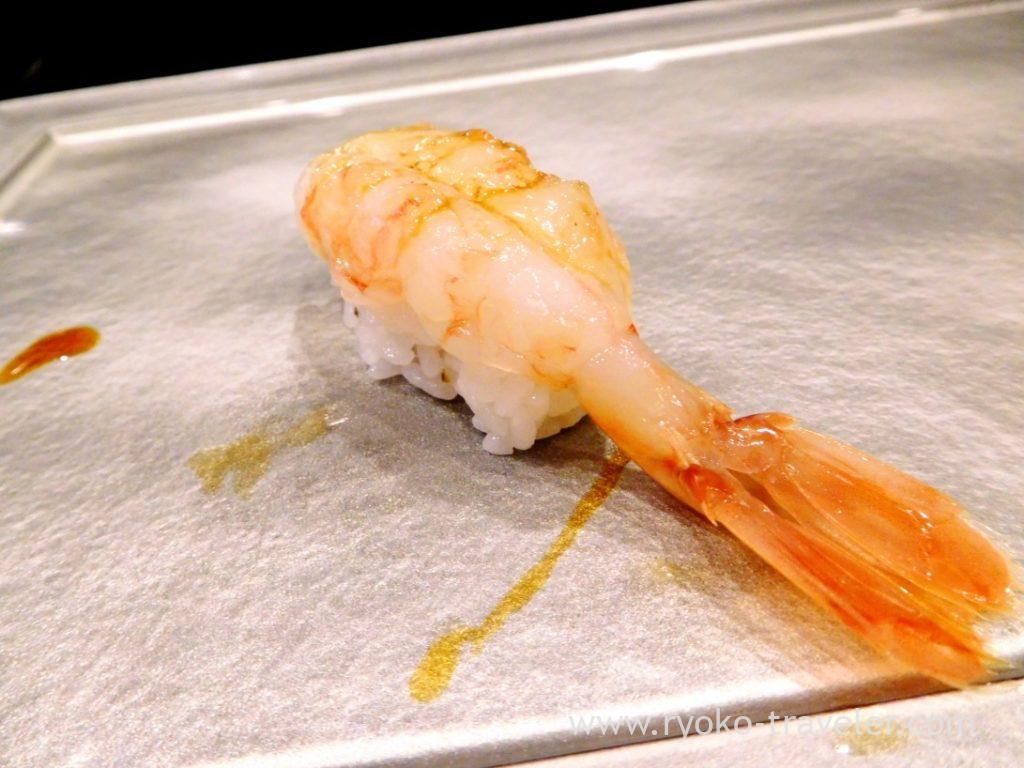 Herring roe.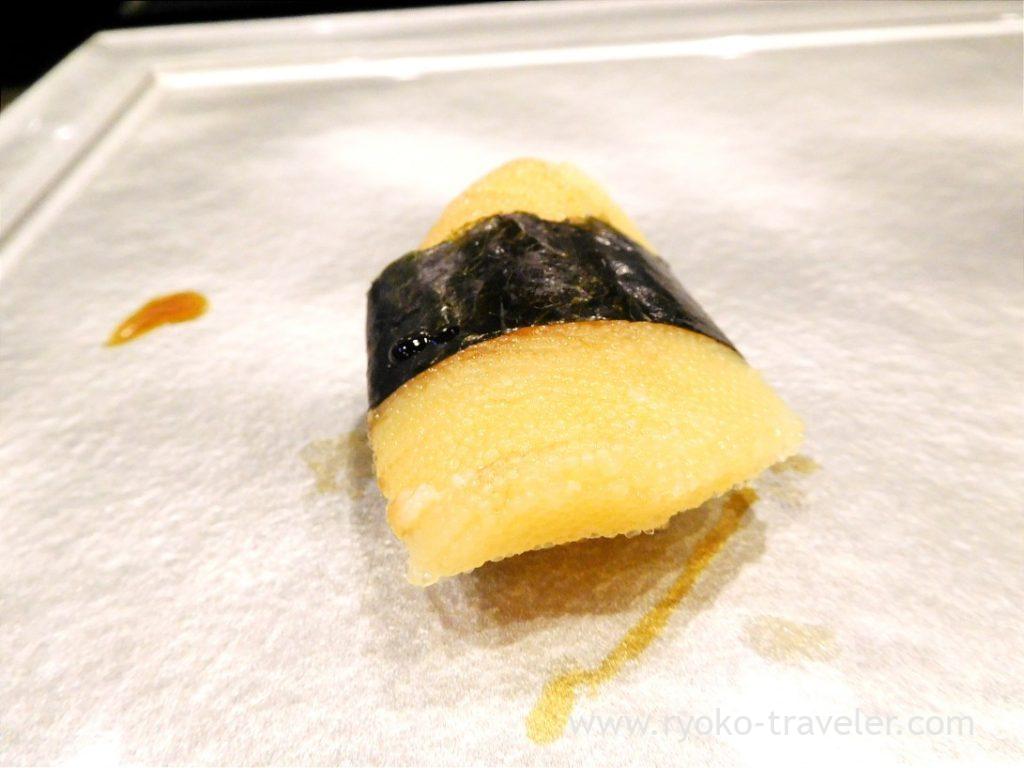 Crab.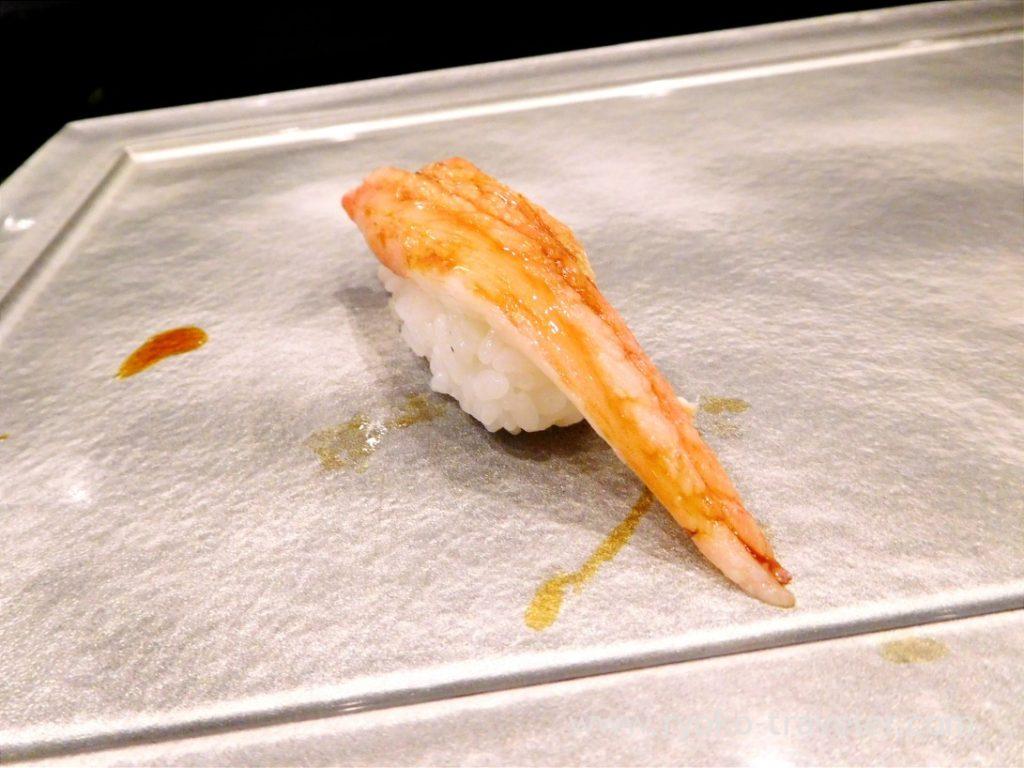 Abalone. It had crunchy texture.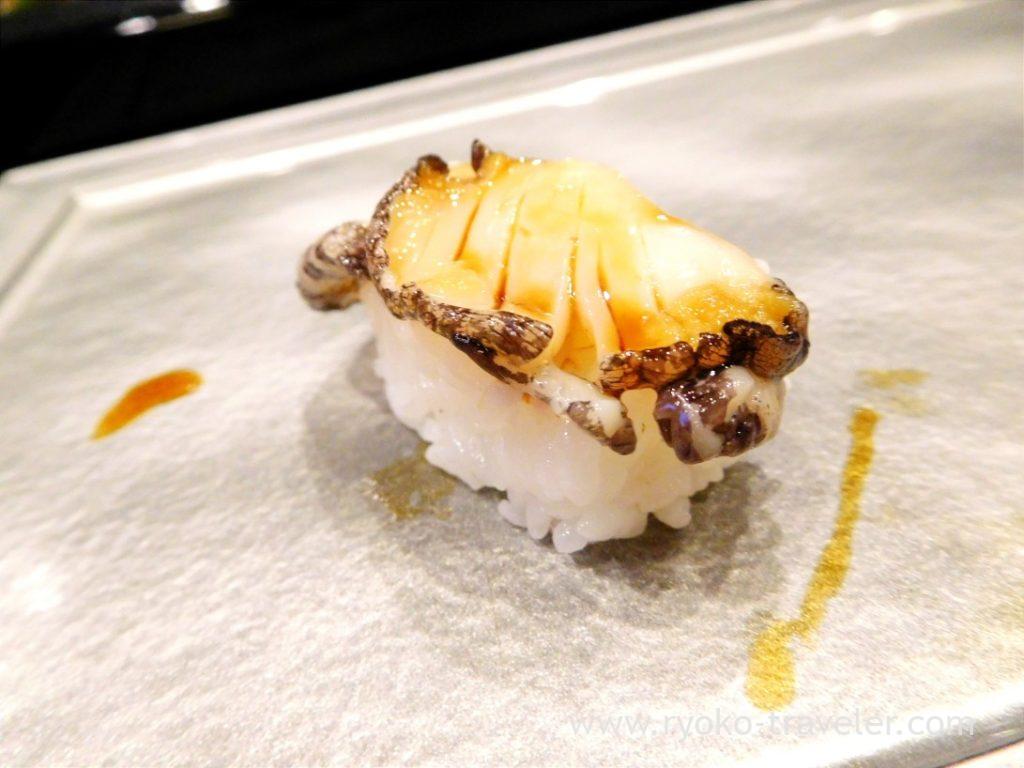 Toro part of tuna. Fatty part of tuna.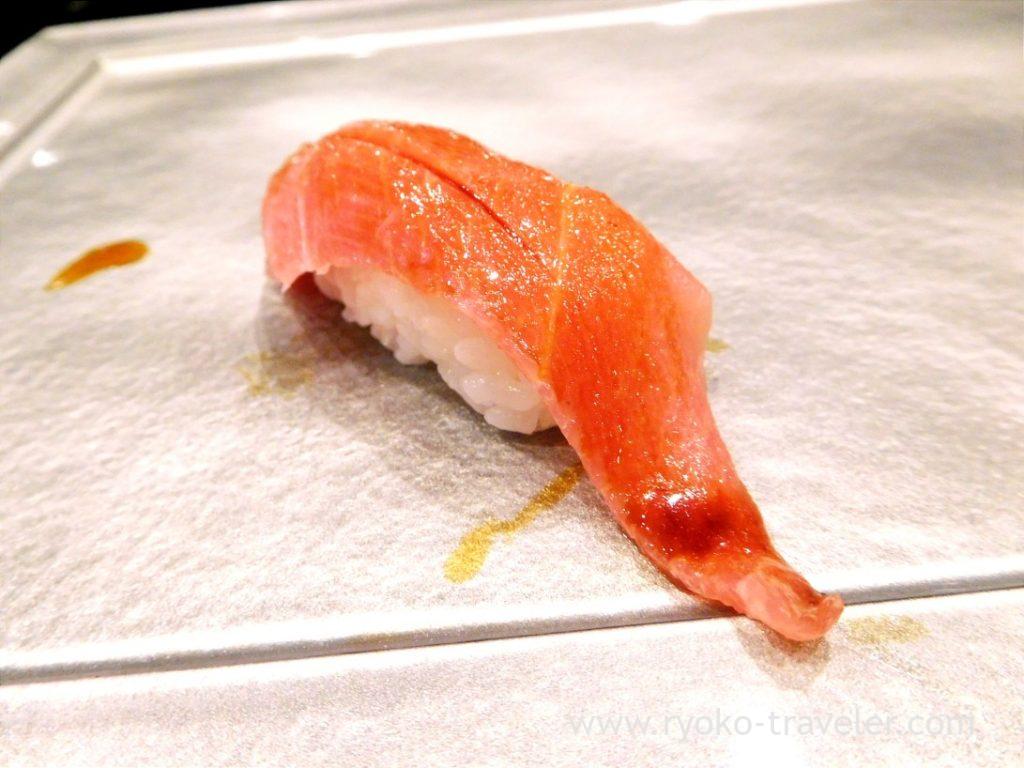 Last. Salmon roe (Ikura) and sea urchin (Uni). Excellent. The laver wasn't good though.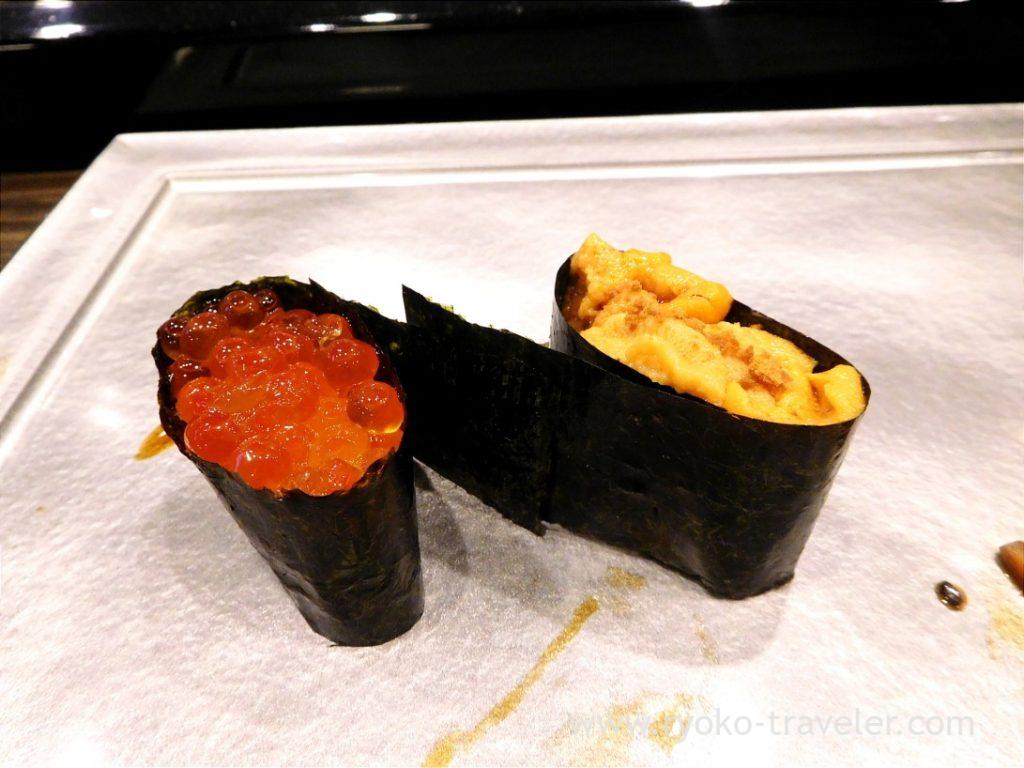 That's all for Tokujo set.
---
Unexpectedly I felt full, so I decided to order more two pieces of sushi only. I ordered giant clam.
Last was conger eel. They highly recommended this. So. At first it was grilled and then boiled in soy sauce-based sauce. It was so soft and flavory. It wasn't too sweet. It's my tastes. So No.1 of that day for me as well as botan shrimp.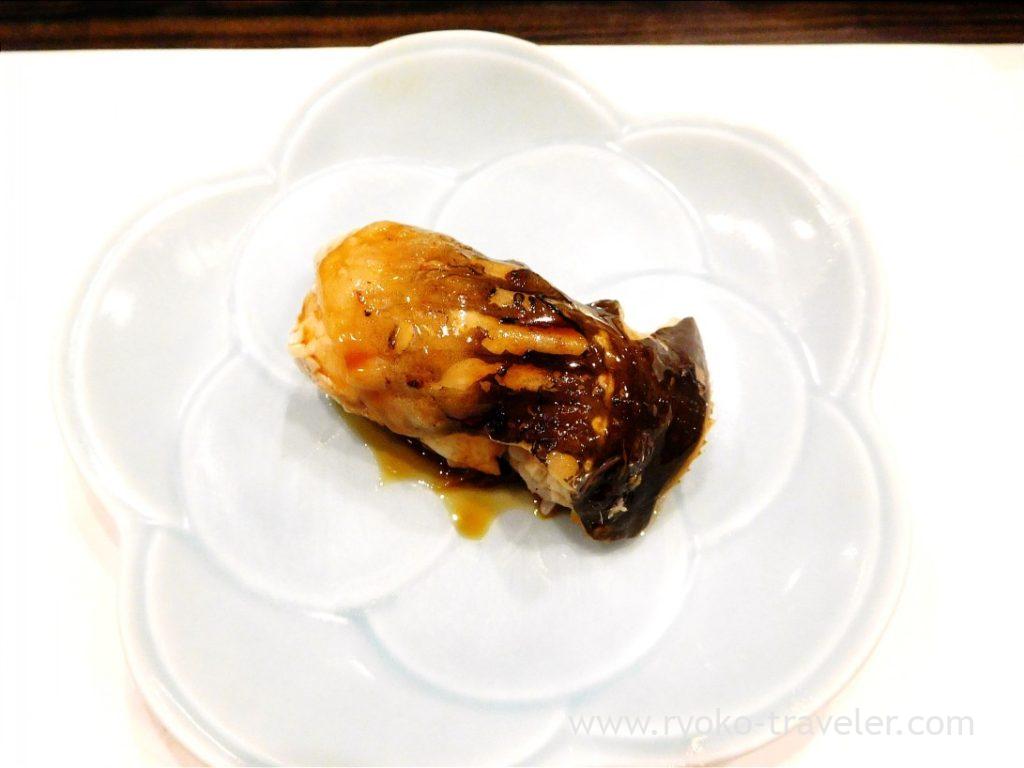 I'm always anxious when I visit sushi restaurant for the first time by myself, but I felt comfort and everything was delicious. I'll visit there again when I visit Hakodate next time.
About

Name Sushi Tsukasa (鮨和処 つかさ)
Open Dinner
Reservation Available
Credit card Available
URL Website

Google Map