When we visited Osaka, we had dinner at Sushi Ohata (寿し おおはた) that is fancy Edomae-sushi style restaurant in Kita-Shinchi area. It is located on the 2F of the building. Their entrance is simple. They have only 7 counter seats in the restaurant. So, reservation is essential.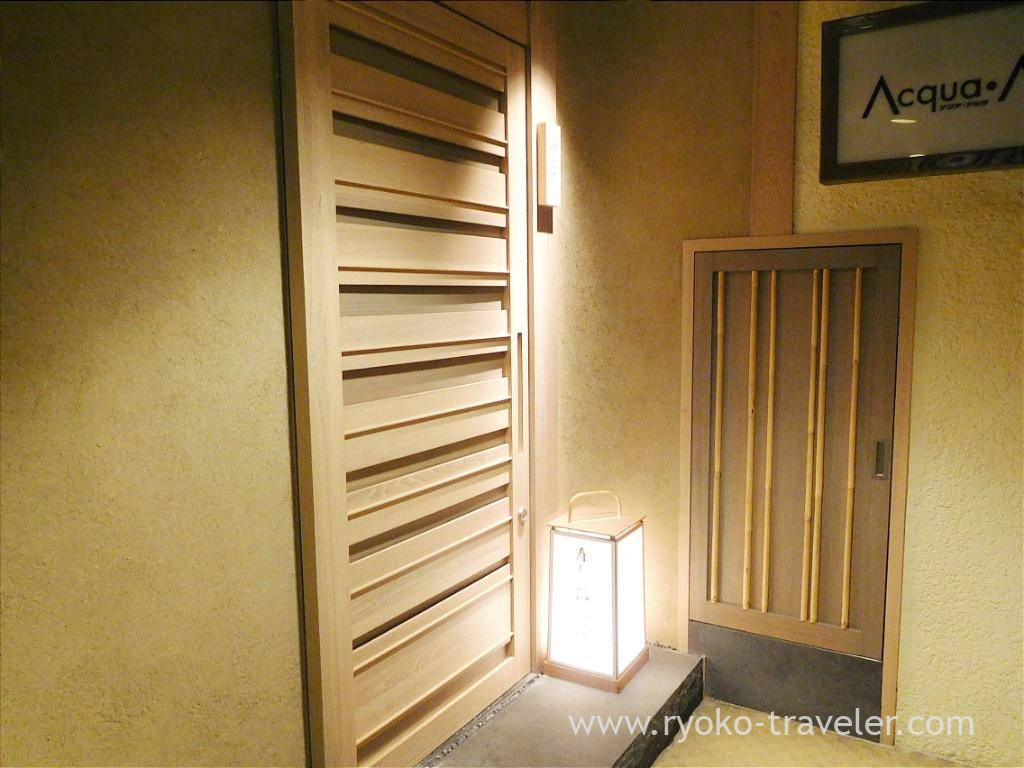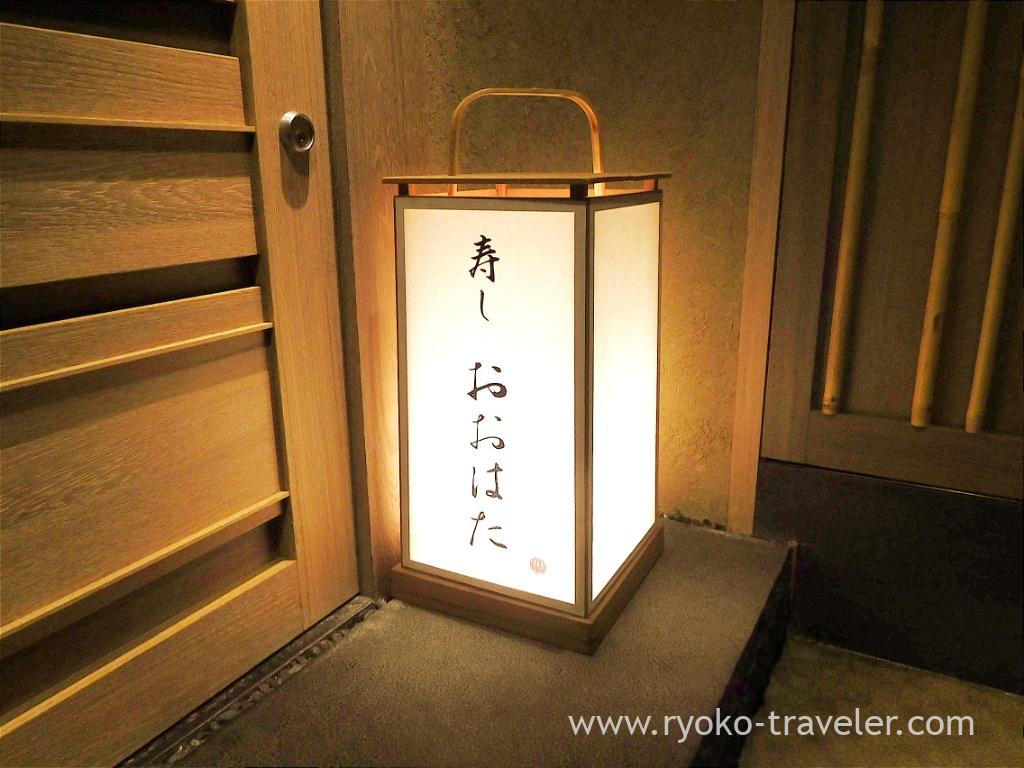 It takes about 3 minutes walk from Kita-Shinchi station. We can also get to there from Umeda station. It's at the back of ANA Crown Plaza Hotel. There're some popular sushi restaurant around this area.
Basically they have one dinner course only. It cost 18000 yen.
So, we reserved in advance, we just ordered our drinks. I ordered Japanese sake. Chef's recommendation. Sou Homare (惣誉). It had sharp tastes and it was good as first drink.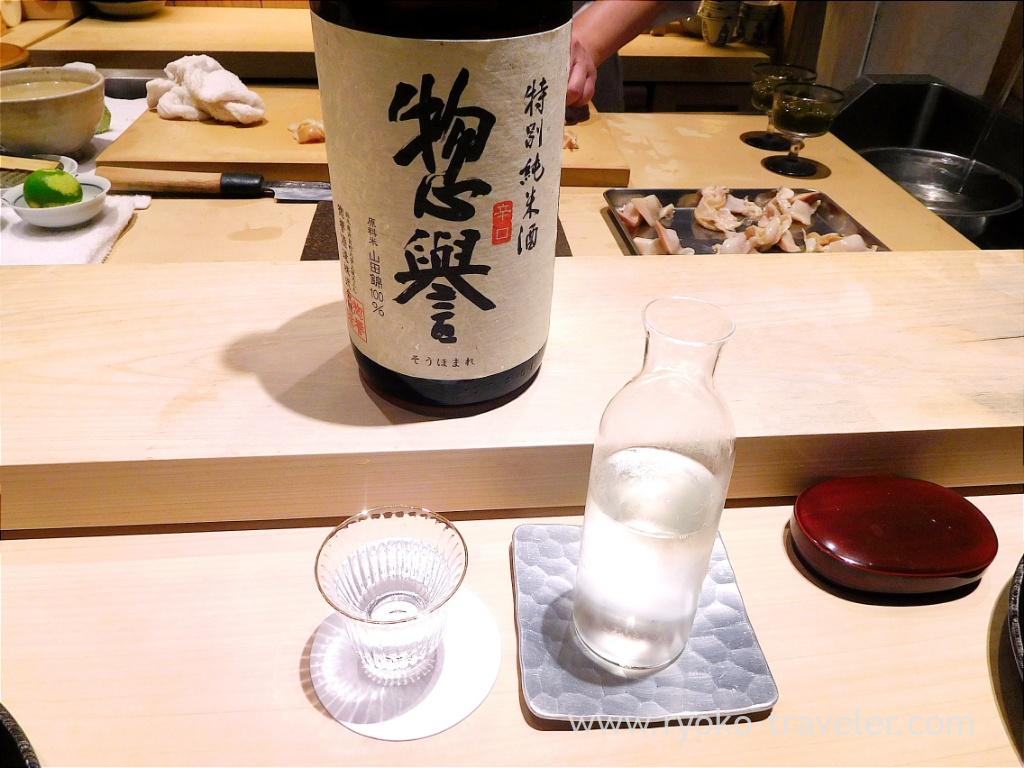 At first, they served tsumami (small dishes) and then served sushi. First dish was mozuku-su (もずく酢). It's mozuku seaweed in vinegar sauce. And clam on it. It had refreshing tastes and was good.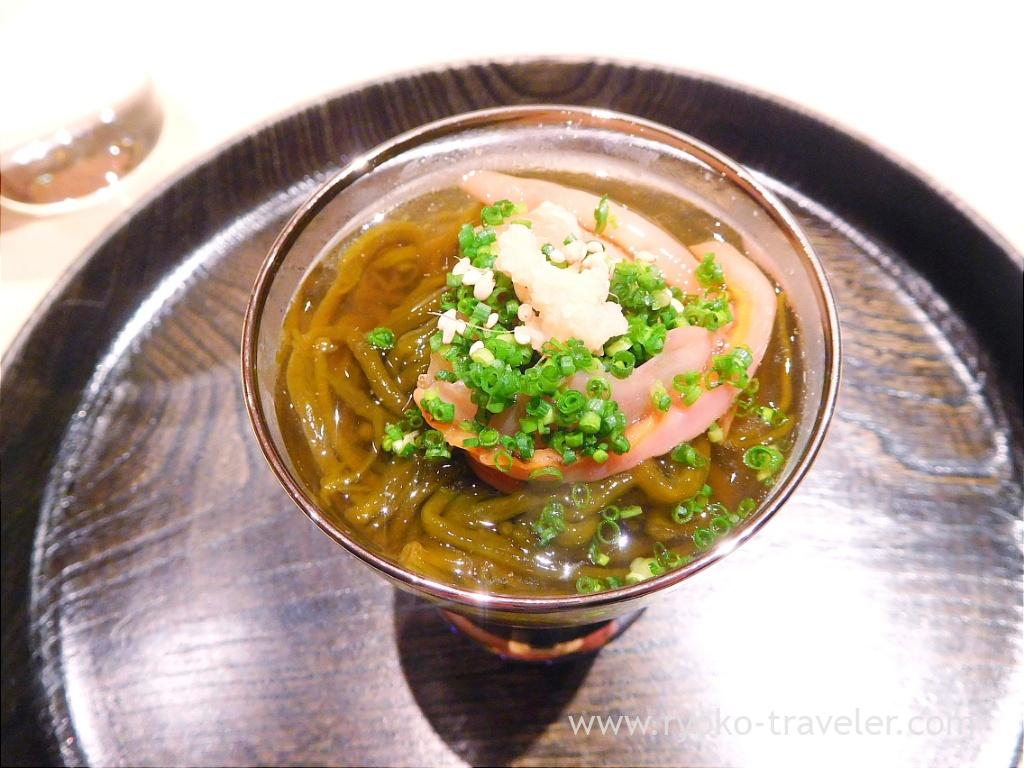 It was summer, but firefly squid was served. I was lucky. Its seafood of Spring and it's my delight. Marinated firefly squid (蛍烏賊) and clam (蛤). Both was awesome. Especially, the sweetness of the clam was splendid. I think this is the best clam that I have ever eaten.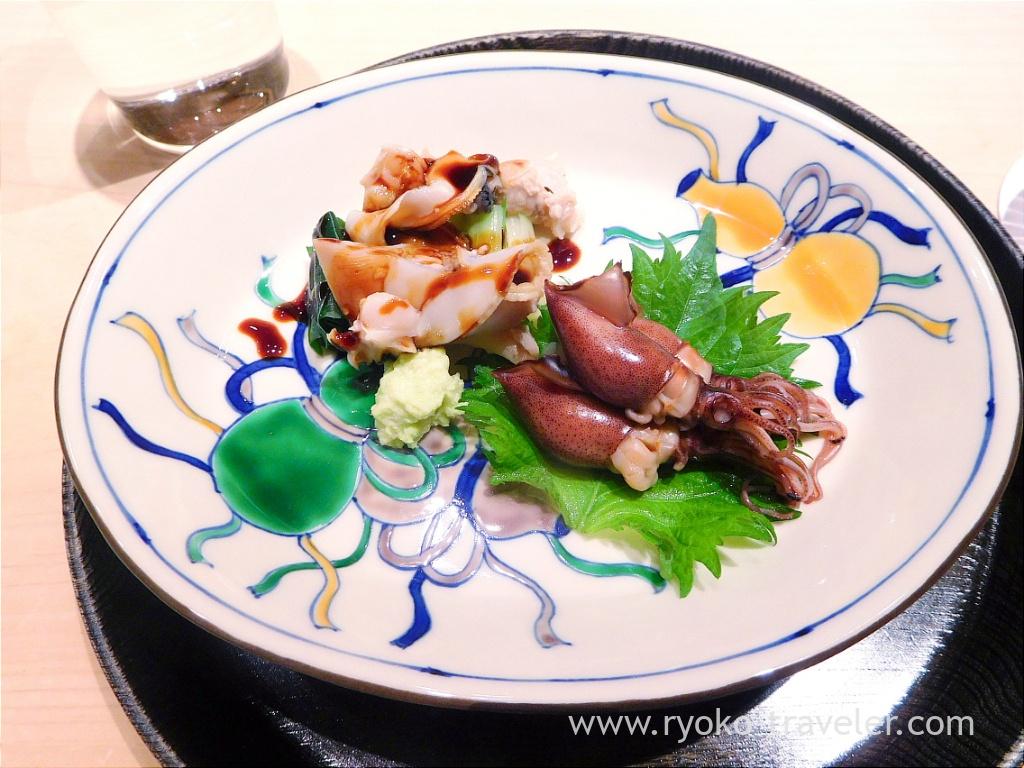 By the way, this clam was from Chiba prefecture. Many seafood come from Toyosu Market to all over in Japan. It's strange that we ate those seafood at Osaka all the way from Chiba :p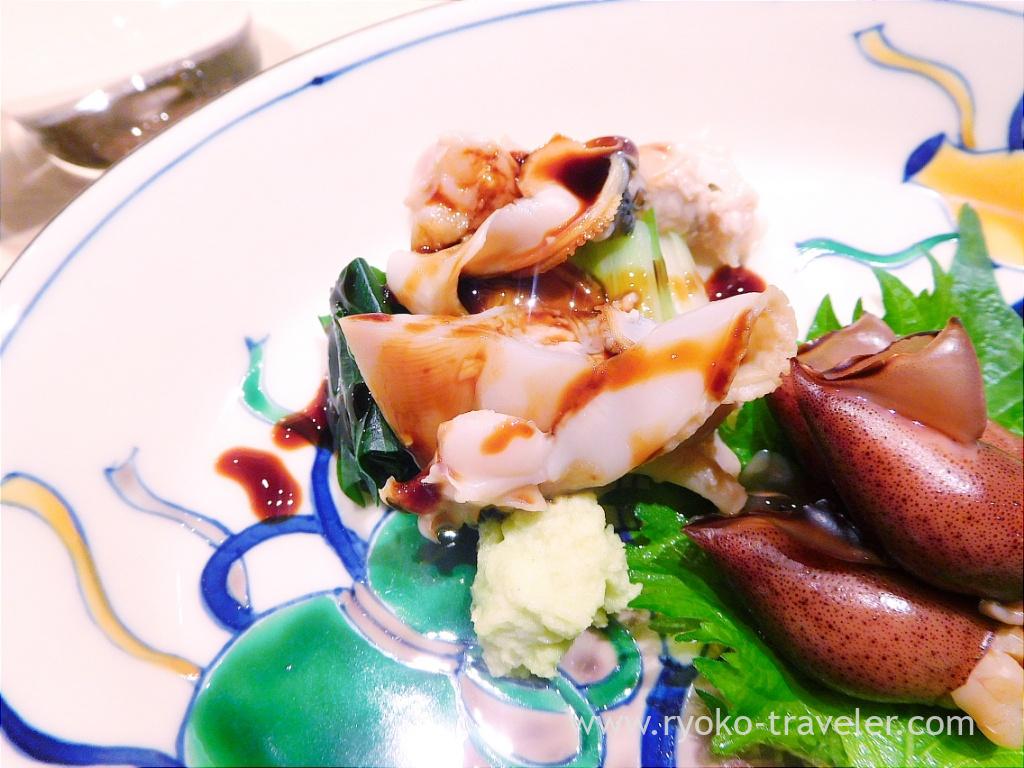 I was surprised at this dish. Beautiful. Kawahagi sashimi (Filefish / カワハギ). Green is sprouts and violet is flower of shiso. I dipped it into ponzu with its innards and ate. Delicious.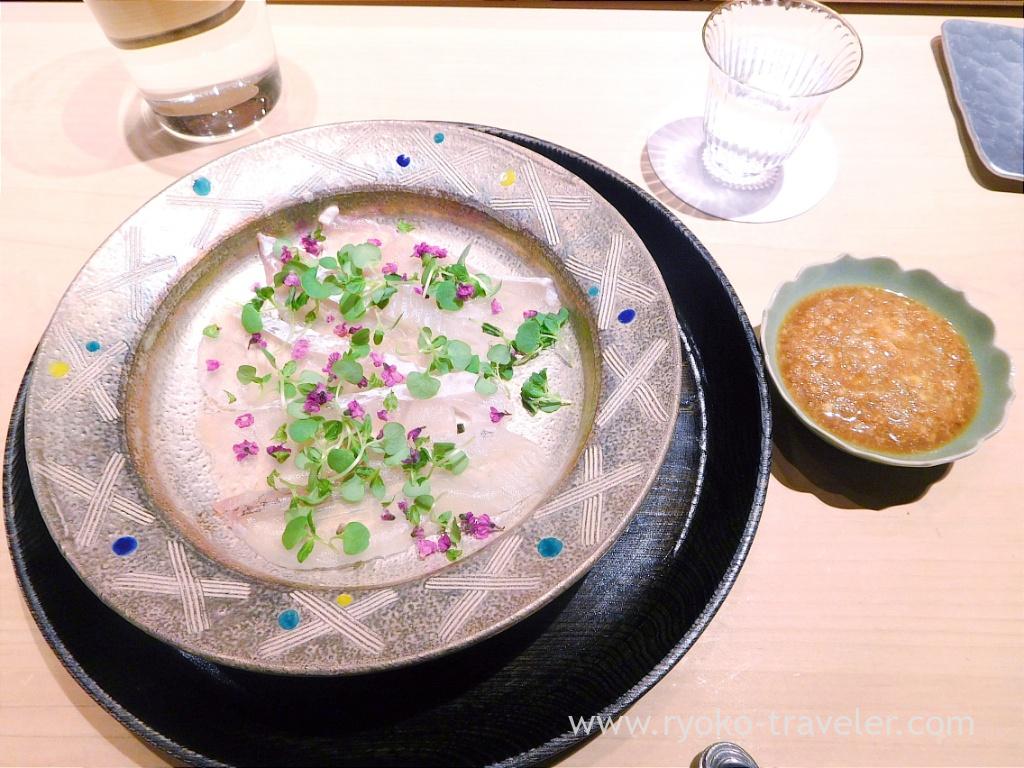 Their dishes are far better than expected. So, I drunk up first Japanese sake soon, so I had second Japanese sake. Kaiun Junmai Ginjo (開運 純米吟醸). The amount of the Japanese sake was more than first sake. It's because they served me all of the sake in the bottle left. More yellow than Sou Homare. This was sweeter than Sou Homare.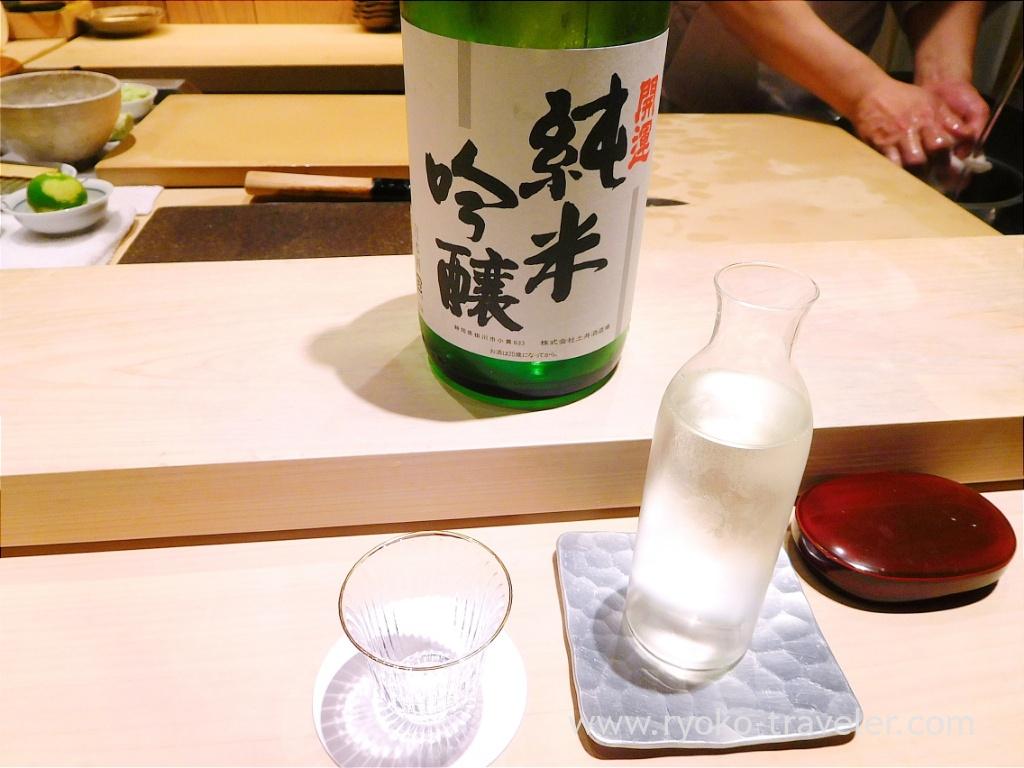 Grilled foods. aoyagi (yellow clam / 青柳) was flavorful. Both had strong flavor and went with Japanese sake very well.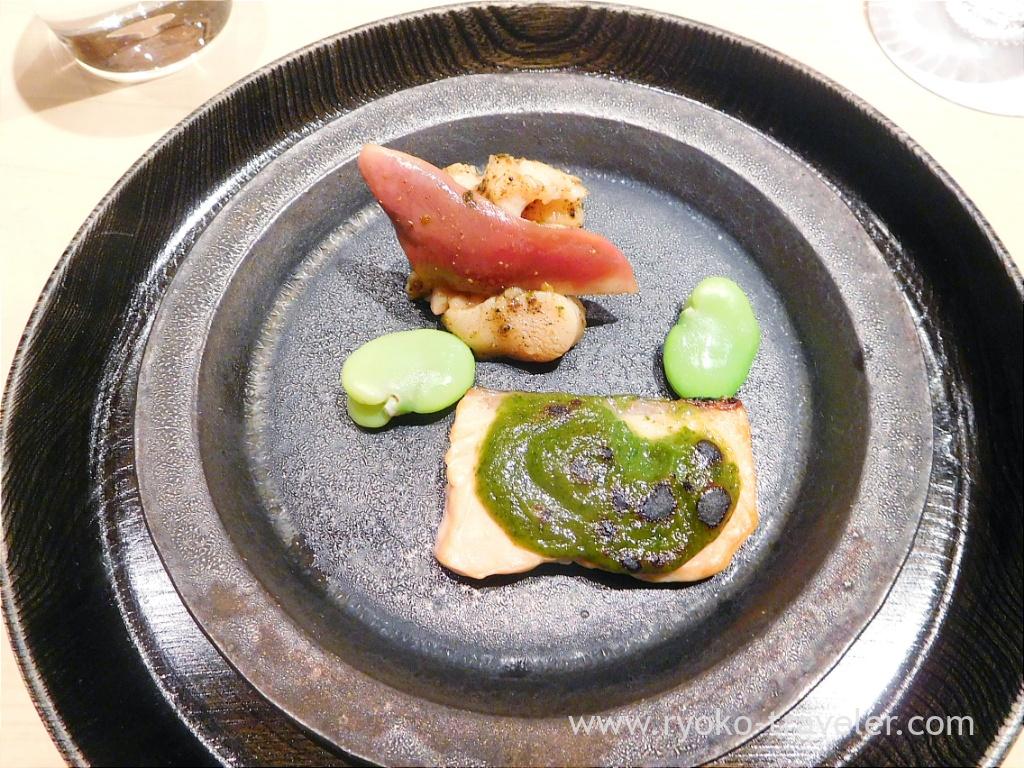 After finished eating grilled foods, the chef have started serving sushi. At first, it is katsuo (bonito). It was not so fatty. And grated ginger added it had more refreshing tastes. Their vinegared rice was firmer and seasoned with vinegar strongly. I like it.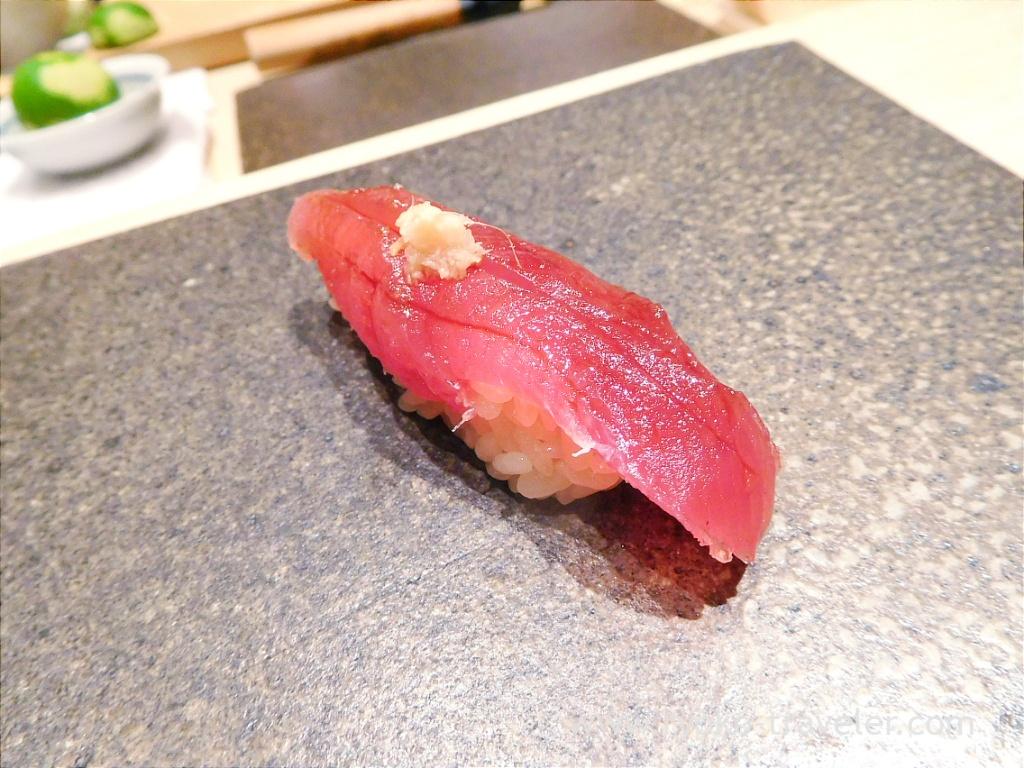 Isaki (Grunt). With grated ginger, too. It had sticky texture. Good.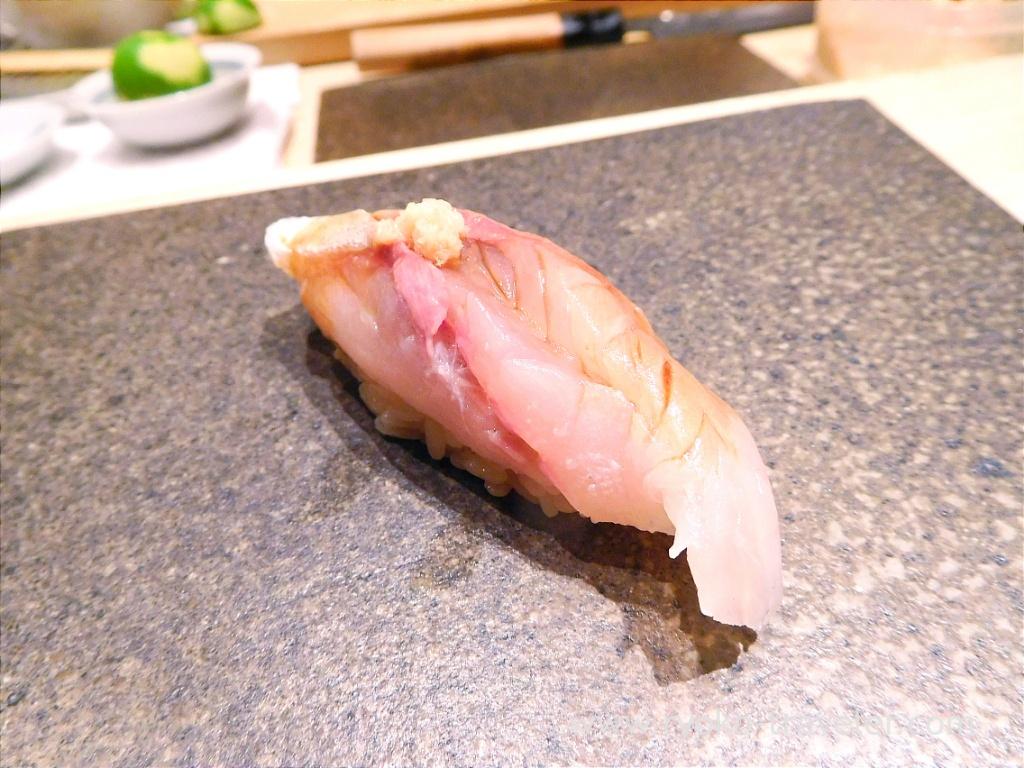 Sumiika (Golden cuttlefish). Speaking of sumiika, it have crunchy texture, but it wasn't. It had sticky texture a bit. I like it, too.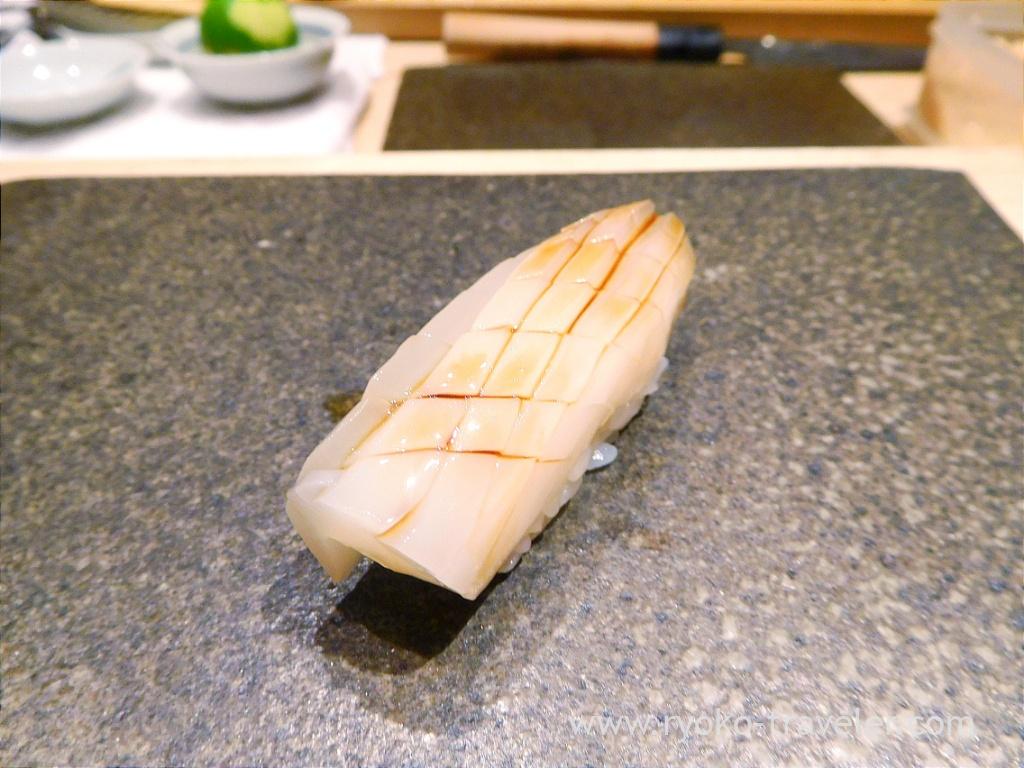 Tuna. The chef said it's lean meat of tuna. But it was enough fatty. It's like toro (fatty part).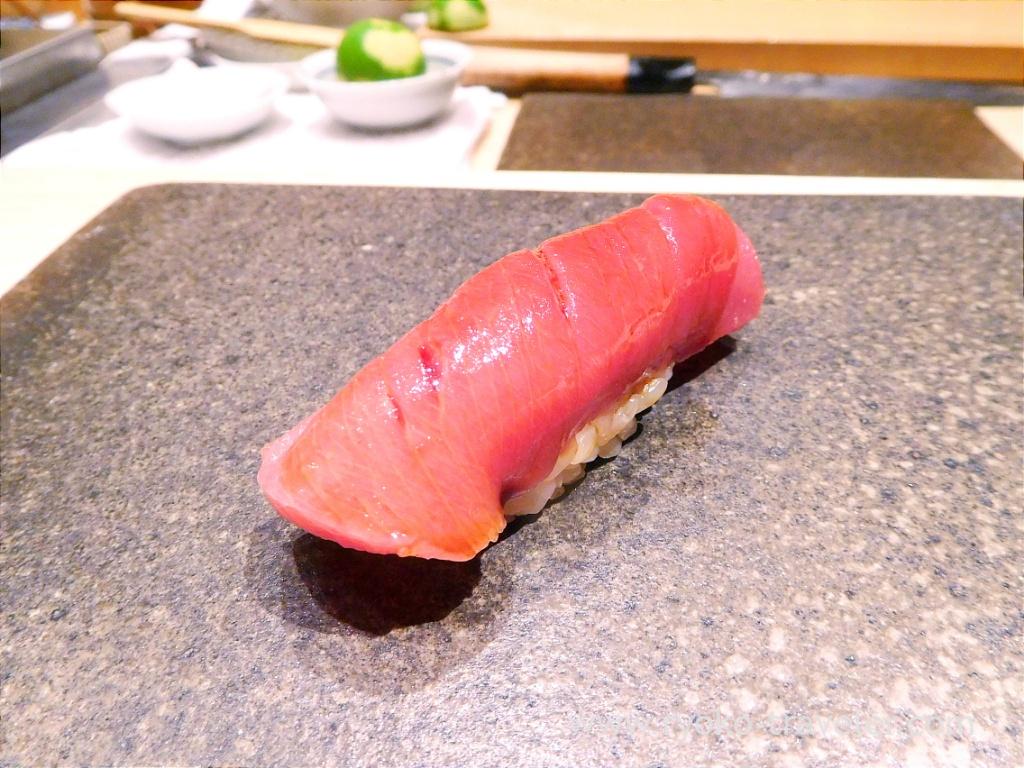 Next, fatty part of tuna (Toro). It was more fatty. But it wasn't greasy at all. Delicious.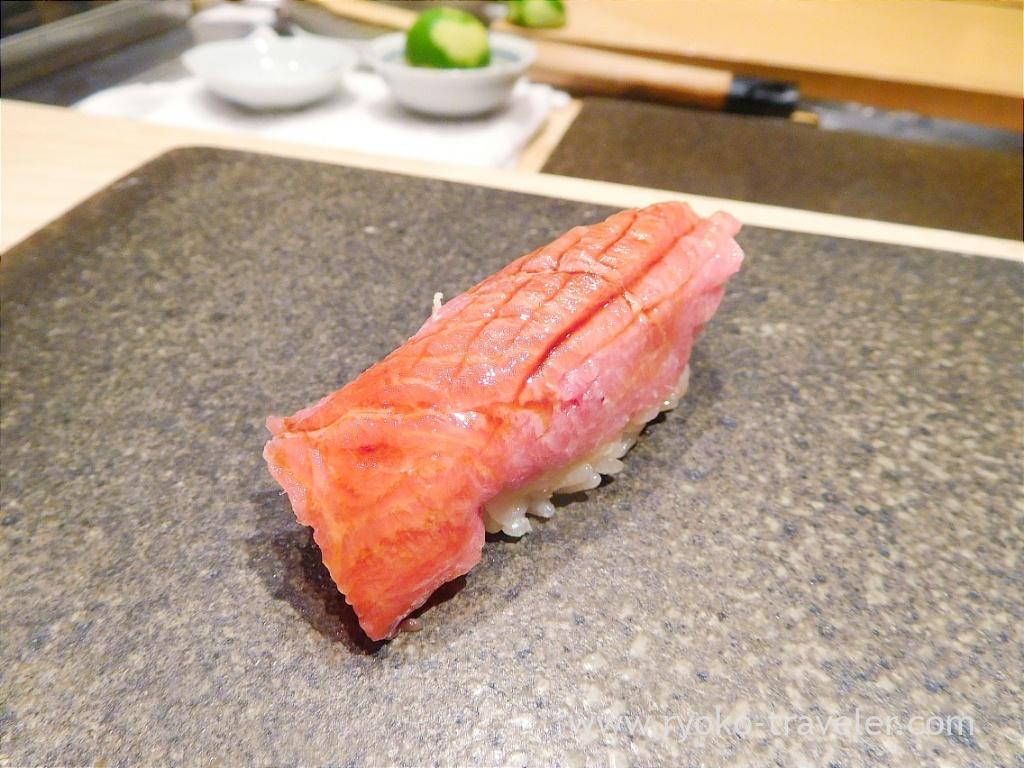 Kohada (Medium-sized gizzard shad)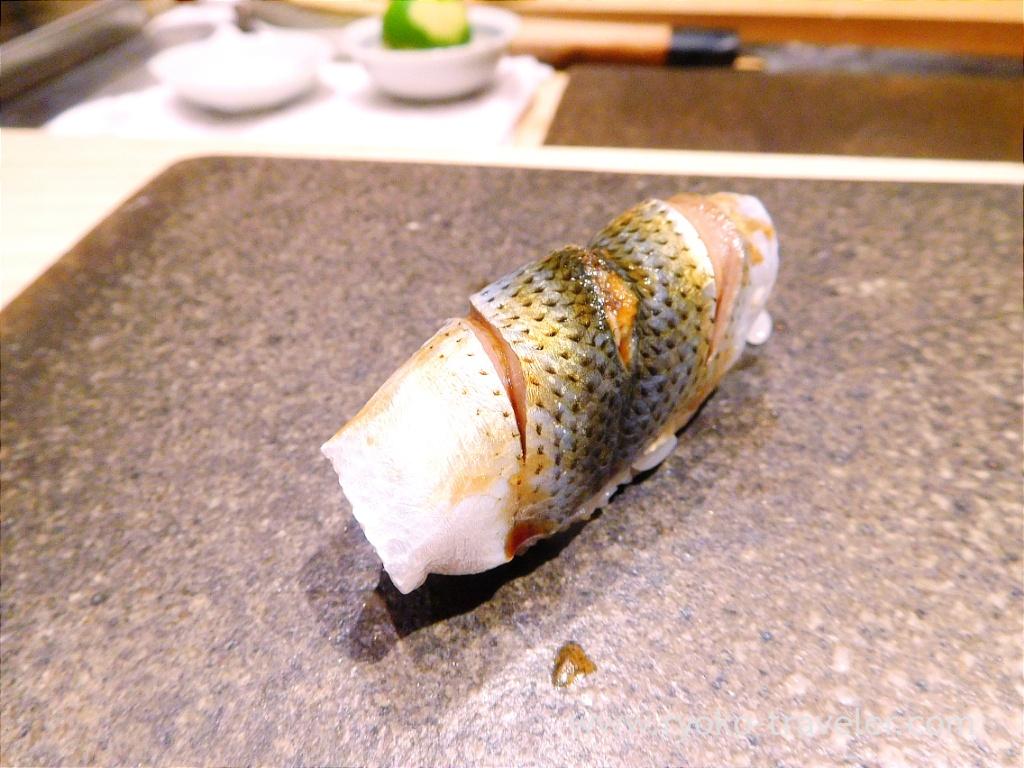 Soup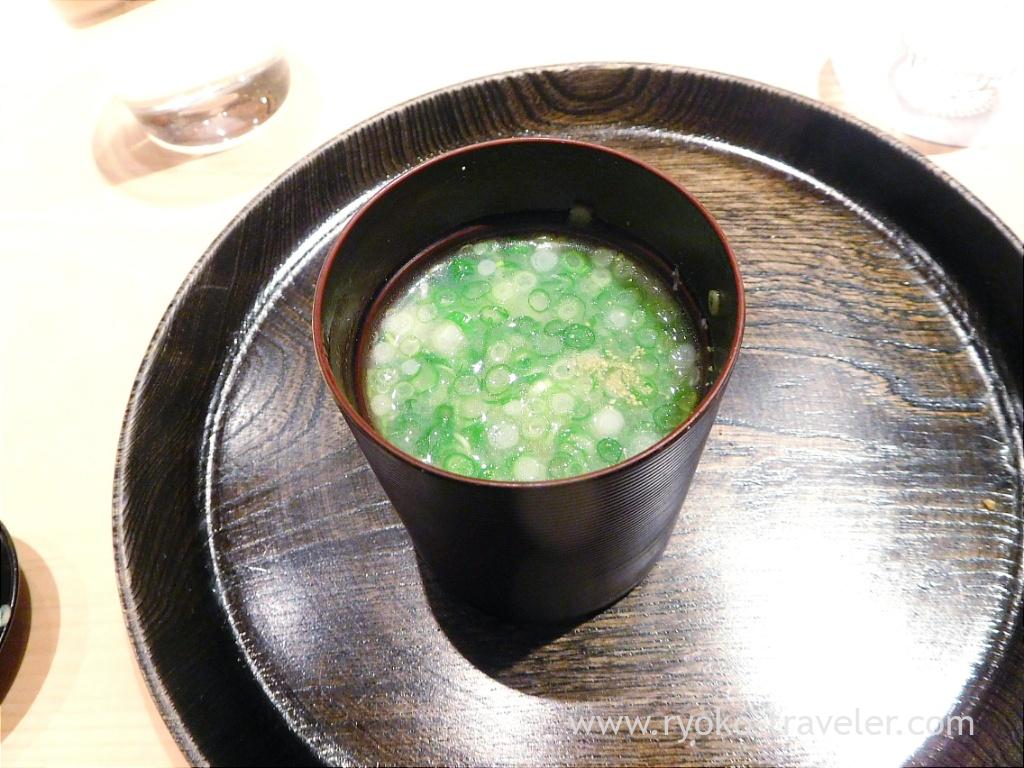 Nodoguro (Blackthroat sea perch). It was grilled lightly. Though it was so fatty, but thanks to the daikon radish, I felt it had refreshing tastes.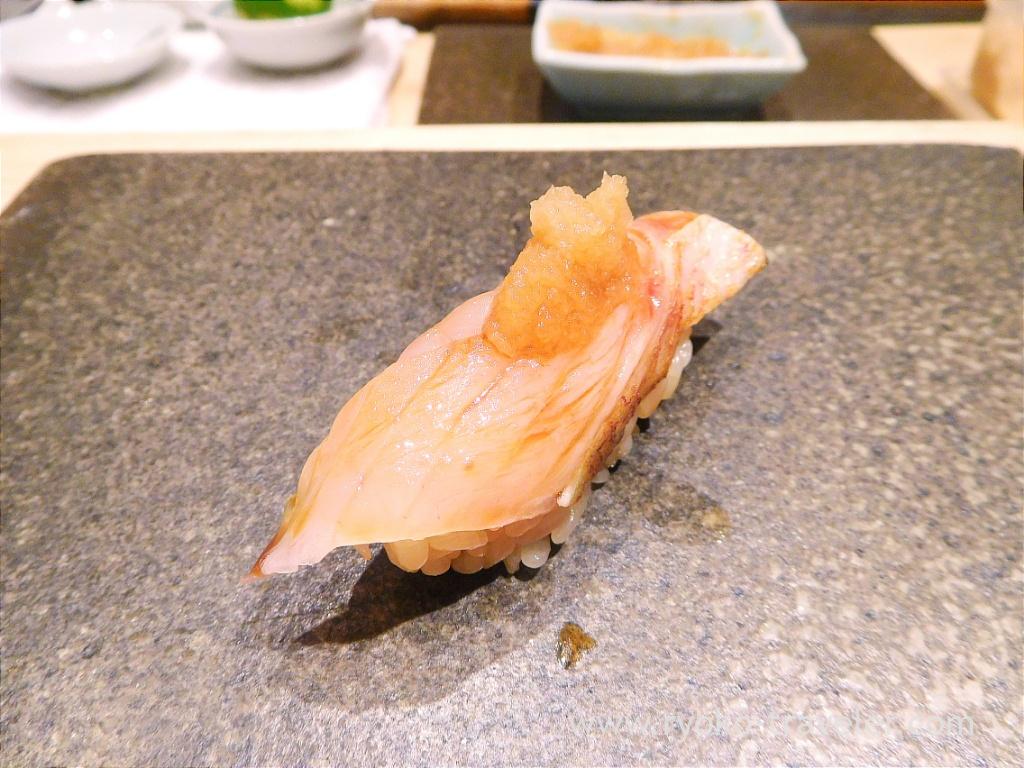 Sakura masu (Cherry salmon) is normal salmon. But salmon caught in Spring – early Summer is called Sakura masu. Though this season's cherry salmon was so fatty, it was light. Maybe it's because it was the end of the season.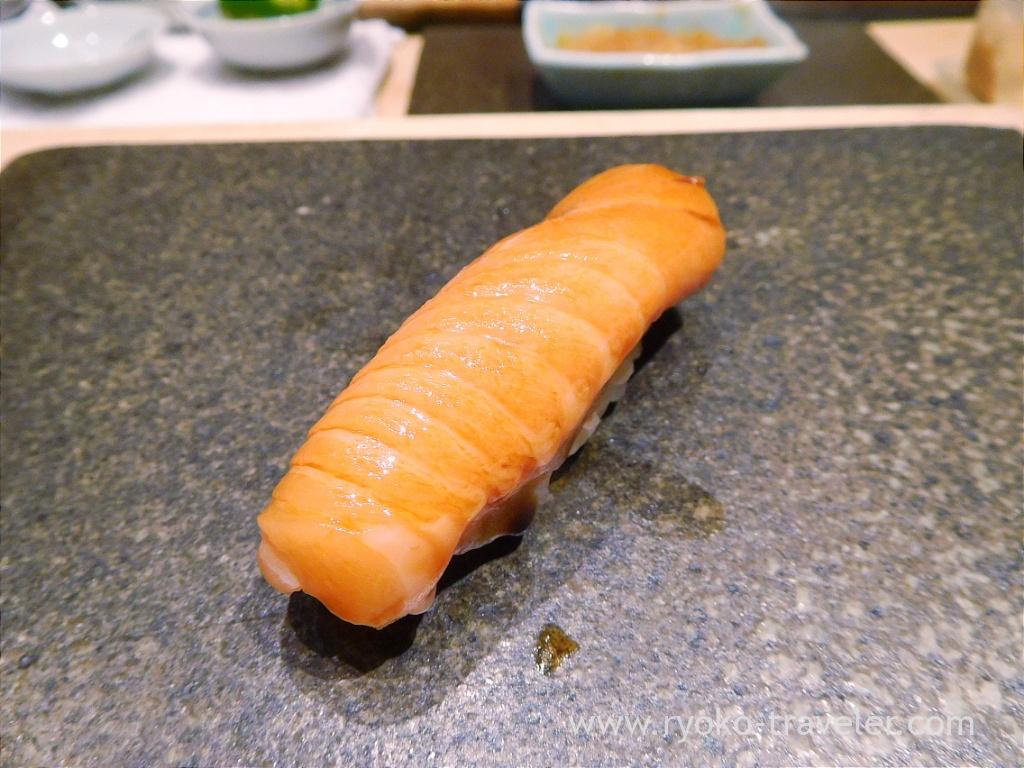 Kuruma ebi (Kuruma prawn)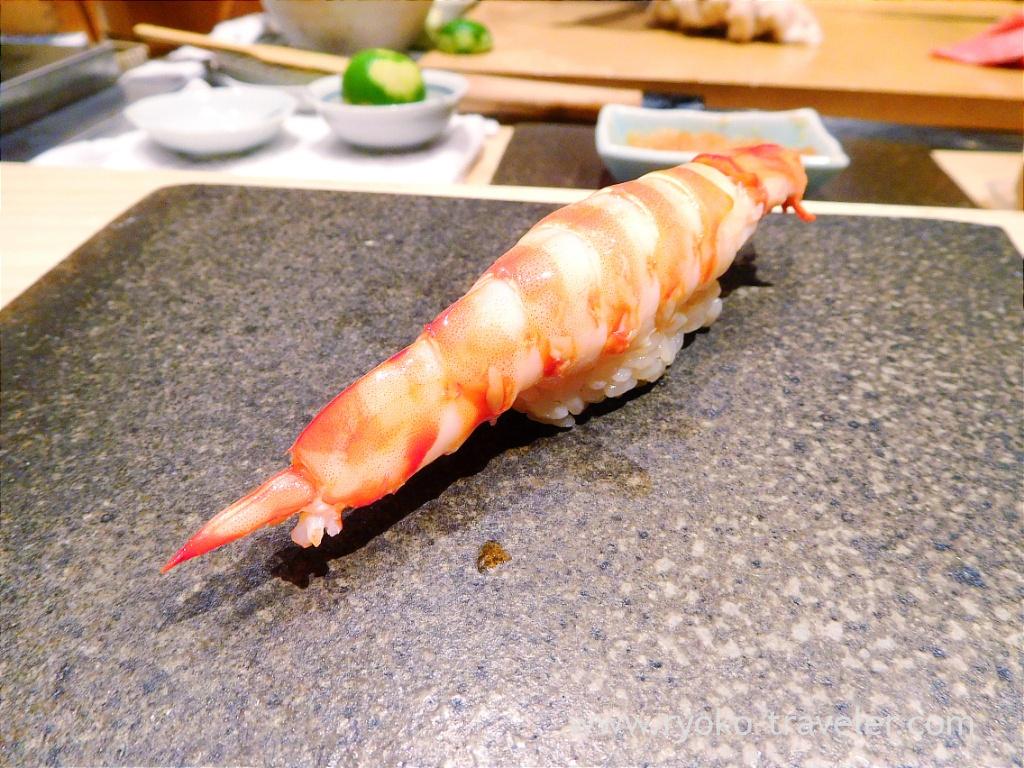 Torigai (Cockle). It was the best season of torigai. So, delicious all the same.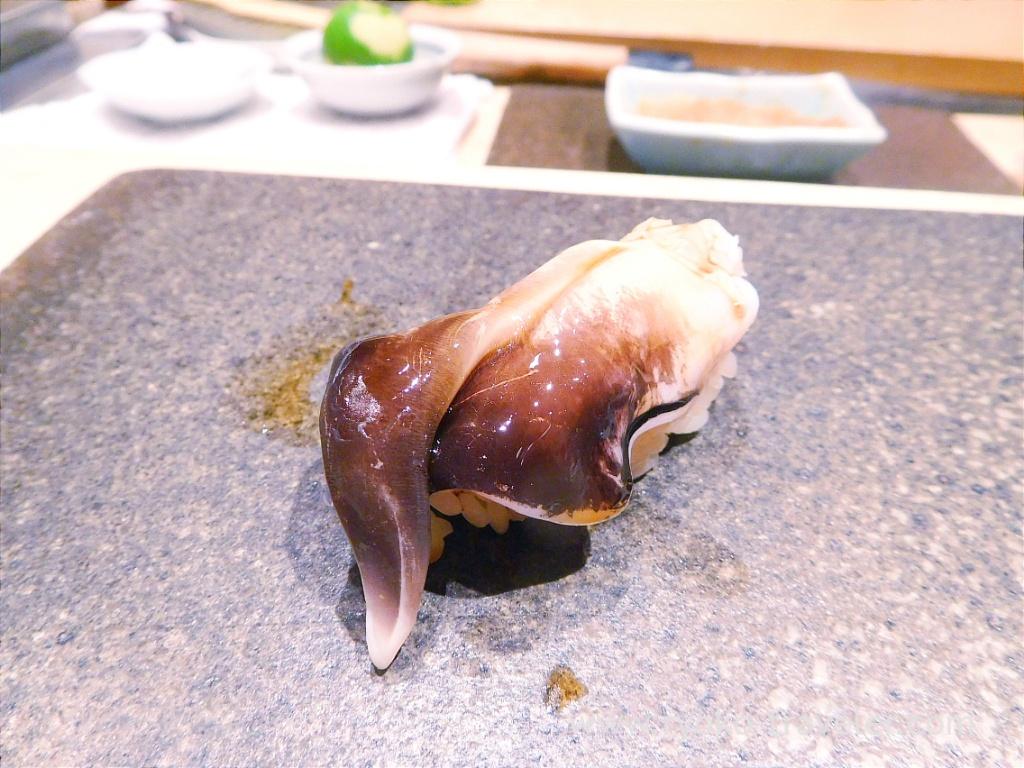 Uni (Sea urchin) was appeared in such a small bowl. Vinegared rice was at the bottom. It's sushi. Much sea urchin. But I ate it up soon. Happiness left quickly 🙁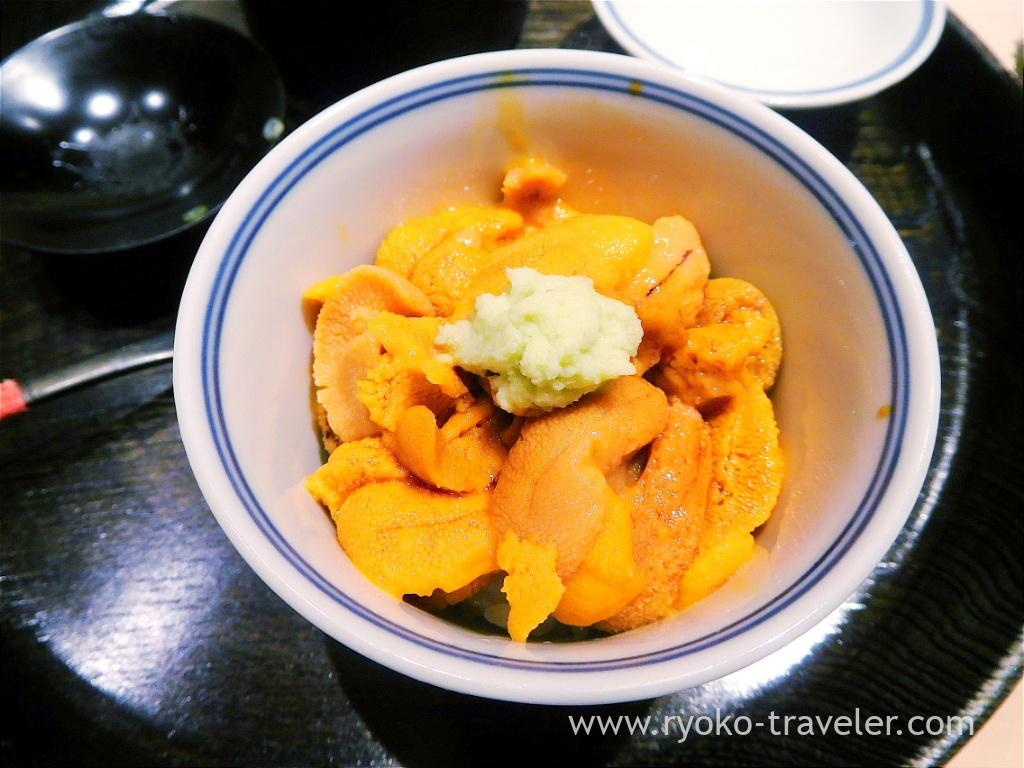 Last, boiled anago (conger eel). It was so soft.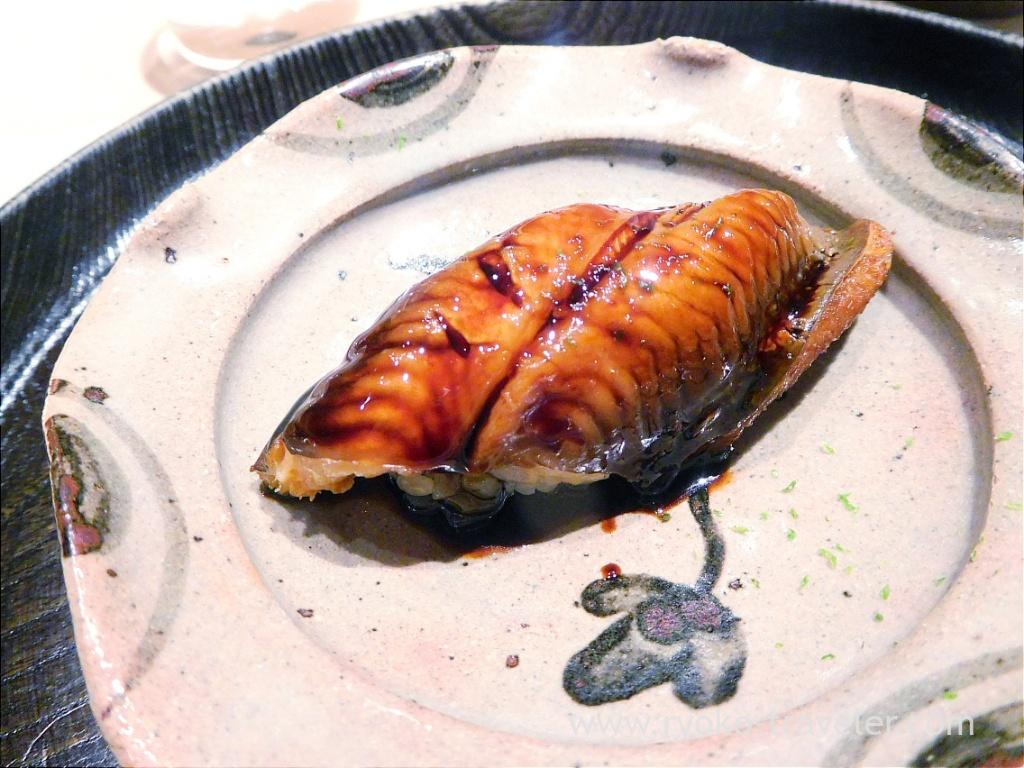 Tayagoyaki. It's like soufflé.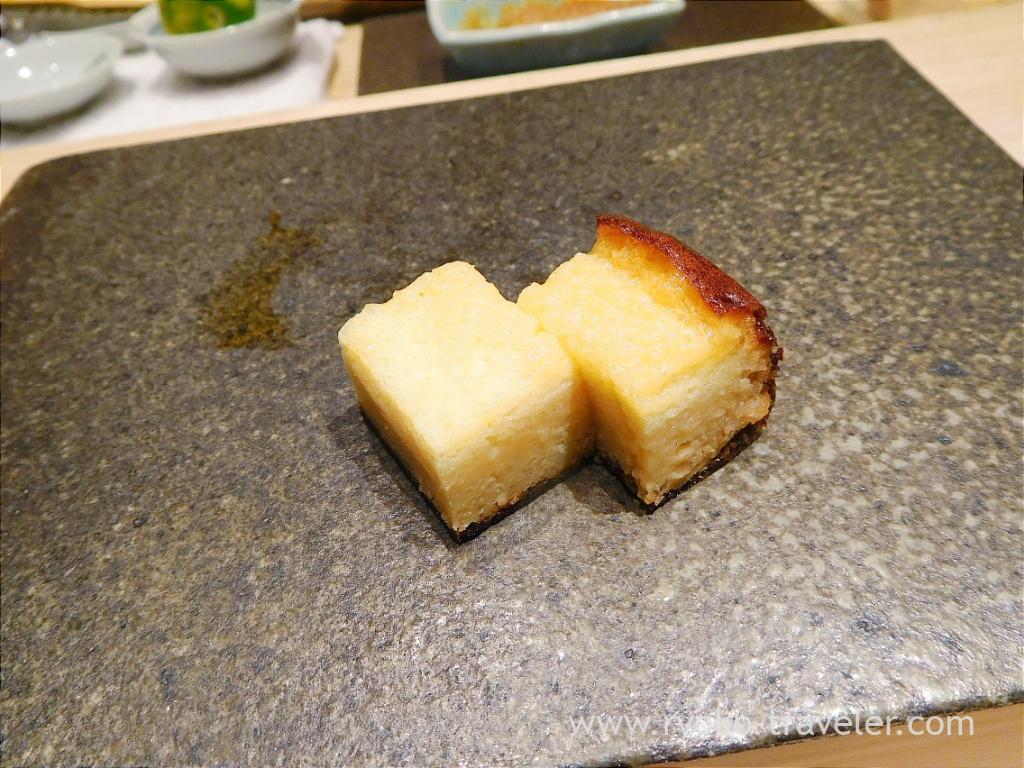 Last, melon was served as dessert.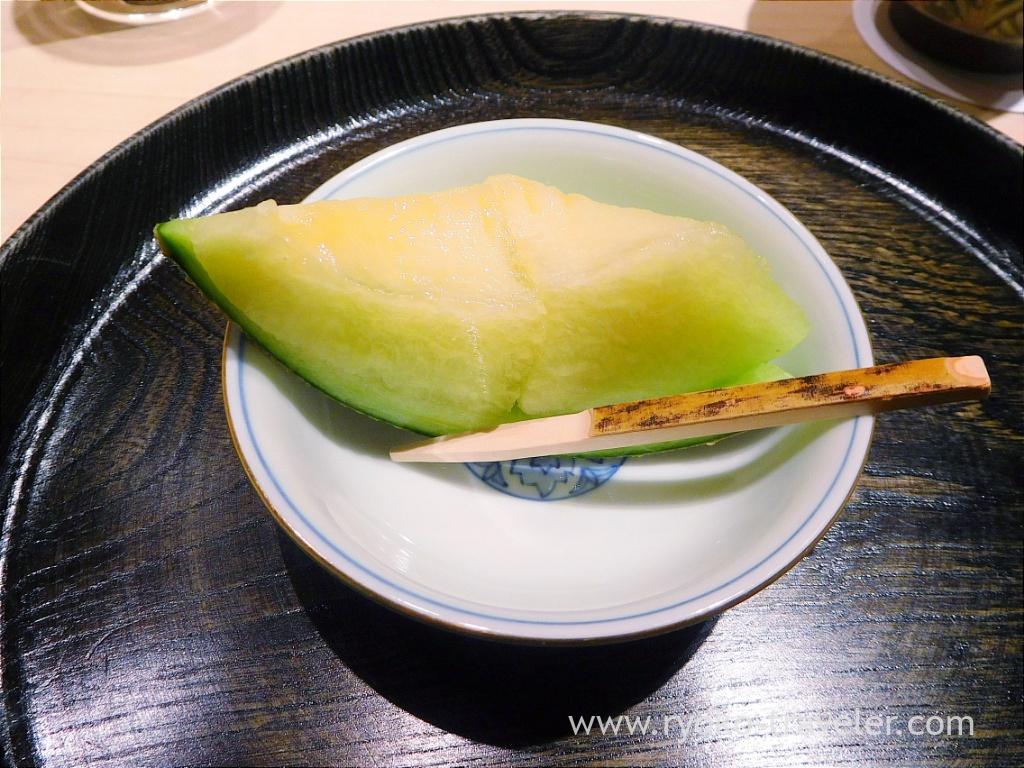 Of course, his sushi was great, but especially, tsumami (small dishes) were awesome. I want to visit there again in winter for having soft roe.
About

Name Sushi Ohata (寿し おおはた)
Open Dinner
Credit card Unavailable
Reservation Required

Google Map