This is a former location of Sushi Hashimoto in Shintomicho. Sushi Hashimoto started their business from here. And Sushi Miyuki (鮨 美幸) that is a second restaurant of Sushi Hashimoto has started from there.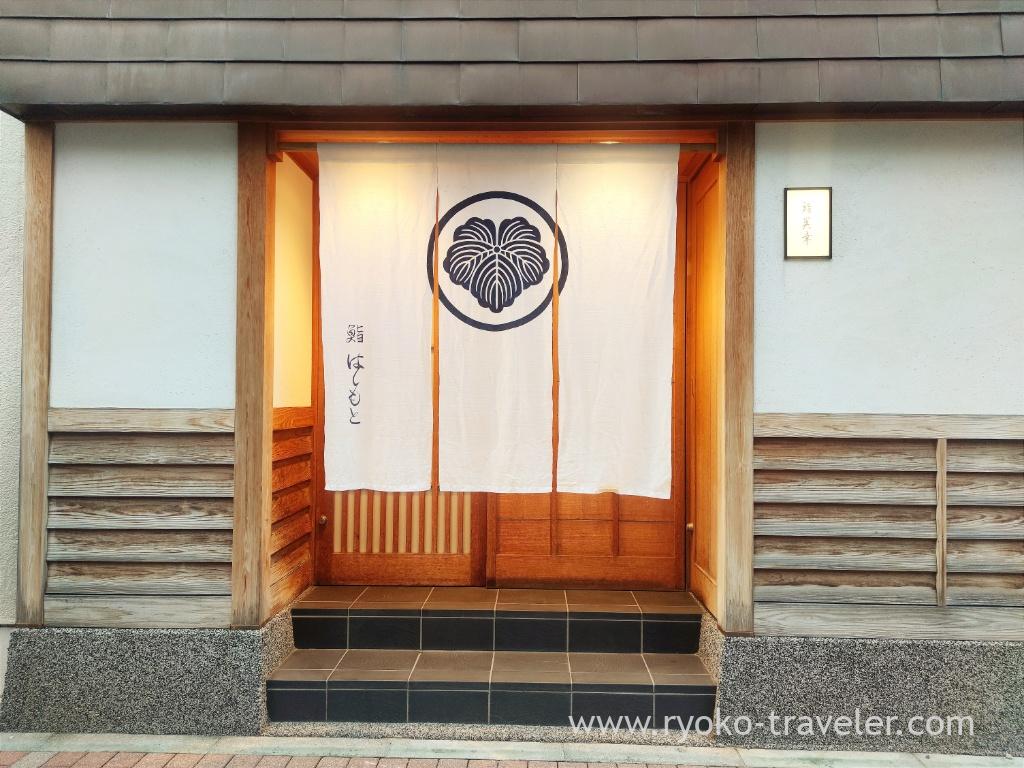 Mr.Konno who is a pupil of Mr. Hashimoto manage this restaurant. Though the shop curtain is Hashimoto's, the name plate is Sushi Miyuki.
Sushi Miyuki is open at lunchtime from 12 p.m., and they have valuable lunch course having sushi only. It cost 8800 yen. Dinner course is 17600 yen. They have 8 seats and a group having over 6 people can occupy the room.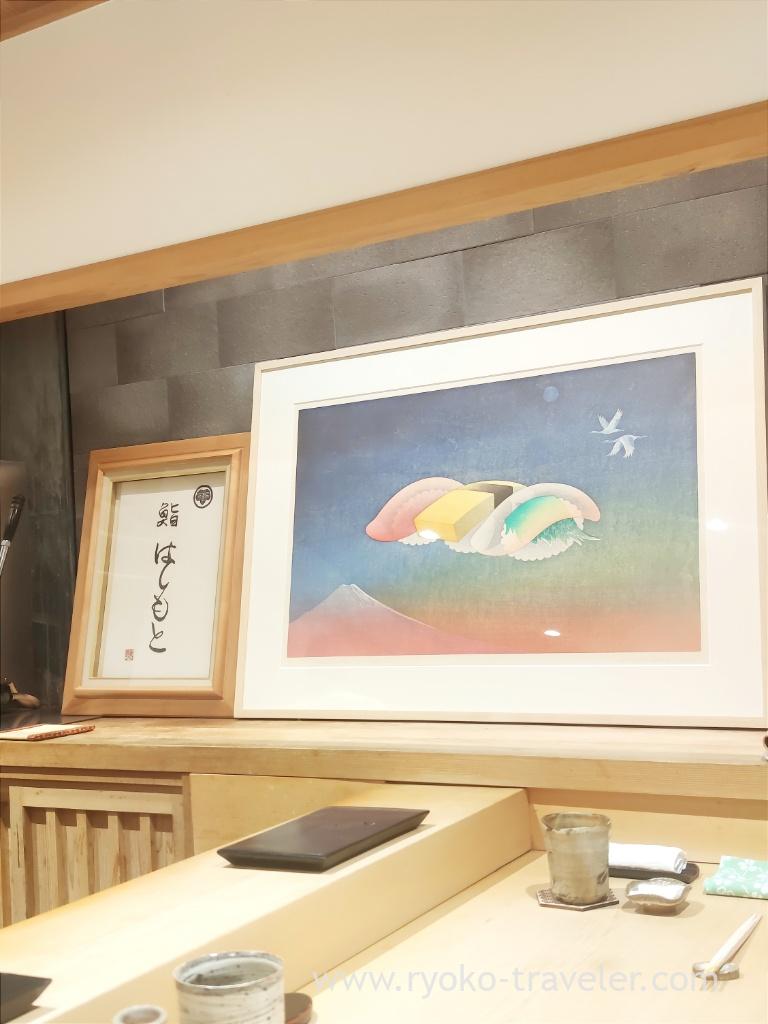 At first we toasted. My drink was highball.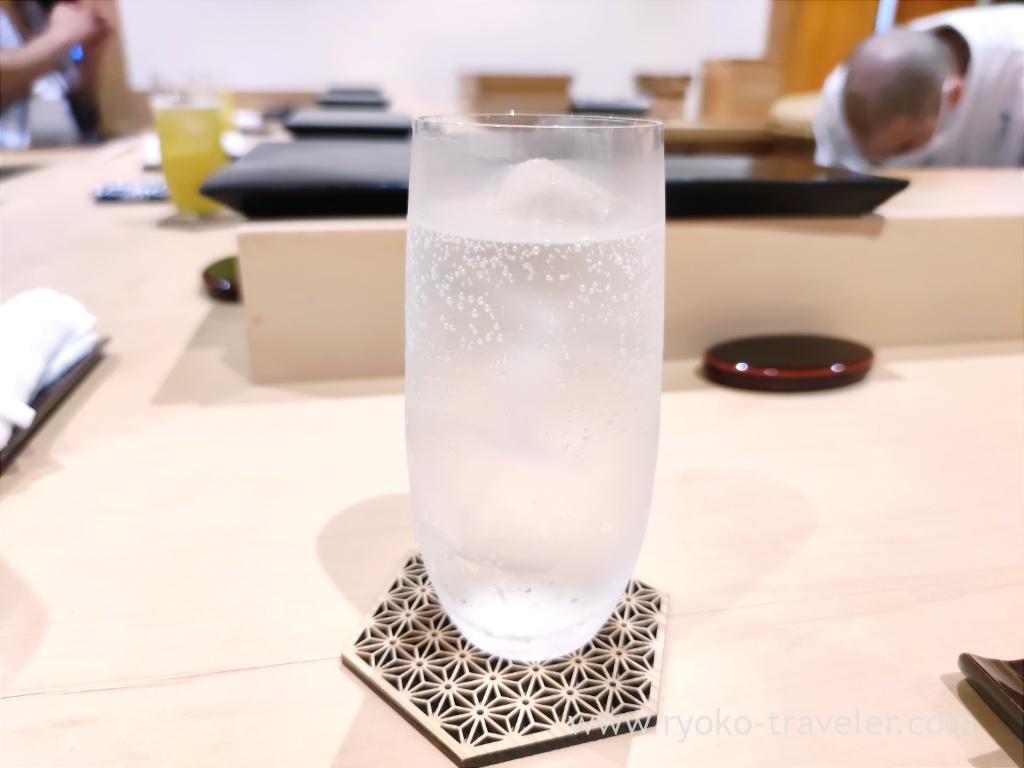 First dish was clam sashimi. Left is geoduck clam and right is Ishigaki-gai. Both was sweet and delicious. The texture was softer.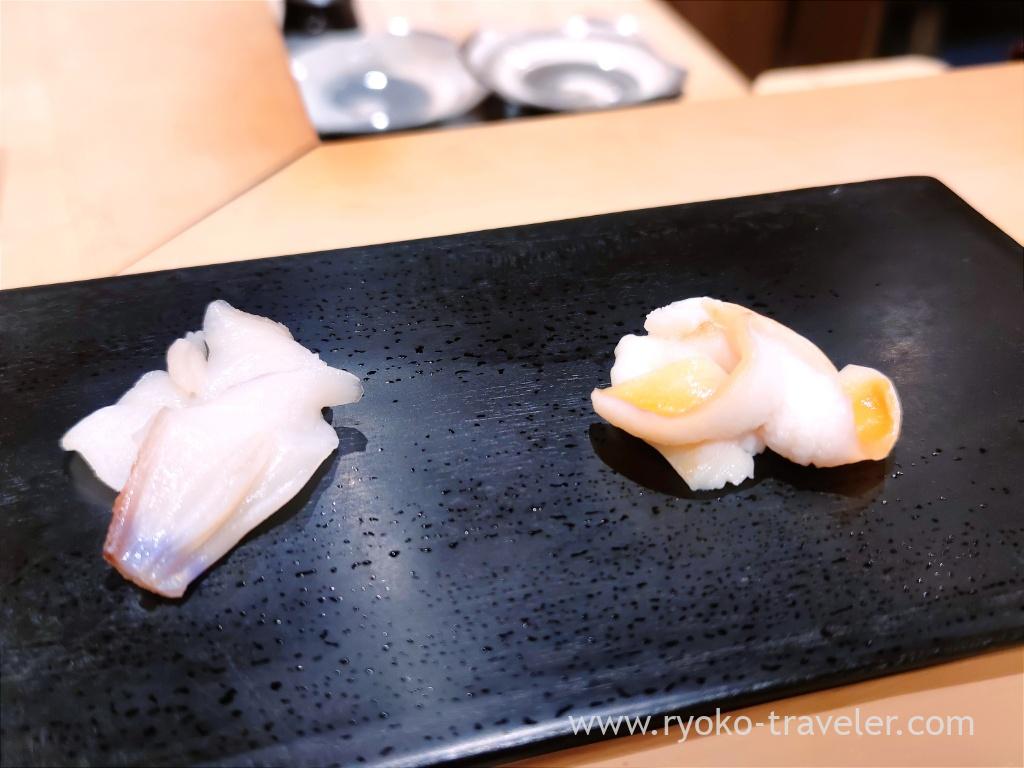 Next, boiled octopus. It had crunchy texture.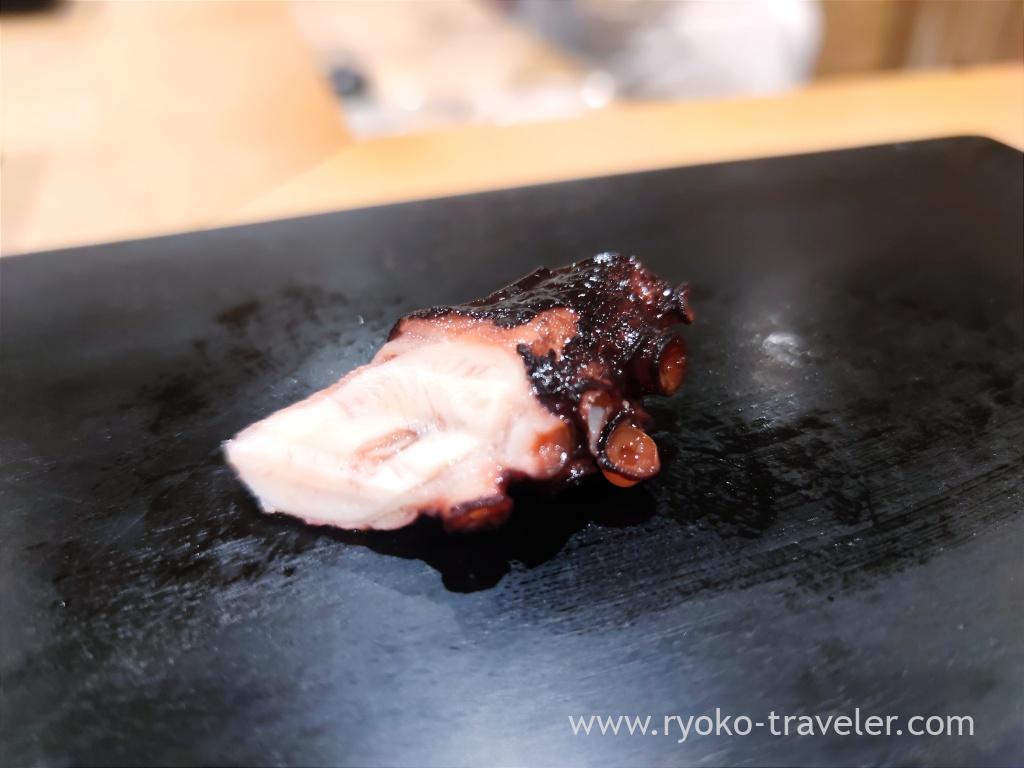 And next. Crab ball. At first I didn't understand it's soft or hard from outside. So, I put spoon into the bowl…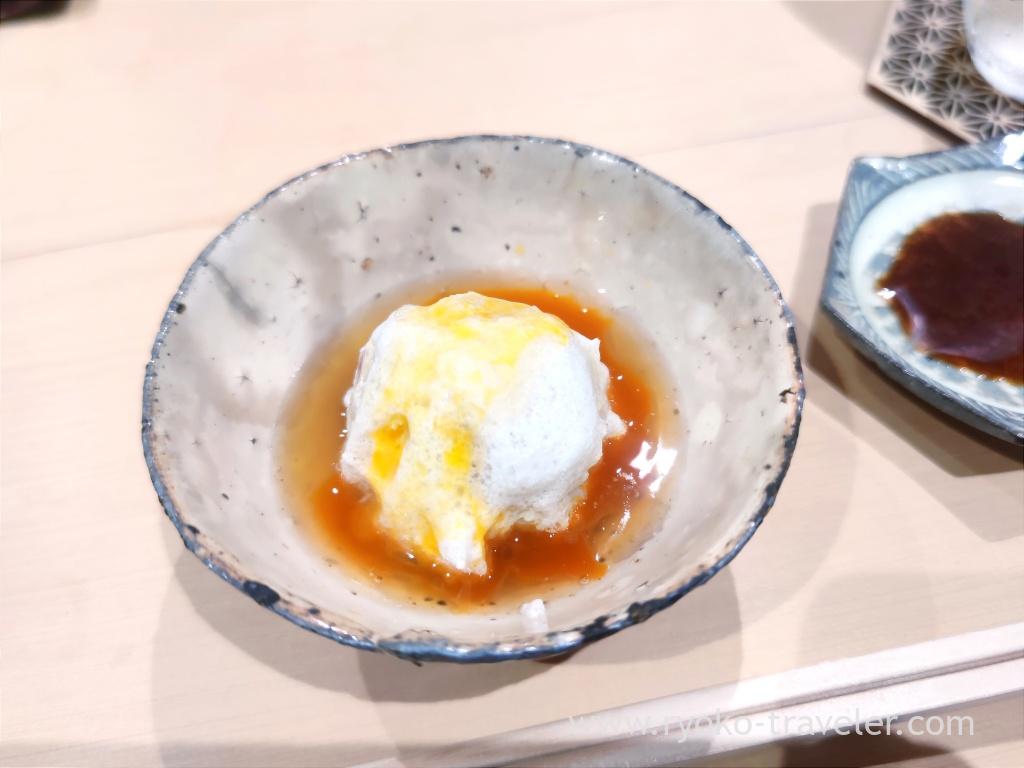 It's so soft like cream. And it its inside was filled with crabs meat. And white thing outside is albumen. And yellow sauce is yolk sauce. Delicious ! That day's No.1 was absolutedly this !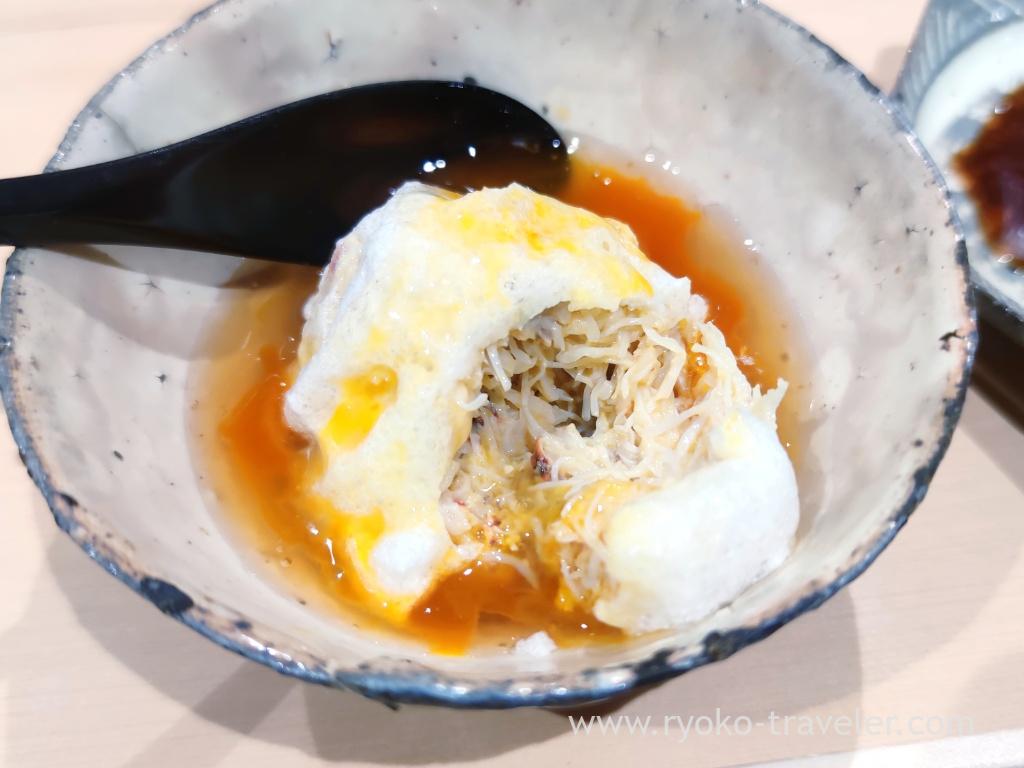 Bonito. It was not so fatty and had refreshing tastes.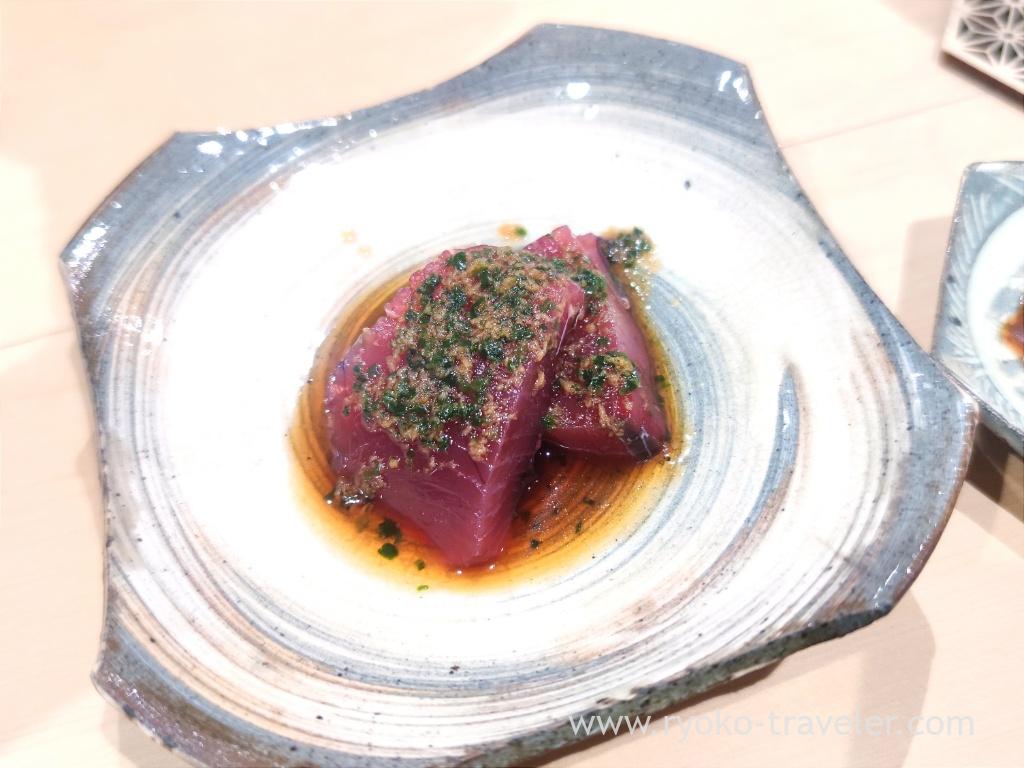 And then I ordered Japanese sake. Iwaki Kotobuki (磐城 壽 純米酒). It's not high alcoholic drinks, so it was easy to drink.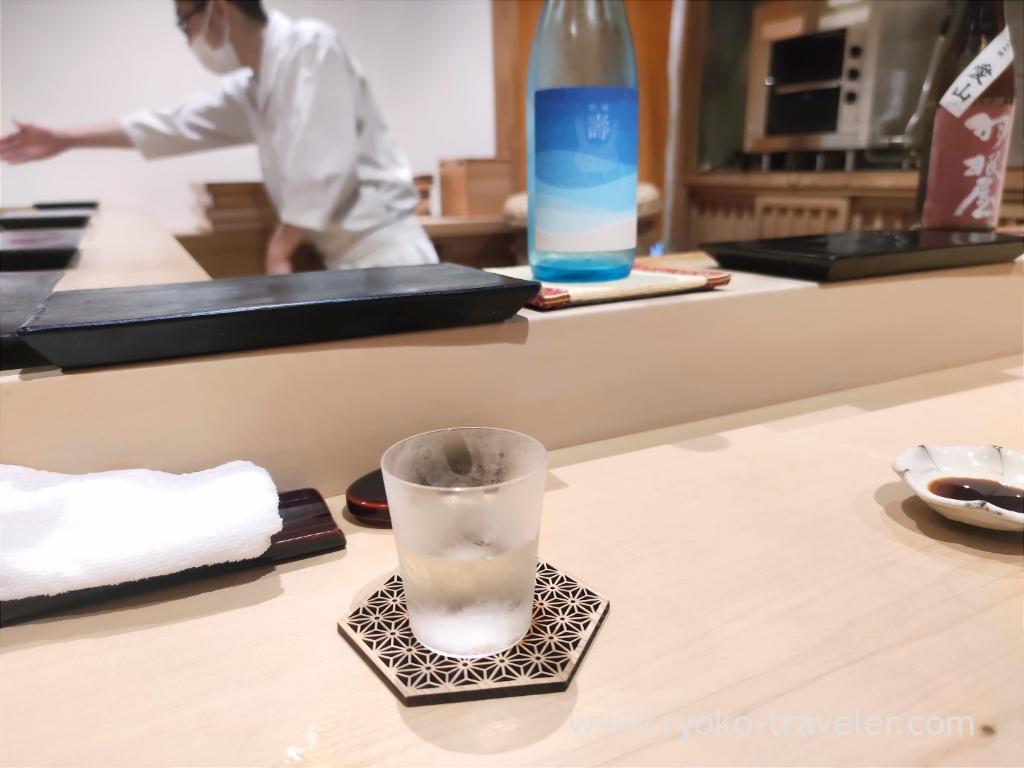 Fatty Kokanee salmon was served after refreshing bonito.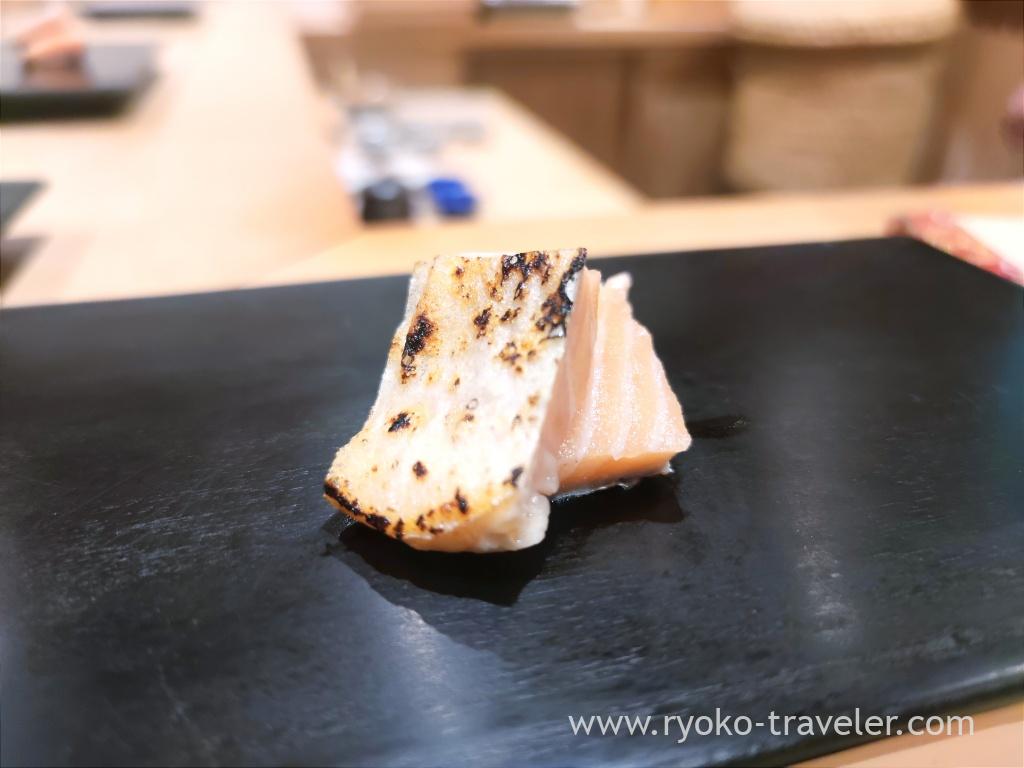 Namero made of surf clam's string.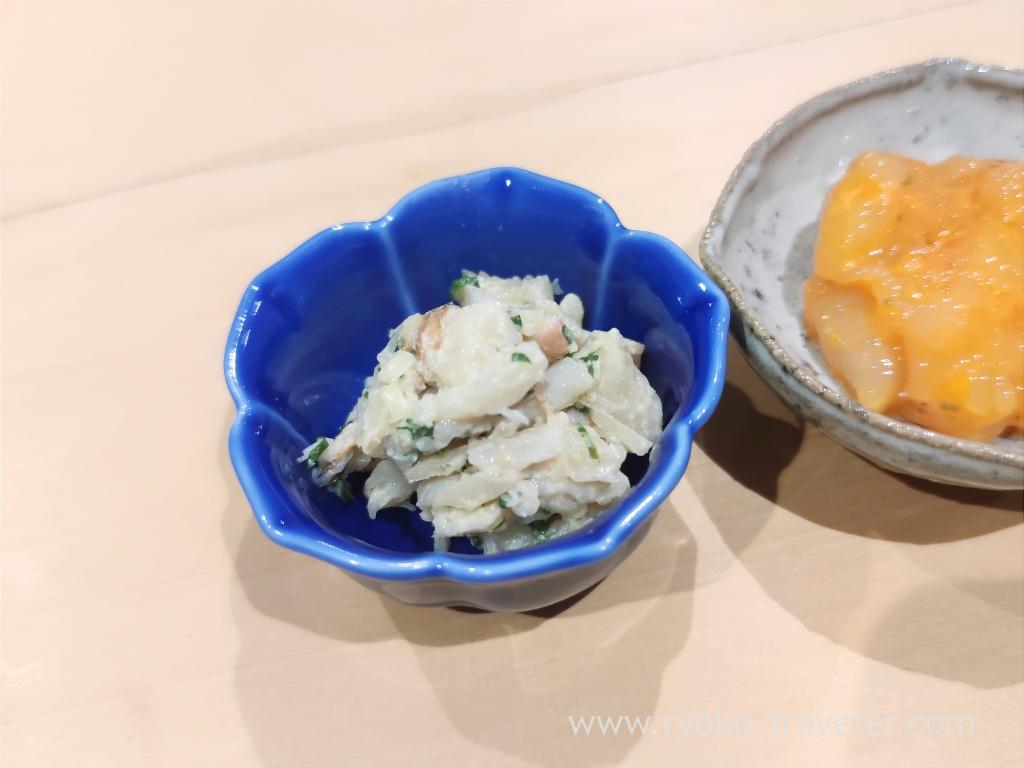 Amaebi shrimp dressed with sea urchin. It had sticky texure. It went with Japanese sake well well well…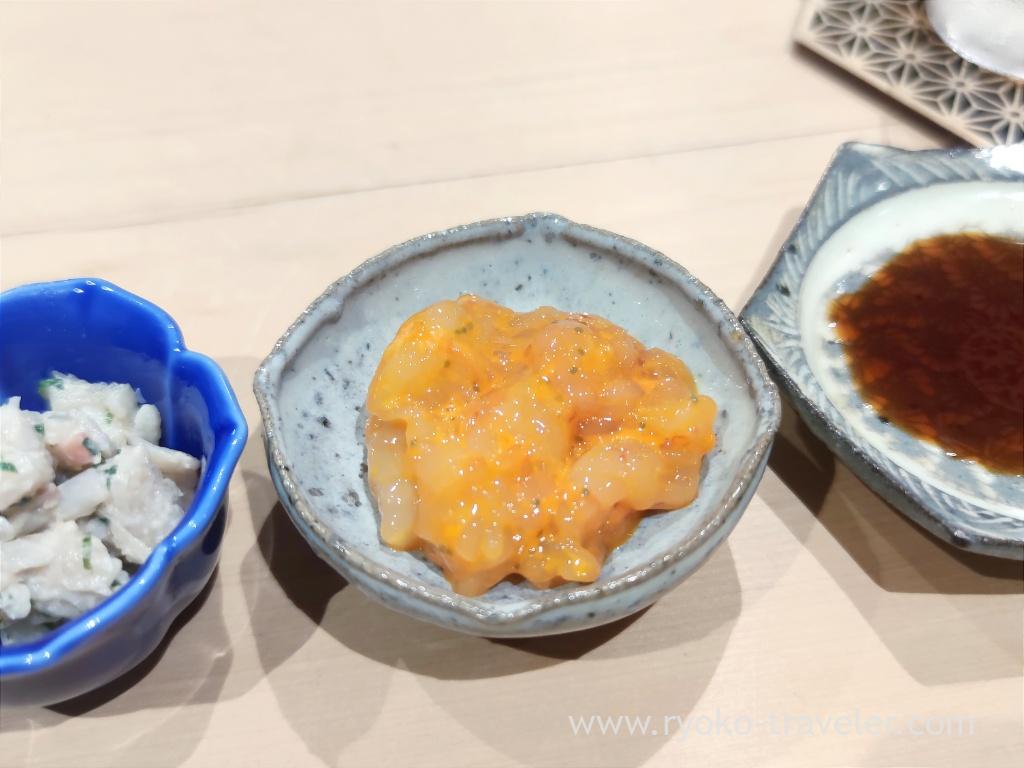 So I drunk up quickly and I ordered next sake. This is Eiko Fuji Sakemirai (栄光富士 酒未来) from Yamagata prefecture.
Dried round herring overnight. It was flavorful.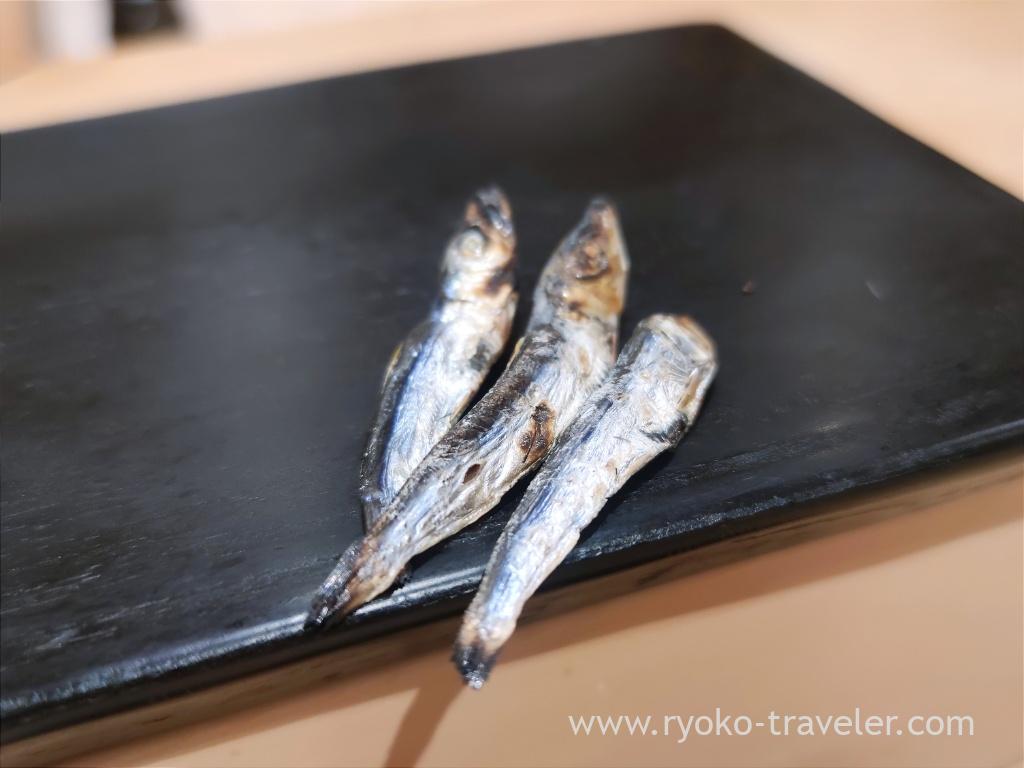 And grilled eel. Shirayaki-style.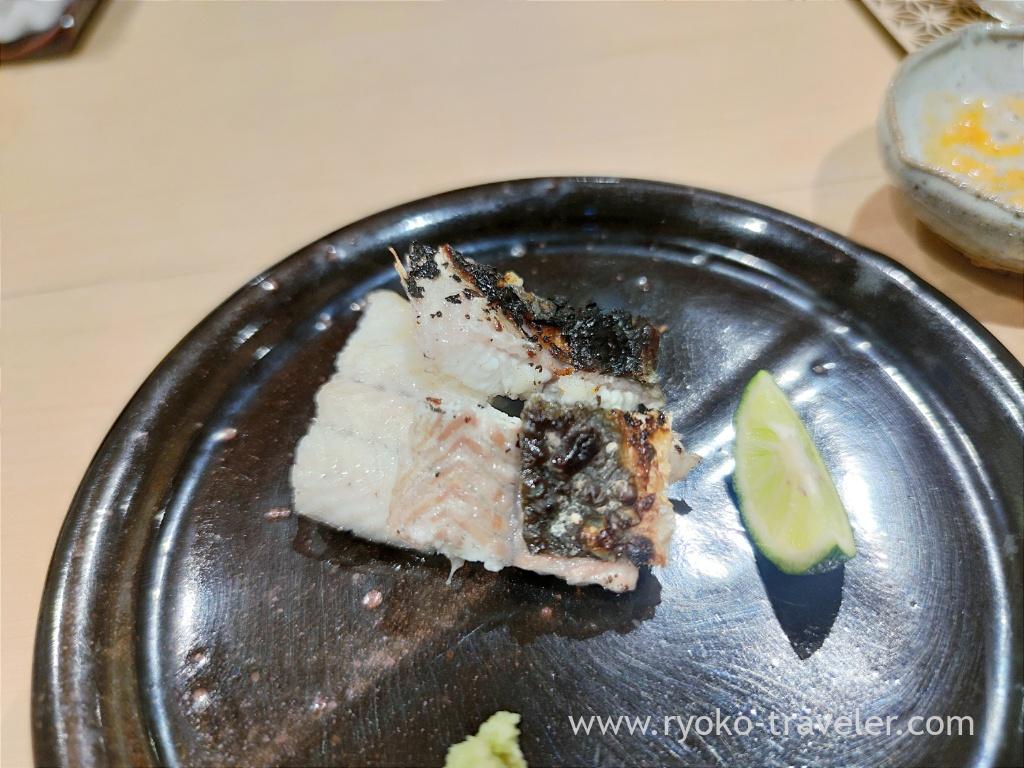 And, gari (ginger pickles) was served. It's the sign of the sushi time.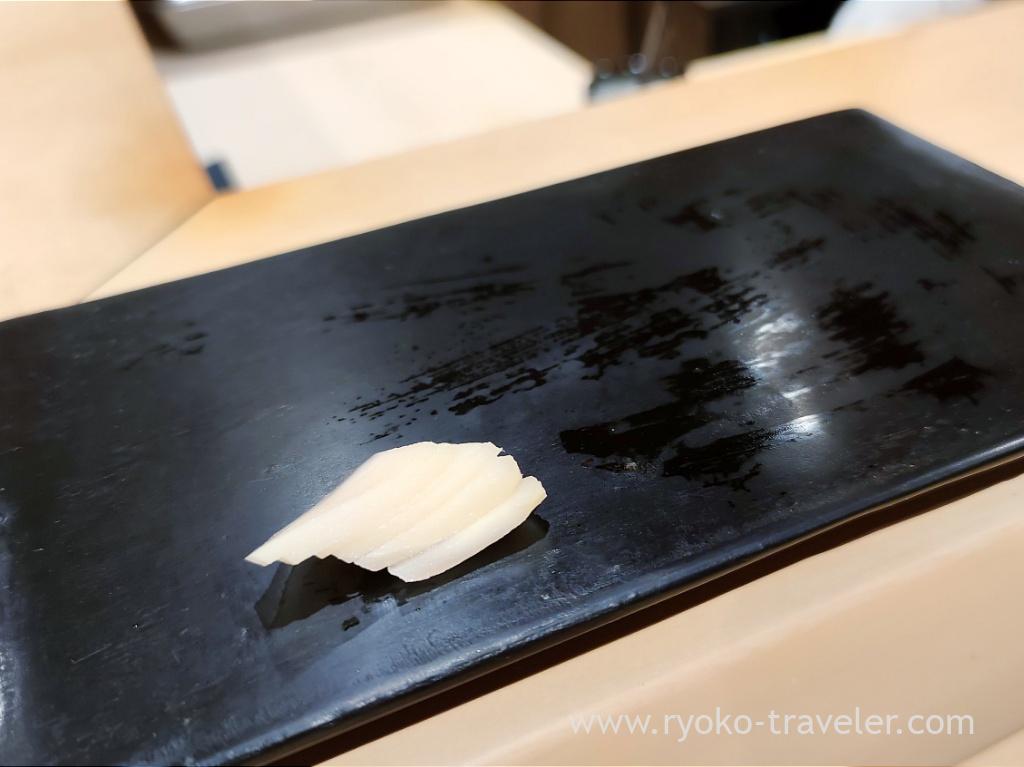 Mr. Konno started sushi time from Gizzard shad as well as Sushi Hashimoto. The sushi was smaller, so it's easy to eat for me. But I was enough satisfied with the amount.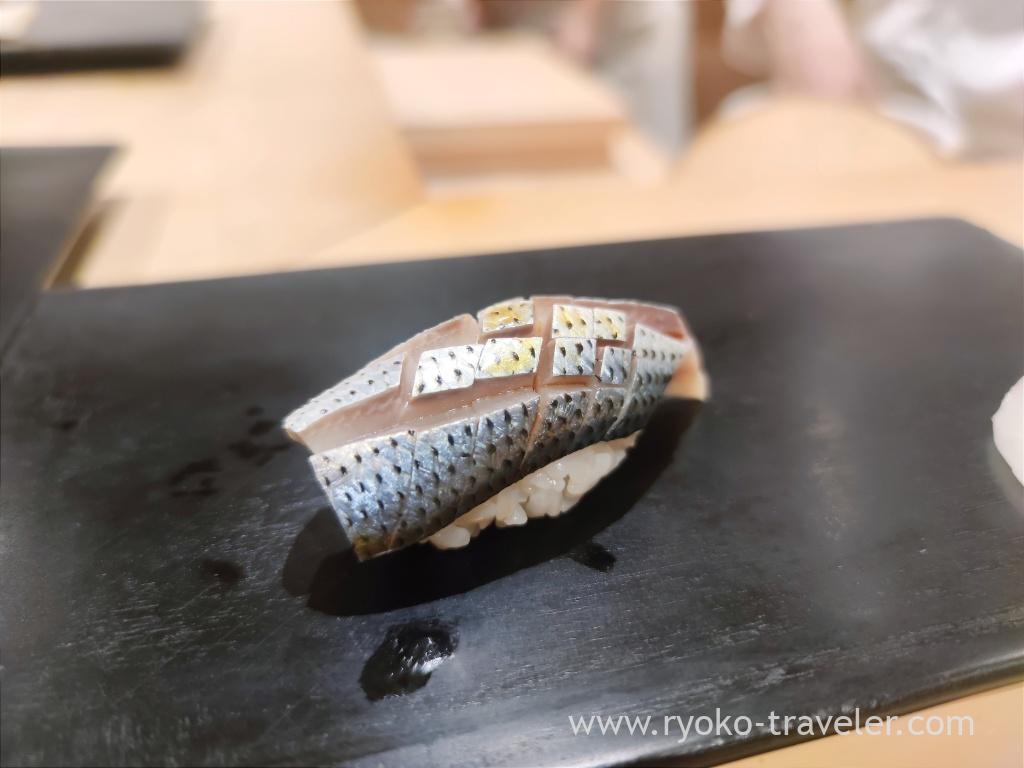 Baby cuttlefish. It's precious because the season is very short. So, I was glad.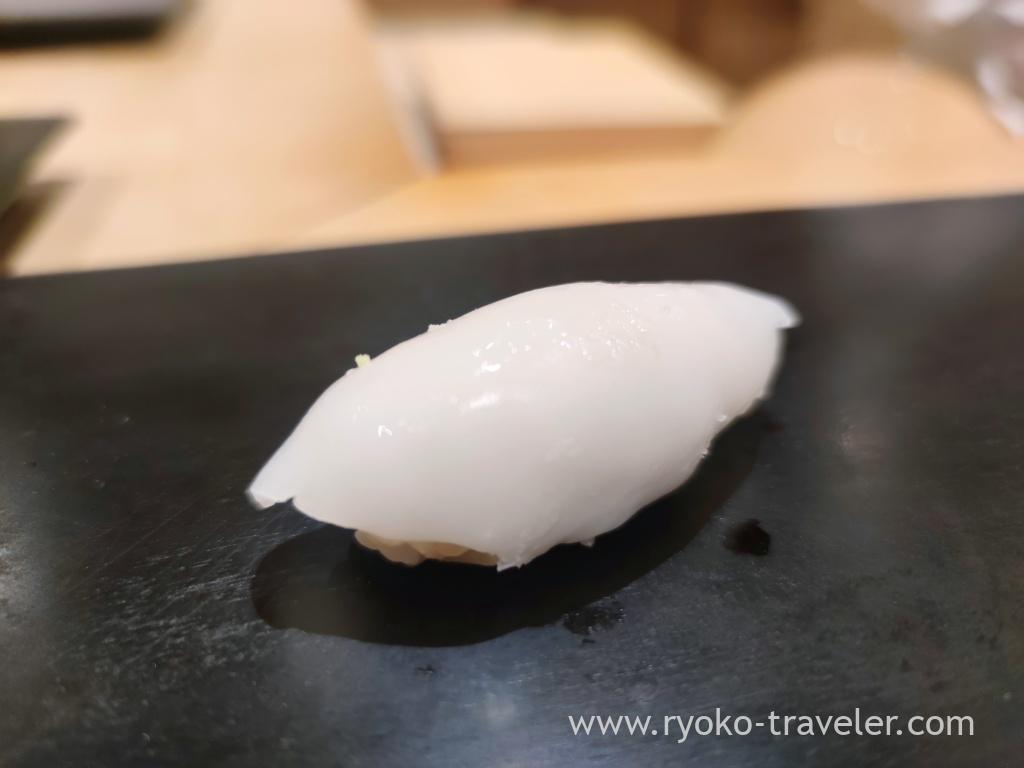 Young red sea bream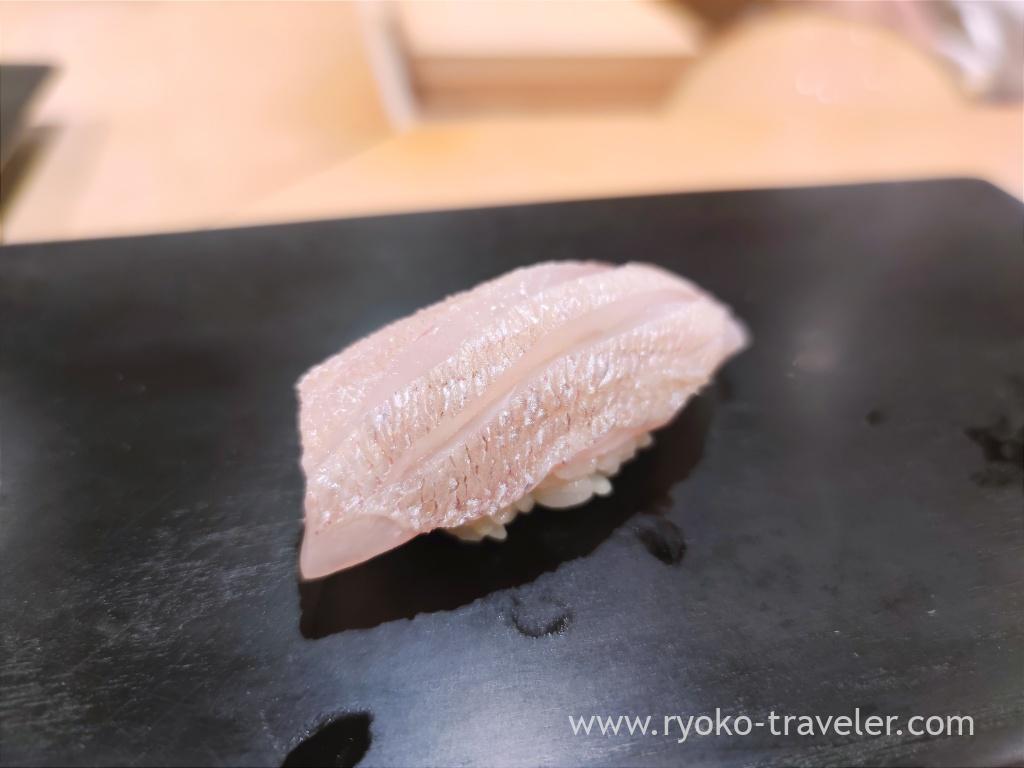 Lean meat of tuna.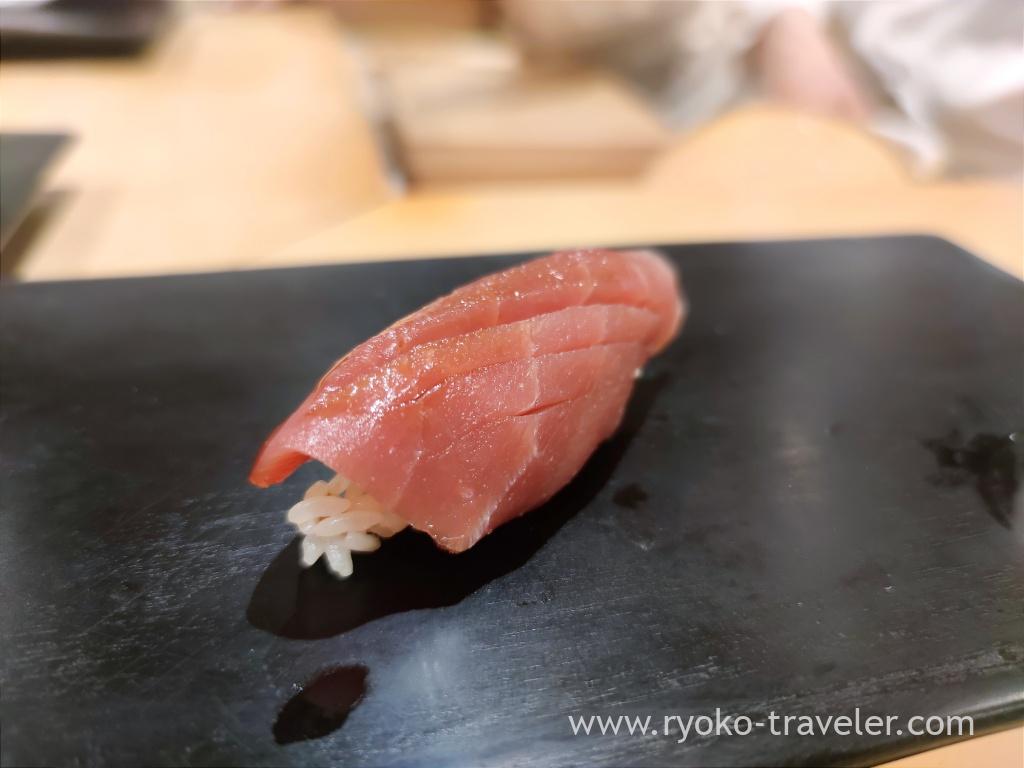 Tiny crab…Not. It's legs of baby the cuttlefish. It was seasoned with soy sauce and grilled. It's flavorful.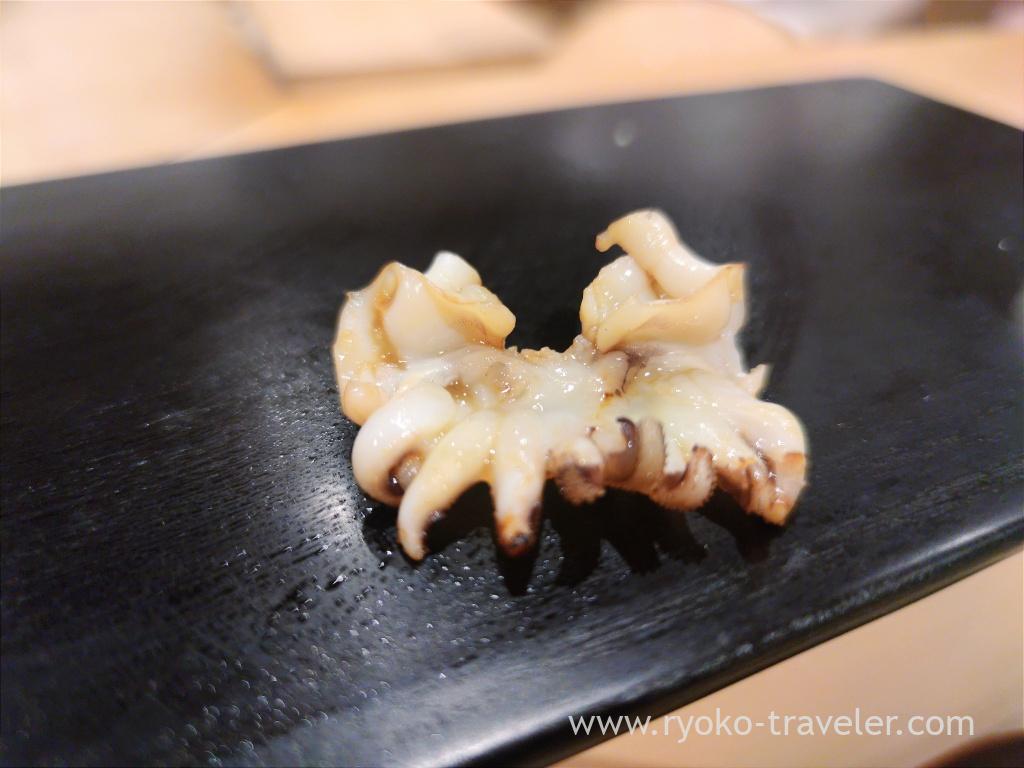 Surf clam. Hashimoto's surf clam is always awesome. Mr. Konno prepared the same quality. And look at this. He cut seafood beautifully. It's like art. And thanks to this cut, sushi dance in our mouth 🙂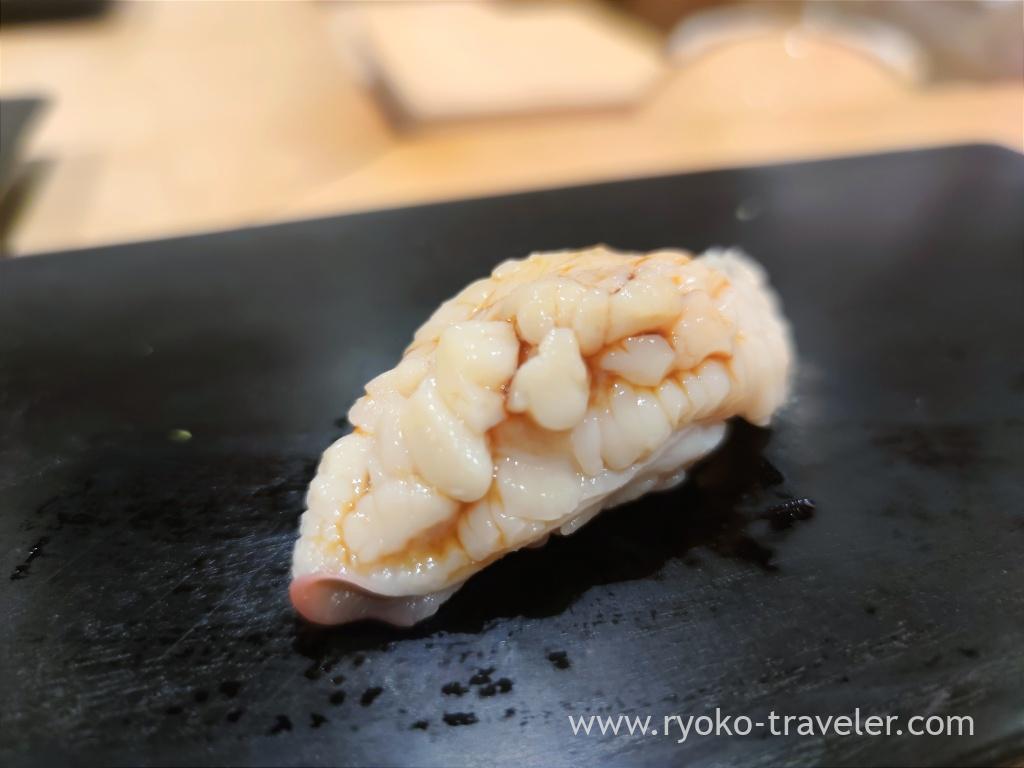 Ark shell. That day's course had much clams ! Everything was sweet and delicous.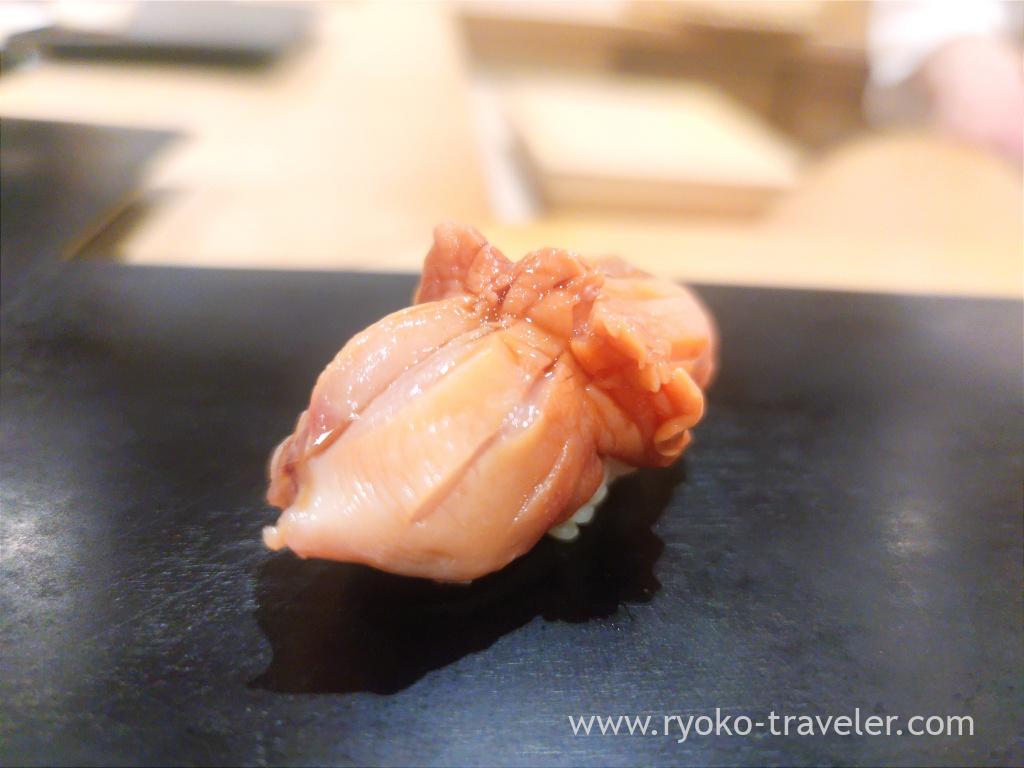 Toro. It was aged longer. It's like meat. Fatty and good.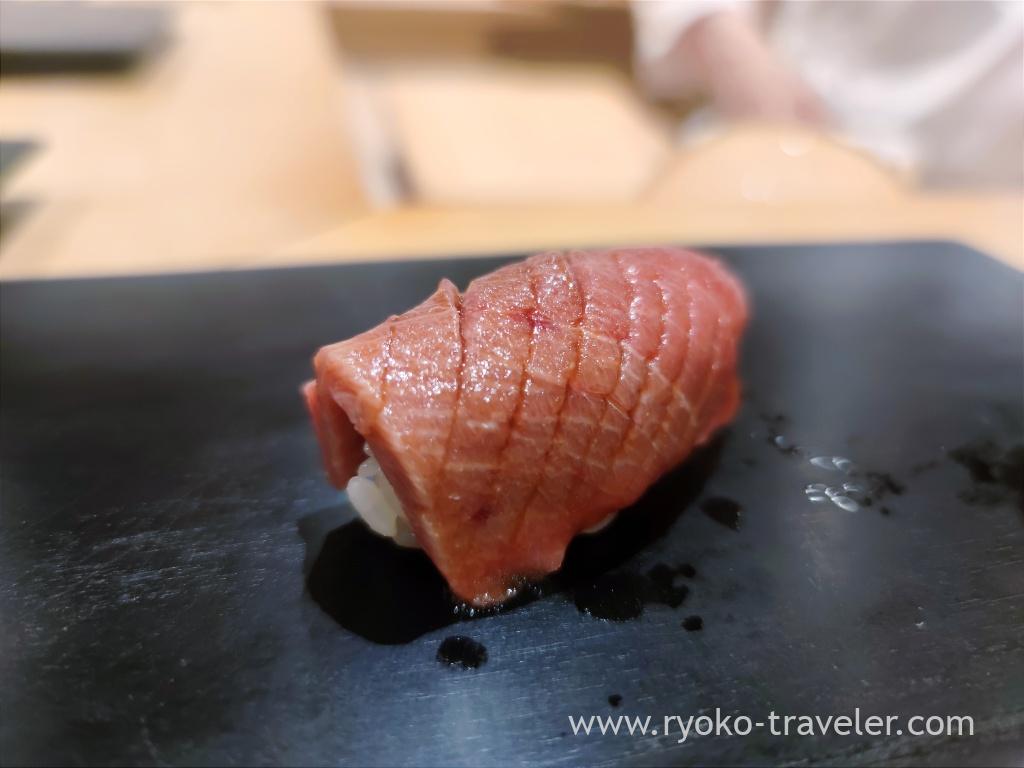 Horse mackerel.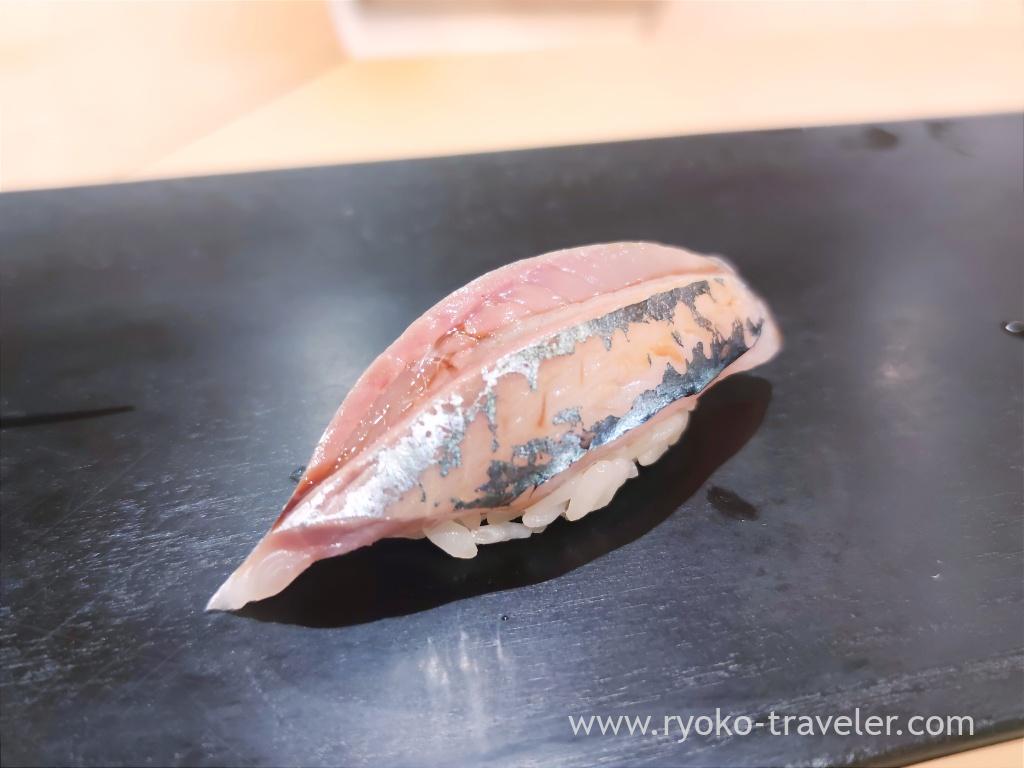 Sardine. Good.
Lightly grilled splendid alfosino. Fats flows !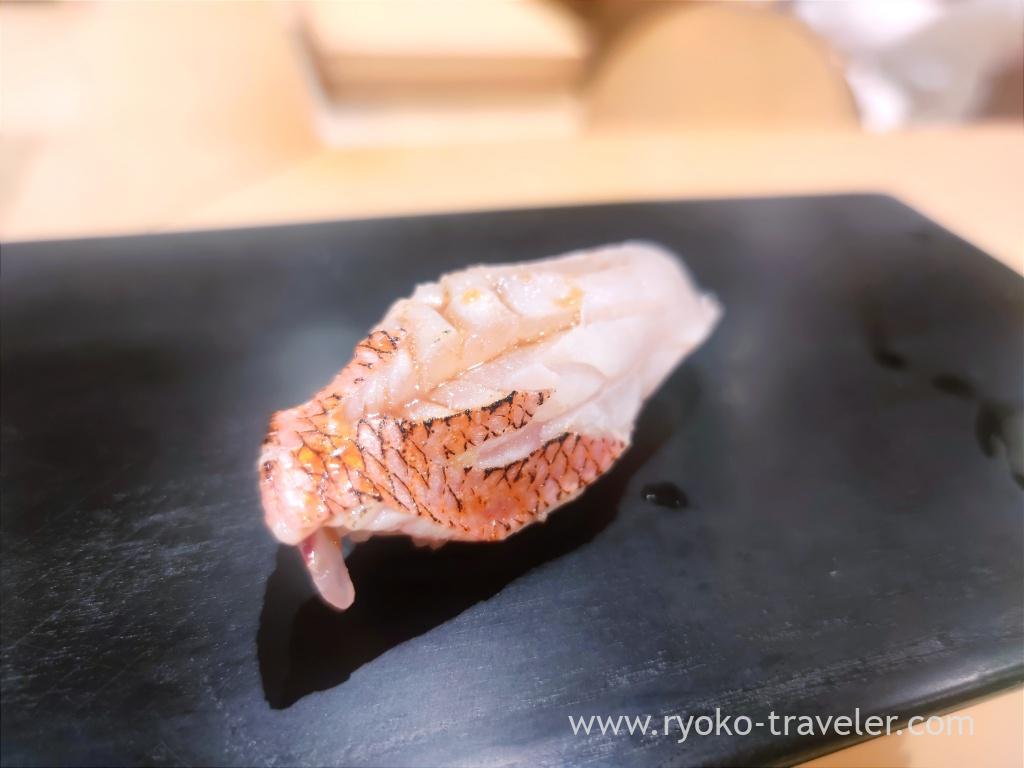 Sea urchin. It had much sea urchin !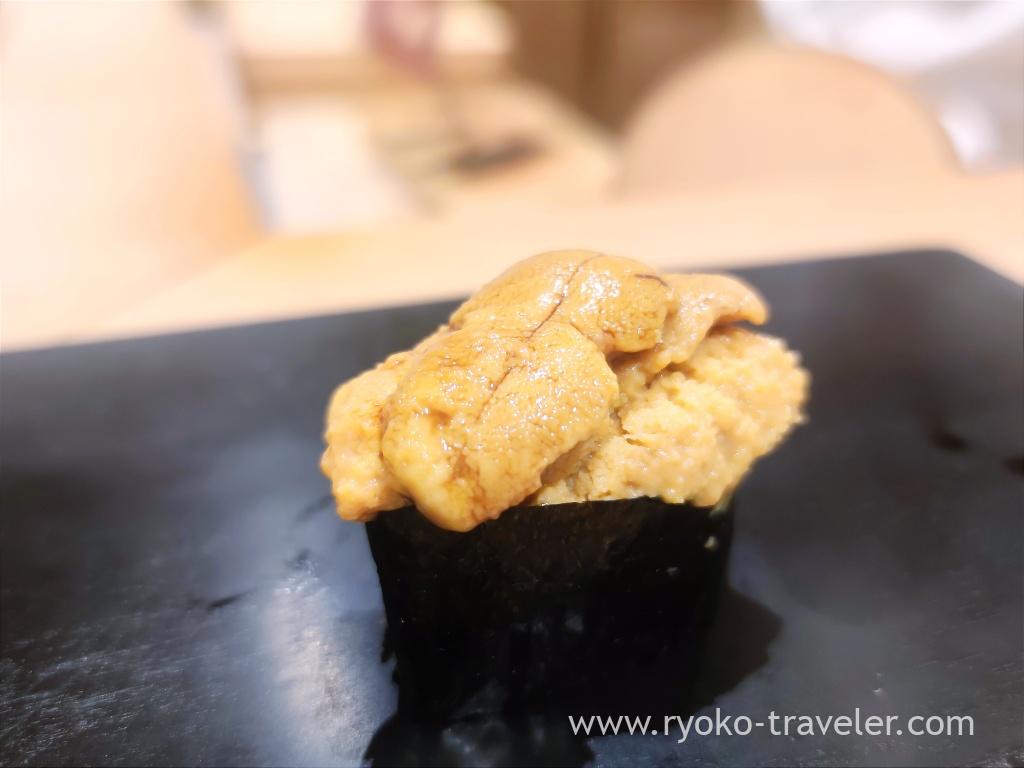 Conger eel. So soft !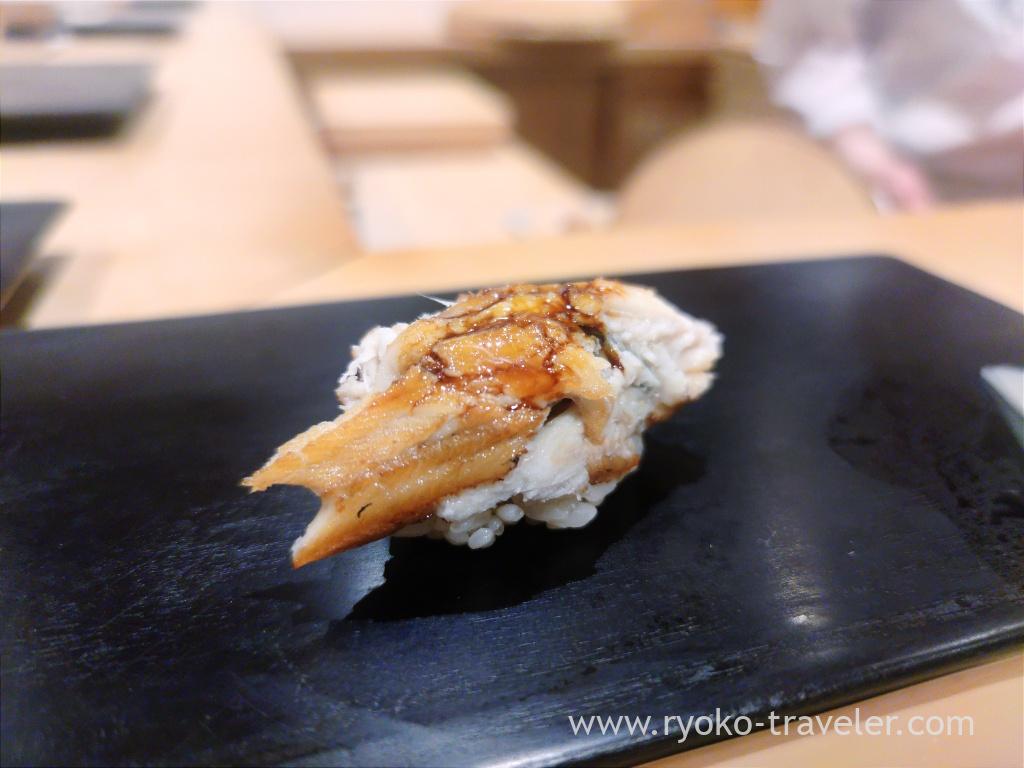 Baked egg.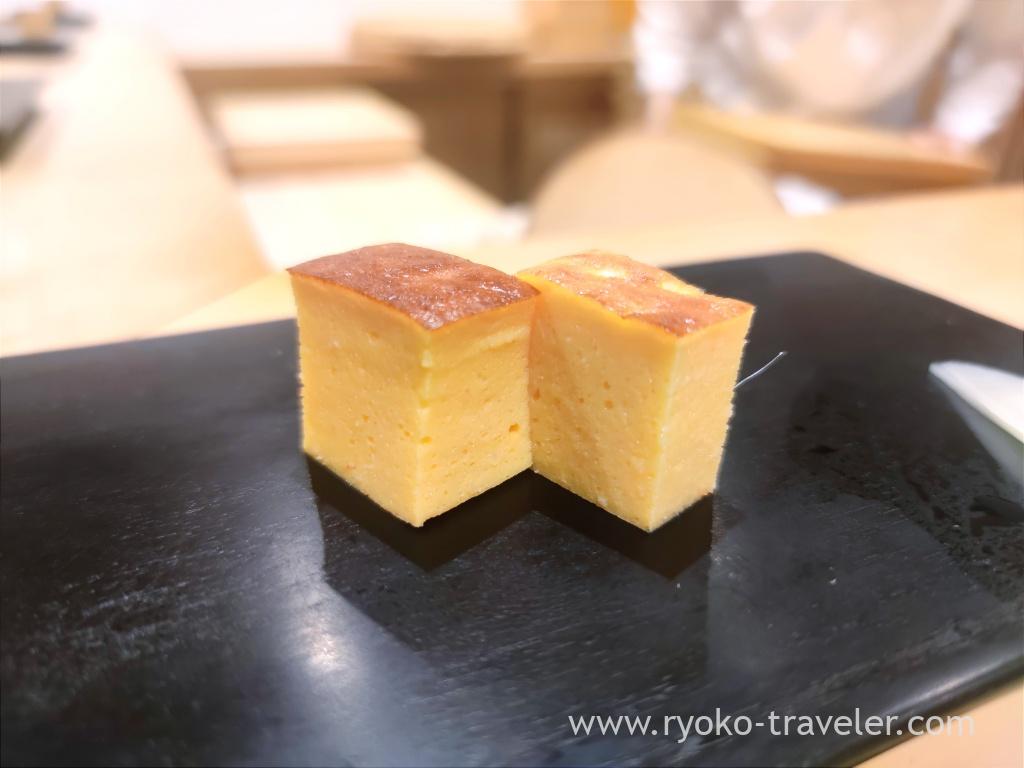 The last of the course. Shijimi clam soup.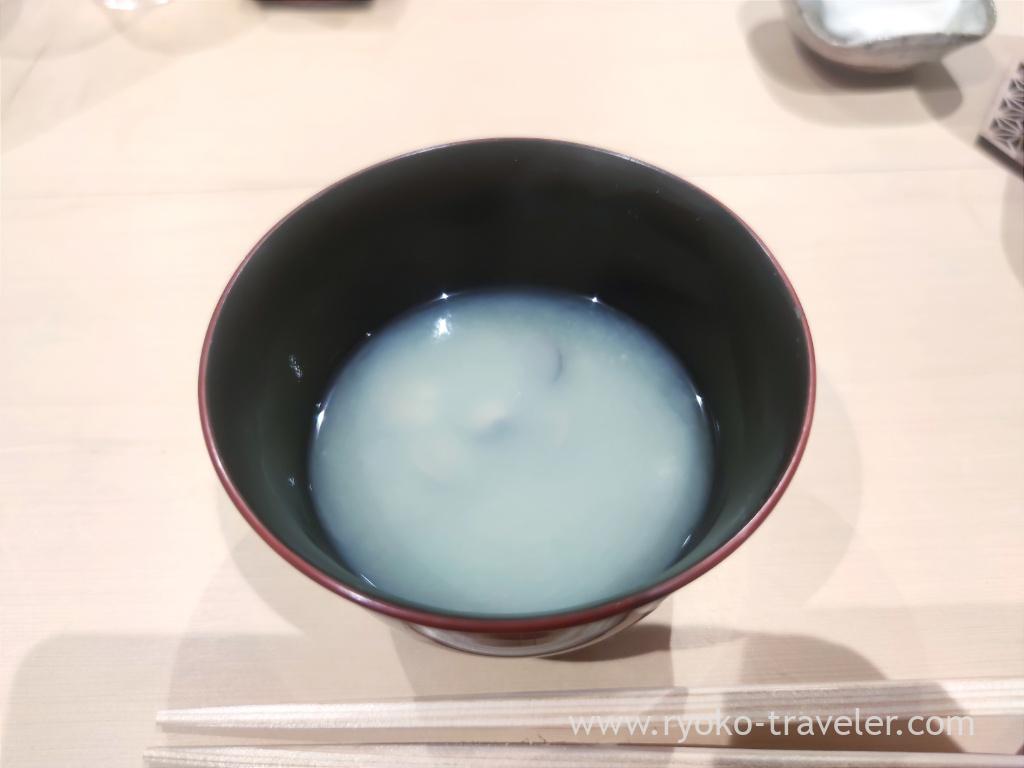 After the course, I added some sushi. The course didn't have kuruma prawn, so, I ordered Japanese glass shrimp instead. It had sticky texture ! Shrimp is splendid all the same !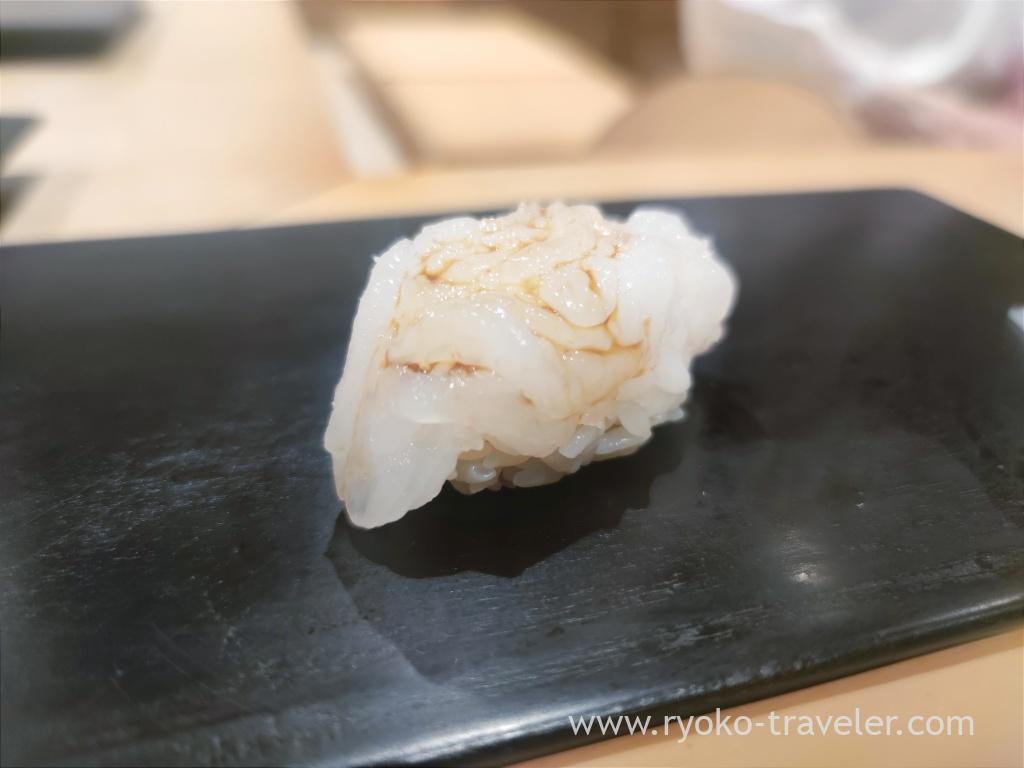 Hair crab. This reminded me of kanitama…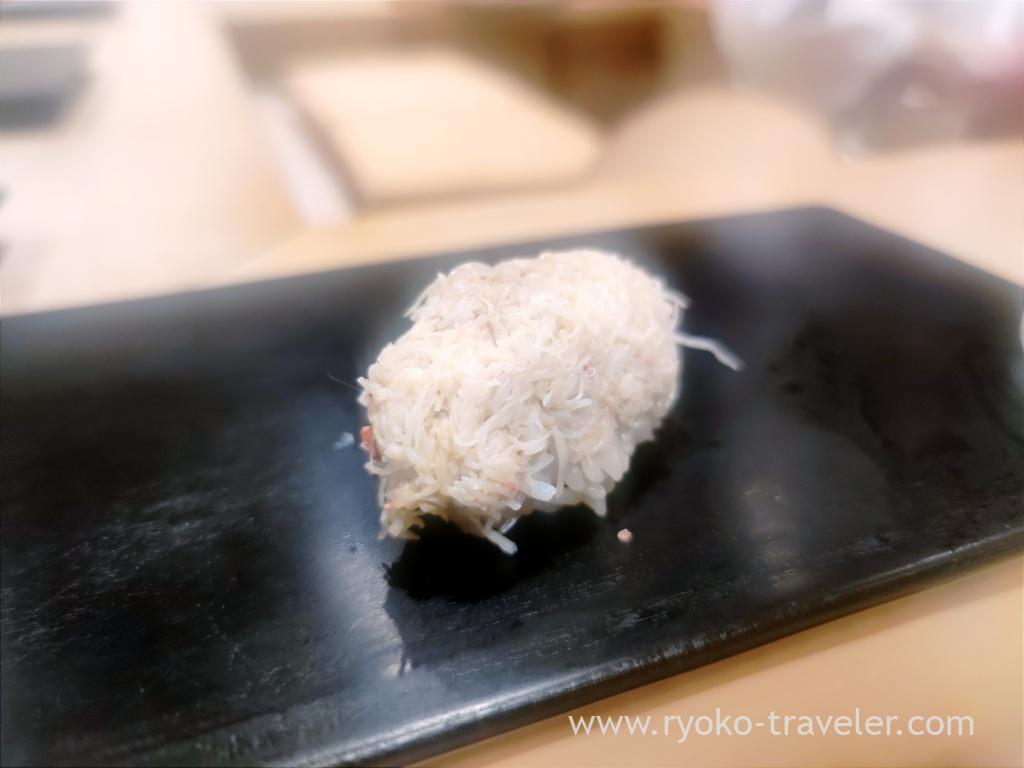 Last.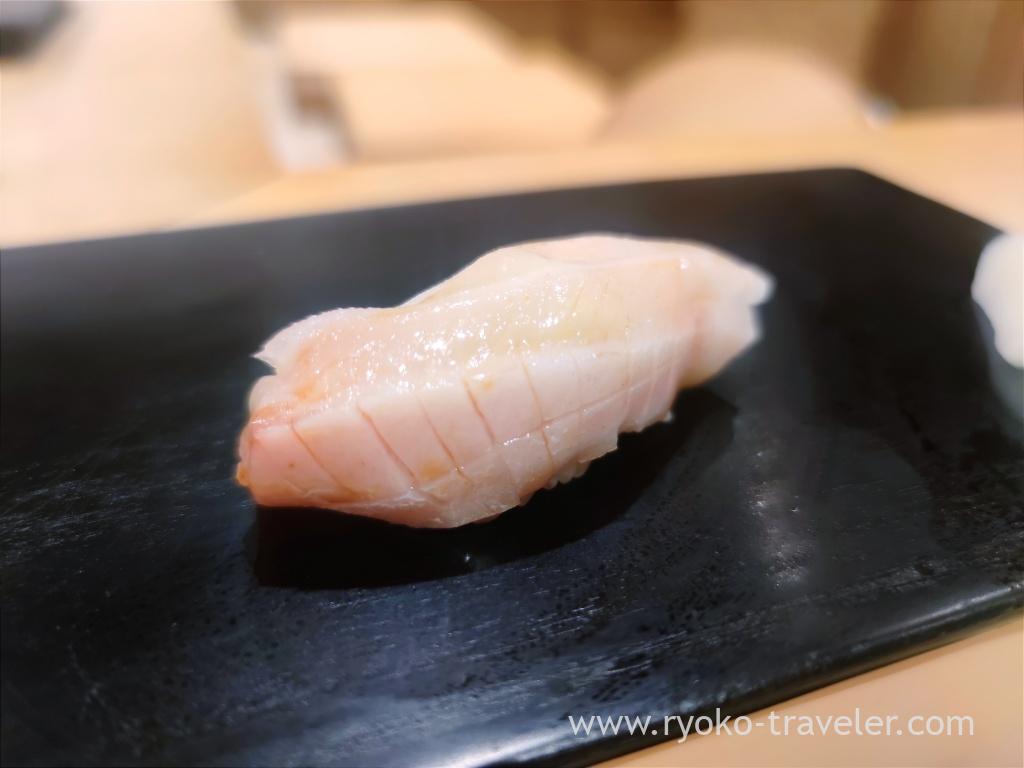 11 dishes and 12 sushi was included in the course. The course is lighter than Hashimoto. This is the best amount of dinner for me. Some of seafood is prepared at Sushi Hashimoto. So, it's valuable ! Dinner course is 17600yen.