Visiting one of Tokyo Jissha (ten) shrines
Now on I'm visitting Tokyo Jissha. Shinagawa Jinja shrine.
Daikokuten, one of the Tokai Seven Deities of good fortune has been apotheosized.
Goshuin.
Deities: Amenohirotome no mikoto(天比理乃咩命), Susaono no mikoto(素盞嗚尊), Toyoukebime(宇賀之売命)
Place: 3 chome Kita-Shinagawa Shinagawa-ku ,Tokyo
I dropped in at Ebara Jinja shrine.
Ebisu, one of the Tokai Seven Deities of good fortune has been apotheosized.
(The mere sight of its face make me feel happy :D)
Each shrines stand quietly and being calm. These shrines don't stand out compared to other Tokyo Jissha.
Actually, I can't understand which is Jissha from these appearances 😛
But these shrines are quiet and I felt comfortable.
Goshuin. It is written as "Moto Junchokusai-sha"(元准勅祭社)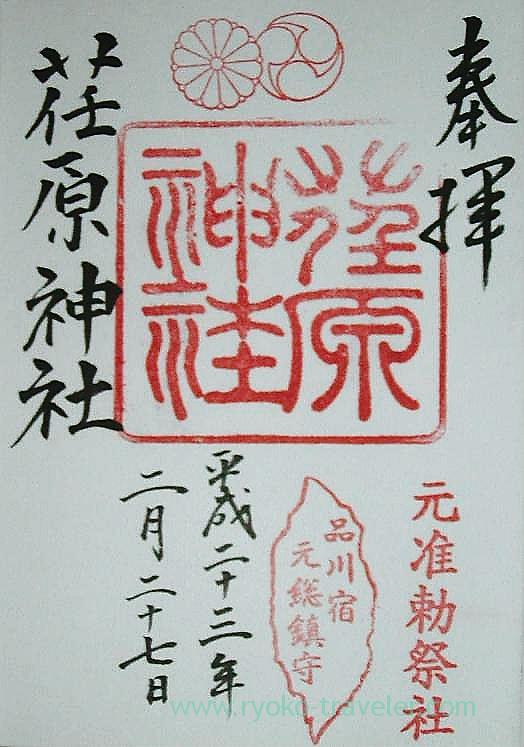 Deities: Takaokami no kami(高龗神), Toyoukebime(豊受姫之神), Amaterasu oomikami(天照皇大神), Susaono no mikoto(須佐男之尊),Ameno Tajikarao(手力雄之 尊)
Place: Kita-Shinagawa Shinagawa-ku ,Tokyo
About Shinagawa Jinja shrine
Address / 3-7-15 Kita-Shinagawa, Shinagawa-ku, Tokyo
Station / Shin-Bamba station (Keikyu or Keihin kyuko dentetsu)
About Ebara Jinja shrine
Address / 2-30-28 Kita-Shinagawa, Shinagawa-ku, Tokyo
Station / Shin-Bamba station (Keikyu or Keihin kyuko dentetsu)
Open / 9:00 – 17:00
Closed / no scheduled
Website / http://www.ebarajinja.org/top.html (in Japanese only)