I got up early in the morning, and I got out of our muggy room and went out to take a walk around at the last morning at Samarqand for me.
But when I got up, no, from before I got up, I had a so bad stomachache 🙁
It was relly muggy in our room 🙁
I was going off my head 🙁
Though air-conditioning ran 🙁
Going out our hotel, I felt the temperature was under 20 degrees.
It was cool.I felt more chill than cool.
And …
My stomachache got bad more and more 🙁
I went back to hotel after about 5 minutes.
I went to restaurant in our hotel for breakfast, but I could eat only a little.
I had some cup of tea instead.
I arrived Samarqand station with clouded consciousness, and we got on SHARQ.
Our SHARQ headed straight for Tashkent station.
At Samarqand station, the way to go station platform was to go across two railroad lines.
With suitcase ! It was very difficult for me at that time.
Then our guide brought my suitcase thankfully.
But it was also hard for me to go up to the platform 🙁
I managed to climb.
My train ticket.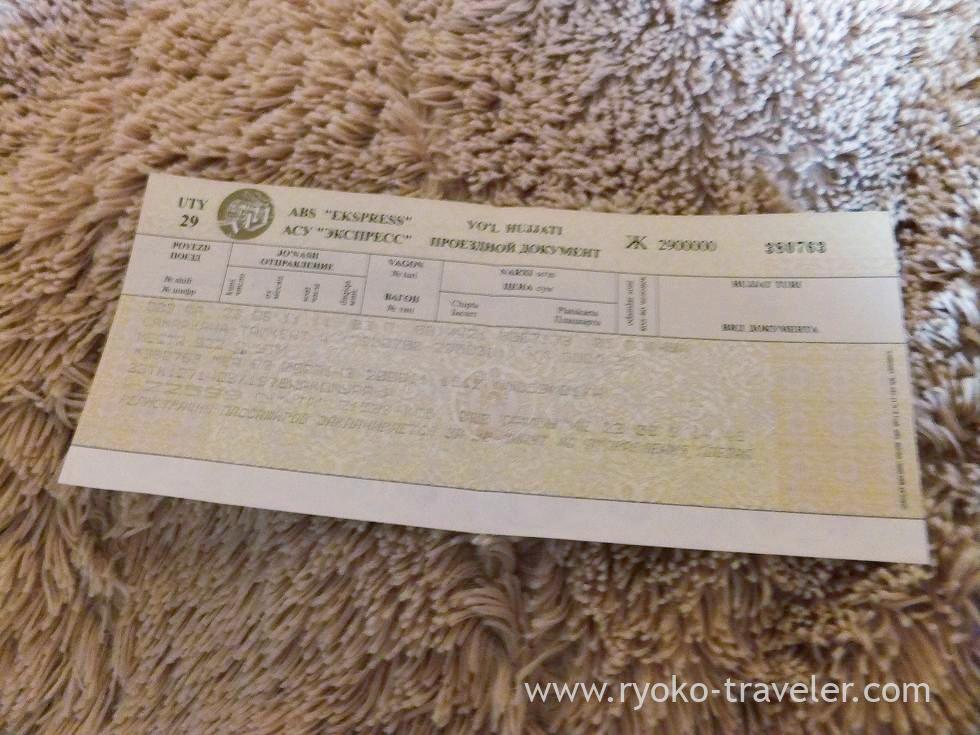 We got on the train, after a few minutes, our train started to run.
We worried about whether our train had air-conditioning or not. But to our
pleasure, our train had air-conditioning and it started to run 🙂
I got a bread, fruits and mineral water for lunch.
I didn't have a bite to eat after all.
Our guide said before taking our train, " Now, railway track is under construction for opening of bullet trains,so our train may stop about for two hours on our way."
It really stopped.
Still it had stopped in the middle of the desert for more two hours.
While running the train, air-conditioning in the train can run, too.
So, when the train stopped, its air-conditioning stopped, too :O
I felt too hot.
And…
I also felt cold :O

The surface of my body was heat but I was chilled my bone 🙁
I was worried about that I could go back to Japan. 🙁

The TV in the train was on all the time with big volume 🙁
It irritated me. Comedy ? Love stories ? I couldn't understand. Anyway, it was too noisy.
I couldn't bear any more, so I took something out of my baggage.
It was walkman.
Of course, for I watch Shoji's movies.
I watched Shoji's movie for escape from pain for a while.Shoji's movie cut my pain about 40% 😀
That's Shoji all over 😀
After a while, our train started to run again, and the air-conditioning started to run again too.
Our train ran nonstop toward Tashkent 🙂
I was saved 😐
On arriving Tashkent station,
We had to go actoss the five railroad lines !
Samarqand station had only two lines !
NO!!!!
It is worthly of capital city 🙁
Our guide also brought my baggage this time thankfully.
(It was hard for me even to walk …)
I'm sorry for inconvenience for everyone …..
After arriving Tashkent Station, we went sightseeing directly.
We went to Museum of Applied Arts in Tashkent and bazar.
Chorsu Bozor (Чорсу)
I bought something to spend all my Uzbekistani som. Nuts, dried fruits and so on.
After all I have 11000 Uzbekistani som left :
White mosque (I don't know its name).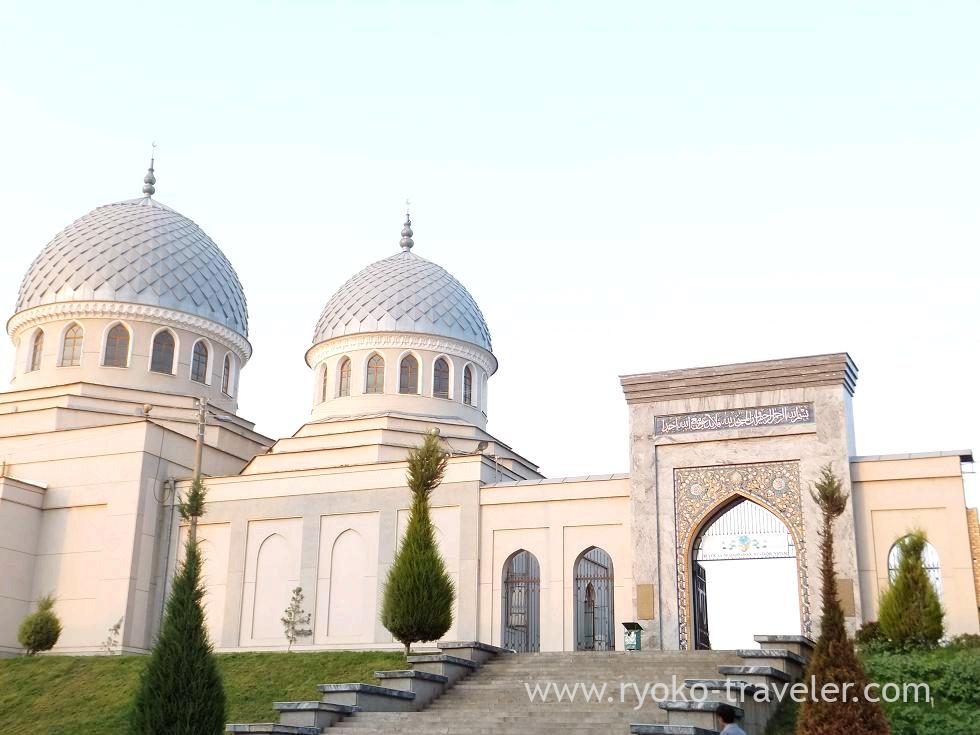 At night. We had dinner at Uzbekistan hotel again.Almost the same menu that we had at the first night at Uzbekistan.
I ate one bite to each dishes 😛
After the dinner, our guide said, "We are going to Navoi Opera & Ballet Theatre from now. But if you feel bad, you need not go out. Please stay in the hotel :)"
But I said "I'm OK 😐 "
Everyone must thought that my saying "I'm OK" was always not OK 😛
Navoi Opera & Ballet Theatre (Театр Навои) illuminated.
There were many families accompanied by children.Byzantine style of architecture.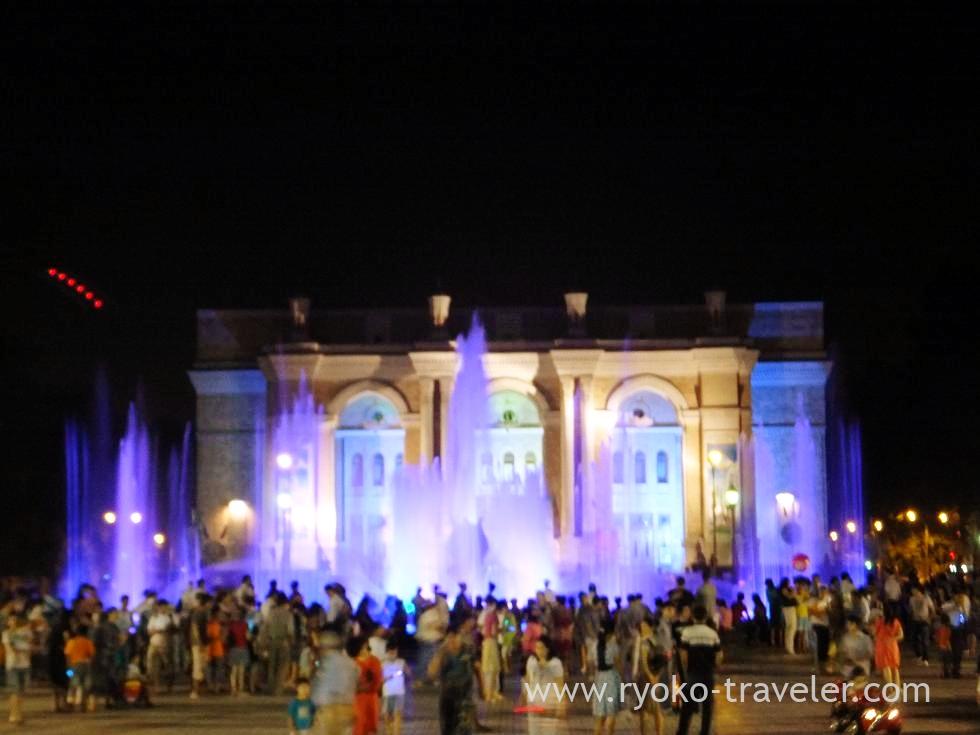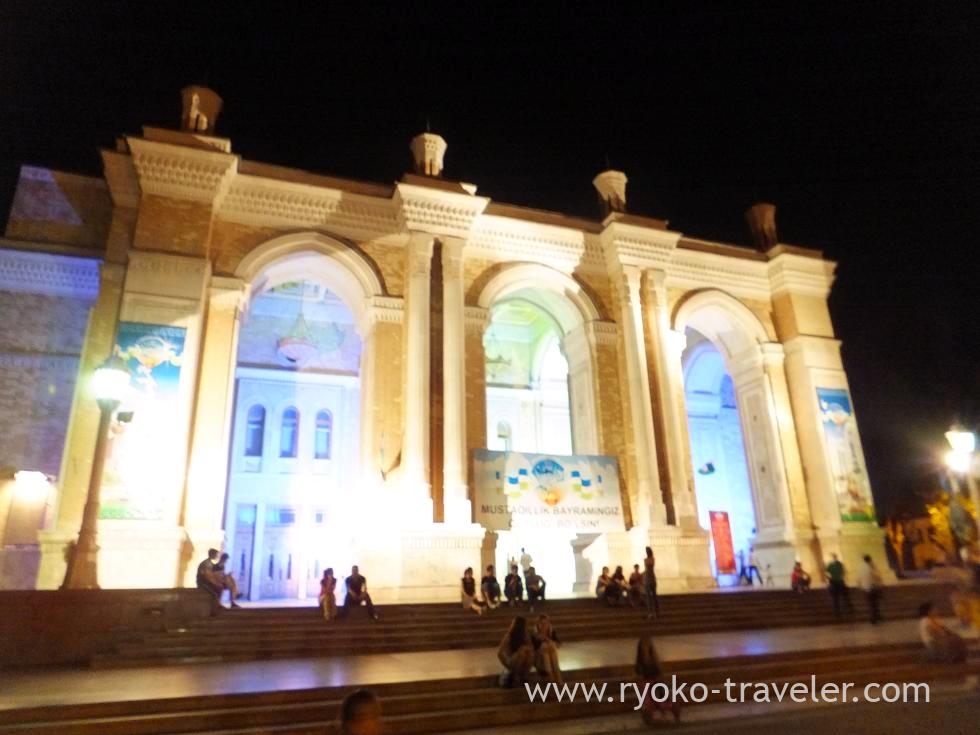 Here were banner of independence day, too.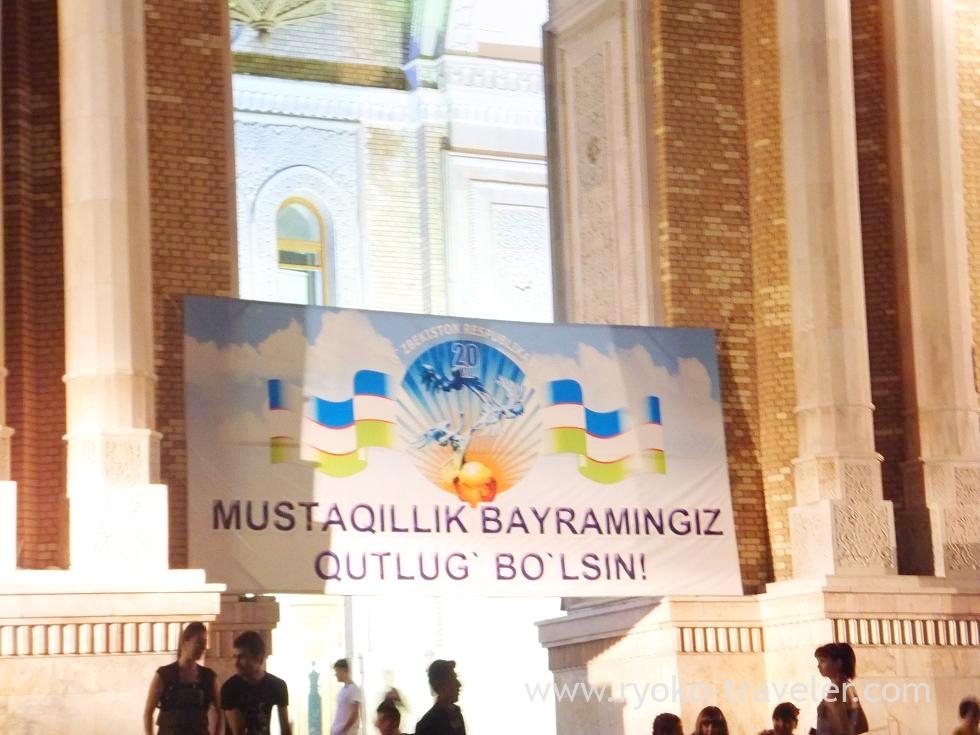 After this, we went back to Hotel Uzbekistan. The last night at Uzbekistan. We stayed in this hotel at the first day of our trip.
we had to get up at 5:00 next morning because we had to took a 7:40 a.m flight.
Uzbekistan hotel is four stars hotel and close to Tashkent International airport.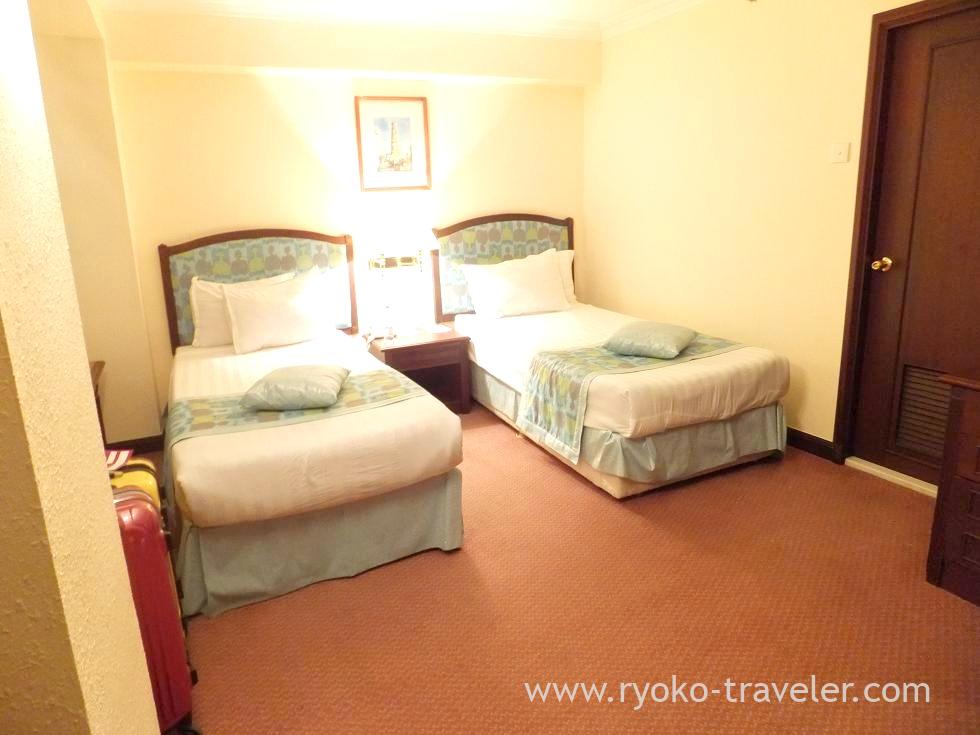 About Hotel Uzbekistan(Отель Узбекистан)
Address / 45 Musakhanov street, Tashkent 700047, Uzbekistan
Station / Amir Temur Hiyoboni station
Reservation / Booking.com,
Expedia,
agoda.com,
Hotels.com