Speaking of breakfast and lunch in Kanazawa, Omicho Market (近江町市場) is MUST at least once during your trip. So, we had breakfast at there. Unexpectedly there was no snow during my trip in Winter, but finally snow fell in the last morning.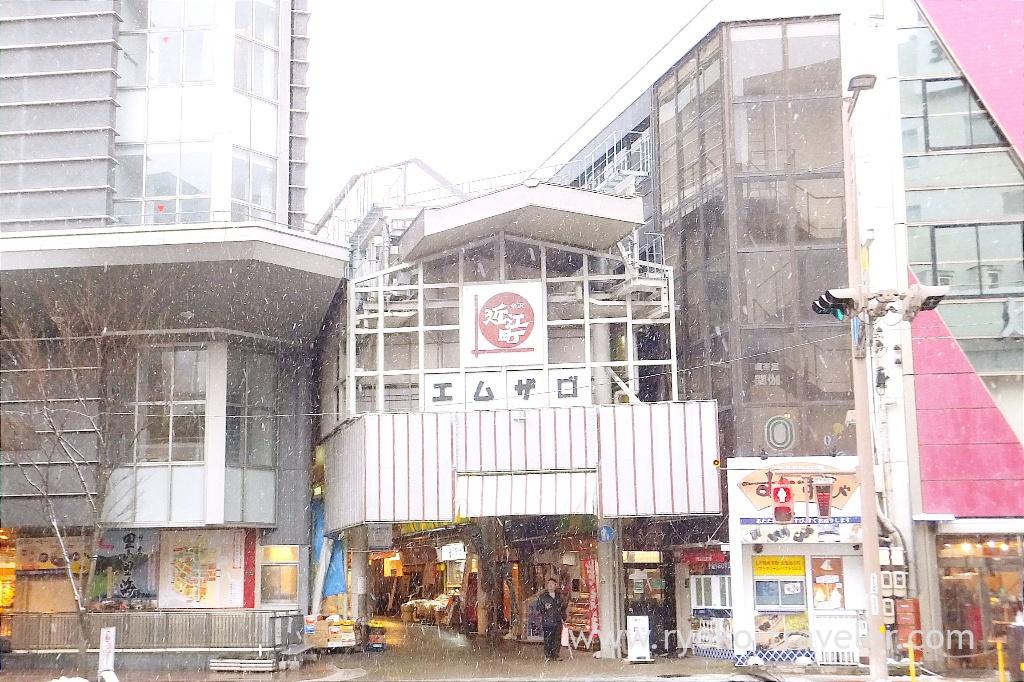 Omicho market is similar to Tsukiji Market in Tokyo. There're always lots of people and people buy fresh foods. But that day, it wasn't many people because of such a weather and it was weekday just after New Year's holiday.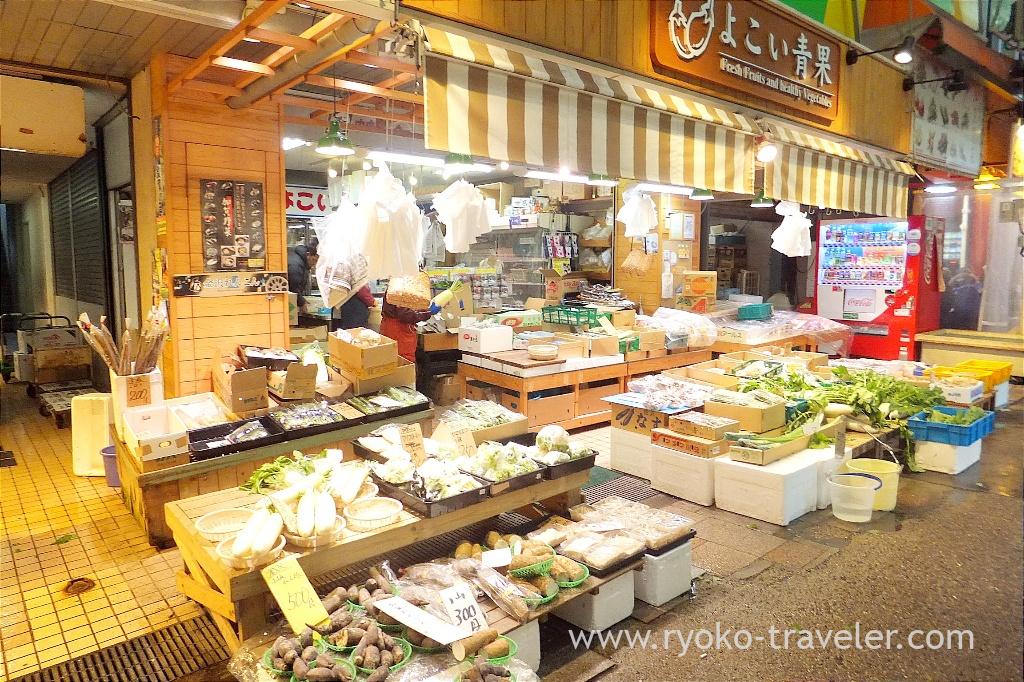 After we walked around Omicho market, we reaehed to Mori Mori Sushi Omicho (もりもり寿し近江町店). It's very popular sushi-go-round restaurant in Omicho Market.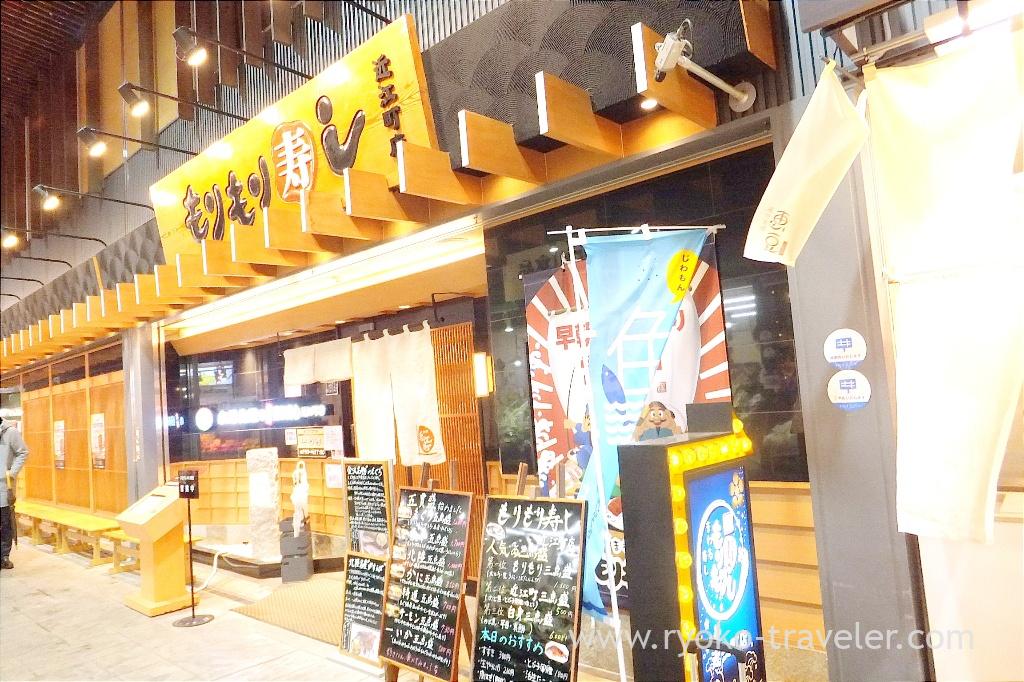 Morimorizushi have many branch in all over Japan.But this Omicho branch might be the most popular branch because Kanazawa have head shop of Morimorizushi and this Omicho branch is at the center of Omicho market in Kanazawa. There's an automatic reception in front of the door for busy time.

But there were many vacant seats that time, so we entered the shop without using the machine. This restaurant is larger compared with another restaurants in the market.
At first, I picked tea cup and pour into hot water and green tea powder.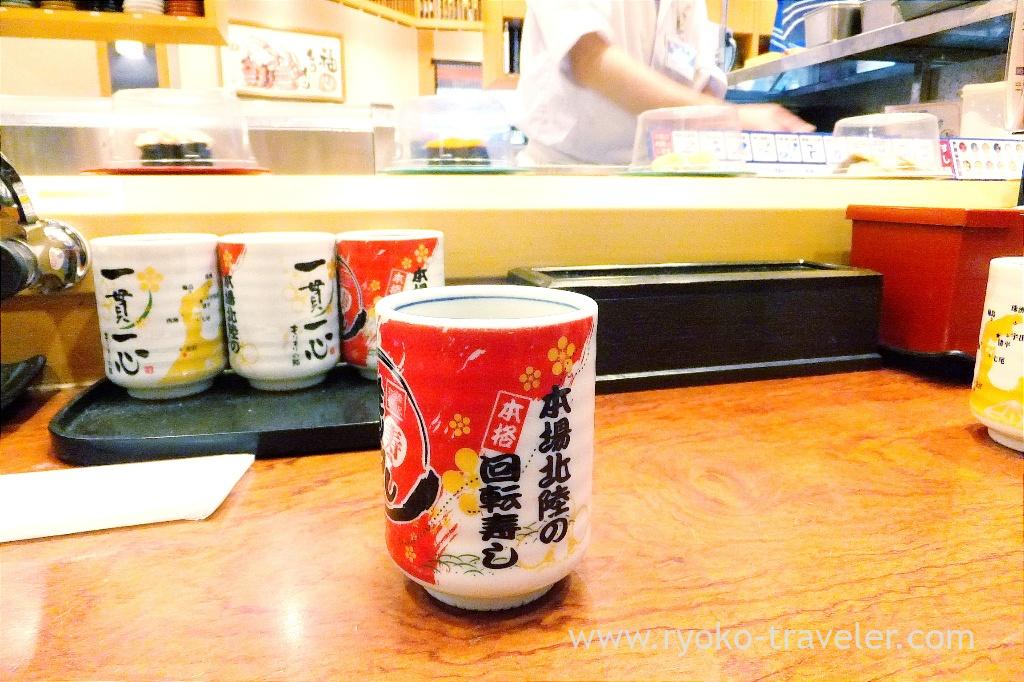 I like fine sushi dinner, but also like filling my stomach with inexpensive and good sushi at sushi-go-round restaurant, too 🙂
At first, we ordered it. Omicho Santen-mori. "Santen" means three. "mori" is "dish up". There're three sushi that is their specialty of the day. It's valuable dish. So I recommend you order it anyway when you are at a loss what to order. That day, it had chu-toro, tobikko (flying fish roe) and nodoguro(blackthroat seaperch). Nodoguro is precious fish caught in Hokuriku area.
Amaebi shrimp. Shrimps that can be eaten in Kanazawa was delicious all the same 🙂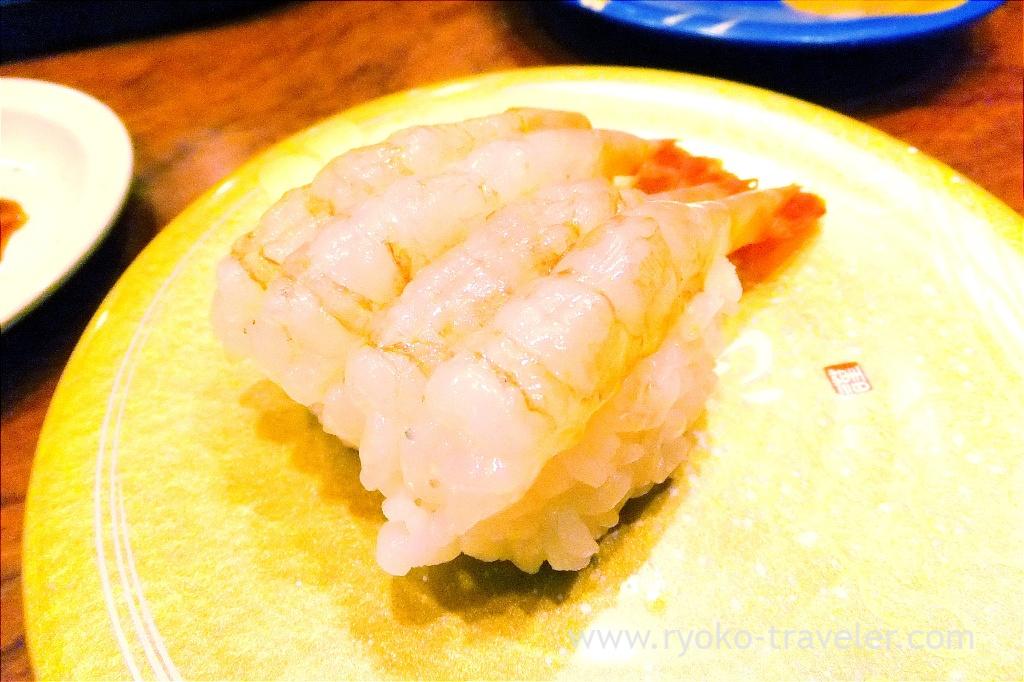 Gasu shrimp can't be eaten our living area. It lose its freshness so quickly. So, we have to go Hokuriku area if we want to eat fresh gasu shrimp. As you see, it had sticky texture and was good.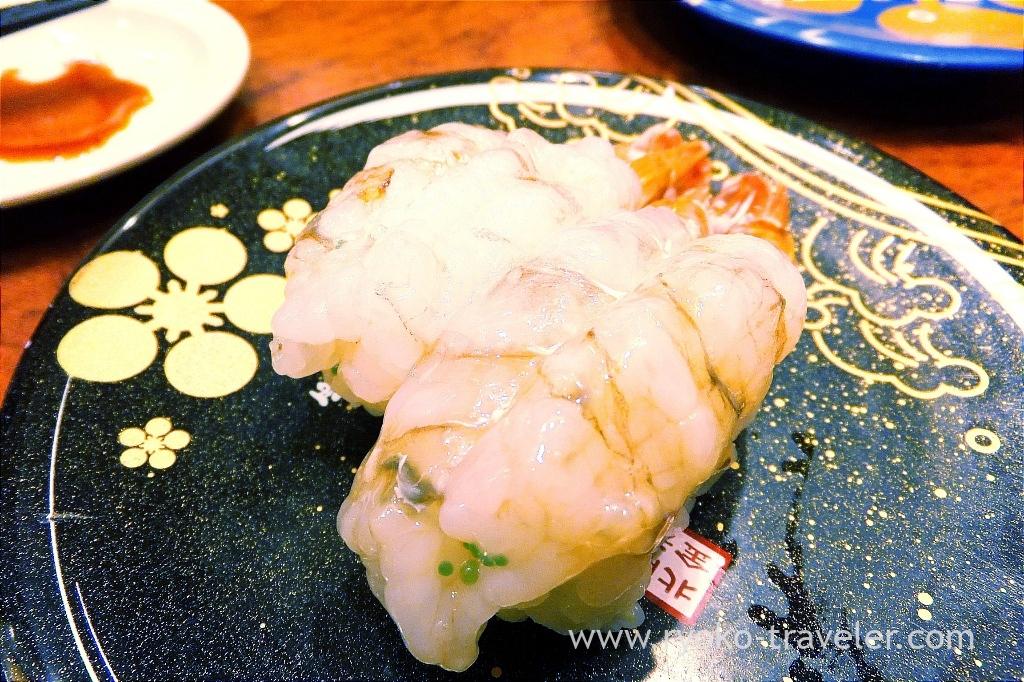 Omakase assorted sashimi. Whelk, amaebi shrimp, bonito, greater amberjack, tuna and so on. Everything was fresh.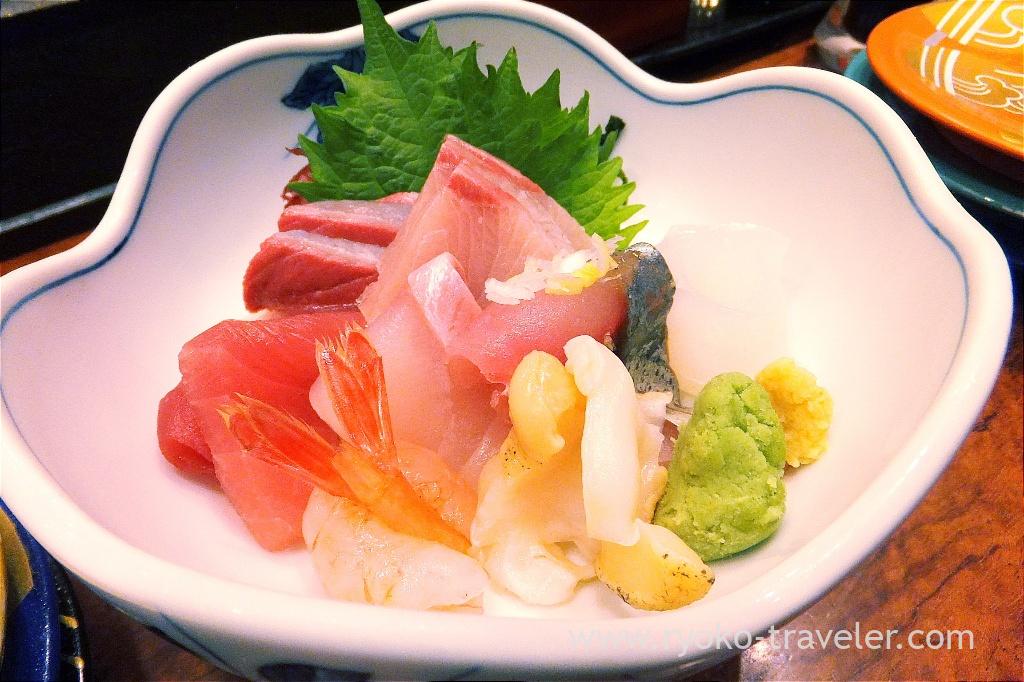 Speaking of Hokuriku area like Kanazawa, I imagine more firefly squid than black throat seaperch and Kobako crab because it's my delight 🙂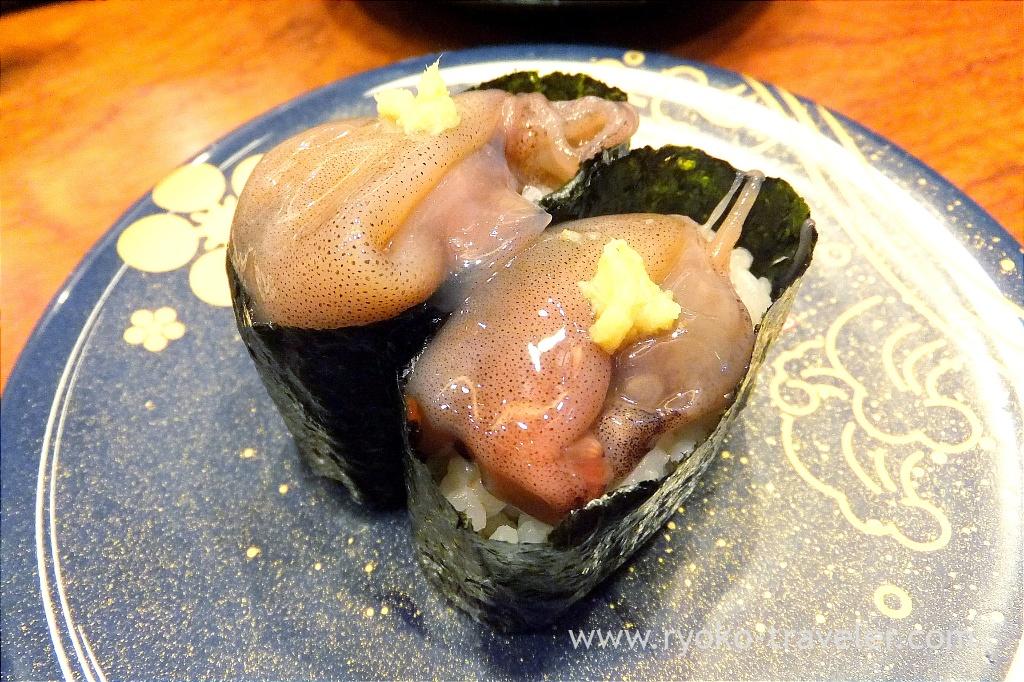 Firefly squid marinated in black sauce. Black sauce have squid ink, soy sauce and so on. I know "Okiduke" without squid ink and always eat it. It's good, too.
Filefish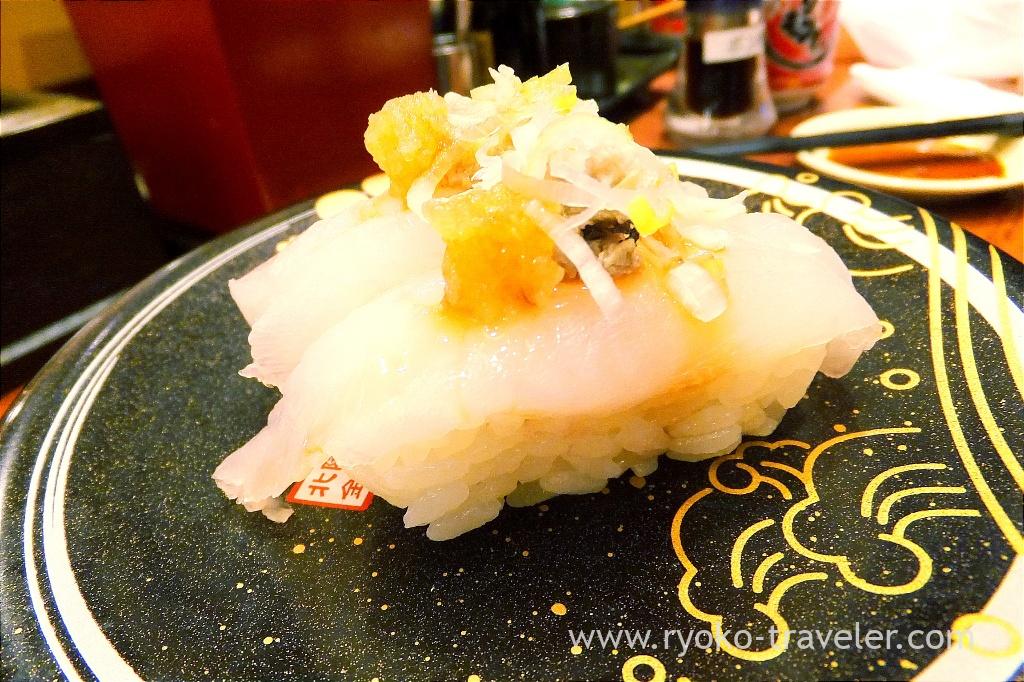 I think it's great restaurant because they serve such a fresh seafood at inexpensive price. Sometimes they offer unbelievable price compared with in Tokyo area. I'm into Kanazawa !
About

Name Mori Mori Sushi Omicho (もりもり寿し 近江町店)
Open Morning through evening
Reservation Unavailable
Credit card Available
URL Instagram

Google Map